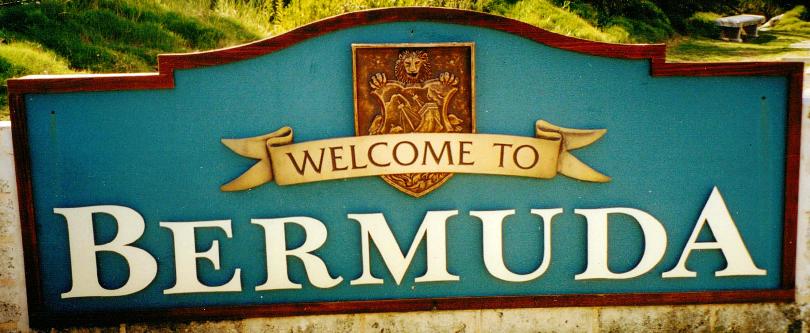 Click on graphic above to navigate the 165+ web files on this website, a regularly updated Gazetteer, an in-depth description of our island's internally self-governing British Overseas Territory 900 miles north of the Caribbean, 600 miles east of North Carolina, USA. With accommodation options, airlines, airport, actors, actresses, aviation, banks, beaches, Bermuda Dollar, Bermuda Government, Bermuda-incorporated businesses and companies including insurers and reinsurers, Bermudians, books and publications, bridges and causeway, charities, churches, citizenship by Status, City of Hamilton, commerce, communities, credit cards, cruise ships, cuisine, currency, disability accessibility, Devonshire Parish, districts, Dockyard, economy, education, employers, employment, environment, executorships, fauna, ferries, flora, former military bases, forts, gardens, geography, getting around, golf, guest houses, highways, history, historic properties, Hamilton, House of Assembly, housing, hotels, immigration, import duties, internet access, islands, laws, legal system and legislators, main roads, marriages, media, members of parliament, money, motor vehicles, municipalities, music and musicians, newcomers, newspaper, media, organizations, parks, parishes, Paget, Pembroke, performing artists, residents, pensions, political parties, postage stamps, public holidays, public transportation, railway trail, real estate, registries of aircraft and ships, religions, Royal Naval Dockyard, Sandys, senior citizens, Smith's, Somerset Village, Southampton, St. David's Island, St George's, Spanish Point, Spittal Pond, sports, taxes, telecommunications, time zone, traditions, tourism, Town of St. George, Tucker's Town, utilities, water sports, Warwick, weather, wildlife, work permits.

Bermuda's one hundred and twenty three (123) present Islands
Earlier ones were destroyed from 1941 to create American military bases - now gone
By Keith Archibald Forbes (see About Us).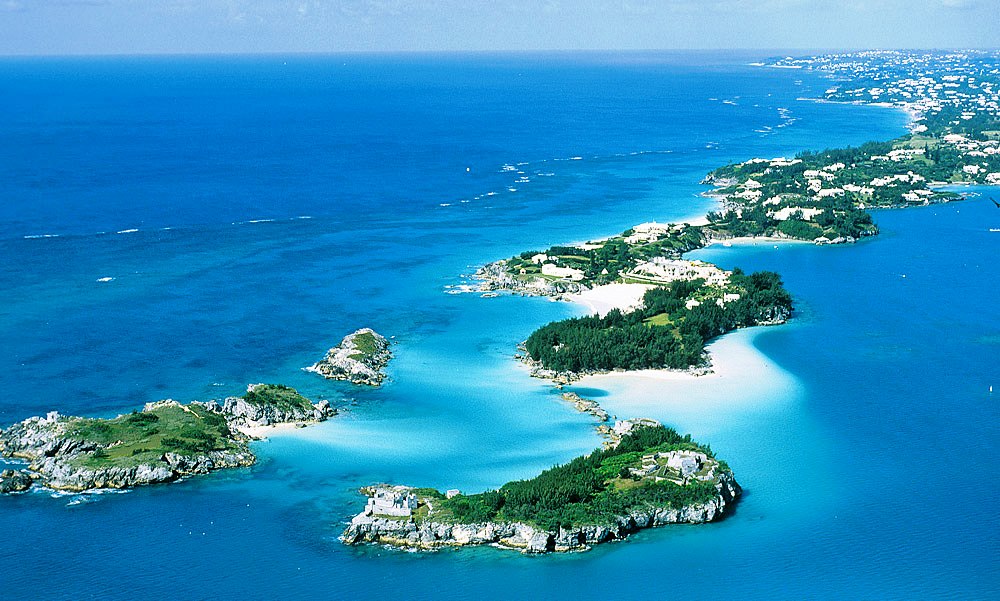 Bermuda Tourism photo

WAV file of Bermuda Sea Sounds. Also hear Nina and Frederick's lovely Listen to The Ocean, at http://www.youtube.com/watch?v=HXeGhIJWG5I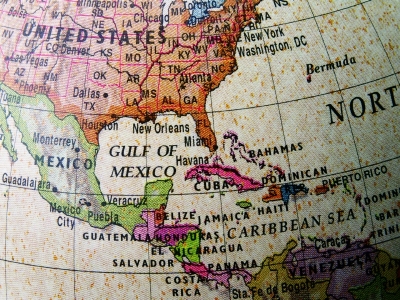 Bermuda's location, 600 miles due east of North Carolina. Location: W064 44, N3219. Time zone: Atlantic time, one hour ahead of the USA and Canada's EST and four hours behind GMT.
Bermuda (Somer's Isles), near the Gulf Stream in the northwest Atlantic, with about 50 inches of rain annually. NOT in the Caribbean but 900 miles north of it. Bermuda is a nominal British territory - nominal because despite being British it is self-governing internally, makes all its own laws and does not use any from the United Kingdom. It treats everyone - including the British - not born in Bermuda with a Bermudian parent, or without Bermudian status obtained prior to 1995 or by marriage after 10 years of marriage to the same Bermudian (and living with the spouse), as a foreigner.

Only Bermudians can own any property, vote and own any land. Non-nationals are limited to buying the top 5% of land in market price, subject to certain provisos.

Bermuda is one of the oldest, smallest but most populated of the British Overseas Territories - and oldest British Commonwealth member (not shown by name but via Great Britain). The whole of Bermuda is tiny - with a land area of only 21 square miles or 56 square kilometers. It includes all the islands mentioned below. Residents and visitors travel from one end to the other in just over an hour and from north to south in 10 to 15 minutes. Bermuda is said to have begun some 100 million year ago as a volcanic mountain, with the volcanoes having disappeared 70 million or so years ago. Oceanographers say the Bermuda Rise either juts up from the deep Atlantic Ocean floor in the form of three steep-sided mountains, the largest of which supports the Bermuda today, on the southern margin of a shallow water platform, with Challenger and Argus (or Plantagenet) Banks to the southwest, or that the Bermuda Rise is five mountains including the Bowditch and Muir Seamounts (the furthest of which is about 150 miles to the northeast).

The Bermuda Mountain is longer - 32 miles - than the land area width and much wider - 16 miles wide - than the maximum land width of 1.5 miles. At sea, the Argus and Challenger Banks are round and about 6 miles across. Below the level of limestone and 450 feet below sea level is volcanic rock; and below that, only black lava and other igneous volcanic rock. Only in one place in Bermuda - 60 feet below sea level at the southern end of Bermuda International Airport -is volcanic rock found so near to sea level.

The nominal Head of State is Queen Elizabeth II. See Bermuda's Links with Britain. Most visitors' maps portray Bermuda, wrongly, as only one island. It has 6 principal islands or former islands and 120 others for practical purposes (138 in total, including mere rocks) in its total land area of under 21 square miles (33 square kilometers).

Going from northwest to east, the six principal islands or former islands are Ireland Island (north and south), Boaz Island, Somerset, Main, St. David's and St. George's, about 22 miles by road in total length. They are the contiguous mass of Bermuda. The largest by far is Great Bermuda or Main Island, neither of which phrase is used locally. It is a mile wide on average, 14 miles long, 259 feet above sea level at its highest point, with hills and fertile depressions.
All six principal islands are now joined together and to other accessible islands or former islands such as Coney Island and Cooper's Island - by 12 bridges and a causeway. Most visitors confine themselves to these six principal islands without knowing they are going from one to the other (because there are no island signs) or are discouraged from seeing islands which are not among the principal group because there is no scheduled service to them. But some of the smaller ones are fascinating. The bridges linking the principal islands are less than 100 years old. Before then, ferries were used at most crossings. Some were mere rowboat ferries.
Most islands are in Castle Harbor, Great Sound, Little Sound, Hamilton Harbor and Harrington Sound (an internal lake, accessing the sea via Flatts Inlet). All islands have a limestone rock, with coral formation caps. On the north, west, and south they are surrounded by reefs.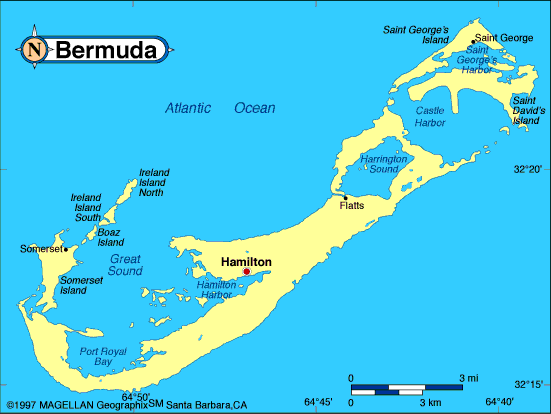 Parishes (counties)
There are nine parishes (counties), each 2.3055 square miles (3.68 square kilometers). The map below, from west to east, shows how they relate to each other geographically. With the exception of Devonshire Parish, no Parish shows boundary signs. (In most other countries, counties have entering and exiting signs).
In alphabetical order now, the Parishes are:
Landmarks
All the Bermuda Parishes above have islands. Within these Parishes are these key areas:
Nearest land beyond Bermuda
The nearest land - Cape Hatteras, NC, USA, 570 miles (946 km) to the west.

New York, NY - 774 miles (1284 km) to the northwest.

Boston, MA - 776 miles (1288 km) to the northwest.

Washington DC - 822 miles (1365 km) to the northwest.

Halifax, NS - 868 miles (1440 km) to the north.

Nassau, Bahamas - 911 miles (1512 km) to the southwest. (No direct flight).

Montreal, PQ - 1027 miles (1704 km) to the northwest. (No direct flight).

Miami, FL - 1029 miles (1708 km) to the southwest. (No direct flight).

Toronto, ON - 1127 miles (1870 km) to the northwest.

Atlanta, GA - 1146 miles (1910 km) to the northwest.

Detroit, MI - 1276 miles (2118 km) to the northwest. (No direct flight).

Puerto Rico, PR, Caribbean - 1386 miles (2301km). No direct scheduled flight to it or any part of the Caribbean, all must be via the USA..

Chicago, IL - 1415 miles (2349 km) to the northwest. (No direct flight).

San Francisco, CA - 3254 miles (5402 km) northwest. (No direct flight).

Southampton, England - 3381 miles (5612 km) to the northeast. (No direct flight).

London, England - 3497 miles (5805 km) to the northeast

Paris, France -3518 miles (5840 km) to the northeast. (No direct flight).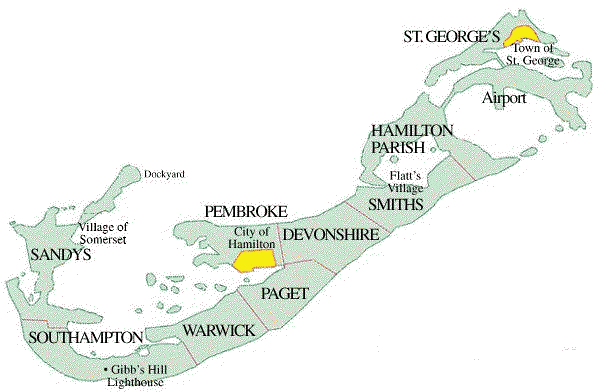 For more facts on Bermuda, see Basics of Bermuda.
Each Bermuda island below shows in which Parish it is located.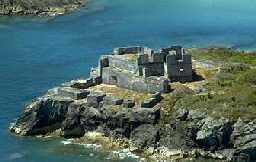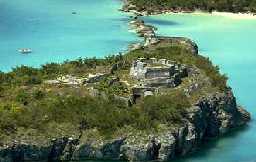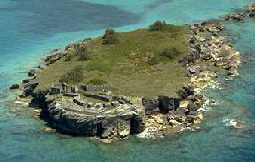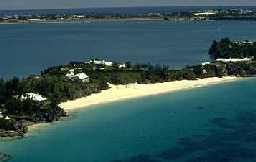 Our separate files on each Parish describe their islands. Some have interesting histories, or are privately owned or both. Only a few are accessible to the general public. Some are wild life reserves, with signs telling people on foot or in boats that landing is prohibited. The Castle Group of islands, Darrell's Island, Nonsuch Island and Paget Island are typical of those closed to most visitors.
As seen by the Tall Ships that graced our shores in June 2000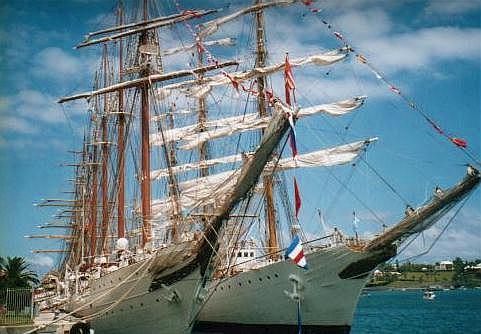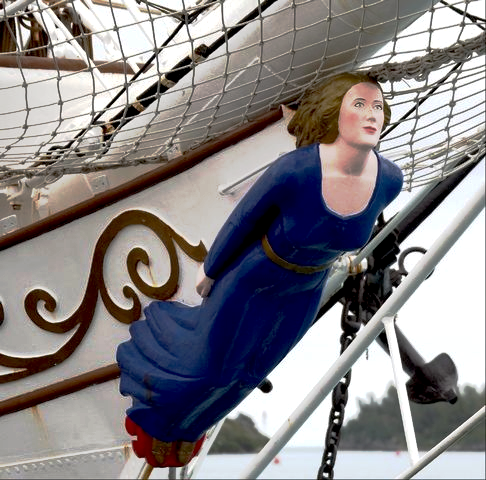 Photograph by Keith A. Forbes
Gorgeous bow of Norwegian tall ship Christian Radich in Bermuda, Royal Gazette photo
In November, 2012 two of the six Fairylands area islands were advertised for sale, for $550,000. They 0.504 acre Goose Island and 1.062 acre Bird Island. Both islands are within close proximity to the Point Shares and Fairylands neighborhoods. Ideal weekend retreats, they are zoned to preserve the environment and natural habitat. Thus development of any significant nature isn't permissible. But as an amenity this pair of islands will provide hours of enjoyment for the boater or environmentalist or someone who just wishes a convenient escape from the mainland.
Bermuda's Islands listed alphabetically
Agar's
Hamilton Harbour, Pembroke. Privately owned, no public access. Originally 4 acres, 200 yards by sea from the exclusive area of Point Shares. It can be seen from the Fairylands shoreline by cruise ship and ferry boat passengers. Agar's Hill there, which dominates the north side of the exclusive residential area of Point Shares, is so-named in honor of British shareholder in the 17th century Bermuda or Somers Isles Company, Sir Anthony Agar (1586-1637), also referred to in British history as Sir Anthony Aucher (Agar, Archer), Member of Parliament of Bishopsbourne, Kent, England. He owned 50 acres of Pembroke land, including both the hill and the island that bears his name.
Once, the island was owned and run by the British military as one of a string of then-strategic islands that stretched from the Dockyard to Hamilton.
2019. August 8. The widow of a computing tycoon and philanthropist has won a legal battle to allow her to buy Agar's Island. The Supreme Court ruled that Lillian Martin, an American, should have been granted a licence to acquire the island, where she lived with her husband, James Martin. Last night, Wayne Caines, the Minister of National Security, said the Government was taking advice on whether to appeal against the decision. Assistant Justice Ian Kawaley said in a written judgment: "The arrangements initiated in 1997 would not now be lawful. But, objectively viewed in light of the object and purpose of the governing provisions, they were designed in a transparent way to enable Dr Martin, and his widow after his death, to apply for a licence to buy the property which they quite openly treated as their home before the purchase was completed." Mr Justice Kawaley said "positive evidence" was needed to dispute legally binding documents entered into by law-abiding citizens. He said in the July 31 ruling: "In this case, the minister assumed the heavy burden of persuading the court that on their face the agreements were not what they seemed, and the reality was informed by a sly 'nudge-nudge, wink-wink' understanding. Looked at superficially through the lens of hindsight, the series of five-year leases commencing in 1997 did excite suspicion that there was a scheme to renew the leases until Dr Martin obtained a licence or abandoned the scheme when the application was first effectively made in 2014. But this cynical first impression does not withstand careful and objective scrutiny because the arrangements entered into were not artificial or commercially inconsistent with Bermuda Transportation Company Limited retaining legal and beneficial ownership of the property after the 2007 amendments came into force." Dr Martin, who died in 2013, aged 79, was a major influence in the development of computer science and his work included the creation of some of the building blocks of modern IT systems, as well as teaching other businesses how to benefit from technology. The English-born businessman and author moved to Bermuda in the 1980s and built a home on Agar's Island in the Great Sound off Point Shares in Pembroke. The Supreme Court heard that in 1997 he entered into an agreement which contemplated the purchase of Agar's Island if he was able to obtain a licence. The arrangement also said he would occupy the island as a tenant under a five-year lease and finance the development of the property. Mr Justice Kawaley explained in his judgment: "The development was needed to raise the value of the property to the requisite land valuation threshold, which would enable a restricted person to obtain a licence to purchase the land under the Bermuda Immigration and Protection Act 1956." The Government announced a moratorium on any further licences for non-Bermudians to buy land in 2005 as part of an effort to end the practice of "fronting". Dr Martin did not apply for a licence until after the moratorium came into effect in 2007 and he died in 2013. Ms Martin, his widow, applied for a licence in July of 2014, after the moratorium had ended. But the application was refused. Government lawyers, acting for the Minister of National Security, claimed that there were suspicions that parts of Bermuda's immigration law had been breached by Dr Martin's arrangement. Mr Justice Kawaley said the case turned on "a bland point of statutory construction". He added: "They were in my judgment obviously lawful arrangements when initially made. The critical legal question is, therefore, whether the arrangements, taking into account the way in which Dr Martin — and the applicant after him — occupied the property, were caught by the more restrictive regime introduced by the 2007 Act and became unlawful as a result." Mr Justice Kawaley found that the arrangements would have aroused suspicion "at first blush" in 2014, but were still lawful when the 2007 Act came into full effect. He said legislation did not prevent people from entering into sale and purchase agreements before they obtained a licence to purchase land. Mr Justice Kawaley added: "If it is permissible to enter into a sale and purchase agreement without a licence, it is impossible to identify any free-standing prohibition on occupying land as a tenant prior to making the licence application or while an application is pending. He said: "A tenant does not cease to be tenant merely because they are also a prospective purchaser of the property being leased. It is important to remember that the Department of Immigration had notice of the fact that Dr Martin was occupying the property he had contracted to buy and was a mortgagee of as long ago as 2010 and was unable to identify any straightforward basis for criticizing these arrangements." Wayne Caines, the Minister of National Security, said: "The Government is taking advice and considering its options in relation to the decision by the Supreme Court in this matter, including whether to appeal." It is understood that the Martin case was the first ruling on the meaning and effect of the 2007 legislation, which was designed to prevent non-Bermudians from buying property illegally by the use of a resident as a "front". It was revealed in 2010 that the Bermuda Housing Corporation had obtained a $1.5 million waterfront property near Five Star Island in a settlement after suspicions of fronting were raised. As part of the settlement, the Government agreed to rent the home back to the family, who had to pay $10,000 a month for five years. Lieutenant-Colonel David Burch, the Minister of National Security when the settlement was made, said at the time: "I am not aware of all the details in this case, but clearly we got to the point where everybody agreed 'OK, you got me'."
2019. July 3. A computing tycoon was "caught out" when Parliament tightened laws on non-Bermudian land ownership, a court heard yesterday. James Martin, an English-born businessman and philanthropist, was said to have taken a risk when he entered an agreement to buy Agar's Island in 1997 at the same time as he became a tenant. Myron Simmons, a senior Crown counsel, told the Supreme Court's civil division that the legal position changed when Government introduced amendments to the Bermuda Immigration and Protection Act in 2007. He made arguments during an application for judicial review hearing after lawyers for Dr Martin's widow, Lillian, a US citizen, filed a motion to ask for a decision on her application for a licence to acquire the island, which the couple had made their home. They also asked for an order or declaration that licence would be granted, or compensation paid, as an alternative. The court earlier heard that Dr Martin entered a sale and purchase agreement for the island in 1997 and occupied it under lease from the Bermuda Transportation Co with the expectation that he would buy it when he got a restricted person's licence. Mr Simmons, on behalf of the Minister of National Security, the respondent in the action, said that an unknown risk assumed by the parties was government intervention, and in 2005 a moratorium on the purchase of land by non-Bermudians was introduced. He added: "One of the ways, as an attorney, you will mitigate a loss, when there is an unknown, is, execute quickly. If you believe that there might be that risk, you get in and you get out. If you look at the structure of this arrangement, they were looking to do just that." The court heard later from Ms Martin's legal team that four consecutive five-year leases were granted and that a planning problem at first prevented Dr Martin from applying for a licence before the end of his first rental period. Mr Simmons said that the Bermuda Immigration and Protection Act was amended in 2007. The new legislation made it unlawful for a restricted person to "appropriate land", assume ownership rights, with the intention of occupation, or use or development of the land for profit. Mr Simmons explained that there was a transition period of three-and-a-half years for people to "regularise" any arrangements if needed. He said: "I mention this because there seems to be some sense that the applicant and her husband were not treated fairly and I'm trying to stress this was a historical move; it wasn't something that was ... a surprise attack." Mr Simmons added: "Between 2012 when the moratorium came to an end and his death in 2013, there was a year when nothing was done." He added: "He took a risk, the Government made steps to put things in place and, unfortunately, he was caught out." Lauren Sadler-Best, also for the respondent, earlier told the court there were reasons to suspect another section of the legislation was breached. That related to participation in a scheme that allowed a restricted person or trustee to hold, acquire or appropriate land in contravention of the law. Michael Fordham QC, for Ms Martin, argued that the landlord maintained autonomy throughout the lease arrangements. He told Assistant Justice Ian Kawaley: "In the end, you are back to asking whether, viewed objectively, in these arrangements you can find or see a scheme to extend the terms beyond five years, and there's none." Mr Fordham claimed that to fall foul of the law, any prohibited scheme would have had to be entered after 2007 and continued to Ms Martin, who the court heard earlier only became a party in the arrangement in 2012. He said that it would need to be the case that "she's getting those leases not because a landlord is granting them, but because she has a behind-the-scenes entitlement to them". Mr Fordham added that the judge would have to find that the contract documents did not reflect what had been agreed. He said: "The question is whether there is a basis for reaching that conclusion in this case and we submit that there is not." Mr Justice Kawaley reserved judgment.
2019. July 2. A computing tycoon's widow is "in limbo" because of uncertainty over a government decision on her application to own Agar's Island she shared with her husband, a court heard yesterday. Michael Fordham, an English QC, told the civil division of Supreme Court that Lillian Martin's health had been affected by a five-year delay on a ministry ruling on Agar's Island, a "haven" and where her daughter was married. He was speaking after an application for judicial review was called yesterday. Lawyers for Ms Martin, widowed in 2013 when her husband, James, drowned aged 79, earlier filed a motion to ask for a decision on her application for a licence to acquire Agar's Island, off Point Shares, Pembroke, where the couple had made their home. They also asked for an order or declaration that a licence would be granted, or compensation paid as an alternative. But government lawyers, acting for the respondent, the Minister of National Security, claimed yesterday that there were suspicions that parts of Bermuda's immigration law had been breached. Mr Fordham told the court that Ms Martin, an American, applied in July 2014 for a licence she needed as a restricted person under the Bermuda Immigration and Protection Act to acquire the freehold to Agar's Island, where she had lived with her English-born husband since 2000. Dr Martin, a world-renowned IT innovator, entered a sale and purchase agreement for the island in 1997 and occupied it under lease from the Bermuda Transportation Co until a licence could be secured. Mr Fordham highlighted written evidence from Ms Martin. He said: "She is in limbo, that's her word, and she is suffering, that's my word, the serious impact and implications of the position that she is in." He added: "Agar's Island is a place of peace and contemplation. It was a haven and it still is. They turned it from a place of rocky isolation to a place of blossoming treasure where they lived together, where Mrs Martin, who sits behind me, witnessed the marriage of her daughter, Leila, who sits behind her in court, and it was the place where Dr Martin sadly drowned on his daily swim six years and one week ago. As she tells you, it is troubling and upsetting, causing a serious impact to her state of mind and indeed her health to have her application dealt with in the way that it has been. And she tells you how hard it would be for her to leave 'at my age', in case you haven't picked her up, she is 77, 78 later this month." Lauren Sadler-Best, of the Attorney-General's Chambers and for the national security minister, said that "it is the case that the facts point to the possibility that there is a breach of section 78 and section 81" of the Immigration and Protection Act. The two sections deal with the appropriation of land through the assumption of ownership rights by a restricted person and participation in a scheme that allowed a restricted person or trustee to hold, acquire or appropriate land in contravention of the legislation. But Mr Fordham told the court: "Does an arrangement by means of a sale and purchase agreement by which a restricted person will obtain the freehold only on obtaining a licence breach the legislation? Of course it doesn't." The hearing, before Assistant Justice Ian Kawaley, continues.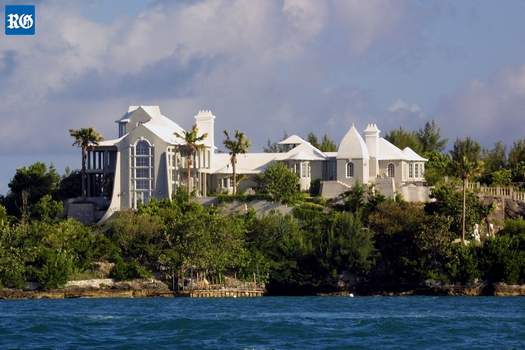 2019. March 15. The widow of a computing tycoon and philanthropist has launched legal action against the Minister of National Security over her husband's private island. Lawyers for Lillian Martin, an American, have filed a motion at the Supreme Court to ask for a decision on her application for a licence to acquire Agar's Island, where she lived with her husband, James. Her lawyers also asked for an order or declaration that a licence would be granted, or compensation paid, as an alternative. Dr Martin, who died in 2013 aged 79, was a major influence in the development of computer science and his work included the creation of some of the building blocks of modern IT systems, as well as teaching other businesses how to benefit from technology. The English-born businessman and author, who wrote 104 textbooks and became the largest benefactor in the history of Oxford University, moved to Bermuda in the 1990s. He built a home on Agar's Island, in the Great Sound off Pembroke's Point Shares, after he bought the spot in 1997. Dr Martin's body was found floating in the surrounding waters six years ago. An obituary in The New York Times said he was survived by his third wife, Lillian, whom he married in 2004, a daughter, four stepchildren and two grandchildren. A notice of originating motion, which was published on the Offshore Alert website, said Ms Martin sought an order demanding a decision on her application under section 84(1) of the Bermuda Immigration and Protection Act 1956 for a licence to acquire Agar's Island. The Act meant that a "restricted person" — someone who does not have Bermudian status — cannot hold or acquire land in the country without a licence. Cox Hallett Wilkinson, the lawyers for Ms Martin, added three alternative measures, which were that an order was issued for her application to be granted, a declaration that she was "entitled to a licence and that the failure to grant a licence is unlawful" or compensation. Their notice listed the respondent as the Minister of National Security. The present minister is Wayne Caines, but his name did not appear on the court papers because the case is a ministry responsibility. The notice was stamped by the Supreme Court on February 14 but its registry said yesterday no date had been set for a hearing. Dr Martin became famous through his Pulitzer Prize-nominated book, The Wired Society, in 1977, which contained accurate predictions on the use of computers and the internet 25 years later. He was also aware of the global problems likely to be faced over the next century, from climate change and feeding a booming world population to the danger of epidemics and high-tech war. Dr Martin donated $100 million to set up the James Martin 21st Century School at the University of Oxford in 2005. The school was designed to bring together researchers from a range of scientific disciplines to work on new ways to deal with the biggest threats to humanity. It became the Oxford Martin School five years later, made up of 30 institutes and the benefactor donated another $50 million, which was matched by other donors. An interview with Dr Martin published in the UK's The Independent newspaper in 2011 explained the island was bought by English investor Sir Anthony Agar in 1613. The article added that the island became a British military outpost in the 19th century. It said that Dr Martin bought the island in 1997 because he wanted a more remote home. Building work was said to have taken four years and several million dollars to complete. The Daily Telegraph website and Private Islands Online said in 2014 that Agar's Island was on the market under the name Gunpowder Island. Among the features listed were an 8,427 square foot main house, a three-bedroom dock house, a one-bedroom cottage, a boathouse and former military barracks. Private Islands Online said: "The historic semi-underground vaults are fitted with a kitchenette, bathroom, billiards and table-tennis room, gym, cinema, and dining for up to 40 people." It also featured Japanese, Chinese, Italian and rose gardens, an orchard, a cliff walk, a waterfall, seven ponds and a pool. Ms Martin could not be contacted yesterday and her lawyers declined to comment. Mr Caines said: "The Ministry of National Security is unable to provide any details or comment on matters before the courts."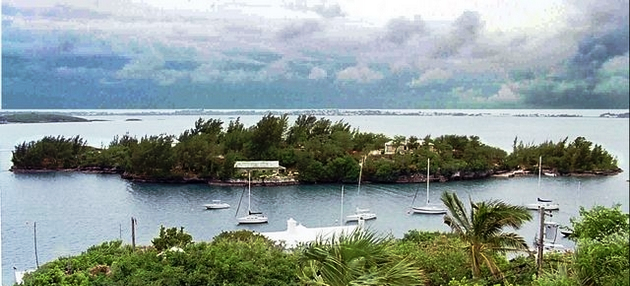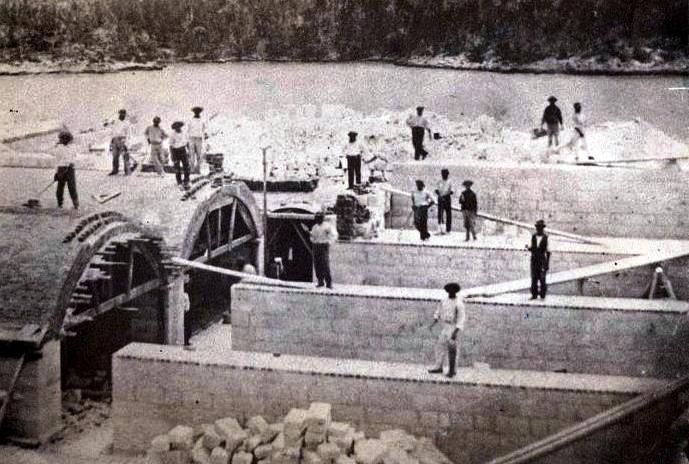 Royal Engineers building the military magazine on Agar's Island
1870. British Army Headquarters in Bermuda, in conjunction with the Royal Navy, worried about the vulnerability of its stores of weaponry at Ordnance Island in St. George's and its ring of forts and their munitions stores around Bermuda, built a secret underground powder magazine on this island. It was then reputed to be one of the largest military magazines in the world. British military authorities both in Bermuda and elsewhere refused to acknowledge its construction but it still exists.
1908. Bermuda's first aquarium was built here, as the forerunner to the Bermuda Aquarium, Natural History Museum and Zoo in Hamilton Parish. The island has guest houses, two beaches, three docks, a swimming pool, tennis and squash courts, and more, as described below.
1917. During World War 1, the US Navy operated a supply station here, with a naval station on nearby White's Island. They were closed after that war.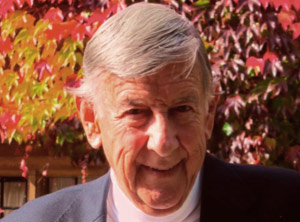 Became privately owned by British author and multi-millionaire the late (died June 24, 2013) Dr James Martin, MA PhD, (Oxon), D.Litt (Oxon), D.Sc (Hon), D.Eng (Hon), Ph.D (Hon), LLD (Hon), D.HL (Hon), FWAAS, who wrote The Wired Society. From 1965 to 2006 Martin wrote over a hundred other books - many of which became best sellers in the information technology industry. He built a multi-million dollar development here, including an eye-catching atrium. He also restored the underground powder magazine built by the British Army in 1870. A formal garden was installed on the roof of the old gunpowder magazine. Under his direction the island's once-military quarters became a dramatic new home amid the ruins of the 19th century fort, shown in part above. The island's stone quarries became ponds. A 19th century latrine, once part of the fort became an orchard house. The pumping engines of an aquarium, destroyed in a hurricane in 1922, were recovered and turned into ornamental features. James Martin founded the Oxford Martin School at the University of Oxford in 2005 to foster and facilitate innovative, interdisciplinary research on the problems, dangers and opportunities of the near future. Martin is the largest individual benefactor to the University of Oxford in its 900-year history. Martin wrote more textbooks than any other living person – 104, many of which have been seminal in their field. Martin is renowned for his electrifying lectures about the future. He wrote The Meaning of the 21st Century, which was made into a major film, and is a Pulitzer nominee for his book The Wired Society. Martin was a pioneer in the automation of software development, and was ranked 4th in Computer World's 25th Anniversary Edition's most influential people in computer technology. He was a member of the Scientific Advisory Board of the U.S. Department of Defense. He was an Honorary Life Fellow of the British Royal Institution, a Fellow of the World Academy of Art and Science, an Honorary Fellow of Keble College, Oxford, and a Senior Fellow of the James Martin Center for Non-Proliferation Studies at Monterey, California. Martin had honorary doctorates from all six continents.
2014. April 14. Agar's Island, which was the home of one of the world's leaders in computer science the late Dr James Martin, went on the market, according to Private Islands Online. It is called Gunpowder Island in the publication, and in a related article in the online The Daily Telegraph, it is described as a "lovely Caribbean island." The British newspaper article states, under the headline "10 unusual islands for sale" - "This lovely Caribbean island owes its slightly alarming name to the fact it was used as a secret storehouse for military explosives in the 19th century. Today, it's a rather more tranquil place offering a vast array of accommodation (including a former military barracks)." British-born Dr Martin, who died while in Bermuda last June, established several IT consultancy firms and co-founded Database Design Inc. (DDI), which developed the information engineering software that became the market leader in the sector. Computerworld's 25th anniversary issue ranked him fourth among the 25 individuals who have most influenced the world of computer science. Dr Martin lived on Gunpowder Island, also known as Agar's Island from the 1990s. The island is in the azure waters of Great Sound, Bermuda as a 7.5-acre property that once served as secret chambers for military explosives in the late 19th century. Rich with history, the Bermudian island now features an 8427-sq. ft. main residence, a 3-bedroom deckhouse, a 2060-sq. ft. cottage, a boathouse, and a former military barracks that can double as a conference centre. There is also a three-bedroom dock house, a 2,060-square-foot one-bedroom cottage, a boathouse, and a former military barracks that can double as a conference centre. The historic semi-underground vaults are fitted with a kitchenette, bathroom, billiards/ table-tennis room, gym, cinema, and dining for up to 40 people. A Japanese garden, Chinese garden, Italian garden, rose garden, an orchard, a cliff walk, a quarry, a waterfall, seven ponds (some fresh water), and a pool dot the island. There are two beaches and three docks, and the island has full electricity, water supply, and services. It is easy to reach from the mainland.
Alpha
100 yards southwest of Hawkins Island, Hamilton Harbor, Warwick Parish.
Argus
39 miles southwest of Bermuda. Man made by the USA in 1962 to spy on Soviet submarines in the Atlantic and once laced with devices to track their every movement. Since abandoned.
Banjo
Also known as Bartram's or Mullet. 1.25 acres, Mullet Bay, off St. George's Island. Bartrum's was for John Tavernier Bartrum, a grandson of English naturalist John Tavernier. Born in Lincolnshire in 1811, Bartrum came here as a member of the British Army (37th Regiment of Foot) in 1832, purchased his discharge in 1837 and resided at Ferry Reach until his death in 1889. He became famous for his book in 1879 called The Cage Birds of Bermuda.
Bartlett's
Two, both just north of Middle Road, Great Sound, Southampton Parish.
Bay
1 acre, 500 yards off Bailey's Bay, picturesque, accessible.
Beta
Great Sound, Warwick Parish.
Bethell's
Ely's Harbor, Sandys Parish.
Bird
2 islands. 1.062 acre, Fairylands, Pembroke Parish.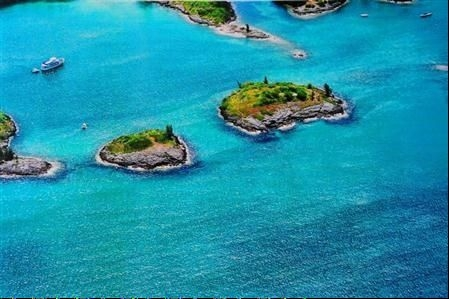 Goose and neighboring bigger Bird Islands
Recently for sale at US$550,000. Ideal weekend retreat, zoned to preserve the environment and natural habitat. Thus development of any significant nature isn't permissible. But as an amenity this private island will provide hours of enjoyment for the owner who is a boater or environmentalist or someone who just wishes a convenient escape from the mainland.
Bluck's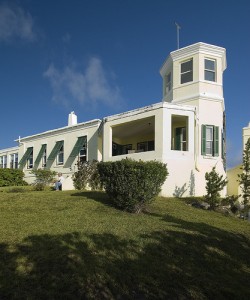 Also Denslow's or Dyer's. Great Sound, Warwick Parish. It was referred to as Denslow's as Philadelphia-born American cartoonist and illustrator William Wallace Denslow (1856-1915) who illustrated The Wonderful Wizard of Oz written by L. Frank Baum - once built a turreted castle-like house there in 1903, renamed the island after himself and announced himself thereafter as King Denslow I. He also bought himself a Bermuda sailboat which he named "Wizard" and created a dock for it from the house. From 1903 he did much of his work from his studio at this house. He bought the island from the profits he made from illustrating L. Frank Baum's classic "The Wonderful Wizard Of Oz" (later shorted to "The Wizard of Oz" book, published in 1900, which became an instant cultural world-wide hit and created first the play and then the movie. The children's book sold tens of thousands of copies and quickly spawned sequels, a theatrical adaptation and cartoon strips. Later, he quarreled bitterly with his former collaborator Baum. Denslow and Baum. Both claimed "The Wonderful Wizard of Oz" as their own. They almost simultaneously launched competing syndicated newspaper stories that ran in the Sunday comic sections around America and Canada. Denslow designed from his studio in the turret of his Bermuda house his own illustrated cartoons, Denslow's "Scarecrow and Tinman" which began in December 1904, one of which was known as "Denslow's Scarecrow and Tinman in Bermuda. " The series was short-lived, ended in March 2005. Denslow's sojourn in Bermuda also inspired the setting of a book and play. He worked on them from here. Set in both Bermuda and Vermont and an enchanted underwater fairyland was his "The Pearl and the Pumpkin" - a 1904 Halloween-themed children's book co-written by Paul Clarendon West and illustrated by the artist. Denslow hoped to replicate the popular success of "Wonderful Wizard Of Oz" with a 1905 stage adaptation of the well-received book. One scene had a Bermuda lily field with chorus members dressed as lilies and a scene off North Rock. It received lavish praise from the New York Times. But the play did not find a receptive audience and closed shortly after its Broadway premiere. After the failure of his considerable investment in the musical version of "The Pearl and the Pumpkin", by 1908 the self-crowned King Denslow I decided to abdicate and abandon his mid-Atlantic realm. On June 8, 1908, in New York, realtor Carl E. Randrup negotiated a sale of Denslow's Island, with its large stone residence, cottage and other outbuildings. The buyer was a New Yorker, who wanted to make the place his Winter residence. The price was $30,000. Denslow — married and divorced three times — began drinking heavily and had difficulty landing secure employment after leaving Bermuda. He moved to Buffalo, New York and found work with the Niagara Lithograph Company designing promotional pamphlets. He eventually drifted to New York City around 1913, finding work at another advertising agency where the one-time lord and monarch of his private island earned just a fraction of his former income.
Boat Rock
See Halfway Rock.
Boaz
Also Gate's and Yates. 30 acres. One of the six principal islands. Now connected to mainland via Little Watford Bridge and Grey's Bridge. In 1939, a brand-new Royal Naval Air Station, specifically for the Fleet Air Arm, was constructed here as part of British military preparations for World War 2. The increased workload at HMS Malabar caused problems due to the limited space available. With so many of the locally-based or in-transit Royal Navy warships carrying catapult-launched seaplanes such as the Hawker Osprey, Fairey Seafox and Supermarine Walrus seaplanes, the need for prompt, efficient and spacious aircraft maintenance was a high priority. Thus, the new station was built. It had two good-size hangers and launching ramps on either side of the island and they allowed continuous operation in any wind direction. With the Battle of the Atlantic over, the station was reduced to care and maintenance status in 1944. Some remnants still survive. The ferry service to and from here finally ceased in May 2005. The nearest surviving one is Watford Bridge. Bus routes # 7 (Dockyard) and # 8 stop in the immediate area.
2017. August 18. Crumbling infrastructure is a major drain on the resources of Boaz Island Village's management board. Chairman Simon Groves said homeowners owed more than $180,000 in maintenance fees and called on them to pay up so the area in the West End can be properly looked after and reach its full potential. "What we are seeing today is the consequence of the lack of consistent, quality infrastructure support," he explained. "Let's use the water as an example — my understanding is that it was built with a grade of material that wasn't suitable for Bermuda conditions. And as a consequence, we have a severe leakage problem. Whereas we buy all of our water from Government via Wedco, we are buying twice as much as we are using." Mr Groves said minor leaks were hard to detect and the only solution was to dig up the entire system and replace it. He added: "It's the same for the guttering to catch water from the roof tops, the same with the lighting — we've really got to go back to basics." He said the board had submitted a business plan for funding the replacement of the water infrastructure to Government that would see them pay back an initial start-up. And he added that a contractor was preparing estimates to fix the lighting, starting with the worst-affected areas. Mr Groves, who has lived on Boaz Island for about 17 years, said some of the problems were the result of how the village was built and others were down to a lack of proper maintenance. "What we've done now is we've reached a point where the infrastructure has collapsed to the point that we're having to replace the infrastructure. Whereas before we could just paper over it, eventually it collapses and now we have to pay for the repairs as they occur to the collapsed infrastructure, so the demands on our meager resources are exponentially rising." Mr Groves said the board, which is responsible for all communal issues including ground maintenance, electricity, water supply, exterior building maintenance and insurance, is owed more than $180,000 in arrears because some owners are not paying their fees. "The problem is when one debtor fails to pay, that means that all of the other non-debtors are paying for their upkeep of their property, the purchase of their water, the supply of their communal electricity and the maintenance of their grounds and it's not fair. So there is a considerable bitterness in regards to those who stay on top of their expenses and those who have fallen behind. I'd like owners to take responsibility for their liabilities. Owners have to big up. Once we can stop the hemorrhaging of money to fix crisis problems, when we stop putting out fires, we can start to reinvest on the aesthetics." Mr Groves explained that it is the responsibility of homeowners to contribute the monthly $425 condominium fee, "which then enables the board to do its business". He said: "In almost all cases, the owners occupy the buildings that they own, with the exception being Wedco, of course. In Wedco's case, that maintenance fee comes out of the rent that they charge the individual. If it wasn't for them, we would have sunk a long time ago." He said that there are "a handful of chronic debtors" who owe up to $20,000 each and that the board has had "limited success" in getting them to pay up. Mr Groves added that the board was now working with a new debt collection agency and papers had been served telling defaulters who are in more than 90 days of arrears that they will be taken to court if they do not settle their debts. Mr Groves warned: "We will have to seek payment orders on them or even asset forfeiture if it comes to that and we don't want to. In my period of chairmanship we have tried everything to avoid that but if there is no other recourse, that's what we have to do." Despite sending out monthly newsletters, Mr Groves said many homeowners were not aware of the financial concerns until they noticed problems and asked why they had not been fixed. He said: "Well, it's because we can't afford to fix it — it's as simple as that." Mr Groves said he would like to see more homeowners get involved with the board to increase awareness of the problems and help tackle them. He added: "You've got 94 residences. They're not all waterfront but they're all water accessible. Where else in Bermuda have you got a location and a potential like we have here? This is all about potential, this is about turning this village into a residential destination of first choice." A spokeswoman for the Ministry of Public Works confirmed yesterday that a joint proposal seeking funding to upgrade the water infrastructure was submitted by Wedco and Boaz Island Village Committee under the previous administration. "The proposal was considered but the final decision was deferred due to budgetary constraints," she added. "Recently Wedco has requested further consideration be given to the proposal. As it stands, the proposal has yet to be reviewed by the current minister for consideration."
Brangman's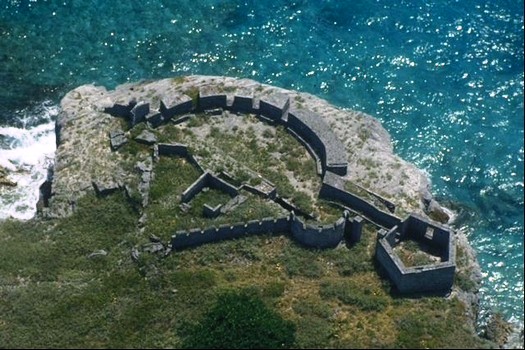 Southampton Fort, approved in 1620, completed in 1621
Also Moore's, or Southampton. 2 acres, between Castle and Nonsuch Islands, Castle Harbor. Part of the Castle Group. Historically important. Site of historic Southampton fort shown below.
Bremen
0.25 acre, east of Smith's Island, St. George's Parish.
Brook's
0.85 acre, north of but close to St. David's Island, St. George's Parish. Privately owned, recently by Mona Walsh, grand-daughter of the late Howard E. D. Smith who previously owned it.
Buck
South of Little Sound, Southampton Parish.
Burnt
Very small, west of Salt Kettle, Paget Parish. Named from when settlers set fire to vegetation to get rid of rats going from island to island.
Burt
Warwick Parish. Also Moses, Murderer's, Skeeter's. 7.75 acres, Granaway Deep, Great Sound. Not accessible by ferry, only to those with a boat. Number 14 on Government listing of Bermuda National Parks and Reserves.
Burt's
North of St. David's Island, St. George's Harbor, St. George's Parish.
As seen by the Tall Ships which graced our shores in June 2000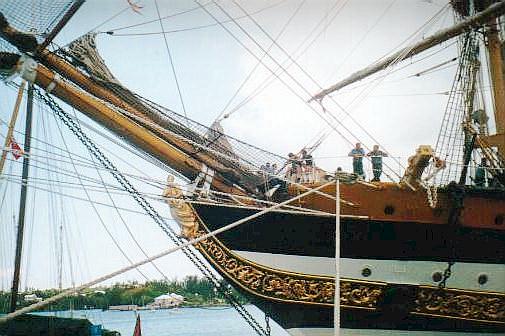 Photograph by Keith A. Forbes
Castle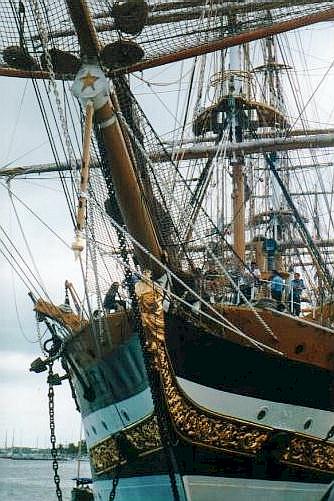 Originally King's Island, 3.5 acres, Castle Harbor. St. George's Parish. One of the "Castle Group."
It has the King's Castle stone fortification of 1612, built by Governor Richard Moore, the oldest standing English fortification in the New World and oldest stone building in Bermuda.
Also with Captain's House, built in 1621, the oldest standing home of Bermuda stone and oldest standing English house in North America.
A King George III half penny was found there, dated 1775, legal tender in Bermuda during the American Revolutionary War, and 15 pieces of rare Bermuda Hogge Money from 1615.
The buildings are overlooked on the summit by Devonshire Redoubt, built in stone in 1621 to replace one destroyed by fire in 1619.
It was from King's Castle fort that the only attack ever recorded by the Spanish against Bermuda was repulsed in 1614.
Two shots were fired from the fort at two Spanish ships sighted just outside the channel into Castle Harbor.
The planned invaders headed out to sea without knowing the fort had only one more cannonball left. The fort was improved over the centuries and saw active duty in World War II.
Opposite Castle Island is Brangman's Island, originally Moore's Island and Southampton Island, where Southampton fort is located, built in 1612.
Photo by Keith A. Forbes
Cat
Off Mill Shares, Pembroke Parish.
Cathedral
Abutting Whale Island, Ely's Harbor, Sandys Parish. Its name stems from Ely Cathedral in Cambridgeshire, England (still standing since 1200+ AD). There was once a local family called Ely, derived from the UK cathedral. It became quite a common surname for people once from that region, including colonists to North America and beyond.
Cave
North of Spanish Point, Pembroke Parish.
Charles' (Old Castle)
3.5 acres, one of the "Castle Islands" of Castle Harbour, St. George's Parish, a group of historical importance for its original fortification. The ancient English forts on these Castle Islands are without parallel in North America, evidence of the beginning of the coastal defense system of the overseas British Empire.
Cobbler's Or Cobler's
West of Spanish Point, Pembroke Parish.
Collins
Southwest of Major's Bay, Harrington Sound, Hamilton Parish.
Coney
Located off the southwest tip of St. George's Island, joined to Main Island, but accessible by road only via the North Shore Road in Hamilton Parish. A Bermuda National Park. Named after the coney fish (Cephalopholis fulva) once prominent around here. 14.5 acres in size and open to the public from daylight to sunset, free of charge. It has an interesting, undeveloped park and beaches, also a noisy motor cycle track. Its northernmost tip is called North Point and was the western terminus of a railway bridge that once ran to Ferry Reach. The public beaches are in the Department of Environmental Protection but are frequently littered with bottles, plastics, wood and more. Camping was once a popular seasonal event but is no longer allowed, for reforestation.
Cooper's
77.5 acres, south east of St. David's. Historically significant. Now joined (since 1941) to and part of St. David's Island in St. George's Parish. So-called after a William Cooper from London, one of the original colonists in 1609. In 1612 it was claimed by Christopher Carter in payment for his share of ambergris forfeited to the Bermuda Company. He spent years there digging in vain for what he thought was buried treasure. In 1614, Governor Moore had built the Pembroke Fort at the south eastern end. It had two cannons mounted on it. The fort was destroyed by US forces building Fort Bell from scratch and in the process destroying many Bermuda islands for the war effort, during World War II. Then, both all of Cooper's Island and much of St. David's Island were taken over by the US Army at Fort Bell which created a road linking this island with St. David's Island. In 1945 Fort Bell was replaced initially by the United States Army Air Force, later the United States Air Force. As Kindley Air Force Base, the lovely Cooper's Island beaches were a hugely popular attraction exclusively for USAF personnel. In 1960 part of Cooper's Island was occupied by a purpose-built NASA space tracking station to gather tracking and scientific data from all its spacecraft, satellites and planetary probes. Personnel from NASA used the beaches. In 1970, the USAF was replaced by a USA Naval Air Station but the NASA tracking station continued. In 1995, the US bases left, NASA also left and the superb once-exclusive to US Forces beaches became public. Afterwards, Bermuda's weather radar system was located on Cooper's Island.
Crawl
Southeast of Hospital, Sandys Parish.
Cross
Dockyard, Sandys Parish. Initially just a rocky outcrop used as a marker by the Royal Navy, built on and added to hugely in years 2015, 2016 and 2017 for the America's Cup.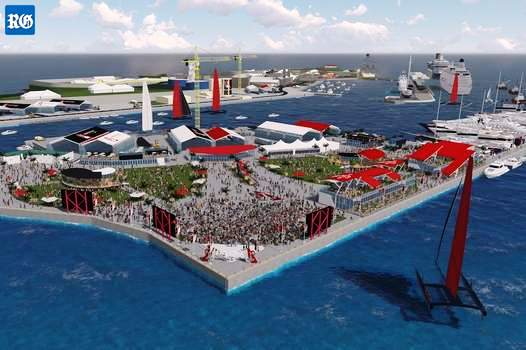 The America's Cup village, see above, on Cross Island was created as the hub of the event.
2019. July 20. The Government has launched a lawsuit to recover almost $800,000 of public money it loaned to an entertainment company to create a recording studio at Dockyard, The Royal Gazette can reveal. Papers were filed in the Supreme Court against Anthony Blakey and Danilee Trott, of Savvy Entertainment Ltd, on June 7 for defaulting on $778,204 of an $800,000 loan. The court documents warned the pair to pay the full amount plus interest in 30 days or face civil proceedings. The Government failed to answer questions yesterday about whether the money was repaid in full. Mr Blakey did not respond to phone calls and e-mails. Ms Trott declined to comment. Lieutenant-Colonel David Burch, the Minister of Public Works, announced in February 2018 that Savvy Entertainment had taken over the management of Cross Island, the venue for the 2017 America's Cup, and would use it to host events that did not need permanent structures. He said events held there would have a pre-negotiated fee and any revenue would go to the Government to help defer the $39 million cost of construction. Colonel Burch said Savvy had a charitable arm which would be led in Bermuda by Dame Jennifer Smith, a former premier, who would also join the board of Savvy's international foundation. Ms Trott told reporters that Savvy would also convert Dockyard's historic Moresby House into an "A-class" recording studio. An agreement between the former Ministry of Economic Development and Tourism, and Ms Trott and Mr Blakey, filed at the Registrar of Companies, shows the loan was provided on April 2, 2018, for 36 months "for the purposes of setting up a music studio at Savvy House, 26 Pender Road, Ireland Island, Sandys". The document said: "The loan is made on the strict condition that the loan is to be used for the purpose of setting up the studio, for shipment to Bermuda of recording equipment for your authorized business purpose and for the installation of equipment in West End Development (Wedco) facilities at 26 Pender Road. For the avoidance of doubt, the loan may not be used by you to fund other business, to pay or discharge any other loan, or to make expenditures not directly connected with the studio, and the loan shall be a first charge on the equipment in the studio." The loan, with an interest rate of 4.75 per cent a year, was to be repaid on a monthly basis over a maximum of 36 months. The agreement said Ms Trott and Mr Blakey would have to pay for any costs run up by the Government related to enforcement of its rights under the loan terms. Both signed the agreement, along with Randy Rochester, who was then the Permanent Secretary at the Ministry of Economic Development and Tourism and is now permanent secretary at the public works ministry. An appendix was attached that listed studio equipment and installation costs which totaled more than $730,000. Savvy Entertainment's website said it is an Atlanta-based "global entertainment solutions company" which is "also established in Bermuda and Germany". The website features a section on venue rentals, which lists Cross Island as available for a seven-day or five-day rental for a corporate rate of $25,000/$20,000 or a promoter rate of $20,000/$15,000. The Shed, the former home of the British Land Rover BAR America's Cup team, is listed for hire for between $6,000 and $12,000. Savvy organised a New Year's Eve celebration at The Shed at the end of 2018, with free admission or VIP tickets at $250. Its website shows a flyer for another event, a "Trunk-D tailgate party", in April this year. Ms Trott was event project manager at the Corporation of Hamilton until December last year. As well as chief operating officer of Savvy, she is the executive producer of Bermuda Fashion Festival. Savvy organised the fashion festival this year after submitting a request for proposal bid to City Hall. Savvy CEO Mr Blakey is an American songwriter who incorporated Savvy Entertainment Bermuda in September 2016. It is not known if Savvy is still managing Cross Island or whether Moresby House has been converted into a studio. Questions were sent to the Ministry of Tourism and Transport about the loan and the management of Cross Island. A spokesman said it could take some time to answer, as the deal was struck under the now-axed ministry of economic development and tourism. Cross Island totals nine acres of reclaimed land at Dockyard and was financed by a $39 million loan to the West End Development Corporation from Butterfield Bank. The Government provided an unconditional guarantee for the loan so the America's Cup event could be based there. Charlton Dill, the chairman of Wedco, could not be reached yesterday.
2017. May 19. An eco-friendly business hub could become the new tenant at Cross Island after the America's Cup sets sail. In a report released yesterday, the Cross Island Legacy Committee — established to find a use for the nine-acre parcel of land currently housing the America's Cup Village — recommended that it should be used for an "integrated blue/green business hub". Indoor agriculture, aquaculture and renewable energy would be incorporated, said the committee. Some 300 ideas were submitted by the public, including proposals for water and dog parks, an open-air concert venue — and even a brothel. Wayne Caines, chairman of the committee, said that the recommendation followed "systematic processes. If we take all the elements of this proposal together, we think the overall value is far greater than if you take them individually. The concept could create new jobs and industry alike. It is really important to understand that we are not talking about some grow-out in the backyard here." The West End Development Corporation originally forwarded plans that could have seen the site transformed to a new home for Marine and Ports operations, a boat service yard with superyacht capacity, and a maritime school. A Supreme Court decision, following an appeal launched by the Bermuda Environmental Sustainability Taskforce, found deficiencies in the Environmental Impact Assessments completed for the possible redevelopment proposals, however. The ten-member committee was formed by Wedco last year following the court decision. All ideas, the report said, were evaluated based on five criteria: economic, environmental, financial, social/cultural, and structural. Greatest emphasis among the criteria was given to the economic benefit for Bermuda. Multiple benefits from the hub, Mr Caines said, could include international education opportunities. "It will help provide more security, reducing our reliance on imports," he said. "It will add to the amount of healthy, locally-sourced food products and there may even be some potential for exports." Jonathan Starling, executive director at Greenrock, said he was "pleasantly surprised" by the proposal. "I think what is proposed, in the form of renewable energy helping to reduce Bermuda's carbon footprint, boosts to local agricultural production and locally produced mariculture, is welcome," Mr Starling said. Ray Charlton, chairman of Wedco, called the proposal an "interesting idea. We do not yet know if the America's Cup will be coming back to Bermuda but if, unfortunately, it does not, we want to be in a position to progress with a project for Cross Island that is both in keeping with the area and which adds to the economic well-being of Bermuda." BEST said that while the report had taken a long time to materialize, its spirit was "admirable".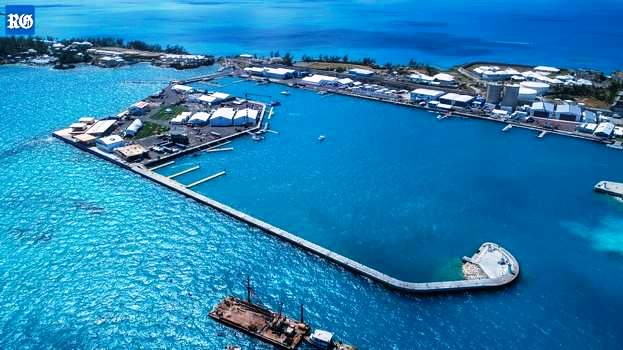 Cross Island, Bermuda - home of the 35th America's Cup
2017. April 26. Safety officials have warned about potentially "catastrophic" consequences with Great Sound boaters getting too close to the America's Cup teams. With more inexperienced boaters expected to hit the waters as the weather gets warmer, the Bermuda Water Safety Council urged them to stay near shorelines and give room to the foiling boats. The Bermuda boating public is "getting too close for safety both to themselves and the AC teams", the council said. The ACBDA added that America's Cup yachts — now in high-gear training in the Sound, with the showpiece event less than a month away — travel at up to 50 knots and can change direction very quickly. Paul Doughty, a member of the safety council, told The Royal Gazette: "When there's a good weekend, some occasional boaters come out who might have less experience, and we want them to be looking out. "When a sailboat is sailing, they are not simply going in a straight line. They go about up wind and down with the wind. And with the speed of these boats, even more experienced people say they look around and see the boat a mile away and then they are on top of them. It's hard to gauge because they are so fast. We are not saying that people can't or shouldn't use the Sound, only that they should remain vigilant." In a post on the council's Facebook page, the group stated: "The ACBDA have just informed that the AC boats are now in high-gear training in the Sound. It has been noted that the Bermuda boating public are getting too close for safety both to themselves and the AC teams. Please give the AC boats as much room as you are able and try to stay near shorelines when you are out on the water. The consequences of a collision with one of these foiling boats could be catastrophic. You or anyone involved could also ruin a team's chances of being in the Cup." The post urged the public to spread the message, adding: "The ACBDA understand that the Great Sound is for everyone to enjoy, and not just for the America's Cup teams, but do advise that extra care and caution should be taken at this time. Safety first." Mr Doughty said that he had received comments questioning why America's Cup spotter boats couldn't ask boats to keep a distance. But he argued the spotter boats need to be focused on reacting to emergencies rather than asking spectators to move. "They can't just stop and tell people to move," he said. "It's up to us to be vigilant on the water." An ACBDA spokeswoman said: "America's Cup Class boats can travel up to 50 knots, are much more maneuverable than the AC45Fs and they can and will change course very quickly. The teams may lay temporary marks for their own practice sessions, or they may not — there is no set pattern to this — but the key point is for the general public to give the boats as wide a berth as possible. While it may be tempting to try and take a closer look, please do not do so as proximity dramatically increases the risk of an incident." The spokeswoman also warned that there are no set times for teams to practice in the Sound, saying: "They may choose to go out on the water whenever they can and want to practice, and the advice to stay close to shore to avoid incidents applies whenever one or more America's Cup teams are on the Great Sound."
2017. April 13. America's Cup organizers are urging people to buy tickets for the Grandstand as soon as possible to avoid missing out. The facility is described as one of the prime positions in the America's Cup Village, offering views straight over the racecourse finish line and a dedicated large screen showing the races live. It will have a roof to provide shade, and its own exclusive bar at the base of its structure, with drinks and snacks service for guests in their seats. A press release from the ACBDA says demand has already been very high for Grandstand seats and tickets are already sold out on June 17, 18, 24 and 25.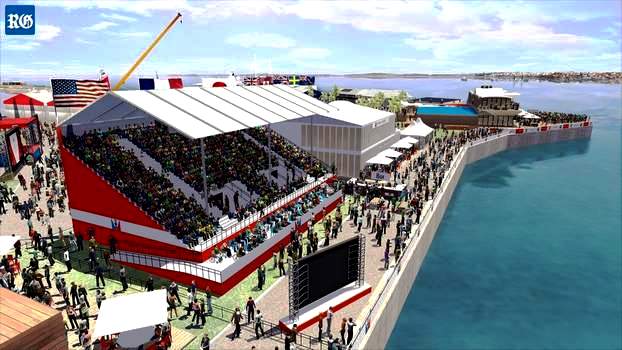 Bermuda's America's Cup Grandstand on Cross Island, see above story.
2017. February 9. A decision over the end use of Bermuda's newest island is unlikely to be made until after the America's Cup has been completed, according to Andrew Dias. The general manager of the West End Development Corporation acknowledged that if the island secured the sailing spectacle in 2019 the final determination over the future of Cross Island would be pushed back further. Wedco originally submitted plans that would have seen the site of the America's Cup village transformed into a new Marine and Ports headquarters, a boat service yard that could accommodate superyachts as well as short-term berthing and a maritime school. But after an appeal by environmental group BEST the Supreme Court held that there were deficiencies in the Environmental Impact Assessments completed for the development plans of Cross Island. "Whatever the final plan is we shall have to resubmit it through the planning process again," Mr Dias said. "There is the chance, depending on who wins the event, that Bermuda could host it again in 2019, in which case under the AC Host Venue Agreement Cross Island has to be available to host the event again. In this case everything would be kept as it is until 2019 when the final end uses decision would be made." Mr Dias revealed that the Wedco board had a formed a sub-committee, chaired by Wayne Caines, to explore the possible end uses for Cross Island and had consulted with the public and stakeholders over recent months. "We are not resting on our laurels," he said. "The committee engaged in extensive public consultation with the assistance of Deloitte. They went out to the public at the end of last year in one of the most consultative processes I have ever seen. They asked everyone what their opinion was on what should be there. The short listed uses have been submitted to the Wedco board and are currently being assessed. It is possible that the board may determine that further due diligence and analysis may be required. The board should be able to say something in March. In June after the event we will have to figure out what the process is; although a decision on the future of the America's Cup may not be made until October or November.".
2017. January 18. Rising from the South Basin, Bermuda's newest landmass and soon-to-be-home for the America's Cup Village is a hive of activity. Construction crews, asphalt teams and heavy machinery operators are working around the clock, seven days a week, to ensure that Cross Island will meet its mid-May deadline in preparation for the sailing spectacle. Scores of workers from a dozen Bermudian firms are presently involved in the multimillion dollar development, which project managers say will be brought in on schedule. "Last week, 38 containers with the structure of the Club America's Cup building arrived in Dockyard," Shane Rowe, head of operations and infrastructure for ACBDA, said. "The containers, which originated in Brazil, are in quarantine on-site at present, but as soon as they are cleared in about two weeks' time, then work can begin on the Club building. Meanwhile, next week, we have a further 40 containers of grandstands and stages arriving; they will be stored on Moresby Field until we start erecting them." Parts of Cross Island have already been tarmacked in preparation for the construction of the Red Bull Youth America's Cup headquarters and the Emirates Team New Zealand team base that will begin at the beginning of next month. While the asphalting continues, contractors will also start on the Club building; the main hospitality arena for the event, that will look directly out to The Great Sound over the racecourse. Project manager Richard Noel from BCM McAlpine's told The Royal Gazette: "The island's infrastructure is about 80 per cent complete; underground services like water, power and waste water have been installed, but there is still some work to do. October's hurricane did have an effect on the schedule, but a lot of the damage was cosmetic and required a clear-up operation rather than anything else. All in all, the island stood up well. It was a good test of the work that has been done. It's going well. We have had our challenges along the way, just like any construction project, but we have worked with the ACEA, the ACBDA and Government to get through them." The land reclamation phase of the project involved about 140,000 cubic yards of dredged material from the North Channel and 160,000 cubic yards of imported crushed granite being deposited in the South Basin. The aggregate was spread across a nine-acre area and held in position by vast sheet piles that were driven into the seabed to form the boundary of the new island. Power lines and sewage pipes as well as other infrastructure have been installed in recent months, and work to raise the South Arm, which will provide the backbone to the superyacht berths, is ongoing. The bridge linking the island with the mainland has been completed, as has the protective splash wall, while Land Rover BAR is expected to officially open its base in the coming weeks Next month, construction of the Groupama Team France base will begin, while Artemis Racing will move up to their new, smaller base on Cross Island from Morgan's Point in April. Mr Noel added: "We are 90 per cent there now. But, the last 10 per cent always seems to take the longest time. "We expect it to come together quickly from here and finish on schedule."
2016. October 7. The first phase of Cross Island — the land reclamation project in Dockyard — has been completed. Economic development minister Grant Gibbons joined key players at the site for a celebration today, with organizers saying they are "ahead of schedule and on budget". Now that the infill phase is finished, the next part of the project involves installing the infrastructure, including electricity, water, sewage and telecommunications before the new nine-acres of land is handed over to the America's Cup Event Authority, which will create the Event Village for the 35th America's Cup. The overall village site will also hold the team bases for Land Rover BAR and Groupama Team France, alongside the bases for Oracle Team USA and SoftBank Team Japan, which have been operational for some time. Emirates Team New Zealand and Artemis Racing will have bases on Cross Island and the Red Bull Youth America's Cup, the media centre and the various hospitality facilities will also be located on the infill site. Peter Durhager, chairman of ACBDA, said the project was a collaborative effort between the stakeholders of America's Cup Bermuda, Wedco, Ministry of Public Works, planning department, construction managers BCM McAlpine and a range of vendors and contractors. Mr Durhager said in a statement: "It wouldn't have been possible to complete a project of this scale ahead of schedule and on budget without the concerted effort of these agencies. "On behalf of the ACBDA, I would like to thank everyone who was involved in helping us to achieve this significant milestone." The project began last November when a portion of the South Basin was filled with seven shiploads of granite. The aggregate came to the island on the MV Balder, a specialized ship that allowed the fill material to be offloaded by conveyor belt into the South Basin. The total amount was 310,000 cubic yards of aggregate — 165,000 cubic yards of granite from a quarry in New Brunswick and 145,000 cubic yards from last year's dredging project by Royal Caribbean Cruise Lines. That project was part of multiyear contract between Bermuda Tourism Authority and RCCL to accommodate large RCCL cruise ship visits to Dockyard. The Balder was one of the largest vessels to have ever sailed into the South Basin and the process involved two highly specialized tractor tugs to assist the vessel entering and departing. The tugs were assisted by staff from the Department of Marine and Ports. Dr Gibbons stated: "This milestone shows what Bermuda can accomplish when we set our minds to a task and work together. I congratulate and thank everyone involved in ensuring that Bermuda honours our commitments. We are proud of our relationship and partnership with the America's Cup and look forward to welcoming the remaining America's Cup teams, sponsors, fans and visitors for the 35th America's Cup." The infrastructure portion of the project is expected to be completed by the end of the year, with the Event Village taking shape soon after. While the first use of the space will be for the America's Cup, a process is under way to ensure the long-term deployment of this land by Wedco for lasting legacy and value. Andrew Dias, general manager of Wedco, stated: "This project had been in the pipeline for quite some time and its completion is a dream come true for Wedco. Our focus going forward is to create a lasting legacy for Cross Island. We have received hundreds of submissions as part of our long-term strategic planning for the further development and use of this wonderful waterfront resource following the America's Cup and I look forward to helping to make some of those ideas reality."
2016. July 20. More than 100 suggestions have been submitted on how to use the nine acres of reclaimed land in Dockyard after the America's Cup next year. But the Cross Island Legacy committee — tasked with generating ideas for the future of the land — want at least another 50 before the deadline closes in less than two weeks. Committee chairman Wayne Caines spoke earlier this week at the Chewstick Open Mic session and will do again this Sunday, appealing to young Bermudians to get involved. "We have addressed many stakeholders, such as BEST and the Chamber of Commerce, and we have been extremely active in reaching out to people on social media," said Mr Caines. "However, we want to be inclusive in this process and I thought it was important to engage as many young people as possible which is why I went to Chewstick. We want to create a legacy that will help Bermudians for years to come." After the deadline for submissions, the committee members will score each idea against agreed weightings on a series of objectives. They are:
Economic — provides economic benefits to Bermuda
Environmental — that it is sensitive to the environment, surrounding historical significance, and marine habitats
Financial — that it delivers a good Return on Investment (ROI) for Bermuda
Whether it is financially viable
Social/Cultural — whether it is connected to Bermuda's heritage and culture and whether it provides social benefits to Bermuda
Structural — is it a good fit for the location, physical site, and exposure to weather and elements?
Financial is weighted 16; economic is weighted at 25; environmental 20; social and cultural is 19.5, and structural is also 19.5. The committee will then recommend the best ideas, or the best combination of ideas, to Wedco, whose board will review and shortlist the ideas further to form part of a public RFP process. Mr Caines said he was convinced that Wedco was committed to carrying out an inclusive and transparent RFP process. "We're not asking for your proprietary business secrets," he said. "The ideas we are looking for are at a high level, not necessarily hugely detailed. The detail will come with the RFP submissions. We are being as open and transparent about this process as we can be because we want to engage the community in generating ideas but we also want to see and hear discussions about those ideas. We want to hear what you would support — and you can see them all so far, even an idea for a brothel, on our Facebook page, 'Cross Island'."
2016. July 12. By Wayne Caines, chairman of the Cross Island Legacy Committee. "It is very rare in Bermuda that nine acres of land suddenly appears on the market waiting for an entrepreneur, or entrepreneurs, to come along. But that's what is happening at Cross Island, at the Royal Naval Dockyard, and this presents an unheard of opportunity to create a legacy for Bermuda that will benefit the community for decades to come. I accepted an invitation to become the chairman of the Cross Island Legacy Committee because I feel passionately about this country and its future, and saw in this a chance to help to create a game changer that could benefit Bermuda economically and culturally. Cross Island will be the home of the America's Cup Event Village next year and there is always the possibility that the "Auld Mug" will return to Bermuda in the future, using the same land. However, at some stage, there will be a need for a long-term use and it would be foolish not to plan for that now — and that is what the committee is doing, by asking for the input of the entire community. So far we have had some brilliant ideas: a sports centre, conference centre, a shipping container city for small businesses, a fish farm, and a sailing centre to build on the America's Cup legacy. All these, if they went ahead, would provide jobs and help to bring investment to the island. That is why this opportunity — I call it "nine acres of opportunity" — is so exciting because it has the potential to further boost Bermuda's economy, thereby creating jobs and wealth for all of us. Helped tremendously by Deloitte, the committee has been, and will be, asking stakeholders, community groups, professional groups and everyone in between for ideas. If you have not contributed already, you can via www.surveymonkey.com/r/CrossIsland. Importantly, we do not want just your ideas, we also want your input on other people's ideas — ideally, we would like to get a really good conversation going. You can see and comment on many of the ideas on our Cross Island Facebook page. Please tell us which ideas you support and why, and help us to improve and to develop the ideas that others have already submitted. I also want to emphasise that this process is not necessarily about finding one big idea, one big development. The best solution may be lots of small ideas, so it is inclusive, allowing the average Bermudian a chance to participate and to benefit. The deadline for your submission is July 31. The work of the committee will then start in earnest as we begin to digest and to analyze all the ideas. My fellow committee members are Andy Burrows, from the Bermuda Tourism Authority, Joanna Cranfield, the business development manager at West End Development Corporation, Kirk Outerbridge, from the Department of Works and Engineering, Aideen Ratteray-Pryse, from the Department of Planning, Philip Seaman, of Pj Designs and a member of the Wedco, Elena Strong, from the National Museum of Bermuda, and Jonathan Starling, the executive director of Greenrock. We will all work towards delivering workable ideas to Wedco. The committee will evaluate the benefits and costs of each idea against the following key objectives:
Economic. Provides economic benefits to Bermuda
Environmental. Is sensitive to the environment, surrounding historical significance and marine habitats
Financial. Delivers a good return on investment for Bermuda; is financially viable
Social/cultural. Is connected to Bermuda's heritage and culture; provides social benefits to Bermuda
Structural. Is a good fit for the location, physical site, and exposure to weather and elements
Once that is accomplished, we will pass our short listed recommendations to the Wedco board, which will then review and shortlist the ideas to form part of a public request for proposal process. We are confident that Wedco is committed to carrying out a transparent and inclusive RFP process in the next phase of this exciting endeavour. This is a conversation worth having. It is a once-in-a-generation opportunity and I hope we will receive 60,000 ideas."
Manmade beginning in late 2015, to be finished by late 2016 to house the 2017 America's Cup and thereafter a mix of public and private events. To accommodate mega-yachts.
Announced in November 2009 for construction in 2010. To be built (added to substantially from the remains of the previous island) under a public private partnership between Wedco and South Basin Development Ltd., a company formed specifically for this project It will include a mix of approximately 200 slips in a variety of sizes, 100 to 250 feet and possibly in excess of 300 feet long, to accommodate both mega-yachts and those smaller in size. The development will be a major step in the continuation of the redevelopment of the area where the former Royal Navy Dockyard was located.
1901. At Dockyard, the Royal Navy incorporated tiny Sober (Cross) Island into the land-based South Western Breakwater. By doing so, it created a natural defence against the sea, to plug what had earlier been an obvious breach of defences there. In the process, the Royal Navy approved the change of name from Cross to Sober Island to stem the outbreaks of drunkenness among the crews working on the project.
1850. At Dockyard, the Royal Navy constructed a Magazine on Sober (Cross) Island. It was then a very small and partly submerged outcrop of land, not really an island at the extreme south western end of the Dockyard area. It was so-called because a religious cross had once been found there, leading finders to believe there might have been buried treasure nearby. But it was never found.
Crow
Hungry Bay, Paget Parish.
Crow
East of Trunk Island, Harrington Sound, Hamilton Parish.
Current
Northwest of Watford Bridge, Sandys Parish.
Daniel's
Off Daniel's Head, Sandys Parish.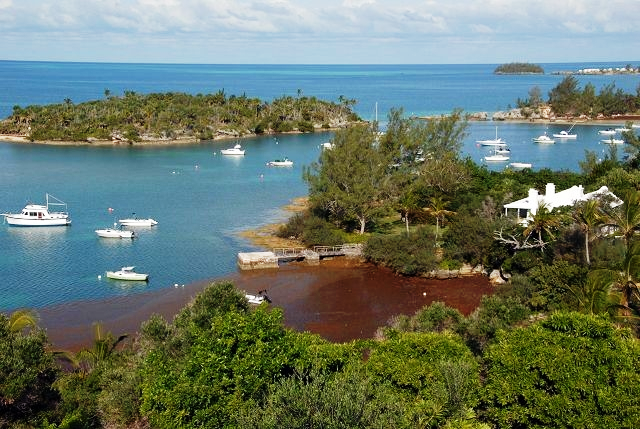 Daniel's Island
As seen by the Tall Ships which graced our shores in June 2000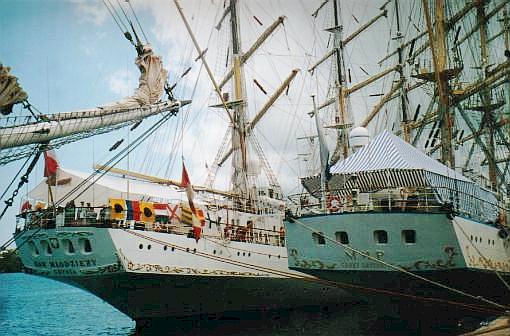 Photograph by Keith A. Forbes
Information details on the following islands are now being revised
Darrell's Island
Warwick Parish. (Warwick North Central constituency). Not accessible by ferry, owned by the Bermuda Government. See it from western Harbor Road. This 15 acre island in the Great Sound has a unique history. It was once a quarantine station for epidemics in 1699, 1796 and 1799 of small pox, yellow fever and cholera. It was a designated prisoner of war Island Camp during the 1901-1903 Boer War. Its 1,100 involuntary inhabitants shipped to Bermuda from South Africa to isolate them included Generals of the Boer Army. Many of these prisoners of war died in Bermuda. A memorial to them is on Long Island not far away. In 1936, the island was a purpose built maintenance, refueling station and terminal for flying boats of Pan American and Imperial Airways. The airport here was the base for and pioneered scheduled USA to Bermuda flying routes. It was Bermuda's first permanent facility for any kind of aircraft. On May 25, 1937 the Imperial Airways' Short Empire C class flying boat RMA Cavalier took off from the unofficially opened and not quite finished Darrell's Island Marine Air Terminal in the Great Sound, for New York. At the same time, the Pan American Airways' Sikorsky S-42, code of NC 16735, by then renamed by Mrs. Trippe as Bermuda Clipper, also flew from Port Washington, NY to Bermuda.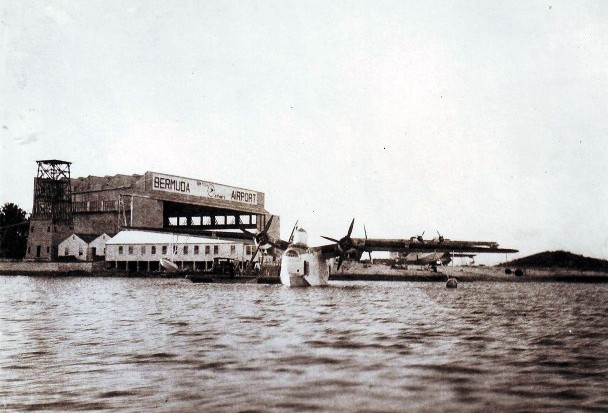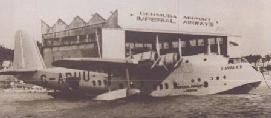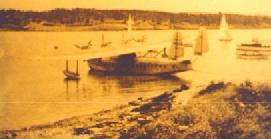 She did a successful reciprocal survey of the route. On June 12, 1937 the million dollar terminal building at Darrell's Island Airport was formally opened. Bermuda become THE mid Atlantic seaplane and flying boat airport base and resort. It was also the date of the inaugural flights of the Cavalier and Bermuda Clipper. Both landed safely. Both flying boats took off from Port Washington, New York. RMA Cavalier was commanded by Capt. Neville Cumming, with co-pilot First Officer Neil Richardson, radio engineer Patrick Chapman, and steward Robert Spence. Bermuda Clipper was commanded by Capt. R. O. D. Sullivan. Passengers on this particular flight included Mr. John Barritt of John Barritt & Son Mineral Water Company; Major Neville, a staff officer at Admiralty House; Mr. E. P. T. Tucker, General Manager of John S. Darrell & Co.; Mr. E. R. Williams of J. E. Lightbourn & Co. (who later became a Mayor of Hamilton); Mr. H. B. L. Wilkinson, of Bailey's Bay; Miss Minna Smith, a nurse at King Edward VII Memorial Hospital; Mr. Terry Mowbray, Sports Director of the Bermuda Trade Development Board; Mr. & Mrs. Richard Scott of Boston, returning from their honeymoon in Bermuda; and Mr. Eugene Kelly, Mrs. Alice James and Mrs. John Fullarton, all of New York. Later, in support of the two airlines and in anticipation of much more communications traffic, the West India and Panama Telegraph Company Ltd - in conjunction with Britain's Imperial & International Communications - installed an internal teleprinter system between the airlines' offices and the Air to Ground station. Darrell's Island served in a similar capacity for Royal Air Force, Royal Canadian Air Force and US Army Air Force flying boats during World War 2. During the war, American use of Bermuda as a military base caused their desertion of this island for the land based airport they built. From June 1954 for several years, the island was used as a film studio location. The old flying boat hanger was demolished in 1974. Then it became a residential island. Most of it later got taken over by the Bermuda Government. Nowadays, part of the island - Darrell's Island West - is the Allen Camp, operated by the African Methodist Episcopal Churches, at telephone 234-0433.
Doctor's
Hamilton Harbor, north of Salt Kettle, Paget Parish.
Duck
A mangrove patch in Hamilton Harbor, Foot of The Lane, Paget Parish. Aquatic life takes refuge here and during storms or hurricanes small boats take shelter to leeward.
Epsilon
Small, south west of Port's. Warwick Parish.
Eta
Not accessible by ferry, only by boat. During the Boer War, prisoners of war on work parties crossed from Port's to Long and the other way around via a wooden footbridge on this island. Privately owned. Warwick Parish.
Fern
Warwick Parish. (Warwick North Central constituency). Also known as Sin, Hamilton Harbour.
Ferry
1.5 acres, south west of St. George's Island and north of Coney Island, St. George's Parish. It is named after the horse ferry that used to come here until the late 19th century. It was then the only connection between St. George's Island and Main Island. A bridge connects the island with Ferry Point behind it.
Fish Hook
South of East Whale Bay, Southampton Parish.
Five Star
Also known as Wilson's, 2 acres, one-property residential, Great Sound, Southampton Parish. Recently owned and lived on by Curt Engelhorn, the German billionaire.
Gamma
Warwick Parish. (Warwick North Central constituency). A mere dot, South of Nelly Island.
Gibbet
(Sometimes called Gallows or Gibbet's). 1 acre and Little Gibbet, close to shore, Smith's Parish. near the entrance to Flatts. They are not accessible to the general public except by water, up to the high tide mark. The # 10 and # 11 buses stop on either side of the North Shore Road nearby. They can be clearly seen from the North Shore Road where it meets Jennings Land Road, and from the Railroad Trail nearby. They guard the entrance to Flatts Inlet. As a seafaring island, Bermuda inherited and followed many of the same customs as its mother-country, the UK, including use of the gibbet. Gibbeting was one of the methods said by Tacitus and Cassius Dio to have been used by Boudica's army in the slaughter of Roman settlers in the destruction of what are now Colchester, Essex, England, London and St. Albans in AD 60-61. In Bermuda, the islands above were used for this purpose because it was not on the mainland, was not in a populated area where sights and smells of decaying corpses could offend sensibilities. Both were once sites for executions of witches by burning at the stake and felons, not just by hanging but also gibbeted. One hanging was in 1681, a slave from New England, Indian John. He was the property of William Maddigan who then lived at Orange Grove not far away in the same parish. Indian John escaped, tried to set fire to the house, seized a pistol and intended to shoot every member of the family, but was captured. He was sentenced by Governor Florentius Seymour to be executed, have his head cut off and be quartered and the head and quarters put on poles for all to see, in other words gibbeted. Another slave, Quashi, was hung there in 1754 after being convicted of murder of his master John McNeil. Altogether, there may have been as many as 17 cases of gibbeting in Bermuda. Bermuda is the only place in the world with an island named after a gibbet. It was also the only place in Bermuda where the gibbet was used as an additional refinement to hanging. Persons hung had a less humiliating end, they could be buried decently. But bodies gibbeted because of the seriousness of their crimes were left there to smell and rot, and were sometimes tarred to lengthen their displayed broken corpses and prolong their public displays, as a deterrent to others. Today, the bare pole is not an old gallows but an old standard for a navigation light.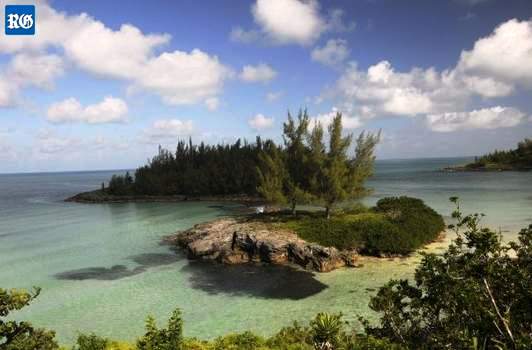 Goat (1)
Fairylands Creek, Pembroke Parish. Near Stipple Island and like it a nature reserve.
Goat (2)
Off Cooper's Island, near Nonsuch Island, southeast of St. David's Island, St. George's Parish.
Goose
0.504 acre. Off Fairylands and Mills Shares, Pembroke Parish. Recently for sale at US$550,000. Ideal weekend retreat, zoned to preserve the environment and natural habitat. Thus development of any significant nature isn't permissible. But as an amenity this private island will provide hours of enjoyment for the owner who is a boater or environmentalist or someone who just wishes a convenient escape from the mainland.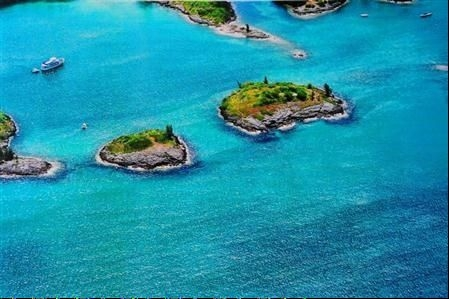 Goose and neighboring bigger Bird Islands
Governor's
1-acre island in St. George's Harbor, near St. David's Island, between Peggy's Island and Paget Island. Its old ruined fort, Smith's Fort (see below), was once the dominant feature. It was named for Governor Richard Moore who in 1612-13 began the fort as a way to command the vulnerable but then strategically important channel nearby. By the time Moore's term ended, 11 guns were in the fort. One of the less inaccessible forts but historically important. On the list of Bermuda National Parks and Reserves.
In 2001 a skeleton more than 200 years old was found buried and unearthed here during an archaeological dig. The skeleton was the second to be found buried in Smith's Fort. The latest skeleton, a male estimated to be in his early 20s, was discovered in one of the fort's "Merlons'' which is a large rampart part of the wall, between which cannons would be fired. The fort was originally built in 1613, and the foundations of two towers built in Bermuda stone were discovered two years ago. In June 1999, another skeleton was found on the same site, only yards from the current skeleton and both appear to have been laborers working on rebuilding Smith's Fort in the 1790s. The fort was modified at that time by St. George's first mayor, Major Andrew Durnford who was also a Royal Engineer. The Royal Engineers were an army corps responsible for constructing forts and bridges. Major Durnford was responsible for modernizing Bermuda's forts following the American revolution, and destroyed all but the footings of the original fort before rebuilding it. Modifications to the fort were deemed necessary at the time to fortify Bermuda as one of the British strongholds in the New World. The individual just discovered was buried in a nightshirt and possibly a shroud, as pins for the sheet and buttons for the shirt have been found with the skeleton. In addition, a coin or medallion was found in the area of the heart and was perhaps in a pocket as it had fragments of cloth adhering to it. The coin was a major find and helped to date when the man was buried, but the cloth that has corroded to it prevented them from reading the date. Archaeologists believe that the two skeletons were those of young men. The latest skeleton was remarkably well-preserved and the man had an almost perfect set of teeth and no visible signs of trauma or injury. The two men had been buried in coffins and although many nails were found the wood had completely rotted away. They may have been victims of yellow fever which claimed many lives in Bermuda over several centuries. The skeletons were sent overseas for analysis, but there were no obvious signs on either of any injury. They will then be kept in the care of the Bermuda Maritime Museum. Smith's Fort is one of the fortifications at the east end that are now on the UNESCO World Heritage list and the work by Professor Barka and Harris was instrumental in having the forts added to the list along with the town of St. George.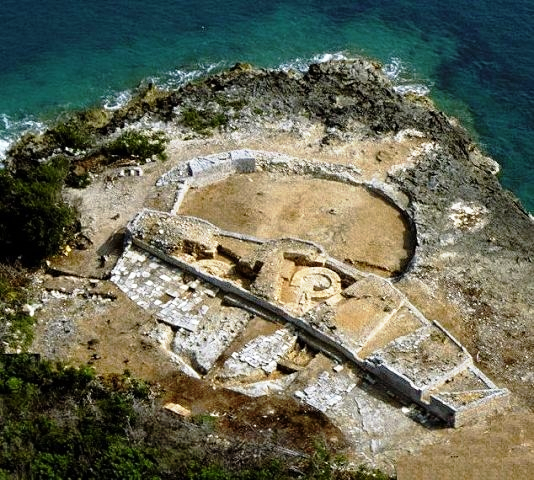 Smith's Fort, built 1613
As seen by the Tall Ships which graced our shores in June 2000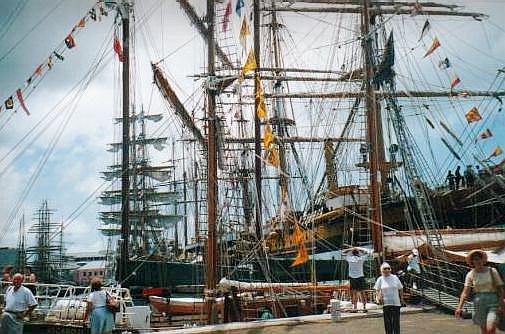 Photograph by Keith A. Forbes
| | |
| --- | --- |
| Grace | Also known as Robbins, 5.9 acres, Great Sound, Warwick Parish. Owned by Bermudian millionaire and philanthropist Mr. Fernance Perry, who has the Grace Island Trust. Birds such as the blue heron make it their home. There is a now a Christian camping site in facilities finished in 2000, the Word of Life Summer Teen Camp, in part of every August. |
| Grazbury's | 0.75 acre, southeast of Annie's Bay on Cooper's Island, Castle Harbor, St. George's Parish. |
| Green | Continuation of Nonsuch, St. George's Harbour, St. George's Parish. |
| Gunpoint | West of Wreck Bay, Sandys Parish. |
| Halfway Rock | (Also Boat Rock). A limestone stack just in Smith's Parish, slightly west of Hamilton Parish. It is offshore, halfway between The Castle fort on Castle Island and the fort at Devonshire Bay. It was unmanned but important before the Military Road permitted east-west land travel. It was a military bearing mark on the water route between the two important fortifications. |
| Haggis | South of Riddell's, Southampton Parish. |
| Hall's | Off Trunk, in Harrington Sound, Hamilton Parish. Once used for the study of the gibbons species of monkey. A tribe of gibbons was introduced for research. |
| Hawkins | Warwick Parish (Warwick North Central constituency). Originally Elizabeth's or Tatem. 5 acres. Great Sound. It was re-named after the Royal Navy bought it in 1809. It is not a National Park because it is privately owned by a family trust headed by William Cox. It's not easily seen in the Great Sound because it is the most easterly of the large group of islands stretching across the center, well hidden behind Darrell's, Burt's, Delta, Gamma, and Beta Islands. It was a Boer War prisoner of war camp from 1901 to 1902. It housed as many as 1,300 prisoners in bell tents. There is no ferry service nor public access. But there are local cruises there several days a week with an entertainment package. Planning permission has been sought for lodge facilities. |
| Hen | 2.75 acres, north-west of Smith's, St. George's Harbour, St. George's Parish. With a campsite operated by and requiring the permission well in advance of the Bermuda Government's Department of the Environment (Parks). Now used by Cub Scouts. In October 2011 a skeleton was found buried there. It may have been that of Gunner Thomas Squires. In 1825, on September 3, then based with a field battery on Hen Island, he was injured during a storm on the island and subsequently died from those injuries. It is believed he was buried on the island. |
| Higg's | 5 acres, St. George's Harbor, St. George's Parish. Reduced to help create the Town Cut. |
| Hinson's | Also known in the past as Brown's or Godet's. One of the largest in the Great Sound, closer to the Warwick shore than the Paget shore so it belongs here technically even if in Paget Parish. It has a convoluted history in various earlier names, then known as Brown's Island and Godet's Island. It was a Boer War prisoner of war camp from 1901 to 1902, mostly for Boer teenagers. Later, it was the base for Bermuda's first seaplane service, the Bermuda and West Atlantic Aviation Company, run by Major Hal Kitchener and Major Hemming, a veteran of World War I. Now it is an exclusive island - and a private club - for the wealthy, with a request ferry stop on the Warwick service for residents to get to the city of Hamilton and back. Most homes have their own water frontage or private docks or moorings. There are no private automobiles on the island. Ashore, see it best from Harbor Road, at the Belmont Wharf or Darrell's Wharf ferry stops. |
| Horseshoe | 2.25 acres, St. George's Harbor, St. George's Parish. |
| Hospital | At the entrance to Crawl Island, Sandy's Parish. 1818. Construction of the RN Hospital near the Dockyard, in the same pre-fabricated manner as the later Commissioner's House, initially as a Quarantine unit. When added to substantially later, in addition to cast iron structural features, such as veranda columns, floor joists, and possibly cast and wrought iron roof trusses, some of the stonework for the building was the hard local limestone. A surgeon, doctors and medical staff were appointed and sent by the Royal Navy. During World War 2, the Royal Naval Hospital, Bermuda, treated and often saved the lives of many brought in from torpedoed ships. The Royal Navy left in 1950s. That hospital building ended its life as an egg farm, then finally was deliberately burnt to the ground by the Fire Department in November 1972. Part of it became the site for Lefroy House, for senior citizens. |
| Idot | Near Nonsuch, St. George's Harbor, St. George's Parish. |
| Inner Dumpling | East of Outer Dumpling, Harrington Sound, Hamilton Parish. |
| Inner King's Point | West of King's Point, Sandys Parish. |
| Iota | Great Sound, with a small landing dock, Southampton Parish. |
As seen by the Tall Ships which graced our shores in June 2000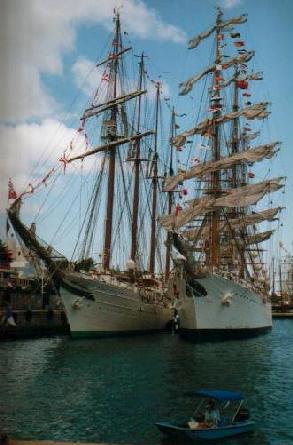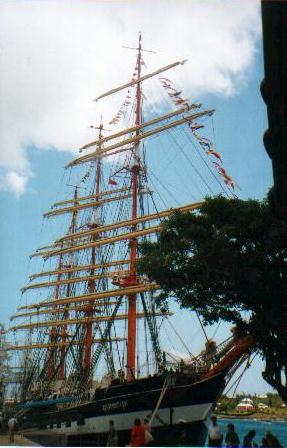 Photographs by Keith A. Forbes
| | |
| --- | --- |
| Ireland | The name has nothing at all to do with the country of Ireland, simply because there was once a British colonist landowner whose name was John Ireland. He owned, lived and farmed on that island in the 1620s. All other Bermuda place names beginning with Ireland also refer to him. In the Great Sound, Sandys Parish. One of the six principal Bermuda islands. It is the narrow serrated island that pushes out into the Atlantic at the extreme north west of Bermuda. Also has Ireland Point and Ireland Narrows, both also after the original owner. It has a completely separate history from the rest of Bermuda. It is historically important. It dates from when a Flemish or Dutch ship went aground in Wreck Bay on the Main Island and sank there in 1618. It was why the original name was Flemish Hill. The captain of the ship had the very English name of Powell and was a notorious Caribbean pirate. The buccaneer ship then had legal status as a privateer. It had sailed against the Spanish under a Letter of Marque by the Dutch prince Maurice of Orange, so was technically not a Flemish ship but a Dutch one. The British Government did not like the presence of Powell in Bermuda so Governor Miles Kendall banished him to the western Bermuda island now called Ireland Island. It was from there that Powell and his men tried to build a new ship. In 1795, Wreck Hill was bought by the Royal Navy - see Royal Naval Dockyard in Bermuda - which considered the Wreck Hill site an ideal one for a lighthouse. But the one that eventually got built at Gibb's Hill instead from 1840 caused the plans for this one to be scrapped. Until it became a major Royal Navy base in the 18th century, there were no roads and few inhabitants. Because there was a fear of leprosy, all those leaving there had to leave this jungle island of cedar and swine and wooden houses thatched with palmetto before the Royal Navy started moving in properly from 1809, from which point the island was destined to become joined to the mainland instead of staying an island. Maria Hill Fort on this island was later the site of the Royal Navy's Single Mechanics Quarters. The Royal Navy stayed until 1952 when the Royal Navy Dockyard there ended, but HMS Malabar continued with a token presence until 1995. |
| Kappa | Great Sound, Warwick Parish. |
| Lambda | Great Sound, north west of Hawkin's and between it and Omega. Warwick Parish. |
| Lapstone | Off Spanish Point, Pembroke Parish. |
| Little Crumb | Between Spectacle and Perot's, Southampton Parish. |
| Little Gibbet | South of Gibbet, see above, Smith's Parish. |
| Little Oswego | 0.73 acre, east of Oswego (Great), off St. David's, St. George's Parish. |
| Little Rogue | Off Ferry Reach, St. George's Parish. |
| Little Scaur | Between Grazbury's and Long Rock, south of Annie's Bay, St. David's, St. George's Parish. |
As seen by the Tall Ships which graced our shores in June 2000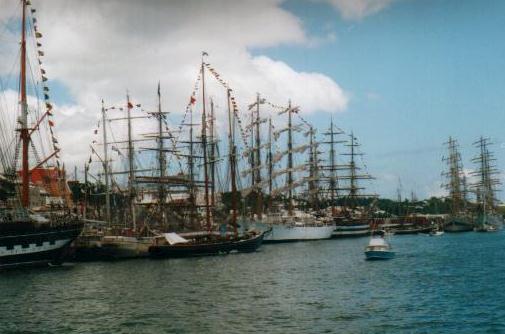 Photograph by Keith A. Forbes
Long
Warwick Parish. (Warwick North Central constituency). Once known as Sheep, in that part of the Great Sound known as Paradise Lake. Historically important. Not accessible by ferry, only to those with a boat. Once a British Army military burial ground for yellow fever victims it later became a prisoner of war Island Camp during the Boer War in 1901 to 1902. Its 1,100 involuntary inhabitants shipped to Bermuda from South Africa to isolate them from their homeland included Generals of the Boer Army. There's a poignant stone memorial to them this island where 40 died and were buried.

An official from the government of South Africa visited here in 1998. Among the distinguished visitors to the Boer Cemetery were former South African Presidents Thabo Mbeki and F.W de Klerk. Mr. Mbeki was in Bermuda for secret talks with South African political opponents in 1989 and had traveled from his exile base in Tanzania. Mr. de Klerk visited in 1997. On May 1, 2000, Dr. Nina de Klerk, sister in law of former South African President F. W. de Klerk, visited the island. Her family was actively involved in the Boer War. Prominent Bermudian businesspeople have private cottages or land on the island.

Long Rock
1 acre, northeast of Grazbury's and Little Scaur, Castle Harbour, St. George's Parish.
Main
14 x 1.8 miles at its widest point, biggest and easily most populated of Bermuda's six principal islands, with Southampton, Warwick, Paget, Pembroke, Devonshire, Smith's and Hamilton Parishes. Locale of Bermuda's City of Hamilton. Has never been owned by just one person. At one point, Mark Twain during his Bermuda sojourns, rented a home near the city.
Malabar
North of Boaz, Sandys Parish. One of the reasons why there was an HMS Malabar on Ireland Island
Marshall's
Warwick Parish (Warwick North Central constituency). Not accessible by ferry, only to those with a boat. Privately owned, residential. A large double island, between Hinson's and Long Islands. Its two parts are linked by a narrow isthmus. It was one of the islands purchased in 1809 by the British Admiralty for the Royal Navy. Now owned by Bermuda-based businessman Peter Green.
Middle King's Point
West of Inner King's Point, Sandys Parish.
Morgan's
Ely's Harbour, Sandys Parish.

2019. August 7. An endangered species of snail saved from extinction by a breeding programme has been released into the wild. More than 11,000 greater Bermuda land snails, bred at a British zoo, have been given a new home on Morgan's Island, which is owned by the Bermuda National Trust. A spokesman for the BNT said the endemic Poecilozonites bermudensis snails, once plentiful, had been almost wiped out in the late 1970s by introduced predators, pesticides and human expansion. Conservationists presumed the invertebrates were lost until Alex Lines, a Bermuda Aquarium, Museum and Zoo intern, found small populations clinging to life in isolated spots. He had been sent out to search for the creatures during the summer of 2000, in the wake of a December 1999 story in The Royal Gazette. In 2014, the snail species again showed its resilience, when a cluster of them was discovered in a Hamilton alleyway by Mr Lines's father, Bruce. Specimens were sent to London Zoo for a captive breeding programme and Chester Zoo joined in the effort. The first repatriation of snails to Bermuda was made in February. Nonsuch Island took 4,000 of the creatures and the BNT's island in Ely's Harbour, Sandys, received its first batch last month. Mark Outerbridge, the wildlife ecologist for the Department of Environment and Natural Resources, said Morgan's Island had been chosen as a haven because it was "not threatened with future development". The island's palmetto forest offers the snails a good habitat and its cover of poison ivy deters visitors from walking on the animals. A team of Trust members freed the snails on July 17 with Dr Outerbridge and Alison Copeland from the department, as well as Amber Flewitt from Chester Zoo. Gerardo Garcia, the curator of lower vertebrates and invertebrates at Chester Zoo, said the snail was "one of Bermuda's oldest endemic animal inhabitants. It has survived radical changes to the landscape and ecology on the remote oceanic islands of Bermuda for up to a million years, but, since the 1950s and 1960s, it has declined rapidly. Its demise is mainly due to changes to their habitat and the introduction of several predatory snails." Carnivorous snails imported to control accidentally introduced milk snails and flatworms took a heavy toll on the Bermuda land snails, which are particularly vulnerable because for thousands of years before 1503, they had no natural predators. Nonsuch Island's fauna and flora are culled from imported species and Morgan's Island does not appear to be home to any of the predators. Dr Outerbridge said: "I am profoundly grateful to the Bermuda National Trust for allowing us to introduce these unique snails to Morgan's Island." He added: "The creation of such island refuges is extremely important to the long-term survival of this species." Bermuda's land snails were the basis of research by the late Stephen Jay Gould, a prominent Harvard University paleontologist, who, as a graduate student, completed his doctorate on them. Their fossils were one of many influences on his controversial evolutionary theory, punctuated equilibrium. Dr Gould, who died in 2002, also provided a record of the near extinction of the greater Bermuda land snail species, after he had earlier found thousands of live snails when he visited Bermuda in the 1960s. He wrote that he could find none after a 1973 visit. Dr Outerbridge said the public would be unlikely to find the Poecilozonites variety of snails on the mainland. He said that if any were discovered, the Department of Environment and Natural Resources would accept specimens to add to the breeding programme to boost the genetic diversity of its stock.

Mount
Off Spanish Point, Pembroke Parish.
Mouse
Boss's Cove, Spanish Point, Pembroke Parish.
Mowbray
Adjacent to Two Rock Passage, Pembroke Parish.
Nelly
Great Sound, south of Hawkin's and adjacent to Long. Not accessible by ferry, only to those with a boat. Privately owned. Warwick Parish.
As seen by the Tall Ships which graced our shores in June 2000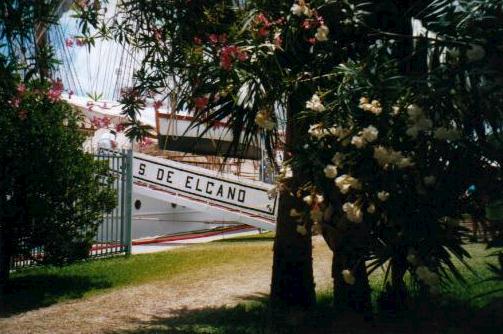 Photograph by Keith A. Forbes
Nonsuch
Originally Nonesuch Island, of 16.5 acres, Castle Harbour, west of Cooper's Island, south of St. David's. Bermuda Government owned, closed to the general public An old English name, given by first settlers, after a former Royal palace in Surry, England. There are several other historic places called Nonsuch in England. It has small, pristine, untouched beaches and a fresh-water marsh. Approachable only by sea, specific permission from the Bermuda Government agency involved is needed to visit, primarily for educational environmental purposes. There is a graveyard in the eastern area of the island. Those interred there include members of the British Army once stationed in Bermuda, sailors, scientists and others. Nowadays, the Nonsuch Island Nature Reserve is a living museum, a re-creation of Bermuda's native flora and fauna, of huge ecological importance. Limited escorted field trips, for special-interest groups only, began in 2000, from the-then named Bermuda Biological Station for Research (BBSR), now renamed the Bermuda Institute of Ocean Studies Students are based on Nonsuch Island and learn about Bermuda's terrestrial and marine environments with field trips to a wide range of habitats. The camp is run by Bermuda Audubon Society and Bermuda Zoological Society with the support of the Department of the Environment and Natural Resources, which allows use of Nonsuch Island as the camp base. Visitors can access the island's surrounding waters by kayak and by snorkeling. The shipwreck on the north edge of the island is one of the only shipwrecks accessible to snorkelers rather than scuba divers, and interesting to explore. Snorkelers can free dive through openings the ship's hull and find an impressive range of reef fish. The island's timeline:
1610. After being discovered by early settlers from the Sea Venture colonists' shipwrecked flagship in 1609 who could reach the island in small boats, it was noted by them as one of the islands richest in tame native local sea birds, especially the fat and fleshy cahow, nested in their thousands. The colonists regarded them as so easy to capture and kill as food that by 1620 all the cahows had either been eaten or laws were passed to ban their further capture and harvesting.
1700-1748. It was colonial government-owned, part of the Common Lands of St. George's intended for the raising of cattle or pigs or other livestock but never settled.
1749. It was sold by the colonial government, became privately owned and variously used as a grazing land once for deer imported from England, then other animals.
1865-1905. It was again acquired by the Bermuda Government, to serve as a mostly or exclusively civilian-built yellow fever quarantine station, ships' quarantine station and hospital, for yellow fever, cholera and smallpox victims, with a dock and various buildings including a mortuary and cemetery on the eastern side of the islander. It continued as the quarantine station for quite some time, officially until 1905 but unofficially for longer as shown below in 1922.
1914. The quarantine station, but not most the other buildings, was moved from Nonsuch to Coney Island. On Nonsuch, the remaining buildings were deserted. However (see next paragraph).
1922. September - as told by the late Bermuda-based author and nun Sister Jean de Chantal Kennedy - the Royal Mail steam packet ship Chignecte sailed towards Hamilton with six Sisters and Mother Fidelis aboard, all of whom were intending to take up teaching duties at Bermuda's Roman Catholic school of Mount St. A. Agnes Academy in Hamilton. Two days into the trip two of the seamen came down with a rash and therefore could not proceed into the port of Hamilton but had had to run up the yellow flag and await the medical officer. He diagnosed the sailors' ailment as small pox and although the ship's doctor disagreed the passengers were ordered into quarantine. Parents and their children were brought to Coney Island for quarantine where the conveniences were far better, but twenty-one other passengers, including the Sisters, were required to endure hardships of many kinds at Nonsuch Island. Because Nonsuch Island had been abandoned seven years earlier the weary passengers arrived to see empty, deteriorating buildings, small and inadequate, the dreary graves of former victims of the disease and the keeper's cottage on this desolate rock. There was not even a tree except by the morgue. Fortunately for them, Dorothy Tucker, a trained nurse, whose mother was on the ship, accompanied Doctor Percy Shelley to Nonsuch Island where she believed her mother to be. However, her mother actually was quarantined on Coney Island but Dorothy had to now stay at Nonsuch Island because of her exposure to the sick. Doctor Shelley visited the island daily and found no signs of smallpox among his patients but nevertheless, he assigned two of the Sisters to take the temperature of all the patients once a day. These infirmarians were Sister Lucia and Sister Theophane. Supplies came regularly from the mainland and Dorothy assisted by two of the Sisters prepared meals and washed the dishes. As if the crowded, cramped quarters, lack of sufficient fresh water and the monotonous daily existence were not enough, a hurricane struck but the shark oil's turmoil caused preparations to be made and by the time the hurricane struck all had been secured. They sought what shelter they could get in the corners and closets and awaited the dawn. With the lulling of the storm, a temporary canvas covering was put over the roof and held down by blocks of stone, and life resumed its even tenor – for a while. On the Sunday after the hurricane Mother Fidelis asked Sister Marie Louise and Sister Rita Vincent to play their mandolins for recreation. Before long the other passengers were making their way nearer to the sounds of music and Mother invited them to join the Sisters and soon all were together around the cottage balcony. Some asked for their favorite hymns and be- fore the recital was over most of the familiar hymns, both Catholic and Protestant, had been played. When the time of their exile was about to come to a close, a further three weeks were added to the quarantine because a young man coming to teach at a boys' school was discovered with the rash. Mother Fidelis, an accomplished artist who had her water colors and art paper with her, decorated one of the plain paper napkins with which they were provided, painting wild roses around the border and printing in gold ink the names of the passengers to celebrate Dorothy Tucker's birthday. Mother Fidelis also painted a greeting card with the following words: "A heartfelt wish for Dorothy, who, imitating her patron saint showered on the quarantine exiles the roses of kindness, thoughtfulness and self sacrifice. God bless you, Dorothy. God keep you. God love you and give you many happy returns of your birthday. The Nonsuch Exiles." Mother Fidelis evidently had her own ideas about the particular manner in which God was to bless Dorothy before the recurrence of her birthday. She thought she saw - and very much approved of-a budding romance between Dorothy and the Doctor. Dorothy had confided to Mother that she was engaged to marry a man in the army but Mother dismissed the military man without even a thought. She had picked Doctor Shelley and apparently Dorothy agreed for they were engaged by Christmas and married at Easter. Community annals tell us that Dorothy cherished the paper napkin and card given her on that memorable day. Finally the days of isolation drew to a close and the Quarantined sailed into Hamilton Harbor in early October 1922 and the Sisters prepared for the delayed opening of their school.
1928 –1934. Nonsuch Island was leased to the New York Zoological Society for use by Dr. William Beebe (1887-1962) and Dr. John Tee Van as a marine research station, and as a base for a series of dives to observe deep sea animals in their native environment using the Bathysphere Diving Bell. The American Natural History Museum was another interested party as Beebe was also an avid collector of birds. The latter museum still houses the collection of Bermuda birds from Nonsuch collected by Beebe. Before he arrived in Bermuda, Beebe had been hired as the Bronx Zoo's first curator of birds, and his fieldwork resulted in the creation of the Wildlife Conservation Society's Department of Tropical Research, which he began directing in 1922. Beebe, in addition to his research station on Nonsuch, then also collected specimens, took ocean depth measurements, and wrote his book, Nonsuch: Land of Water (1933).A total of 35 dives were made setting the world record for the deepest dive for that time to 3,028 feet (923m) on 15 August 1934. During this period of time the "Sea Fern" a former Royal Navy water barge, was raised from St. George's Harbour and re-sunk at Nonsuch to form a breakwater and holding tank for fish. Its remains can still be seen at the main landing dock. For many more details of this unique occasion see https://en.wikipedia.org/wiki/Bathysphere.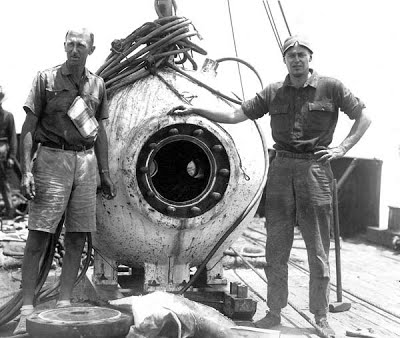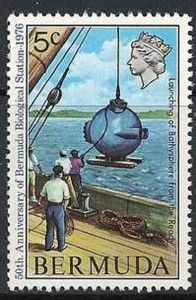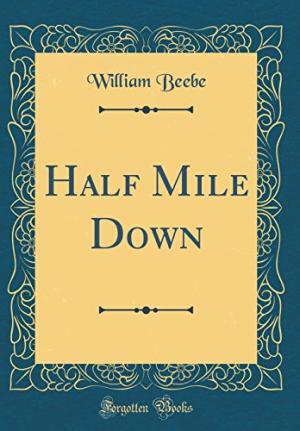 Stamp issued by the Bermuda Government in 1976 to mark the anniversary of the Beebe and Co. feat from 1934
1934-1948. After Dr Beebe and his party left Nonsuch, the island became a Bermuda Government-funded junior training school, for delinquent boys, loosely modeled on the Borstal system then in vogue in the UK. Government employed Bermudian Mr. Arthur Tucker, who had earlier served in the Royal Navy as a gunner on a warship during the Great War of 1914-1918. Wounded, he had been invalided out at the end of that war. Interestingly, he already had connections with Nonsuch, not just as a St. David's Islander but also with the Beebe diving expedition. Mr Tucker had been the skipper of the deep-sea tugboat that had transported Dr. Beebe and his companions and their bathysphere into that part of the ocean where they had set records. He founded and was in overall command of the school. hat became known as the Junior Training School.
He and his wife Elsie (nee Green) who became the matron and later their staff were responsible for the re-training and acceptance back into society of delinquent boys. He and his wife were earlier the only inhabitants of Nonsuch Island. They had four children, three boys and a girl. One or two boys on probation was sent to the Tuckers on Nonsuch, where at that time there was no electricity or telephone on the island. When Dr. Henry Wilkinson headed the Health Department he and Mr. Tucker discussed the idea of creating a proper reformatory for boys too young to be sent to prison, but the idea had to wait until 1934 to become a reality. Later, the Tucker's recounted how grateful they were to Dr. Wilkinson, whom they regarded as the Godfather of Nonsuch. Because of his help, the Health Department provided the site, the salaries of Mr and Mrs Tucker and the telephone in that first year. It began on January 1, 1934, with five boys but its roots go back to 1927 when Mr. Tucker was believed to have been employed in the Bermuda Government's Department of Health. The school was run by the Tuckers as a modified Naval school, under a strictly-maintained set of rules to be observed by visitors (as described in detail below, see separate image). The Tuckers were far from being harsh taskmasters. Later, they were saluted for their fairness when merited and firmness but without malice when due. Their intention was to give the boys in their charge the discipline when necessary but also to instill in them a degree of self-belief and self-worth. The Tuckers made a point of not favoring their children over the boys they supervised but treated all as their own. The Tucker children got their meals after the boys were fed. At that time, rumors circulated in Bermuda that boys who seriously and continuously misbehaved were told that if they did not obey in future, they would be "put in canvas" - sent to Nonsuch and made to wear the canvas uniform worn by boys there. Boys slept on Navy-style hammocks. The daily routine saw defaulters fall in at 0530 hours with a full hands fall in at 0600 hours with a full 14.5 hours work day until 8.30 pm six days a week and some respite only on Sundays if they were learning from their mis-deeds. AT 8:30 am the boys were directed to cleaning stations. Each boy had a section of the island, in the area of the buildings, to clean and keep tidy. Three boys, referred to as leading hands, were quartermasters who struck the time. The boys were divided into three divisions, Fore-top, Main-top and Quarter-deck. One division at a time was on duty for 24 hours. This school re-educated boys with severe disciplinary problems or involved in petty crimes. It instructed them in masonry, carpentry, farming and other work. When boys were punished it was not with a beating. Instead, they were instructed to walk around the island carrying their hammocks on their back. If a crime occured that involved stealing or deliberate damage, there was a formal enquiry session held on area of the school known in naval terms as the quarter deck and if appropriate, the accused concerned was specified in the Captain's report.
Photo above right of Arthur St. George Tucker, in about 1936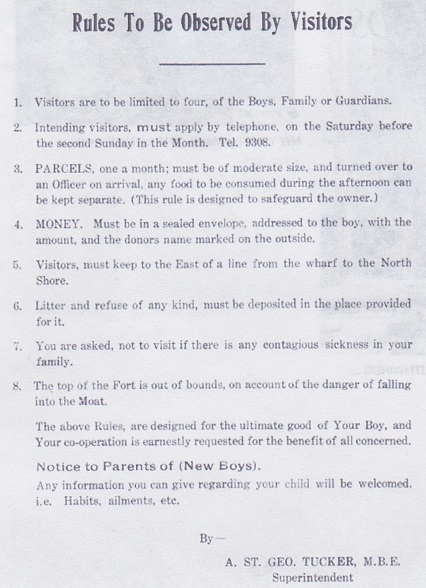 Nonsuch Training School Regulations, at both Nonsuch Island and later at Paget Island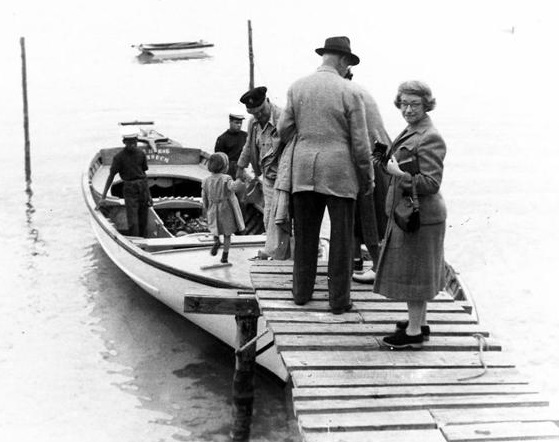 Nonsuch to St. George's to get supplies, with Mr and Mrs Tucker, Mr Tucker's father Canon Arthur Tucker and wife, one of their children and two crew members.
1941. August 1. Headquarters, Military Command, Prospect Camp, Devonshire, wrote to Arthur St. George Tucker at Nonsuch Island of the decision to approve the transfer of Miss Ruth Buchler, a German national and Nazi spy held in isolation in a temporary Prisoner-of-War camp on Nonsuch Island, to the women's cage at St. George's Prisoner of War camp (where the camp commandant was Captain G. A. Cooper).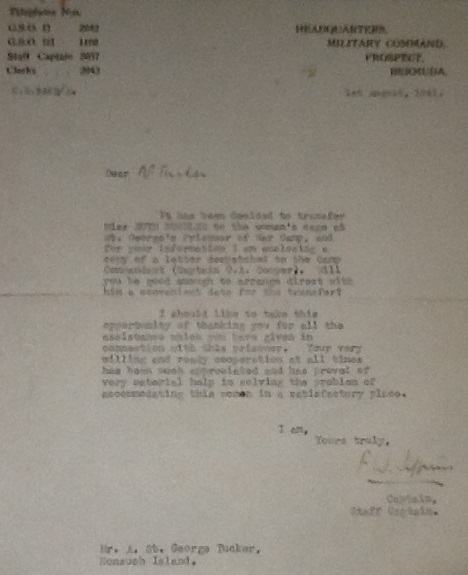 1941-1942 in particular. During World War 2 Nonsuch was rendered even less accessible with the building on islands nearby from massive Castle Harbour dredging entirely at US taxpayers expense of what was first the US Army's Fort Bell, than the USAAF then USAF then US Naval Air Station base (that lasted until 1995). Castle Harbour was extensively dredged to create 760 acres of reclaimed land, with a further 414 acres of St David's Island being incorporated into the military base in Castle Harbour. Coopers Island was joined to St. David's with dredged fill, and many of the smaller islands in Castle Harbour were destroyed at this time. It was one of two American bases in Bermuda, with this one the only one in the east and the other a US Navy station in the east, in Southampton Parish, were for anti-submarine warfare, the provision of air support and as an assembly point for trans-Atlantic convoys. After the St. David's Island base was built but before the end of that War, the island is believed to have been silently - with no publicity - and infrequently used as a graveyard for a small number of non-British, including German, seamen killed from ships sunk by German submarines in the Battle of the Atlantic and brought to Bermuda for burial, but with limited space left on the mainland for enemy corpses. Unfortunately, the new base cut off easy access to Nonsuch from St. George's. Earlier, numerous trips by boat had occured between Nonsuch and the town of St. George's .

From 1942. Unfortunately, through no fault of Mr Tucker or his staff or the boys, and not part of the school's mandate to help correct, a serious environmental problem was occurring both on Nonsuch and the rest of Bermuda. During this time, introduced scale insects killed abut 95% of Bermuda's dominant Cedar forest. On Nonsuch, as in the rest of Bermuda, all of the Cedar forest cover died and with it died the once-numerous singing night insects, referred to locally as "singers" (cicadas). Once, their distinctive buzzing by day was a lovely feature of Bermuda. Bermuda cedar trees is where they gathered.

1944. December. Mr Arthur St. George Tucker, of Nonsuch Island, was awarded the MBE for his work at the Nonsuch Training School. He was presented with his insignia by the then acting Governor the Hon. W. E. Murphy.

1947. July 11. Letter of appreciation (see below) from British Army's Military Command Bermuda to Mr. Tucker.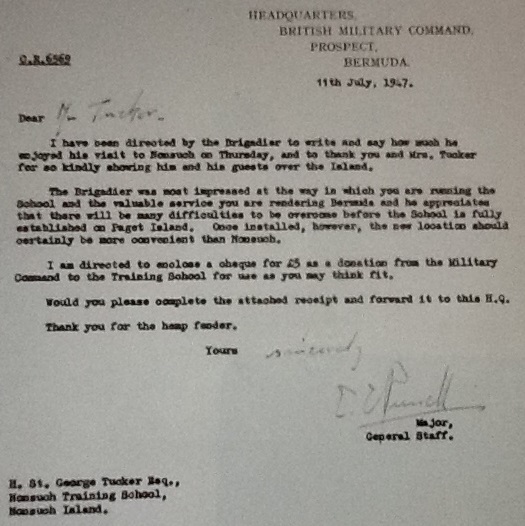 1948. What had earlier been the Nonsuch Island Training School was moved to Paget Island. The main reason was because the American military base at St. David's believed they would need Nonsuch for protection of the base. Nonsuch was vacated, abandoned to neglect and vandalism.
1951. The Bermuda Petrel, or Cahow, bird, thought to be extinct for over 300 years, was rediscovered breeding in very small numbers on the Castle Harbour Islands by Dr. Robert Cushman-Murphy of the American Museum of Natural History, Louis B. Mowbray, internationally respected curator of the Bermuda Aquarium, and schoolboy naturalist David Wingate. Although Nonsuch was not one of the islands where the Cahow had survived, its larger size and higher elevation made it both an ideal location as a base for management work to keep to Cahow from going extinct, and a possible future site for the species to be relocated and re-introduced.
1958. Death of Mr Arthur E Tucker, former head of the Junior Training School, not long after passing on the school to someone else. Mr Tucker and his brothers Dickie and Edmund were all made Members of the British Empire for their services to Bermuda. A grandson of Mr Tucker, Dr. Arthur Tudor Tucker II, a registered clinical scientist, is believed to have retired recently as honorary senior lecturer at the Ernest Cooke Clinical Microvascular Unit at St. Bartholomew's Hospital in London, England.
1963-2000. The "Living Museum" project was initiated by Dr. David Wingate. Major work started on the island with a massive native reforestation project in which over 18,000 endemic and native plants were eventually planted, and the creation of two artificial ponds, one for fresh water and one salt marsh habitat. During this time, several indigenous species that had been extirpated from Bermuda in the early days of settlement were successfully re- introduced, including the Yellow-crowned Night Heron, endemic Bermuda Killifish, and West Indian Top Shell, which is becoming common again along the southern coastline of Bermuda.
1988. December 19. Mr Leonard Nigel (Dickie) Tucker, died suddenly at his home, Valhalla, Paget, aged 86. He had recently complained of heart problems. Mr Tucker was remembered not only for his unselfish life but for his salty wit and unassuming manner. He had once lived on Nonsuch Island as a teenager when his father, one of the sons of Canon Arthur Tucker of St. Peter's Church in St. George's, ran the training school on Nonsuch Island for delinquent boys. Canon Tucker wrote the book, Early History of Bermuda, for children, in 1937 for the Department of Education. In his capacity as founder of the Bermuda Sailors Home and Guild of the Holy Compassion, Dickie Tucker is understood to have arranged the burial on Nonsuch Island of several non-British and alien seamen during the Battle of the Atlantic years of World War 2. He was so dedicated to the welfare and graves of sailors from overseas who had lost their lives at sea or while on the island that when he retired he spent much time in overseas travels visiting with sailor friends acquired in Bermuda or the families of those for whose relatives' graves he cared for. For such services to Scandinavian countries, he was made a Member of the Order of Olaf in Norway and a Knight of Vasa in Sweden.
2000. Dr. David Wingate retired, with Jeremy Madeiros becoming the new Terrestrial Conservation Officer and warden of Nonsuch. His first priority, due to continuing hurricane erosion of the smaller nesting islets, was to investigate methods to establish a new Cahow nesting colony on Nonsuch, from where they were eradicated by the early settlers by 1620. After travelling to Australia to observe new techniques in seabird colony establishment, and be trained in the handling, banding and management of a number of seabird species, he decided to use a technique called translocation. This involves monitoring the growth of chicks from hatching, then moving them at a specific time in their development from the original nesting islets to a complex of new artificial nest burrows built on Nonsuch. These chicks were then hand-fed and allowed to imprint on the new site before fledging out to sea, hopefully to return several years later. The translocation was backed up with a solar-powered sound system playing back Cahow courtship calls at night, to encourage trans-located Cahow chicks returning as adults to land and look for burrows to occupy as nest sites. Dr Wingate's His wife Anita, also a conservationist, died in the effort and is buried on the island.
Since then, the island has been used for further environmental research including an ongoing program on the cahow.
North Rock
In 1788, Lieutenant Thomas Hurd RN made the earliest detailed record of this the northernmost point of Bermuda, and the chart contained a proposal for the building of a lighthouse and gun battery on the platform of reefs. It also had a vignette of the six main pinnacles, of which only one is now extant. What happened to the others is not readily known, though hearsay suggests they may have been used as targets for modern artillery practice. Lt. Hurd spent almost a decade in Bermuda waters charting the extensive reefs and plotting the channels through them, including the only major one for large ships, off the east end of St. George's Island. His work set new standards for such charts and he was appointed the second Hydrographer to the Royal Navy in 1808. At his death in 1823, Francis Beaufort, who invented the wind force scale for indicating wind velocity for shipping, succeeded him in that office. Just to the east of North Rock, a channel to the open sea is defined to the east by the Great Breaker, which always breaks, and therefore around which the ocean constantly heaves. That channel was used to good effect by the Royal Navy fleet when it departed for America during the War of 1812. In 1875, Governor of Bermuda General Lefroy persuaded photographer James B. Heyl to make an expedition to North Rock to photograph the pinnacles. North Rock was called on early French maps "La Petite Bermude." Lefroy wanted a image to publish in his upcoming book on the early history of Bermuda and he, his Aide-de-Camp, Capt. Trench RA, and a group of friends all went on the adventure. As the "wet-plate process" was then in use, Heyl had to take his chemicals and a tent to develop the photographs immediately, as so required by that process. The tent-darkroom and the camera were set up on the eastern perimeter of the North Rock boiler and the resulting images captured the site on film, possibly for the first time. Off northern shore of Main, it remains one of the few places of "silence and solitude" in Bermuda, free as it is from any taint of traffic (except the occasional motor fishing boat). Visually, its collection of limestone pinnacles - once one of Bermuda's greatest geological monuments-is marred by the concrete tub that is the foundation for the present North Rock Beacon. Only one of the pinnacles still survives to its original pre-settlement of Bermuda height. What has not changed for many millennia is the ocean, which attacks and retreats from this obstruction in its path, some nine miles north of Flatts Village, with majestic surges of green water and surf. In winter, the ocean breaks massively over these coral fortifications.
One-Tree
West of Mangrove Bay Wharf, Sandys Parish.
Ordnance Island
The only island in the old town, this one is 1.75 acres and man-made. There were once several islands here. The present island incorporates what was Ducking Stool, Frazer's and Gallows. One stored munitions for the British Army and Royal Navy. Another was where people convicted of capital crimes or witchcraft were hanged. It is now permanently connected to St. George's Island by a bridge so cunningly designed that it does not seem to be a bridge at all. It was a US Navy submarine base when the USA entered World War 2 two years after the British. Cruise ships berth here. Several of the most prominent attractions of the town are located here or nearby. Today, the island has a small park for choice views, a statue of Admiral Sir George Somers who founded the town in 1609, and one of the two cruise ship berths.
Oswego
Also known as Great, 2.5 acres, St. George's Harbor, St. George's Parish.
Outer Dumpling
South of Hall's, Harrington Sound, Hamilton Parish.
Outer King's Point
West of Middle King's Point, Sandys Parish.
Paget

St. George's Harbor, 36.75 acres. With several lovely, often deserted, beaches. Owned and operated by a division of the Bermuda Government. Named after William, fourth Lord Paget who also gave his name to Paget Parish on Main Island in 1609 when Bermuda was colonized it was heavily timbered with endemic Bermuda Cedars, right to the water's edge. There were also Bermuda Palmettos, native Buttonwoods, Red Mangroves, Black Mangroves, in the shade of which grew endemic Bermuda Snowberry, etc. At various times later, it was also called Peniston's, Pennistones and Pennystones after Anthony of that name who came to Bermuda from Saffron Walden, Essex, England and lived here. It was purchased by the Honorable George Forbes when known as Paget Ford Island. It and nearby Smith's Island were whaling centers. This island's principal feature is massive Fort Cunningham.

A much older fort was here in 1612, another battery was constructed in 1619. In 1722, when Colonel John Bruce Hope became Governor, major work was done on Paget Fort (or Queen's Fort as it was sometimes called). It seems likely that the rocks on which the lower battery stood were undermined by the constant pounding of the waves, particularly in the winter. It took several years to complete the repairs on both Paget and nearby Smith's Forts, at great cost. In 1746 so many prisoners-of-war were brought in by Bermudian privateers that the only place available to accommodate them was Paget Fort. They were guarded by locally-quartered troops and had a food allowance of one shilling a day. More construction took place in the 1750s. In 1790, Major Andrew Durnford, Royal Engineer, re-built a part of the sea battery at Paget Fort, but it was destroyed in January 1791 by a violent gale. In 1793, with the threat of war between the UK and France, which would have affected Bermuda and the Caribbean as well, the Governor directed Major Andrew Durnford, Royal Engineer, to build a new Barbette Battery on the height of land above Fort Paget on Paget Island. It was called Upper Paget to distinguish it from the original fortification. What became Upper Paget Fort was later built on and enlarged as Fort Cunningham. Those who visit Fort Cunningham have been able to see the remnants of Upper Paget Fort.

In 1797, Paget Island was bought by Captain Francis Forbes Hinson, descended from Dr. George Forbes. Hinson was a complex, eccentric and wealthy man, a mariner, shipbuilder, whaler and farmer. On Paget Island he added orchards, created pastures and cultivated planting land. He was also said to have planned to catch whales in an unusual way. He had been impressed by the efforts in 1780 of an American Zephaniah Pinkham who had arrived in Bermuda to teach locals how to resurrect the once-famous local whaling industry by applying modern methods including cutting up whale blubber with spades to increase profit and reduce waste. He ordered and received a huge whale net from England made out of stout cordage. One evening he planted it in the sea across the Narrows Channel leading to Murray's Anchorage. Instead of catching a whale he caught a French brig-of-war trying to sneak a look at Bermuda. He made a good profit from that transaction. But when his mother and eldest son died on Paget Island he lost interest in Paget Island, bought property in Salt Kettle, Paget on the main island and lived there until his death in 1832, after which his estate that then still included Paget Island was offered for sale. The fort was replaced in the early 1820's. It was much altered beginning in 1875 to contain two iron fronts instead of masonry walls. Because Captain Thomas Cunningham, Royal Engineers, after proposing its creation earlier, supervised the commencement of the re-building by Royal Engineers of massive Fort Cunningham on Paget Island, the fort was named after him. Known originally as "Gibraltar shields," only in Bermuda were they made into continuous straight walls, one for five guns and one for two. Seven huge guns for the shields were found in 1991, two being of only six known examples to have survived anywhere of the famous British Army 38-ton, 12.5-inch caliber Rifled Muzzle Loader guns of the 1880's.

By 1912 Paget Island had become derelict. It was later acquired by the UK's War Department. During World War 2, when the island was still owned by the UK's War Department, it was a prisoner of war camp for some Germans or Austrians - only one of whom, Charles Koeppel, 74 years old in the year 2000, has survived. He was born in the USA but his parents were Austrian. His family tried to leave New York for Europe in 1941 but were captured and interned. Guards from the Bermuda Volunteer Rifle Corps (part of the Bermuda Regiment since 1965) then included William Soares, John Mello and Peter Adams. From 1948 to about 1960 when it was closed,, the island was the new base (after being at Nonsuch Island from January 1, 1934) for Bermuda's Junior Training School, for young severe delinquents, based on the concept of a British Borstal. Unfortunately today, most tourists cannot visit Paget Island because there is no regular scheduled boat service. The fort, in Bermuda Government hands, has been allowed to deteriorate. With permission in advance directly from the Bermuda Government's Department of Youth, Sport and Recreation, local and overseas groups camp on the 20 acre campground site each year, only one group at a time with a maximum of 70 campers, at a local cost and more than double the cost for non-Bermudian campers. It is also the Bermuda headquarters of the Bermuda Police-led Duke of Edinburgh-inspired Outward Bound programs. To service these two functions, the island has many outbuildings for different purposes. There is also a sports playing field. A Bermuda Government-operated boat visits at fixed times from the Town of St. George to bring supplies to campers and, by appointment and a fee, other visitors.

2018. March 31. Opinion. By Dr Edward Harris, founding executive director emeritus of the National Museum of Bermuda. "In recent pages of The Royal Gazette, the Mirrors charity announced another field day at Paget Island, St George's Parish, with the intention of continuing the restoration of the magnificent and unique Fort Cunningham, much neglected for the past 25 years since archaeological work in the early 1990s. The fort is one of the military sites of Bermuda's World Heritage Site, so designated by Unesco, among only 800 others worldwide, so that the Mirrors group is to be commended for their initiative in undertaking work normally the responsibility of the Government. As noted in the newspaper, Kimberley Jackson, programme manager for Mirrors, said: "We have started discussions with the St George's Foundation and are looking forward to expanding the partnership for restoring the fort. It makes sense to have all the key partners at the table to develop the long-term restoration plan." Michael Weeks, the Minister of Social Development and Sport, stated that the proposed April 7 event was "a great opportunity to simultaneously support the preservation of Bermuda's heritage and culture and also learn about the incredible history of this historic site. It's a great event for families to connect and also for young people to gain community service hours". The project is being sponsored or assisted by XL Catlin Bermuda, Outward Bound, the National Trust, the National Museum, Keep Bermuda Beautiful and the Government's Departments of Parks, and Youth, Sports and Recreation. The job is very large and all are to be congratulated, especially the Mirrors group, for the coming efforts to save one of Bermuda's finest military monuments and the potential outstanding park that is Paget Island. The philistines among us will doubtless complain about the project, failing to understand the value to our essential tourism economy of such monuments, which, being unique, are one of the main reasons why the discerning visitor wishes to visit Bermuda or any other destination with cultural and heritage treasures. Most such visitors stay in land-based accommodation, which remains the foundation of the tourism economy, despite the numbers of arrivals by sea. It is the discerning hotel and guesthouse visitor that has the spending power to continue to fund our lifestyle, as they have done for over a century. Included in such visitors are the British and United States military that, up until the end of the Cold War in 1995, pumped billions into Bermuda, leaving behind monuments like Fort Cunningham that now allow us to make even more money off the military by exploiting such sites for the cultural tourism trade. In that regard, the publication of a new booklet, Defenses of Bermuda 1612–1995, is to be welcomed as it is a comprehensive but inexpensive summary of the wonders of Bermuda's military history. The booklet would not have happened without the passion that American Terry McGovern and his family have had for Bermuda over a generation. Terry was heartened to hear during the recent launch of the volume that the Mirrors group had formed a battalion of volunteers to assault the invasion of Fort Cunningham, and indeed Paget Island, by invasive and destructive trees. So as the old mariner would say at the start of a long voyage: "Godspeed and following seas" — in this case to Mirrors and everyone who is willing to do their bit to preserve an important aspect of the long and honorable (and vitally economic) military history of this stationary aircraft carrier, as it once was for a period."

Fort Cunningham from the air, artist impression of what it once looked like

2017. November 9. Young people will continue a project to restore a heritage spot, social development minister Zane DeSilva announced.

The Fort Cunningham and Paget Island Restoration Project was set up in April as part of the tenth year celebrations of the Mirrors Programme. Mr DeSilva said: "Mirrors will continue to lead the development of the plan for restoring Fort Cunningham and Paget Island to support an increased usage and awareness of both sites. "This is a great opportunity to support the preservation of Bermuda's heritage." It is a collaborative project between Mirrors, Outward Bound, Department of Youth, Sport and Recreation, Department of Parks, the National Museum, Bermuda National Trust, Keep Bermuda Beautiful and volunteers. It is sponsored by XL Catlin. A community cleanup day on Saturday, November 18, begins with breakfast and stretching exercises at Kings Square in St George's before heading to the island at 8.40am. Participants will return at 4pm. It is available to young people aged 14 to 16, accompanied by an adult, and people aged 17 and older. Young people will be able to acquire community service hours.

Palm
Between Bethell's and Morgan's, Ely's Harbor, Sandys Parish.
Partridge
Off Agar's, off Spanish Point south, Pembroke Parish.
Pear
Harrington Sound, Hamilton Parish.
Pearl
Great Sound, Warwick Parish. It has a weather station.
Peggy's
Off Smith's, St. George's Harbor, St. George's Parish.
Perot's

Previously known as Crumb, and Brush or Crumb-Brush. So-called for its similarity to a small, curved table brush used to sweep crumbs from a Victorian-era table. 8.17 acres, one-property residential, Riddle's Bay area, Great Sound, Southampton Parish. Historically significant. Previous owners include the one-time Huguenot Perot family who emigrated to Bermuda in the late 18th century shortly after the French Revolution (William Perot later became Bermuda's first Postmaster General and his stamps earned Bermuda a unique place in philatelic history); Miss Claudia Darrell, owner and operator of Bermuda's Waterlot Inn, later bought by Daniel Ludwig and then the Southampton Princess Hotel; Mrs. David Van Buren of New York who occupied the property in the late 1940s; Mr. and Mrs. Wallace Orr. In 1937 Mr. Orr built Perot's Manor House on this island (The house has 27 rooms, seven of which are bedrooms with en-suite bathrooms; outbuildings, huge swimming pool - at one time the largest in Bermuda - tennis court, boat house and small private beach) and from 1949, Stanhope Joell. The island was later owned for 14 years by billionaire Marion Cargill MacMillan. The property is valued at many US$ millions.

Ports
20 acres. Warwick Parish. South of Long Island, Great Sound. Not accessible by ferry, only to those with a boat. Privately owned. Historically important. In 1692, after yellow fever first arrived from the Caribbean and killed 800 people - 10 percent of the entire population at that time - this was the first island used to isolate them after their pets were killed. Yellow fever came to the colony many times. A yellow fever cemetery is still here. Prisoners of war were held in isolation here during the War of 1812 to 1814, Boer War of 1901 to 1902 and from 1914, August 4 when WW1 was declared, there were three German nationals living in Bermuda. They were arrested and interned for four years on Ports Island, along with 58 German merchant seamen who were working on various ships on the island. There were German officers and crew members on vessels including the Bermudian, Caribbean, Cayo Soto, Chaleur, David Biird, Leda and Vestland. Ports Island was the logical choice for their confinement with its hospital buildings constructed in 1901 for incoming Boer War prisoners and used as such until 1902. The prisoners, all civilian, no military, grew vegetables to supplement their diet and spent most of their time making souvenirs which were sold locally. Some were boxes but most were curios associated with the sea. All the pieces were marked GPOW Bermuda with the silhouette of a palm tree. Captain Charles P Pitt, Assistant Provost Marshall of Bermuda, of the Bermuda Volunteer Rifle Corps (BVRC), was Commandant of the POW camp. 20 men of the BVRC, led by Colour Sergeant A Haskell, guarded the prisoners. An NCO from the Royal Army Medical Corps provided first aid and treated minor ailments of prisoners. Any with serious illnesses were sent to the British Army's military hospital at Prospect. On Ports Island, most of the Germans were housed in a compound consisting of officers quarters, mess and kitchen, with similar but more basic accommodations for other ranks. Some elected to live in bell tents. With a campsite, permission in advance directly from the Bermuda Government's Department of Youth, Sport and Recreation. Only one group at a time.
Pudding
Small and barren. South of Stocks Harbor and west of St. David's. Its position saved it from destruction when the USA military bases were built from 1941. This was when it once again got the unofficial name of " Grog Island" - from the fact that a lot of drinking went on here, as it used to 300 years earlier.
Quintons, The
Four, off King's Point, Sandys Parish.
Rabbit
Sometimes called Collins, perhaps after a family who owned land on the mainland. South west of Trunk Island and Major's Bay in Harrington Sound, it is a nature reserve leased to the Bermuda National Trust, therefore not accessible to the general public. Long tail birds and rabbits are common here. Members of the Bermuda Rifles and Bermuda Militia Artillery - and possibly other military units too - used to poach rabbits here during World War 2 to supplement their rations but this never appeared in any of the official records of these or the British Army or Royal Navy or Royal Canadian Navy or USA military records. Hamilton Parish.
Redshank
In the extreme south west of Harrington Sound, immediately off Green Bay. It was named after a bird that inhabited shores and nested here, with pale red legs and feet, now the common tern. Hamilton Parish.
Regatta
Two, south of The Crawl, Ireland Island, Sandys Parish.
Rickets
Between Burt's and Grace Islands, Great Sound, Warwick Parish.
Riddells
Riddells Bay, abutting Southampton and Warwick Parishes.
Rogue
0.25 acre, off Ferry Reach, St. George's Parish.
Rushy
1.5 acres, south of Castle Point, Tucker's Town, St. George's Parish. A nature reserve. No landing without official permission.
As seen by the Tall Ships which graced our shores in June 2000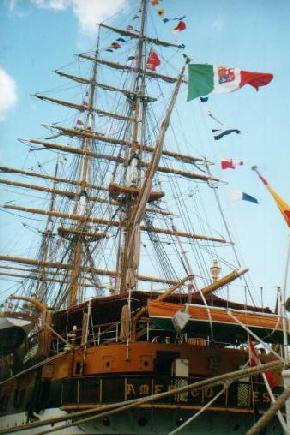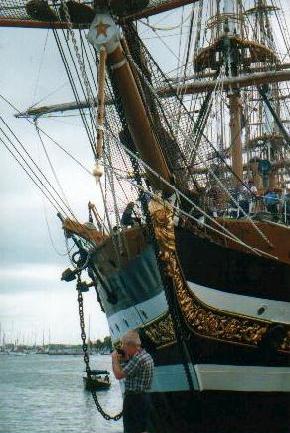 Photographs by Keith A. Forbes
Rushy
Off Spanish Point, Pembroke Parish.
St. David's
The tranquility of this formerly largely rural and now suburban area of Bermuda was shaken forever when, during World War Two, more than three quarters were taken over for the construction of one of the two American military bases. The now closed US facility, first a US Army base, then a US Army Air Force, then Kindley AFB, then a US Naval Air Station, was located here for over 50 years. Once St. David's really was an island, 510 acres, originally one of the six principal Bermudas. It was connected in the 1930's to the mainland by the Severn Bridge, since dismantled. Today, it is connected to the mainland by a perimeter road skirting St. George's Harbor. St. David's Islanders have always been different to most other Bermudians. Some still have distinct characteristics of American Red Indian heritage. The St. David's Lighthouse has an interesting historical backdrop. Built in 1879 and periodically refurbished, it still serves as a beacon for mariners. But it was constructed to eliminate male St. David's Islanders luring ships with other kinds of lights to come too close to the reefs and get their bottoms torn out for easy plundering When the lighthouse defeated their illegal activities, they became fishermen and excellent pilots. Also well worth visits are the Great Head Battery and Park and, when open (usually on a Wednesday), Carter House, on the former US Naval Air Station, an excellent example of an historic Bermuda homestead saved from destruction when the US military arrived in 1941. It is a living museum of Bermudian history. Clearwater Beach and Park at Annie's Bay on Cooper's Island off St. David's is a 36 acre site with two public beaches closed to the public from 1941 to 1995 (during the 54 years Cooper's Island was a US Navy reserved area). It has nature trails and fine views of Nonsuch Island and Castle Harbor.
St. George's
Also once known as Tortoise, and Tortus. 703 acres, Bermuda's first colonized island, where Admiral Sir George Somers, Governor Sir Thomas Gates and colonists from the Sea Venture were shipwrecked in 1608 when en route to Virginia. Includes World Heritage Town of St. George and St. George's Parish. Now joined to Main by the Swing and Longbird Bridges and the Causeway. Bermuda's only airport is located in the Parish. One of Bermuda's six principle islands, St. George's Parish.
Saltus
About 2 acres, Soncy Bay in Hamilton Harbor, Pembroke Parish, only 100 meters from shore. It originally belonged to Richard Norwood, the great surveyor of Bermuda from 1616 and then his family. They lived on the Norwood property on the nearby Main Island. After Norwood's daughter died, it was sold and got its present name from the Bermuda family of Saltus, in particular Samuel Saltus (1800 to 1880) who - with his brother William - was a merchant, ship owner, member of the colonial parliament and founder of the private school that still bears his name, even though the family of that time died out with Samuel. The island has no buildings on it. In 1819, Dr. Theodore Gilbert tried vainly to get local merchants and ship owners to build a small hospital for strangers and seamen on it. He was one of the first to realize that the terrible infections Bermuda used to have in the 19th century of cowpox, smallpox, bubonic plague, dengue fever, typhoid fever, yellow fever, all had different causes, namely fleas or rats or louse or mosquito or soiled clothing - and came from seamen on foreign ships. Privately owned. Saltus Grammar School, with its Saltus Island Project, has been active. In February 2005 the latter project received a grant from the British Overseas Territories Environmental Programme for education and awareness training.
Smith's
61 acres, in St. George's Harbor, St. George's Parish, was named for Sir Thomas Smith or Smythe, the first Governor of what later became the Somers Isles Company, an office he still held at the time of his death in 1625. He was an empire builder of immense energy and ability. The island is historically very significant, Bermuda's first settlement. It was here that Carter, Chard and Waters, who got the reputation of being the three "Kings of Bermuda" from 1610 to 1612, settled when they were the first accidental permanent colonists in Bermuda. They built cabins of palmetto, planted beans, watermelons, tobacco, maize, fished of the coast, hunted wild hogs, salted bacon and fish they caught and even made a fresh water catch. When the Plough arrived from England on July 11, 1612 with the first party of planned colonists, it went first to St. David's to discharge them then went two days later to an anchorage on the south shore of Smith's Island. Carter, Chard and Waters proudly displayed to Governor Richard Moore the varieties of garden produce they had grown. Moore was delighted because the Somers Isles Company in London had supplied him with 81 varieties of seed to try in Bermuda. Many of the first crops Virginia and the later American colonies had ever seen were planted on Smith's Island.

It was the original home in Bermuda of the first planned settlers and they even made rock ovens for their food from the local limestone until they moved to St. George's Island and the Town of St. George in the summer and autumn of 1612. The local whaling industry originated on Smith's Island. Soon after its successful start, stations opened in Smith's, Southampton and Sandys Parishes. The hunt for ambergris continued. But the chance of finding the valuable substance was remote. So the search diverted to the huge mammals. Oil from blubber was used locally and in Europe. The bones were a boon to women concerned about fashionable form. They were used in corsets. Locally, the meat – known as sea beef – was enjoyed by most, but not all, residents.

Since 2015 new discoveries on Smith's Island have helped archaeologists paint a clearer picture of what life was like for Bermuda's earliest settlers. The team led by Michael Jarvis from the University of Rochester spent spent five weeks excavating tonnes of soil as they explore sites dating back to the early 1600s. Dr Jarvis and his crew of professors, graduates, undergraduates and volunteers have focused their efforts on the Oven Site on the eastern part of the island, which is believed to have been home to some of the Island's first inhabitants. Dr Jarvis and his team have also carried out further excavation of other sites on the island called the Cave Site, Cotton Hole Bight and Small Pox Bay. The Cave Site remains a real mystery. They found considerable evidence to suggest this was a site where everyone gathered on a regular basis. There's evidence of eating and drinking and socializing here and ceramics that date back to the early 18th century. They found a few different colored river pebbles that were imported from somewhere else. Small Pox Bay was not a typical military site just inhabited by soldiers. They discovered children's toys and needles, buttons and hair brushes that would have belonged to women too so it would seem this area was used by families.

It is possible Cotton Hole Bight might have been where Bermuda's first three settlers, Christopher Carter, Edward Waters and Edward Chard, set up camp on Smith's Island in 1610. At Smallpox Bay, old military buttons from the 19th century were found. The Cave Site does not figure on any of the old maps and was discovered quite by accident. The roof of the cave was very carefully chiseled out by occupants of the time.

Somerset
703 acres, it is one of Bermuda's six principal islands and the most western. It is joined to Main by Somerset Bridge and is connected to Boaz Island, Ireland Island and Watford Island by bridges and serviced by buses and ferries. In Sandys Parish.
Spectacle
Also known as Hunt's, north of Hinson's. One of two by this name in Bermuda but the only one in Paget Parish. In Hamilton Harbor.
Spectacle
Next to Perot's, Great Sound, Southampton Parish.
Stags, The
Off Shelly Bay, Hamilton Parish.
Stipple
Near Goat, Mill Shares and Point Shares, Pembroke Parish. A nature reserve.
Theta
Not accessible by ferry, only to those with a boat. Privately owned. Between Marshall's and Long Islands in the Great Sound. Warwick Parish.
Tilley
North shore, Pembroke Parish.
Tobacco Rock
North of Achilles Bay, near St. Catherine's Point off St. George's Island in St. George's Parish. It preserves the memory of Bermuda's earliest crop in which at one time salaries and wages were paid. It was intended that tobacco be Bermuda's staple crop and laws were passed in England to protect it as such. But Bermuda soil and conditions were never suitable.
Trunk
7 acres. Largest island in Harrington Sound. It was once a summer camp for Bermudians including Girl Guides. There is an annual swimming race to and from there. It has a large house and cottage, a rugged shoreline with a small beach and sheltered coves for small craft. The Bermuda Zoological Society has a habitat restoration effort to replant native and endemic species, cull invasive species and include excursions to Trunk Island in its education and conservation programs.

December 14. Artex employees and their family members helped remove invasive Brazilian pepper trees from Trunk Island. The island in Harrington Sound, owned by the Bermuda Zoological Society, is used for overnight camps, educational workshops and nature encounters. Last week, a team of 17 people from Artex culled and removed the invasive trees to help restore of the island to its native habitat. Colin Brown, president of the BZS, said: "Thank you to the team from Artex for all their hard work during their corporate day of giving out on Trunk Island. It is with this kind of support that we can continue to work towards our goal of returning the island to its native and endemic state, in order to preserve it for future generations." Robert Eastham, managing director of Artex in Bermuda, said: "Artex has been part of the Bermuda community for 20 years and we're proud to support its continual development. The conservation of our island and the ability to teach both children and adults to understand and respect what makes us unique is a privilege. We're so happy that we have the chance to give back to our local community."

Turtle
Privately owned, 1.5 acres east of Devil's Hole on south side of Harrington Sound, Smith's Parish. With a cable car system to pull it to nearby mainland. From the air, it has the general shape of a turtle.
Watford
4 acres, between Somerset and Ireland, connected to both via Watford Bridge and Little Watford Bridge, Sandy's Parish.
Watling
One-property residential, near Hinson's and Bluck's, Great Sound, Warwick Parish.
Whale
Ely's Harbor and Pilchard Bay, Sandys Parish.
Whalers'
Near Smith's, St. George's Harbor, St. George's Parish.
White's

Royal Gazette photos, White's Island

Paget Parish. Originally Hunt's from the family that once owned many shares in old Bermuda. In the middle of Hamilton Harbor, now the property of the Corporation of Hamilton, which rents out the home on the island. Few Bermuda islands have had a more varied history. In the closing months of World War 1 it was sub-leased to the United States Navy as an operating base for U boat chasers, with a supply station on nearby Agar's Island. An oil painting of the Stars and Stripes on the island's flag pole was painted then by a well known local artist. The lease lapsed at the end of the war. Has long been a campsite, with permission in advance directly from the Bermuda Government's Department of Youth, Sport and Recreation. Has a small beach. Also from where fireworks are let off periodically, after permission from Government.

Zeta
Warwick Parish. (Warwick North Central constituency). 1.5 acres, south of Port's, Great Sound. It is named for the sixth letter of the Greek alphabet.
Why past islands?
Because they no longer exist.

Those in the list below were absorbed from 1812 into the Royal Naval Dockyard in Sandys Parish and from 1941 the US Naval Air Station in St. George's Parish and the US Naval Operating Base Annex in Southampton Parish. Or they were demolished to make way for them. The British Army and Royal Navy bases closed in the 1950s. The two American military bases closed in 1995. The premises of all the bases have since been converted to civilian commercial use
Past Bermuda islands
| | |
| --- | --- |
| Big White's | Formerly 1 acre, destroyed in 1942 to help build former US States Naval Air Station on St. David's Island, St. George's Harbour, St. George's Parish. |
| Cave | Formerly 1.5 acres, absorbed by former US Naval Air Station, St. David's Island, St. George's Parish. |
| Cobbler's | Also Storehouse, Gallows, Butterfield, and Frasers. Now part of Ordnance Island, Town of St. George, St. George's Parish. |
| Cross | Also Sober or Magazine. Absorbed in the Royal Naval Dockyard's Camber, 1901. Sandys Parish. |
| Ducking Stool | Incorporated into Ordnance Island, Town of St. George, St. George's Parish. |
| Goats | Two, both incorporated into former US Naval Air Station, St. David's, St. George's Parish. |
| Grace | Castle Harbour, St. George's Parish. One of the islands granted to Lt. William Lang (died 1828) for the annual rate of one peppercorn. Incorporated into former US Naval Air Station. |
| Jones | Formerly 2.5 acres, now part of Causeway, St. George's Parish. |
| Little Round | Incorporated into former United States Naval Air Station and Causeway, St. George's Parish. |
| Little White's | Destroyed in 1943 for construction of the former US Naval Air Station, St. George's Parish. |
| Long | Formerly 2.5 acres, once near St. David's. One of the islands granted to Lt. William Lang (died 1828) for the annual rate of one peppercorn. Incorporated into the former US Naval Air Station, St. David's, St. George's Parish. |
| Long Bird | Once 62 acres, now Bermuda International Airport and part of former US Naval Air Station, St. David's, St. George's Parish. |
| Long Cay | Incorporated into the Causeway, St. George's Parish. |
| Morgan's | Once 13 acres, destroyed to create the former US Naval Annex, Southampton Parish. |
| Needles | Buried under (old, severed) Severn Bridge, St. George's Harbour, St. George's Parish. |
| Round | Formerly 0.5 acre. One of the islands granted to Lt. William Lang (died 1828) for the annual rate of one peppercorn. Absorbed into Bermuda International Airport and Causeway, St. George's Parish. |
| Sandy | Once 2 acres, now buried under the Causeway, St. George's Parish. |
| Stocks | Buried during 1934 building of Severn Bridge Road and Severn Bridge, now part of St. George's Island, St. George's Parish. |
| Tucker's | Also Brother's or Rivers. Formerly 20 acres, incorporated into now defunct US Naval Annex, Southampton Parish. |
| Westcott | Once 5 acres, now part of the former US Naval Air Station, St. David's, St. George's Parish. |
| World's End | Once south of Point Shares, removed for the construction of Two Rock Channel to enter Hamilton Harbour and the city of Hamilton, Pembroke Parish. |


Authored, researched, compiled and website-managed by Keith A. Forbes.
Multi-national © 2020. All Rights Reserved