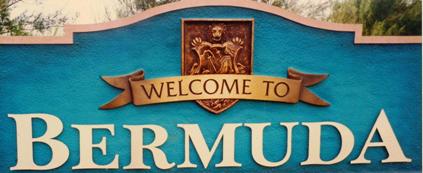 165+ web files about Bermuda, regularly updated as a Gazetteer, focusing on this internally self-governing British Overseas Territory 900 miles north of the Caribbean, 600 miles east of North Carolina, USA. Accommodation options, aircraft & shipping registers, airlines, airport, America's Cup 2017, actors/actresses/musicians/singers/ performing artists, banks, beaches, Bermuda Dollar, Bermuda Government, Bermuda-incorporated international and local businesses and companies including insurers and reinsurers, Bermudians, books and publications, bridges and causeway, charities, churches, citizenship by Status, City of Hamilton, commerce, communities, credit cards, cruise ships, cuisine, currency, disability accessibility, Devonshire Parish, districts, Dockyard, economy, education, employers, employment, environment, executorships, fauna, ferries, flora, former military bases, forts, gardens, geography, getting around, golf, government, guest houses, history, historic homes, Hamilton, House of Assembly, housing, hotels, immigration, import duties, internet access, islands, laws, legal system and legislators, location, main roads, marriages, media, members of parliament, money, motor vehicles, municipalities, music, nearest mainland, newcomers, newspaper, organizations, parks, Paget Parish, Pembroke Parish, residents, pensions, political parties, postage stamps, public holidays, public transportation, railway trail, real estate, religions, Royal Naval Dockyard, Sandys Parish, Smith's Parish, Somerset Village, Southampton Parish, St. David's Island, St George's Parish, senior citizens, Somerset, Spanish Point, Spittal Pond, sports, taxes, telecommunications, time zone, traditions, tourism, Town of St. George, Tucker's Town, utilities, water sports, Warwick Parish, weather, wildlife, work permits.

Bermuda Government since July 19 2017
Legislature, Constitution, Executive, Judiciary, Voters

By Keith Archibald Forbes (see About Us) exclusively for Bermuda Online

Introduction
Bermuda is a parliamentary representative democratic dependency. The UK's Foreign and Commonwealth Office ( FCO) administers Bermuda internationally but in all other matters Bermuda is a self-governing British Overseas Territory (BOT), one of the 14 BOTS worldwide and the oldest. (The others are - see http://en.wikipedia.org/wiki/British_overseas_territories).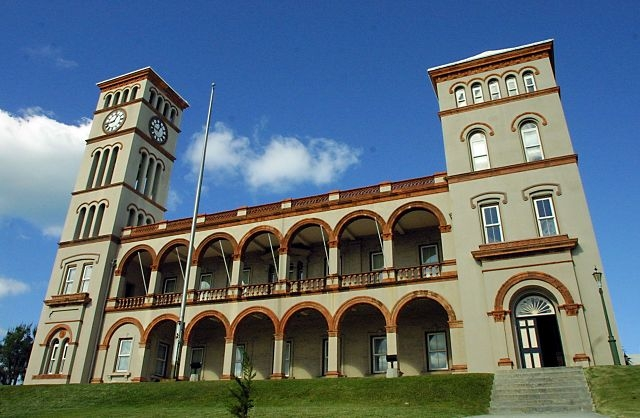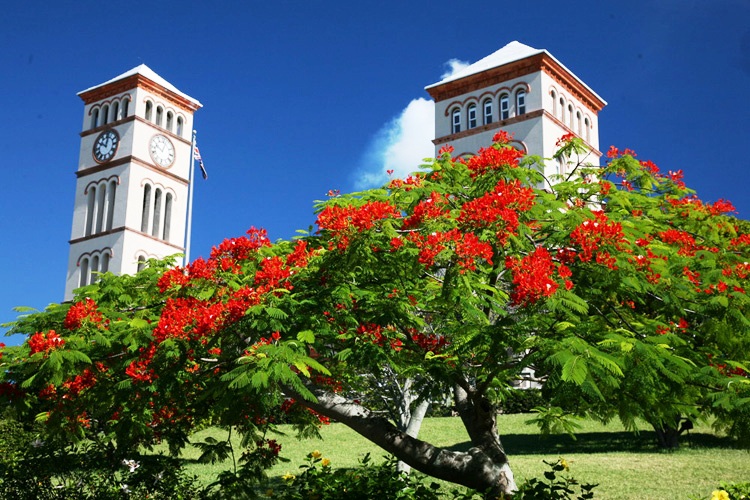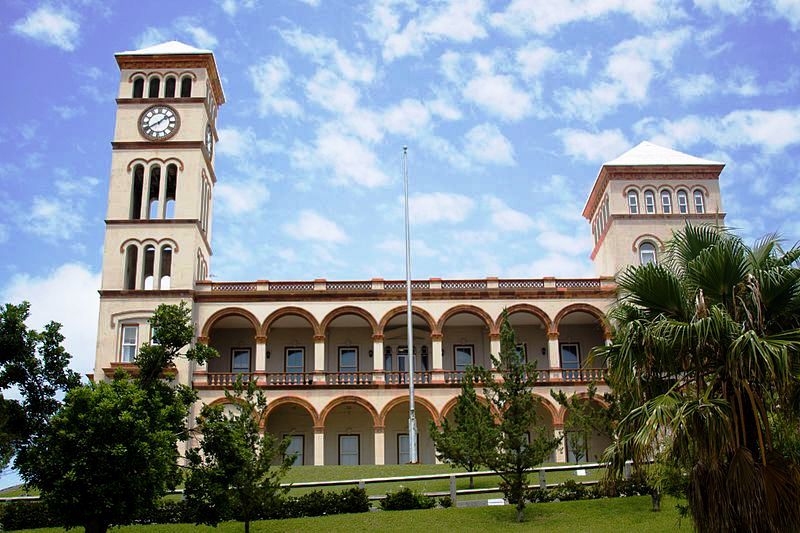 Bermuda House of Assembly or Sessions House, different images

UK Statutory Instruments Applicable to Bermuda as a BOT. See http://www.bermudalaws.bm/site_docs/ukstat.aspx
1957. Bermuda enacted The Parliament Act 1957, see http://www.bermudalaws.bm/Laws/Consolidated%20Laws/Parliament%20Act%201957.pdf.
Update after General Election 2017
2017. July 18. The Progressive Labour Party defeated the One Bermuda Alliance by 24-12 seats and will form the new Government. See 2017 July 19.Official voters count at July 18 Bermuda General Election, see https://elections.gov.bm/elections/results/electionss.html?kid=287.
Political Parties
Progressive Labour Party (PLP). See http://www.plp.bm for its 24 Members of Parliament and their PLP email addresses. It formed the Bermuda Government from 1998 to December 17, 2012 and currently, from July 19,2017.
One Bermuda Alliance (OBA). See http://www.oba.bm for its 12 Members of Parliament and their OBA email addresses. The ruling Government party from December 18, 2012 to July 18, 2017. Now in opposition.
2012. December 11. The Progressive Labour Party, in power since 1998, were defeated 17-19 seats by the relatively new political party the One Bermuda Alliance (OBA) which was contesting its first General Election. Less than 18 months after it was formed in 2011 as a merger between the United Bermuda Party (UBP) and the Bermuda Democratic Alliance (BDA), the OBA is now the Government. In accordance with the Bermuda Constitution (Amendment) Order 2003 and its Second Schedule, electoral districts changed in March 2003 from 20 dual-seat (2 members of Parliament) constituencies with significant variations in size of each - in 9 Parishes of almost the same size of each Parish - to 36 single-member constituencies. It meant a reduction of 4 Members of Parliament.
Bermuda Government Cabinet members with their Ministry Portfolios
Premier and Minister of Finance from July 19, 2017: Hon. David Burt, JP, MP, 38 years old in 2017.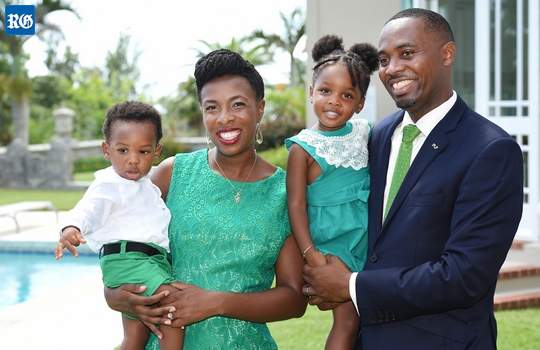 Premier's Cabinet Member of Parliament appointments:
2017. September 6. Dennis Lister Jr, the longest-serving Progressive Labour Party MP, has been chosen as the new Speaker of the House after a meeting last week of the PLP caucus. The PLP Parliamentary Group also endorsed the second longest-serving PLP Member of Parliament, Derrick Burgess, to serve as Deputy Speaker. Last night's announcement came as legislators prepare for a return to the House of Assembly on Friday, when the Throne Speech will be delivered under the new PLP Government. Mr Lister, whose parliamentary career began in 1989, represents Sandys North Central, while Hamilton East MP Mr Burgess, a former president of the Bermuda Industrial Union, became an MP in a 1998 by-election. The new Speaker replaces Randy Horton, who was appointed to the post in February 2013, with One Bermuda Alliance MP Suzann Roberts-Holshouser as deputy. David Burt, the Premier, praised the pair for their "unmatched dedication to our community over their decades of service". "I have immeasurable confidence in their ability to lead and discharge the duties their positions require with respect and integrity," Mr Burt added. "I know they will diligently handle all matters put before them in the House of Assembly and they will continue to work in accordance with the guiding principles of fairness and justice."
David Burt, JP, MP: Premier and Minister of Finance. Married to Kristin. They have two children. He attended Saltus Academy but left at a young age to seek a fresh challenge, heading to Florida Air Academy and qualifying as a pilot. Later, he attended and graduated from George Washington University, where he obtained a bachelor of business administration in finance and information and a master of science in information systems technology. He was awarded the university's presidential administrative fellowship. The Progressive Labour Party's leader had been the Shadow Minister of Finance since 2012 and is a former party chairman. He is a lifelong Pembroke resident and runs an IT and small business consulting firm called GMD Consulting Limited. He has served on the Tourism Board and the National Training Board, and also filled the position of director at the Bermuda Chamber of Commerce and Bermuda Economic Development Corporation. He is a member of Alpha Phi Alpha Fraternity, the Western Stars Sports Club, and the Devonshire Recreation Club.
Walter Roban, JP, MP: Deputy Leader and Minister of Transport and Regulatory Affairs. Mr Roban has previously held the portfolios of transport, environment, planning and infrastructure strategy and also health during his political career. He served as the party's chairman as well as Junior Minister of Labour, Home Affairs and Housing from February 2008, and was appointed to Cabinet in June 2009 as the Minister Without Portfolio. Mr Roban retained his Pembroke East seat this week by 660 votes from the One Bermuda Alliance's Scott Stewart.
Kathy Simmons, JP: Attorney-general and Minister of Legal Affairs. Mrs Simmons, who will sit in the Senate as part of the Government's team, is a qualified lawyer and a member of the Commonwealth Association of Legislative Counsel. The mother of three is the chairwoman of the Co-parenting Mediation Council and is undergoing domestic abuse and sexual assault training at the Centre Against Abuse. She ran for the PLP in Warwick North East, but lost to Jeff Baron by 65 votes — reducing the margin of defeat by 76 votes. In her capacity as advisor to the Legislature, Mrs Simmons drafted the Code of Conduct for Members of Parliament, which is designed to govern the conduct of MPs in public office.
Walton Brown, JP, MP: Minister of Home Affairs. Mr. Brown assumes his first ministerial post in the Progressive Labour Party as Minister of Home Affairs. A respected political lecturer and author, he has previously served in the Senate for the PLP and took his place in the House of Assembly for the first time in 2012 when he won the Pembroke Central seat. The former Berkeley Institute and Bermuda College student has championed the need for comprehensive and collaborative immigration reform. He taught politics and history for 12 years at Bermuda College and later entered the private sector as founder and president of Research Innovations. Mr Brown is the author of Bermuda and the Struggle for Reform: Race, Politics and Ideology, 1944-1998 which won the National Literary Award for Nonfiction in 2013. His father was W. G Brown, well known in St. Lucia and other Caribbean islands.
Kim Wilson, JP, MP: Minister of Health. Lawyer, she has previously served in the Senate and was appointed the Attorney-General and Minister of Justice under the Progressive Labour Party in December 2007. In 2010 she took on the role of minister of the newly created Ministry of Economy, Trade and Industry, before reassuming the position of Attorney-General a year later. The mother of two, who retained her Sandys South Central seat, has an extensive legal background that includes both criminal and civil litigation, estates planning, wills and probate. She has served on a number of boards and committees including the Human Rights Commission, e-commerce Advisory Board, Criminal Injuries Compensation Board and the Board of Governors for CedarBridge Academy.
David Burch, JP, MP: Minister of Public Works. He returns to the Cabinet six years after he last held a ministerial post. He is a former Government Leader in the Senate, but he has also served as a Progressive Labour Party minister in numerous portfolios including housing, works and engineering, public safety, labour, home affairs and national security. He served as the Commanding Officer of the Bermuda Regiment from 1994 to 1997, retiring after almost 20 years of active military service. Mr Burch has also worked with the West End Development Corporation, the Bermuda Land Development Corporation and the Bermuda Housing Corporation in his long political career.
Wayne Caines, JP, MP: Minister of National security. A Former prosecutor and Digicel CEO, he will take on the Ministry of National Security. Mr Caines, who beat incumbent Glen Smith and former Progressive Labour Party leader Paula Cox to win Devonshire North West, is the CEO of SENIAC Consulting, a telecommunications and organizational consulting firm. The former captain in the Bermuda Regiment spent seven years as Crown counsel at the Department of Public Prosecutions and also served as the senior counsel at the Drug Court. Mr Caines was also chief of staff in the Office of the Premier and as a PLP senator with responsibilities as the Junior Minister of Tourism, Transport, Environment and Sport. The father of one is a highly regarded public speaker as well as a member of several organisations including the Bermuda Business Development Board. He is also a former member of the Young Presidents Organisation.
Zane DeSilva, JP, MP: Minister of Sports and Social Development. Mr DeSilva was elected to the House of Assembly after the 2007 General Election when he won the Southampton East Central constituency. He went on to be appointed as Minister without Portfolio in 2009 and was named as the Minister of Health a year later. Mr DeSilva is president and CEO of Island Construction Services Ltd and is a life member of Watford Sports Club, Somerset Bridge Recreation Club, St David's Cricket Club, East End Mini-Yacht Club and the Bermuda Athletic Association. The father of two represented Bermuda in cross-country running, snooker and at the Golf World Championship in Venezuela in 1994.
Diallo Rabain, JP, MP: Minister of Education. With education being hailed as a priority for the Progressive Labour Party, Mr Rabain was elected to the House of Assembly in February 2016 after winning the Devonshire North Central by-election that was called when Glenn Blakeney stood down from politics. He retained the same seat for the PLP by 279 votes over the One Bermuda Alliance's Fabian Minors. The father-of-one has also previously been the PLP Leader in the Senate. He has served on numerous government and private boards including the Board of Education and the Bermuda Government Scholarship Committee and is the PTA president of Elliot Primary School.
Jamahl Simmons, JP. MP: Minister of Economic Development and Tourism. Mr Simmons was elected to Parliament in November 2014 when he defeated the One Bermuda Alliance's Georgia Marshall in Sandys South, succeeding former Progressive Labour Party MP Terry Lister. He retained his seat in the General Election in the same constituency over the same rival by 314 votes. Under the former PLP premier Ewart Brown, Mr Simmons served as Chief of Staff and Press Secretary. In December 2015, Mr Simmons was appointed to the Shadow Cabinet as Shadow Minister for Tourism and Economic Development, and has remained as the party's tourism spokesman.
Lovitta Foggo, JP. MP: Minister of Government Reform. St David's MP, she has been appointed to the newly created Ministry. Ms Foggo was elected to the House of Assembly in 2007 and has served as the party's whip. The mother-of-two, who has lived in her constituency for 30 years, has taught at St George's Secondary, Whitney Institute, CedarBridge Academy, the Community School and the Prison Farm. She has also served as the deputy chairwoman of both CedarBridge Academy and the Education Appeals Board. In Parliament, she has served on several committees including the Public Accounts Committee, the Private Bills Committee and the committee responsible for overseeing the Standing Orders for parliamentarians
Premier's Junior Ministers
2017. August 9. A new portfolio will address Bermuda's ageing and increasingly chronically diseased population, the new Junior Minister for Disability Tineé Furbert said yesterday. Ms Furbert was speaking after Senators Crystal Caesar, Vance Campbell and Jason Hayward were appointed junior ministers alongside her at a ceremony at Government House. Ms Furbert is the new MP for St George's South and sat as a senator from November last year until this summer's election. She said: "I'm very excited for the community. Bermuda is still at a place where we need to continue with awareness of disability." Ms Furbert added that building accessibility also needed to be prioritized. She said: "I think with Bermuda having an ageing population and having an increased chronic disease population, that we definitely need to focus on disability and how we can make our community and our environment accessible." David Burt, the Premier, said: "We have an opportunity to include people who are differently able in this Government's priorities. We must understand their needs and address them in a manner that will support this population's development. We understand that people with disabilities have an important contribution to make to all sectors of our society, and we must be inclusive." Ms Furbert and her fellow junior ministers are all relative newcomers to the political scene and ran as candidates in the General Election last month. Ms Caesar will take on the junior portfolios of tourism, home affairs and economic development, while Mr Campbell will take finance, public works and government reform. Mr Hayward will serve in education, workforce development, national security, social development and sports. Ms Caesar, Mr Campbell and Mr Hayward were all appointed to the Senate last month, having challenged in seats traditionally held by the One Bermuda Alliance. Mr Hayward said he was "elated" by the trust that had been placed in him by the Premier. Asked how he would balance his new responsibilities with his existing roles as the president of the Bermuda Public Services Union and a leader of the People's Campaign, Mr Hayward said that a "good structure" had been put in place within the union. He added: "We have a strong team, so the burdens of the responsibilities of the union are not always placed on my shoulders." Mr Hayward said of his move into Government: "Where I was advocating for policies, I have an opportunity to assist with ensuring that those policies come to light." Ms Caesar said it was "an honour" to be able to serve the country. She added: "I'm just ready to dig in and learn all that I can as a junior minister." Mr Campbell described his appointments as an "awesome responsibility. It's a responsibility that I will take on with integrity, hard work, and diligence, as I would with anything in life," he said. He added that the economy and balancing the budget, along with addressing the cost of living in Bermuda, and the idea of a living wage, were all areas of "high importance". With regard to public works, Mr Campbell said that work had already commenced on preparing school facilities for the upcoming year. Mr Burt said the four junior ministers would all bring "energy, professionalism and a unique perspective to the table. They are now in a position to make a real difference in the development and growth of Bermuda for all Bermudians."
Premier's Senate appointments:
Kathy Simmons
Anthony Richardson
Jason Hayward
Vance Campbell
Crystal Caesar.
The Premier appoints five in the Progressive Labour Party of the eleven Senators. The Governor appoints 3 who are independent, not in the PLP or OBA and the OBA picks three.
The numbers
2017
Number of registered voters: 46,669
Total vote count: 34,060
PLP: 20,059 votes (58.89 per cent of the popular vote)
OBA: 13,832 votes (40.61 per cent)
2012
OBA: 15,949 (51.68 per cent)

PLP: 14,218 (46.07 per cent)
2007
PLP: 16,800 (52.45 per cent)
UBP:15,161 (47.34 percent)
2003
PLP: 15,222 (51.64 per cent)
UBP: 14,142 (47.98 per cent)
The figures in this article are taken from The Royal Gazette and other online archives, as the Parliamentary Registrar was unable to provide official data.
Party exceeded its own expectations. The Progressive Labour Party was "very confident" of a comfortable win in Tuesday's General Election but did not expect such a large parliamentary majority. The party won 24 seats in the House of Assembly, compared to 12 for the One Bermuda Alliance — creating a 12 seat advantage over the Opposition, which the PLP has not enjoyed since it first came to power in 1998. Party spokeswoman Liana Hall told The Royal Gazette: "We felt very confident. We knew that from the people we had met on the doorsteps and the amount of time we had spent speaking with people, getting our message out, that we had a lot of support. But, at the same time, we didn't know we would have this many seats. There were a lot of upsets and surprises." Ms Hall said there was no "party consensus" on how many seats it would win — and some individuals within the PLP actually did predict 24 seats — but the final total went beyond expectations, thanks to several candidates winning seats considered to be either marginal or safe OBA constituencies. One example was party organizer Christopher Famous, a union activist who unseated Bob Richards in Devonshire East. "We knew he had garnered a lot of support," said Ms Hall. "There were some ... who believed, without a doubt, that he would take this seat and the rest of us were very unsure. As the results came in, it became clear that Chris was going to win that seat and that he was going to win that seat quite comfortably. That seat, in itself, indicated a mood change in the country as a whole, that the deputy leader of the OBA and Bermuda's finance minister was going to be unseated by a first-time candidate. When that happened, we were elated and we were encouraged and we knew we had something special going on." She pointed to Dennis Lister III's "incredible result" in Warwick West as another example of a seat that was by no means thought to be in the bag. The 31-year-old beat OBA incumbent Jeff Sousa, the latter having said before the count that it would take a "miracle" to unseat him. Ms Hall said: "We knew he was working hard but that was a surprise because, as far as we felt, it was an OBA stronghold. There was a big turnout in that constituency. We were elated; we felt that that victory was really showing a special shift." Even some of the PLP's losses were encouraging, according to the party press officer, because candidates made significant inroads into OBA majorities. "Curtis Richardson, while not a win for us in Paget East, garnered nearly 400 votes. It showed a huge difference [to past elections]. We have never received that number of votes in that constituency." She attributed her party's landslide win to its clear message about "two Bermudas" — a reference not to race but to the "haves and have notes" in society — and that message being pushed to the electorate by a young campaign team, all under the age of 40. "We galvanised young people. We think the message resonated with a lot of people," said Ms Hall, adding that whites were among those to whom it appealed. "We have white laborers and white workers and white business owners who are also struggling and suffering. Even if they are not, I think as a country we have come to a point where ideologically we feel we can do better by our fellow Bermudians." The PLP's large majority in the House means David Burt, the Premier, who announced his Cabinet yesterday, now has a sizeable back bench of 14 MPs.
2017. July 27. The Bermuda Government stands to gain millions of dollars through the Lahey Clinic and Port Royal Golf Course lawsuits, according to Trevor Moniz, who urged the Progressive Labour Party to continue proceedings. In a statement yesterday, the former Attorney-General said he had moved forward with the cases on the basis of "compelling evidence and highly skilled attorneys". "The Bermuda Government was the clear victim of past crimes and abuses, and it stands to gain millions of dollars in damages," he said. "No sensible government committed to combating corruption would drop these lawsuits and other investigations. Given the new Premier's stated desire for collaboration, I remain open to assisting the new government and Attorney-General on this and various other files." Mr Moniz filed the lawsuits in his role as Attorney-General under the One Bermuda Alliance earlier this year, with the Progressive Labour Party responding at the time that the actions were "reminiscent of dictators who used political power and influence to victimize their enemies". Yesterday, The Royal Gazette reported that the PLP is likely to drop both lawsuits, and taxpayers would be likely to pick up a tab of at least $200,000 for the Lahey action alone. In his statement yesterday afternoon, Mr Moniz said that Bermuda had committed itself to the "highest global standards" in the fight against corruption, noting criminal procedure reforms and the Bribery Act, which will come into force on September 1. "The former OBA government also started the process of signing up to the United Nations Convention Against Corruption and the OECD Convention on Combating Bribery of Foreign Public Officials in International Business Transactions," he continued. "However, combating political corruption is not just a question of putting in place new structures and processes; we actually need to deal with political corruption in a firm and determined manner. As a jurisdiction, Bermuda is due to be assessed by the Caribbean Financial Action Task Force on its adherence to global standards. Dropping corruption lawsuits in the face of compelling evidence would jeopardize Bermuda's assessment thereby giving it a black eye in the international community. Therefore, I urge the Government to take advice from their lawyers at Cooley and to continue with the anti-corruption programme commenced during my tenure as AG." The Lahey lawsuit, for unspecified damages, alleged that the teaching hospital had conspired with Ewart Brown, the former PLP premier, on a "corrupt" scheme carried out "at the expense of the Bermudian Government and people". The unproven accusations included that Dr Brown used his position as a minister to promote Lahey's interests in Bermuda and the hospital paid him "bribes disguised as consulting fees" to do so. It was claimed that Dr Brown's clinics in Paget and Smith's conducted "excessive, medically unnecessary and frankly dangerous scans" in order to increase payments received from health insurers, with Lahey overseeing the alleged over-testing but staying "silent" to keep its consulting relationship with Dr Brown intact. Lahey pledged to "vigorously defend" the proceedings and Dr Brown said the lawsuit contained "countless lies and ridiculous allegations". David Burt, the Premier, supported a bid by Lahey this year to have the case dismissed, as did three other ministers in his new Cabinet: Zane DeSilva, Walter Roban and Kim Wilson. Mr Burt, while Opposition leader, also spoke out against the legal action in the House of Assembly, questioning how the information in the civil complaint was obtained by the Attorney-General's Chambers and suggesting it could affect Bermuda's relationship with the US. His public opposition to the case suggests it will be quickly discontinued under the new PLP government. The Port Royal Golf Course lawsuit was filed locally over a $10.9 million overspend on renovations at the golf course, under the last PLP government. The proceedings were brought against Mr DeSilva, along with his company Island Construction, fellow Port Royal trustees Wendall Brown and Delano Bulford, and SAL Ltd, in March this year, when he was a back bench Opposition MP. Mr DeSilva is now Minister of Social Development and Sport. He and his fellow defendants were accused of "self-dealing" in the lawsuit, which he pledged to fight "to the end".
2017. July 27. Taxpayers will pick up the tab for a lawsuit launched by the One Bermuda Alliance administration and likely to be dropped under the new Progressive Labour Party government. The civil suit, filed in Massachusetts against the Lahey Clinic, is expected to be swiftly ditched by Attorney-General Kathy Simmons, but the Government's bill for its Boston legal team will already be substantial. In addition, Lahey is unlikely to walk away without either negotiating a settlement from the Government or pursuing costs against it before a judge. A legal source, who asked not to be named, told The Royal Gazette: "Lahey is likely to appeal to a judge for costs unless they have beforehand negotiated that they would not pursue costs. It would be a matter of negotiation." The source said lawyers in Boston working on the case for both sides would probably be charging in the region of $800 an hour and a bill of between $200,000 and $250,000 for the Government would be a "safe minimum" estimate. David Burt, the Premier, supported a bid by Lahey earlier this year to have the case dismissed, as did three other ministers in his new Cabinet: Zane DeSilva, Walter Roban and Kim Wilson. Mr Burt, while Opposition leader, also spoke out against the legal action in the House of Assembly, questioning how the information in the civil complaint was obtained by the Attorney-General's Chambers and suggesting it could affect Bermuda's relationship with the United States. His public opposition to the case suggests it will be quickly discontinued under the new PLP government. A separate lawsuit, filed locally and concerning a $20 million overspend on renovations at Port Royal Golf Course under the last PLP government, is also expected to be withdrawn. The proceedings were brought against Mr DeSilva, along with his company Island Construction, fellow Port Royal trustees Wendall Brown and Delano Bulford, and SAL Ltd, in March this year, when he was a backbench Opposition MP. Mr DeSilva is now Minister of Social Development and Sport. He and his fellow defendants were accused of "self-dealing" in the lawsuit, which he pledged to fight "to the end". The legal source said Mr DeSilva might be prepared to walk away without costs rather than putting himself in the "invidious position of going after costs from the same government he serves in". Both lawsuits were filed by former Attorney-General Trevor Moniz in the space of three weeks in the spring, prompting the PLP to say in a statement: "The actions taken by Trevor Moniz and the One Bermuda Alliance are reminiscent of dictators who used political power and influence to victimize their enemies and are alien to a modern, sophisticated jurisdiction like Bermuda." The Lahey lawsuit, for unspecified damages, alleged that the teaching hospital had conspired with Ewart Brown, the former PLP premier, on a "corrupt" scheme carried out "at the expense of the Bermudian Government and people". The unproven accusations included that Dr Brown used his position as a minister to promote Lahey's interests in Bermuda and the hospital paid him "bribes disguised as consulting fees" to do so. It was claimed that Dr Brown's clinics in Paget and Smith's conducted "excessive, medically unnecessary and frankly dangerous scans" in order to increase payments received from health insurers, with Lahey overseeing the alleged over-testing but staying "silent" to keep its consulting relationship with Dr Brown intact. Lahey pledged to "vigorously defend" the proceedings and Dr Brown said the lawsuit contained "countless lies and ridiculous allegations". The Port Royal proceedings sought compensation for "breach of fiduciary duty," compound interest and costs from Mr DeSilva and his co-defendants. The lawsuit concerning the publicly owned golf course alleged that Mr DeSilva, Mr Brown and Mr Bulford took part in "self-dealing" while serving on its board of trustees. It was claimed that companies linked to the trio provided goods and/or services to Port Royal but the men did not properly declare their interests or recuse themselves from decision-making. The Port Royal overspend was criticised by the Auditor-General in a special report released in 2014 and, more recently, by the Commission of Inquiry, as part of its investigation into the misuse of public funds. The CoI subpoenaed Mr DeSilva's brother Allan to answer questions about Island Construction's involvement with the project, but he exercised his right of privilege and did not appear because, his lawyer said, of "a parallel criminal investigation". The commissioners concluded that ongoing police investigations into the Port Royal contract and other contracts entered into by the Ministry of Tourism and Transport, when Dr Brown was in charge, should continue, "including the involvement of the minister/former Premier". The election result should have no bearing on any police investigations, as Bermuda's Constitution ensures a separation of powers, with responsibility for the police lying with the Governor. A long-running police investigation into claims of corruption against Dr Brown began in June 2011, when the PLP was in power. The Royal Gazette asked Mr Burt and the Attorney-General's chambers for comment, as well as Mr DeSilva and a Lahey spokesman, but none responded by press time.
2017. July 27. A Cabinet team is to supervise the island's efforts to combat money-laundering and terrorist financing, which are to be comprehensively evaluated in the spring of 2018, according to David Burt. While the island already had an effective regime in place, the Premier and Minister of Finance said the assessment by under the Caribbean Financial Action Task Force — subject to review and approval by the Financial Action Task Force — was critically important to the island's economic future. The evaluation will involve more than a dozen government entities, along with the private sector. "I cannot emphasise too strongly to everyone on our island the necessity for Bermuda to pass this international examination," Mr Burt said. The Premier said he now chairs a committee to lead the effort, which includes Kathy Lightbourne-Simmons, the Attorney-General and Minister of Legal Affairs; Walton Brown, the Minister of Home Affairs; Jamahl Simmons, the Minister of Economic Development and Tourism, and Wayne Caines, the Minister of National Security. While the National Anti-Money Laundering Committee advises the Government, Mr Burt said its efforts required the direct involvement of Cabinet. "Although Bermuda already has a comprehensive legislative framework that has been developed and updated over many years, the complexity of the standards against which we are being evaluated mean that there are still some outstanding legislative initiatives that much be progressed," Mr Burt said. "This is one of the very significant reasons we will be recalling Parliament in early September — to address these and other important matters." The Premier stressed that "we will pass the muster", adding: "When the assessors come, they will have nothing but good things to say about Bermuda." The National Anti-Money Laundering Committee was established in 1997 under the Proceeds of Crime Act, but the island's regime has been constantly updated over the 20 years since. Its chairwoman, Cheryl-Ann Lister, warned that while there was no "perfect save" for a jurisdiction to eliminate laundering entirely, "we do have stringent requirements in place to ensure it is kept to a minimum". The assessment will focus on institutions such as banks and investment companies, as well as dealers in high value goods such as jewellery and real estate, in a "multi-industry, multi-sector" evaluation, she said.
2017. July 25. The Progressive Labour Party government is meeting with union leaders and international business representatives as it unveils specifics of its 100-day plan in stages over the days and weeks ahead, David Burt announced yesterday afternoon. Speaking shortly after the new Government's first Cabinet meeting, the Premier expressed confidence in growing international business at the same time as putting Bermudians first. "The two are not mutually exclusive, and this government will ensure that we do both," Mr Burt said, flanked by colleagues in the Cabinet Office. "Together we will work collectively to advance our interests internationally, while creating more opportunities for Bermudians locally." Meanwhile, the House of Assembly is to convene in September, two months earlier than usual, to advance the new administration's legislative agenda. The Premier met yesterday with union leaders, accompanied by Walton Brown, the Minister of Home Affairs, and Lovitta Foggo, Minister for the Cabinet Office with Responsibility for Government Reform. "Through collaboration, this government will be able to create comprehensive plans to address any concerns," Mr Burt said. "But the first step must be to open the floor for constructive dialogue." The Premier, along with Jamahl Simmons, the Minister of Economic Development and Tourism, is to meet today with the Association of Bermuda International Companies and, next week, with representatives from the Association of Bermuda Insurers and Reinsurers. "The objectives are simple: to ensure that we work together to build Bermuda's strength as a highly regarded, well regulated international financial centre," Mr Burt said, calling the unions and international business bodies "important stakeholders as we work to create jobs in Bermuda". Over the days since its July 18 victory at the polls, Mr Burt said the Government "has been busy getting to work and looking under the hood". The Premier added that details on what had been found "under the hood" would be forthcoming later this week — reviving a term that had been used by the One Bermuda Alliance administration after it assumed power in December 2012. Noting the high priority of education, the Premier said that the Ministers of Education and of Public Works would be collaborating to ensure that all schools would be ready for students — and the Government intends "to keep our promise of increasing the financial support available to students wishing to attend Bermuda College in the autumn". That support could come at least partially from elsewhere in the Government's spending, he said. "As we look under the hood, there is a lot of spending we can find that we can stop, and places we can redirect priorities where they need to go." While some of the 21 items on the 100-day agenda have already commenced implementation, particulars remain to be announced. Mr Burt revealed little of a major infrastructural project inherited by the new administration that has piqued widespread curiosity: how the PLP will handle the airport redevelopment, which the party so hotly opposed. The Premier said that issue would be discussed at a later press conference by Walter Roban, the Minister of Transport, in consultation with Kathy Simmons, the Attorney-General.
2017. July 22. The Progressive Labour Party stormed to victory in the 2017 General Election with the most votes ever won under Bermuda's parliamentary system. The new ruling party got 20,059 votes across the country on Tuesday: almost 59 per cent of the popular vote and 5,841 more votes than it received when it narrowly lost to the One Bermuda Alliance in 2012. The figure of 20,059 represents the highest number of votes obtained by a political party under the system of 36 single-seat constituencies, which has been in place since 2003. Previously, it was 16,800 votes, or 52.4 per cent of the popular vote, as won by the PLP in 2007. The scale of the win defied a Global Research poll from last week showing the OBA gaining half the popular vote, but Leslie Steede, director of Global Research, said the company had a proven track record, and stood behind its survey. "In politics, a lot can change in a short period of time, and our belief is that the campaign strategies employed by the PLP in last few days resonated with voters," Dr Steede added. "Polls are never perfect, and we will be reviewing our modelling based on the result of the election." Jonathan Smith, who was election day campaign manager for Christopher Famous, the PLP candidate who unseated Bob Richards in Devonshire East, told The Royal Gazette: "We have never had this seismic shift in terms of total vote count. The highest ever [previously] was 16,000. [For the PLP] to go from 14,000 [in 2012] to 20,000 — that's pretty seismic in terms of 'get out the vote'." The term "get out the vote" describes efforts to increase voter turnout in elections and Mr Smith said a huge part of the PLP's success this year was down to how it mobilized the electorate. The number of registered voters increased by nearly 3,000 to 46,669 between April last year and June this year and the total voter turnout for the 2017 General Election was 72.9 per cent, compared to 67.4 per cent in 2012. The relatively high turnout translated into more votes for the PLP, which did far better even than in 1998, when it first swept to power. Back then, the party won 54.5 per cent of the popular vote, increasing that this time by more than 4 percentage points to 58.8 per cent. Mr Smith said another "stunning" aspect of the PLP's 2017 landslide victory was the way it managed to secure huge majorities in seats which were previously marginals, such as Pembroke Central and Sandys North. Mr Famous's achievement in Devonshire East, meanwhile, went beyond just a political newcomer taking a seemingly safe OBA seat from a sitting MP, who also happened to be finance minister and deputy premier. "The PLP has never won this seat," noted Mr Smith. "And nobody has ever secured 500 votes [in that seat]. Chris has got the highest number of votes of any candidate in this constituency, ever." In Mr Famous's case, his campaign manager described him as an "absolutely amazing person" who did "99 per cent of the work" in getting himself elected. A month before the election, he felt Mr Famous had a "real fighting chance" of winning but it became clear as the election drew near just how much he had connected with voters. "Chris just kept canvassing and canvassing and canvassing," said Mr Smith. "It's an amazing experience to watch people connect with Chris Famous. He's got a humility that is striking." Mr Smith said it was clear early on Tuesday that the PLP's supporters — traditionally said to cast their ballots later in the day — were coming out in force in Devonshire East. "I knew at 9.30[am] that we had an incredibly realistic chance of winning in 11 and the reason why is because we tally the vote," he said. "In each election headquarters, you are tracking during the day. You know who has voted and how many people have voted. We knew how many had already pledged their support to Chris because they had told him. So we saw numbers during the day that pushed us [ahead]." The former police commissioner said of the constituency 11 campaign team: "Our job was to get the voters out to vote. You have dedicated party workers who are on the phone all day. We did that all day Tuesday. That's politics 101." He added: "I set an aggressive target for our team. At 7am [on election day] I said 'our job is twofold: to get Chris elected and to make sure he wins 500 to 510 votes'. You can only do that when a candidate canvasses thoroughly. You can't just pull a figure out of the air. He actually got 513. It represents, at the end of the day, that the power is never at 105 Front Street [the Cabinet Office]. The power is with the people. Chris Famous, more than any other candidate, exemplified what the vote can do."
2017. July 21. Incoming education minister Diallo Rabain has said he is looking forward to turning his passion for education into making a real difference for the students of Bermuda. He was sworn in yesterday afternoon along with ten other ministers and five senators as the Progressive Labour Party unveiled the nation's movers and shakers. The Royal Gazette spoke to some of those heading up significant ministries including former senator and ministerial newcomer Wayne Caines for national security, Walton Brown who has taken over the contentious portfolio of home affairs, and the Premier himself, David Burt, who has not only taken on the momentous responsibility of leading the country, but will also be in charge of the purse strings as Minister of Finance. Mr Rabain admitted he had a big task on his hands heading up education which has been in the spotlight for all the wrong reasons under both the PLP's former administration and the outgoing One Bermuda Alliance. Furthermore, the ministry has been merged with Workforce Development adding more to the already stretched workload ,but he believes he is up to the task. Mr Rabain, who is an adjunct lecturer at Bermuda College and who has a daughter in the public education system, told us: "I am humbled to be invited into this post — it is something I feel passionate about. Workforce Development has been moved to Education and I feel there is a good synergy there because not only are we trying to educate our children, but we are trying to prepare them for jobs. We plan to hit the ground running. In the short term we want to get inspectors into the schools and produce reports so we know what we need to do to get them up to code in terms of health and safety. Secondly, we will do audits in the schools and see what type of technology base systems that we need to get in there. That initially is the huge priority — other things will come as I meet with the staff and talk about how we can do some things differently." The former PTA president also stressed the importance of bringing technology in the public education system up to par. The PLP's 2017 platform stated that Science, Technology, Engineering, Arts and Math learning will be implemented from Primary level. When asked about the Government's level of dedication to Steam learning, Mr Rabain said: "We will be pushing Steam at all levels. My daughter is in a Steam summer day camp — I am committed to it. I have a vested interest there and in three years she will be entering into middle school and my goal is to have things moving along within that time." Speaking on the ongoing industrial unrest within the schools system in Bermuda, Mr Rabain added: "I just spoke to the Permanent Secretary and there is a negotiation that needs to be sorted out as well." Mr Burt has taken on a heavy load as both Premier and Minister of Finance — the former OBA premier Michael Dunkley eventually gave up his ministry — National Security — relinquishing it to Jeff Baron while Paula Cox juggled her roles as PLP premier and finance minister for two years before leading the party to an election defeat in 2012. Asked whether he believed he was up to the job, Mr Burt said: "I believe I am up for the job — if I wasn't up for the job I wouldn't have done it. You will see the organizational structure of government — we have structured it correctly in a way that it will work." As Premier, Mr Burt reduced the number of ministries from 12 [under the OBA] to 11 with the notable omission of seniors but he assured us that seniors would be even more significant under the PLP than under the previous administration. "We will be discussing seniors next week — precisely what we are going to do and what is going to come under the Cabinet Office — and it will actually get more attention than it did being lost under the Ministry of Health." Environment was also missing from the portfolio line-up but Mr Burt told us that it would be merged with the Ministry of Public Works. Wayne Caines pledged that tackling gang violence was at the top of the pile of priorities and, especially in light of Wednesday night's fatal shooting, the plan to do so would "intensify". Speaking more generally, he said that he would "look under the hood" and meet with the relevant agencies to see what work needs to be done "We want to look at the police and discuss their strategy, we want to meet with everybody at the Prison Commission to see where they are — Collective Customs we want to see what their needs are ...We [the PLP] want to look at each ministry — it has been four years since we were last in government. We have a clear plan and I am meeting with the PS this afternoon."
2017. July 20. New MP Wayne Caines and new Senator Kathy Simmons were handed frontline portfolios as the Progressive Labour Party swore in its Cabinet team yesterday. Mr Caines, one of the PLP's big winners in Tuesday night's General Election, gets the national security job, while Ms Simmons, who pushed Jeff Baron close in a seat considered One Bermuda Alliance territory, is the new Attorney-General, having been also appointed to the Senate. David Burt, the Premier, was one of five members appointed into Cabinet for the first time, along with Walton Brown, Diallo Rabain, Jamahl Simmons and Lovitta Foggo. There were returns to Cabinet for Walter Roban, Kim Wilson, David Burch and Zane DeSilva, all of whom served under the previous PLP administration. Meanwhile, Jason Hayward, the president of the Bermuda Public Services Union, is among the new appointments to the Senate. With 11 members, the Cabinet is one fewer than the last under the OBA, with Mr Burt explaining fiscal responsibility must "start at the top". Mr Burt will take on the finance portfolio in addition to his responsibilities as premier. Mr Brown takes the home affairs job which proved a contentious position for the OBA, while Mr Burch returns to one of his former roles in public works. Mr Rabain becomes the thirteenth education minister in 19 years, while Ms Foggo, a long-serving whip for the PLP but never in Cabinet before, takes on government reform. Party deputy leader Mr Roban gets transport, Ms Wilson has health and Mr DeSilva has social development and sport. Ms Simmons and Mr Hayward are joined in the Senate by three candidates from Tuesday's election: former accountant-general Anthony Richardson, party stalwart Vance Campbell and financial controller Crystal Caesar. Mr Burt said in his speech: "The new Cabinet comprises a fusion of youth and experience and we are ready to chart a new course for Bermuda. We have reduced the size of Cabinet to 11. I recognise that fiscal responsibility must start at the top. I recognise that we have a lot of challenges ahead as we begin governing our island. However, there are many opportunities where we can have a strong and positive influence impacting the lives of all Bermudians. Tomorrow, we will begin to address the priorities we outlined in our platform for a better and fairer Bermuda. In the coming days, you will hear from your new government ministers as we begin to make Bermuda better for Bermuda's working families. Our pledge to the people of Bermuda is simple: we will be an open and transparent government, we will listen to all segments of society and we will communicate with you regularly. Bermuda works best when we work together and this Government will work together to build a Bermuda that will provide a better future for all Bermudians. Our work starts now."
Bermuda's Members of Parliament in House of Assembly and their salaries
Legislature (Salaries and Pensions) Act 1975, as amended.
The House of Assembly, Bermuda's Parliament, first convened on August 1, 1620, in the town of St. George, Bermuda's first capital. Only the legislative assemblies of the United Kingdom and Iceland pre date it. The dress code for all Bermuda legislators was relaxed in July 2000. Now men may wear Bermuda Shorts or safari or Nehru suits and women trouser suits. The Bermuda Government has 9 appointed (not elected) Parish Councils, 2 elected municipal Corporations each with their full slate of aldermen and councilors like much larger cities and towns abroad and 108 Government Boards in which there are 800 part time members (none of them full time civil servants, all reporting to a Member of Parliament).
All Cabinet Ministers are appointed by and answer to the Premier. He can extend or reduce their Cabinet responsibilities, at her/his discretion. They must be either elected Members of Parliament or members of the Senate. They are referred to as Ministers in the British way because they control and administer and set the policy for their portfolios. They are paid a regular and pensionable salary - far more generous than in the private sector - as Members of Parliament or Senators with an additional sum if they are also a Cabinet Minister. The benefits enjoyed by Cabinet Ministers on top of their six-figure salaries include use of a car, health insurance, a pension, a parking space at Sessions House and a credit card. All Cabinet Ministers and members of the Legislature are entitled to participate in the Government employment health insurance scheme, as well as the Ministers and Members of the Legislature pensions fund. Ministers are afforded cars. Ministers are issued credit cards that are governed according to Government's Financial Instructions. They are subject to the standard audit process of the Government.
All elected Cabinet Ministers and Members of Parliament are required by law to be both Bermudian and British men and women who are Government or Opposition backbenchers. Their salaries are more than in many places far bigger than Bermuda. They are popularly elected to terms of up to five years by the registered voters of Bermuda - mostly Bermudian. (Some non-Bermudians who were Commonwealth citizens in 1979 were given the vote but are not Bermudian. Since 1979 there have not been any further voting concessions to non-Bermudians, nor have any non-Bermudians been allowed to become Bermudians unless they have qualified to do so by (a) marriage, (b) a wait of 10 years after marriage and (c) have remained both married and living/cohabiting with the same spouse at the time of their marriage at least 10 years earlier).
Cabinet Ministers and Members of Parliament pay at least 12.5 per cent of their gross salaries into The Legislature Pension Fund. Government matches contributions, to make a total of 25%. Pensions are paid out based on a formula pertaining to the number of years in which contributions were made.
The 2016-17 Budget book states that a part-time minister in the House of Assembly earns half the annual salary of his or her full-time counterpart — $50,421 versus $100,841. Thus the May 2016 12-person Cabinet is paid the equivalent of 9.5 full-time salaries per year.
The Bermuda Government is Bermuda's biggest employer by far. It employs more than 14% of Bermuda's entire adult working population and is also easily Bermuda's biggest real estate property owner. Many buildings house the legislators and civil service. The Government controls things which in many other countries are privatized. Typical examples are in airports, tourism, transport. All first world countries have privatized them wholly or partly, but not in Bermuda. Government has 38 quangos and public funds.
Bermuda has more politicians per voter than anywhere else in the world. A Constituency Boundaries Commission, appointed in late 2001 recommended reduction of members from 40 to 36. It was approved and was in place for the July 2003 General Election Bermuda now has 36 Members of Parliament in 21 square miles for a total of 43,000 voters, or 1 legislator for every 1,194 voters. In comparison, in the European Union overall, there are 736 Members of the European Parliament (MEPs) for 350 million voters throughout the EU, equivalent to 1 MEP for every 470,000 voters. In the United Kingdom, there is massive over-representation (but not nearly as pronounced as Bermuda) with 646 MPs for a population of 60 million, or 1 MP for every 64,000 voters, with 18 MPs in the whole of Northern Ireland. Germany, with a population of 82 million, has 600 members of parliament; Japan, with a population of 127 million, has 470 legislators; Russia, with a population of 144 million, has 450 legislators; and USA, with 293 million, has 430 congressmen and women' Other examples include St. Lucia, with 14 parliamentarians in its 240 square miles; Barbados, also in the Caribbean, with 28 elected members in its parliament and 12 senators, in its 166 square miles and with a population of 266,000.
2015. December 19. Retired Cabinet ministers are set to have their pension pots restored, after a resolution proposed by the Premier passed at the House of Assembly. Michael Dunkley explained on Wednesday night that ministers' salaries were reduced by 10 per cent in March 2013 to help cut costs, a move which remains in effect today. However, any minister who retired after that point has seen their pension from the Ministers of the Legislature Pension Fund (MMLPF) similarly docked. "This was an unintended consequence of the resolution, and is also unfair to the members who, for the most part, would have paid into the MMLPF at the higher salary," said Mr Dunkley. The Premier suggested the introduction of a retroactive resolution to fix the issue, which went through uncontested. "For the avoidance of doubt, nothing in this resolution shall be taken to modify the annual salaries actually payable to members of the legislature," Mr Dunkley added.
2015. March 14. Members of Parliament are to debate their salaries for the coming year on Monday. Legislators are likely to be closely watched during the talks, held on the last day of the exhaustive post-Budget committee of supply meetings. The earnings of Cabinet Ministers and MPs have been a politically sensitive topic in recent years, and with the latest Budget dominated by spending cuts, the scrutiny continues. There will be no changes to the Ministers and Members of the Legislature (Salaries and Pensions) Act, under which Michael Dunkley as Premier is paid $151,181 a year. Bob Richards as Deputy Premier earns $112,942. For Members of the House of Assembly, a year's wage is $56,023. For Senators, it is $30,367. Ministers in the House or Senate both take the same annual wage of $100,841. Neither Mr Dunkley nor Mr Richards takes extra pay for their other jobs as Minister of National Security and Minister of Finance respectively. However, Mr Richards receives the higher of the two salaries: the Minister of Finance's yearly wage is $121,010. After telling Parliament that he would move the salaries resolution at the next meeting of the House, Mr Dunkley pointed out that the salaries for the Premier, Deputy Premier, Minister of Finance, Attorney General and other ministers had been higher in 2012: $168,069, $125.491, $134,455, $163,358 and $112,046 respectively. That was true up until April 1, 2012: under the former Progressive Labour Party Government, those wages were reduced by 5 per cent, effective for one year. They had also been reduced a year earlier. In 2011, then Premier Paula Cox was earning $224,000 annually. The then-Opposition MPs under the United Bermuda Party had been calling for wage cuts since 2010, and in that year the Bermuda Industrial Union's members took up the call, as civil service workers began to feel the squeeze. Ms Cox initially turned down union requests for pay cuts, but later said she would take a reduction if other senior civil servants followed her example. Meanwhile, with the formation of the One Bermuda Alliance, Mr Dunkley — then an Opposition Senator — said he would support pay cuts of up to 20 per cent. Ultimately, a 5 per cent cut went before the House and was passed. Those cuts only remained in effect until the general election that December, as stipulated in legislation. Wages went back up, but were cut once more, this time by 10 per cent, under OBA legislation approved in March 2013. They have remained at this level and are set to stay until March 31, 2016.
Who earned what in Parliament in 2015.
• President of the Senate: $15,181
• Speaker of House of Assembly: $26,569
• Vice President of Senate: $3,308
• Deputy Speaker of House of Assembly: $13,285
• Premier: $151,262
• Deputy Premier: $112,942
• Minister of Finance: $121,010 (as part-time minister): $60,505
• Attorney General: $147,022
• Other ministers in the House of Assembly: $100,841
• Other ministers in the Senate: $100,841 (as a part-time minister): $50,421
• Opposition Leader: $30,367
• Junior ministers in the House of Assembly: $11,387
• Junior ministers in Senate: $11,425
• Party whips: $7,593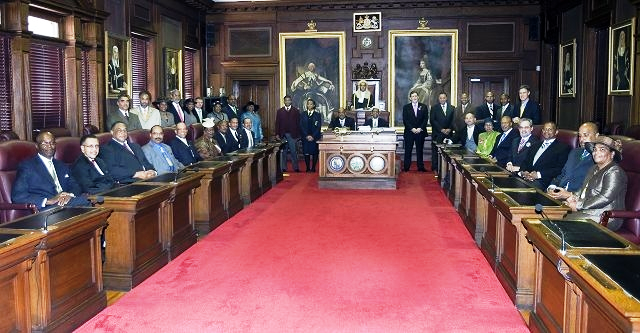 House of Assembly recently
House of Assembly about 1985

.

2014. September 27. Ministerial travel costs will be made public on a new website as part of a drive to promote transparency within Government. The move comes as Government hit back yesterday at Opposition criticism of a recent trip by the Premier and two Ministers to New York. Shadow Tourism Minister, Zane DeSilva, branded the trip a 'junket' claiming the cost of the trip should be made public. But last night Government maintained the US trip was "prudent and fiscally managed" to attract investment and showcase Bermuda. And it revealed plans to put all Ministerial and Government MP travel costs on line in the near future for the public to see. An OBA spokesman said travel to market the island is essential for Bermuda's economic survival. He added: "Bermudians have every right to know how their tax dollars are spent, and they can have confidence that this Government is making prudent decisions as it works to attract businesses and visitors to our shores. Premier Dunkley has demonstrated the Government's commitment to transparency by introducing and passing the Public Access to Information (PATI) bill within weeks of his Premiership. The commitment to transparency and accountability will be extended with the imminent launch of a website that will outline all travel expenses for any travel taken by Government Ministers and MPs. Attracting more visitors and more investment dollars means more economic activity, which means more jobs. To get the economy working better for Bermudians, the Government must fish where the fish are, the east coast of America is our primary market for business and visitors. The trip to New York City this week — the world's business capital — is part of the Government's work to re-establish Bermuda's profile in overseas tourism and business markets — a profile diminished in recent years because of the mishandling of Bermuda Tourism marketing and antagonistic government attitudes that alienated investors and stakeholders — key sources for the Island's income and jobs." The OBA spokesman accused Mr DeSilva of using falsehood and disparaging language to criticize the New York trip and cheapen Government's efforts to bring new business to the island. He added: "First, Premier Dunkley doesn't do "junkets". Mr DeSilva's use of that word betrays more about his own government's approach to ministerial travel than the new reality today. Second, Mr DeSilva's statement about the Premier's "refusal to disclose" the cost of the trip is a deliberate falsehood. The Premier has been very clear that all ministerial travel will be made available to the public, starting with the imminent posting on a Cabinet travel website of the cost for this week's New York trip. Finally, let's consider the hypocritical shallowness of Mr DeSilva's opposition to the New York trip. Mr. DeSilva, we recall, was a vigorous defender of PLP Government travel including former Premier Brown's trip to China, which he said was a trip "to try and build up our relationships with that country." Right. Premier Dunkley has said he will take every opportunity to promote Bermuda to benefit Bermudians and no amount of misleading criticism from the Opposition will sway those efforts. In conclusion, we want to be clear about one thing: the need and the urgency behind Bermuda's efforts to restore visitor interest and investor confidence in the Island today is because of the damage done by the previous government." In his statement earlier this week Mr DeSilva said the public had a right to know why it was necessary for Premier Dunkley, Ministers Grant Gibbons and Shawn Crockwell, and Senator Jeff Baron to travel to New York. He also called for the cost of the trip to be made public. A Government spokeswoman responded: "New York is considered to be the business capital of the world and a critical market for Bermuda's economy. The public can be assured that the visit was prudent and fiscally managed, with the aim of achieving key national objectives of attracting direct inward investment and showcasing Bermuda as a premier vacation destination. The Premier and Ministers who attended New York were there in key capacities. This resulted in considerable exposure for Bermuda on various levels. As a note, Government is in the process of finalizing a travel website detailing Ministerial travel costs, which can be viewed by the public. The website launch is forthcoming."

2013. December 2. Two-thirds of voters want to cut Cabinet from 13 to eight Ministers, according to a new poll. Sixty-seven percent of people want Government to take up the SAGE Commissions recommendation to reduce Cabinet by five, with 26 percent preferring the current size. The survey by Mindmaps shows support for a smaller Cabinet is strongest among whites, with 75 percent voting for a reduction, compared with 64 percent of blacks. Its estimated a smaller Cabinet of eight Ministers including the Premier would save taxpayers $750,000 in salaries and benefits. However, people are more divided over the SAGE Commissions proposal to reduce the size of the Civil Service. Fifty-one percent agree with that recommendation, with 42 percent disagreeing and the rest unsure. Whites are more supportive of cutting the Civil Service, with 70 percent in favour and 24 percent against. Among blacks, 42 percent are in favour and 51 percent against. A breakdown by age shows the older generation is more welcoming of a Civil Service reduction. Among over 65s, 65 percent want cuts, compared with 41 percent of the 18 to 34 age group. Cutting both Cabinet and the Civil Service were key recommendations in the 140-page SAGE report, published on November 15 in an attempt to maximise efficiency and get to grips with Bermudas debt crisis. The document claimed the Civil Service suffered from weak leadership, and called for poor performers to be fired. It suggested early retirement schemes and pay cuts, particularly targeting the highest-paid, and farming out many areas of Government to the private sector or turning them into quangos. However, some workers have reacted angrily to the suggestion of Civil Service reductions, with a number of concerns raised at a town-hall meeting called by the Progressive Labour Party last week. Finance Minister Bob Richards, who commissioned the report, has said Government will hold a debate on its recommendations in Parliament. Mindmaps survey of 404 registered voters took place between November 17 and 24, and has a margin of error of 4.9 percent.

2013. March 14. A five percent pay cut agreed by parliamentarians a year ago to appease angry unions has been ditched by the One Bermuda Alliance. Premier Craig Cannonier insisted last night Government was "prohibited from opting to keep the reduced salaries" in place when it came into power — but he did not explain why he didn't simply table the pay cut in Parliament again. Mr Cannonier has cut ministerial salaries by ten percent but, come April 1, many MPs and senators will enjoy a bigger pay packet than a year ago. The five percent reduction tabled in the House of Assembly by former Premier Paula Cox, after pressure from union chiefs and the public, saw parliamentary pay for MPs and senators drop to $53,222 and $28,848, respectively, last April. The resolution which brought the pay cut into effect was valid until either a general election or March 31, 2013, so ceased to be in effect on December 17. Annual pay for MPs then reverted to $56,023 and pay for senators to $30,367. Although Mr Cannonier has since tabled a new resolution on salaries, which was approved in the House last week, he opted to leave parliamentary pay as $56,023 or $30,367 — giving MPs and senators back the five percent cut they had accepted. Asked why by The Royal Gazette, the Premier said in an e-mailed answer from his spokeswoman: "The Government was prohibited from opting to keep the reduced salaries because the March 2012 resolution which had been passed by the Legislature made provision for the salaries to revert to the former level, prior to the five percent reduction, in April 2013 or at the time of a general election, whichever was sooner. The salaries therefore reverted automatically at the time of the election. However, the new Government introduced a new resolution at the earliest opportunity and went further and ensured that the new resolution made provision for a ten percent reduction in salaries for the Premier and his Ministers." The salaries of Cabinet Ministers are comprised of two elements: ministerial pay and parliamentary pay. Mr Cannonier and his 12-strong team will take a ten percent cut in their ministerial pay from April 1, but their parliamentary pay will remain at the higher level of either $56,023 or $30,367, depending on if they sit in the Lower or Upper Chamber. So the Premier, for example, will actually take a 7.5 percent pay cut, earning $207,285 a year, instead of $224,092. On average, the new resolution means a 6.3 percent pay cut for Cabinet Ministers. Most backbench MPs and senators without any other responsibilities, whose salaries are comprised purely of parliamentary pay, will continue to pick up $56,023 or $30,367 from April 1 — five percent more than their April 1, 2012 salaries. Mr Cannonier told the House last week that the ministerial pay cut was "more symbolic than substantive." But last night, he said: "In this economy, a pay cut of any percentage can be seen as meaningful. Therefore, a pay cut of ten percent is substantive. The Government … wanted to demonstrate that they are serious about social and economic equity for everyone, aptly demonstrating our commitment to managing the government purse and that we as a government are willing to sacrifice. I am absolutely satisfied that the taxpayers are getting value for money for the Cabinet and parliamentary salaries. In fact, Bermuda is getting more than its money's worth for the amount of work that is being conducted. There is no real 'time-off' for the Ministers, as their lives are committed to the public day in, day out." Mr Cannonier did not respond when asked why he didn't include the five percent pay cut for parliamentarians in his resolution. His spokeswoman said he'd be willing to answer further questions today. Meanwhile, the Premier revealed in written parliamentary answers to the House yesterday that five Ministers in his new Cabinet are part-time. They are Health and Seniors Minister Patricia Gordon-Pamplin, Economic Development Minister Grant Gibbons, Environment Minister Sylvan Richards, Home Affairs Minister Michael Fahy and Leah Scott, Minister without Portfolio. Each will earn half a full-time ministerial salary, along with their parliamentary pay of either $56,023 (for the four MPs) or $30,367 (for Senator Fahy). Mr Cannonier claimed having five part-time Ministers would save taxpayers $280,000 a year. His spokeswoman later explained that the figure was based on each of them earning half the former ministerial salary of $112,046 i.e. five x $56,023. In fact, they will earn $50,421 a year in ministerial pay, after the ten percent pay cut comes into effect on April 1. The information on part-time Ministers was given in response to questions by Opposition leader Marc Bean. He said last night: "The answers to the questions tabled today by the Premier only raise more questions. On January 4, the Premier sent out a statement saying the move would save $228,000 per year, while today the Premier has now increased that figure to $280,000. Further, these 'savings' are mainly derived from the fact that very important ministries will only receive part-time attention in the new Cabinet. During these times of challenge, we do not believe that the Ministries of Economic Development, Health and Seniors, Home Affairs, and Environment and Planning deserve part-time attention." A year ago, Premier Paula Cox's Cabinet was all full-time. One Minister — Patrice Minors — was previously part-time, keeping her job as assistant vice-president at Butterfield Bank. But the decision sparked criticism from the Bermuda Democratic Alliance, which was then in Opposition. MP Trevor Moniz, who is now full-time Public Works Minister, questioned whether Ms Minors could properly carry out her duties as Business Development and Tourism Minister on a part-time basis. It is understand Ms Minors left the bank at the request of Ms Cox, who required all her Ministers to be full-time. Mr Cannonier said last night: "It's about their level of commitment. While they may be part-time Ministers, the quantity and the quality of work they provide for the country has not been compromised."

2013, March 7. MPs last night passed a resolution to give Cabinet Ministers a ten percent pay cut, effective April 1. "It's more symbolic than substantive," conceded Premier Craig Cannonier, noting that the overall saving was relatively small. "But in our present economic and fiscal circumstances, it's the right thing moving forward." The Premier's salary will decrease from $168,069 to $151,262 a year, for example, while the Deputy Premier's pay goes from $125,491 to $112,942. Other Ministers in the House will drop from $112,046 to $100,841. The same pay is set for Ministers serving in the Senate. However, the Resolution stipulates that Ministers serving full-time in the Senate shall be granted a salary of $112,046 from January 1, 2013 until March 31, 2013. Part-time Ministers are entitled to $50,421 as of April 1. In the House of Assembly last night, Shadow Tourism Minister Wayne Furbert questioned how Mr Cannonier could set the date for April 1 when, at the December swearing-in of his new Cabinet, the Premier had promised to cut ministerial salaries "effective immediately." Mr Cannonier called back that the resolution had to be brought before the House first. Shadow Finance Minister David Burt commended Mr Cannonier as "a very nice guy". But the MP for Pembroke West Central added that as of November, 2012, Cabinet cost Bermuda taxpayers $114,941 a month, and it cost $133,316 a month as of January. Come April, he said, it would stand at $119,983 a month. Mr Burt added: "I have a challenge with the Premier getting up saying that Cabinet members will take a ten percent pay cut, effective immediately — and then backdating Ministers in the Senate and not backdating the pay cut." Telling the Lower House that no political games were being played, Mr Cannonier said: "I move this Resolution though. We have taken our ten percent." The Motion was passed.

2013. February 12. The pension fund set up for Bermuda's legislators is worth well over $8 million. According to the latest audited financial statement of the Ministers and Members of the Legislature Pensions Fund, a total of $8,528,514 was available for benefits payable by the Fund on March 31, 2009. Assets increased by $1,449,348 during fiscal 2009 — $446,060 of that increase came from members' contributions, a matching amount was contributed by Government and the fund earned $557,228 in interest. Assets decreased by about $690,000, the largest share of that being $490,000 paid out in benefits. But the year started with net assets of $7.7 million. The Fund receives 25 percent of salaries paid to parliamentarians, senators and staff of the legislature, split equally between the Government and the contributors. Pensions are paid to contributors from age 60 if they have served at least eight years or at age 55 if they have served for 20 years or more. The pensions fund financial statements were tabled in the House of Assembly on Friday.

2013. February 11. Then-Premier Craig Cannonier tabled proposed pay cuts for Cabinet Ministers, as promised by the victorious political party in the December 2012 General Election. The changes included pay cuts for many posts, but Cabinet Ministers who sit in the Senate would receive a boost in pay to set them at the same level as Cabinet Ministers in the House of Assembly. A resolution to revise the captioned Act was tabled on Friday. According to the resolution, the base annual salary for Ministers and Senators will remain unchanged, with Ministers earning $56,023 and Senators $30,367. However the additional salary for most Cabinet posts would drop by around ten percent as of April 1 should the resolution be approved.
The annual salary for the Premier will fall from $168,069 to $151,262.

The annual salary for the Deputy Premier will fall from $125,491 to $112,942.

The annual salary for the Minister of Finance will fall from $134,455 to $121,010.

The annual salary for the Attorney General will fall from $163,358 to $147,022.

All other Cabinet Members will receive an annual salary of $100,841.
While this is a ten percent pay cut for those who sit in the House of Assembly who previously had an annual salary of $112,046, it marks an 80 percent increase for those who sit in the Senate, who had received $56,023 per annum. Ministers in the Senate will also have their annual pay increased to $112,046 between January 1, 2013 and March 31, 2013, bringing them in line with those in the House of Assembly for the period. The increase will directly affect two senators, Home Affairs Minister Michael Fahy and Education Minister Nalton Brangman. The legislation also sets pay scales for part-time Cabinet Ministers, who will receive half the salary of their full-time counterparts — $60,505 for the Minister of Finance and $50,421 for other Cabinet Ministers.
Other salaries will remain unchanged. These include:
Opposition Leader — $30,367.

Speaker of the House — $26,569.

Senate President — $15,181.

Deputy Speaker of the House — $13,285.

Junior Minister in the Senate — $11,425.

Junior Minister in the House — $11,387.

Party Whips — $7,593.

Senate Vice President — $3,308.
Bermuda social rank definitions and explanations, UK-style
| | |
| --- | --- |
| Short form | meaning |
| ** Dame | Dame of the Order of the British Empire, female equivalent of Knight (Sir). In the UK, there are various ranks of Dames |
| **Hon | Honorable, solely for current and former Cabinet Ministers |
| ** Sir | Knight of the British Empire. In the UK, there are various ranks of Knights |
| JP | Justice of the Peace, not a magisterial post. In Bermuda, they do not dispense summary justice but they can deal with local administrative applications. They can be called by the Bermuda Police to execute warrants. JPs are appointed solely by the Bermuda Government; are not required to have a formal legal education in order to qualify for the office (the vast majority of them do not); and are usually Cabinet officials |
| MP | Member of Parliament (elected) |
| * OBE | Officer (higher than Member) of the British Empire |
| * MBE | Member of the British Empire, after nomination by Premier |
| Senator | Member of the Bermuda Senate, appointed by Party Leader |
| Wor. | Worshipful, title of Mayors of City of Hamilton and Town of St. George's |
** On recommendation of the Bermuda Government (Premier's Office) to the UK. For government service. Unlike in the UK, in Bermuda there have never been any Bermuda Government-nominated recommendations for a Dame or Knight who is not in government but is instead in international or local private-sector business.
* Also on recommendation of the Bermuda Government ( Premier's Office) to the UK. For government or other service.
| | |
| --- | --- |
| Bermuda size & population | 20.75 (Twenty point seven five) square miles in total. 64,180 residents |
| Resident population density per square mile | 3,141. Third highest in the world |
| Government Code of Conduct for legislators | None. There is a voluntary code, with no legislative teeth. It is ignored by some. No equivalent at all of the UK's Ethical Standards in Public Life Act. |
| Number in Cabinet | 13. Same number as USA, equivalent in Bermuda to 0.63 (Point six three) per square mile. They have "The Honorable" before their name. |
| Number of elected legislators in House of Assembly and their salaries | 36. Equivalent to 1.93 (One point nine three) per square mile. They have "MP" for Member of Parliament after their name. If they are also Cabinet Ministers, they earn well in excess of $100,000 a year, plus unlimited expenses. |
| Number of registered voters per Member of Parliament | On July 18,2017, date of last General Election - the average was one thousand two hundred and ninety seven). Contrast this with between 72,810 and 80,433 in the UK in 2017 and more in the USA and Canada per elected legislator. |
| Number of appointed politicians in Senate | 11. Equivalent to 0.53 (Point five three) per square mile. They have "Senator" before their name. If they are also Cabinet Ministers, they earn this plus what is shown above under "Number of elected legislators." |
| Number of Government Boards | About 108. All require the approval of the Premier who controls all Public Information. See Bermuda Government Boards separate website shown at the end of this file. |
| Number of Police | About 460, over 20 per square mile. Plus, there are Reserve officers. |
| Registered voters who can participate in a General Election | Total number of registered voters, about 60% of the entire resident population, was about 44,500 on July 18. 2017. |
| The Bermuda Society | |
Bermuda Constitution
A written document 96 pages long, it went into effect on June 8, 1968. See
http://www.bermudalaws.bm/laws/Consolidated%20Laws/Bermuda%20Constitution%20Order%201968.pdf
The Bermuda Constitution is not like other constitutions which cover all nationals and non-nationals. The Bermuda one covers Bermudians and their spouses only, not the 25 percent who are not and probably will never be unless they marry a Bermudian, or are born to parents one of whom must be a Bermudian.
Non-Bermudians married to Bermudians are not protected by the Constitution against work permit cessation or conviction of a serious crime and also under the latter have no human right to a family life in Bermuda, unlike under European law where the European Court of Human Rights (ECHR) may offer protection.
In Bermuda, the Auditor General and Ombudsman are the only two wholly independent institutions under the Constitution with oversight of the Government.
The Bermuda Government has three main branches - Executive, Legislative and Judicial - in the British "Westminster" system. They are described below.
Bermuda Government Budget and Government revenue from taxes
Bermudians, other residents and visitors probably spend more per square mile in taxes than anywhere else in the world, both per capita and in total, despite the absence of income tax. In its place, Bermuda has, in order of impact on individual consumers, huge customs duties; payroll tax payable by all employers and their employees and other taxes shown immediately below. One direct consequence of the Budget is that its taxes impact so hugely on Bermuda that the overall cost of living in Bermuda is at least 380% more expensive than in the USA and 280% more expensive than in the UK and Canada.
2016. February 19. Bermuda National Budget Statement Day. Minister of Finance delivered his Annual Budget Speech - see http://www.royalgazette.com/assets/pdf/RG347452219.pdf on the next financial year's (April 1 2016-March 31, 2017 government income, expenditure, taxes and more. Tax increases in almost every area of Bermuda were announced, affecting every resident, business visitor, tourist and Bermuda-based company with employees. The present fiscal year ends on March 31. The Budget must be passed in Parliament prior to the end of the first quarter of the current financial year. Once MPs have approved the statement and passed the Appropriation Act, the Senate debates the Budget, with a maximum of 22 hours allowed for their detailed discussion on the different headings. Senators have no power to alter the Budget but need to have it approved so it can pass into law by March 31.
For 2015-2016 see http://oba.bm/256381811_Bermuda_2015_2016_Budget.pdf.
For 2014-2015 see http://www.govsubportal.com/dci-documents/item/1632-2014-%e2%80%93-2015-budget-statement. For graphic images from this 2014-2013 file, see below.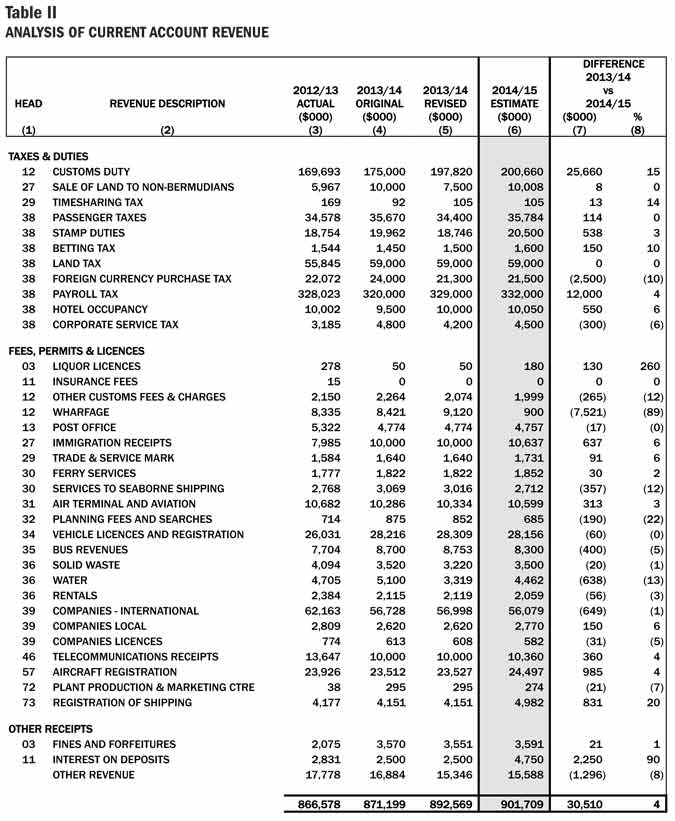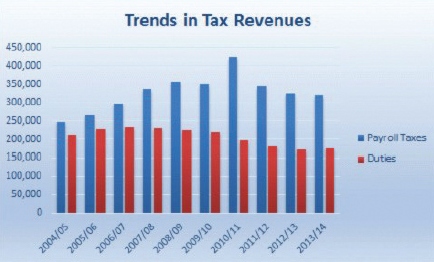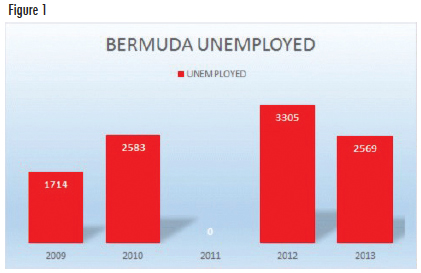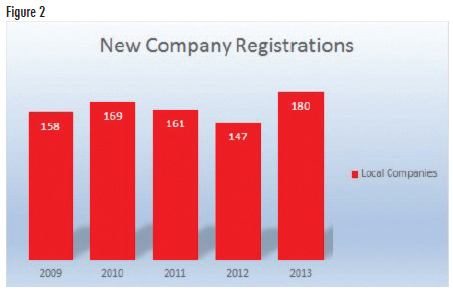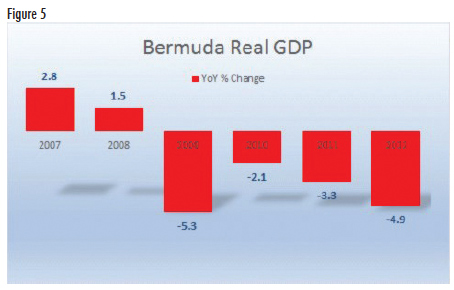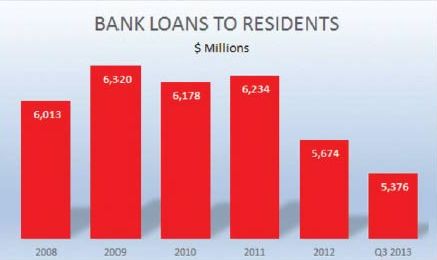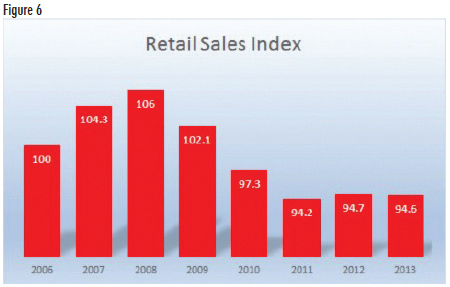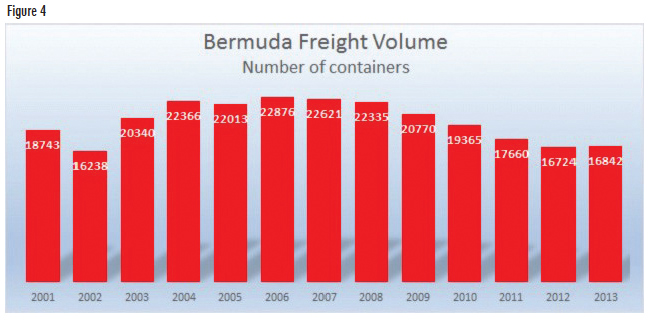 Bermuda Government's budget outcomes
2017. February 24. Charts only, Bermuda Government 2017-2018 Budget, see http://bernews.com/2017/02/charts-2017-2018-bermuda-budget/
The international business sector is Bermuda's biggest and most impactive industry, significantly more important than tourism. It has continued to transfer jobs to more internationally favorable jurisdictions. The tourism industry has downsized for the fewer customers flying to Bermuda. The retail sector has seen shop closures, layoffs and pay cutbacks. The construction industry has shed hundreds of jobs. Thousands of Bermudians are unemployed and that more are "under-employed", earning less than before. There is evidence that hundreds of mortgages are in arrears, meaning that many people live in fear of losing their homes. The distress these negative economic forces inflict on individuals and families every day is intense and unrelenting.
Bermuda is facing one of the most serious challenges in its long history. The economic foundations of the Island must be strengthened and better protected. The goal is to create an economy that works for everyone; to lay a new foundation for broad-based prosperity. To achieve that, a strategy strike a balance between responsible growth and disciplined financial management. Pro-growth economic policies are needed to stimulate much-needed foreign investment, restore confidence in the Island as a place to do business and create new jobs. There has to be elimination of wasteful government spending, to reduce the national debt. It will take time to implement solutions that work for the greater good, revamp structures that inhibit Bermuda's ability to operate efficiently and effectively and reverse trends and trajectories locked in place by past Government practices. Bermuda's borrowing requirements will reflect the situation inherited on 17 December 2012 from Bermuda's older government.
The Global Economy. Bermuda's economy is essentially a trading economy, one that trades with the rest of the world mainly in financial services. Any analysis of Bermuda's future prospects must take into account the economic environment in which it trades: i.e. the global economy, dominated by the United States, China and the European Union. As Bermuda's principal trading partner, the economic state of the USA is crucial to Bermuda's future.
The Bermuda Economy. It continues to struggle, after a more than four year recession. This conclusion is reinforced by employment data that has shown a steady decline in the workforce, in total, as well as the Bermudian workforce. Bermuda's prolonged recession was due to structural Bermudian issues Bermuda is compelled to address. But the number of new companies formed in Bermuda has experienced a moderate increase in recent months. The invention of "reinsurance sidecars" has enabled that sector to effectively increase capacity without substantially increasing staffing levels. This is one of the reasons that Bermuda's flagship industry (international business) has continued to return solid results to their shareholders without making a significant impact on job growth in Bermuda. .
Employment Trends. Visitor arrivals continued to be dominated by lower spending cruise travellers and air arrivals. They spent less in 2013 than they did in 2012 and earlier. Government's intense focus must be to enact policies increase the number of potential employers on the Island, increase the demand for labour and enact policies that will reduce the marginal cost of employing a Bermudian.
Medium Term Economic Dept Glade Path. The Government of Bermuda to be real about debt. Overall deficit spending by the Government started in the year 2003 and this has annually accumulated in an ever rising profile of public debt. The rise in debt, which has been exponential, is unsustainable. To redress this situation the new Government has laid down a debt management plan, or a Medium Term Debt Glide Path. Bermudians should understand that as long as the Government runs an overall deficit (on the modified cash basis used in budgeting) debt will rise. So, in order to reduce public debt Government must first stop running annual operating deficits, and start running cash surpluses which, when applied to the debt, will reduce it. The Government has been running large deficits over the last few years and this upcoming year represents one of the worst years of deficit spending. This Government recognizes that it will take time and changes in policy to actually start paying down the debt.
Bermuda Debt Trajectories. A sobering chart. This debt situation can be solved overnight. However, what it does show is that a growing economy coupled with continuous cost containment on the part of Government will eventually wrestle this debt beast down to more manageable levels. Part of this management programme is to set up debt related targets, or rules, that are appropriate for an economy the size of Bermuda's. The IMF has a set of criteria of maximum acceptable Debt/GDP levels for small economies: the low target equals 20 per cent, with the high target being 40 per cent. The concept of solvency for a government is not necessarily a matter of rigid rules. Solvency is the measure of an entity, a company or a government, to be able to meet its long term financial obligations. Large countries are given much more latitude than small ones, and developed economies are similarly given more latitude than developing ones. Bermuda is highly developed but is undiversified and very small. All public sector jobs, and some private sector jobs too, depend on the Government remaining solvent.
Dept Ceiling. Last year, the authorized debt ceiling for the Government was $1.45 billion. This authorized ceiling had to be raised. Parliament was asked to raise the authorized debt ceiling to $2.5 billion. In conjunction with the new ceiling the Government commits to keep public debt at such a level that the net debt/GDP ratio does not exceed 38 per cent. Additionally, Government recognizes the desirability of achieving a net debt/revenue ratio that is below 80 per cent and a debt service cost/revenue ratio that is below 10 per cent.
Non Tax Policies to Promote Job Growth. Bermuda had become an uncompetitive player in its trading in services with the rest of the world. Since trading in services with the rest of the world is Bermuda's primary business, this fact represented a huge problem. The lack of competitiveness caused the economy to contract. That contraction caused the loss of jobs, weakness in government revenues and increase in public debt. It was found that employers were not willing to bring non-Bermudian staff to Bermuda if they could only stay for six years. There is a global competition for intellectual capital and that such people will not come here if they have to be arbitrarily uprooted after six years. This intellectual capital either left Bermuda, never to return, or will not come here in the first place. Bermudian employees connected with that non-Bermudian intellectual capital often lost their jobs because of the exodus. The economy was robbed of their consumer spending and government revenue derived from that spending. Term limits turned out to be job killers for Bermudians instead of job savers. The statistical and anecdotal evidence support this assertion 100 per cent. The new government has reversed this and acted decisively, taking one first step to improve job opportunities for Bermudians. The other component of competitiveness is speed of delivery. Government is in the process of speeding up approvals required for a wide range of circumstances: from work permits to planning approvals to company formation to improve Bermuda's competitiveness. Government established a Cabinet Committee called the Economic Development Committee whose mandate is to compress the time taken to obtain the necessary approvals for direct inward investment into our island. To restart economic growth we are in urgent need of major flows of direct inward investment capital. Unwelcoming and bureaucratic procedures reduced the flow of inward direct investment to virtually a trickle. Government through the Ministry of Economic Development, has moved forward on the formation of the Bermuda Business Development Corporation (BBDC). It is a private public partnership that is intended to spearhead the promotion of Bermuda as a preferred domicile for a variety of international business activities, including reinsurance, asset management, trusts and fund administration. This involves organizing all the relevant stakeholders and formulating a coherent mission for the BBDC and strategies to achieve that mission. The Government, through the Bermuda Economic Development Corporation will continue to support Bermudian entrepreneurs in their quest for success and will take any other necessary steps to stimulate economic growth through these non-tax policy driven initiatives.
Tax Policies to Promote Growth and Create Jobs. Government found itself in the difficult position of, on the one hand, needing more revenue to pay for its operations and debt service, while on the other hand, not wanting to cripple the economy further with major tax increases. In the previous budget there were two tax initiatives to stimulate economic activity and employment. The first was the two year payroll tax holiday for new Bermudian hiring. This tax holiday lowers the marginal cost to an employer for a new Bermudian hiring. Only an employer can create a job. The payroll tax cost to the employer for any new Bermudian hire will be zero, although the portion of the tax normally deducted from the employee will take place as usual, like any other worker. This will be an incentive for employers to hire Bermudians. This tax holiday will not be available to employers for their existing Bermudian employees. The Tax Commissioner's Office watches for the few unscrupulous employers who may wish to try to game the system. Government expects this tax holiday to be, at the very least, revenue neutral as the effect of more Bermudians in the workforce will counteract the revenue lost from the tax holiday itself. The second tax initiative relates to Licence Fees for non-Bermudians' purchase of Bermuda property. In 2013, the Licence Fee was 25 per cent of the value of the property. It was proposed to cut this fee to 8 per cent for a period of 18 months, rising to 12.5 per cent thereafter. For condominiums, not used for tourism purposes, it was proposed to cut licence fees from 10 per cent to 6 per cent, increasing to 8 per cent in 18 months. For PRC holders it is proposed to reduce licence fees to 4 per cent, increasing to 6 per cent in 18 months. The lowering of licence fees as outlined will stimulate much needed inward direct investment into Bermuda. The purchase of a new house, particularly those at the highest echelons as represented here, is frequently accompanied by renovations or customization of some description. Local construction companies will be required to carry out such modifications, thereby increasing the demand for labour in that depressed sector. As these customizations will be varied in scale and scope it should create opportunities for construction firms both large and small, thus creating a considerable diffusion of opportunity in the sector. Furthermore, the fact that the low licence fees will revert to higher levels after 18 months should have the same psychological effect as the end of a "Sale" in retail: it spurs people to act sooner instead of procrastinating. Government revenues has anticipated this action to have a positive effect, with the reduction in fees to stimulate a more than proportionate increase in transactions. Secondly, there has been no adjustment in stamp duty rates, so revenues from these will increase. Thirdly, if construction activity is stimulated, revenues will accrue to Government via payroll taxes for the jobs that will be created. Customs Duties will also rise due to the increased volume of building materials that will have to be imported. Lastly, the 25 per cent licence fee has acted as a deterrent for many of our resident non-Bermudian job creators to feel "connected" to Bermuda. Encouraging them to own a home in Bermuda can only be a good thing for Bermudians, as it enhances the connection of their Bermudian employing enterprises to our island. This is a win-win proposition for all concerned. This tax incentive will in no way increase the number of properties in Bermuda available for sale to non-Bermudians.
Other Tax Adjustments. The duty on cigarettes and tobacco and beer, wines and other spirits were raised in April 2013 to achieve additional Customs revenue of about $2 million. The yield from land tax was improved in 2013/14 by adjusting the rates on ARV bands higher than $90,000. The effect of the adjustment is that 96 per cent of the residential properties will not see any changes in their land tax bill. The amount of additional tax was estimated at $3.4 million. However, it has been noticed by many foreign potential buyers that Bermuda's property taxes are now hugely more than the most expensive properties in London, with even Buckingham Palace, enormous in building size and acreage, paying only BD$2,000 (two thousand) a year in property taxes compared to some properties in Bermuda paying $90,000 a year. Newspapers abroad have commented on this in their summaries of advantages and disadvantages to homeowners in various jurisdictions.
Bermuda Government Fees and Taxes, main sources
Alphabetically:
Bermuda Monetary Authority Fees 2015. See http://www.bma.bm/FEES%20AND%20PENALTY/2015%20Bermuda%20Monetary%20Authority%20Fees.pdf.
Bermuda Register of Aircraft.
Bermuda Ship Registry Fees. See http://www.bermudashipping.bm/useful-information/.
Betting (Gambling) Taxes. See http://www.gov.bm/portal/server.pt?open=512&objID=275&&PageID=231427&mode=2&in_hi_userid=2&cached=true.
Corporate Services Taxes. See http://www.gov.bm/portal/server.pt?open=512&objID=275&&PageID=231426&mode=2&in_hi_userid=2&cached=true.
Customs Duty Taxes. See http://www.customs.gov.bm/. Bermuda Government's second-biggest source of revenue, after Payroll Tax. Virtually everything in Bermuda is imported and customs import taxes are significant, including over 30% on goods brought back by air by returning residents over the value of $200. Payable by individuals, wholesalers and consumers on everything except a few items customs-duty exempt.
Foreign Currency Purchases Taxes. Payable by all in Bermuda, not at a flat rate but at over 1% of face value of US$, Canadian £, British Pounds Sterling or any other foreign currency being purchased. See http://www.gov.bm/portal/server.pt?open=512&objID=275&&PageID=231425&mode=2&in_hi_userid=2&cached=true.
Hotel Occupancy Taxes. See http://www.gov.bm/portal/server.pt?open=512&objID=275&&PageID=231424&mode=2&in_hi_userid=2&cached=true. Payable by all airline visitors at all categories of guest premises.
Insurance Companies taxes.
International Companies Taxes.
Land taxes. See http://www.gov.bm/portal/server.pt?open=512&objID=275&&PageID=231421&mode=2&in_hi_userid=2&cached=true. Payable by home owners and indirectly by those who lease or rent apartments or homes.
Motor Vehicle Licenses, payable annually by owners.
Motor vehicles taxes. Payable by all who buy them new.
Oil and gasoline taxes. Payable by all who own and drive motor vehicles and who own homes with electricity powered by oil-burning BELCO turbines.
Passenger Cabin Tax. See http://www.gov.bm/portal/server.pt?open=512&objID=275&&PageID=231429&mode=2&in_hi_userid=2&cached=true. Payable by all incoming/outgoing cruise ship passengers.
Passenger Departure (Cruiseships) Taxes. See http://www.gov.bm/portal/server.pt?open=512&objID=275&&PageID=231429&mode=2&in_hi_userid=2&cached=true. Payable by airline and cruise ship residents and visitors.
Passenger Departure (Aircraft) Taxes. http://www.gov.bm/portal/server.pt?open=512&objID=275&&PageID=231430&mode=2&in_hi_userid=2&cached=true.
Payroll Tax. See http://www.gov.bm/portal/server.pt?open=512&objID=275&&PageID=231418&mode=2&in_hi_userid=2&cached=true. Now Bermuda's biggest single source of Government revenue. Payable in equal proportions by all Bermuda-based employers and their employees, whether international (exempted) or local companies.
Stamp Duty Taxes. See http://www.gov.bm/portal/server.pt?open=512&objID=275&&PageID=231422&mode=2&in_hi_userid=2&cached=true. Payable by consumers on real estate, mortgage and death duties
Telecommunications Taxes. Payable by ISPs, cellphone (mobile) users, etc.
Timesharing Services Taxes. For those with Bermuda-based timesharing units. See http://www.gov.bm/portal/server.pt?open=512&objID=275&&PageID=231423&mode=2&in_hi_userid=2&cached=true.
Yacht Arrival Taxes. See http://www.gov.bm/portal/server.pt?open=512&objID=275&&PageID=231431&mode=2&in_hi_userid=2&cached=true. For all who arrive by yacht.
Bermuda Casino Gaming Commission
2017. August 18. A Bermuda lottery would be a tax on the poor, the executive director of the Casino Gaming Commission warned yesterday. Richard Schuetz said a lottery would not benefit the community. He added: "Lotteries have historically been called a tax on the poor. They are known as a regressive tax. Jurisdictions use them to raise money, and they raise it on the backs of the poor. I don't get that as a public policy goal." Mr Schuetz was speaking after Zane DeSilva said the new Government planned to create a lottery to support sports funding and education. But Mr Schuetz said: "What I heard during the election is there is a problem with people being poor, so lets not exploit the poor to deal with this debt." Mr DeSilva told ZBM News earlier this week that he backed the introduction of a lottery and explained that, if implemented correctly, lotteries and casinos could generate government revenue to fund sport across the island. He told the station: "I think that if we use gaming correctly, if we set it up correctly, whether it's gaming, a lotto or what have you, I believe if we set it up correctly we can use the surplus of funds that are expected to put into our community, whether its education or sports." The Progressive Labour Party's election platform called for the introduction of a local lottery to benefit sports development and national sporting bodies within two years. Mr DeSilva said: "That is going to be very much on our agenda. I think that between gaming and lottery, if it's done correctly, I think we can generate quite a bit of extra revenue for the government." A 2010 Government-commissioned study by the Innovation Group estimated that a lottery could generate more than $17 million a year in revenue. It said that the introduction of lotteries are often "politically motivated", aimed at raising funds for programmes to improve the quality of life of citizens. But Mr Schuetz raised several concerns about legalized lotteries. He said: "In tax language a lottery is known as a regressive tax, meaning that it takes a larger percentage from lower income people. Furthermore, empirical studies have demonstrated that lottery sales increase during the times of the week or month when transfer payments are made. A classic example of a transfer payment is welfare." Mr Schuetz added that lotteries serve as competition for casinos while creating comparatively few jobs and that the introduction of a lottery could translate to fewer casino jobs. Asked why lotteries would be viewed as regressive tax and casinos not, he said the cost of entry was a key point. Mr Schuetz added: "You can get into the lottery for a fairly low price generally. Even when they raise the price of entry, you get these syndicates in the neighborhood to buy tickets, so raising the price doesn't work. People don't go into a casino and bet a dollar." He also said the casino model being adopted on the island was intended to increase investment and employment and boost tourism. "A lottery is not going to do that. This is a small island. It's not like you are going to get those jumbo jackpots." He explained that lotteries need liquidity to survive and that Bermuda's size would cause problems. "Bermuda has a very small population. This means that the jackpots would be very low and the administrative costs would be quite high as a percentage of revenues." Mr Schuetz also said he had discussed the topic with Roger Trott, the Commission's director for problem and responsible gaming, who said that lotteries could present a high level of risk for problem gamers and poorer participants. Government did not respond to requests for comment by press time last night.

2017. August 1. Bermuda Casino Gaming Commission executive director Richard Schuetz has resigned for "personal and professional reasons". Mr Schuetz will continue to serve in the position until the end of the year and help to identify and prepare his successor for the role. Commission chairman Alan Dunch said: "The Bermuda Casino Gaming Commission is thankful for Richard's two years of service, leadership and commitment to formulating a framework for Bermuda's introduction of integrated resort casinos. We understand and support his decision to step down and are grateful for his assistance in positioning the commission and its staff for future growth. As a result of Richard's resignation, one of our immediate priorities will be to implement a search process with a view to recruiting a new executive director. I am pleased that Richard will be assisting us in this process so that his expertise will be available to us in terms of assessing the credentials of any applicants and advising us as to whom is best suited to take over from him in this role. He will also use his remaining time with us to ensure the Hamilton Princess response to the request for proposals for a provisional gaming licence is appropriately handled without any disruption." The commission was appointed to regulate, manage and safeguard the island's emerging gaming industry. Mr Schuetz said: "It's been an enormous privilege to work with the commission and its staff, to help create a viable casino industry, one that operates with a high level of integrity and ethics, and produces jobs and investment for Bermuda, as well as enhancing the island's tourism product." Prior to the July 18 General Election, Mr Schuetz gave notice to commission chairman Mr Dunch of his intentions. But the news was not made public in an effort to avoid it becoming "part of the clamor surrounding the political campaigns". Mr Schuetz joined the Bermuda Casino Gaming Commission in September 2015. During his time in office, several pieces of gaming legislation were approved in the House, but not without controversy. Debate over regulations establishing the cost of casino licences became particularly heated with independent MP Shawn Crockwell joining opposition MPs in declaring the fees too high. While the BCGC said it had not had any pushback about the proposed fees, Mr Crockwell claimed that Australian casino expert Tibor Vertes had raised issues in a meeting with Mr Schuetz. A defamation suit was subsequently filed by Mr Schuetz personally against Mr Vertes over comments made in an e-mail. As of yesterday, a spokeswoman for the BCGC confirmed that case remains ongoing. Prior to coming to BCGC, Mr Schuetz worked for four years with the California Gambling Control Commission. In addition to working as a senior executive in the gaming markets of Las Vegas, Atlantic City, Reno/Tahoe, Laughlin, Minnesota, Mississippi and Louisiana, Mr Schuetz served as a consultant to the City of Detroit and the state of Kansas as they introduced casinos. For more information on the Bermuda Casino Gaming Commission, visit www.bcgc.bm.

2017. April 20. George Rover, the former deputy director of the New Jersey Division of Gaming Enforcement, has been engaged as a consultant by the Bermuda Casino Gaming Commission. Mr Rover will visit the island on a monthly basis to advise on "all gaming-related matters, including the drafting of regulations, assistance with background and suitability investigations and with respect to the Request for Proposal process", according to a statement issued by the commission. Mr Rover stepped down last year from the New Jersey State Attorney-General's Office after 26 years of government service. He had been appointed Assistant Attorney-General in 1999 and assigned to gaming enforcement, and served as deputy director from 2011 until November 2016. Calling the Division of Gaming Enforcement "tough but fair", Mr Rover stressed the rigorous vetting required for a viable gaming industry on the island, including anti-money laundering protocols. Mr Rover acknowledged his five-year relationship with Richard Schuetz, the executive director of the Bermuda commission. He went on to call Mr Schuetz "an invaluable resource" for launching the local industry.

2017. February 4. New regulations were tabled by Government designed to set taxes and fees for casino gaming in Bermuda. The Casino Gaming (General Reserve and Casino Taxes) Regulations 2017 and Casino Gaming (Casino Fees) Regulations 2017 were passed. It is feared by some MPs the fee structure would deter operators coming to Bermuda. Grant Gibbons, the Minister for Economic Development, brought the new regulations before the House. He said that the fee structure and 10 per cent tax rate established in the regulations were "clearly in accord with the stated policy goals of the 2014 Casino Gaming Act". The fee schedule sets the casino licence application fee at $600,000 and the provisional licence issue fee at $1.4 million. Under the regulations a casino licence issue is set at $1 million, while an annual casino licence fee is $1 million, "less any applicable discount". The regulations state: "The schedule sets out the fees payable which are in addition to any requirement to reimburse the Commission for the costs of any investigation pursuant to the Act of any regulations".

2016. November 28. The Casino Gaming Amendment Act 2016 was passed without opposition in the Senate this morning paving the way for a new stream of economic activity on the island. Also passed without opposition were the St George's Resort Amendment Act 2016 and The Bribery Act 2016. In passing the Casino Gaming Amendment Act, One Bermuda Alliance senator Michael Fahy pointed out that the Hamilton Princess and St George's Resort had already been given designated site status while two further applications were being processed. Mr Fahy expressed his gratitude to the Gaming Commission and its chief executive officer, Richard Scheutz, for working "diligently to move gaming forward for Bermuda." Independent senator James Jardine spoke favorably on extra measures taken to protect minors and vulnerable people as part of the legislative amendment. Speaking on the St George's Resort Amendment Act, Mr Fahy assured senators that every effort had been made to help the old town to retain its Unesco world heritage designation status. Progressive Labour Party senator Renee Ming raised questions regarding an amendment that allows the developer of the hotel to have an organisation of its choice to make environment and traffic impact assessments as they relate to any "minor" adjustments to the development. Mr Fahy said that full assessments had already taken place and the amendment would merely offer flexibility on only minor changes from here on. Mr Jardine said he was "disappointed" that the process to build a hotel in the East End had taken so long, saying that he had expected ground to have been broken by now. Pressed on the need for public consultation, Mr Fahy said that the information regarding the new development was in the public domain describing it as "one of the most transparent processes" undertaken by the government. Taking time to explain the planning process relating to the St George's development, Mr Fahy said: "In the usual way, all plans have been made available to the public to allow for objections and suggestions. The public will also be aware that the developer has made some changes to accommodate concerns raised by the Historical Building Advisory Committee relating the site line to Fort St Catherine and will also be providing public parking to facilitate beach use by the public. All in all the development is and exciting economic opportunity for St George's and the Bermuda tourism product as a whole." The Bribery Act which is based on the United Kingdom's Bribery Act 2010, was enthusiastically embraced by senators of all affiliations.

2016. November 22. Revisions to Bermuda's gaming laws were passed by MPs in the House of Assembly last night, paving the way for casinos in Bermuda. The Casino Gaming Amendment Act 2016 was passed after a fiery debate lasting more than four hours, while Casino Gaming Designation Site Orders for the St Regis Hotel in St George's and the Hamilton Princess were also approved. The Act faced harsh criticism in Parliament from the One Bermuda Alliance's own ranks as well as Opposition MPs. A two-year exclusion for any public officer involved in gaming from business in the new industry was denounced as a superfluous restraint of trade, with MPs calling it unnecessary given the anti-bribery legislation already in place. Economic development minister Grant Gibbons launched the debate, in which the 2014 gaming act was "streamlined" with provisions to address issues such as problem gaming. But a clause granting a provisional casino licence to Desarrollos Group, developers of the upcoming St Regis hotel for St George's, proved unpopular. Such licences did not permit gaming, Dr Gibbons said — but merely confirmed an applicant as eligible for a full licence, enough to start construction. E-gaming, a category separate from internet gaming, would be open to guests in specific areas via their mobile devices — and the Casino Gaming Amendment Act 2016 would also allow betting. Opposition deputy leader Walter Roban opened the Progressive Labour Party's response, calling it "a cleanup Bill for the first Bill" and criticizing the Government for the expensive "ministerial misadventure" in Singapore to create the 2014 Act. Mr Roban also queried whether Cabinet had circumvented the gaming commission in the exception for the East End developer. PLP MP Wayne Furbert echoed both points, asking the House why the Morgan's Point developers were left off. Shawn Crockwell, the former tourism minister and now independent MP, chastised the lack of "real leadership" in the gaming delay. Noting that the America's Cup would miss out, Mr Crockwell asked repeatedly why it had taken so long. Both Mr Crockwell and OBA backbencher Mark Pettingill excoriated clause 187, which carried the two-year business ban. Mr Crockwell questioned its timing, telling the House he had never seen it among amendments that came across his desk during his time as minister. Describing himself as "the only lawyer in this country who is a member of the international association of gaming advisers", Mr Pettingill called the restriction "jaw-dropping. Tomorrow, former minister Crockwell has to call our clients and say 'we can't work for you any more'," Mr Pettingill told the House. Both disaffected MPs added that the Bill would require their reluctant support if gaming was to go ahead. Another consistent complaint from MPs was that Desarrollos had been given special treatment simply to keep the St George's resort deal alive. Opposition leader David Burt questioned "what research has Government done to make sure this person is fit to get a gaming licence? What work has been done to make sure that this decision will not come back to bite us? This is about keeping Desarrollos at the table. We have to think very, very carefully about what granting a provisional licence to Desarrollos means. This Bill is certainly needed and we want the gaming industry to get off the ground, but it is certainly clear this is a troubling development and it should concern all parties. If we set this precedent today, every developer is going to ask for the same thing — and they would be well within their rights to demand it."

2015. October 1. Former Ombudsman Arlene Brock was appointed to the Bermuda Casino Gaming Commission. Ms Brock served as Ombudsman for more than eight years and as the director and vice-president for the Caribbean and Latin America at the International Ombudsmans Institute. Richard Schuetz, the commission's executive director, said: "Chairman Alan Dunch and the other members of the Casino Gaming Commission gave me clear instructions to assemble the best and the brightest individuals available to assist in the introduction of regulated casinos in Bermuda. "Having Ms Brock join our team abundantly indicates that we are on target with that goal. Ms Brock will be an integral person in helping to make certain that our activities will operate at the highest standards of integrity and ethics, and to ensure that the casino experience will enhance the tourism profile of the Island, and increase investment and employment for the people of Bermuda." Ms Brock herself said: "I look forward to working with the commission and commission staff to realize the goal of introducing casino gaming into Bermuda with the highest level of integrity and best practices."

2015. August 31. A gaming senior executive from the United States has been appointed executive director of the Bermuda Gaming Commission. Richard Schuetz will leave his post as commissioner for the California Gambling Control Commission to start work on the Island on September 1. According to a statement from the Bermuda commission, Mr Schuetz has worked as a senior executive in the gaming markets of Las Vegas, Atlantic City, Reno/Tahoe, Laughlin, Minnesota, Mississippi, and Louisiana. He has served on the boards of Shuffle Master Gaming, the Stratosphere Hotel and Casino, where he was also president and CEO, and Casino Publishing. He also sat on the International Advisory Board for the Institute for the Study of Gambling Commercial Gaming at the University of Nevada, Reno, and was the Co-moderator of the Institute's Executive Development Program. Commission chairman Alan Dunch stated: "All of us at the Commission are thrilled to have Richard join us in helping to introduce casinos to Bermuda. His extensive experience as both a casino operator and as a regulator make him ideally suited to ensure that the Bermuda casino experience operates with a high degree of integrity, and offers an additional world-class tourism amenity for Bermuda. In addition, Richard's strong background in teaching and publishing on the subject of casino gaming and its regulation is exactly what the Commission needs to assist us in educating the people of Bermuda about the benefits of this new industry to the Island as a whole." Mr Schuetz stated: "It is a true honour to be entrusted with such an important task, and I am thrilled to be able to work hand-in-hand with the people of Bermuda to usher in this new chapter of Bermuda's tourism and economic development." The Commission's task is to execute the Casino Gaming Act 2014, designed to increase employment and investment through casino development.

2015. May. Tourism Development Minister Shawn Crockwell announced two new appointments to this Commission — Judith Hall-Bean and Derek Ramm. Ms Hall-Bean retired in October 2013 as Assistant Cabinet Secretary and has more than 40 years' experience in the public service, having served as department director of both human resources and tourism. Mr Ramm was appointed from overseas and serves as director of anti-money-laundering programmes for the Ontario Lottery and Gaming Corporation. He is responsible for the oversight of anti-money-laundering compliance at 24 casinos. They join three other commission members — chairman Alan Dunch, deputy chairman Garry Madeiros and Denis Tucker.

2015. February 12. The Bermuda Government announced the first three members of the Casino Gaming Commission, who will be tasked with regulating the industry. The five-member commission will be led by Alan Dunch, who was named chairman. Garry Madeiros was named deputy chairman while Dennis Tucker will also serve on the commission. Mr Dunch, an experienced lawyer, is the director responsible for the litigation practice group of MJM Ltd, while Mr Madeiros, a chartered accountant, is the former president and CEO of Belco and a director of BF&M Life Insurance Company. Mr Tucker, meanwhile, is a former director of the Bank of Bermuda, the CEO of the Hotel Pension Trust Fund and a director of the Bank of Bermuda Foundation. Tourism Minister Shawn Crockwell said the two remaining appointments have yet to be made, but one of the posts will be a former gaming commissioner from another jurisdiction with experience dealing with money laundering. "Advice was given and received that we should have someone with gaming commission experience sitting on this," Mr Crockwell said. "As you know, we have not done this before. The reason why I want to start now is that there are training opportunities in the very near future and I wanted to have, particularly the chairman and deputy chairman exposed to them, so we are getting the ball rolling. I don't know how long it will take to identify the overseas member, but a list is being compiled now so we don't expect it to be too long. The commission will be tasked with regulating the casino gaming industry on the Island when it is introduced, and will be the only entity which will determine who receives a casino licence. Legislation passed last December allows only three casino licenses to be in effect at any given time. The transfer of a casino licence without a fresh application to the commission will be prohibited, and licence-holders will be required to report any material changes in their circumstances. The commission will also have the power to approve the layout of a casino, gaming equipment and hand out licenses for key casino employees. I remain confident that resort casino gaming is right for Bermuda and that most Bermudians supported the legalization of gaming in Bermuda. It is now imperative that we put the regulatory structure in place to ensure that we create a responsible and highly respected gaming industry in Bermuda." Gaming has been a controversial issue for the One Bermuda Alliance, who had promised before their election in 2012 to hold a referendum on the topic. The Government scrapped the referendum plans in 2013 a decision which drew harsh criticism from opponents but were able to pass the Casino Gaming Act 2014 in both the House of Assembly and the Senate. Further gaming regulations are expected to come before Parliament later in 2015.
Bermuda Civil Aviation Authority (BCCA)
Responsible for the regulation and safety oversight of aviation in Bermuda and all aircraft on the Bermuda Aircraft Registry. Previously known as the Bermuda Department of Civil Aviation, which was established in 1931, the new BCAA became a newly formed Authority on October 1st, 2016. Bermuda is a United Kingdom Overseas Territory and though it is regulated by the UK Department for Transport, the safety oversight system is separate from that of the UK. The regulatory requirements are established as the Overseas Territories Aviation Requirements (OTARs), which are in full compliance with the standards and recommended practices of the International Civil Aviation Organization (ICAO). Bermuda's Aircraft Registry is extensive and ranks 10th in size when compared to the 191 signatory States to the Convention on International Civil Aviation. The current Registry includes a mix of both private aircraft and commercial aircraft operated under Article 83 bis Agreements.
Bermuda Government Travel Expenses
See www.gov.bm/travel-calendar.
2017. October 31. The new government's travel expenses bill for its first three months in office is just over $27,000, according to data released on its new expenses website today. Ministers made eight overseas trips between August 16 and October 14 to the US, Europe and the Caribbean. Details of the various ministerial trips since the Progressive Labour Party came to power on July 18 were released this afternoon on the Government's new travel expenses site. The site showed that Minister of Social Development and Sport Zane DeSilva's four-day trip to support Bermudian participants at Caribbean culture celebration Carifesta XIII in Barbados cost $4,818. The bill included $1,852 for flights and $2,215 for accommodation. A recent trip to London, Paris and Brussels between October 7 and 14 by David Burt, the Premier, to speak to British and European officials about "the pending Blacklist threat to Bermuda" cost just over $6,000. The overall cost included $2,285 on air travel, $918 on ground transportation, $2,589 on accommodation and $236 on meals. The Premier was accompanied on the trip by a Ministry of Finance official and the director of the London UK office was also involved. In September Mr Burt joined Jamahl Simmons, the Minister of Tourism, to travel to the US Congressional Black Caucus Foundation's annual legislative conference in Washington DC. The two ministers also traveled to New York to meet leaders of fund management, private-equity and venture-capital companies to "build business relationships and attract new investment". According to the information on the Government's website the two trips cost just over $3,500 in total. A further trip by the Premier and a Bermuda Development Agency official to New York between September 19 and 21 cost a further $4,738 which included $3,130 in air travel and $1,589 in accommodation. The expenses website said the trip was to "meet and participate in various high level meetings with current and prospective international business clients". Two overseas trips taken by Wayne Caines, the Minister of National Security, in September totaled just over $2,000. The first trip to Miami involved attendance at a meeting of the Caribbean Action Task Force Steering Group and the annual Council of Ministers meeting. On the second trip Mr Caines met Dr David Kennedy and his team at John Jay College of Criminal Justice in New York to learn about gang reduction strategies. And Walter Roban, the Minister of Transport, visited London last month to attend London International Shipping Week 2017 and Capital Link Forum. Mr Roban was accompanied by acting permanent secretary Aideen Ratteray Pryse on the trip, which cost a total of $6,149 including $2,661 in air travel, $550 on ground transportation and $2,854 on accommodation. Lovitta Foggo, the Government Reform Minister, said the page contained current and historic information and would be updated as ministers travel overseas. She added: "I am pleased to reintroduce the ministers travel expenses page on the government website. I am committed to full transparency and this page will detail the location and reason for a minister's international travel together with how much they spent while traveling." The page can be found at www.gov.bm/travel-calendar.
Bermuda Parliamentary Boundaries Commission
2015. October 14. The members of the Boundaries Commission were announced by then-Governor George Fergusson. Chairman is Francis Alexis, QC, the former Attorney General of Grenada, who completed his role as chairman of that jurisdiction's constitutional reform advisory committee. David Jenkins, the Chief Justice of Prince Edward Island in Canada, is the new judicial member. He is also Chief Justice of its Court of Appeal. Mr Jenkins performed the role of Judicial Member on the 2009 Bermuda Parliamentary Boundaries Commission. Government appointees are Sylvan Richards and Mark Pettingill, while Opposition members Wayne Furbert and Walton Brown were also appointed. Mr Fergusson, as Governor, is bound under the constitution to appoint members before the end of 2017. The commission will report to Parliament on whether changes in constituency boundaries are required, and to specify changes if so required.
Bermuda Parliamentary Constituencies as amended in 2010
Each constituency is about 0.58 of a square mile on average, with between 1,031 and 1,143 voters; and has one paid legislator.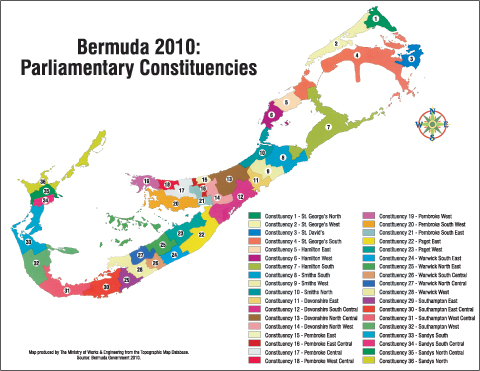 The over 108 boards of political appointments acceptable to the Premier include, at the top, a reference to the relevant Act of Parliament and all members of that Board. They advise their respective Ministers - who may use his or her discretion instead of accepting their recommendations.
Bermuda Government Debt
2017. February 25. Minister of Finance Bob Richards issued a stark warning on the importance of tackling the island's debt and added that a casual attitude towards extra borrowing would be "irresponsible and dangerous." He made the comments in his annual Budget statement, as he projected that Government would spend around $135 million more than it will take in over the coming 12 months. Debt servicing costs of $186 million are now "the largest line item in the Government's budget" and amount to more than $500,000 per day, he said. Allowing the debt to grow would limit Government's ability to provide public services, trigger credit ratings downgrades that would in turn impact local banks' ratings, potentially leading to a real-estate slump and mortgages being called. He said while no one wanted to see such a scenario, "Government must protect against such risks by taking action now so that it never happens. The net public debt will reach nearly $2.4 billion by the end of next month, rising to $2.47 billion by March 31, 2018. Debt servicing costs now outstrip expenditure on the largest ministry, Health and Seniors, by more than $23 million." Increases in payroll tax rates for high earners and employers, a hike in customs tariffs and a new financial services tax that will hit banks and local insurers, will enable the Government to raise revenues and remain on target to eliminate the deficit by 2019. Government plans to increase revenues by 4.6 per cent to $1.04 billion, while reducing spending by 1.6 per cent. For the year ending March 31, 2017, the Government took in less than expected and spent more, resulting in a revised deficit expected to be $212.2 million — nearly $13 million more than had been planned. In the House of Assembly, Mr Richards went to great lengths to explain why more painful measures were necessary, describing the national debt as "the single biggest threat to the future prosperity, standard of living and social stability of the people of Bermuda. For every dollar of revenue that the Government takes in during this upcoming year, 17.7 cents will come off the top to service the debt," Mr Richards said. "In 1998, it was 2.8 cents. The greater the debt, the larger the debt service costs; the larger the debt service costs the less money Government has available for crucial social and safety services. The danger point here is simple: increasing the national debt will increase debt service and crowd out Government's ability to perform its core services to the community." He said there were still "some who remain sceptical about the seriousness of this threat" and who wanted Government to borrow more "to build something, like a new airport terminal". "The real consequences of such action is debt service costs crowding out Government's ability to fulfil its obligations to the people of Bermuda for education, healthcare, social services and security. Such casual attitudes to the national debt are both irresponsible and dangerous." The Ministry of Finance projections show the deficit being eliminated by 2019-20. But to achieve that, it plans to generate a further 6.5 per cent increase in revenue in 2018-19, as well as a 2 per cent cut in spending. Mr Richards said Government had managed to reduce annual debt servicing costs by $4 million through a $665 million bond issue last October with a yield of 3.717 per cent — a record low coupon for Bermuda Government bonds. While $188.9 million was new borrowing, the rest made of higher-yielding debt that was retired. Mr Richards said that with interest rates on a rising path, financing future deficits would become more expensive. "The opportunity the Government recently took to refinance bonds at ultra-low rates may not likely present itself again in the near future," he said. A $180 million debt repayment is due in 2019-20.
Summarized in this Bermuda Government website.
Bermuda Land Development Corporation (BLDC)
Set up by the The Base Lands Development Act 1996 following the end of the US and Canadian Military Bases. One of a number of government quangos.
2012. February 3. Government refused to release a 16-page report on the Bermuda Land Development Company, which cost taxpayers tens of thousands of dollars. The document was produced in 2010 by BLDC's chairman and deputy chairman at the time, Edward Saunders and Pastor Leroy Bean, after a suggestion by then Works Minister Derrick Burgess that an investigation into the operations of the company was needed. As revealed in the Auditor General's Special Report on the Misuse of Public Funds, Mr Saunders and Mr Bean were paid $110-an-hour in consultancy fees for their work for the quango during 2010, netting $160,230 in total. Yet the "detailed report" they were tasked with completing by the end of March that year appears never to have been released into the public domain. The Royal Gazette was unable to obtain a copy of the report from the Ministry of Public Works, which is responsible for BLDC, or from BLDC's then-current chairman Dennis Lister, despite several requests. The clerk at the House of Assembly was asked to check if the report was ever tabled for MPs to read. A Works Ministry spokesman said yesterday: "We are not commenting any further on this. It's a board matter." PLP backbencher Mr Lister ignored e-mails and telephone messages. The clerk to the House said the only record of anything being tabled by BLDC since February 2009 was a resolution regarding the lease at Daniel's Head. She was unable to say when the last annual report from BLDC was tabled in the House. The Base Lands Development Act 1996 requires a report and financial statements to be tabled each year by the Minister responsible. The Auditor's report, which was released on January 26 2012, reveals that of the fees paid to Mr Saunders and Mr Bean, only $81,840 was formally approved for payment by BLDC's board, with $78,390 unapproved. Auditor General Heather Jacobs Matthews stated: "The consultancy arrangement placed both the chairman and deputy chairman in a fundamental conflict of interest given their oversight role in the company. The actions of the chairman and deputy chairman clearly represent a breach of fiduciary duty." She recommended that the board take appropriate steps to recover the consultancy fees, a view supported by then-Premier and Finance Minister Paula Cox.
Bond Issue
2013. December 2. A $50 million bond issue was today launched by the Bermuda Government. The senior notes which will yield at least 4.75 percent and are denominated in Bermuda dollars are targeted at Island investors and Government said smaller, individual subscription applications will be given priority if the issue is oversubscribed. The Ministry of Finance will hold special sessions to explain the issue tomorrow at 5.30pm in the Hamilton Princess Princess Victoria Room and on Wednesday at the same time in the hotels Gazebo Room. The Bermuda Stock Exchange (BSX) said that Butterfield Securities had been appointed as the sole book-running manager for the issue. Applications for the issue are open to Bermuda residents subject to the laws of any applicable jurisdiction and persons with Bermudian status who may be permitted without further action by the Government and under the laws of their respective jurisdiction of residence to subscribe for securities of this nature. The BSX said the interest rate will be dependent on market demand, but will be at least 4.75 percent and that the minimum subscription will be $10,000. Butterfield will accept subscription applications from permitted purchasers until 5pm on Friday. Subscription applications are available at Bank of Butterfield or through personal application at the firm's offices at 65 Front Street, or via a broker. The bonds are expected to be rated at AA-, negative outlook by Standard & Poors and at Aa3, negative outlook by Moody's, while Fitch is expected to give an AA-, negative outlook rating as well.
Cabinet Building, Cenotaph and War Memorial
2016. May 27. The Cabinet Office, operational centre for the Bermuda Government, is to get a new home as of next Friday — while a relocation for the Senate is yet to be announced. Health and safety concerns forced the move, according to Michael Dunkley, who said it was his goal to have Cabinet back at 105 Front Street by Remembrance Day. The Cabinet's temporary home will become the first floor of Innovation House nearby on Reid Street, which comes with a generator for back-up power. The move was questioned by the Opposition, since the directors of Innovation Limited are Michael Freisenbruch and Michael Branco, the former One Bermuda Alliance deputy chairman. However Mr Branco told The Royal Gazette that he had stepped down in October 2013 to focus on his family. A company spokesman added that the Government Estates Department had negotiated a discounted rental agreement, which included looking at other premises. Mr Dunkley said the relocation required a short-term lease, and that Innovation's site suited the short walk from the other buildings on Cabinet grounds, which will remain in use. The Premier told the House of Assembly yesterday that the building, which opened in 1884, was beset with maintenance problems — evident during the 2014 Throne Speech, when the Senate Chamber's roof leaked heavily. In February, an air-quality assessment picked up elevated carbon monoxide, high internal humidity, and mould, while damaged floor tiles showed asbestos in the basement, which was sealed. Works include the replacement of "decaying windows", the Premier told MPs, while the exterior will be sealed and painted, and termites will be tackled. Most of the job falls upon staff from the Department of Public Lands and Buildings, with a $240,505 contract for new windows going to BS&R, and painting to Kaissa for $67,000. Designed in 1837, the main building houses the Office of the Premier, the Secretary to the Cabinet, the Deputy Head of the Civil Service and all related administrative officers. Innovation House, adjacent to Rock Island Coffee, was taken over by its new directors in December 2015. Cabinet will be the first tenant to join the premises, which houses several other businesses.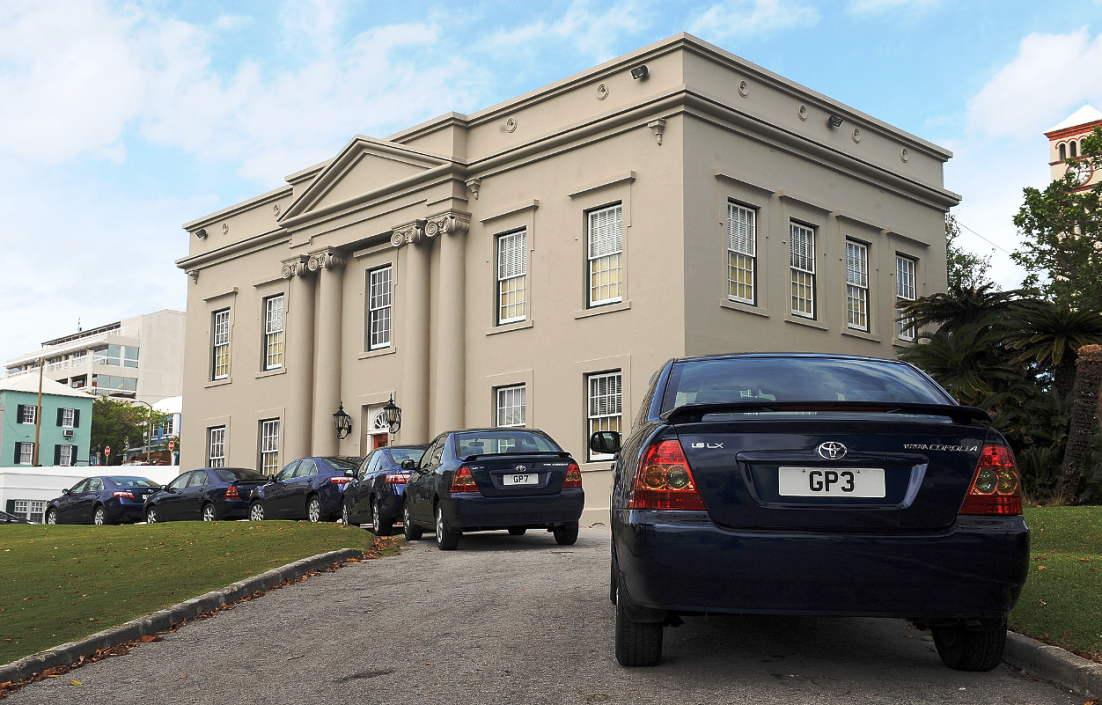 Cabinet Office, showing a long line of official Bermuda Government Ministerial cars parked outside. Royal Gazette photo.
105 Front Street. Telephone 292-5501. Designed in 1837 by an officer of the Royal Engineers then serving in Bermuda. When it was first opened in 1884, it was known as "The Public Building", part of Bermuda's civil colonial government during the reign of Queen Victoria. It then housed the Customs and Treasury Departments and the Bermuda Library on the ground floor with the Council Room and the Secretariat on the upper. It has remained the home of the Council and the Secretariat ever since, with the exception of a period of nine years (1969 1977) when the Executive Council was based in offices on the second floor of the General Post Office at Church and Parliament Streets. Entering the Entrance Hall, the doors are of Bermuda cedar. Some of the cedar was given to the Cabinet Building by the Consul General of the United States and some of the cedar was from the O1d (ended in the late 1950s) Bus Garage, earlier a Bermuda Railway train depot, on East Broadway. These doors were installed in 1989, completing the renovations to the ground floor of the Cabinet Building. There is a large portrait above the stairs, facing down into the Entrance Hall, which is that of Queen Victoria, a copy an original portrait which hangs in St James' Palace, London and is on loan from the St. George's Foundation of New York. It shows the young Queen at the beginning of her reign, shortly after her marriage to Prince Albert of Saxe Coburg-Gotha. In the Upper Hall, over the stairs, there is a portrait of Sir Thomas Gates who was with Admiral Sir George Somers in the Sea Venture in 1609. In the Upper-Hall, facing the stairs is a portrait of William Herbert, 3rd Earl of Pembroke; the original, painted in 1627 for King Charles I, hangs in the National Portrait Gallery in London. To the right is a portrait of Sir Edwin Sandys, a member of the Bermuda Company during the early years of colonization. Lord Sandys, a descendant of Sir Edwin, had two copies made of the original portrait and in 1959 kindly presented one to Bermuda and the other to the House of Burgesses in Richmond, Virginia, to mark the 350th anniversary of the settling of both Bermuda and the Virginia Colony. From the large casement window in the Upper Hall a pleasant view of Hamilton Harbour can be seen which, from April to November each year, includes cruise ships alongside Front Street. Either side of the casement window are portraits of King George III (1760 1820) and Queen Charlotte these are believed to be the works of Allan Ramsay, Court Painter (1713 1784). These portraits were retrieved by the British Army when it burnt the White House in Washington DC in the 1812-14 War. At the latter, the portraits had been removed from display and put in storage. It was the taxation policy of the British Government that had so exasperated the North American colonists that on 4th July, 1776, they proclaimed their independence from Great Britain. To the left of the door leading into the Senate Chamber is a portrait of Sir Francis Forbes who enjoyed a successful career in the legal profession and, moving to the Southern Hemisphere, served as a Chief Justice in New South Wales.
Senate Chamber
When Parliament is in session, the Senate meets at 10.00 a.m. each Wednesday to discuss matters sent forward by the House of Assembly. The gallery to the left of the main entrance is for the use of the public. To the right, there is a small glass topped table. The book inside bears the signature of Her Royal Highness The Princess Margaret, Countess of Snowdon, who was present for the convening of Parliament on November 2, 1990. Beyond, on top of the bookshelves, is a long glass case, which contains The Black Rod. This is the emblem of office carried by a senior Police Officer who, when the Governor is about to open Parliament following a General Election or a seasonal Recess, summons the elected representatives from the House of Assembly and leads them in procession to the Senate Chamber. The Black Rod in the case was fashioned by the Crown Jewelers and is topped with a silver Coat of Arms and tipped with an inset Bermuda crown piece. It was presented to the Government in 1964 by Mr. B.C.C. Outerbridge who gave many years of service to Bermuda, in the House of Assembly both as a member and as Deputy Speaker, and subsequently in the Senate then known as the Legislative Council. The portraits above the Black Rod are of former Senate Presidents. They were Senator the Hon. Albert Jackson, CBE, JP 1987-1998; The Hon. Sir George Ratteray, CBE 1969-1980; and Senator the Hon. H.E. Richardson, CBE, JP 1980-1987; The portraits on the northern wall of the Chamber are of King George V and Queen Mary, the grandparents of Her Majesty Queen Elizabeth II, and are from originals at Windsor Castle. The two velvet covered beneath the portraits were used by Sir J. Tronnsell Gilbert, President of the Legislative Council, and Lady Gilbert when they attended the Coronation of Queen Elizabeth II at Westminster Abbey in 1953. Between the two portraits is the Royal Coat of Arms and beneath this is the dais from which the Governor, when opening Parliament, delivers the Throne Speech setting out the Government's programme for the next Session of the Legislature. The chair on the dais, now used as the Throne, has an interesting history: it was made of Bermuda cedar for one of Bermuda's early Governors and bears on its back a carved inscription which reads – "Cap. Iosias Forstor Esv. Governor of the Sumer Islands Ano do 1642". In 1897, Josias Foster's chair was discovered in the Island of St Croix in the West Indies, having been taken there by his descendants in 1800. The chair was duly purchased from the family and on return to Bermuda was installed in its current place of distinction. The original circular table around which Bermuda's Senators deliberate, has also served many and varied international gatherings. The "Three Power Conference" took place in Bermuda in December 1953, when President Eisenhower of the United States met with Sir Winston Churchill of Great Britain and Monsieur Joseph Laniel of France. Again in 1957, President Eisenhower was in Bermuda, this time to meet Primer Minister Harold Macmillan of Great Britain; and in 1961 Mr. Macmillan met with President Kennedy of the United States. On each of these occasions the table has been dismantled and removed to another, larger location. The twelve armchairs in use with the table were obtained by the Hon. Robert Kennedy, the Colonial Secretary of the day (not to be confused with the much later American by that name) who, in 1841, wrote from abroad to his deputy Charles Fozard: "I have selected and ordered a dozen very handsome chairs for the Council Room. They are elbow chairs of a very suitable pattern .... I will pay the cost out of the balance of the Powder Fund money in my hands, which is, I believe, about one hundred pounds." The chair at the northern side of the table with the slightly higher back, was bought in 1982 for the use of the President of the Senate. Two signed lithographs on the southern wall 0f the Chamber show Queen Victoria and Prince Albert, and were presented by their son Prince Alfred, when he visited Bermuda in 1861. The lithographs were restored at the British Museum in 1982.
Cabinet Building Grounds.
Immediately beyond the flagpole located at the front of the Cabinet Building is the Cenotaph -Bermuda's memorial to those who died in the world wars of 1914 1918 and 1939 1945. Remembrance Day is observed each November 11th, with a simple and moving ceremony, in which wreaths are laid by the Governor, the Premier, the Opposition Leader, the Commander of The Bermuda Regiment and Resident Services and Service Associations. The monument is a replica of the Cenotaph, which stands in Whitehall, London and except for the engraved slabs, which came from England is built entirely of Bermuda Limestone. On the Cabinet Grounds just east of the Cenotaph sits the War Memorial which was completed in November 2010 by the Ministry of Public Works and contains the names of almost 3,000 Bermudian men and women who served in the two World Wars. Names are inscribed on seven highly polished black granite slabs and a diamond emblem in gold leaf beside a name indicates that the serviceman or servicewoman is on the roll of honour and lost their lives in wartime service. A fountain in front of the memorial is made of a granite base and a highly-polished pink granite ball which is the same stone used in the Anglican Cathedral in Hamilton. Seating is provided at the memorial and it is a serene place where surviving War Veterans, their children or grandchildren, other relatives, members of an appreciative public and visitors may gather to reflect upon and pay respect to those who served our Island so heroically during the Great Wars. To the east of the Cabinet Building is a granite obelisk which was erected by the people of Bermuda to the memory of Major General Sir William Reid, KCB, Governor of Bermuda from 1838 to 1846.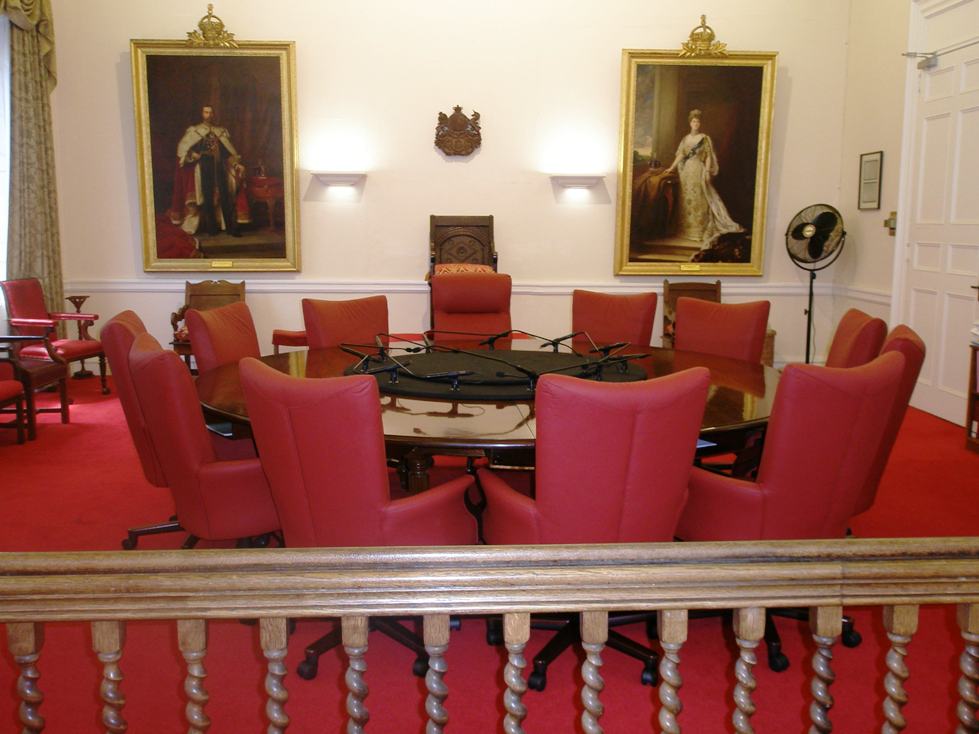 Senate Chamber with portraits of King George IV and Queen Charlotte. This father of this King, George III, had Ministers who caused the War of Independence.
Also see (not in photo above) a large oil painting of William Herbert, 3rd Earl of Pembroke (after whom the parish of Pembroke is named), painted in about 1625 by Daniel Mytens, a Court painter in England, appointed by King Charles I. In the chamber, center, is the 17th century Bermuda cedar chair made for Governor Josias Forster in 1642, when Parliament was in the Town of St. George. In the glass case (not seen in photo) is the Black Rod, an instrument of office fashioned by the Crown Jewelers in London, carried by the senior police officer summoning the 36 elected politicians and the 11 appointed senators to the Opening or Convening of Parliament every autumn (fall). The Black Rod is a symbol of authority of the Head of State – the monarch's representative when not in Bermuda, and is carried by a senior Police Officer. On this occasion the Governor reads a lengthy, locally written annual Throne Speech, covering intended future local events from the perspective of the political party in power.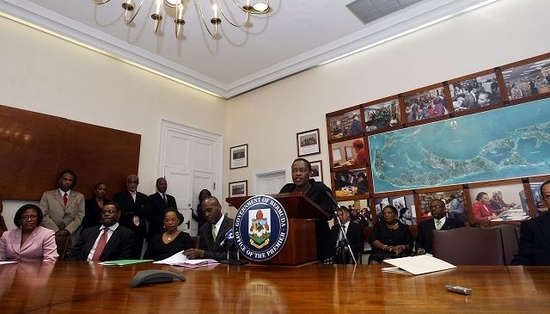 Bermuda Government Cabinet session, being addressed by then-Premier Paula Cox. 2011 Royal Gazette photo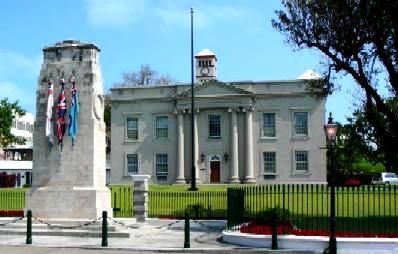 In this photo right - by author Keith A. Forbes we also see the flags of the British Armed Forces - in which many Bermudians served during World Wars 1 and 2 - flying, with the war memorial close by.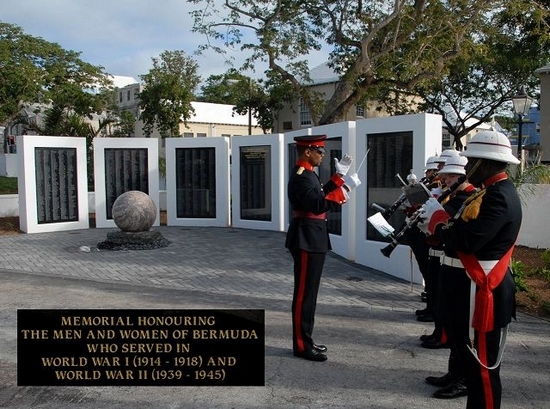 The Cenotaph war memorial is outside the Cabinet Building. It is a replica of the famous Cenotaph at Whitehall, London. Its flags are those of the Royal Navy, Royal Air Force and British Army, memorializing Bermudians in those British military services who died in World Wars 1 and 2 and whose names are on the Cenotaph. There is also a more recent war memorial. It was built in 2010 on the grounds of the Cabinet Office, near the corner of Front and Court Streets, just east of the Cenotaph. It honours almost 2,000 Bermudians who served here and abroad, in either the First or Second World Wars. It includes recognition of Bermudian individuals who did not travel overseas, but who protected Bermuda's shores locally, remained unrecognized and seemingly unappreciated. Plaques are displayed on five individual walls that form a semi-circle around a rolling ball water fountain resting on a granite base. Seating is provided at the memorial as a serene place where war veterans, visitors and other members of an appreciative public may gather to reflect upon and to pay respect to those who served this Island so heroically. Every November 11, or public holiday commemorating it, during the Remembrance Day parade wreaths are laid at the two War Memorials.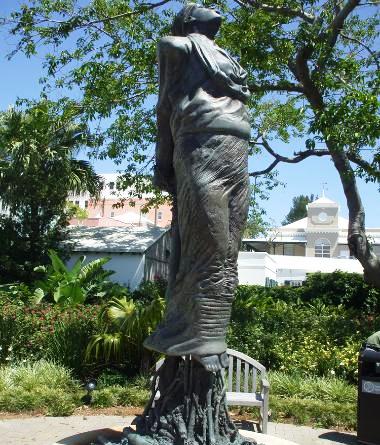 Sally Bassett statue.
To the west of the Cabinet Building is a bronze sculpture of Sally Bassett, a black Bermudian slave who was burned at the stake in Bermuda in 1730. Her "crime" was alleged witchcraft (then practiced as much in Bermuda as it was in Salem and elsewhere) against an allegedly cruel white owner. Some people believe the burning happened at Crow Lane, others say it happened near Albuoy's Point. In 2009, in commemoration of Bermuda's four hundred year anniversary, the sculpture of Bassett was erected to memorialize the struggle of Bermuda's blacks, the majority of Bermudians, against slavery. Commissioned by the-then Bermuda Government from black Bermudian sculptor Carlos W. Dowling, this work depicts a pregnant Bassett being burned at the stake for allegedly poisoning the masters of her enslaved granddaughter. The sculptor portrayed her as "pregnant with the spirit of freedom."
Caribbean Community
July 2003. Bermuda formally joined the Caribbean Community, as an Associate Member (non-voting member), in certain areas but not in others, despite Bermuda not being part of the Caribbean but 900 miles north of it. This specifically excludes the free movement of Caribbean nationals to Bermuda and any prospect of Bermuda joining CARIFTA or its newest free trade organization - the Free Trade Area of the Americas (FTAA) - and its hopes. Membership of the Caribbean Community will cost Bermuda about US$90,000 a year. Direct trade between Bermuda and Caribbean countries is also welcomed and encouraged, especially given the close or extended family links many Bermudians have with Caribbean islands or territories. Because of this, there is a Monday-Friday 10 am and 5:45 pm 5-minute Caribbean news feature on local radio (VSB) produced by the BBC of England and a lively Caribbean-produced feature on certain evenings. But the irony is that there are no scheduled air or sea services at all between Bermuda and the Caribbean, as there were in the 1930s, 1940s, 1950s and 1960s. Many visitors to Bermuda from the USA and Canada assume - wrongly - that there are air services connecting Bermuda with the Caribbean nearly 1,000 miles to the south. Presently, virtually all imports to Bermuda made in the Caribbean come via the USA or Canada. All visitors to Bermuda who are nationals of and resident in Caribbean islands must come via the USA or Canada or United Kingdom and must have appropriate visas to come via those countries. (Effective January 2003, all Jamaican nationals who are not Bermudian must also have a visa to enter Bermuda on business or vacation).
Civil Service
Bermuda has more civil servants per capita than anywhere else in the world. The number of Bermuda Government employees, well over 5,600, make the Bermuda Government the largest single employer in Bermuda by a huge margin.
October 12, 2013. Then-Premier Craig Cannonier has not ruled out future cuts in the Civil Service as the Island struggles to recover from recession. Mr Cannonier said: "As we move forward, we certainly cant make any promises in that area. The realities are out there, but we will always look out for people first." Both parties ruled out Civil Service redundancies in the run-up to last year's General Election. Speaking yesterday Mr Cannonier said: "Certainly, we could have come in and slashed, but there probably would have been unintended and unenviable consequences of that. That was why Government's first priority was to attract new business to Bermuda and boost tourism figures to create more jobs for Bermudians. We need to look first at incentives for job creators to come here. In the end, if someone is made redundant or doesn't have a job, they need somewhere to go. We will have to make tough decisions in 2014, that's why we had a SAGE Commission to look at where we can cut back without losing manpower. The independent SAGE Commission set up to look at reducing the cost of Government will report at the end of the month and may suggest Civil Service cuts. But Mr Cannonier declined to comment on how Government would deal with its recommendations. He said: "We will cross that point when we look at the SAGE report. We certainly cannot have the agreements we have with the unions all over the place. There are some unions, one particular union, that has unlimited paid sick time. One union has negotiated three weeks paid sick time. These are some of the recommendations that will come out of the SAGE Commission we will act on. We will look at the realities of where we are and we will make decisions in the best interests of the country. We need to be making decisions that are right for the people of this country we have got to do what is right for the country as a whole. When you start isolating different sectors and saying its politically dangerous we cant afford that any more. There are too many people suffering because we have made political decisions and not made decisions based on what's best for the country. Mr Cannonier added that Bermuda faced a declining birth rate, while many Bermudians had emigrated and residents had left the Island, which totaled 7000, maybe more people. He said that if 2,000 expatriates who had left spent a conservative figure of $1,500 a week on goods and services, the Island had lost a staggering $3 million a week and more than $150 million a year. "There will be fewer jobs if we don't get more people in the country. We want Bermudians coming back and those job creators coming back and investing and circulating these dollars in the country so we can get the Gross Domestic Product in the right direction. Every time we bring in a job creator, that's two Bermudians who get hired. We needed to stop the bleeding and put in place policies that would restore the country." Mr Cannonier said that when the OBA took power last December, they inherited a situation where no one knew exactly how many Civil Servants were on the payroll, and a huge $1.45 billion in debt. He added that, a few months later, the Governments financial situation was so dire, it came close to being unable to pay the Civil Service. And he said: "Financially, we can't afford to do anything right now we can't even afford to assist those in need because there is no money." Mr Cannonier was speaking after a Parliamentary session extended by four sittings came to an end and he said the next one would likely be extended to fit in new legislation. "Government legislative highlights included ending the controversial term limits policy for work permit holders, giving investors more security through the Job Creators Act and reducing or eliminating taxes on new Bermudian hires. Government had worked with cruise ship lines to hire Bermudians for on-board positions was also an important initiative. These are important objectives we had to embark on to show we are building a better Bermuda and getting people back to work. The new independent Tourism Authority was designed to bring back accountability in how the Island is sold abroad. We spent millions of dollars on tourism, but we have continued to fail year after year. That's unacceptable. I believe that, as the Premier of this country, we have to be accountable to each other. Future priorities included getting a hotel in St Georges and incentives for existing hotels to upgrade their facilities."
Code of Conduct for Civil Servants
2013. December 9. The updated code of conduct for Civil Servants has been released as part of the SAGE Commission's major report into Government efficiency. The code — amended last year under former Premier Paula Cox — refocused on "values and behaviors that underpin good governance and ethical and accountable public administration" rather than conditions of employment. The document tells Civil Servants: "You should be aware that breaches of Financial Instructions are subject to disciplinary action including possible surcharge (a requirement to re-pay any losses to government from your own resources) and/or dismissal." And it adds some breaches of Financial Instructions could be classed as criminal offences. The code warns Civil Servants that Ministers should not ask members of the public service to behave in "illegal, improper, immoral or unethical" ways." It added that Ministers should not expect Civil Servants to follow instructions that breaches the Constitution or professional codes or rules and legislation on good government. The code also tells Civil Servants that they should not "misuse their official position, for example by using information acquired in the course of your official duties to further your private interests or those of others, especially family friends and associates." And it warns that Civil Servants should not accept gifts which could be seen to compromise their integrity or disclose official information without permission. The code added: "You should exercise particular care to avoid using public money for your personal purposes and moreover to avoid the perception that you are doing so. Government credit cards need to be handled with particular sensitivity, especially when used in connection with official travel, on order to avoid the impression of unwarranted extravagance. You must serve the Government, whatever its political persuasion, to the best of your ability in a way which maintains political impartiality and is in line with the requirements of the code, no matter what your own political beliefs are." And it warns against ignoring any restrictions placed on political activity outside work and that "public servants should not accept invitations to conferences or meetings convened by, or under the aegis of, party political organisations." But it added that attendance of officials at party events when required by a Minister on Ministry business was excepted. The code also lays out a complaints procedure if Civil Servants believe they have been asked to break the rules. The document said that managers should be informed or reported to the Assistant Cabinet Secretary. If a complaint is not resolved, public sector staff can appeal to the Secretary of the Cabinet. And the code said that "whistle-blowing" legislation had been passed to protect the public service if they raise problems in the workplace covered by the code or by good governance legislation.
Consolidated Fund
2017. March 11. The annual accounts of the Consolidated Fund of the Bermuda Government for 2015-16 have been given an unqualified audit opinion. Finance minister Bob Richards welcomed the news, which he pointed out was the Consolidated Fund's fourth consecutive clean audit after six years of qualified opinions. Current account expenditure was less than originally estimated, Mr Richards noted, while revenue was higher than projected. The Consolidated Fund deficit for 2015-16 was $160.6 million — narrower than the $220 million budget projection by $59.4 million, or 27 per cent. Mr Richards put the decreased deficit down to "prudent management" of expenditures. However, in her report tabled with the House of Assembly yesterday, Auditor-General Heather Thomas urged Government to take action to address rising debt levels. The Consolidated Fund is the general operating fund of the Government, through which it conducts most of its transactions. "I am pleased to note that the annual accounts of the Consolidated Fund of the Government of Bermuda were given an unqualified audit opinion for the fourth consecutive year following six years of qualified opinions," Mr Richards told MPs. "Despite the clean audit opinion, the Auditor-General has, for the sixth consecutive year, included explanatory paragraphs as 'other matters' which she deems appropriate." Ms Thomas's first concern was the level of the net debt, which increased by $186 million to $3.5 billion. She said: "Government needs to take concerted action to address this fiscal challenge." The auditor also pointed to ongoing incidents of non-compliance with the Government of Bermuda's Financial Instructions, which she said "revealed weaknesses and deficiencies in the control environment", and limitations with the preparation of summary financial statements. Mr Richards said: "The Government shares the auditor's concerns in these areas and has already started to tackle these matters." An enhanced Financial Instructions training programme is being developed, he said, while the Ministry of Finance has already put in place a three-year plan to eliminate the deficit and ultimately reduce the debt. Financial highlights presented by the minister included:
Total revenue raised by the Consolidated Fund for 2015-16 was approximately $960.7 million, an increase of $57 million from 2014-15.
Revenue from payroll tax was $361.1 million, up from $326.9.
Revenue from Customs Duty was $192.6 million, up from $171.5 million.
Total revenue on a modified cash basis was $953.6 million: $22.3 million more than original budget estimates.
Total current expenditure on a modified cash basis was $1.071 billion: $12.1 million less than original budget estimates.
Total capital account cash expenditure was $43.7 million: $24.6 million lower than the original budget estimate.
Total capital and current account cash expenditure was $1.114 billion: $36.7 million lower than the original budget estimate.
Modified cash all-inclusive results from government operations was a deficit of $160.6 million, $59.4 million less than was originally budgeted.
Net public debt, excluding guarantees, was $2.218 billion: an increase of $168.1 million.
Mr Richards said: "The decreased deficit is a result of prudent management of discretionary current and capital expenditures. The level of debt is not only unsustainable but economically and fiscally imprudent and the Government has already committed to intensify our efforts and determination to eliminate the government deficit, and eventually pay down on our debt."
Constituency Boundaries Commission
The commission is tasked with setting the layout of the island's 36 political districts. Details are available at the website www.elections.gov.bm.
Credit Rating
2016. April 29. Bermuda's sovereign credit rating was affirmed at A+ by Standard & Poor's Rating Services. The rating is important, as it influences the interest rate the Bermuda Government — which is carrying gross debt of more than $2.2 billion — will have to pay on new borrowings. In their commentary, Stephen Ogilvie and Paul Judson, the S&P analysts, said they expected the economy to grow, fuelled by the construction and tourism sectors. They expect real GDP growth — after inflation is taken into account — of about 2 per cent in 2016 and 3 per cent in 2017. This level of growth would assist the Government "in returning to fiscal balance by fiscal year 2017 or 2018", S&P's report stated. Bob Richards, the Minister of Finance, has set out plans to eliminate the annual budget deficit by 2018/19, predominantly through increasing revenue. The analysts expressed confidence in the island's "institutional effectiveness" and added: "The territory's policymaking is largely effective, predictable, and proactive; and its political institutions stable. We believe Bermuda has the ability and willingness to implement reforms to ensure the long-term sustainability of public finances." S&P also affirmed its A-1 short-term rating on Bermuda with a stable outlook. It lowered its transfer and convertibility assessment on Bermuda to AA+ from AAA, but added that this had no impact on the sovereign credit rating. "The ratings reflect Bermuda's status as a net external creditor, its moderate and improving fiscal deficits and low debt burden, effective and predictable policy-making, high GDP per capita, and lack of monetary flexibility," the S&P commentary stated. "According to our estimates, real GDP increased about 0.4 per cent in 2015 and nominal GDP 3.5 per cent, the highest annual nominal growth rate since 2008. The return of positive real GDP growth ends six years of consecutive annual declines: from 2008 to 2014, real GDP declined 19 per cent and nominal GDP 8 per cent. Nevertheless, until a positive trend is established, our view that economic trend growth is below-average still tempers our assessment." A year ago, S&P downgraded the island's long-term issuer credit rating from AA- to A+. In its commentary, S&P said government was making progress with improving the fiscal situation, citing a 3 per cent reduction in general government (GG) spending in the past fiscal year, as well as an increase in payroll tax and a broadening of the tax base with the introduction of a general services tax. The government target is to increase revenues by $150 million in the 2016-2018 fiscal period," S&P stated. "Despite these measures, we still view the government's ability to raise GG revenue is limited by both pressure from competing jurisdictions and domestic political preferences and the need to retain and attract employers and jobs." S&P was not unduly concerned by the scale of Bermuda's national debt, stating: "Gross GG debt stood at 40 per cent of GDP at the end of fiscal 2015, a level we consider low."
2009. November. A regulatory body, it was empowered by the Energy Act 2009. It does not release its annual reports to the public — nor does it have to. The Energy Act requires only that it provides the relevant Minister with a report on its activities, not taxpayers. Visit website for more information on the Commission and the Department of Energy.
Executive branch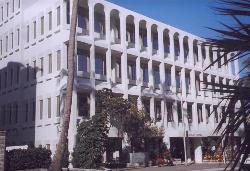 Bermuda is externally a self-governing overseas territory of the United Kingdom. It makes all its own laws. UK and European Community laws do not apply in Bermuda.
Newcomers from other countries can come here to work despite the island's small size and exceptionally high population per square mile but, unlike in Britain, are not allowed to gain citizenship or vote or acquire lower-priced real estate unless they they qualify for citizenship in ways no other Western country require.
In the UK, USA, Canada and elsewhere, citizenship comes after 3 (if married to a national) or 5 years, tops. But not in Bermuda, not even if you stay longer than 5 years.
In Bermuda, only with marriage to a Bermudian and living with a spouse for over 10 years can someone not Bermudian apply for citizenship. Even children born in Bermuda are not Bermudian under Bermuda law unless one parent is.
More information about the role of Britain in Bermuda. Her Majesty the Queen is Bermuda's official Head of State. In London, the Foreign & Commonwealth Office, London, England, is responsible for Bermuda, other territories and agencies including UK visas, British Council and BBC World Service. The Governor and Commander-in-Chief of Bermuda is appointed by The Queen (on the advice of the British Government in London) after consultation with the Premier of Bermuda.
2016. December 23. New Governor John Rankin yesterday backed same-sex civil unions in Bermuda. "Civil unions have been recognized in the UK and in many other jurisdictions around the world," he said. "I hope that any differing views on this issue in Bermuda can be resolved so any discrimination in this area can be ended." Mr Rankin — in his first major interview since taking up the job two weeks ago — was speaking at his home for the next three or four years, Government House. Mr Rankin. who was British Ambassador to the Himalayan nation of Nepal before taking up the Governor's post in Bermuda, added: "My first impressions are certainly that I've arrived in interesting times, but my impressions are, firstly, how incredibly friendly people are. They have been very welcoming. Secondly, I have been impressed by the energy of people here. I have met people from all backgrounds here who strike me as very skilled in what they do." Mr Rankin, who arrived on the island only a few days after a protest against the proposed public/private redevelopment of the airport turned ugly, with police using pepper spray against a crowd that blocked the entrance to the House of Assembly, said that he hoped that the issue would be resolved. "I hope that calm will prevail and a constructive way is found to deal with issues on which there are currently disagreements," he added. "People have the right to peaceful protest, but it's also important that Parliament can go about its business. I also support the police in upholding the law." Scottish-born Mr Rankin, 59, who graduated with a first-class honours degree in Scots law from Glasgow University, one of the oldest seats of learning in the UK, later completed a master's degree in international law at McGill University in Montreal. He returned to Scotland and practised as a solicitor before becoming a lecturer in international law and public law at the University of Aberdeen. He joined the Foreign and Commonwealth Office in 1998, originally as a specialist in international law before moving into a diplomatic role. Mr Rankin has worked at the UN in Geneva, Switzerland, the British Embassy in Dublin, where he worked on aspects of the Northern Ireland peace process, and was Consul-General in Boston, a position once held by his predecessor George Fergusson. Among other posts, he was also British High Commissioner to the Maldives and director of the Americas in the FCO, which includes the Caribbean region. "I was posted to Geneva at the UK mission to the UN," he said. "I was engaged in legal work, but got increasingly engaged in policy work and wanted more opportunities to do that general diplomacy." He added: "In terms of Bermuda, the work in Boston was particularly helpful. There are close ties between Boston and Bermuda." Mr Rankin said: "This is a job I very much wanted to do. I wanted to come here because I thought it was a new challenge and I thought Bermuda was an exciting place to come to. I look forward to working with the Government, legislature, the business community and civil society during my tenure of office here. I take my responsibility very seriously — the responsibility to be the representative of the Queen here and responsibilities under the constitution to be responsible for the safety and security of Bermuda. I hope, in addition to that, I will be a listening Governor. I want to meet people from across the community. In my first two weeks here, I've been pleased to meet young people, members of the Government and Opposition and church leaders. I would like to continue that, be a Governor who is engaged and is involved in the local community." The father of three grown-up children added that his personal areas of interest included child protection — and praised the courage of Bermuda football coach Andrew Bascome and his brother David in revealing they had been abused as youngsters. Mr Rankin said: "Young people represent the future of Bermuda. One area I attach particular importance to is a safe environment. I welcome the work being done by the parliamentary committee in this area and I look forward to seeing their report. I also recognise the bravery of those who have come forward recently to speak about the abuse they have experienced as children. I hope effective action can be taken to prevent such actions in the future. It's important the relevant agencies work together in cutting risks. Hospitals, schools, social workers, the police, working together in a collegiate fashion to ensure children at risk are identified and protected. Tough checks on volunteers in youth work should be introduced as well as adequate protection against those who are sex offenders and may be at risk of offending again in the future". Mr Rankin said he was also interested in supporting the business community, describing it as very important for Bermuda's future prosperity. He added that the UK's decision to leave the European Union — dubbed Brexit — presented opportunities as well as problems. "Britain will be more active, more outward- focused and more energetic than ever before on the world stage. The same is true for Bermuda — challenges, but also opportunities. I am confident that Bermuda, with its skills, its excellent regulatory framework and its determination to continue to meet the highest possible international business standards, will continue to succeed. Bermuda will continue to adapt, continue to diversify the economy and continue to look for new opportunities as they arise. It's also my job as Governor to ensure that colleagues in London and others internationally are fully aware of Bermuda's position in these areas."
2016. December 5. Bermuda's new Governor, John Rankin, was officially sworn in at a parade in King's Square in St George's this morning. After a march by Royal Bermuda Regiment soldiers, a commission speech by Cabinet Secretary Derrick Binns, a prayer by the Right Reverend Nicholas Dill and an introduction by Michael Dunkley, the Premier, Mr Rankin said it was "a great honour to be appointed as Her Majesty the Queen's representative as your Governor". He said he looked forward to working with Bermuda in "upholding the highest international business standards". The father of three also said he wanted to engage with Bermuda's young people "who represent the future". Commenting on recent political discontent, he said he hoped to work with "all Bermudians" to ensure a "constructive way of going forward to deal with the issues where there is currently disagreement in Bermuda ... allowing them to resolve peacefully in line with this country's democratic traditions". He added: "Those same traditions of tolerance, stability and security [I hope will] also continue to ensure that those who arrive in Bermuda are quickly made to feel welcome." The Premier said the new Governor had a wide range of expertise and was armed with "a quite impressive résumé". He also spoke of the Friday's events, saying: "As we saw recently, even the strongest and healthiest democracies face their share of challenges. As leaders in government, in opposition and in Government House, we should all feel very hurt and saddened about what happened last Friday at the House of Assembly with Members of Parliament not being allowed to access to conduct the people's business ... injured citizens, police using pepper spray. These are very disturbing images for anyone to see. Our first priority should be the safety and well-being of the people we serve. As these are very challenging times, we must be mindful that we still are one people." He said going forward, his government would seek to come together to create a "prosperous, unified and proud Bermuda".
2016. December 4. Ginny Ferson, the Acting Governor, Michael Dunkley, then-Premier, and David Burt, the Leader of the Opposition, were among the dignitaries on hand to greet John Rankin, the new Governor, when he arrived in Bermuda this evening. Mr Rankin told the assembled group that he was delighted to be in Bermuda and looked forward to working with them in the best interests of all Bermudians. The new Governor will be sworn in at a ceremony in the Town of St George at 11am tomorrow. He will live at Government House, 11 Langton Hill, Pembroke HM 13 phone 441 292-1271, Governor's Office Fax 441 292 2256.
2016. September 19. John Rankin, the former British Ambassador to Nepal, has been named the next Governor of Bermuda, filling the post left by George Fergusson in August. According to a Government House spokeswoman, Acting Governor Ginny Ferson will continue to hold the post until December, when Mr Rankin is expected to arrive on the island. In a statement, Mr Rankin said: "I very much look forward to taking up the role of Governor and working in partnership with the elected Government in the interests of the people of Bermuda. Bermuda has a well-deserved reputation as a vibrant place to do business and an attractive place to live or to visit. That vibrancy will be all the more evident as we approach the America's Cup next year and Bermuda has the opportunity to showcase itself to the full on the world stage" Mr Rankin joined the Foreign Commonwealth Office in 1988 as a legal adviser, working in both Britain and Geneva and assisting with the Northern Ireland peace process. He later served as the British High Commissioner to Sri Lanka and the Maldives, Consul-General in Boston and Head of the America's Directorate. In his most recent post, Mr Rankin served as the Head of Mission of the British Embassy in Katmandu, which was rocked with a 7.8 earthquake just six days after he arrived in April last year — something he later described as a "baptism by fire". Speaking to The Telegraph about the disaster, Mr Rankin said: "I think first of all you saw some buildings intact and some places where the walls had fallen down and you saw the damage, but the initial thing was seeing people. Seeing people in a confused condition, people standing there not really knowing what had happened, people trying to get themselves to open ground. When you do see what has happened to some people — the fact that I was in a retrofitted building, the fact that I have got a security team to assist puts us in a position where hopefully it means we can help people. But I can appreciate how terrifying it must have been for people who were in a more exposed situation." In the wake of the disaster, more than 150 British and Commonwealth citizens flocked to the embassy grounds, with many being given shelter in tents. The lawn later became temporary home for British medics and firefighters who traveled to Nepal to assist with recovery efforts. Prior to joining the FCO, Mr Rankin practised as a solicitor in Scotland and was a lecturer in public law at the University of Aberdeen. Michael Dunkley, the Premier, welcomed Mr Rankin's appointment, stating: "We are pleased to see that the FCO process of appointing a Governor for Bermuda has been completed. We note Mr Rankin's wide range of expertise, which we consider could be an asset to Bermuda's growth in the next few years."
His Excellency the Governor has his own Flag of Office. It is a Union Jack but in its center it has the Bermuda arms on a white disc encircled by a green garland. Uniforms for the Governor are made in London by Davies & Sons. They include a full dress blue and tropical cotton drill. It is based on old British military Field Marshals, with a white pith helmet with dyed scarlet swan's feathers plumage and Mameluke sword by Wilkinson Sword. The price of about $10,000 is met by the British Government. The official car used by the Governor features a crown instead of a license plate, with extra large width, length and horsepower by Bermuda standards and the Governor's Flag.
The main challenge for a Bermuda Governor is to balance two sometimes contradictory functions. First, he is the primary source of information from Bermuda to the Foreign and Commonwealth Office on the state of affairs in Bermuda. Second, he is the voice of the United Kingdom and the Foreign and Commonwealth Office for advising Bermudians what they can and cannot do under British/United Kingdom laws. The salaries of the Governor, Deputy Governor and their staff are paid by Bermuda's taxpayers, NOT the British Government. Bermuda, despite its tiny size, is wealthy enough not to need the support from the United Kingdom some other overseas territories get.
The governorship of Bermuda was traditionally one of the most prestigious posts in the gift of the Government. For much of the last century it was given to a senior military officer on retirement, or a politician who had held senior office. The last of the latter type was David Waddington, Baroness Thatcher's last home secretary who as Lord Waddington was governor from 1992 until 1997. Since then the post has been held by career diplomats and usually comes with a knighthood for the holder.
Financial Policy Council (FPC)
2016. September 6. Two new members have joined the think-tank set up to advise Government on financial stability. Dame Amelia Fawcett and Gil Tucker have both been added to the Financial Policy Council. Bob Richards, the Finance Minister, who is also chairman of the council, said: "Since its inception last year the council has been developing an important role in advising the Government and the Bermuda Monetary Authority on the vulnerabilities and risks in the global economy and the Bermuda economy that might impact Bermuda's financial sector. Dame Amelia and Gil will bring extensive experience and wisdom to the council's work." Dame Amelia, a British and American national, is a former banking executive and chairman of the Hedge Fund Standards Board in London and a non-executive director and chairman of the risk committee of State Street Corporation in Boston. She is a former vice-chairman and chief operating officer at Morgan Stanley International in Europe and was also chairman of the Guardian Media Group. Dame Amelia is chairman of the Prince of Wales' Charitable Foundation and deputy chairman and member of the governing body of the London Business School. Mr Tucker, a chartered accountant, was managing partner for Bermuda with professional services firm Ernst & Young and later chairman. Although retired, he is active on a number of boards, including Government advisory boards and was three years ago made a Fellow of the Institute of Chartered Accountants of Bermuda. The two new appointees will join Sir Andrew Large, who acts as deputy chairman, Jeremy Cox, the Bermuda Monetary Authority CEO, Sir Courtney Blackman and Michael Butt on the council.
2015. December 8. This new advisory body set up to help Bermuda safeguard its economy from systemic risks met for the first time yesterday. The Financial Policy Council (FPC) will aim to monitor areas of potential financial systemic risk, recommend moves to strengthen regulation of the financial-services industry and also help devise plans for when things go wrong — such as bank failures. The advisory body is chaired by Bob Richards, the finance minister, and its members include Jeremy Cox, the chief executive officer of the Bermuda Monetary Authority and three independent experts. Mr Richards said: "In today's uncertain global economic environment, it is essential that we remain focused on maintaining the health of the financial sector in Bermuda — and the potential risks to the economy. All countries, including Bermuda, are facing threats to their financial stability and many are responding to them. For us in Bermuda this development represents a vital move further to underpin our own financial stability." The external members include Sir Andrew Large, former deputy governor of the Bank of England, now an adviser to central banks and governments. Sir Courtney Blackman the former Governor of the Central Bank of Barbados and Ambassador for Barbados to the US also sits on the council, as does Michael Butt, a veteran of the insurance industry and chairman of Bermuda-based Axis Capital Holdings Ltd. The FPC will meet three times a year. Mr Cox said: "It is critical that existing customers and those considering doing business in Bermuda see us as a jurisdiction where safety, soundness and fiscal credibility have top priority. Bermudians must continue to feel that their hard-earned assets are safe and secure and that decision-making as it relates to Bermuda's long-term financial stability is of the highest standard. This work is key to the Authority's objective of maintaining financial stability and the soundness of financial institutions in Bermuda, as well as being aligned with supporting Bermuda's role as a leading international financial centre." Many countries began to take financial stability more seriously after the global financial crisis in 2008, when US investment bank Lehman Brothers folded and many other institutions were kept afloat by government-funded bailouts. Bermuda was not as badly affected as some, as its flagship insurance industry came through largely unscathed. However, Butterfield Bank suffered hundreds of millions of dollars in losses on investments linked to soured US residential mortgages before its future was secured by the combination of a government-guaranteed capital raise and a huge cash injection from a group of private-sector investors. Government stated: "The formation of the council will overarch a strategic project begun five years ago to strengthen the financial stability framework in Bermuda." The work done in that time includes the formation of a deposit insurance scheme and the implementation of tougher international-standard regulations, which require banks and insurers to maintain larger capital buffers to be able to withstand a severe economic downturn or financial shock. Bermuda's major banks started this year to report under Basel III banking regulations, while the BMA's insurance regulation was earlier this month given "third-country equivalence" with the European Union's new Solvency II regulations by the European Commission. In 2011, the BMA also formed a dedicated systemic monitoring and analysis function to provide early warnings and take necessary actions to enhance its existing regulatory framework. The BMA's Financial Stability department's team of six is led by senior adviser George Pickering. More recently, the Financial Stability Committee (FSC), a committee comprising senior officials from the Ministry of Finance and BMA, was established to provide a supporting role to the FPC including in relation to implementing its recommendations. The Ministry of Finance and the BMA, along with the Department of Statistics, will also work closely with the FPC to provide it with data relevant to its work. The FPC's recommendations will include early warning functions, but will extend to further development of the recovery and resolution regime in accordance with standards laid down by the Financial Stability Board set up in Basel by the G20.
Financial Stability Committee (FSC)
A committee comprising senior officials from the Ministry of Finance and BMA, was established to provide a supporting role to the FPC including in relation to implementing its recommendations.
Fiscal Responsibility Panel (FRP)
2015. December 12. Broad-based tax increases were among the key recommendations of an independent report on the Bermuda's Government's efforts to stabilize its finances. The Fiscal Responsibility Panel (FRP), made up of three overseas experts, suggested that the Government needed to take a "more aggressive approach" to achieve its debt reduction targets over the next eight years. The report recommended that the Government increase its annual revenues by an amount equivalent to 3 per cent of gross domestic product — about $170 million — through tax increases and the limiting of concessions over the next three years. In its 34-page annual assessment, tabled in the House of Assembly yesterday, the FRP warned that short-term measures to cut spending would not be sustainable and that "fundamental restructuring of government services" would be necessary in the coming years. The FRP is chaired by David Peretz, an independent consultant on international financial issues who has worked in the British Treasury and the World Bank. The other panel members are Jonathan Portes, a former chief economist to the British Cabinet Office, and Peter Heller, who worked as a senior manager during a near 30-year career at the IMF. The Government aims to eliminate its annual budget deficit — this year running at about $220 million — over the next three years. Five years after that, it wants debt servicing costs down to be less than 10 per cent of government revenues — down from this year's level of about 18 per cent. The panel was formed to run the rule over Government fiscal projections and the credibility of the assumptions underlying them, to point out risks that could affect fiscal progress and to make policy recommendations. The standout suggestion was the need for a roughly 18 per cent increase in revenues over the next three years to achieve the Government's targets. While the suggested increase may seem hefty, the panel argued that this would bring government revenues as a percentage of GDP — about 16 per cent this year — to about 19 per cent, more in line with other small island economies. It suggested that the phasing out of payroll tax breaks given to the retail and hospitality sectors, worth $40 million annually, could be considered, as well as the termination of concessions on fuel, worth another $30 million. Payroll tax could also be reformed, the panel said, with a "small increase" to the tax rate and an elimination of the cap that allows high earners to pay payroll tax only on their first $750,000 of compensation. An increase in land tax is also suggested, as being likely to impact those who can best afford it, as well as higher international company registration fees and increased efforts to collect unpaid taxes owed. The report said a consumption tax, commonly described as value added tax (VAT), would take years to implement given the need for an extensive consultation period and the bureaucracy to collect it. It suggested that Bermuda could alternatively raise customs duties and bring in a tax on services — with exemptions for education and healthcare. Deficit-reduction efforts so far had been "relatively slow", the report said, hampered by the failure of the Government and public-sector unions to agree on an extension to the furlough agreement that had previously resulted in workers taking one day of unpaid leave per month. The panel expressed doubts over the Government's trajectory to achieve a balanced budget by 2018/19, saying that the fiscal squeeze envisaged appeared "implausible without major structural change". The "serious demographic challenge" created by the Island's ageing population was also highlighted. The terms of public pension and health insurance plans would need to be adjusted and the retirement age raised. The panel suggested that more immigration of working-age people — and less emigration of young Bermudians — was needed to help the Island to deal with the growing strain on public finances resulting from the larger population of retired people. On the bright side, the panel said the prospects for growth were better than they had been for some years, "providing a window of opportunity to reduce the debt to a safer level". The Government has targeted some $100 million of further spending cuts by 2017-18. "Achieving these will not be easy and will require making a start on fundamental restructuring of government services, particularly as some of the short-term measures taken to date will not be sustainable in future years," the report states. "There needs to be a determined and visible effort to reduce waste, strengthen efficiency and direct available resources to the highest priority areas. With Bermuda facing a serious demographic challenge, actions are also needed to address rising health costs and the underfunding of pension schemes that will cause increasing problems over the long term." The report noted that wages and salaries made up more than half of the Government's current expenditure, a high level compared with other island jurisdictions. As such, it noted that, "planned further cutbacks in the current expenditure budget will have to be found by achieving greater efficiency in the provision of services and by a reduction in the government workforce". The FRP will follow up with another assessment next year.
2015. November 27. The three independent experts commissioned to assess the Bermuda Government's efforts to balance its budget have been on the Island this week conducting research. The FRP trio have had discussions with a number of people in the community to add some perspective to the numbers they have already studied. The panel is due to submit its first annual report next month. The FRP is chaired by David Peretz, an independent consultant on international financial issues who has worked in the UK Treasury and the World Bank. The other panel members are Jonathan Portes, principal research fellow at the UK National Institute of Economic and Social Research and a former chief economist to the British Cabinet Office, and Peter Heller, who worked as a senior manager during a near 30-year career at the IMF and a visiting professor at a number of universities in the US and Europe. The panelists declined to comment on their findings so far when The Royal Gazette caught up with them at the Ministry of Finance yesterday. Mr Portes said the group had "done a lot of homework" in reviewing Government accounts and projections and that meetings with a range of people from inside and outside Government this week were proving "very useful." Their remit includes reviewing the progress of the Government's effort to achieve a balanced budget by 2018/19, and goes as far as offering advice on tax and spending policies to achieve the goals. The panel will also consider longer-term issues, reviewing "prospects for further progress towards meeting the aims of reducing debt and debt service to less than 80 per cent and 10 per cent of revenues, and for implementing the rule that net borrowing can only be considered to finance capital spending." During their work they will consider the impact of the most recent Budget, the credibility of the assumptions underlying Government projections, and the risks that could affect fiscal progress. Bob Richards, the Finance Minister, announced plans to form the FSR in February's 2015/16 Budget statement. He said at the time: "To increase transparency and international credibility, Government intends to establish an international, independent committee to review, monitor, assess and publicly report on the fiscal progress of the Government. Several other islands have also adopted similar outside assessors and it has helped bolster credibility and confidence. The report prepared by this panel will be an input into the overall work to create a framework for financial stability policy in Bermuda."
2015. October 2. Three leading international experts in public policy finance have been appointed to serve as members of the newly created Fiscal Responsibility Panel. According to the Bermuda Government, the panel will increase transparency and international credibility by providing an independent, external report of its actual fiscal conduct against the fiscal rules established. Finance minister Bob Richards said in a statement: "I am pleased to announce that we have put in place a Fiscal Responsibility Panel to help tackle our looming fiscal challenges. This group will publish, on an annual basis, an independent report assessing the Island's fiscal strategy, focusing on progress in meeting our medium term objectives for public spending, taxation, borrowing and debt reduction." In his 2015-16 Budget, Mr Richards said that the Government aims to balance the budget within three years. He said at that time: "To increase transparency and international credibility, Government intends to establish an international, independent committee to review, monitor, assess and publicly report on the fiscal progress of the Government. Several other islands have also adopted similar outside assessors and it has helped bolster credibility and confidence. The report prepared by this panel will be an input into the overall work to create a framework for financial stability policy in Bermuda." The Fiscal Responsibility Panel will be chaired by David Peretz, an independent consultant on international financial issues who has worked in the British Treasury, the International Monetary Fund and the World Bank, with particular experience in advising on strategic and economic issues affecting small countries. He is joined by Jonathan Portes, the director of the National Institute of Economic and Social Research, whose expertise covers economic policy issues including labour markets, skills, migration poverty, and international economic and financial issues. The third member, Peter Heller, is a 30-year veteran of the International Monetary Fund, professor and lecturer on public policy finance. The Government's press release states that its medium-term target is that, by 2019, Bermuda would be paying for the operations and programmes of the Government and not increasing debt relative to the size of the economy. Mr Richards added: "We look forward to the panel beginning its important work for the Bermudian people and for the first report to be published." Mr Peretz stated: "We are pleased to be asked to take on this important role for Bermuda and look forward to producing our first report later this year."
Freedom of Information
See under Public Access to Information (PATI)
Good Governance Act 2012
When she became Premier, Paula Cox promised that she would make Government more transparent and would raise the level of governance. Such a promise was needed in the wake of scandals, critical Auditor's reports and perceptions, fair or not, of corruption within Government. She kept her promise.
In mid 2012 Bermuda's House of Assembly and Senate approved legislation aimed at promoting good governance, with both parties calling the bill a step forward. Then-Attorney General Kim Wilson said the Good Governance Act 2012 would discourage financial abuse by Ministers and members of the Civil Service, and protect whistle-blowers. Although the legislation requires Ministers to inform the Premier about conflicts of interest before making a decision, there did not appear to be any direct penalty for failing to do so. However, any decision made by a Minister can be the subject of a judicial review, and the Premier would under such circumstances certainly remove the Minister from their position. The legislation is in addition to the Code of Conduct for Members of Parliament, with Ministers already required to warn the Premier of conflicts of interest.
2011. July 23. Legislation to take effect in 2012 designed to stamp out any unethical behaviour in Government was passed by the House of Assembly; but the Opposition complained it does not go far enough. Premier Paula Cox's Good Governance Act was designed to improve transparency and accountability. The bill gives extra powers for the Director of Internal Audit to seize documents, introduces whistle-blower protection, and creates new offences for failing to disclose interests when awarding Government contracts. Among other measures, it will formally set up the Office of Project Management and Procurement; a facility under Ms Cox's personal watch designed to ensure contracts are handed out fairly. It also defines and outlines the role and responsibilities of Government financial officers under the financial instructions governing them. Ms Cox has pledged the legislation will enhance oversight and control, ensuring best practice across Government. Tabling the act in the House, she said: "It's another step to assure the public of our commitment to promoting consistency, transparency and accountability." She said Bermuda has already taken "great steps" in that direction, and cited existing laws designed to combat corruption such as the taking of bribes by judges, jurors, internal auditors and politicians. She praised the Progressive Labour Party for having instituted legislation establishing an Ombudsman, an internal audit department and a financial intelligence agency. She also heralded moves to bring in public access to information, make the Bermuda Monetary Authority independent, and allow for proceeds of crime proceedings to seize ill-gotten gains. Ms Cox took the Opposition to task for suggesting the Office of Project Management and Procurement should be independent of Government and under the auspices of the Auditor General rather than under her watch. She said the US, UK and Canada all keep their procurement offices under the umbrella of Government. The new legislation has already been welcomed by Governor Sir Richard Gozney and Opposition Leader John Barritt, a long-time advocate for good governance and legislative reform, said the step was encouraging. However, he said: "We need to go further. The procurement office is "exactly what the Country wants and what the Country deserves." However, he said people need to be able to follow, through the legislature, exactly how monies are being spent. He referred to a "litany of reports from Auditors General" that all condemn deviations from established practices and financial instructions, and questioned why the rules have not been enforced in the past. "If you're going to have transparency, we have to enhance the independent, objective review that needs to go on with respect to the operation of Government," Mr Barritt said. "We need to beef up those powers so the members of Legislature are able to stay on top of these things as they happen," he said, adding: "The ultimate aim is to follow the money." Mr Barritt added that the Cayman Islands had passed and implemented public access to information legislation in the space of two years, but such laws were not yet operational in Bermuda. "They also passed an anti-corruption law in 2008 which drew all these things together into one codified piece of legislation. If we are going to have the reputation that we want to have, we must not be left behind." A further call was made for the passage of a Whistle-Blower Act, as seen in Canadian legislation. He said: "We do support this legislation. Let's go further and bring about not just good governance, but better governance." MP and former Premier Alex Scott voiced his support for Mr Barritt. "Let's begin with the obvious," Mr Scott said. "The longest journey begins with one step. Good governance requires the trust of the people. If the Premier tried to move too fast, she would end up like me a past Premier. I want the House to make it an offence for any one of us to trespass on the wrong side of good government. It's not a reflection on anyone who holds office. It speaks to the notion of trust. If the people lose, for any reason, their trust in us, then we have lost our way. Offences of aggravated fraud and aggravated breach of trust should be put in place for political figures. We are a mature democracy and a proud people, and we must protect that." Attorney General Michael Scott then praised the piloting of the Act as "a proud and happy moment, because of what it indicates the continuing pattern of good governance in Bermuda." Mr Scott complained that the Opposition sought to "broad-brush the entire canvas", and that the discussion took an undue focus on the concept that the Government engaged in bad practices. One Bermuda Alliance MP Shawn Crockwell then said: "It would have been appropriate if the debate had ended after (Alex) Scott and Mr Barritt. We believe that more needs to be done. Let's accept that there have been some lapses and bring about some remedial action." Environment Minister Walter Roban commended the Premier for bringing forward the legislation. "It's very interesting to hear that it needs to go further," Mr Roban said. "Those are good suggestions, and perhaps Madam Premier will consider them. However, this government has had a history of bringing legislation that advances good governance." Ms Cox thanked the former Premier for voicing his support. She said: "Honourable members, remember that this is the first in a raft of legislation. One thing you don't want to do is mess it up by rushing it so that you get a dog's breakfast." The Premier said she was glad that "on this piece of legislation, the Honourable Opposition is prepared. to walk hand in hand with the Government."
Government Authorities Fees Order
Government Fees Amendment Act
Allows the waiving of fees under "exceptional circumstances", such as in the wake of a hurricane. Tthe waiver process would be transparent, going through the negative resolution procedure.
Government fleet of cars
On February 22, 2010 it was reported Government has 101 GP cars in its fleet which has cost taxpayers $374,649 in repairs and maintenance and $83,838 in gas since July 2008.

Minister of Works and Engineering Derrick Burgess confirmed this, with the fleet managed by the Ministry of Works and Engineering. He noted the Ministry of Works and Engineering assigns GP cars to the various ministries on as 'as needed' basis but the vehicles remain within the remit of the Ministry of Works and Engineering. Since July 2008, the Ministry has bought nine new GP cars with the total cost of $493,515. One car was a BMW which cost $188,000 and there were three Toyota Camry's which cost $69,500 each and five Kia's at $19,403 each.
Government guarantees
2013. August 19. A financial guarantee to the developers of the proposed $2 billion resort at Morgan's Point will be limited to $125 million, Government said yesterday. Government had an earlier previous portfolio of about $500 million worth of guarantees on its books. Of the latter, the largest is for repaying the construction financing for the new hospital, estimated at $260 million over a term of 30 years. Government has also guaranteed $200 million in aggregate liquidation preference of preference shares issued on June 12, 2009 by Butterfield Bank for a period of ten years from the date of the issuance of the preference shares. The West End Development Corporation benefited from two sovereign guarantees — $25 million for construction financing for affordable housing and a $5.9 million loan to complete a new sewage treatment plant at Royal Naval Dockyard. Another $36 million in construction financing was guaranteed by the Government for the Grand Atlantic housing scheme.
Government Income and Expenditure
2017. August 24. Revenues for the first quarter of the 2017/18 financial year came in at just under $250 million — up 7 per cent on the previous year, according to figures released by Government today. The Ministry of Finance said the main reason for the rise was a $10 million increase in payroll tax collections compared to the first quarter of the previous financial year. The statement added that higher collection of customs duty and stamp duty was offset by lower collections in passenger tax and civil aviation receipts "due to the privatization of the airport" and the transfer of the Department of Civil Aviation out of the Government. The statement said: "When compared to budget estimates, total revenues are tracking higher. However, not all taxes and fees are collected evenly on a monthly basis so the quarterly comparison should only be used for a rough guide. Current account expenditures, excluding debt service, for the first three months ending June 2017 are $232.3 million; this is $5.3 million or 2.2 per cent lower than was spent during the same period last fiscal year." The latest statistics show that capital account expenditures for the first quarter of the 2017/18 financial year were $15 million, which is slightly above the previous year. The statement explained: "This is due to increased capital grant amounts for the America's Cup. Debt service costs for the first three months ending June 2017 are $46.5 million. This represents $31 million in interest payments and a $15.5 million contribution to the Government borrowing sinking fund, representing approximately one quarter of the $62.1 million annual contribution. Debt service to date is about $300,000 less than last year's period. This is due to the Government restructuring its debt in 2016 by paying off more expensive debt and issuing cheaper debt." Total Government spending for the first quarter of the 2017/18 financial year was $5.3 million, which was 1.8 per cent, lower than the previous year. The statement said: "It should be noted that in the course of ministries' budget monitoring and control exercises they have reported to the Ministry of Finance a number of additional expenditures in current account expenditures in 2017/18 — mainly due to unbudgeted expenses incurred for the America's Cup by the former Government." For the first three months of 2017/18, the Government incurred a deficit of $43.9 million, which was financed by drawing funds from an HSBC Credit Facility and with working capital. Gross debt at the end of June 2017 stood at $2.494 billion.
2017. February 24. Charts only, Bermuda Government 2017-2018 Budget, see http://bernews.com/2017/02/charts-2017-2018-bermuda-budget/
2014. November 17. Bermuda continues to spend more than it earns, the Ministry of Finance reported today. Government took in $443.5 million and spent $459.4 million during the first half of the fiscal year. Spending was said to be $28.5 million, or 5.8 per cent lower than the same period for the previous fiscal year. The figures did not include debt service costs, which added up to $80.5 million for the six months ending in September: $56.7 million in interest payments, plus a $23.8 million contribution to the Sinking Fund for government borrowing. The debt service to date was $19.1 million more than the same period for last year, owing to higher debt levels. According to a Ministry spokesman, the interest payments on Bermuda's debt consumed 12.8 per cent of Government's revenues. He said the average was 4.1 per cent of revenue for comparable countries. Under the existing Budget, Bermuda has a revenue target of $902 million for the 2014-15 fiscal year, with an expenditure of $1.1 billion, including debt service. With a capital expenditure of $61.9 million for this fiscal year, the Island will have a projected deficit of $267.3 million. The spending is $14 million less than it was by September of last year. Financial Assistance is above budget because of increased demand and the cost of damages inflicted by Tropical Storm Fay and Hurricane Gonzalo have yet to be accounted for. Customs duty is down by nearly 8 per cent, or $7.6 million, but the reduction has been offset by increased collections in payroll tax of $3.1 million and other revenues totalling $2.8 million. In a review of the Island's economic performance, the Ministry also released figures said to be consistent with the forecasts in the 2014 National Economic Report of Bermuda. Difficult economic conditions continued through the year, but the spokesman reported some positive indicators that show certain sectors of the economy are improving. The consumer price index for the year until September was 2.4 per cent, while the 12-month average rate was 1.9 per cent. Imports decreased by 2.3 per cent in the first two quarters, registering $476 million. The bulk of the drop was attributed to a decline in fuel imports. Air arrivals as of September had fallen by 3.6 per cent, while cruise arrivals rose 8.3 per cent, adding up to a rise of almost 4 per cent for visitor arrivals over last year. The Island saw 535 new international companies and partnerships registered in the first six months of this year, up 13.4 per cent on last year's figure of 472.The total value of new construction projects begun in the first half of 2014 rose by almost one half, to $26.1 million. There was also a modest rise in retail sales during the first nine months of the year. Retail was up 0.24 per cent, or $5.7 million.
Human Rights
See Bermuda Human Rights Act 1981.
Bermuda laws apply, not UK laws, even though Bermuda is a British Overseas Territory. Unlike in the UK, Canada, USA, etc. the local Human Rights Act and Amendment Act relate only to Bermudians, not non-Bermudian retirees or guest workers. For example, where the Constitution says no discrimination by way of race or country of origin, etc, in practice non-Bermudians are regulated heavily in Work Permits regulations, exclusions, number of jobs they can have; property they may and may not buy; becoming Bermudian only by marriage and living together with a spouse - and eligible only after 10 years of such marriage.
Immigration Appeal Tribunal
Established in July 2011 by the House of Assembly as an independent but Government-appointed tribunal on immigration matters. In July 2012 it began to schedule its first appeals, more than a year after it was established. It will make the final decisions on grievances relating to issues such as Bermudian status, permanent residency and work permits. It replaces a Cabinet committee that previously heard appeals of Ministerial decisions. This committee ran the risk of being seen as biased, so the independent tribunal was established instead. There are 12 members of the panel. The tribunal has sought guidance from Government lawyers in drafting rules for the tribunal's use and the guidance of appellants and lawyers.
Joint Select Committee
March 6, 2014. Parliament and the Senate should be put together under the same roof as soon as possible, according to a report on Bermuda's governance tabled in the House of Assembly. The Joint Select Committee also recommended that a new, independent body known as the Management Commission be established with oversight for the administration of the Island's legislature. Committee chairman Cole Simons told the House that our legislature doesn't measure up in the areas of organizational effectiveness and accountability, and said the Committee called for a commission from across the political spectrum to manage it. Such a Commission would be chaired by the Speaker of the House and would consist of both the Premier and Opposition Leader, the Senate President, four MPs appointed by the House none of whom would be either Ministers or Junior Ministers plus a member of the Senate, and the Clerk of the House of Assembly. According to the report, this body would then handle the staffing, budgeting and support services for Parliament delegating day to day management to the Clerk of the House. The Management Council would also have the authority to constitute other committees as required. The report calls for a comprehensive code of conduct, enforced by an ethics committee. On situating Parliament and the Senate under one roof, the report calls the present situation inefficient and costly, and calls for putting the two together as a matter of urgency. The lower house of Bermuda's Parliament, The House of Assembly sits in the Sessions House on Parliament Hill while the upper chamber, The Senate, sits in the Cabinet Building, a short distance away on Front Street.
Judicial branch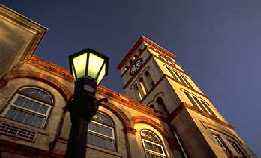 Members are appointed, not elected, and paid for by the Bermuda Government. Courts are the Supreme Court and Magistrates Courts. These are headed by the Chief Justice, appointed by the Governor. The Judiciary administers the Bermuda legal system which passes its own laws. For some matters, they are based on English law but are modified - sometimes hugely - by Bermuda laws endorsed and approved by the Legislative branch. See the Bermuda Government's Bermuda Laws. Judicial and Legal Services Committee: Recommends judicial and legal appointees. Also a Justice System Review Committee.
Jurors Act Amendment 2010
In February 2010 Members of Parliament passed amendments widening the jury pool.

Junior Minister of Justice Michael Scott said increasing the number of people eligible to serve on the jury would strengthen the judicial process. The amendments to the Jurors Act see the age of eligibility rise from 65 to 70. Justices of the Peace will also be eligible for jury. Bermuda currently has 523 JPs. Vets and dentists are no longer be exempt from jury service, nor are spouses of MPs, barristers and prison officers. Religious ministers and attorneys who do not actively engage in criminal law are now be eligible to be jurors. Former Police, reserve Police and prison officers are also eligible five years after they have completed their service. Minister Scott said it was necessary to widen the pool: "Recent challenges have arisen in the Supreme Court with respect to jury selection as a result of the disqualification and exemption of large numbers of persons from jury service. In particular, there appears to be a reduction in the number of persons who actually qualify for jury service. In these circumstances, trials have been delayed until sufficient persons are identified for jury selection, thereby compromising the effective administration of justice."
Justices of the Peace (JPs)
Including Cabinet Ministers who are automatically JPs, Bermuda has, in its 21 square miles, 523 JPs.
National Anti-Money Laundering Committee
2016. July 15. Attorney General Trevor Moniz has presented a draft consultation copy of the Bribery Act 2016, which details plans to modernize Bermuda's laws on corruption and bribery. Mr Moniz, the Minister of Legal Affairs, noted that, through the Office of the National Anti-Money Laundering Committee, he had committed to tabling consultation draft legislation in July of this year. The Bribery Act 2016 was modeled largely on the UK's Bribery Act 2010, said Mr Moniz. "The Act would provide a modern and comprehensive scheme of bribery offences, in order to allow investigators, prosecutors and the courts to tackle bribery effectively whether committed in Bermuda or overseas. The Act would help to enhance Bermuda's international reputation for the highest ethical standards." Outlining the Bribery Act in the House of Assembly this morning, Mr Moniz said it would create the following new offences:
one general offence of bribery covering the offering, promising or giving of a financial or other advantage;
another general offence covering the requesting, agreeing to receive or accepting of a financial or other advantage;
a specific offence of bribing a foreign public official;
a specific offence of failure by a commercial organisation to prevent bribery, although it is a defence if a commercial organisation can prove — on the balance of probabilities — that it had 'adequate procedures' in place to prevent persons associated with it from bribing;
a specific offence of failing to fulfil a duty to report bribery, such duty arising where a person exercising functions on behalf of a public authority is offered or receives an advantage which may constitute bribery; and
a specific offence of interfering with such a duty to report bribery.
Office of Project Management and Procurement (OPMP).
2017. March 15. Guidelines are set to be put in place for the government's watchdog of fairness over public contracts, nearly six years after it was formally established. Premier Michael Dunkley told Parliament that $773,000 has been set aside in the 2017/18 fiscal year for the Office of Public Management and Procurement (OPMP) — most of it earmarked for salaries, which have dropped by $87,000 with the discontinuation of the temporary post of project manager. However, David Burt, the Leader of the Opposition, scolded the Government for neglecting the office, saying just four of the eight budgeted positions were filled. Mr Burt pointed to "ongoing instances of non-compliance" with Financial Instructions pointed out by the Accountant-General's financial statements for the Consolidated Fund as of March 21, 2016, which was tabled last week in the House. "The office that was created in 2011 to ensure that these violations were reduced is understaffed," Mr Burt said. "Meanwhile, the Government has refused to publish the code of conduct for procurement that will make violations of the rules an offence. The One Bermuda Alliance has been in office for 51 months and despite pleas from the public and the Commission of Inquiry, they still refuse to follow the Good Governance Act." MPs heard on Monday that the OPPM is to adopt a system for managing capital projects in the coming fiscal year, along with a procurement procedure manual and a code of practice. A draft code was published in November 2016, with consultation closing on January 31. OPPM was an early initiative under the former premier Paula Cox, unveiled in November 2010, as part of a host of measures under the Good Governance Act that Parliament passed in July 2011. But the understaffed office languished in subsequent years, with its code of practice a continual work in progress — something Ms Cox lamented in October 2016 during her appearance before the Commission of Inquiry. Under the 2016 Throne Speech, the Government has pledged to integrate the code of practice for project management and procurement within "a new unified legislative framework" to replace sections of the Good Governance Act and the Public Treasury (Administration and Payments) Act 1969. The OPPM has also been allocated a grant of $150,000 for 2017/18, which the Premier said would go towards an electronic purchasing and tendering system.
2015. September 30. This office, set up in 2011 to strengthen financial accountability in government has only half the staff it needs, it has been revealed. And a suitable candidate to lead the Office of Project Management and Procurement (OPMP) has yet to be found, despite the job being advertised twice and having a salary of more than $100,000 a year. A statement released by the unit under new public access to information requirements shows that it should have eight employees but lacks a director and is understaffed. Asked about the situation, a government spokesman told The Royal Gazette: "There are eight positions in the Office of Project Management and Procurement, of which four are filled. They are the contracts and compliance manager, the senior project manager, the procurement manager and an administrative assistant. The position of director is currently vacant and has been advertised twice. We are looking for the right person who will work to ensure the OPMP fulfils its mission to provide oversight and guidance to public authorities and implement the soon-to-be released code of practice on procurement and project management. The contracts and compliance manager is acting as director while the position is being recruited." The spokesman said the director, once recruited, would assess the skills needed to "assist the department and the managers to perform their oversight and audit functions. As a result, the recruitment of the procurement operations analyst, the procurement systems officer and the contracts and compliance officer will be completed after a director has been appointed." The OPMP was created under former Premier Paula Cox under the Good Governance Act 2011 and falls within the remit of the Cabinet Office. Michael Dunkley told parliament earlier this year, in reference to the office being set up under the Progressive Labour Party, that Ms Cox "had to do something … because those guys on that side were pilfering." The Premier withdrew the word "pilfering" but questioned what had happened to "missing assets." The office's website says it "provides oversight and guidance to government departments and ministries regarding project management and procurement activities to ensure fairness, transparency and consistency in awards of contracts and adherence to applicable rules and industry best practices."
.The Premier of Bermuda is the political leader and head of government. The post of Premier in Bermuda is the equivalent to Chief Minister in other British Overseas Territories or Prime Minister in politically independent British Commonwealth of Nations. It is the highest political level that can be attained within the British colonial system. The Premier and Cabinet (consisting of all the most senior ministers) are collectively accountable for their policies and actions to Her Majesty Queen Elizabeth II, to the Legislative Assembly, to their political party and ultimately to the electorate. Phone (441) 295-4623. Email premier@gov.bm. Highest paid Cabinet member, on an annual salary of $224,092 in 2011/2012. Has use of a Bermuda Government car, GP1, a BMW 750Li. Also gets health insurance, a pension, a parking space at Sessions House and a credit card. Appoints other Cabinet Ministers each of whom earns in excess of $171,000 a year plus expenses, gets use of a Bermuda Government car, a Toyota Camry, health insurance, a pension, a parking space at Sessions House and a credit card.
Opposition
2017. July 26. Patricia Gordon-Pamplin, sworn in yesterday as the Leader of the Opposition, also announced her Shadow Cabinet and a Senate team from which Michael Fahy was notably absent. Mr Fahy, whose immigration policies were widely perceived as a liability when the One Bermuda Alliance held the Government, will be "supportive going forward, but elected not to take any frontline positions", Ms Gordon-Pamplin told The Royal Gazette, adding: "The party moves on." In a candid and conciliatory speech after she was sworn in by John Rankin, the Governor, Ms Gordon-Pamplin vowed to lead a loyal Opposition. "Today we applaud the Government; we applaud them for their victory, and we assure them of our continued support for those policies and programmes they put forward that we deem to be done for the better good of all of Bermuda." Acknowledging those who had felt neglected by the OBA during its tenure, Ms Gordon-Pamplin said: "It is apparent that as a party and an administration, we disappointed some people. For that disappointment, we take full responsibility. We apologise to those who we hurt or who felt left out of our policies. But it is important that you know that it was always our intent to give our very best effort. We can be proud as the outgoing administration that we have accomplished just that." The Opposition leader recalled the opening stanza from a poem, author unknown, that had hung on her childhood living room wall, starting with the lines: "The test of a man is the fight that he makes, the grit that he daily shows; the way he stands upon his feet, and takes life's numerous bumps and blows." Ms Gordon-Pamplin briefly served as Opposition leader after the United Bermuda Party's defeat in the 2007 election, in which Michael Dunkley lost his seat — but she said it had been only a few weeks before Kim Swan took over as the party's leader. "Once we became the OBA, the focus was certainly different," she told this newspaper. "Up until 2012, I had never served in a governing party. So this is different — we were in the Government and have now been trounced out and transitioned to the Opposition. We served the people of Bermuda in terms of keeping the ship afloat. We brought the country back from the brink of financial disaster, and are very proud of that. You can't necessarily satisfy the demands people make when you have to put in place the things we were required to do to stop the bleeding. The OBA's lesson going forward was obviously, listening more intently. It's a lot easier to do as Opposition. We inherited an empty coffer. Now we believe we have left the Government in a far better financial position than they left us. It remains to be seen how we move forward." Ms Gordon-Pamplin declared her shadow cabinet for the upcoming legislative session as follows:
Sylvan Richards — deputy Opposition leader, planning and environment;
Trevor Moniz — legal affairs;
Leah Scott — tourism and transport;
Craig Cannonier — works and infrastructure;
Jeanne Atherden — finance;
Jeff Baron — national security;
Grant Gibbons — economic development;
Susan Jackson — health and seniors, Opposition whip;
Cole Simons — education;
Ben Smith — sport and youth development
Ms Gordon-Pamplin appointed Nandi Outerbridge, Nick Kempe and Andrew Simons to the Senate. Ms Outerbridge, former MP for St George's West, is the new Opposition leader in the Senate, and will focus on social development, with Mr Kempe taking on labour and training and Mr Simons, technology.
Parliamentary Standing Committee on Public Accounts (PAC)
Made up of Members of Parliament. It is authorized by the House of Assembly to look at public expenditure. The committee also investigates findings reported by the Auditor General in the annual and other special reports. Often meets in the Senate Chamber, Cabinet Building on Front Street.
2017. January 25. The Parliamentary Standing Committee on the Public Accounts (PAC) is set to host its next public hearing tomorrow examining spending by the Bermuda Tourism Authority. The committee has invited officers from the BTA to discuss matters arising out of the body's financial statements for 2015. "In addition, the committee has invited the chairman of Wedco to meet with members for discussion on the financing and preparation of the land reclamation project in the South Basin area for the America's Cup events," a spokesman said. "Additionally, a representative from the Ministry of Public Works will be in attendance to discuss with members, capital works and grants." The BTA released a statement yesterday saying it welcomed the opportunity to appear before the committee. The authority also pointed out that it had earned unqualified audits in 2014 and 2015. "We are grateful for the opportunity to answer questions as it relates to the Bermuda Tourism Authority's Audited Financial Statements for 2015," BTA COO Karla Lacey said. "It is pretty clear to us — and we hope to the public — that strategic planning and judicious spending in 2015 provided the foundation for success the country experienced in tourism in 2016." The BTA recently reported 11 consecutive months of tourism industry growth in 2016, while operating on a budget that is half what was invested in tourism ten years ago. Ms Lacey added: "Decisions made in tourism today directly affect the performance the country will see nine, 12 or even 24 months from now. The same was true back in 2015; decisions then have an impact on what is happening now. The BTA earns a greater return for the country — which can be redirected to other services — and has ended a troubling trend of falling visitor arrivals and visitor spending. We're pleased to share that story with the parliamentarians of the committee." The committee, made of MPs from both political parties and chaired by Wayne Furbert of the Progressive Labour Party, is tasked with examining matters relating to the accounts of the Bermuda Government and investigate findings reported by the Auditor-General. Members of the public are invited to attend and observe the hearing, which will be held in St Paul's Church Centennial Hall at 2.30pm tomorrow.
Policing
Government House has direct responsibility for the operational side of Policing with the Police Commissioner reporting directly to the Governor, while costs, budgeting and manpower are Government's responsibility. There have been a number of disputes, with some members of parliament stating that as the Bermuda Government foots the entire bill, it - not the Governor, representing the UK but not Bermuda directly - should have final jurisdiction.
Price Control Commission
2013. October 1. The Price Control Commission has yet to meet six months after being appointed. The Commission was established to protect consumers from unwarranted rate increases on essential goods and services, but Finance Minister Bob Richards said Government was using other committees and commissions to tackle the high cost of living. He said the cost of electricity is under the remit of the Energy Commission, the issue of healthcare is being dealt with by the Ministry of Health and a separate Committee under the Ministry of Home Affairs is looking into the cost of food. "Those are the three basic elements. They are not being dealt with under the Price Control Commission, but they are certainly being dealt with in broader government," he said. "This Government is a firm believer that free markets are the most efficient and cost effective way of delivering goods and services. Government doesn't fix prices. Government price fixing doesn't work. There's an old saying in economics that you can fix the price of something and you can fix the supply of something, but you can't fix both at the same time. If the government wants to fix the price of a loaf of bread they can do so, but they can't force someone to bring it in and sell it at that price." He said the best the Government could do is ensure there is a competitive market, and in cases where there may be a monopoly, ensure that there is a regulatory system in place to monitor them. Shadow Finance Minister David Burt said the Opposition does not support price fixing, but the Government had promised to meet with retailers when cutting the salaries of public sector workers, asking what success Government has had. Mr Richards responded that it was a "work in progress." Public Safety Minister Michael Dunkley, speaking for the Ministry of Home Affairs, said that both he and Home Affairs Minister Michael Fahy have been involved in talks with the Island's grocers, but due to the sensitive nature of talks he was not able to make a statement to the House. "The leading grocers are meeting among themselves, and once they look at the potential options, they will revert to the Government." Asked by Shadow Minister of Economic Development Glenn Blakeney about it there had been talks with the Island's wholesalers, Mr Dunkley said it was up to the grocers to get the wholesalers involved in the conversation. The Minister noted that the previous administration had attempted to work with the wholesalers in 2011, but nothing came of it. Economic Development Minister Grant Gibbons meanwhile said Government has had several meetings with Belco about energy costs. "Earlier this year, under this administration, the Ministry of Economic Development authorized the Energy Commission to undertake a review of the fuel adjustment rate being applied by Belco," Dr Gibbons said. "We are in the process of analyzing the findings of that review and are discussing them with Belco." Dr Gibbons said the Government has formed a consultation committee, the Bermuda Energy Working Group, which is collaborating with Belco and Government on several projects, including equitable interconnection agreements in order to reduce reliance on the energy company and lower prices. "There are several other initiatives we are working on, each with an aim to lower the average fuel bill, and I will make a statement when I am ready to report," he said. Mr Burt however said that Dr Gibbons' statement brought little comfort, saying his constituents had seen their fuel adjustment rates increase by 15 percent between January and September, and Government has announced a new tax that would further increase costs. Dr Gibbons said the last base rate was set under the previous administration, the fuel adjustment rate is based on the cost of fuel purchased by Belco.
Public Accounts Committee
Authorized by the House of Assembly to look at public expenditure. The committee also investigates findings reported by the Auditor-General in the annual and other special reports.
Public Access to Information (PATI) Act 2010
Enacted in 2010. Similar to the UK's Freedom of Information (FOI), which legally requires most public bodies to release information when requested except for a series of exemptions such as the request being outside the public interest. In late 2015, the UK's FOI Independent Commission proposed dropping rules that allow asking the government to release information for free. A fee of up to £20 for each request may be likely in the future. In Bermuda, requests for information are free but at this time only Bermudians or local residents may request information, not overseas-based individuals whether Bermudian or not.
2015. November 27. The public will hear updates in today's sitting of the House of Assembly on how the Public Access to Information Act has fared in its first months in effect. Michael Dunkley will offer details, along with the Public Access to Information Amendment Act 2015. "The Act simply deals with amendments which we believe are appropriate for after Pati was put in place," the Premier said. "So far, we believe it has been implemented quite successfully. There are some clauses we have to amend. It's nothing people will disagree with. It's something we have worked closely on throughout this process." Bob Richards, the Minister of Finance, will bring amendments to the Bermuda Public Accountability Board before MPs. Legislators will also consider the Corporate Services Provider Business Exemption Order, and health insurance amendments brought by Jeanne Atherden, the Minister of Health.
2015. November 27. Updates to Public Access to Information Act have gone before Parliament. It includes a cutting down of the response time for public authorities to give information. Michael Dunkley told MPs there had been 75 Pati requests so far: 15 have been directed at the Bermuda Police Service. Six have been made to the Department of Child and Family Services; five have gone to the Cabinet Office. The numbers do not include requests made to quangos, the Premier said. Opposition MP Walton Brown voiced support from the Progressive Labour Party but said more amendments were needed. "Information that would only be released anyway should simply be automatically released, and the right to make Pati requests should be extended to people or organisations outside Bermuda. The Island has been a secretive society for centuries", Mr Brown said, with a culture of withholding information. Mr Dunkley agreed that as the Government "irons out the kinks", Pati could be extended to queries from abroad. "That is certainly an option that we will consider," he said. Mr Brown also suggested stronger penalties for persons who broke the rules of the Act, noting that "there was a breach of confidentiality" not long after Pati had been enacted. "What's disturbing is it came after an extensive period of training and an extensive debate," Mr Brown said. "We would like to see stiffer penalties for those who engage in willful violations of legislation."
1914. June 13. Public bodies will be forced to provide full details of financial transactions under proposed new laws. Speaking in the House of Assembly this morning, Premier Michael Dunkley said Government was "committed to keeping its financial affairs and those of public bodies and authorities, open and transparent", but that current legislation meant some public bodies did not have to be fully accountable. While expenditure data for Government Departments is readily disclosed and information inclusive of salaries, grants, and contributions is available to the public, the same level of disclosure does not apply to all public bodies and authorities," Mr Dunkley told MPs. "A preliminary review of the legislation that governs the operation of different public bodies and authorities highlights significant inconsistencies as it relates to the requirement for disclosure. While most public bodies and authorities are required to provide annual reports, the level of detail is not always as useful as the public requires in order to be fully informed." Mr Dunkley said that, in certain cases, Government Ministers did not have the authority to demand specific details relating to the financial accounts of some groups. As a result, some bodies are only required to submit annual accounts "which does not itemize the specifics of the expenditure. The Government will amend the Public Treasury (Administration and Payments) Act 1969 to require all Government Departments and public authorities to provide very specific aspects of information relating to the accounts of these bodies. Under these provisions, information such as the salaries for senior executive officers of the public authorities will be made available as a part of the consolidated financial statements. In other instances, the Government will implement policies that mandate, via contractual agreement, the public disclosure of similar financial information as a requirement for grant funding. Such policies will ensure that where public funds are being used to underwrite the cost of operations, information regarding salaries, sponsorships, and other contributions is publicly available. This Administration will take appropriate action, consistent with law and policy to disclose information so that the public is informed. The same principle will apply to public bodies and authorities."
August 1, 2011. then-Premier Paula Cox promised that Bermuda's long-awaited public access to information (PATI) law would become operational "in the second half of 2012." The legislation was passed in Parliament on July 23, 2010, when then-Premier Ewart Brown told the public to expect implementation within two to three years. He said an Information Commissioner would be appointed before the end of 2010 though the role has not yet been filled. Ms Cox said: "The timing, as stated in the debate in the House at that time, was to allow for the necessary preparation and a proper rollout. This Act represents a seismic shift in the way that public authorities disseminate information. In order for this legislation to achieve its goal, much preparation is required to ensure that public authorities meet the requirements and stringent deadlines set out in this Act." The-then Premier noted an implementation taskforce, led by permanent secretary Wayne Carey, was formed as soon as the Public Access to Information Act 2010 was approved. "In August 2010, Mr Carey visited Cayman Islands to learn from the challenges that they experienced when implementing their legislation." One of the lessons learned from their experiences highlighted for us early on that this would be a lengthy implementation process. The taskforce also undertook a comprehensive review of the record management systems already in place in Government to determine what was required to be in place before the enactment date. This core team produced a draft implementation plan in September 2010. All public authorities, other than those exempted, including government departments, quangos, statutory boards and committees and the Corporations of Hamilton and St George, are subject to the PATI Act."
Then-Finance Minister Ms Cox said each authority had to prepare for the Act to become operational by producing an information statement explaining, among other things, its structure, legislation, functions and services provided, types of records held, policies and procedures, rules and guidelines; and developing internal processes for handling requests for information, in line with the Act. Other tasks to be completed before the enactment date are developing regulations for application procedures and management of records; setting minimum records management standards which are consistent across Government; establishing an Information Commissioner's Office and recruiting an Information Commissioner; preparing and publishing a PATI guidance document and code of practice for use by the public and public service; and training public officers to receive and process requests. Ms Cox said public sessions to education citizens on how to make freedom of information requests would begin early next year. "While PATI is not as yet operational, this Government considers PATI as another key element that evidences this administration's continuing commitment to transparency," she said. The Premier said the legislation was part of a wider mission to improve accountability, adding that public meetings were held this year on the Budget, as well as on good governance and public treasury legislation and initiatives on the Mincy Report on young black males. There are more meetings to come. Very shortly, you will be hearing about the open budget process. The public would soon be able to view new procurement regulations on the Government website, as well as the rules of engagement for tendering. Once PATI is fully operational, it will be reflective of the continuing transparency and accountability that I consider characteristic of this administration." Opposition leader John Barritt said as far as he was aware there had been "nothing but silence" from Government on PATI since it was passed. He said the Island would do well to follow in Cayman's footsteps and implement the law as soon as possible. "Between promise, passage [through parliament] and action, was about a year in the Cayman Islands. "They moved smoothly and quickly on that. They did the same with their anti-corruption law. If Bermuda wanted to enhance its reputation and strength of governance it needed to act swiftly too." Former Premier Alex Scott, who first promised PATI in 2003, said he didn't know "how far along the machinery has moved" on implementing the Act, but added: "I would think that the Premier would be putting all of the energy necessary and possible into implementing it. Until I hear otherwise, I'm making the assumption that it's going ahead expeditiously."
The Act represents a monumental change in how information held by the Bermuda public authorities can be accessed and obtained. The purposes of the Act are to place more information in the public domain, to increase the transparency and accountability of public authorities, to keep the public informed of activities of public authorities, and to give a right of access to information held by public authorities. However, extensive carve outs and procedural requirements may make it difficult for the Act to effect its bold promise. The benefits of having this type of legislation in Bermuda outweigh the arguments against having it. The Act allows both Bermudian citizens and residents alike to ask prudent questions of their Government with the expectation that forthright and equally prudent answers will be given. In this vein I would encourage everyone to read the Act, to become familiar with it and to form an opinion of it. Although it is law the Act will not come into operation until a future date appointed by the Minister. The appointed date is not yet known, although recent press reports indicate that it might be up to three years before the law is in force. Under the Act a Bermudian or a resident of Bermuda, upon paying a fee, may request and be given access to any record held by a public authority. No reason is required for a request and the public authority should assist with any request completely, accurately and in a timely manner. In addition the identity of the person making the request should be kept confidential unless the requester agrees otherwise. A request must be in writing and addressed to the public authority most likely to be holding the relevant record. Accordingly, the request should clearly identify the record so as to enable the public authority to find it. Upon receiving a request, the public authority should decide within 28 days whether to grant or refuse the request in whole or in part and if granted, specify the manner in which the right of access to the record concerned is to be given. A public authority may decide to refuse a request if the record does not exist or cannot be found after reasonable steps have been taken to find it; the request does not enable the public authority to identify the record; the request would, due to the size and nature of the records involved, require an examination of such number of records as to cause substantial disruption to the other work of that authority; the law requires publication of the record within three months of the request; the request is frivolous or vexatious (as determined by the head of the public authority); the information is already in the public domain or is reasonably available to the public; or the fee has not been paid.
Every record held by a public authority is to be available unless it is an "exempt record". Exempt records are those which would adversely affect the health and safety of an individual; with personal information relating to someone other than the requester where that person has not given consent for the information to be disclosed; containing sensitive commercial information unrelated to the requester where the original information provider has not consented to disclosure; received in confidence; containing Cabinet documents; that undermine Ministerial responsibility; that undermine deliberations of public authorities; that undermine or affect operations of public authorities; are reasonably expected to have a serious adverse effect on the financial interest of Bermuda or of Government to manage the national economy; prejudice or undermine national security, defence and international relations; contain information relating to the Governor's responsibilities and communications with the United Kingdom; are reasonably expected to prejudice law enforcement; are subject to legal professional privilege; or are prohibited from being disclosed by any other legislation
Although these are wide ranging carve outs there are two ways by which an exempt record can be accessed. First, with the exception of (b) and (n) above, a record will not be exempt after 30 years from the date of its creation. Second, the Act provides that certain records are subject to a "public interest test" which determines if on balance the public would be better served by the disclosure rather than the non-disclosure of that record.
If a request for access to a record is refused there is a right of appeal, in writing, to the Information Commissioner. The Commissioner may attempt to have the matter resolved through mediation or, alternatively, may make a decision to affirm or vary the decision of the public authority or make such an order as he deems appropriate.
The decision of the Commissioner is binding on all persons affected by it. Any person aggrieved by the Commissioner's decision may apply to the Supreme Court for a final review of that decision.
Despite the wide ranging and extensive carve outs and exemptions within the Act, it is hoped that officials and the Information Commissioner will embrace the bold aspirations of the Act and carefully consider in each case if the public would be better served by disclosure rather than the non-disclosure of the information requested in each instance.
Public Service Superannuation Fund
Bermuda's pension plan for civil servants. Government employees pay 8 percent of their gross salaries into their pension fund called by this name. Government matches contributions of employees. Pensions are paid out based on a formula pertaining to the number of years in which contributions were made
2015. Late August. It was reported this is significantly underfunded and is under the diligent review of the Bermuda Government. The PSSF's cost-of-living adjustments were suspended in 2014, and Government is considering an amendment to the PSSF's definition of final average earnings, from the salary payable just prior to retirement, to an average of earnings over the final five years of employment prior to retirement.
2015. March. The Royal Gazette reported that a working group looking into pensions and benefits had been established. According to those reports, the working group has recommended, and is considering, the following PSSF changes:
Raising the age at which unreduced pensions are payable from age 60 to age 65.
Applying actuarial reductions on early retirement prior to 65.
Applying a 10 per cent reduction to the amount payable to a retiree with a spouse who chooses the joint and survivor option.
Increasing contributions.
Decreasing the pension accrual rate for active members from 1.5 per cent to a lower rate.
Quangos
2016. June 28. Legislation paving the way for the creation of a Civil Aviation Authority and a Bermuda Shipping and Maritime Authority was passed by MPs on Friday afternoon. The Bermuda Civil Aviation Authority Act 2016 provides the new CAA with quango status in a bid to boost revenue from the Bermuda Registry of Aircraft. Grant Gibbons, the Minister of Economic Development, told the House of Assembly that the new Act would make Bermuda more competitive in the global aviation market. However, Lawrence Scott, shadow Minister of Transport, expressed a string of concerns about the creation of the CAA, claiming the Bermuda Government was making the CAA answer to the minister. He also questioned why the Minister of Finance should be involved in appointing members of the board. "Government should not have any say over civil aviation," Mr Scott said. "They are trying to go outside their jurisdiction. This Bill falls short of doing what it is intended to do because the Government is too involved compared to other jurisdictions." However, One Bermuda Alliance MP Shawn Crockwell explained that Bermuda's CAA would be based on the UK's CAA model, in which the authority answered to the Ministry of Transport. Mr Crockwell described Mr Scott's assertions as "erroneous" adding: "We must put in the proper infrastructure so the authority and the register can grow. The register must operate like a business and Government must be prudent to make sure we do not lose this revenue." Finance minister Bob Richards told the House that the new legislation was designed to boost revenue to the consolidated fund. Meanwhile, the Bermuda Shipping and Maritime Authority Act 2016 will see the Department of Maritime Administration also given quango status. Dr Gibbons said the Bermuda Shipping and Maritime Authority will help the island compete more effectively in the growing shipping sector. "This Bill is intended to create an efficient, competitive and economically viable shipping registry that can meet the modern-day customer demands as well as the relevant national and international standards," he added. According to Dr Gibbons, Bermuda presently commands a fleet of 170 ships with more than 13 million gross tonnes. "The revenue earned by the DMA as fees from the registration of ships and other services provides is approximately $5 million annually with a net surplus of nearly $3 million annually." But compared with other international registries, Dr Gibbons said Bermuda's tonnage "is rather small, which provides the DMA great opportunity for expansion. With the proposed amendments in this bill, the DMA believes they should be able to compete more effectively and enhance Bermuda's shipping opportunities. After a number of difficult years, the global economy is now slowly growing and the shipping sector is expected to grow at a rate of 5 per cent per annum. Bermuda needs to be ready to compete and get a fair share of this tonnage."
2016. May 26. Independent senator James Jardine drew attention to the lack of financial information on quangos and other government operations during yesterday's Senate sitting. He spoke as the financial statements of the Consolidated Fund of the Government of Bermuda for the financial year ending March 2015 were presented to the Upper House. Quoting from that document, Mr Jardine said: "Significant financial activities for the Government occur outside of the consolidated fund. As such they do not represent the full nature and extent of the overall financial affairs and resources of the Government of Bermuda." He said he had raised the point about six times in the past and while he acknowledged that the One Bermuda Alliance was looking into the matter, he urged expediency. "It is extremely important to have combined financial statements," he said. "I would hazard a guess that there are at least 40 or 50 other sub-financial statements for quangos and other government operations. They are not shown in these financial statements. If you consider the BMA [Bermuda Monetary Authority], for example, Wedco, BLDC [the Bermuda Land Development Corporation] — all of these quangos hold immense assets and also liabilities contingent and otherwise that are not necessarily disclosed, although mention is made of them." He urged the Government to move forward as quickly as possible to put together combined statements, adding that more quangos were being created, such as the Bermuda Tourism Authority and the Gaming Commission. "Every time new quangos are established, people are hired, money is spent, money is raised and debts are incurred," Mr Jardine added. "We have no overall picture of what is going on." One Bermuda Alliance senator Georgia Marshall commended the Auditor-General's office for its third financially unqualified report in a row, meaning the financial statements were free from material misstatements. "In the past I have quoted from and alluded to past auditors' reports and you will recall that in 2007 the auditor gave a qualified report," she said. "Not only did the Auditor-General give a qualified report but he indicated that more than half of the departments had failed to provide sufficient information and financials so as to allow the auditor to prepare the report. In 2006 and 2005, a third of those had been insufficient to provide a clean report. This was an abysmal state of affairs but I am pleased to see that under the hand of the Minister of Finance, Bob Richards, that this has been turned around."
There are more than 100 in Bermuda, including the Bermuda Land Development Corporation (BLDC). None of these taxpayer-funded entities hold their meetings in public and publish regular minutes, despite the passing of public access to information and good governance legislation in Parliament and a commitment from former Premier Paula Cox to ensure transparency and accountability in Government.
Referendum Act 2012
Enacted June 2012 by Bermuda's House of Assembly. Established procedures for national referendums, including the promised one on gaming. Two previous referenda held in Bermuda required separate legislation to be passed for them. The first was on capital punishment in 1990, when 78.4 percent favored retention of the death penalty. The second was on Independence in 1995, and saw a 73 percent vote against breaking ties with Britain. The new law means legislators will no longer have to pass a separate law each time a referendum is decided upon. It sets out the general parameters for them to be held in each case and is based on tried and true electoral processes. Only registered voters can participate in a referendum. A 'yes' vote will have happened if 50 percent or more of Bermuda's registered voters vote in the referendum, and more than 50 percent of them mark their ballot 'yes.' A 'no' vote will have happened if 50 percent or more of Bermuda's registered voters take part and more than 50 percent of them mark their ballot 'no.' A referendum question will be taken to be unanswered if less than 50 percent of registered voters vote, or if the voting patterns are such that the requirements for a 'yes' or 'no' result are not met. The principle behind the new legislation is "informed choice" and Government is committed to fairness, transparency and propriety in the conduct of referendums. The bill allows the Premier to set up an "ad hoc committee" if she wishes to advise on any matter relating to a particular referendum. Premier Ms Cox indicated that the national debate on gaming may be the first issue put to a referendum under the new act. Attorney General Kim Wilson said in a speech to a United Nations seminar on decolonisation in May 2012 that the legislation will also help pave the way for a fresh referendum on Independence. Leader of the Opposition Craig Cannonier welcomed the legislation. However, he said his party wishes to go one step further, and have "citizen's initiative" referendums. Those are brought forward by the people rather than by the Government. Mr Cannonier said this would increase faith and participation in the political process. His party colleague Grant Gibbons noted that under the new bill, power to decide the referendum question and the timing of the vote remains in the hands of government, not the people. He also expressed concern that just one-quarter of the electorate could decide an issue as weighty as Independence. "It certainly is not adequate when it comes to an issue such as Independence. The British Government says it has to be a clearly expressed majority of the people. Most of us believe we need some sort of super majority in order to carry an issue like that." Charles Swan of the United Bermuda Party welcomed the bill. However, he also sounded a note of caution that a referendum could be decided if just 26 percent of the electorate voted for or against something. "That's maybe something we want to reconsider or look at," he suggested. Later in the debate, Ms Cox indicated that the rules can be customized for individual referendums, "including even with the percentage of the participation." The bill was passed as amended.
Salaries Review Board
2015. June 30. Inquiries into the fate of the dormant Salaries Review Board have gone unanswered, despite MPs continuing to debate the issue each year. The independent board, required by law to review the parliamentarians' pay every two years, is last known to have issued a report nearly seven years ago — even though MPs approved their own pay scales this March. Legislators' salaries were pegged at the same level for this fiscal year, but have had two cuts since April 2012. The Royal Gazette began questioning the status of the Salaries Review Board in April this year, beginning with Cabinet — only to be referred to the House of Assembly.
Senators - 11 in the Upper House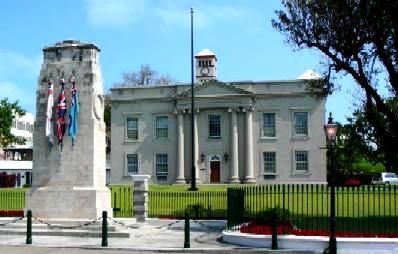 Cabinet Office, home of the Senate. Photograph by the author
Bermuda has a bicameral legislative body, an appointed Upper House (Senate) and an elected Lower House. All 11 Senators are paid, but less than Members of Parliament. Despite its name as the Senate, and its description as the Upper House, it is a junior legislative forum. The Upper House, named the Senate since 1980, is appointed by the Governor. He also appoints three independent Senators. They represent neither the One Bermuda Alliance (OBA) once in government, which now has three members, nor the Progressive Labour Party (PLP) now in government which has five members. Like all Members of Parliament, all Senators are required by law to be Bermudian. Senators from late July 2017 are: PLP with Kathy Simmons, Anthony Richardson, Jason Hayward, Vance Campbell and Crystal Caesar. OBA has Nandi Outerbridge, Nick Kempe and Andrew Simons.
2017. August 18. Former Berkeley Institute principal Michelle Simmons has been appointed an independent Senator. Ms Simmons joins Joan Dillas-Wright and James Jardine as the independents in the Upper House after Carol Bassett, President of the Senate since 2008 and a senator since 2003, retired. In a statement, Governor John Rankin said: "I am grateful to each of the independent senators for their willingness to serve. Carol Bassett, who has served as President of the Senate since 2008, is retiring after 14 years of devoted and selfless service to the Bermuda Parliament. On behalf of my predecessors as Governor and myself, I am grateful for all of her commitment to the work of the Senate throughout her period of office." Ms Simmons was Berkeley principal for 20 years and was also involved in education in Britain, Nigeria and at the Bermuda High School for Girls. Responding today, the Board of Governors of the Berkeley Institute paid congratulations to Ms Simmons. "Ms Simmons has had a distinguished career in the community particularly in education as the first woman to hold the substantive post of principal of our alma mater," the board stated. "The Berkeley family wishes Ms Simmons well as she discharges this awesome responsibility as a legislator."
Solvency II third-country equivalency
Effective March 24, 2016. This means the European Union considers the standard of the island's insurance regulation to be equivalent to its own. In November last year, the European Commission recommended that Bermuda should be considered as in line with the tough new insurance rules being adopted across the 28-country bloc. A 90-day consultation period that gave member countries and the European Parliament the chance to have their say has now passed. On March 4, the EC's delegated decision on Bermuda's equivalence with Solvency II was laid out in detail in the Official Journal of the European Union. Now that 20 days have passed since the date of publication in the Journal, confirmation of Bermuda's new status is complete. Solvency II equivalence means that commercial insurers and reinsurers based in Bermuda will not be competitively disadvantaged when they do business in the European Union. The news represents a significant achievement for Bermuda's financial-services regulator, the Bermuda Monetary Authority, which has worked and lobbied for more than six years to achieve the goal. In an interview today, Jeremy Cox, chief executive officer of the BMA, paid tribute to his "tenacious team", as well as the industry leaders and politicians who had helped to make it happen. A full story on the interview will appear in Monday's Business section of The Royal Gazette. The BMA also released its 2016 Business Plan today. In his introduction, Mr Cox stressed that equivalence confirmation did not mean the BMA would suddenly have a lot of spare time on its hands. "Securing equivalence was clearly a major achievement, a powerful example of what can be accomplished with a strong, tenacious team that embarked on the road to equivalence in 2010," Mr Cox said. But equivalence is an interim objective, rather than an end in itself, and should be viewed in the wider context of our vision and strategic goals."
Spending and Government Efficiency (Sage) Commission
See https://sagecommission.bm/.
2013. November 27. Finance Minister Bob Richards has said there will be extensive consultation before Government carries out any cost-cutting recommendations made by the SAGE Commission. But in a statement issued this morning, he appeared not to rule out future redundancies in the Civil Service one of the central recommendations put forward by the Savings And Government Efficiency Commission. Government had initially pledged that there would be no job cuts in the Civil Service, although last month Premier Craig Cannonier suggested a shift in Governments position when he said he cant make any promises on jobs. And Mr Richards made no reference to the guarantee, saying only that consultation will anchor the SAGE process going forward. "The Government is sensitive to the concerns raised by the unions and, by extension, members of the Civil Service. I can assure civil servants and the public that consultation will anchor the SAGE process going forward. We will consult all stakeholders before recommendations are implemented. The process will also see the Government assess what recommendations can be implemented in the first year and the formulation of a timetable for recommendations that can be implemented in the following years. I have made a Take Note motion on the report, which will be debated in the House of Assembly on December 13. I look forward to a full and frank debate in the House as we continue to work to revive our economy through policies and actions that grow the economy and jobs on the one hand and government efficiencies on the other. "
2013. November 19. Some civil servants are being awarded exorbitant benefits packages with overtime pay that is significantly higher than the norm in the private sector, according to the SAGE Commission. And Government employees have been able to secure generous deals through their unions because bosses negotiating contracts on behalf of the Government are often members of the union themselves, the commission revealed. In its 140-page final report, which was submitted to Government on Friday, the commission pointed out that six separate unions represented around 5,300 Government workers employed in a slew of ministries, departments and quangos which were not necessarily linked to Governments Human Resources Department. Agreements are reached based upon whatever each union can negotiate at the time, the report noted, adding that each union had attempted to negotiate to the highest standard of benefits available across Government. There is no strategic framework for contract negotiations with unions, and there is no standard across the Public Service for negotiating union contracts. Civil and Public Service employees representing Government, as an employer, in negotiations with the unions, are union members themselves. Negotiating with the very union of which they are a member is viewed by many as a conflict of interest. Government employees who are members of a union should not be negotiating on behalf of Government with the union of which they are members. According to the findings, managers find it difficult to manage employees with multiple agreements and provisions, while under the terms of the Collective Bargaining Agreement, BIU workers are not subjected to performance appraisals. "In numerous interviews, the SAGE Commission was told that Heads of Departments and managers were not consulted before agreements were reached and that the resulting agreements were difficult to implement," the report stated. The commissioners concluded: "Some of the negotiated provisions with respect to benefits are significantly out of alignment with best practices. The scale of benefits under the current Collective Bargaining Agreements are financially unsustainable. both wage rate increases and benefits. All Collective Bargaining Agreements must be reviewed and amended to be financially sustainable. Where appropriate, standardized benefits should be agreed which reflect best practices. Negotiations should avoid pattern bargaining, a practice by which unions use a particular agreement as a model on which agreement for other employees are based. Union contract negotiations should be aligned with Governments stated strategic objectives." The commission recommended that an independent body conduct any future pay and benefit negotiations with the Bermuda Public Services Union, that some benefits should be harmonized, and that heads of departments and managers must be consulted prior to union negotiations. The report also claimed that staff were retained and promoted even if they were regarded as low performers, while high performers were not always rewarded. "Government employees are often not recognised for their performance good or bad," the report said. "There are examples of serious infractions for which there have been no consequences. Performance appraisals are not taken seriously and not utilized effectively to develop the Government workforces talents and career objectives. Discipline is not applied consistently or as often as required by the CECC [Conditions of Employment and Code of Conduct] as read with the Public Service Commission regulations." The Bermuda Trades Union Congress is expected to deliver its response to the commissions findings tomorrow.
2013. June 26. A cultural revolution is needed in the Civil Service, says SAGE Commission chairman Brian Duperreault. He told Hamilton Rotary members yesterday that SAGE was surprised to find that creativity and innovation are not encouraged in the Civil Service. "One of the biggest challenges we have to face is the culture of the Bermuda Civil Service," Mr Duperreault said. "It's been a surprise to private sector members of the Commission to learn of the number of reports produced by civil servants that outline plans for progressive change, and the number of people who have worked hard to try to implement the recommendations in those reports. But this is not a culture that supports, encourages and rewards creativity and innovation. This is not a culture that promotes brave leadership. What we have is a lumbering organization with cumbersome bureaucracy, a vestige of a colonial mindset that can't adapt to the 21st century because it hasn't been given the tools to do so. In most organizations, there's what I'd call a natural cleansing process in the way personnel are managed. You do your job well, you're rewarded and possibly promoted. You don't do your job well, you get some assistance for professional development, you get some coaching, and if that doesn't work, you leave the organization to make way for someone else. But this isn't how it works in the Civil Service. The performance process doesn't seem to produce reasonable outcomes that support healthy, well-managed growth and development. Staff who enter the Civil Service with a zeal to make a difference are worn down by a system that thwarts progress. Their ideas are ignored. If they're not ignored, they drift for years before they're implemented. There is little accountability for those who do not perform to expectations. Staff who violate Public Service regulations might face a mild slap on the wrist. The chances of them being dismissed are slim to none. At the SAGE Commission, we're beginning to believe that if we can find a way to help effect real systemic change in the Civil Service, to infuse it with a "can do" culture, we will be well on our way to creating the government Bermuda needs and can afford. We've been told by many civil and public servants that they desperately want the SAGE Commission to recommend a culture in government that both rewards excellence and also deals with non-performance. They want a culture that attracts, and keeps, strong performers." Mr Duperreault went on to say that reducing personnel costs had to be done with a view to not causing more harm than good and planning for the social ramifications. And new revenue sources will have to be identified as "we can't cut our way to economic recovery." He called on the public not to indulge in the blame game over the Island's fiscal crisis. "Are we going to retreat into our traditional comfort zones? Are we going to look for scapegoats to bear the brunt of what has to be done? Or are we going to reach out to each other, with mutual respect and decency, to find a way to fix our broken government?" The Commission has received 200 submissions from the public, and will submit an interim report next month. Healthcare costs and government pensions were being reviewed by the six Commission members, Mr Duperreault reported. But he said the Commission might make a separate recommendation of a healthcare review. "I'm pleased with the analysis the Commissioners have done so far on government pensions but I'm concerned about the review of healthcare costs. This type of review isn't the same as finding ways to cut government spending. It needs the eye of professionals with specialist expertise."
Formation of SAGE has resulted in top civil servants are being put through their paces with an exhaustive series of questions and requests for information from the SAGE Commission. Charged with recommending ways in which Government can be more effective and efficient, the SAGE Commission turned its attention to the 70-odd department heads asking them to provide about a dozen reports on their operations. The reports include policy and legislative reviews, service delivery standards, performance benchmarks, performance system reviews, strategic reviews and plans, "inter-departmental and inter-ministerial coordination and efficiency," and "efficiency, effectiveness and economy of programmes and services." The bosses are expected to justify and explain how they measure performance, reward good performance and think through ways in which they could be more effective and efficient, according to correspondence obtained by The Royal Gazette. Directors are being asked by the Measurement and Metrics Committee what key performance indicators are used by their departments, what makes them relevant and whether they are taken into consideration to evaluate the performance of their staff. "Is it fair to hold you accountable for the performance of your organization?" is one of the questions being asked by the Performance committee. SAGE's privatization/outsourcing committee is expecting civil servants to tell them which of their services compete with the private sector, can be more effectively provided by the private sector and which assets are underutilized "not used at all, or are being misused or inappropriately used?" Government employees are required by law to provide information requested by the SAGE Commission.
Throne Speeches
Occur every year, in November or when appropriate. They set out the Government's planned legislative or regulatory agenda for the following year.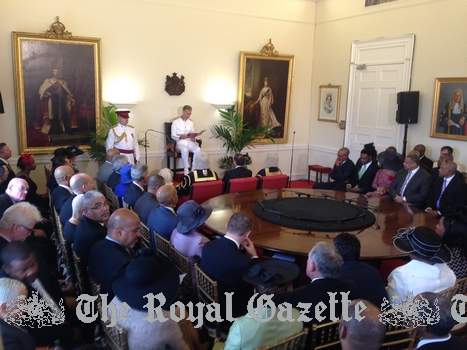 Governor delivering the 2014 Throne Speech
Useful Bermuda and Government links
Address Finder. How to find your real estate property on a Bermuda Government Geographical Information Technical Committee and Works and Engineering, Land and Survey Division mapping website.

Agricultural Exhibition. See under Bermuda Annual Exhibition.
Airport Operations.
Archives. See http://www.gov.bm/portal/server.pt?open=512&objID=429&mode=2. 30 Parliament Street, Hamilton, Bermuda HM 12. Telephone (441) 297-7737. Fax (441) 295-8751. Email reference.archives@gov.bm. Bermuda Archives Act 1974. The Bermuda Archives holds records of the legislature, judiciary and government of Bermuda as well as the two municipalities of St. George's and Hamilton. Non-government collections include those of the churches, parish vestries, parish councils, personal and family papers. Archives of social, business and philanthropic organisations are also held. Records span the period from early settlement in 1615 until the present. All government records are in the public domain and are freely available. Private papers and manuscript collections subject to donor agreements may have access restrictions. Records containing personal data of living individuals are closed as are those archives that are fragile or at risk.
Attorney General
Auditor General. In Bermuda, one of only two wholly independent institutions under the Constitution with oversight of the Government. 2015. November 17. A damning report by the Auditor-General underlines the origins of Bermuda's financial woes, according to the Deputy Premier and Minister of Finance. Bob Richards said the public had "every right to be upset" after the revelations contained in Heather Jacobs Matthews's report, which documents the results of audits of the Consolidated Fund for the years ending March 31 2010, 2011 and 2012, when the Progressive Labour Party was in power. Among the misdeeds listed in the 315-page document are instances of overpayments, double payments, millions paid for professional services without prior approval, failure to comply with financial instructions and millions paid without signed contracts or agreements. "The Government's long-term debt as at March 31, 2012, ($1.1 billion) has almost quadrupled what it was four years ago and resulted in annual interest costs of about $71 million for the year ended March 31, 2012," the document states. When contacted by The Royal Gazette, Mr Richards said: "The report speaks for itself. It's good to have it revealed to the public, because the Auditor-General has credibility. It's certainly a very, very low performance insofar as the Government is concerned, and it speaks to the reason why we're in the hole we're in financially." While claiming to be unsurprised by the findings detailed within, Mr Richards added: "It's the public's money, and we're just trying to do the best we can to look after it as though it were our own. We've had to be much more disciplined as far as spending is concerned, and to try to rein the beast in. We're having some success in doing that." David Burt, the Shadow Minister of Finance, was unavailable for comment. With Mrs Matthews retiring from her position as Auditor-General next year, it was announced yesterday that Bermudian native Heather Thomas would be stepping into the role in May 2016. The report is available online at www.oagbermuda.bm.
Bermuda Annual Exhibition, or e-mail agshow@ibl.bm. Held every April
Bermuda Aquarium & Museum
Bermuda Buses. Public Transportation Board. A Bermuda Government quango. See Bermuda Government Boards.

Bermuda Business Development Corporation (BBDC). Formed in 2013 by Government through the Ministry of Economic Development. A private/public partnership intended to spearhead the promotion of Bermuda as a preferred domicile for a variety of international business activities, including reinsurance, asset management, trusts and fund administration. This has involved organizing all the relevant stakeholders and formulating a coherent mission for the BBDC and strategies to achieve that mission. The Government, via BBDC, will continue to support Bermudian entrepreneurs in their quest for success and will take any other necessary steps to stimulate economic growth through non-tax policy driven initiatives.

Bermuda Casino Gaming Commission.

Bermuda Civil Aviation Authority. Replaced the Department of Civil Aviation.
Bermuda College
Bermuda Constitution. A written document 96 pages long, it went into effect on June 8, 1968. See http://www.bermudalaws.bm/laws/Consolidated%20Laws/Bermuda%20Constitution%20Order%201968.pdf.
Bermuda Customs. Import duties, limits on what visitors and residents can import duty-free, etc. 2016.
2016. July 7. Confiscated and abandoned imports are set to be auctioned online by the Customs Department in a new initiative starting this Monday. Goods will be put up for sale every Monday morning at www.customssales.com with a minimum reserve price, and offers will be accepted up to 4pm each Friday. Customs will e-mail the highest bidder, who can collect their selected item the following working day from Custom House on Front Street. Finances raised will be used to recover duty owed on imported goods that have been seized or abandoned to the Crown. Interested parties can subscribe to updates from the website or send questions to customsauctions@gov.bm.
Bermuda elections. E-mail parreg@gov.bm. Bermudians can register electronically to vote.
Bermuda Ferry Service
Bermuda Fire Service. Phone 292-5555
Bermuda Government Geographical Information Technical Committee and Works and Engineering, Land and Survey Division mapping website.
Bermuda Government Portal
Bermuda Government Travel Expenses. See www.gov.bm/travel-calendar.
Bermuda Hospitals. Operated by the Bermuda Government owned and appointed by the Bermuda Hospital Board, a Bermuda Government quango. See Bermuda Government Boards.
Bermuda Housing Corporation (BHC). Bermuda Housing Act 1980. A Bermuda Government quango. See Bermuda Government Boards. Hotline since late 2002 is 295-HOME (295-4663). Manages a large portfolio of rental, owned and private sector properties, holds many mortgages, owns many properties. Its Rentals Department has a clientele of about 600 households, of which 500 are housed in BHC properties. The remaining 100 households are housed in units rented from private sector landlords. Clients must be Bermudian.
Bermuda International Airport
Bermuda Land Development Corporation. Formed by the Bermuda Government to own and lease for the Bermuda Government the land or buildings used by US Military Forces in Bermuda until 1995. See Bermuda Government Boards.
Bermuda Laws
Bermuda London Office. See www.bdalondonoffice.co.uk. Email emaileventslondonoffice@gov.bm or call 020 7518 9900.
Bermuda Monetary Authority. A Bermuda Government quango and regulatory agency. See Bermuda Government Boards. E-mail info@bma.bm.
Bermuda National Library or e-mail bdanatlib@gov.bm
BermudaNic.

Bermuda Parliament Act 1957, see http://www.bermudalaws.bm/Laws/Consolidated%20Laws/Parliament%20Act%201957.pdf.

Bermuda Passport Office. Government Building, Department of Immigration, Ministry of Home Affairs.
Bermuda Police Service. Phone 295-0011.
Bermuda Prisons Service. Phone 295-4975.

Bermuda Shipping & Maritime Authority. Established by statute in June 2016. 2017. July 25. It opened for business on Monday at its new offices on the fourth floor of Mintflower Place on Par-la-Ville Road. The quango was set up on October 1, 2016 to take over from the former Department of Maritime Administration — with its greater independence credited with boosting Bermuda's shipping registry. The authority will move from Global House this Friday, and will be closed accordingly while the relocation takes place. A spokesman said that the BSMA's existing main telephone number, 295-7251, will continue as usual, along with its fax number 295-3718 and cellular phone numbers.

Bermuda Ship Registry. See http://www.bermudashipping.bm/useful-information/.
Bermuda Small Business Development Corporation. A Bermuda Government quango. See Bermuda Government Boards.

Bermuda Society & Secretariat. London, England. Incorporated in 1987 at the request of then Premier, The Hon. Sir John Swan, KBE, JP; former Governor and Commander-in-Chief of Bermuda, The Viscount Dunrossil, CMG; and Sir Peter Gadsden, GBE, AC, former Lord Mayor of the City of London. The brief was to enhance and promote Bermuda's image as an attractive, competitive and well-respected jurisdiction for international companies – across multiple financial sectors – to do business, and to foster the close links between Bermuda, the UK and elsewhere. The physical address and contact details are Five Trees, Wood Lane, Stanmore, Middlesex HA7 4JZ, England. Phone 011 44-(0)20-8954-0652. Website www.bermudasociety.com, email BermudaSoc@aol.com.
Bermuda Tourism Authority (formerly Bermuda Tourism).
Bermuda Weather
Central Policy Unit
Civil Aviation Authority. Established by statute in June 2016.
Commission of Enquiry. Formed after concerns were raised by the Auditor-General over the handling of taxpayers' money in 2010, 2011 and 2012. The Commission is chaired by international jurist and former Bermuda Court of Appeal judge Sir Anthony Evans. Its members are lawyer and former MP the Honourable John Barritt, businesswoman Fiona Luck and businessman Kumi Bradshaw. More information about the Commission is available at www.inquirybermuda.com.
Commission on Racial Equality (CURE). See Bermuda Government Boards. Melbourne House, Suite 202. 11 Parliament Street, Hamilton HM KX. Telephone (441) 296-0613 or fax (441) 296-9142 or e-mail cure@ibl.bm. In other countries, these racial guidelines and regulations apply only in the public sector. But the Bermuda Government has made them apply in the private sector as well.
Community Education & Development Programme
Consumer Affairs. See Department of Consumer Affairs.
Department of Communications & Information. Global House, 43 Church Street, Hamilton HM 12. Phone 292-5998. Fax 295-5267. Formerly Government Information Services.
Department of Community & Cultural Affairs
Department of Conservation Services. Ministry of the Environment. P. O. Box CR 52, Hamilton HM CX. Phone 293-1785. Fax 293-2716.
Department of Consumer Affairs. Ingham and Wilkinson Building, 129 Front Street, Hamilton HM 12. Phone (441) 297-7627. Fax (441) 295-6892. Email consumers@gov.bm. Complaints ca_complaints@gov.bm. Consumer, landlord and tenant, cable TV, shopping and utilities complaints, mostly.

The Consumer Protection Act 1999 deals with unfair or deceptive business practices, unconscionable representations and unconscionable acts. For instance, double tipping or paying gratuities twice is an unfair business practice under the Act. Therefore a patron of a local restaurant or bar can lodge a complaint with this office regarding that practice.

The Consumer Protection Act 1999 is divided into six parts: Preliminary; Administration; Unfair Business Practices; Consumer Safety; Enforcement; Miscellaneous. Typically, consumers call the Department of Consumer Affairs with complaints about defective or poor quality products; problems with warranties; issues concerning sales and return policies; automotive sales and repair; home improvement contract disputes; landlord/tenant issues; financial contracts and deceptive advertising. Businesses also contact the Department when they require advice and guidance about customer complaints as they relate to the Act.
Department of Cultural Affairs.
Department of Environmental Protection. Ministry of the Environment. P. O. Box HM 834, Crawl CR BX. Office of the Director, phone 236-4201, fax 236-7582. E-mail agfish@ibl.bm. For Environmental Protection offices see under Environment.

Department of Environmental Health. Ministry of Health.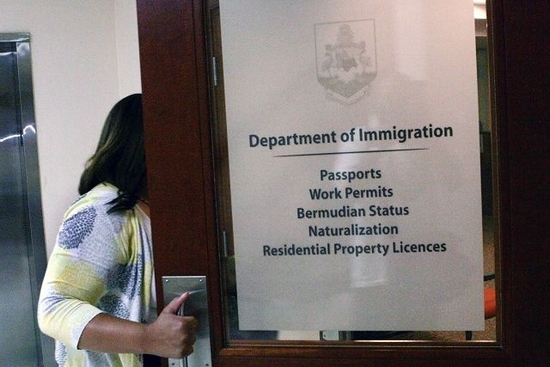 Royal Gazette newspaper photo
Department of Marine & Ports Services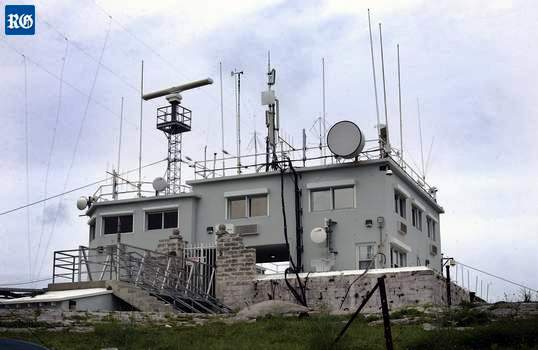 Royal Gazette newspaper photo of Department of Marine and Ports
Department of National Drug Control.
2015. November 20. Marijuana, heroin and cocaine remain the most commonly used illegal drugs in Bermuda, according to the annual report from the Bermuda Drug Information Network. The study by the Department of National Drug Control, provides analysis of trends in drug use in 2013 and 2014 according to a press release from the Ministry of National Security, it presents national data on the nature and magnitude of use and misuse of legal and illegal substances in Bermuda and represents the work of a broad spectrum of agencies and departments engaged in drug prevention, intervention, treatment, counseling, rehabilitation, enforcement, interdiction, and health. The release states: "Drug use is a difficult and complex phenomenon to monitor. This report serves the purpose of providing a comprehensive overview of the current drug situation in Bermuda using multiple sources and indicators, with the intent of providing insight into the different aspects of the drug problem." The report monitors and accounts for local drug-related information from about 30 data providers, covering some 45 drug control areas, and providing measures for more than 150 indicators. Since last year, it has expanded to include four new measures and one new survey. Drug use prevalence has remained constant among Bermuda's residents over the past ten years, with alcohol, tobacco and marijuana the most commonly used substances among the general adult population and youths, while the heroin and cocaine remain drugs of choice for problem drug users. Since 2014, drug-related crime has declined and there were no cases where drug use contributed to the underlying cause of death. Michael Dunkley, the Premier and Minister of National Security, stated: "The Government is committed to a healthier and safer Bermuda and an interconnected balancing of drug control efforts in both supply and demand reduction. Drugs continue to jeopardize the health, safety and welfare of people throughout the world; and Bermuda is no exception, as substance abuse continues to negatively impact our island extensively. Drug use prevention cannot occur unless there is change in our social attitudes toward alcohol and drug misuse." The report can be found at www.dndc.gov.bm.
Department of Parks. Ministry of the Environment.
Department of Personnel Services. Phone 297-7643.
Department of Planning. See Ministry of the Environment.

Department of Public Prosecutions (DPP). E-mail dpp@gov.bm. 2nd Floor Global House, 43 Church St., Hamilton.
2016. February 26. A new code for Crown counsel has been created for court prosecutors, the Department of Public Prosecutions (DPP) announced today. Director of the DPP, Rory Field, said the aim of the new code was to serve as an important tool for the Crown counsel in the department, as well as enhance the public's understanding of the job they do. "Prosecutors work for the public and in the public interest," said Mr Field. "Some of their work is done in open court and this often reaches a wider audience through the media. There are many ways in which individual members of the public may encounter prosecutors including as victims, witnesses, defendants or jurors trying the cases that prosecutors present in court. "Before cases reach a courtroom, however, prosecutors are occupied advising the police and making important decisions about whether people should be charged with criminal offences and, if so, what charges they should face. For obvious reasons, these aspects of their work cannot be done under the public gaze, but prosecutors should still try to explain what principles they apply when making these decisions and why. "In many countries around the world prosecutors have published codes that guide their conduct and structure their decision-making. Today Bermuda's own Department of Public Prosecutions does the same." The code is available on the DPP website shown above.
Department of Social Insurance. 30 Parliament Street, Hamilton HM 12. Phone 295-5181 extension 1117. E-mail socialinsurance@gov.bm. To access your Social Insurance contributions online for the period August 6, 2000 to August 4, 2002, click on Contributions, then Contribution Records, then enter Social Insurance Number and Date of Birth.

Department of Telecommunications.

Department of Workforce Development.
2017. May 15. The Department of Workforce Development is spearheading the development of a "National Talent Pool" for those interested in construction opportunities. "New construction projects are beginning in various places on island, and forecasts suggest that this activity could remain steady during the next five-year period," home affairs minister Patricia Gordon-Pamplin stated. "The development of a list of talented general laborers and construction workers will undoubtedly assist employers seeking work-ready individuals." She added that the construction industry recognizes the need for individuals to possess basic core knowledge and proficiency. "In this regard, the Department of Workforce Development and the Construction Association of Bermuda are organising worksite safety training courses to prepare workers. We are all aware that technology changes frequently and, as a result, there is a continuous call for a certified and skilful workforce. The Department of Workforce Development is ready to lend tuition assistance to those who are unemployed and underemployed and wish to seriously engage in programmes that will teach them best practice applications based on accredited industry standard curriculum. We are asking individuals to be open and ready to participate in a Health and Safety programme and participate in an Introductory to Craft Skills programme if applicable. We want to provide you with the best support in order to increase your chances of obtaining work opportunities in this rapidly expanding construction industry." Interested individuals should register today with the Department of Workforce Development to increase their chance of being selected to work on a current or future construction project. To register, complete an employment intake form that can be downloaded from www.dwd.bm or visit the department. Prepare a written resume — a career development officer can assist you if do not have one — and any work references. Bring a passport or any Bermuda Government issued document to evidence that you are Bermudian (voter's ID card or official letter/spousal letter from immigration).
Economic Development Committee (EDC). 2013 Bermuda Government initiative intended to cut down on the bureaucracy and move projects forward faster. Its mandate is to compress the time taken to obtain the necessary approvals for direct inward investment into Bermuda. Unwelcoming and bureaucratic procedures in the years prior to 2012 reduced the flow of inward direct investment to virtually a trickle.
Freedom of Information. See "Public Access to Information" below.
Computer Systems & Services Department, Government of Bermuda
General Post Office
Government Training, Employment Services and Labour Office. Phone 297-7716.
Government Marketing Centre - for local fruits and vegetables, at e-mail govmkt@ibl.bm.
Harbour Radio
Human Rights Commission. 2016. April 8. A fresh chapter has begun for the Human Rights Commission in its new headquarters at Milner Place, Hamilton, where the latest set of commissioners held its first meeting. Tawana Tannock, the HRC chairwoman, praised the work of the selection committee in bringing together commissioners from a broad variety of backgrounds. "I'm very pleased that we have this diverse body of 12 to help move the commission into a new era of greater independence," Ms Tannock said, referring to the HRC's official move out from the auspices of the Ministry of Community, Culture and Sports. Continuing member Jens Juul, a certified insurance arbitrator, has served on several local boards as well as operating Scandinavian Re, while new member Dany Pen, the education and communications officer for the Bermuda National Gallery, holds a special interest in women's rights, gender equality and education. New member Jonathan Young said he took inspiration from the service of his mother, Kim Young, as a commissioner; he comes from an insurance background, as well as teaching at the Bermuda College, where he was a shop steward. Carla George, a new commissioner coming from a legal background, has also served on a variety of boards, including CedarBridge Academy, the Bermuda Hospitals Board and the Board of Education, and gave education as one of her main interests. Returning commissioner Kim Simmons, a corporate attorney, expressed a broad interest in human rights, particularly in how the topic was perceived by young people. Ms Simmons said she looked forward to continuing her advocacy for persons with mental disabilities. Donna Daniels, a former teacher and principal of Dellwood Middle School, is also executive director of the Adult Education School. Ms Daniels gave education as her "passion", along with the protection of the vulnerable, the links between unemployment and poverty, and issues concerning mental health. New member Ben Adamson, a lawyer with 15 years' experience, has served as a human rights mediator for the past six years, while Quinton Butterfield, also new, works in the Bermuda Government's information technology office. Mr Butterfield said he looked forward to seeing the island "move forward on marriage equality, gender equality and gender identity", and gave another interest as education and advocacy on the topic of human rights. Absent from the gathering were members Carolyn Thomas Ray, Franklin Fahnbulleh, and deputy chairman John Hindes.
Immigration Appeals Tribunal. An independent tribunal on immigration matters. See Bermuda Government Boards. The House of Assembly passed legislation establishing the tribunal in July 2011. It is designed to make the final decisions on grievances relating to issues such as Bermudian status, permanent residency and work permits. There are 12 members of the panel, revealed in the Official Gazette in February 2012. The chairwoman is lawyer Victoria Pearman, and other members include lawyers Tim Marshall, John Barritt and Shaun Morris, former Premier Alex Scott and former Civil Service head Kenneth Dill.
Information Technology Office (formerly CSSD)

Land Title Registry Office. 3rd Floor, Victoria Hall, 11 Victoria Street, Hamilton HM11. Mailing Address: PO Box HM 1545, Hamilton HM FX. Tel: (441) 294 9260. Fax: (441) 296 1324. Email: landtitleregistryoffice@gov.bm. Web: www.ltro.gov.bm
Land Valuation Office. See Ministry of the Environment.

London Office. 6 Arlington Street, Westminster, London SW1A 1.

Ministers and Parliamentarians Salary Review Board. Set up by legislation enacted in 2005 in an effort to end the recurring controversy that flares up every time MPs vote for a pay rise for themselves.
Ministry of Finance.
Ministry of Education
Ministry of the Environment. Government Administration Building, 30 Parliament Street, Hamilton. Phone 297-7590, fax 292-2349. Main departments are Department of Planning, Land Valuation Office, Department of Parks, Department of Conservation Services and Department of Environmental Protection (e-mail agfish@ibl.bm).
Ministry of Telecommunications & E-Commerce. From September 17, 2001, it is at the F. B. Perry Building, 40 Church Street, Hamilton HM 12, P. O. Box HM 101, Hamilton HM AX. Telephone (441) 292-4595. Fax (441) 295-1462. E-mail gtelecom@gov.bm.

National Anti-Money Laundering Committee. Office of the National Anti-Money Laundering Committee, 4th Floor of Global House on Church Street, or by email to info-NAMLC@gov.bm.2016. July 15. Attorney General Trevor Moniz presented a draft consultation copy of the Bribery Act 2016, which details plans to modernize Bermuda's laws on corruption and bribery. Mr Moniz, the Minister of Legal Affairs, noted that, through the Office of the National Anti-Money Laundering Committee, he had committed to tabling consultation draft legislation in July of this year. The Bribery Act 2016 was modeled largely on the UK's Bribery Act 2010, said Mr Moniz. "The Act would provide a modern and comprehensive scheme of bribery offences, in order to allow investigators, prosecutors and the courts to tackle bribery effectively whether committed in Bermuda or overseas. The Act would help to enhance Bermuda's international reputation for the highest ethical standards." Outlining the Bribery Act in the House of Assembly this morning, Mr Moniz said it would create the following new offences:
one general offence of bribery covering the offering, promising or giving of a financial or other advantage;
another general offence covering the requesting, agreeing to receive or accepting of a financial or other advantage;
a specific offence of bribing a foreign public official;
a specific offence of failure by a commercial organisation to prevent bribery, although it is a defence if a commercial organisation can prove — on the balance of probabilities — that it had 'adequate procedures' in place to prevent persons associated with it from bribing;
a specific offence of failing to fulfil a duty to report bribery, such duty arising where a person exercising functions on behalf of a public authority is offered or receives an advantage which may constitute bribery; and
a specific offence of interfering with such a duty to report bribery.
Office of Project Management and Procurement. The code can be found at https://www.gov.bm/department/office-project-management-and-procurement. The public was invited to submit their comments by no later than 31 January 2017, to procurement@gov.bm. Once finalized, the code will be added to the island's good governance framework, and followed by all public officers. The document outlines how civil servants procure goods, services and works on behalf of the people of Bermuda. It will impact service providers to the Government, including, contractors and vendors and put in place "full transparency, fairness and openness in the tendering process", as well as demonstrating value for money.
Office of the Ombudsman for Bermuda. Bermuda Government appointed.
Office of the Tax Commissioner, F. B. Perry Building, 40 Church Street, Hamilton HM 12. Telephone (441) 297-7750 or 297-7751 or 297-7891 or fax (441) 296-5406. or e-mail taxenquiry@gov.bm. Payroll Taxes payable by Employers who usually pass 50% of the cost to their Employees. You can now pay Payroll Taxes online. A wide range of other taxes can also be paid here.

Ombudsman. See under Office of the Ombudsman.
Parliamentary Registry
Progressive Labor Party
Public Access to Information (PATI) Act 2010.
Registrar of Companies
Registrar General. For birth, marriage and death certificates, to patent a product or copyright material.
Road Safety Council. See Bermuda Government Boards.

Sage (Spending and Government Efficiency) Commission. See https://sagecommission.bm/. Can also be regarded as the Savings And Government Efficiency Commission.

Tax Information Exchange Portal. 2017. June 16. The Bermuda Government created a new portal that meets the island's obligations under automatic exchange of tax information agreements. Bob Richards, the Minister of Finance, said the Tax Information Reporting Portal was essential for the island to adhere to international compliance standards and to protect its status as a financial centre. The new portal will enable overseas tax authorities to access tax information on individuals and multinational companies and was borne out of international agreements designed to clamp down on tax dodging. "Today's launch of Bermuda's automatic exchange of information (AEOI) portal is a milestone in protecting Bermuda as a leading international financial centre," Mr Richards said. "It is impossible to remain a viable centre in today's compliance climate without conforming to the Organisation for Economic Cooperation and Development AEOI regime, especially as it is required by both the European Union and the G20 to meet their standard for international co-operation on tax matters." The new rules mandate how countries collect information on the financial account information of individuals and also operations of multinational companies, to the benefit of interested tax authorities. The new portal confirms the island is meeting its obligations under the OECD CRS (Common Reporting Standard) and OECD CbC (Country-by-Country) AEOI regimes. "Bermuda is an AEOI Early Adopter jurisdiction, meaning that Bermuda's portal will receive year 2016 CRS and year 2016 CBC information from Bermuda persons and share the information with all countries that are also AEOI Early Adopters for year 2016 CRS and CBC information," Mr Richards said. "Many of the large countries are latecomers by only collecting and sharing under the OECD AEOI regime starting with either year 2017 information or year 2018 information. This includes some of the EU, G20 and OECD countries — some of the very countries promoting these very standards." The Ministry of Finance statement added: "Bermuda is the first UK Overseas Territory to join the OECD Base Erosion Profit Shifting committee known as the Inclusive Framework. Bermuda has also initiated renegotiation of all four of its double-taxation agreements to revise them to the standard articulated by the Multilateral Convention to Implement Tax Treaty Related Measures to Prevent BEPS." Reporting persons can now access Bermuda's Tax Information Reporting Portal at www.gov.bm
Transport Control Department. North Street, Hamilton.

Tynes Bay Waste Treatment Facility. Metal waste should not be included in loads of burnable waste delivered here. The Ministry of Public Works has advised metal items can cause substantial damage to the facility, causing shutdowns which result in a build-up of burnable waste and the inability to produce electricity. A facility spokesman said in a press release: "It's understandable that small metal items can mistakenly become commingled with burnables when hauling a large load of waste. However, just recently, a boat engine was included in a load with burnable items. Had this item been overlooked at the facility, costly damage and a lengthy shutdown period would have resulted." All waste facilities in Bermuda operate under licences that regulate the types of waste items accepted, according to the press release. Licences are renewed annually and are in place to ensure compliance with environmental standards. Truckers and members of the public who try to circumvent these regulations put ministry staff, Bermuda's environment and public health at risk. To learn more about the Tynes Bay facility visit www.gov.bm/garbage-and-recycling or call 296-0673
Weather. See Bermuda Weather.

Washington Office. 2017. March 15. Bermuda's Washington, DC office is being phased out in a switch from a "bricks and mortar presence" to greater use of lobbying, Michael Dunkley told legislators. While delivering the Budget brief for Cabinet, the Premier noted that an allocation of $206,000 had been estimated for the facility in the 2017/18 year, to cover rent, insurance and utilities until the Ministry of Public Works could find a sublet, since several years remain on its lease. "Given the recent change in US Government under the Trump Administration and the proximity to Capitol Hill, the prospects of renting the prime location are quite high," Mr Dunkley added. The island would also be able to leverage its position via the efforts of Bermuda's external affairs strategic planning committee. David Burt, the Leader of the Opposition, responded that the Progressive Labour Party did not believe the closure was in the best long-term interests of the country. "We are going to have to agree to disagree on that," Mr Dunkley answered, telling the House that while there had been good promotional and tourism work achieved from the DC office, such moves were better undertaken by the Bermuda Tourism Authority. Parliament was also told of the Government's longstanding ties with the Ken Levine, the Washington lobbyist, going back "at least two decades". There was $100,000 allocated to Levine & Company for 2016/17, but with the potential for an impact on Bermuda through US tax reforms, an incremental $150,000 has been allocated for 2017/18. The consultant's hourly rate is $550, Mr Dunkley said, in response to questions from the Opposition. The Premier said $281,000 would be spent in the present fiscal year, with $290,000 spent the year before, and $218,000 spent before that. "The high was in 2008, when $409,000 was spent on that consultant," Mr Dunkley said, adding that unless consultants were kept on "a short leash" it was easy to rack up charges. 2009, September. Established to coincide with Government's attendance at the Congressional Black Caucus Foundation Weekend in DC and to "immeasurably strengthen the links" between the Island and the USA, at a cost to Bermuda taxpayers of $58,328 to set up and renovate, almost $180,000-a-year to lease and allocated $321,000 in the Bermuda Government's 2010-2011 budget paid by taxpayers, with much more in the 2011-2012 Budget. It was intended that staff would be based there and would work with Congressional staffers to further Bermuda's interests in the States, particularly in relation to tax issues. The office, which is seven blocks from the US seat of government, is at third floor, Liberty Place, 325 Seventh Street NW, close to Capitol Hill. It is for use by Government ministers and senior officials and will provide a localized source of information and key contact personnel at the disposal of Congressional staffers charged with briefing and preparing legislators.

West End Development Corporation (Wedco). See http://www.thewestend.bm. A government quango, formed to redevelop the former Royal Navy Dockyard). P. O. Box 415, Somerset, Mangrove Bay MA BX. Phone (441) 234-1709. Fax 234-3411. E-mail marketing@wedco.bm. Dockyard. Established in 1982 to manage and develop 214 acres of Government-owned land in the West End, including Watford Island, Boaz Island, Ireland Island South and North, the small islands forming the Crawl off Ireland South and the North and South basins and breakwaters. Revenue is generated from residential and commercial tenants plus berthing fees from the commercial and cruise ship docks. Mega cruise ships now dock near there. Recent work carried out by Wedco at Dockyard includes the installation of a reverse osmosis plant, the relocation of the marina and the development of ten residential units. Future planned developments include the Victualling Yard, Casemates, the South Basin and the Parsonage.
Voters of Bermuda and non-citizens who can never vote
2014. June 13. Government has launched a last-minute appeal to a landmark ruling which enabled two Permanent Residents Certificate (PRC) holders to obtain Bermuda status. And according to Attorney General Trevor Moniz, the Department of Immigration has been inundated with applications from residents seeking status since last months decision by Chief Justice Ian Kawaley. Mr Justice Kawaley upheld an earlier ruling by the independent Immigration Appeal Tribunal, which directed the Ministry of Home Affairs to grant applications for Bermuda status by long-standing PRCs Rebecca Carne and Antonio Correia. Status was granted under section 20B of the Bermuda Immigration and Protection Act 1956. Outlining Government's reasons for the appeal, Mr Moniz said that the two applicants had been advised correctly in 2012 that there was no procedure to submit a request for status under the 20B section of the Act but that amendments to the law had created this unique circumstance. In spite of this advice, applications were subsequently submitted to the Minister in 2013 at which time the Minister rejected the applications on the basis that there had been no pre-approval for Bermudian status under the Act, Mr Moniz said. Notwithstanding, the Ministers decision was overturned by the Immigration Appeal Tribunal (the IAT) with the matter eventually being appealed in the Supreme Court in January of 2014 with the Chief Justice ruling in favour of the applicants and stating in his summation, the decision of the IAT directing the Minister to grant the Respondents applications for Bermudian status is accordingly affirmed. This judgment now meant under the current legislation, a pathway to status for PRC holders was now possible. In essence, the Supreme Court ruling says that if a PRC holder submits an application for naturalization to become a British Overseas Territories Citizen (BOTC) (Bermuda) to the Department of Immigration at the same time he/she submits an application for Bermudian status under Section 20B (2)(b) of the Act, and the Minister supports the naturalization application which is subsequently approved by the Governor, the Minister must, save for various circumstances as set out in the Act, grant the applicant Bermudian status under the said section. And while this provision has existed for many years, it only came to light as a result of the original PRC legislation which would appear the previous Administration did not grasp the fact that provisions in the Act that were amended in 1994 would have this effect upon the introduction of PRC legislation in 2001. In essence, the PRC legislation has seemingly created this unique circumstance. Mr Moniz said that a flood of status applications had been made in the last month, with 115 residents becoming naturalized. Mr Moniz added that a further 1,340 residents were eligible to make an application for naturalization. Notwithstanding the anomaly in the legislation, the Ministry has sought the advice from a the Attorney-Generals Chambers as well as a Queens Counsel in the United Kingdom on the merits of appealing the Supreme Court judgment, Mr Moniz said. Whilst the advice received following an exhaustive review of this judgment by the aforementioned Counsel was not entirely favorable as far as the judgment being successfully overturned, the Ministry has nonetheless filed an appeal in this matter to the Court of Appeal which will allow the opportunity for further Government review of the matter.

2014. June 7. Around 1,500 residents stand to obtain Bermuda status thanks to a recently discovered immigration loophole, affirmed in a ruling by Chief Justice Ian Kawaley. And it was claimed in the House of Assembly, as MPs clashed over the rulings implications, that a slew of Permanent Residents Certificate (PRC) holders have already applied to Immigration to get Bermuda Status. However, Government has declared that all current applications have been put on hold until the matter is clarified. Attorney General Trevor Moniz told MPs yesterday that Government had reached no decision yet over the surprise ruling, which could still be appealed further. However, he said the One Bermuda Alliance refused to back a premature amendment proposed by the Opposition to strike down the culprit section of the law. In the meantime, Junior Immigration Minister Sylvan Richards told the House that Government had enlisted a Queens Counsel with a specialty in human rights law to review the case. The debate touched also on long-held sensitivities over the history of discretionary status grants, which were discarded in 1989. Introducing the amendment for its second reading was Shadow Minister of Immigration and Home Affairs Walton Brown, who called it a stopgap measure that allows us to step back and fully consider the most appropriate immigration policy for this country. Otherwise, he said, Mr Justice Kawaley's ruling has created a situation in which legislation was decided by a judge instead of by Parliament. The occasionally stormy debate saw Progressive Labour Party MP Walter Robain tell Government to tread carefully, adding: "There are a whole lot of hypotheses about the purpose of this." Shadow Health Minister Kim Wilson warned the OBA that "Bermudians were listening, and listening very intently" while PLP MP Glenn Blakeney, accusing the OBA of already having its mind made up, told Government: "I warn you, it will be at your peril." However, Mr Blakeney got a reprimand from Speaker of the House Randolph Horton when he said: "This situation, for political expediency, to increase the voting registry, is exactly what's intended by the OBA." The Devonshire North Central MP subsequently withdrew his remark. The five-hour debate emanated from a ruling in May, in which Mr Justice Kawaley upheld a decision by the Immigration Appeals Tribunal for PRC holders Rebecca Carne and Antonio Correia to win full status. In so doing, the Chief Justice ruled against Governments repeated appeal of the Tribunals decision, and many PLP MPs questioned why the OBA didn't support the Opposition legislation after Government had contested the status move in court. However, the Attorney General said "Government's motive for the appeal had been to obtain clarification from the Chief Justice's ruling. The position of this side is that its premature to decide exactly what the ramifications of this decision are." According to the Department of Immigration, there are 1,340 PRC holders who potentially qualify, plus 150 children under the age of 22 at the most, he said. The loophole technically became active in 2002, when the PLP government introduced PRC legislation but the significance of the obscure clause 20B (2) (B) of the Act was only recently spotted. Ms Wilson urged Government to support Mr Brown's amendment, calling the status ruling a clear case of what is known as judge-made law. "It's an application or interpretation of the law that is contrary to the intent of Parliament," she said, accusing the OBA of opposing the amendment solely because it was raised by the Opposition. We're talking about 2,000 people that, at the discretion of the Minister, can get Status tomorrow with the flick of a pen." But Tourism Minister Shawn Crockwell responded that "status in this case rested on eligible PRC holders meeting the criteria of immigration law. It's not a matter of one individual making arbitrary decisions, saying I want this person to get status," Mr Crockwell said, characterizing it as primarily a human rights issue. We're not talking about people who just showed up here, these are people who have been in this country for at least 25 years. These are our neighbours, these are our friends." The Attorney General told MPs he agreed with Opposition concerns over the numbers of people who could become full status Bermudians. Pointing out that even 1,000 people was a very large percentage on Bermudas scale, Mr Moniz said people were entitled to be emotional about it, particularly in light of the difficult financial circumstances the country finds itself in. While Government didn't support Mr Brown's proposed amendment, the AG promised: "This will be before the House in the not too distant future." Opposition leader Marc Bean who compared the OBA to prostitutes said that the loophole had been created under a PLP Government, and it was the party's intent to close it. "It's a loophole that the One Bermuda Alliance is looking to exploit, it's clear." Public Works Minister Patricia Gordon-Pamplin hit back: "To be told we are nothing more than ladies of the night willing to be sold for 30 shekels is disgusting." And she dismissed as ridiculous that the OBA intended to exploit the legal loophole for political ends. Ms Gordon-Pamplin said Government would not support the bill "because of the fact we would like the Opposition to recognize we can put in abeyance any applications which have been made until the implications of the ruling had been discussed, and grounds of appeal to the Privy Council were considered."

March 9, 2007. Efforts by an Opposition Minister to persuade Government to provide absentee voting at the next general election - in the same way absentee voting is not only allowed but encouraged in the USA, Canada, United Kingdom and Europe has has been for some time - were defeated. Then-Shadow Minister for Legislative Reform and Justice John Barritt moved, without success, a motion in the House asking for the facility help the housebound, those on vacation, and also Bermudians studying and working abroad but with ownership or co-ownership of homes in Bermuda. Why? Because presently in Bermuda, strict voting laws bar people from voting if they have lived away for more than six months. Checks are made to see if Bermudian voters were still resident or just flying in. Many Bermudians want to come home and vote who live abroad but cannot, despite being Bermudian and having an ongoing Bermudian connection. Under Bermuda's archaic laws they are longer entitled to vote.

Bermuda's strict laws barring votes from those who had spent a relatively short time away need to be changed. Especially as for Bermudians, irrespective of whether they live full-time or part-time abroad but own or part-own a home in Bermuda, they appear to be fully entitled to vote in Bermuda under both Bermuda's Human Rights Act and under UN law. In the UK, British voters can be gone for up to 15 years before they lose the right to vote in UK national elections and European Union elections. Bermuda's six month limit is far too short and was one of several aspects of electoral law which needs to modernized. It means that Bermudians who are students abroad cannot vote if away from Bermuda for more than six months at a time. Presently, absentee ballots are not allowed to registered voters if they are off the Island at the time of an election or the day of the advance poll — which is just a week or so before the election - a democratic right common in other countries. In the United Kingdom every British citizen who has been registered to vote in the UK within the last 15 years is eligible to vote. If now living overseas, for example in Bermuda, they can vote in General elections (for the UK Parliament) and European Parliamentary elections. They don't have to go all the way back to Britain to do it, as when they register in the UK they have the choice of voting by proxy, post or in person if they happen to be in the UK on election day.

In most British Commonwealth countries, to be eligible to vote there are only three conditions, namely you must be: a citizen; at least 18 years old, and ordinarily resident at a particular address or deemed to be sometime or full-time ordinarily resident at and/or an owner or co-owner of a property in a specific constituency.

Also see under Bermuda Citizenship.

Bermuda voters in general and other elections or referenda are at least 18 years old and are either Bermudian by birth or status, or non Bermudians, long term residents of Bermuda for decades, citizens of the (British) Commonwealth of Nations, who were otherwise registered and qualified to vote in 1979, have remained residents since then - and, like Bermudians - have registered to vote.

Most - about 78% - residents were born in Bermuda of Bermudian parents (or a Bermudian parent) and are Bermudian. Elsewhere, automatic citizenship applies to all children born there. But children born in Bermuda, without either parent being Bermudian by birth or status at the time, are not Bermudian. They are NOT allowed to register to vote in any election after they become 18 years old. All British Commonwealth of Nations nationals including Australians, Britons, Canadians, New Zealanders and West Indians and all other non Bermudians of good character and reputation who have been long term residents of Bermuda for 20 or more years but were refused Bermuda status if they applied for it and were not registered to vote in 1979, are NOT allowed to register to vote. There is no longer any mechanism providing for any other individuals who may be also be long term residents of Bermuda, but who do not have close family ties with Bermudians, to become local citizens. Without this designation, they can never vote. And because they cannot, nor can they ever own mid priced real estate by Bermuda's standards. They are limited to the top 5% in price and Annual Rentable Value (ARV).

Under Bermuda law, the only people who are irrevocably Bermudian are those born here with at least one Bermudian parent. Those not born here from a Bermudian parent have conditional Bermuda status. They must have received it officially before 1991 (no longer issued except in the special 2002 cases mentioned below) to spouses and children of Bermudians) by virtue of residence.

Citizenship is not given to any non-national unless he or she marries a Bermudian and stays married to and lives with that Bermudian for at least 10 years and then applies for citizenship and receives it.

Non-Bermudians not allowed to vote - even when they have been model residents in every way for years - are mostly from the USA, Britain, Canada, Caribbean and Europe, but some are from Africa, Asia, Australia, New Zealand, Philippines and elsewhere. Without citizenship, persons also cannot buy any real estate as Bermudians can if they can afford it; are limited to the top 5 percent of property in assessed value and must pay a substantial purchase tax on top of other taxes; cannot obtain any local scholarships from any organization; and if of employable age are not allowed to take any employment but are limited to the kind of employment on a Work Permit approved by the Immigration authority of the Bermuda Government.

Minor concessions were granted in 2002 to some non-Bermudians with over 20 years of continuous residence and demonstrated good character and conduct. They were given Permanent Residents Certificates (PRCs). They took effect on October 31, 2002 with the enactment of the Bermuda Immigration and Protection Act 2002. However, PRC holders (i.e. Bermuda residents of more than 20 years) still have to pay Land Tax as seniors, unlike most Bermudians who don't; cannot purchase properties with the same lower ARVs (see below) as Bermudians and have to pay the 25 percent foreign ownership tax; cannot vote and do not have access to HIP and FutureCare. Having a PRC will provide security of employment and residence to long term residents. But having either a PRC or WRC (see below) does not entitle any non-Bermudian to buy lower or mid-priced real estate. They continue to be limited to the top 5% in price and Annual Rentable Value (ARV).

In January 2012 the situation re PRCs got worse in some respects in the vexed question of who might be entitled to Permanent Resident's Certificate (PRC) status in Bermuda. Before then, PRC status was possible only for spouses and children of PRC holders. Until 1st August 2010, a work permit holder who landed in Bermuda before 31st July 1989 and continued to reside in Bermuda for 20 years after that date was eligible to make application for PRC status. In January 2012 Government introduced a PRC initiative designed to encourage international companies to set up or remain in Bermuda. It is currently the only way to achieve PRC status and is open only to chief executive officers (CEOs) and senior executives. The Incentive for Job Makers Act 2011 ("IJMA") came into force on 1st January 2012, amending the Bermuda Immigration and Protection Act 1956 ("Immigration Act") and the Economic Development Act 1968. The IJMA permits employers to apply for designation under the terms of the IJMA allowing application to be made for an exemption to work permit requirements and, after ten years, for the work permit holder to apply for a PRC. There is a three-step process that must be followed and the criteria are strict. First, according to IJMA, the CEO must apply for designation as a company whose senior executive employees can apply for exemption from Part V of the Immigration Act. The criteria for designation include that the employer (referred to as 'the company') must have at least 25 persons on staff who have Bermudian Status and who are employed at all levels in the company. The company must provide entry level positions to those persons with Bermudian Status and also must have programmes in place to develop and promote those persons with Bermudian Status. Finally, the company must not have employment practices that have regularly required the intervention of the Labour Relations department or Human Rights Commission. Once the criteria have been established and the application made the Minister responsible for making the designation must consider five matters: the size of the company applying, the significance of the company to the economy of Bermuda, the existing or likely economic situation in Bermuda, the protection of local interests and, generally, the interests of the community as a whole. The Minister also has the power to consider lowering the number of persons with Bermudian Status that a company must have on its staff to qualify. Therefore it may be possible for companies with fewer than 25 such persons on staff to apply for designation the conditions for considering a lower number will likely follow those matters the Minister will have to take into account in any event. Should a company be successful in applying for designation, a senior executive will be eligible to apply for exemption from Part V and that application shall be considered by the Minister. Thereafter, the Minister's recommendations regarding the application shall be considered by a Cabinet Committee for determination. The Minister and the Cabinet Committee will need to be satisfied that an applicant meets further criteria, which includes confirmation of the designation of the company, that the applicant is indeed a senior executive, that the applicant is responsible for making decisions that are critical for the company continuing in Bermuda, that continuity must be dependent on the senior executive remaining in Bermuda, that the senior executive continued employment during the exemption/designation period, and that the company is continuing to meet the conditions for its designation. The company can apply for up to five employees to be exempted at any one time. The Minister has to be satisfied, however, that there is no person in Bermuda with Bermudian Status having sufficient qualifications and experience to efficiently undertake the work concerned. Once the senior executive has been granted the exemption he/she will be deemed eligible to apply for a PRC. In the meantime the senior executive will receive a certificate of exemption in place of a work permit, the cost of which will be $20,000. This certificate must be produced on re-entering Bermuda. Once that process has been completed the third step is to apply for the PRC itself. To do so, the senior executive must have been ordinarily resident in Bermuda for ten years. For those who were ordinarily resident in Bermuda before 1st January 2012, the ten-year qualifying condition may be reduced correspondingly with any period of ordinary residence since 1st January 2005. Therefore, the first such application for a PRC under the IJMA will be possible from 1st January 2015. The application fee for the PRC will be $120,000 such fee can be amended from time to time.

Having a qualifying Bermudian connection, such as marriage to a Bermudian of the opposite sex, is key to getting Bermuda Status (citizenship) after 10 years. Otherwise, there is no chance at all of getting it. All others can apply for Permanent Resident Certificate (PRC) if they qualify. So far, some 800 persons have done the latter. Application criteria include being ordinarily resident in Bermuda before 31 July 1989 and for a period of 20 years immediately before application; are at least 40 years of age; and are of good character and conduct. Their full names, addresses, parishes and postal codes are published in the Official Gazette. Those with a Working Resident Certificate (WRC) - introduced in 1998 - must still apply for a PLC as some years have passed since they proved their eligibility.

All other applicants for the PRC must also demonstrate good character and conduct and must prove that he or she was ordinarily resident in Bermuda before August 1, 1989 and be at least 40 years old on the date of application.

In most other countries, persons of good character born elsewhere who wish to become citizens can do so after 3-5 years, do not need a qualifying local connection; and can buy any real estate they wish, at any price.
Voter statistics
2017. July 18. Immediately prior to the General Election, there were 46,678 registered voters, about 60 percent of Bermuda's total current population. As soon as local citizens become at least 18 years old they can register to vote.


Last Updated: November 17, 2017.
Multi-national © 2017 by Bermuda Online. All Rights Reserved.