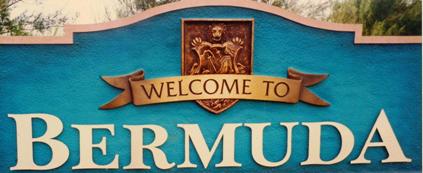 11145 web files about the internally self-governing British Overseas Territory of Bermuda in a comprehensive, constantly updated Gazetteer. Accommodation, aircraft registry, airlines, airport, America's Cup 2017, apartments, art, banks, beaches, Bermuda citizenship by Status, Bermuda Dollar, Bermuda Government, Bermuda-incorporated international and local companies, Bermudians, books and publications, causeway, charities, churches, City of Hamilton, commerce, communities, credit cards, cruise ships, culture, cuisine, currency, disability accessibility, Devonshire, districts, Dockyard, economy, education, employers, employment, entertainment, environment, executorships and estates, fauna, ferries, flora, former military bases, forts, gardens, geography, getting around, golf, government, guest houses, history, homes, Hamilton, House of Assembly, housing, hotels, immigration, import duties, insurers and reinsurers, international business, internet access, islands, laws, legal system, legislation, legislators, location, main roads, magazines, marriages, media, members of parliament, motor vehicles, municipalities, music, nearest mainland, newcomers, newspapers, organizations, parishes, parks, Paget, Pembroke, permanent residents, pensions, political parties, postage stamps, public holidays, public transportation, railway trail, religions, retailers, Royal Naval Dockyard, Sandys, Smith's, Somerset, Southampton, St. David's Island, St George's, senior citizens, shipping registry, Somerset, Spanish Point, Spittal Pond, sports, taxes, telecommunications, time zone, traditions, tourism, Town of St. George, Tucker's Town, utilities, water sports, Warwick, weather, wildlife, work permits.

Bermuda's Hamilton Parish
Explore this historic main island county geographically between the City of Hamilton and St. George's

By Keith Archibald Forbes (see About Us) exclusively for Bermuda Online
About Hamilton Parish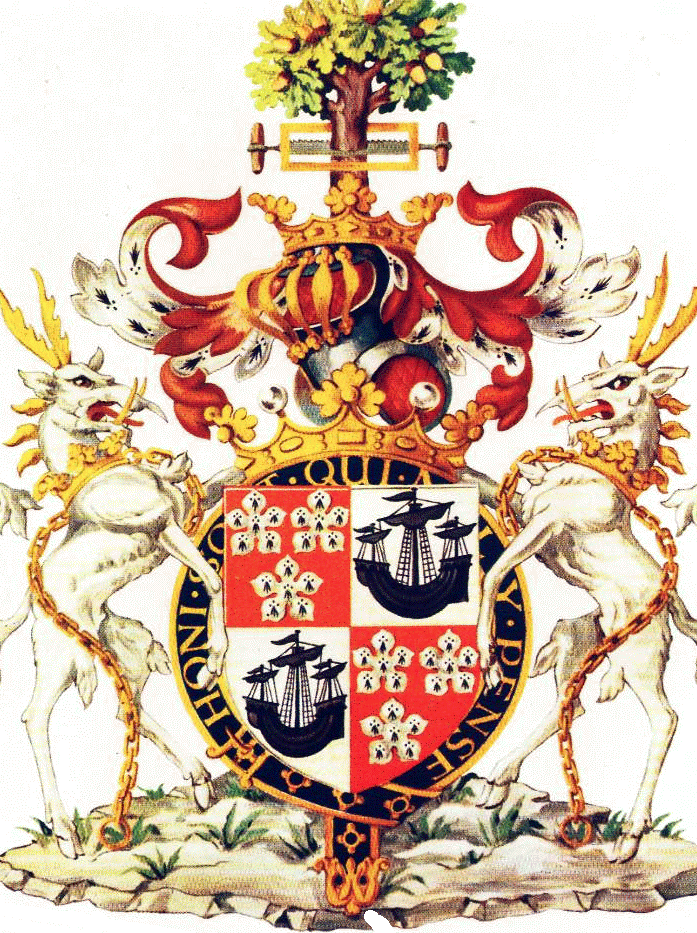 Part of Hamilton Parish's crest, from that of the 2nd Marquis of Hamilton. His coat of arms, copyrighted by his family, members of which still exist today, is exactly what is shown on Bermuda's Hamilton Parish crest. Used with exclusive permission from the copyright owners. Do not copy.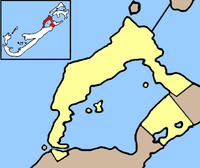 Book: Bermuda's Architectural Heritage: Hamilton Parish. Diana Chudleigh. 2002, Bermuda National Trust. 4th in its historic buildings book series. 230 pages. Illustrated with B&W photographs. $29.95.
Hamilton Parish was not the original name. It was Harrington Tribe, after and a slight misspelling of Lucy (nee Russell) Harington, or Harrington.. She was born in 1580, the daughter of Sir John Harington of Exton and died in 1627. She spoke French, Italian and Spanish. On December 12, 1594, at the age of nearly 14, she married Edward Russell, 3rd Earl of Bedford, then 22. She was a wealthy and influential woman, a major aristocratic patron of the arts and literature in the Elizabethan and Jacobean eras. Some have referred to her as the universal patron of poets. (Part of the Parish and a local Government run school have Harrington in their name. (Another historical narrative shows, wrongly, a point that has never been corrected, that this parish was once called Bedford Tribe, after the Duke of Bedford, her husband. It was never called that).
After the financial misfortunes of herself and her husband came another wealthy aristocratic patron, James Hamilton (1589-1625), 2nd Marquis of Hamilton in the Scottish peerage. He bought out Lucy Harington's interests. The Scottish town of Hamilton, not far from Glasgow, was named after his family's extensive land holdings He was one of the many Scots peers who accompanied King James VI of Scotland and first of England to London when he ascended the throne on the death of Queen Elizabeth 1 in 1603. He was one of the gentlemen Adventurers who invested in the Bermuda Company to colonize it from 1615. As he was the largest shareholder in the original Hamilton Tribe, it took his name and the parish bears his coat of arms of the time. Loyal Hamilton was once proposed as a husband for the King's daughter. In 1620, he became a member of the Council for the Plantations of New England and later was rewarded as a Knight of the Garter. He died of a malignant fever in 1625 and his death is said to have hastened that of his Royal friend.
His son and heir was executed for treason in 1649, his title reverted to his brother William and on his death in 1651, to his eldest surviving daughter Anne, Duchess of Hamilton in her own right.
British Governor William Hamilton, after whom Bermuda's City of Hamilton eight miles away from this parish is named, was related to this Scottish House of Hamilton. There is still a Duke of Hamilton.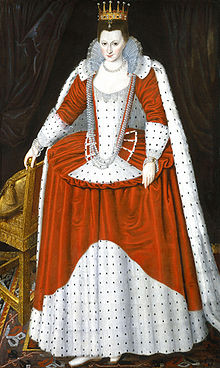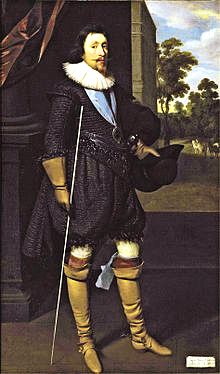 Lucy Harington and James, 2nd Marquis of Hamilton
Early settlers called the Parish or Tribe Bailey's Bay. In 1623, adventurer Captain John Smith, famous in American, Bermudian and British history, encountered many spooky caves in this Parish. It is unrelated to the City of Hamilton eight miles away. It is Bermuda's second most eastern Parish, on the North and South Shores. It has deep water limestone caves, with subterranean passages. They have stalactites and stalagmites of Gothic grandeur. They began during the Pleistocene Ice Age. Sites include the Crystal Caves and the Grotto Bay Hotel's Cathedral and Prospero's Caves.
Altogether, there are 10 accessible caves in Bermuda that have sea water pools with a maximum depth of 80 feet given tidal variations. Most are in this Parish
Constituencies in the Parish
Hamilton East
Hamilton West
Hamilton South
Abbott's Cliff Park
Sometimes called Abbott's Head, it is on the north side of Harrington Sound. It was added to the Bermuda National Parks & Nature Reserves system in the latter part of the year 2000. Abbott is an old Bermudian family name. The park is in two separate areas of land, one of 5.61 hectares (13.86 acres) and the other of 1.77 hectares (4.36 acres), for a total area of 7.38 hectares or 18.22 acres The cliff is reputed to be all that remains of a huge prehistoric cavern. There is a sheer wall of limestone between My Lord's Bay and Church Bay. It includes Abbott's Cliff Road and Abbott's Crescent. The park has splendid walking along unmarked trails and lovely frequent views of Harrington Sound and its islands. Most visitors are unaware of the scenic beauty of Bermuda as it once was on this walk and the great variety of plants they can see.
Bailey's Bay
Bus routes 10 and 11 service the area. This small bay is off the North Shore Road, opposite Bay Island. But it's also the local residential area that encompasses Bailey's Bay itself and the area south and east of it, including the Crystal and Leamington Caves, Fractious Street, Swizzle Inn, Trinity Church Road and the Church itself. Nearby are several coastal park like areas, a public dock and small public beach. Plus, from this public beach, gazing north, one can easily see - and swim to - Bay Island (see "Islands") with its nice beach.
Bermuda Aquarium, Museum, Zoo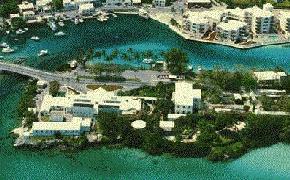 40 North Shore Road, Flatts FL 04. Phone (441) 293-2727. A major Bermuda attraction, suitable for all the family. Next to Flatts Bridge, where the Atlantic Ocean flows into First Flatts Inlet and then the inland Harrington Sound lake. It dates back to the first decade of the 20th century when scientists from distinguished American universities set up a summer camp to carry out oceanographic research at Bermuda. A local sister organization known as the Bermuda Natural History Society, established in 1901, provided a year-round aquarium for the scientists. It began at Agar's Island (see Bermuda Islands) and moved from Agar's Island to its present location in 1926 when the two groups split.
Today, The Aquarium, Museum and Zoo have fascinating displays of animal, aquatic and marine life and natural history. The Aquarium alone, pictured above, is superb. You could easily spend the best part of a day here, whether you arrive by air or cruise ship. An admission fee applies.
Bermuda sea shells. The largest and most complete collection of Bermuda shells to be found anywhere in the world was donated in October 2001 to the Natural History Museum at the Bermuda Aquarium, Museum and Zoo. They were collected by retired Bermuda banker Jack Lightbourn and his late colleague and friend Arthur Guest since 1965. There are about 7,700 species in all.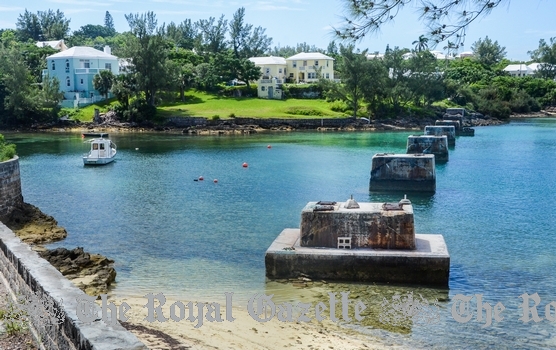 The Bermuda Railway once passed over these remnants of a Bailey's Bay, Hamilton Parish, bridge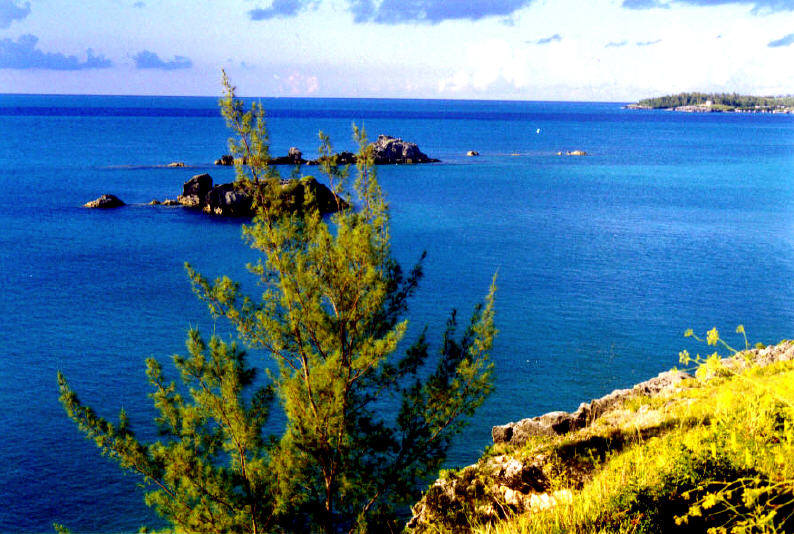 One of the magnificent views from the Hamilton Parish part of the Railway Trail. Photo by author Keith A. Forbes, solely for Bermuda Online
Blue Hole Hill Park and Walsingham Nature Reserve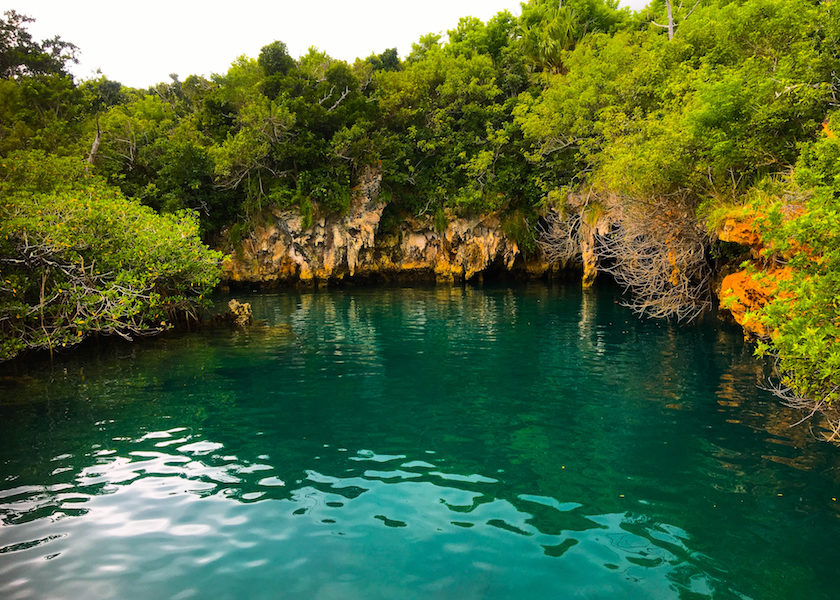 Entrance to the first is where Blue Hole Hill meets the Causeway. Take Bus routes 1, 3, 10 or 11 to the Grotto Bay Hotel bus stop. It is a Bermuda Government preserve, a public park, with parking. Blue Hole Park, once (in the 1960s and 1970s but long since gone home to a popular Dolphin Show), is honeycombed with caves, including a cave mouth called Causeway Cave and caverns along the shoreline filled with seawater. A land and sea park treasure. Bring a swimsuit and towel, sandwiches and a drink. See pools for bird watchers and walking trails. Access the sea amid glades of mangroves. At high and low tides, there are places to swim but not much beach at high tide. Wear old sneakers to avoid submerged rocks or clam shells. Avoid where the sand blends into deep mud and sink holes.

Follow the coastline to your right. See caves with their access almost completely hidden. Some have deep water pools. Further south, the park merges with the large Walsingham Trust property (private, locally owned, but free entry, known as the Walsingham Nature Reserve, the center of which is Tom Moore's Tavern in that part of the Reserve known as Tom Moore's Jungle. It connects to Blue Hole Park through a woodland trail leading under bush archways.

The latter, not really a jungle, more of a large and largely-untamed property (open sunrise to sunset daily, admission free), is technically owned by a private family trust but is open to the public. It encompasses coast and forested land from Blue Hole Park to Tom Moore's Jungle (as Walsingham Nature Reserve is more frequently called).

Tom Moore's Jungle (accessed from Walsingham Lane, off Harrington Sound Rd.) is a natural mix of Bermuda cherry (hugely different from cherries of the UK, Europe, etc) tree forests, crystalline caves, and mangroves surrounding Tom Moore's Tavern, a four-star restaurant housed in a 1652 waterfront inn. Both the tavern and jungle take the name of Dublin-born (then part of Great Britain so he was officially British, not Irish) Thomas Moore, an Irish poet–bon vivant, so hugely respected and venerated in the Republic of Ireland that there are gardens and numerous songs (as merely one example, the Last Rose of Summer) named after him. His romantic local verse early in his adult life during his brief stay (January to April 1804, during which time he was swindled, made to pay for another's wrongdoing, went back to the UK and later bitterly regretted ever having set foot in Bermuda) as an Admiralty (Royal Navy) court official registrar has perpetuated his name in local legend, if not fact. The Irish themselves never refer to him as Tom, always more respectfully as Thomas. Bermuda's most famous tree, a calabash, is located here. Moore made it famous, using it's shade to compose his poems. From this fame, on November 4, 1844, members-to-be of what became the Royal Bermuda Yacht Club held their first meeting here.

Highlights of the area are swimming grottoes, fed via subterranean tunnels by the tides of Castle Harbour. Fish can often be seen in the turquoise water. The Castle Harbor coastline here is also perfect for snorkeling; the shallow bays and mangroves invite hours of exploration. Bird-watchers will enjoy spotting not only the many herons that stalk crabs on the shore, but finches, cardinals, and doves. Caves honeycomb the woodlands. Part of this chunk of land is the 1.25-acre Idwal Hughes Nature Reserve, named for the Welsh-born senior civil servant and Public Works Director and architect who came to Bermuda, married an American lady and subsequently had Bermudian children). It is owned by the Bermuda National Trust and contains indigenous palmettos and cedars, along with unique geological formations.

The region is also riddled with underwater caves, including the most famous, Crystal and Fantasy Caves, open to the public on payment of fees. Bermuda's oldest rock, a very hard limestone estimated to be 800,000 years old, can be found at the surface in the Walsingham area.
Burchall Cove
A small North Shore harbor for many boats, a picturesque marine cove, west of Shelly Bay Beach and east of the Shelly Bay MarketPlace grocery store.
Castle Harbour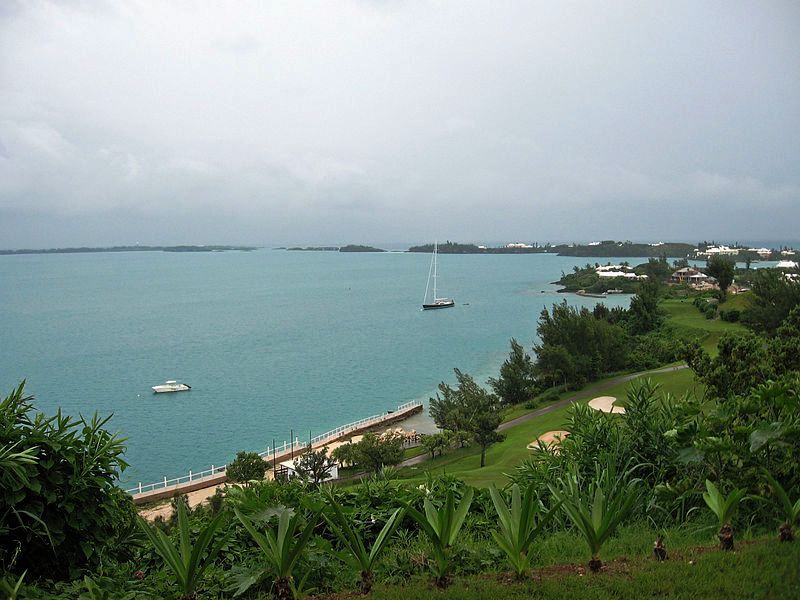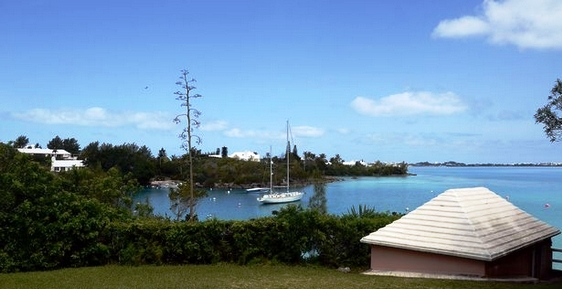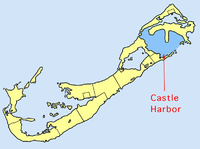 This exquisite large harbor is one of Bermuda's maritime gems. See it from an excursion boat from the Grotto Bay Hotel. It is the magnificent waterfront and beach areas for much of both this Hamilton Parish and St. George's Parish. At one time, until the waters silted up too much, it was where the Royal Navy moored its vessels in Bermuda waters. A resident Admiral had his residence overlooking the harbor. There are many islands and beach areas.

Castle Harbour has had a once-brilliant, then-somewhat sad hotel history. The first hotel here, which lasted until the 1990s, was the exquisite old Castle Harbour Hotel, then one of the finest in the world. It was built in 1931 by the British shipping company Furness Withy, which from the 1920s until the 1950s had extensive business interests in Bermuda including this original hotel, also the Belmont Manor Hotel in Warwick Parish and two beautiful cruise ships the Queen of Bermuda and Ocean Monarch, both of which served Bermuda for generations until the late 1960s. But the original hotel development came at a huge cost to the environment. Before construction started in the 1930s, magnificent Church Cave and Bitumen Cave were at the entrance of the development. Church Cave was noted for having one of the largest underground lakes in Bermuda. During much World War 2, the Castle Harbour Hotel was closed to guests. When American troops were billeted in Bermuda, many stayed at the hotel until their US Army Air Force Base on St. David's Island a few miles away was built by American taxpayers. Some time after World War 2, Bermuda Properties Limited - which still owns the site - bought it from Furness Withy. But it continued as the Castle Harbour Hotel for many years afterwards.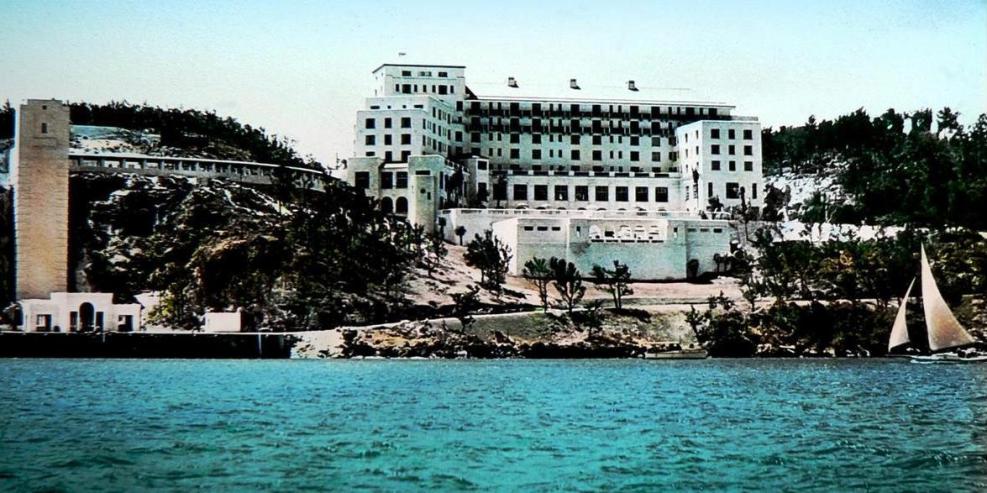 In the 1980s, the Marriott Hotel corporation acquired the hotel above, completed in 1931/1932 - but not the land - and saved but renamed the Castle Harbour Hotel. It became the much-changed in places Marriott's Castle Harbour Hotel.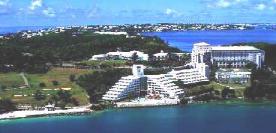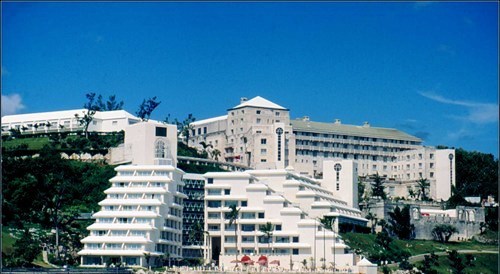 Later, Marriott's saved the old hotel, but added an unusual new development on the Castle Harbour side of it (as the photos above show). Millions of Marriott dollars were poured into it annually for years. Marriott's finally ceased its lease after incurring huge annual losses no longer allowed to be borne by American taxpayers and the hotel was closed in November 1999.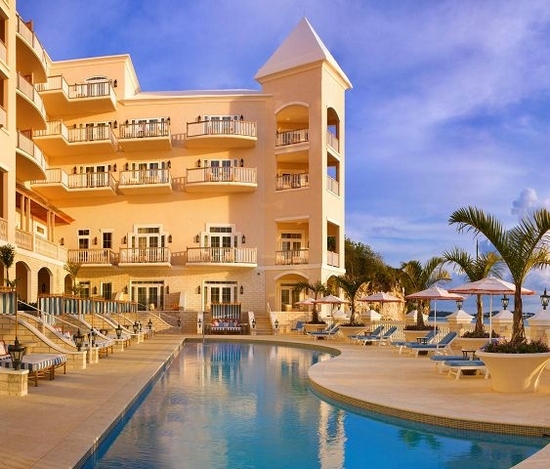 The old hotel and Marriott additions were later torn down by Bermuda Properties Ltd and rebuilt as the Rosewood-managed Tucker's Point Hotel and Club (see photo immediately above and Bermuda Hotels), with expensive villas and condos as new attractions for the wealthy. It was ceremoniously declared open on April 17, 2009 by film stars Michael Douglas and his wife Catherine Zeta-Jones, both of whom then lived in Bermuda. Luxury homes and luxury town houses are on top of Ship's Hill, almost directly above Church Cave.
Cathedral Cave
Situated in the grounds of the Grotto Bay Hotel. Well worth seeing, especially for those not familiar with caves systems. Bermuda's caves are unique. Featured on a 2002 $1 Bermuda postage stamp. Believed to be connected underwater with Prospero's Cave.
Crawl Waterfront
(On the Bermuda National Parks & Nature Reserves Map). A small coastal marine area with a couple of small beaches. It is on the Bermuda Railway Trail. The small cove with boats moored in it used to be a lovely place to swim, but excessively long ropes for boat moorings now get in the way.
Crystal & Fantasy Caves
8 Crystal Caves Road, off Wilkinson Avenue, Bailey's Bay, CR 04. Phone (441) 293-0640. Fax (441) 293-7334. Email info@caves.bm. Bus routes 1, 3, 10 and 11 stop nearby, at the Swizzle Inn. For moped users, there is free parking. Open daily, 9 am to 5 pm, last tour 4:30 pm. Reservations not required. The property is owned by the local Wilkinson Trust. If you are disabled or a member of your party is, or have limited mobility and encounter difficulty with slopes or steps, telephone or email to ask if the facilities/galleries can be accessed. Admission per adult can be for one or two caves (both are quite different in many respects and both should be viewed), less for children. One of Bermuda's outstanding scenic attractions. With beautiful examples of Mother Nature's underground architecture over millions of years. Bring a light sweater to wear in the cave. It was first discovered in 1904 by Carl Gibbons and Edgar Hollis, two local boys searching for a lost soccer ball and opened to the public three years later. Ever since then they have been tourist attractions, with Crystal Cave featured on a 2002 70-cent Bermuda postage stamp. See stalactites, stalagmites, ice soda straws, helectite formations and crystal clear deep pools. There are underground passages galore, most too narrow to allow inexpert access. Over a single period of one hundred years, only one cubic inch of a formation in this magnificent Gothic Palace of columns is created from the microscopic particles of limestone suspended in the relentless drips of water. Bermuda's caves are home to about 60 native and indigenous marine invertebrates, ranging in size from large shrimp to microscopic organisms, with some species found only in a single cave. Here, the water is 55 feet deep yet so clear the bottom can be easily seen. Mark Twain, who visited Bermuda repeatedly, visited here shortly before he died and loved it. In the 1950s, boys from what was then the local Boy Scout Cub Walsingham pack used to come down here regularly and swim, under supervision. Cavers galore internationally have explored this unique cave, the waters of which have not yet been completely explored and mapped for all to see. Only registered cavers are allowed to go below-ground, with permission obtained well in advance from the Wilkinson Trust.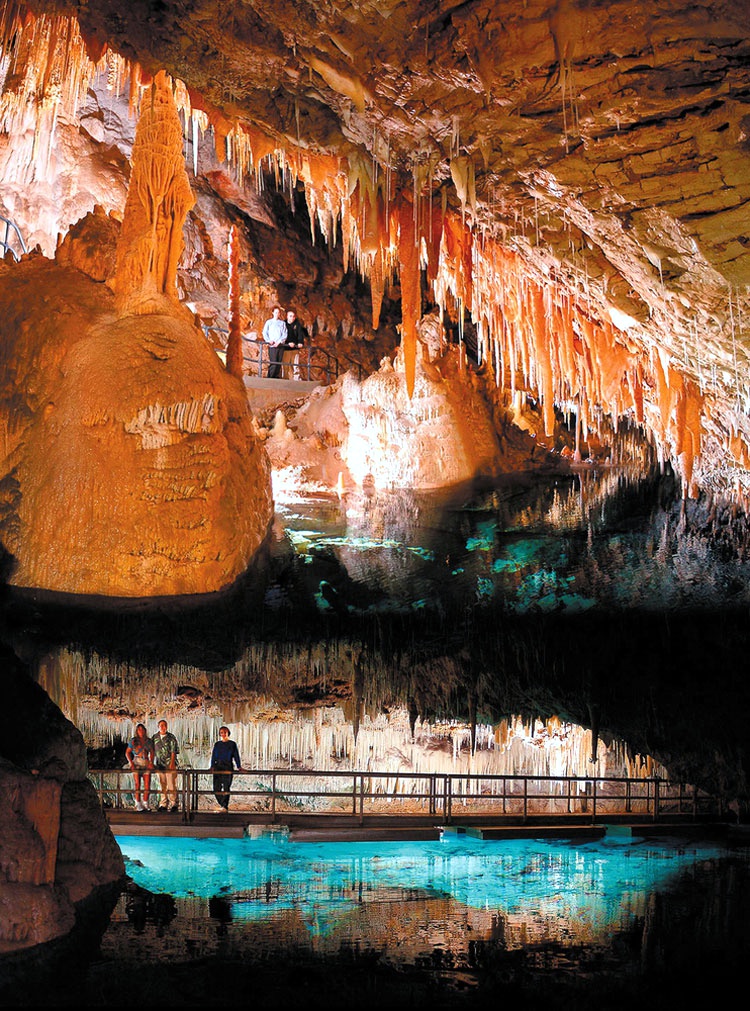 Crystal Caves, Bermuda. Photo: Bermuda Tourism
Fantasy Cave. Wilkinson Avenue, opposite the Crystal Cave. Buses 1, 3, 10 and 11 stop nearby. Also owned by the Wilkinson Trust. It was discovered in 1907 by Arthur E. Haycock and opened to the public as Wonderland Cave, but was closed in 1931. It re-opened on July 30, 2001 after some delays, as Fantasy Cave, re-developed and illuminated. It is featured on a 2002 35-cent Bermuda postage stamp. It is gorgeous, smaller than the Crystal Cave but with something quite different to see.
Duck's Puddle
(On the Bermuda National Parks & Nature Reserves Map).
Eve's Pond
A 3.5 acre plot by Shelly Bay Park. It once had an inland tidal pond, thus the name, but this was filled in with sand from the dredging of Flatt's Inlet in the 1920s and 1941. Buy Back Bermuda (BBB) has been appealing for donations for its campaign to preserve this property for future generations. Campaigners from the Bermuda National Trust and Bermuda Audubon Society are involved.
2017. April 6. Hidden beneath the grass, soil and layers of sand dredged from the Flatts Inlet lies the remnants of Eve's Pond. The Hamilton Parish pond was filled in the 1920s with dredged material that was pumped to the site by pipeline and few of the residents living in the surrounding Blink Bonny Estate neighborhood would have any idea it ever existed. But after years of research and preparatory work, David Wingate and a team of conservationists are looking to restore the old pond site back to its former glory as a haven for birds and other wildlife. Dr Wingate, who has been involved in nine pond restoration projects in the past half-century, told The Royal Gazette that he hoped the Buy Back Bermuda scheme would be submitting plans in the coming weeks. "No one would have known this pond ever existed if you were to look at it today," he said. "It was a tidal pond that rose and fell with the tide through a cave system that came out in Harrington Sound." The land where the pond once stood was donated to the National Trust and the Audubon Society as part of the Buy Back Bermuda scheme in 2013. But an additional hillside lot behind the pond had to be purchased in order to make the reserve large enough to incorporate an interpretative nature trail. Over the last few years extensive research has been done on the cave system leading to Eve's Pond to ensure any restoration project would cause no damage. "The cave system leading to the Eve's Pond site is the longest cave that has been mapped in Bermuda so it's obviously important that we look after that," Mr Wingate said. "We had a team of specialists in about two years ago who used state-of-the-art equipment to detect voids under the surface so we can map exactly what we will come across during the restoration. It has been a slow process and we will have to raise more funds to get the job done, but we are ready to push ahead with this project and will be submitting plans to the planning department for approval soon."
Flatt's, Flatt's Bridge, Flatt's Inlet & Village

Flatt's Inlet, from Flatt's Bridge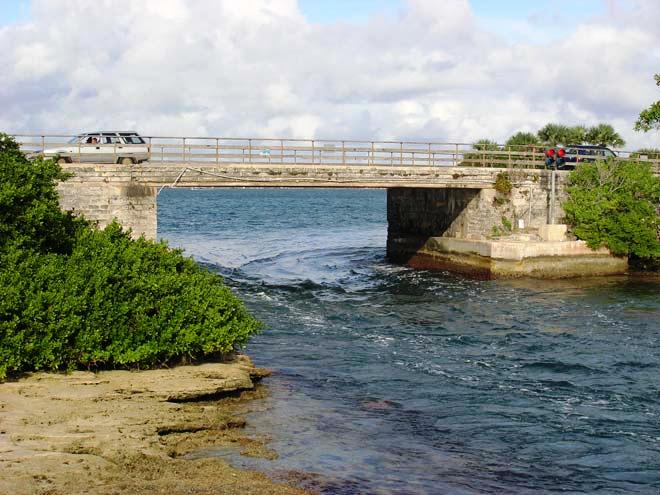 Photo by author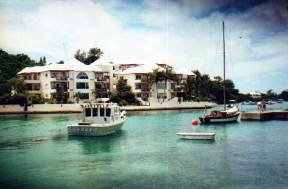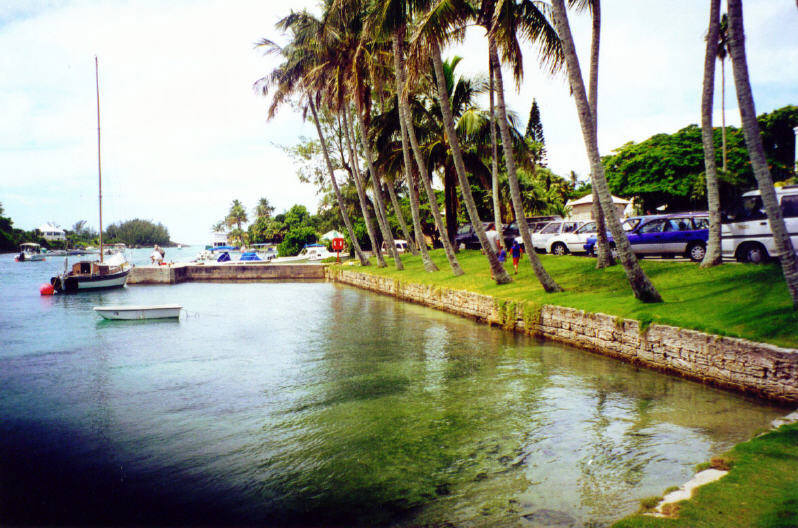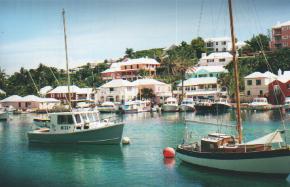 Photos by author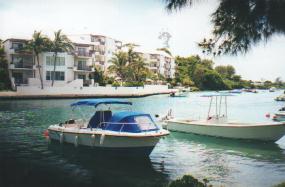 Midway between the City of Hamilton and Town of St. George, on the North Shore Road, after passing over Flatt's Bridge, see above top photo, going east. Route 10 and 11 buses stop in and near the village. It is a magnificent lagoon, the only one of its type in Bermuda. View it best from the dock opposite the Bermuda Aquarium, Natural History Museum and Zoo. Face south for a view of Flatts Inlet, or north for Harrington Sound. Under the bridge, the water either surges into Harrington Sound from the Atlantic via Flatts Inlet, or flows out in the reverse direction. Often, see fish or squid flowing with the tide. People gazing at the tide rushing under Flatts Bridge are only partly correct in thinking this is how Harrington Sound to the north of the bridge fills and empties. The racing current is just a fraction of the daily ebb and flow. Most of it slides silently through hidden caves and tunnels. There is a vast underground labyrinth of them stretching the length of the Parish and from coast to coast in the Parish. Most of the network is entirely under water. Under water caves look exactly like above-water caves. The Bermuda Cave Diving Association has lines connecting them.
Four Photographs above by author Keith A. Forbes. Experienced cave divers, local or visiting, can find out more. Elsewhere in the village, major wharf improvements have occured, complete with construction of a sidewalk, lamp posts, a grounded seat wall and two steps separating the sidewalk and the dock. On a Saturday every October, the Flatts Festival takes place here, with traffic banned, with artists and other attractions. The attractive condominiums on the south side of Flatts Inlet are St. James's Court built by insurance firm Liberty Mutual, of Boston, Massachusetts. Flatt's Village has lovely (expensive) condominiums, guest accommodations, restaurants, small shops and docking. It was once the haunt of smugglers. For people who arrive by bus, it is an attractive village. But for those who come by moped or scooter or car - and the elderly or disabled - the road is narrow, there is still no sidewalk or pavement through the village itself, traffic is usually heavy and there is no parking.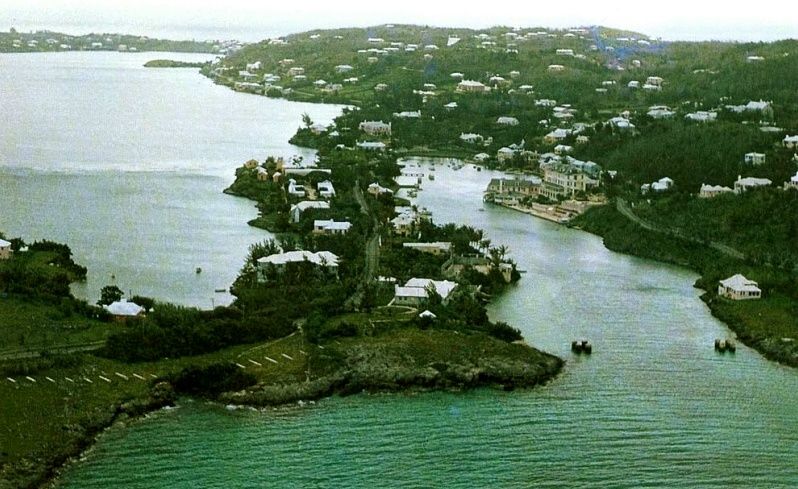 Flatts in 1930s then with Frascati Hotel (became the Coral Island Hotel, later demolished for condominiums). Photo taken in 1952.
Grotto Bay Beach Resort Hotel
See under Accommodation - Hotels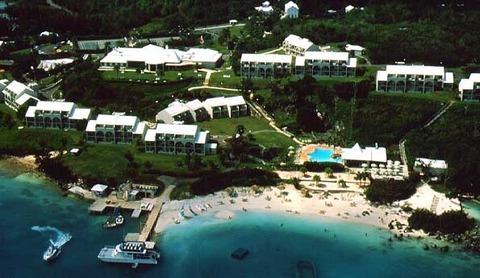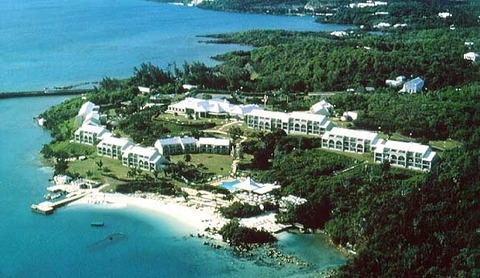 Hamilton Parish Council
Appointed under the Parish Councils Act 1971. See under "Parish Councils" in Bermuda Government Boards. Appointees are political and meetings are not open to the public, unlike in the United Kingdom, Canada and USA where parish or community councils always are.
Harrington Sound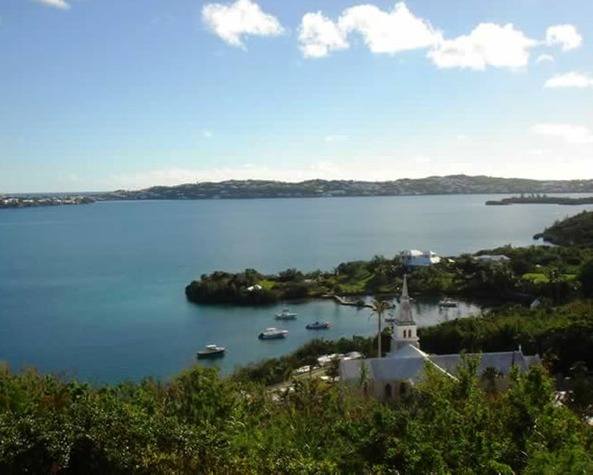 The Hamilton Parish coastline and points of interest of this large inland lake (see photo by the author) are lovely. The Sound was named after Lucy Harrington, a wealthy and influential women in the Elizabethan era who did so much for the Parish.
In its own way, Harrington Sound is as glorious as the lakes of New Hampshire, Maine, and the Lake District of England, for fishing, swimming, sunfish sailing, kayaking. View its many facets from the Harrington Sound Road. There are lots of bays, caves, cliffs and coves, but not many beaches. The Sound marks the lowest point on the Bermuda sea platform. It is quite deep, about 23 meters (about 70 feet) at Devil's Hole. Its geological formation is not yet fully explained.
It is not the crater of an extinct volcano as often assumed. Its islands include Hall's Island, Rabbit Island and Trunk Island. Some are inhabited year round.
2016. June 17. The former post office at Harrington Sound has been approved for sale at $700,000 by the House of Assembly. Public works minister Craig Cannonier told MPs this afternoon that marketing of the 0.2-hectare site with its 864-square foot main building was begun on May 11 last year, and closed six weeks later. The Government expects to raise $10 million from the sale of 30 properties over the next three years. Eight government properties have been identified for this fiscal year. Speaking for the Progressive Labour Party, MP Dennis Lister said the Opposition had no problem with the sale of government lands, noting that the minister had informed him that a stretch of roadside land had been retained from the property in the event that a sidewalk might be needed in the future.
2016. May 30. The former Harrington Sound Post Office could be sold for $700,000, according to a draft Sale and Purchase Agreement. The document, tabled in the House of Assembly last Friday, lists the potential buyer as Frank Martin Pollard. In addition to the Hamilton Parish property itself, the buyer would obtain the former post office building, which is described as: "part single/part two-storey, consisting internally of an open space, a kitchenette, toilet and a secure store room to the rear of the main building. At a lower level is another toilet and a detached store." The draft documents call for $70,000 deposit for the land purchase. The post office was closed in November 2014 and the property was formally put up for sale last May. Craig Cannonier, the Minister of Public Works, noted that the sale of Harrington Sound Post Office was the pilot phase of the policy of selling off surplus government land.
Harrington Sound Road
An interesting, scenic ride by moped or the # 3 bus route. Bear east along this road, skirting the Sound, after Devil's Hole. The Hamilton Parish portion begins shortly after the junction with Broken Hill Road on the right and continues all the way to the junction with Wilkinson Avenue. En route are beautiful vistas of the Sound in all its different facets, some inland areas, the Plantation Restaurant, Leamington Caves, and Tom Moore's Tavern.
Holy Trinity Church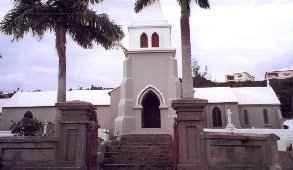 Trinity Church Road, Church Bay, Harrington Sound.

This is the third oldest of the Anglican Parish churches in Bermuda, dating back to 1623.

The tower and spire were added in the 1890's, gifts of Bermudian William D. Wilkinson, who studied architecture in Toronto, Canada.

The bell in the tower was from the foundry of Mencely & Co. of West Troy, New York.

Weighing more than 1, 211 pounds, it was placed in memory of the Reverend Alexander Ewing, Rector of the Parish from 1791 to 1817.

The graveyard overlooking the water is tranquil.
Islands in the parish
Bay Island. Off the North Shore. The name indicates its proximity to Bailey's Bay, 400 yards to its south. It is accessible to the public. It is also a refuge in the winter for sea birds. It is charming, interesting, small and rocky. It has two small low tide beaches on the southwest side. These catch the full sun only in the morning and up to about 2 pm. There are interesting shells in the shallow water off the southeastern side. To get there, take a bus (the 10 or 11 routes) to the beach at Bailey's Bay. Be a decent swimmer. Wear a pair of old sneakers to protect your feet from the island's sharp rocks. As a safety backup, bring a companion. Use a floating, lightweight, waterproof, plastic or Styrofoam container big enough to carry a camera, wristwatch, towels, street clothes, bus tokens or tickets and food and drink to your taste from a supermarket or deli, or pre packed for you by your hotel. Before you swim, look at the tide table in the daily newspaper. Start out when low tide is in the morning. Walk part of the way out before you hit deep water. You'll find the island well worth your time and trouble, a super site for a picnic and relaxing in the shallow water. Make the journey back to the mainland before high tide, to avoid a strenuous swim. Put your street clothes over your swimsuits and wring out your sneakers before boarding the 10 or 11 bus at the stop nearby.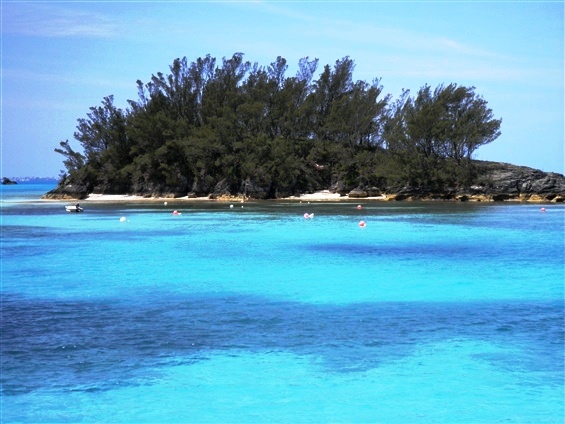 You can easily swim to this island and enjoy its low-tide beaches shown, from Bailey's Bay mentioned above.
Crow Island. East of Trunk Island, Harrington Sound.
Hall's Island. Very small, north east of Trunk Island, in Harrington Sound. In the 1970s, until 1978, it was the site of an experimental Gibbon ape colony. For a while, they were replaced by eleven macaque monkeys.
Inner Dumpling. East of Outer Dumpling, Harrington Sound.
Outer Dumpling. South of Hall's, Harrington Sound.
Pear Island. Harrington Sound.
Rabbit Island. Sometimes called Collins Island, perhaps after a family who owned land on the mainland. South west of Trunk Island and Major's Bay in Harrington Sound, it is a nature reserve leased to the Bermuda National Trust, therefore not accessible to the general public. Longtail birds and rabbits are common here.
Redshank Island. In the extreme south west of Harrington Sound, immediately off Green Bay. It was named after a bird that inhabited shores and nested here, with pale red legs and feet, now the common tern.
Stags, The. Off Shelly Bay, North Shore.
Trunk Island. 7 acres. Largest island in Harrington Sound. Mostly privately owned. It was once a summer camp for Bermudians including Girl Guides. There is an annual swimming race to and from there. It has a large house and cottage, a rugged shoreline with a small beach and sheltered coves for small craft. The Bermuda Zoological Society has a habitat restoration effort to replant native and endemic species, cull invasive species and include excursions to Trunk Island in its education and conservation programs.
Mid Ocean Club



21 rooms and suites. 1 Mid Ocean Drive, Tucker's Town, Hamilton Parish. Or by airmail at P. O. Box HM 1728, Hamilton HM GX. Telephone: (441) 293-0330. Fax: (441) 293-8837. Cottage colony and Private club. Must be a member or referred by one to stay. For the affluent. 2011 room rates April through November per night are, for a member, single from $310, double from $320; non-member single from $360, double from $370. This property was one of those begun by the British shipping organization Furness Withy in the 1920s that really began Bermuda's climb in tourism. On a 640-acre estate in the most exclusive area of Bermuda, with numerous beautiful residences and 3 large private beach areas, unique features of which are natural arches, plus coves on the estate, accessible by a private road to the Tucker's Town peninsula usable only by Club members. The world-famous Mid Ocean 18-hole golf course was first laid out by Charles Blair MacDonald, who created what became the National Golf Course in the USA. It is often ranked as one of the 10 best golf curses in the world. There are also 2 tennis courts and a tennis pro. With fine dining in its own restaurant, plus a Beach Cafe. It has received the Bermuda Government's Tourism Longtail Merit Award. On bus route # 1.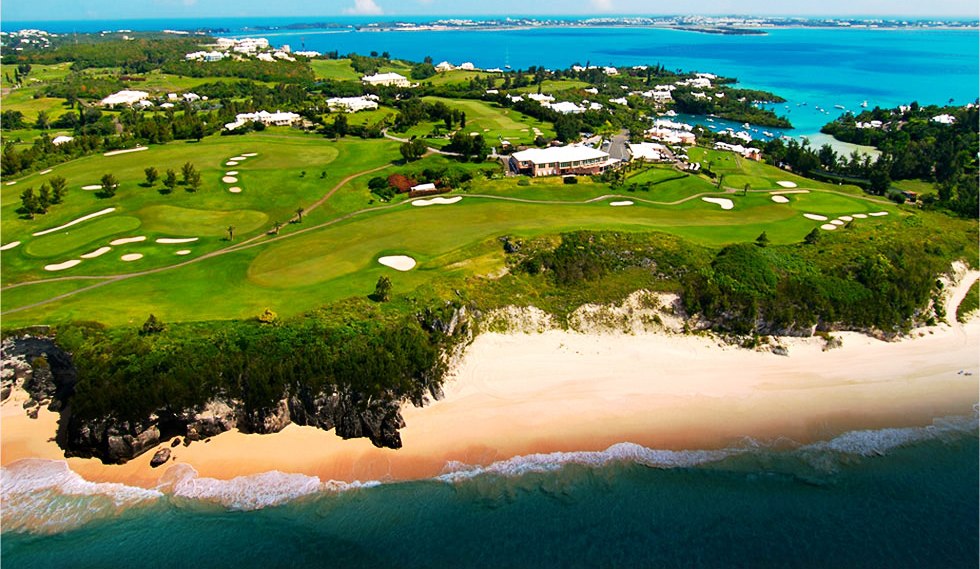 Photo: Bermuda Tourism
Mid Ocean Golf Club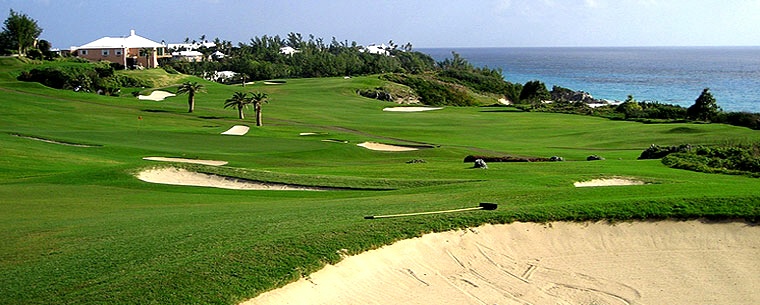 Photo: Bermuda Tourism
1 Mid Ocean Drive, Hamilton Parish (East End). Phone (441) 293-0330. Fax (441) 293-8837. Designed originally by Charles Blair MacDonald to fit into the natural terrain. It was a par-71 layout, over 600 acres of rolling countryside, 6,519 yards from the back tees. MacDonald won the first US Amateur Golf Championship in 1895 and later designed the National Golf Course in the USA. The course first opened in 1922. Ralph A. Kennedy of Mamaroneck, NY, regarded at the time as the "Dr. Livingstone of Golf," rated it one of the five best courses in the world in the 1920s. In recent years it was once ranked 45th by Golf Digest for courses outside the USA. Bermuda's number one private course. It was revised in 1953 by international golf course architect Robert Trent Jones. US Presidents Dwight Eisenhower, John F. Kennedy, Richard Nixon, George H. W. Bush and Jimmy Carter have played here, as well as the Duke of Windsor in 1940, British Prime Ministers Sir Winston Churchill, Harold MacMillan and Edward Heath. Golf professionals Robert Jones, Sam Sneed and many other celebrities also have golfed here. When Babe Ruth, normally as good with a club as he was with a bat, played the 433-yard fifth, known as the "Cape," he knocked eleven straight balls into Mangrove Lake before finally driving one over the hazard. In the 1990s this course hosted the Merrill Lynch Classic and later the Gillette Classic. The first three holes run parallel to the ocean. All the greens were re-built in 2002. A private club, an introduction is needed from a member, or try an hotel's Social Desk or cruise ship's Shore Excursion office.
For visitors who arrive at the airport on one of the commercial airlines or cruise ships, the closest cruise ship berth is Town of St. George, about 5 miles away to the south west. If you bring your own clubs, you won't be able to go by public transportation (bus). Instead, take a taxi. If without clubs, take the # 1 bus to property and walk. Check rates directly with course depending on time of day and time of year. Private but will accept some off-the-street golfers by prior appointment if referred by a member. Ask about playability on the day you have in mind.
North Shore Road
The Hamilton Parish part of this mostly coastal main road stretches from Flatts Inlet, via the Bermuda Aquarium, Natural History Museum and Zoo and Shelly Bay, to Blue Hole Hill and the Causeway. If you're on a moped, you can explore its nooks and crannies, and admire its views. But don't walk it, except in areas with sidewalks, or on parts of the Bermuda Railway Trail nearby. Instead, take the bus. Routes 10 and 11 cover the entire route.
Palm Cave System
Close to Harrington Sound, with its center near the junction with Harrington Sound Road and Wilkinson Avenue. A large network of underwater and below-ground caves, some isolated, others part of smaller networks. It includes Crystal Cave and Fantasy Cave, referred to earlier.
Prospero's Cave
Featured on a 2002 80-cent Bermuda postage stamp. It is situated in the grounds of the Grotto Bay Hotel. It is reputed to have been discovered in 1609 by Admiral Sir George Somers. Prospero is a character from "The Tempest" of 1610 by Shakespeare, the true-life details of which are believed to have occured in Bermuda, not a mythical Italian island.
Restaurants in the Parish
See by name and Parish in Bermuda Cuisine.
Rosewood Tucker's Point Hotel & Spa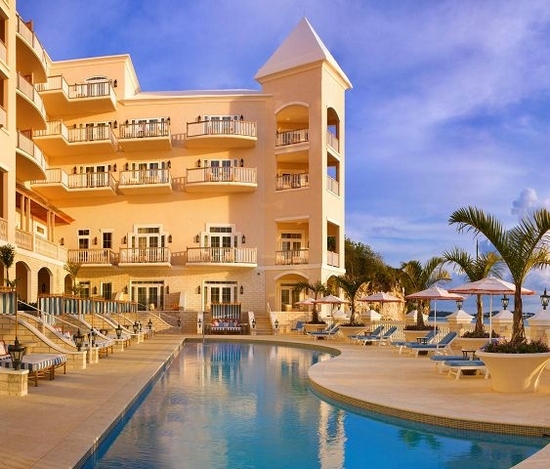 Photo: Bermuda Tourism
60 Tucker's Point Drive, Hamilton Parish HS 02. Phone (441) 298-4000. Email Tuckerspoint@rosewoodhotels.com. Mailing address P. O. Box HS 85, Harrington Sound, Hamilton Parish, HS BX, Bermuda. Overlooking Castle Harbour. Newest hotel. So-called because it is professionally managed (but not owned) by the Rosewood corporation of Texas. Opened April 17, 2009. On 200 acres of waterfront. It is in the exclusive and private residential area of Bermuda known as Tucker's Town. A resurrection, reconstruction and reconstitution of the Castle Harbour Hotel, which opened in 1931 and closed in 1999, under a new name after the latter's demolition. The Castle Harbour Hotel was a landmark first planned by the British Furness Withy shipping organization in 1923 and first opened on November 1, 1932. Furness Withy built both the original Castle Harbour Hotel and the Mid Ocean Club. After World War 2 Furness Withy of the UK lost interest. The property and extensive land were bought by Bermuda-based Bermuda Properties Ltd (BPL), originally headed and owned by Juan Trippe. He was the founder of the original Pan American World Airways. It was a direct result of his interest in Bermuda after Pan American flew between Bermuda and New York from 1937. His son, Ed Trippe, now has control.
2016. May 26. Draft hotel concessions for the Tucker's Point Hotel and Resort were approved in the Senate yesterday. The Bill aims to improve the tourism product at the hotel while providing opportunities for Bermudian workers. Michael Fahy, the new Minister of Tourism, Transport and Municipalities, outlined a number of construction and renovation projects lined up for the resort. These include a $6 million renovation at The Point restaurant and enhancements to the pool, beach club and marina. He said the $15.8 million concessions over five years were necessary to sustain Bermuda's tourism product while "preparing the asset for long-term success". Independent senator Joan Dillas Wright said she welcomed the move but hoped that the Bermuda Government would follow through with its commitment to train and hire Bermudians. One Bermuda Alliance senator Georgia Marshall replied: "The OBA has been committed since day dot to improving work for Bermudians. "It is up to Bermudians who are qualified to make the applications. Be proactive. There are jobs available.
The new (since 2009) $350 million, 200-acre development seen in the photograph above includes a residence club, estate and town homes, villas. The boutique hotel, designed to five-star standards, also offers a conference venue for Bermuda's established international business community. The centre piece is the Manor House, perched above Castle Harbour. Each of its rooms is decorated in a classic British style of artwork and furnishings, while the bathrooms feature deep soaking tubs, as well as expansive balconies and terraces with water views. The suites come complete with bars with ice makers and fireplaces, while the rooms are fitted with Wi-fi, VOIP telephony and IP-TV. The Palm Court, which is lined with palm trees, leads from a croquet lawn to a horizon pool overlooking a lush grotto and Harrington Sound. The spa has 10 tranquil treatment rooms and a Silver Tag hydrotherapy suite, with the women's salon offering manicure, pedicure and styling. There is also a barber shop. The 1,900 square-foot fitness centre is fitted with aerobic and cardiovascular equipment, in addition to weights, offers private wellness and conditioning instruction, while the dive and watersports centre provides dive adventures aboard the 31-foot Tidal Pull exploring shipwrecks and underwater caves. Diners have the Point Restaurant, accessed via an English long bar facing Palm Court. Point Terrace and the wine room, with its barrel-vaulted ceiling and selection of new and old world wines, provides a more private experience, along with al-fresco dining poolside at the Mahogany Terrace. The conference facility comprises computers, translation, IT support and secretarial services, in addition to satellite conferencing and a projection screen. There are two swimming pools, a golf course, beach and tennis club and more.
Guest rooms range in size from 530 to 1,200 square feet with luxury bathrooms and terraces with views of Castle Harbour and Harrington Sound. Rooms feature luxury bathrooms and terraces with views of Castle Harbour and Harrington Sound. Each room has a spacious balcony with a view of Castle Harbour, a flat screen panel TV, Wi-fi, fireplace, wet bar and walk in closets. They also have a luxury five-fixture bathroom with a stand alone deep bathtub. The rooms also come with amenities such as portable phones and I-pod/Mp3 docks and 24-hour room service.
In 2011 a Special Development Order (SDO) was passed by the Bermuda Government, to allow a Tucker's Point expansion of 78 homes and 70 hotel rooms, to provide more opportunity to erase losses and replace them with profits. A letter to shareholders from president Ed Trippe had revealed Tucker's Point was losing more than $1 million a month from the start of 2009 to August 31, 2010. The majority of members of parliament said the move is vital for Bermuda's tourism product, and would help ensure the success of one of the Island's most lucrative resorts. A list of shareholders of Bermuda Properties Ltd (BPL) and its subsidiary Castle Harbour Limited (CHL) shows most of both companies' shareholders are non-Bermudian. Major shareholders of BPL include Morgan Guaranty Trust Company, of Ohio; Charles Trippe of Massachusetts; Edward Trippe of Connecticut; and Basic, Inc of Virginia.
Shelly Bay Beach, Park & Nature Reserve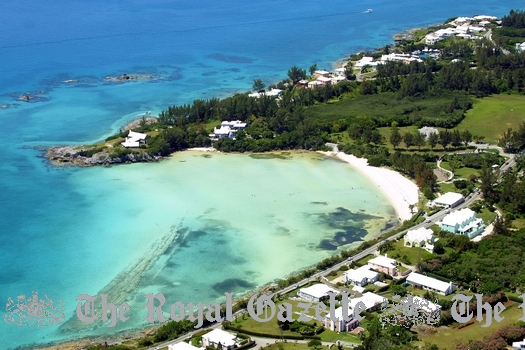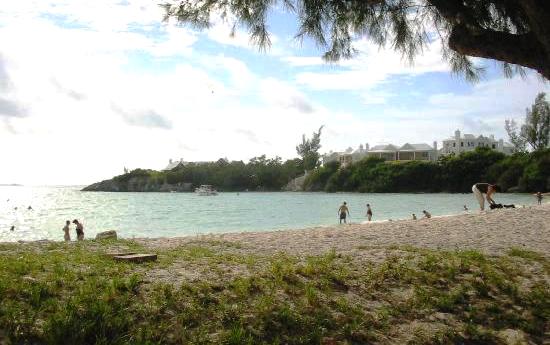 Shelly Bay Beach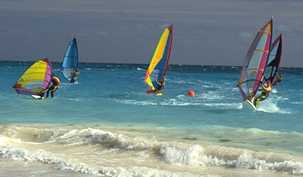 Off the North Shore Road in Shelly Bay, midway between Flatt's Bridge and the Shelly Bay Plaza. Bus routes 10 and 11 to and from the Town of St. George and City of Hamilton stop here and offer a frequent service. It takes its name from Henry Shelly, one of Bermuda's earliest colonists of the early 1600s who lived here. The beach is public, popular, shallow and safe for the family, with some access for the disabled and a disabled-only parking space for a car (not close to the beach). It has shade trees providing welcome relief. It also a popular place for residents to camp out over the Cup Match holidays. The seascape from the beach stretches to the Bermuda Royal Naval Dockyard in Sandy's Parish. On windy days, it's a favorite place for wind surfers (see smaller photo) to fly across the deeper water of the bay, out of range of swimmers. There are a children's playground and park with many indigenous species of trees and shrubs; and a playing field for several organized sports near a former horse racing track. There is a restaurant on the premises. Visitors today can see at the adjacent sports field area of the complex, what used to be for many years until the late 1930s, the Shelly Bay horse racing track. In 1937, Oliver Caisey, Sr. (with his race horse Fanny) became the first black jockey at the Shelly Bay race track. His groom was Claude (Poker) Furbert. It was a particularly popular place for British Army officers stationed in both Devonshire at Fort Prospect and in St. Georges, as it was exactly midway between them.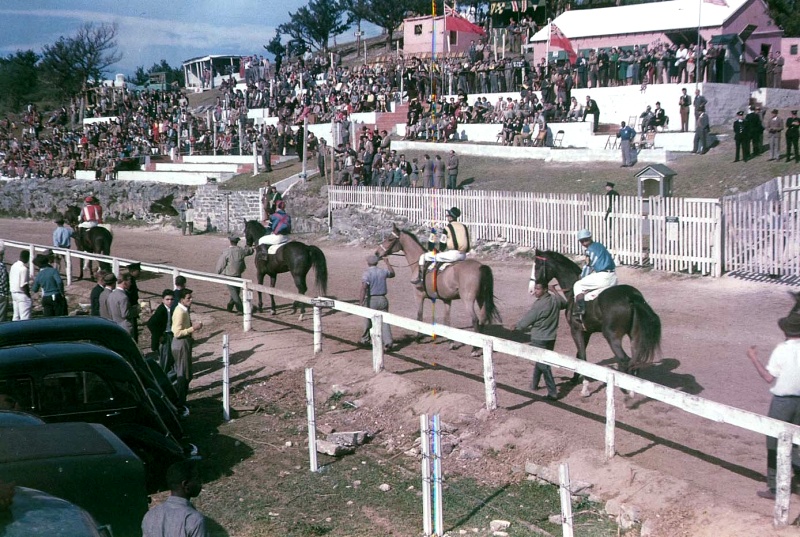 Shelley Bay Race track in the old days (long since gone) when this was a hugely popular local racing event.
Shelly Bay Plaza
Just east of Shelly Bay and Burch's Cove. Bus routes 10 and 11 drop you right outside the plaza. It has a do it yourself laundromat; full service grocery store; pizzeria; and clothing store. Budget for Bermuda prices, they stun many visitors. This local full service branch of The Marketplace grocery chain is open every day (Sunday from 1 pm to 6 pm). Phone 293-0966. Liquor cannot be bought in Bermuda on Sunday.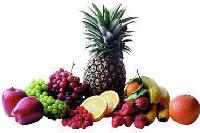 St. John's AME Church
Bailey's Bay, corner of Wilkinson Avenue and Harrington Sound Road. Address is 68 Harrington Sound Road. Telephone 293-8606 or fax 293-0087. A stop on the African Diaspora Heritage Trail. Built in the mid 19th century by free blacks including former slaves.
Swizzle Inn
Restaurant. See by name and Parish in Bermuda Cuisine.
Tom Moore's Jungle and Tavern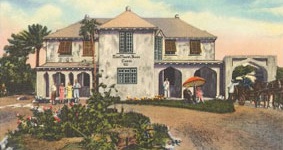 Also see an earlier reference to Moore in Blue Hole Hill Park and Walsingham Nature Reserve, above. A private trust property available for viewing for a charge to visitors and residents, owned by the Walsingham Trust. It is a charming, romantic, woodland area with beautiful views, worth a visit as one of the very few totally "unspoiled" places left in Bermuda. It demonstrates vividly how Bermuda once looked all over the main island before homes, hotels and other properties dotted and changed the landscape forever. Accessible via the Harrington Sound Road and by permission from both the Trust and the owner of the restaurant known as Tom Moore's Tavern (see below). Originally known as Walsingham House, once the property of Robert Walsingham, the coxswain of the doomed "Sea Venture" in 1609. Then it was the 17th century estate of Samuel Trott and his family. It was so impressive in British Bermudian colonial architecture that a replica of it was built at Wembley, London, for the Empire Exhibition of 1924. The house was a tavern for 75 years before it was restored and reopened as a restaurant with the "tavern" retained. It and the restaurant - See by name and Parish in Bermuda Cuisine - are named after the famous Irish born British poet Tom Moore (In Ireland always known as Thomas, never Tom), who arrived here in 1804 when he was 24 years old, before he became famous. He lived and worked as Registrar to the Court of the Vice Admiralty. The Town of St. George was then still the capital of Bermuda. He described the harbor of the town and parish as the "sweetest miniature of nature that can be imagined." He lived in rented premises on Old Maid's Lane and became notorious as the author of love poems to "Nea" - the 17 year old wife of William Tucker, Marshal of the Court of the Vice Admiralty. But he stayed less than four months. Bermuda and its remoteness were too tame. Later, he came to regret bitterly that he ever set foot in Bermuda. It was because the man who replaced him, or someone else in Bermuda, cheated the Admiralty but Moore was blamed and had to make good the losses. It aged him prematurely and affected his health. After he left Bermuda, he wrote splendid poetry later set to music, one of the most recognizable pieces being the "Last Rose of Summer." The calabash tree immortalized in his "Epistle V" still stands as a stump.

2017. Sunday, February 5. The Walsingham Trust and the Bermuda National Trust have lost their appeal against the Development Applications Board's decision to allow the erection of gates at either end of their right of way to the Walsingham Reserve. Both organisations had hoped the Minister of the Environment, Cole Simons, would exercise his discretion in favour of the retention of free and open access to Tom Moore's Jungle. A joint statement released this afternoon said: "This right of way — the Walsingham Trust's only legal access to the reserve — has been made available to the public for 75 years, since the inception of the Trust in 1942. The application to install the gates was made by Bruno Fiocca, who seeks to improve the security of the Walsingham House property, more commonly known as Tom Moore's Tavern. The right of way in question crosses Mr Fiocca's property immediately beside the Tavern and has led to unauthorised public parking on his land." The Planning Inspector's report on the appeal, which was accepted by Mr Simons, made it clear that the DAB and the planning department could only rule on planning questions, and not on the legal question of what rights the Walsingham Trust had to allow the public to use its right of way. The Walsingham Trust is reviewing its position with regard to the legal issue. The statement continues: "Whilst the appellants objected to the erection of gates, we wish to acknowledge his long-term support of access to the reserve and his tolerance of the public use of his land for parking. The Walsingham Trust and Mr Fiocca have enjoyed a co-operative and mutually beneficial relationship for many years. Mr Fiocca has indicated a willingness to leave these gates open during the day. However, we must emphasise that any decision to allow public parking at this location is entirely at Mr Fiocca's discretion and there is no guarantee that this will be the case in the future, in particular if the Tom Moore's Tavern property changes ownership." The Walsingham Trust has encouraged visitors to the reserve to access it via the Blue Hole entrance, where there is parking available. However, the public should be aware that this park is managed by the Parks Department, who ultimately control this access to the Reserve.
Wilkinson Avenue
This road connects Harrington Sound Road with the North Shore Road. If you access it after visiting the Leamington Caves and Tom Moore's Jungle be sure to note the several very big and beautiful stately homes on the right. Before the junction with the North Shore Road, see the entrance to the Crystal and Fantasy Caves.
Wilkinson Quarry Cave
It was discovered in early 2002. American cave expert Dr. Tom Iliffe discovered and examined it in depth in May 2002 Bermuda's newest major find.
Other Bermuda geographic areas


Last Updated: April 15, 2017.
Multi-national © 2017 by Bermuda Online. All Rights Reserved.