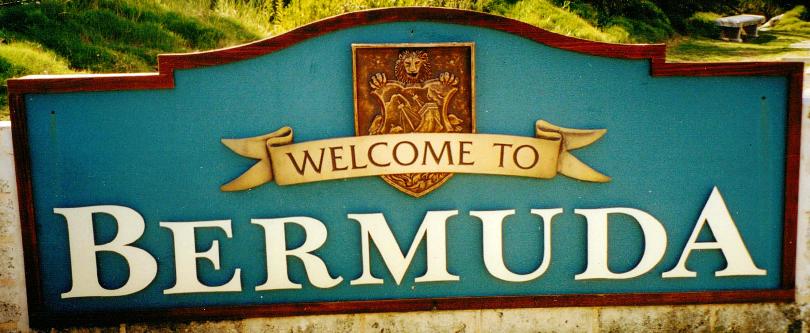 Click on graphic above to navigate the 165+ web files on this website, a regularly updated Gazetteer, an in-depth description of our island's internally self-governing British Overseas Territory 900 miles north of the Caribbean, 600 miles east of North Carolina, USA. With accommodation options, airlines, airport, actors, actresses, aviation, banks, beaches, Bermuda Dollar, Bermuda Government, Bermuda-incorporated businesses and companies including insurers and reinsurers, Bermudians, books and publications, bridges and causeway, charities, churches, citizenship by Status, City of Hamilton, commerce, communities, credit cards, cruise ships, cuisine, currency, disability accessibility, Devonshire Parish, districts, Dockyard, economy, education, employers, employment, environment, executorships, fauna, ferries, flora, former military bases, forts, gardens, geography, getting around, golf, guest houses, highways, history, historic properties, Hamilton, House of Assembly, housing, hotels, immigration, import duties, internet access, islands, laws, legal system and legislators, main roads, marriages, media, members of parliament, money, motor vehicles, municipalities, music and musicians, newcomers, newspaper, media, organizations, parks, parishes, Paget, Pembroke, performing artists, residents, pensions, political parties, postage stamps, public holidays, public transportation, railway trail, real estate, registries of aircraft and ships, religions, Royal Naval Dockyard, Sandys, senior citizens, Smith's, Somerset Village, Southampton, St. David's Island, St George's, Spanish Point, Spittal Pond, sports, taxes, telecommunications, time zone, traditions, tourism, Town of St. George, Tucker's Town, utilities, water sports, Warwick, weather, wildlife, work permits.
Bermuda's Dockyard at Ireland Island, a Royal Navy base from 1815 to 1950s
Once protected British Atlantic and Caribbean islands from the USA, a convoy center in WW2, now chief cruise ships port
By Keith Archibald Forbes (see About Us).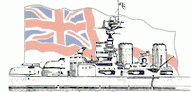 Other files on Bermuda by this author relating to military matters and civil aviation include Airlines serving Bermuda - American Bases in Bermuda from 1941 to 1995 - Bermuda Aviation History Pioneers Civilian and Military - Bermuda International Airport.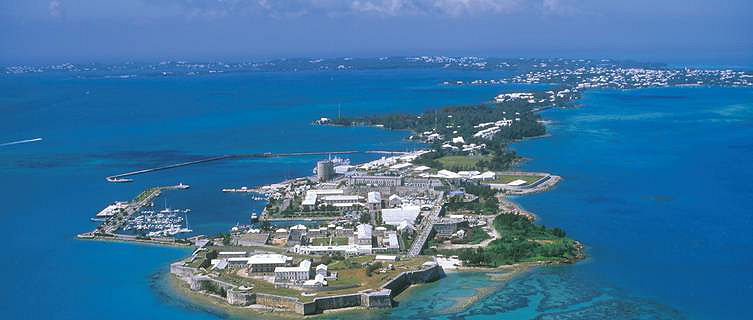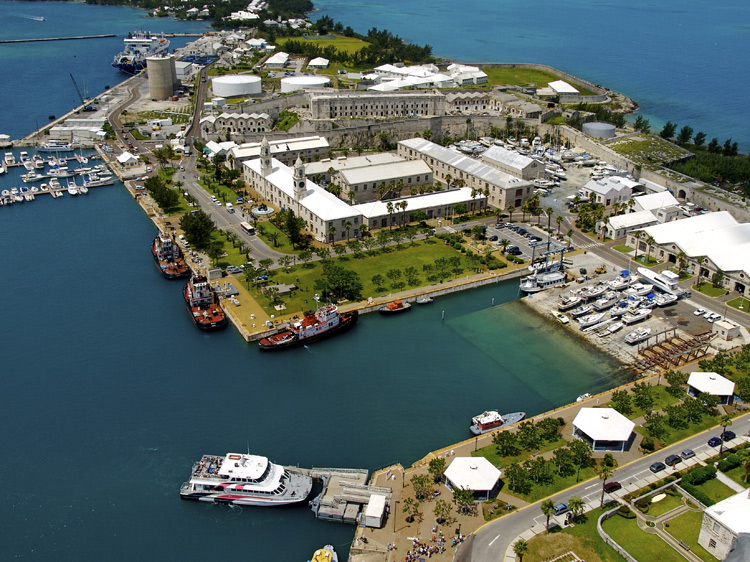 Above, centre. As it looks today, a far cry from its original purpose dating back to 1795 as a fortified Royal Navy Dockyard following Britain's defeat by the USA in the 1776 to 1783 American Revolution.
Early history as a Royal Navy Base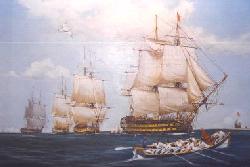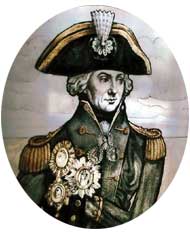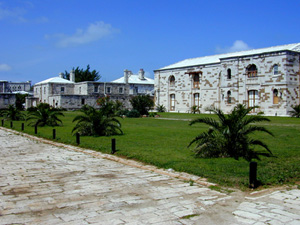 1745
Establishment of the Royal Navy's North America & West Indies Station, formed to counter French forces in North America, with the headquarters at the Halifax Naval Yard in Nova Scotia (now CFB Halifax).
1767
Following the establishment of the Royal Navy's North America & West Indies Station in 1745, formed to counter French forces in North America, with the headquarters at the Halifax Naval Yard in Nova Scotia (now CFB Halifax), operationally, it began with the area of command under the command of Commodore Samuel Hood, with the headquarters in Halifax from 1758 to 1794, and thereafter in both Halifax and Bermuda until later run solely from Bermuda.
1783
Following the loss of all bases on the entire USA side of North American Atlantic seaboard after US independence, to avoid any further threat to Britain's supremacy in the Western Atlantic, it was decided in London in principal that Bermuda offered itself as a well-situated and potentially strategically important as a naval base to serve Western Hemisphere areas of North America, Western Atlantic, Caribbean and South Atlantic. It was also decided that once the new base began to be built in Bermuda for the Royal Navy, British Army units stationed in Bermuda had one over-riding military duty - to protect the naval base).
Lieutenant Thomas Hurd, Royal Navy, was told he was going to lead what became 11-year survey of Bermuda as a potential Royal Navy base, to replace the reliance on Halifax which was vulnerable to attack from America.
1794
Then-Captain Thomas Hurd completed his 11-year planned survey of Bermuda. HMS Cleopatra (Captain Penrose) transited the Narrows to Murray's Anchorage. Naval Watering tanks were constructed at Tobacco Bay, St. George's. They were first used by HMS Hermione. The establishment of a Royal Navy base in Bermuda had been delayed for a dozen years due to the need to survey the encircling barrier reef to locate channels suitable for large warships. With this completed, a base was established at St. George's, with the fleet anchoring at Murray's Anchorage in the northern lagoon, named for Vice Admiral Sir George Murray, who became the Commander-in-Chief of the new River St. Lawrence and Coast of America and North America and West Indies Station. The Admiralty also began purchasing land at Bermuda's West End, including Ireland Island, Spanish Point, and smaller islands in the Great Sound with the intent of building the Royal Naval Dockyard, Bermuda, and a permanent naval base there, with its anchorage on Grassy Bay. The construction of this base was to drag on through much of the nineteenth Century.
Naval Watering tanks were constructed at Tobacco Bay, St. George's. They were first used by HMS Hermione.
With the Militia Act 1794 and the end of the American War of Independence, Bermuda began to assume an importance to the Admiralty that would see it eventually become the base of the North America and West Indies Squadron, and the site of the only full Naval dockyard West of Portsmouth, England except for Halifax in Nova Scotia and of possibly more strategic importance in the event of invasion of Canada by the USA.
October. Vice Admiral the Hon. George Murray, Royal Navy, learned of Lieutenant but by then Captain Thomas Hurd's finding at Bermuda as a superb potential new naval base and sent the frigate Cleopatra there "to bring information of a Harbour lately discovered there, fit, it was said, to admit Ships of any Class." The resulting report described the new anchorage as having "capacity enough for all the Navies in the World to ride in from 7 to 9 or 10" fathoms.'
1795
Approval for purchase of Ireland Island, Bermuda, with the site chosen by Captain Pender, Royal Navy. In the meantime, for a stated short period only. Admiralty House, traditional seat of Royal Navy Commanders-in-Chief at dockyards both home in the UK and abroad, was in St. George's, Bermuda.
The Royal Navy Dockyard at Ireland Island envisaged for and subsequently built in Bermuda was designed not primarily for defence but for attack, from which to launch a Royal Navy invasion of the USA. The French Navy, which caused the blockade that was the major factor in the British defeat by the Americans, had been smashed. That part had been avenged. This was why Ireland Island in Sandys Parish, the former separate, narrow serrated island that pushes out into the Atlantic at the extreme north west of Bermuda, formally started to become, from 1809 when it was officially acquired by the British Admiralty, a Royal Navy base of one-time huge significance.
1795-1809. Cottages were built on Hen Island, St. George's and a wharf there was adapted for careening.
August 11. Captain Francis Pender, Royal Navy, earlier dispatched to Bermuda by Vice-Admiral the Hon George Murray, RN, arrived as a passenger on HMS Oiseau (formerly a French frigate, captured). His orders included the stipulation he acquire some of the fast sloops of the island for service in the Royal Navy. He ordered the building of such Bermudian vessels, renowned for their speed and agility, especially being able to sail sail close to the wind.
Approval was given by the relevant authorities in London, England, for the purchase of Ireland Island, Bermuda, as a Royal Navy base. The site was chosen by Captain Pender. Following the visit of and survey ordered by Admiral Murray, Ireland Island in Bermuda was formally selected for the establishment of a Royal Naval Dockyard. Other islands in the Great Sound were also purchased.
Captain Francis Pender, Royal Navy, on behalf of Admiral Murray, purchased a Bermuda-built cedar sloop, which he called HMS Bermuda, and put it under the command of Lieutenant Thomas Hurd, RN, who had been engaged on a survey of the Bermuda reefs to see iof they could be safely navigated with caution. Hurd was also searching for a channel to allow Royal Navy warships to enter the inner anchorages of the island. Hurd was later joined by Andrew Evans (both Hurd and Evans were later promoted to Captains).
Three more Bermudian vessels purchased from local shipyards were commissioned by the Royal Navy. They were cedar-built 200 ton,12-gun sloops-of-war, commissioned as HMS Dasher, HMS Driver and HMS Bermuda. There were to be many more.
One of the first acquisitions of the Royal Navy in Bermuda in an area removed from Castle Harbour was the purchase of a then-small house on the North Shore of Bermuda, with some uniquely valuable land. What made it attractive for the Navy to purchase Seven Wells was the fact that (a) it had seven wells of fresh water immediately available for Royal Navy purposes and (b) was located adjacent to Devonshire Dock, from where the fresh water could be taken in barrels to ships-of-war.
September 30. Vice Admiral the Hon. George Murray, RN, arrived in Bermuda on HMS Resolution. It was accompanied by HMS Cleopatra and HMS Thesly. The warships were piloted safely through the reefs by James Darrell (born 1749, died 1815, then a slave) and into what later became known as "Murray's Anchorage" in St. George's. For his skill as a pilot, Admiral Murray later (see 1796) ordered the Royal Navy to purchase Darrell's freedom, as approved by then-Bermuda British Governor Crauford. Darrell was appointed one of the first of the Island's "King's Pilots.
A channel, afterwards named the North Shore Channel, was established for British shipping and a major anchorage was found at Castle Harbour at the east end of the island. Thus a Royal Naval depot was first established in Bermuda, at St. George's
October. After Admiral Murray, Royal Navy, paid his quick visit to Bermuda, he named his Flag Captain, whose title and name was Captain Francis Pender, RN, the "Superintendent of the Port" at St George's, directing him to establish a depot there and to purchase several fast Bermuda-built cedar vessels for use as advice boats. So began the two-century association in Bermuda of the Royal Navy, initially at Castle Harbour.
1802-1804
St. George's was abandoned as a Royal Navy Base, then temporarily reopened with Mr. Dunsier in charge.
1803
Before the Dockyard was built, The Royal Navy invested heavily in a Bermuda-based program of building small, fast vessels out of Bermuda cedar, discovered by Hurd to be ideal for this purpose. Such vessels had been used in Bermuda since 1609 but the Royal Navy only discovered them in 1795. Their choice of wood was more resistant to rot than any other small vessel and their passage on the sea was faster than British oak. In rapid succession in that year, the British Admiralty issued draught no. 3275, issued by the Navy Office in July for building two sloops of war in Bermuda; draught no. 3276, for building the two sloops Bermuda and Indian (the brother of famous British writer Jane Austen, later an Admiral, commanded the latter from her commissioning in Bermuda); draught No. 3278, as an addition to No. 3276, for fitting out the Bermuda and Indian; draught No. 4540, for work on the navy schooners Dispatch and Advice; and draught no. 4541, for supplementing the building of the Dispatch and Advice. Bermuda-built sloops - similar to the one shown below - had unique advantages. Their construction from Bermuda cedar ensured they were durable and resistant to shipworm. Cedar was plentiful then and unlike oak, from which many of the larger ships were made in the United Kingdom, did not require seasoning.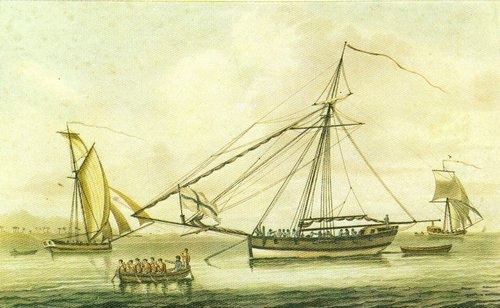 29th August. The Bermuda cedar-built (in 1801) brig, 105 tons, then called "Morne Fortunee," named after a place in St. Lucia, was purchased by the Royal Navy for £3000 sterling. She was originally the brig "Glory."
The ship "Ant", 75 tons, was built in Bermuda from cedar and sold to the Royal Navy.
1804
Thomas Moore arrived in Bermuda. During his four month stay and work as an official with the Admiralty he met and had a love affair with Hester Tucker, whom he called "Nea" in his love poems. Otherwise, he was quite bored. Unfortunately for him, his Bermuda stay led to many financial problems for him, through no fault of his own but for which he was blamed for the cheating of another. Tom Moore's Tavern was later named after him. In Ireland, he is never referred to as "Tom Moore, always as Thomas Moore.
1805
The Bermuda-cedar built in 1799 HMS Pickle, original merchantman or privateer, acquired by the Royal Navy in 1803 in Jamaica and fitted with cannon as a sloop of war (known as Sting when constructed) played a unique role in the Battle of Trafalgar in which the Royal Navy, with 448 dead and 1,241 wounded, soundly defeated the French. Their navy had 4,408 dead, 1,545 wounded and lost 23 of their 33 ships in the battle. HMS Pickle, built of Bermuda cedar wood, was the fastest and one of the hardiest ships in the Royal Navy. Thus it was chosen to cover the 1,000 mile journey from Cape Trafalgar to England with exclusive news of the battle. It was a 9-day journey, during which the ship ran into a gale. On arrival at Falmouth, the officer with the dispatch raced to Whitehall in London by horse and carriage. He arrived at 3 am. Prime Minister William Pitt, the King and Royal Family and newspapers, were awoken to hear the news of the victory and the death of Admiral Lord Nelson. The Bermuda Sloop, developed on the island, was the fastest boat afloat in the 1700s and became highly desirably to seaman, particularly those in illegal trades such as piracy, and for privateering and as advice vessels for the Royal Navy. Bermudians used their ships for commerce and travel between the island, the Caribbean, the continental Americas and wider afield and they were manned by men from all sectors of the community, free and slave, the latter until Emancipation in 1834.
1806
HMS Tourterelle, formerly a French warship until captured, anchored at St. George's as a Receiving Ship.
1807
1808
1809
June 12. Great Britain's Royal Navy Commander-in-Chief in the West Atlantic, Vice Admiral Sir John Borlase Warren, Bt, KB, was in operational command when Bermuda's Ireland Island (75 acres), Boaz and Watford Islands were formally acquired by the British Government by way of compulsory purchase for the establishment of a naval base, following US Independence. The Royal Navy had operated from the Town of St. George in Bermuda for a dozen years while an adequate channel was sought by which large naval vessels could reach the West End of Bermuda. Thus Bermuda became, first the winter location, and then the permanent location of the Admiralty for North America and the West Indies, as well as the base for a naval squadron. Its purpose was to serve as a replacement for all the ports on the eastern seaboard of the new United States that were, until 1783, British possessions. From the reaches of Maine, with all its great ship timbers, to Boston, New York, the Chesapeake and Charleston, His Majesty's Fleet had nowhere to retire for rest and repair, in between various spats with the French and now the new "Americans." Having retained the Canadian Maritimes to the north and some of the Caribbean islands to the south, Bermuda, halfway between, was both the logical and only sound geographical position for the creation of a new naval base. From there, the new United States could be controlled, as long as the Royal Navy ruled the sea-lanes of the Western North Atlantic. As a British officer would later declare, it was a nation "hitherto unable, if not unwilling, to control among its people a wild spirit of aggression dangerous to the maintenance of peace." Ireland Island was chosen for the new Dockyard base, after considering cutting a channel into Harrington Sound because of its protected harbour. Such a major engineering work would have been simple and inexpensive, when compared to the final cost of the western site, for all of it was composed of some of the hardest, "bastard", rock of the Walsingham formations. Undeterred by geological intransigence, the Royal Engineers, "purveyors of technology to the empire", began blasting soon after the erection of a few buildings on flat ground, facing the original cove of Grassy Bay.

June 12. Purchase of Ireland Island. The Royal Navy started moving on on the day it was officially acquired. It has a separate history from the rest of Bermuda. It is named after an individual, not a country. Because there was a fear of leprosy, all on the island had to leave their jungle of cedar and swine and wooden houses thatched with palmetto. Until it became a major Royal Navy base there were no roads and only a few inhabitants. Then it was completely separate from Main and Somerset Islands. (It became connected to other islands via several bridges first built in the late 1800s). When work began here in 1809, main weapons were light. Several wooden wharves were erected, also storehouses and more for supplies for two 74s,six frigates and two sloops.
December. a main guardhouse was built near the Spa Yard.
1810
May 4. A Royal Navy Captain of H.M.S. Swiftsure jumped overboard, "in a fit of temporary derangement", and was drowned, off the Bermudas. He was Captain John Conn R.N. (August 1764 -

4 May 1810

), a senior captain, whose shining career included service at the battles of the Saintes, the Glorious First of June, Copenhagen and Trafalgar ended tragically in a shipboard accident before he could reap the rewards of his long service. Conn could also claim membership of Nelson's "Band of Brothers", a clique of dashing naval officers who participated in Nelson's campaigns during the French Revolutionary and Napoleonic Wars, as well as a close friendship with the admiral himself, who once said: A better or more zealous officer than Captain Conn is not in His Majesty's service. Born to a Royal Navy warrant officer of Irish extraction in Devon, England, on 1764, Conn gained first hand experience of the sea at twelve on his father's ship HMS Weasel, before securing a place on HMS Arrogant as a midshipman on board which he saw action at the battle of the Saintes in 1782. In 1788 he was made a lieutenant but had to wait five years before being given a good position, during which married Margaret, a vicar's daughter. Serving aboard the flagship HMS Royal Sovereign at the Glorious First of June, he came to the attention of Admiral Lord Howe and further distinguished himself in 1798 in HMS Foudroyant at the battle of Donegal which resulted in the destruction of a French invasion fleet headed for Ireland. In 1801 As a commander at the first battle of Copenhagen, his expertise with bomb vessels caused terrible damage to the Danish fleet, and he participated in Nelson's disastrous attack on the French invasion force in Boulogne shortly afterwards, gaining his commanding officers attention and respect. Promoted to Post Captain in 1802, Conn commanded the veteran ship HMS Culloden accompanied by his nine year old son Henry, before transferring to the French prize ship HMS Canopus and being specially requested by Nelson in the Mediterranean. In 1805 he was given temporary command of the first rate flagship HMS Victory and his old ship HMS Royal Sovereign whilst their commanders were on leave and further contributed to his reputation as a reliable and steady officer. On

10 October

he returned the Royal Sovereign to Admiral Collingwood and was given the fast new second rate HMS Dreadnought to command. Eleven days later Conn and his crew where thrown into battle as the Franco-Spanish fleet attempted to break out of Cadiz. Situated halfway down Collongwood's division, Conn struggled to reach the action, only getting there around the time Nelson was mortally wounded in the northern division. Making up for the delay, Dreadnought tangled with the San Juan Nepomuceno, rescuing the battered HMS Bellerophon, killing the Spanish captain Cosmé Damián Churruca and forcing his ship to surrender. Charging on from this victory, the Dreadnought engaged the Spanish flagship Principe de Asturias, mortally wounding the Spanish admiral, but being unable to defeat the enemy, which succeeded in escaping back to Cadiz. Conn even managed to rescue his prize, the San Juan Nepomuceno being one of only four captured enemy ships to survive the storm. Following the battle, in which Dreadnought suffered 33 casualties, Conn continued in service taking over the massive 112 gun HMS San Josef and then the 120 gun HMS Hibernia as flag captain before moving as a commodore to the West Indies in HMS Swiftsure in 1810. Admirals' rank and the honours which came with it were surely not far away when tragedy struck on the 4 May when during the chase of a small French ship near Bermuda, Conn became overeager, slipped and fell overboard. Swiftsure was halted and a search was conducted but Conn had drowned before help arrived. His passing was mourned in Britain and especially in the Navy where he was a popular and respected figure. Sir John Borlase Warren, an old commander and friend, expressed regret at the death of so deserving an officer as Captain Conn.
Admiral Sir John Warren rented the St. John's Hill, Spanish Point, Pembroke house as the residence for the Royal Navy Commander-in-Chief. It became the new Admiralty House in Bermuda.
HMS Tourterelle moored off Tatem's Island and was assigned for duty as a Hospital ship.
Construction began at Ireland Island of the Old Storehouse Building.
Ireland Island in Bermuda formally began construction as a Royal Navy Base, to replace Castle Harbour, four years after the Hon. Thomas Grenville, First Lord of the Admiralty, spoke in the House of Commons on the strategic value of Bermuda as a base between British Canada and the West Indies following Britain's defeat in the USA's War of Independence. The Superintendent of New Works, Commodore A. J. Evans, was given instructions to procure as many artificers as possible to work on the site, including black laborers. Enslaved black men from Bermuda appeared in the Dockyard account books. These men were hired by the Government from the colonists who owned them and received their wages, around £2 Sterling a month. These men were lodged in the yards or on board receiving ships.
1811
1811. January. A map of the proposed new Dockyard on Ireland Island was produced.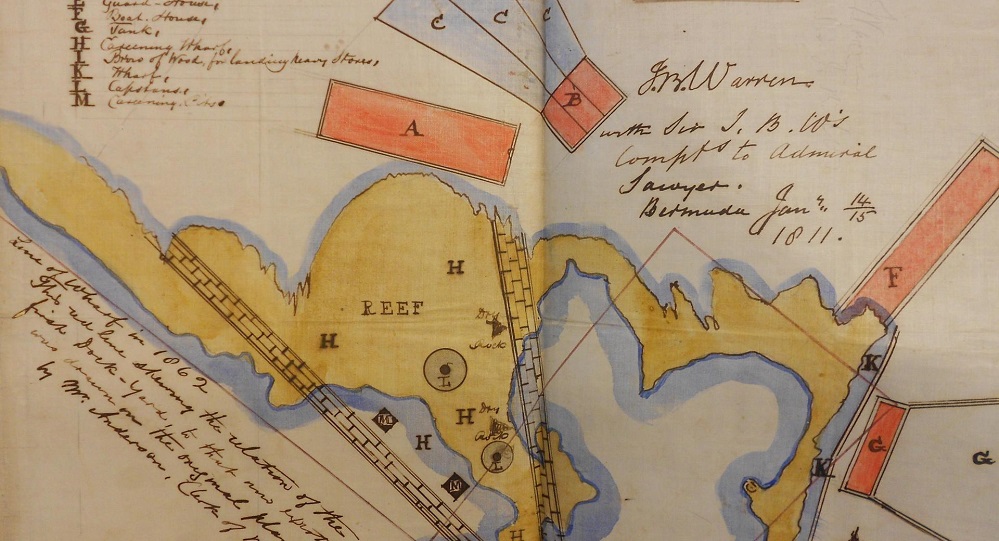 The Royal Navy's first Bermuda Commodore Superintendent, Commodore Andrew Evans, hoisted his Broad Pennant on HMS Tourterelle.
1812
Commander-in-Chief, Royal Navy, Bermuda was granted Mount Wyndham House in Hamilton Parish by the Bermuda Legislature.
St. John's Hill, Pembroke, property rented by the Admiral became a Naval Hospital.
HMS Tourterelle was sunk by the Royal Navy to give shelter to ships in the Camber area at the future Dockyard.
Naval cemetery at Ireland Island consecrated.

One of the first Naval actions of the 1812-14 War between the USA and UK, which involved Bermuda too as a British colony, was the capture of the Bermuda sloop, HMS Whiting, in a US port. Having sailed from Plymouth, she entered Hampton Roads on 8 July 1812 with dispatches for the American government, and lowered her anchor. Unfortunately war had been declared about two weeks earlier. As her captain was being rowed ashore, the American privateer Dash, under Captain Garroway, was leaving port and captured her. Dash had one large gun on a pivot, and a crew of 80. Not only were a third of Whiting's crew in her boat, the rest were not at the guns as they were unaware that Britain and the United States were now at war. Some regard this as the first naval capture of the war. However, Whiting was carrying official dispatches for the American government, which ordered her release. (The first capture by either side was the British capture of USS Nautilus on 16 July).

Rear Admiral Sir Alexander Cochrane formed the Corps of Colonial Marines. Although they were of African descent and many were formerly enslaved in America, these troops received the same training, uniforms, pay and pensions as their Royal Marine counterparts. The Corps of Colonial Marines saw extensive military action from Canada to Georgia in the years 1814 to 1816. These former slaves, who became known from where they were from originally as America Negros or Florida Negroes or King's Negroes, or French slaves, had all sought refuge under the British flag, Many had extensive local knowledge of tidal creeks and riverine routes of the US South during that period. Because of that knowledge, they participated in numerous battles, skirmishes, and raids during the War of 1812. In 1814 they were sent to Bermuda.

1812. The British 18 gun brig HMS Frolic was consort to 14 merchantmen homeward from Honduras and was separated from her convoy on Oct 16 in a heavy gale. She was repairing damage on the 17th when she sighted sail which proved to be the American brig "Wasp." The following day, after 43 minutes of fighting, Frolic lost both her masts, 2 officers, and 15 seamen, 43 wounded out of the total ship's company of 110. The Wasp lost 8 men and about 8 wounded. A few hours later, the British 74 gun ship "Poictiers", Capt Sir John Poo Beresford, hove in sight, captured the "Wasp" and recaptured the "Frolic" and brought them both to Bermuda. Capt Beresford's wife died in Bermuda and was buried in St George's. He was the brother of Marshal Beresford who organized the Portuguese Division in Wellington's Army in the Peninsula. Both were bastard sons of Earl of Tyrone, afterwards 1st marquess of Waterford. Jacob Jones commanded the Wasp at the capture of the Frolic on Oct 18, 1812. The next day the Wasp and her prize were taken by the Poictiers to Bermuda.
1813
During the War of 1812-14, the British blockade of American ports was orchestrated from Bermuda by the Royal Navy, and a squadron based in Bermuda was active in the Chesapeake from February 1813 until the end of the War. British forces briefly occupied Kent Island in 1813 . Other refugees were first brought to Bermuda in May 1813, where they were employed in the construction of the new Dockyard on Ireland Island in the company of hired artisans, both free and enslaved, (and finally to Nova Scotia and New Brunswick for resettlement).

The St. John's Hill property previously rented by the Royal Navy was renegotiated, this time for a peppercorn rent.

April. A midshipman's grave was dug at Clarence Cove, originally Abbott's Bay. He was a 16-year Royal Navy midshipman, Charles Francillon, of the Royal Navy ship HMS Spartan. He died from phthisis, a form of tuberculosis, a highly contagious disease of the time, on April 18, 1813 - during the 1812 to 1814 War. Francillon was born in Harwich (then in Essex, England), the fourth son of Francis Francillon of Harwich, a Purser in the Royal Navy. He was 15 years old when he joined the ship as a First Class Volunteer, a rank created in 1794. It was a first step for boys, who later became Midshipmen for three or more years, then Lieutenants. He was a patient of what was then the recently opened first Bermuda shore-based Royal Naval Hospital - much later, Admiralty House - when he died. The letters D. D. appear beside his name, which mean he was "Discharged Dead". He probably received the posthumous rank of Midshipman while still technically a First Class Volunteer.
April 23. Prison hulk Ardent ex 64 arrived and stayed until 1824
April 27. American forces raided York (Toronto) looting and burning buildings, including the governor's house and the provincial legislative building. This was the second American invasion since 1812. Later, they were repulsed by British Army forces. Until that happened the Americans destroyed property throughout Canada, turned citizens out into the cold in the depths of winter and burnt their homes.
June 1. HMS Shannon (38 guns) captured the "Chesapeake" (44 guns) off Boston Light after a sharp and decisive engagement that lasted only fifteen minutes. The commander of the "Chesapeake", James Lawrence, who was mortally wounded in the fray, was related to the Cox family of Bermuda, and his senior officer was William Cox, son of a Bermudian who had emigrated to America. The Chesapeake was initially sent to Halifax, Nova Scotia but was shortly afterwards brought to St. George's, Bermuda by HMS Shannon and the ship, her officers and men became prisoners-of-war.
July 24. HMS Romulus, after being re-classed as a 22 gun unrated hospital ship, was based in Bermuda.
December 10. The small Canadian town Niagara on the Lake, situated at the mouth of the Niagara River, and directly across from Fort Niagara, originally named Newark, had already seen much activity during the War of 1812 when nearby Fort George was earlier captured by American forces under General George McClure. On this date, McClure's men set fire to the town before abandoning the fort to advancing British forces, destroying eighty homes and "about 400 women and children were rendered homeless." As Newark had been the early capital of Upper Canada and to every loyal Canadian it symbolized the early struggles of the province and the names of Simcoe and Brock---its destruction (and the burning of York's (Toronto) public buildings earlier) infuriated the British and led directly to the retaliation burning of Washington, DC in August 1814.
1814
Construction was well under way to switch the location of the Royal Navy base from Castle Harbour to Ireland Island.
HMS Goree arrived in Bermuda, stationed mostly at St. George's but also at the emerging Dockyard. She was earlier the 16-gun sloop of war HMS Favourite launched in 1794. The French captured her in 1806 and renamed her Favorite; the British recaptured her in 1807 and renamed her HMS Goree. She became a prison hulk in Bermuda in 1814, mostly to house captured American sailors and was broken up in 1817.
January. Vice Admiral Sir Alexander Cochrane, then resident in Bermuda at Admiralty House, Bermuda, then located at Mount Wyndham, Bailey's Bay, was appointed Commander-in-Chief of the Royal Navy's North America and West Indies Station. He already had plans for carrying the war to the United States by launching attacks in Virginia and at New Orleans.
Royal Naval forces directed from Bermuda and active at sea since 1813 established a base on Tangier Island in the Chesapeake, where the Royal Navy recruited from among refugee slaves a Corps of Colonial Marines.
June 2. Sir George Prévost, Governor of Canada, wrote to the Royal Navy's Vice Admiral Sir Alexander Cochrane in Bermuda, calling for a retaliation against American depredations against non-combatant civilians and private property, as such acts at the time were considered to be against the laws of war. He wanted the American invasion of Yorktown (later, Toronto) avenged.
July. HMS Dictator, and HMS Diamond, both 64s, along with HMS Royal Oak, 74, arrived at Bermuda between July and August from England with the 4th, 44th, and 85th Foot regiments aboard. Altogether a brigade of 3,500 troops disembarked on the North Shore, near Devonshire Dock, at a place still called "Forces Point", under the command of Maj-Gen Robert Ross of an Ulster family.
July. 6 British frigates arrived at Bermuda from "up the Straits" having on board the 7th Fusiliers and 3 other regiments. They were soon joined by those brought on HMS Royal Oak, Dictator, and Diamond.
July. One of the British men-o-war which assembled at Bermuda to attack the American coast was the HMS Royal Oak, with Major (later Lt-Gen) Sir Harry Smith (1787-1860) age 27 who wrote an account of the arrival at Bermuda. She left Bermuda with Rear Admiral Malcolm and 30 or 40 sail of transport, on board troops recently arrived from Southern France, to rendezvous in Chesapeake Bay with the "Tonnant" and the "Surprise". "The wind blowing from the east made it difficult for the "Royal Oak" to leave the anchorage. The Admiral resolved on the boldest thing ever attempted, to take the fleet out through the North East Passage, never done before save by one frigate. There was but one man capable of piloting the "Royal Oak" (Joseph Hayward, "Uncle Joe") and he feared her bows would touch when the rudder was clear. Sir Harry Smith wrote: "To my honour there appeared not a foot to spare, it was a most extraordinary thing ever seen, the rocks visible all around the ship." At one moment the wind was very light, it almost died away; the only expression of Admiral Malcolm was "Well, if the breeze fails us it will be a good turn I have done the Yankees". The undertaking was successful, the expedition went up the Pawtuxent and carried out the attack on the city of Washington." See http://www.atlascom.us/defender.htm.
July. British soldiers under the command of Major General Robert Ross arrived in Bermuda from Britain and camped out near Devonshire Dock in their hundreds, for two weeks on the island. In Murray's Anchorage, some 18 ships of the line, including the flagship, HMS Tonnant (86 guns, originally the French Le Tonnant, captured by Nelson in 1798 at the Battle of the Nile) and HMS Royal Oak (74) lay at anchor, awaiting a signal for departure for the continent. The Admiral in overall command, Admiral Sir Pulteney Malcolm, was able to view the entire fleet from his strategic hill-top home at Mount Wyndham in Hamilton Parish, his official residence rented from Stephen Outerbridge.
The former HMS Romulus, by then a hulk, was moored off Spanish Point as a ratings' hospital.
July. A Royal Navy fleet with Royal Marines and soldiers assembled in Bermuda and sailed to attack and burn principal buildings, including the White House, in Washington DC in revenge for the American torching of Yorktown, now Toronto. Afterwards, off Baltimore as a detainee aboard a British warship, the American lawyer Francis Scott Key wrote "The Star Spangled Banner" - with its melody from a raucous British drinking song.
August 1. HMS Tonnant, with Vice Admiral Sir Alexander Cochrane K.B. and the frigate "Surprise" with Sir Thomas Cochrane, prepared to sail from Bermuda, destined for Chesapeake Bay. The British Royal Navy fleet was piloted by James Darrell of St. George's aboard HMS Resolution through a difficult passage to Murray's Anchorage until it reached the open sea. It had been ordered to assemble in and sail from Bermuda to successfully attack and burn Washington DC, in retaliation for the American attack on and burning of Yorktown, now Toronto, in Canada. Pilot Darrell — known as Jemmy — is often cited as the first black man to buy a house in Bermuda and it is certain that he was one of the first to own land. He was a slave until then. His nautical prowess led to him becoming one of the Island's first King's Pilots and eventually his release from slavery, aged 47. The father-of-one later campaigned for better pay for pilots and for a change in the law to allow black people to leave their property to their family. After it burnt Washington, it attempted the same thing on Fort McHenry in Baltimore. During that engagement, Francis Scott Key wrote the words of what became the Star Spangled Banner, as a temporary detainee on one of the British warships. The melody is from a bawdy British drinking song by a London based composer. The fleet's voyage ended in Halifax, where hundreds of slaves who had lined the shores of the Pawtuxent River and elsewhere nearby to implore British troops to help them escape from bondage had been rescued and were also on the British warships cheering on and actively assisting the sailors who had set them free, were promptly and officially given their freedom.
August 4. A then-massive Royal Navy fleet of 16 ships under the command of Vice-Admiral Alexander Cochrane and with British troops also aboard, led by HMS Royal Oak, left the island and headed for Chesapeake Bay to crack down on US ambitions to annex Canada by attacking the capital Washington DC and Baltimore. It spawned the only time the US capital has been invaded by hostile forces — who burned most of the public buildings, including the White House, in retaliation for the burning of York, which was later renamed Toronto. It had its origins in tensions between Britain and the US over UK domination of the seas and the British territory of Canada. The US had raided York twice and set fire to government buildings in the city — and Britain wanted to teach the new nation a lesson. Admiral Cochrane planned the attack from his then HQ at Mount Wyndham in Bailey's Bay, amassing a fleet of 18 ships and 5,000 soldiers before sailing from Murray's Anchorage for the US Atlantic coast. The earlier loss of its American colonies in the American War of Independence led to a new focus on Bermuda as Britain's naval bastion in the west and the start of a military build-up that would eventually see the massive Royal Naval Dockyard built in the West End, which helped support the Island's often-struggling economy. But the planned attack got off to a bad start. In the days of sail, strong easterly winds had trapped the fleet in Murray's Anchorage for three days until Bermuda pilots Joseph Nicholas Hayward and Pilot Outerbridge volunteered to try and navigate the entire fleet, which included the 86-gun HMS Tonnant, out through a narrow gap in the reefs, the North Channel, just east of North Rock. The feat had never been attempted before with warships under sail, but the entire fleet scraped through with inches to spare and headed for the coast of the US. The attack took the US by surprise, and land commander Major General Robert Ross defeated a poorly-trained and hastily-assembled American Militia force at the Bladenburg before marching into Washington. Tangible reminders of the attack still exist in Bermuda today — the two massive portraits of King George III and Queen Charlotte which hang in the Island's House of Assembly were looted from a warehouse in Washington before British troops set it on fire. But things started to go wrong again for the British after they rejoined the fleet and headed for Baltimore — described as "a nest of pirates" by Admiral Cochrane — and landed near the strategic port city. British troops were turned back by American forces after General Ross was shot and killed by an American sniper. The British later bombarded Fort McHenry, built to defend Baltimore's harbour and among a handful of Americans interned on British ships in case they passed intelligence to the US forces was Francis Scott Keys, a lawyer and ancestor of famous US novelist F Scott Fitzgerald. Keys wrote the poem that became the Star Spangled Banner after US forces showed their defiance by raising a massive American flag after the British fleet had attempted to blast the fort to pieces and, more than 100 years later, it was finally adopted as the official anthem of the US. And what is believed to be the last casualty of the war — US Navy Midshipman Edward Dale, badly wounded when the USS President was captured by a Royal Navy squadron off New York and brought to Bermuda — died in St George's of his wounds. The naval engagement in January 1815 came three weeks after Britain and the US signed the Treaty of Ghent to end the war — but it took months for the news to travel across the Atlantic. Later, a brooch of silver and paste jewels was found stating "Rear Admiral Cockburn to Mrs Outerbridge, commemorating her husband's daring feat of piloting through North Rock Passage the British Fleet responsible for the sacking and burning of Washington. Bermuda 1814." One was also given by the Admiral to the wife of pilot Hayward.
August 24. British Army and Royal Navy forces entered the Chesapeake Bay and attacked Washington DC from Bladensburg, Maryland. Washington had little strategic value - the thriving port of Baltimore was much more important. However, as capital of the nation, the British hoped that its burning would have a psychological impact on the will of the Americans to continue the conflict. As the British army of approximately 4,000 approached, the majority of Washington residents fled the city. American defenders, with President James Madison in attendance, were quickly routed by the invaders in a battle at Bladensburg a few miles from the city. A messenger was dispatched to the White House to warn First Lady Dolley Madison of the impeding arrival of the British. She and her staff fled by carriage across the Potomac - taking with her the full-length portrait of George Washington that had been torn from a White House wall. That evening, the vanguard of the British army reached Capitol Hill. Their original intention was to halt and send, under a flag of truce, a small party to offer terms, for officials to surrender without bloodshed. But when they were fired on from the windows of a house, with the horse of General Ross killed by the gunshots, they retaliated. Realizing they were too few in number to effectively occupy the city they began its systematic destruction of all public buildings in the city. Included in their number were contingents of black British Colonial Marines. T

heir intent was to cause as much damage as they could, at least as much as the Americans had caused in Yorktown. In fact, they had brought with them meticulous accounts of the latter.

The troops advanced into the town, and first attacked and killed all who were found in the house from which the shots were fired, then burnt the house. Then they proceeded, without any further delay, to burn and destroy everything in the most distant degree connected with government. In this general devastation were included the Senate House, the President's White House, an extensive dockyard and arsenal, barracks for two or three thousand men, several large storehouses filled with naval and military stores, some hundreds of cannon of different descriptions, and nearly twenty thousand stand of small arms. There were also two or three public rope works which shared the same fate, a fine frigate pierced for sixty guns and just ready to be launched, several gun brigs and armed schooners, with a variety of gunboats and small craft.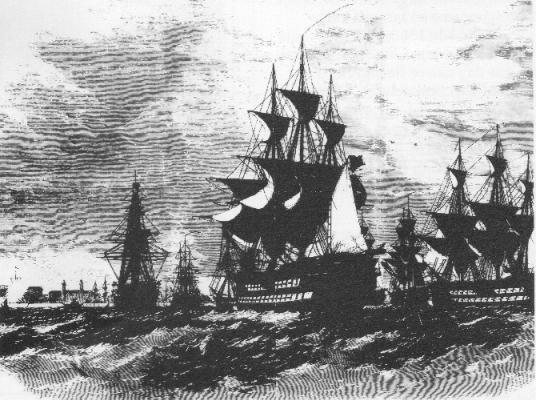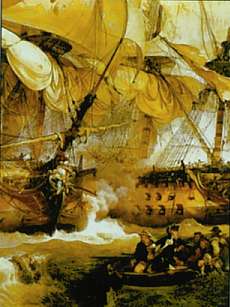 Royal Navy ships en route to attacking the USA at anchor off Dockyard, 1814
The powder magazines were set on fire, and exploded with a tremendous crash, throwing down many houses in their vicinity, partly by pieces of the wall striking them, and partly by the concussion of the air whilst quantities of shot, shell, and hand grenades, which could not otherwise be rendered useless, were thrown into the river. When the detachment sent out to destroy Mr. Madison's house entered his dining parlor, they found a dinner table spread and covers laid for forty guests. Several kinds of wine, in handsome cut glass decanters, were cooling on the sideboard; plate holders stood by the fireplace, filled with dishes and plates; knives, forks, and spoons were arranged for immediate use; in short, everything was ready for the entertainment of a ceremonious party. Such were the arrangements in the dining room, whilst in the kitchen were others answerable to them in every respect. Spits, loaded with joints of various sorts, turned before the fire; pots, saucepans, and other culinary utensils stood upon the grate; and all the other requisites for an elegant and substantial repast were exactly in a state which indicated that they had been lately and precipitately abandoned. The soldiers hungrily ate the dinner, drank the wines then set fire to the White House and neighboring places. Of the Senate house, the President's palace, the barracks, the dockyard, etc., nothing could be seen except heaps of smoking ruins.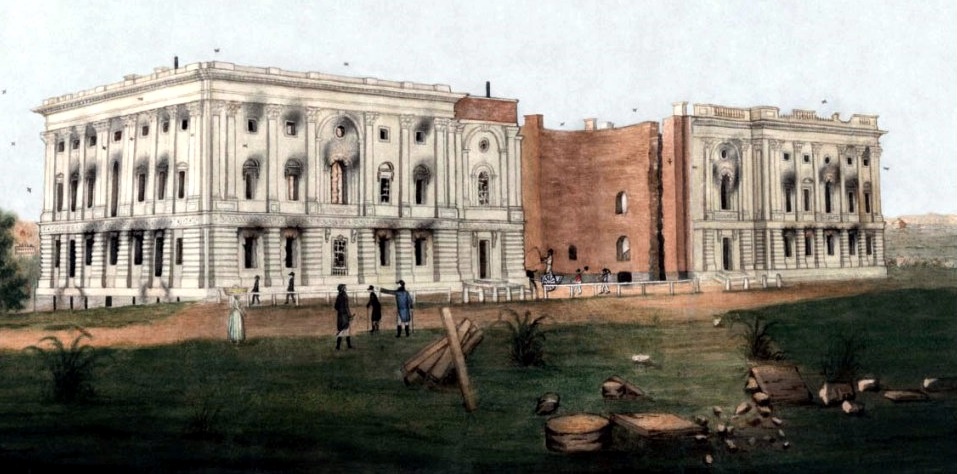 The White House after it was torched by British forces in revenge for the US burning of Yorktown now Toronto
After the War of 1812 to 1814, there were continuing disputes between the British and Americans over the boundaries between Canada and the United States. The military authorities saw this as future trouble. They were informed that work on building the dockyard was proceeding far too slowly. Providing the convict labor force was a cheap and effective way to overcome the problem, get the base built cheaply and isolate the trouble-makers. Bermuda was selected as a convict station in preference to Sierra Leone in Africa or Canada. Without the Dockyard, Bermuda would have had none, all would have been sent to Australia instead. As it was, it received 8 for every 1 sent to Bermuda. Transported to hard labor in the colony for six to eight years in the same way British convicts had been once been condemned in Virginia and elsewhere in the USA until the American Revolution in 1776, the prisoners lived on rotting Royal Navy prison hulks - including some from the Battle of Trafalgar 20 or more years earlier - and worked from sunrise to sunset to build the naval bastion and fortress. Most were still wearing chains of bondage as convicts when Bermuda's blacks were freed from all vestiges of slavery in the 1840s. Only when the sentences of the convicts was served if they still lived - because 20% died in Bermuda or on the way there - were they allowed to remain as free colonists.
The Royal Navy Dockyard, Bermuda, formally began life as the idea of Arthur Wesley - later Wellesley - the 1st Duke of Wellington (once a colonel in the 33rd Foot in 1795). The British Government needed to retaliate in the event of any invasion of Bermuda or any further attempted invasion of Canada by Americans or their allies, as the Americans had tried to do in 1812, and occupied what is now Toronto which directly caused the War of 1812-14, before being beaten back. After the War of 1812-14 between Britain and the USA, the Royal Naval Dockyard in Halifax, Nova Scotia, was considered too vulnerable to attack from America. In 1818, the Royal Navy Dockyard in Halifax was formally moved to Bermuda. Halifax suffered a further economic malaise for a few years, that had started when peace was declared in 1815 between the USA and Britain. Bermuda, well beyond the operating range of the United States Navy, isolated but in the strategic mid Atlantic, was ideal for a surprise Royal Navy attack.
Construction at the Dockyard of a blacksmith's workshop in the Spar Yard.
Construction began of the Royal Naval Hospital at Ireland Island, Dockyard.
1815
After the War of 1812-14 the men of the Corps of Colonial Marines earlier brought to Bermuda to man the garrison and to continue the construction of the Dockyard were affected by Britain's reduction in naval budgets that came with peace. The Admiralty declined any further responsibility for them. The men rejected a British Government offer to become part of its West India Regiment, but accepted from 1816 the government's alternative offer of settlement in Trinidad as free independent farmers.
Houses were built for Royal Navy personnel and their families in the Dockyard's Grey Bridge area.
1816
Royal Navy Officer's houses were built on the north side of the Dockyard's Ireland Island. They included one for the Commissioner (demolished in 1827).
Admiralty House, St. John's Hill, Pembroke, earlier rented by the Royal Navy, then at a peppercorn rent, was formally gifted to the Royal Navy by the Bermuda Government.
July 15. Two years after the USA-Britain war ended in 1814. the dark-skinned men of the Corps of Colonial Marines which had earlier during that war been brought to Bermuda to man the Dockyard garrison and to continue the construction of the Dockyard, were told by the Admiralty they were no longer needed. With the reduction in naval budgets that came with peace, the Admiralty declined further responsibility for them. The men rejected a British government order for them to be transferred to the West India Regiment, but accepted in the end the government's alternative offer of settlement in Trinidad as free independent farmers. Their last day of pay at Bermuda was this day, when they were taken, together with their families, by ship to Trinidad where they were formally disbanded on 20 August and taken to their new settlements to occupy grants of land.
Appointment in Bermuda from Halifax, Nova Scotia, of James Robertson Arnold, one of the two sons of Benedict Arnold and his Loyalist wife Margaret Peggy Shippen of Philadelphia and - like his mother, American born - went to Canada with his family and was educated at King's College School. He avenged his father's humiliation in America by joining the Royal Engineers of the British Army. He became a Colonel and later, a Brigadier General. From Halifax, he was the first Royal Engineer to fortify the new Bermuda Dockyard against the USA. From 1814, the Dockyard defended the British military machine in Bermuda against any possible attack by the United States and others. For big guns to defend dockyards adequately, smooth bore cannon, developed in the 1500's, had to be more effective. One temporary British answer was the development of the carronade in about 1779. The Royal Navy brought them to Bermuda as effective weapons. After spending 2 years in Bermuda, he returned to Halifax and used the experience and knowledge he had gained in Bermuda to reconstruct and improve the fortifications at the Citadel in Halifax.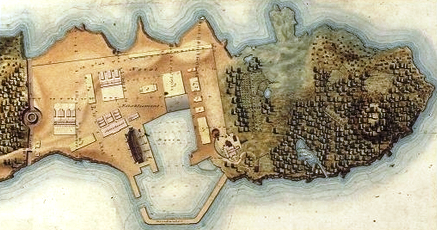 Dockyard Fortifications 1818 as completed by Colonel James Robertson Arnold, son of Benedict Arnold, in 1816.
With the new Dockyard at Ireland Island nowhere near ready, the Royal Navy needed to continue its presence in Castle Harbour, St. George's. A suitable house was leased for the Commodore Superintendent.
1817
Captain John Lewis, Royal Navy, was appointed as first Commissioner of Bermuda's emerging new Dockyard.
Cockburn's Cut, Dockyard, was constructed, dug and opened by the Royal Engineers. It was refilled in 1823.
1818
The Royal Naval Dockyard, Bermuda officially replaced the Royal Naval Dockyard, Halifax as the British headquarters for the North America and West Indies Station of the Royal Navy.
Artisans' houses were created at The Square, Dockyard, from Portland Stone imported from England. The facility became known as Portland Place.
Completion of the Royal Navy Hospital near the Dockyard, with the unusual cast and wrought iron building designed by Edward Holl, Chief Architect for the Royal Navy and Scottish engineer, John Rennie (1761—1821). It was built in the same pre-fabricated manner as the later Commissioner's House, initially as a Quarantine unit. British convicts transported to Bermuda to build HM Dockyard, were treated here. When added to substantially later, in addition to more cast iron structural features, such as veranda columns, floor joists, and possibly cast and wrought iron roof trusses, some of the stonework for the building was the hard local limestone. A surgeon, doctors and medical staff were appointed and sent by the Royal Navy. During World War 2, the Royal Naval Hospital, Bermuda, treated and often saved the lives of many brought in from torpedoed ships. The Royal Navy left in the 1950s. That hospital building ended its life as an egg farm, then finally was deliberately burnt to the ground by the Fire Department in November 1972 after it became a battery for producing chicken eggs. Later, it was the site for Lefroy House, for senior citizens. Only rubble is left. Lefroy House was so-called after the famous Bermuda Governor (and historian in later life). It became an Adult day care center for seniors. Registered charity 393.
1819
Admiralty House at Spanish Point was surveyed.

A surgeon's house was erected at the Royal Naval Hospital, Dockyard.

Foremen's houses at Dockyard were constructed.
1820
A Steam factory, Smithery and Storehouses were established at Dockyard.
1821
At Admiralty House, improvements were made to the dwelling quarters for non-commissioned staff and a wine cellar were created for the Admiral and his officers. Admiral Fahie, Commander in Chief. Royal Navy Bermuda, based at Admiralty House, ordered the wine cellar to be constructed "for the preservation of his health and of his suite." (A kitchen was added in 1824, a new dining room in 1828 and new stables in 1834).

At the Dockyard, the Ruby hulk was broken up. Its timbers were used to delineate the Dockyard area.
1822
Following a further survey of Admiralty House, St. John's Hill, Spanish Point, where Admiralty House was situated, was re-named Clarence Hill after the Duke of Clarence. At the same time, Abbott's Bay became Clarence Bay.

At the Dockyard, four horses were bought by the Royal Navy to replace slaves.

A system of flag signals created by the Royal Navy for use in Bermuda began to work across the islands. Four hill-top posts were created, one at Fort George, with the Dockyard-based Central Signal Station for shipping and for meteorological reporting. Others were Mount Langton, Gibbs' Hill with the colony's lighthouse, and Admiralty House at Spanish Point. The flags indicated the arrival and passing-by of shipping and other events, including a midday time signal; the numerical flag code was easily read by the civil residents, who were also allowed to send private messages.
1823. British Convicts began to arrive on Prison Hulks
January. British convicts were approved by the British Government in London and its Navy Board for transportation to Bermuda to work on HM Dockyard. British convicts who were exiled in chain gangs to Bermuda at that time included debtors, unemployed mill hands goaded into riots in Britain by starvation, Irish nationalists, Welsh debtors, Scotsmen defiantly and violently protesting the Clearances from the northern Highlands of Sutherland and Caithness in particular, defaulting bankers, sheep steelers, poachers and petty thieves. They were to do so for 40 years. The decision to send them to Bermuda was strategic. Britain needed to speed up work on the Dockyard, there were not enough men in the local population and convict labour was cheap and plentiful. See http://issuu.com/penandsword/docs/prisonersinparadise. This decision was taken for three reasons, one being the frustration from the slowness of local labor. Another was the need to speed up work at the dockyard. The third was the fact that convicts were going to be constantly available as a source of cheap and expendable labor. The convicts were to be housed on prison hulks. The hulks were once ships of the line that had fought at Trafalgar and elsewhere and then been decommissioned due to their age or condition or seaworthiness. Masts were taken off and extra decking and roofs were erected to make places on incarceration.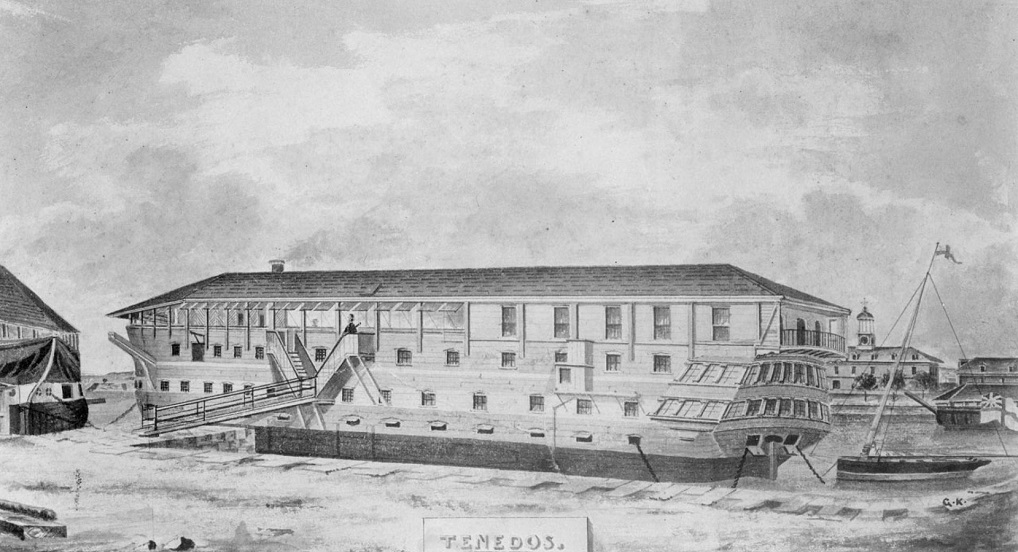 1823 graphic of Tenedos, one of the Royal Navy ships of war in the War of 1812-14, later a Bermuda-based prison hulk.

Dockyard with prison hulk
Clearing and blasting began to occur at Dockyard. At that tine, 23 UK expatriate supervisory staff and 218 local employees were involved.

May. Commissioner's House commenced its construction. Samuel Wade Smith was sent out to Bermuda by Edward Holl, the Surveyor of Buildings for the UK's Navy Board. He brought with him the plans for the Commissioner's House at HM Dockyard which Holl had designed. The former was responsible not only for the building of Commissioner's House, but also all of the quarrying and leveling of the dockyard site, the construction of the breakwater and the great wharf walls, and all the other buildings which constituted what became known as 'The Works. It is so-called because it was the home and office of the Royal Naval Dockyard Commissioner. It has the distinction of being the oldest overseas cast iron building in British military history (it is exceeded in age only by a few buildings in the UK and USA where cast iron buildings were pioneered). It was an iron and steel framework shipped from the United Kingdom. It caused a monumental scandal because of its huge cost to British taxpayers. It became HMS Malabar VI and remained so until paid off. In front of and below it - see picture above - is the replica of the original bowsprit of a one famous Royal Navy vessel (with the author next to it). Commissioner's House was restored in 2000 after long years of neglect. The Bermuda Government contributed US$ 500,000 in a new partnership with the Maritime Museum. It has now been reopened as a second museum. It is identical in name to properties at other Royal Navy bases.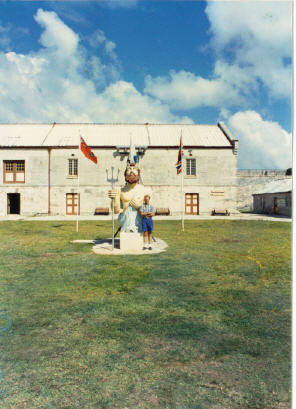 Cockburn's Cut was closed, for military security.

October. Announcement of more convicts to arrive within months.
1824
January. Casemates commenced as a barracks for Royal Marines and soldiers. They would undertake two main functions, one to provide general security and the other to guard convicts when they arrive. The grim building of Casemates ( described by name in Somerset Parish - was once solid rock. It is one of the most important - and second-oldest of the Dockyard buildings. It was built from convict labor as a barracks for Royal Marines Light Infantry, then responsible for the defence of the Dockyard. The "casemate" refers to the fact that its roof, vaulted in brick and concrete some eight feet thick, was built to make it bomb-proof against the incoming cannon balls and mortar shot of the day. At one time (1848), Casemates was the barracks of the 42nd Highlanders (Black Watch). They were then guarding the convicts building the Dockyard. (They later created their own unique niche in Bermuda history in the creation of the Black Watch Pass and Black Watch Well). Its yard is a flat, white wasteland created by the blasting away of its hard limestone, to give slaves (until 1834), free men and jailbirds from England (until 1863) the raw material from which they laboriously shaped each and every rock that made up the fortifications. The walls are several feet thick and made of specially-treated local limestone needed no plastering to make them waterproof. It had two floors with accommodation for 120 officers and men, along with canteens, messes and offices. There was a veranda - needing restoration - on three sides of the building on the ground floor. The well that forms the roof has unparalleled views of the Dockyard to the northeast and the building, given its construction, was capable of being used as a fort. On either side of the Barracks was an ordnance yard, still with gunpowder storage buildings, or magazines. In recent years, but without success to date, there have been proposals to create a hotel from the former prison, now deserted. It has also been suggested that the Bermuda Archives be relocated here.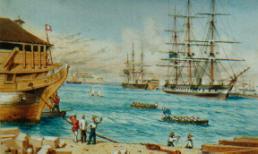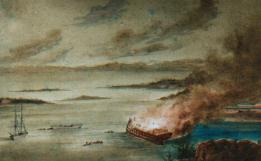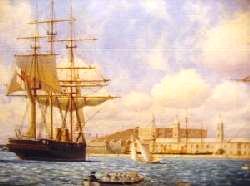 1825
A ropewalk was erected, at the northwest side of Maria's Hill.

A smithery and saw pit were created.

Lagoon entrance closed by causeway.

Royal Oak hulk arrived, used as a victualling hulk.
1826
The North East Breakwater reached 200 feet, growing at 13 feet per month.

Foundations laid of South East Breakwater.

Dromedary, destined to become a prison hulk, arrived in Bermuda after sailing from England in late 1825. Earlier, she had transported convicts to New South Wales and Van Diemen's Land (Tasmania) in 1820, was ex store ship. She stayed in Bermuda until 1851.Dromedary was an East Indiaman that the Navy purchased in 1805. First named Howe and then renamed Dromedary in 1806. She was converted to a prison hulk in 1825, at Bermuda and broken up there in 1864.

September 1. Possessions of the convicts from the 19th century found much later were of value only to the convicts who made them illegally. The Colonial Times newspaper in the UK reported the situation then prevailing as follows: "At the termination of the assizes or sessions, the keepers of the various gaols throughout the kingdom are required to transmit to the Secretary of State for the Home Department, a list of prisoners who have received sentence of transportation, and an order is then forwarded, directing to which of the hulks they are to be conveyed. On their arrival, they are immediately stripped and washed, clothed in coarse grey jackets and breeches, and two irons placed on one of the legs, to which degradation everyone must submit, let his previous rank have been what it may. They are sent out in gangs of a certain number to work on shore, guarded by soldiers. A strict account is kept of the labour performed by each gang, there being a scale by which it is calculated, and out of each shilling earned for the Government by the prisoner, he is entitled to a penny, which is carried to his credit; but of this he receives only one third part weekly, the remainder being left to accumulate until the expiration of the term which he is doomed to serve. "Thus it sometimes happens that a man who has been six or seven years on board the hulks, on his discharge is put in possession of ten or twelve pounds, and is also supplied with an additional sum of money to defray his travel expenses to get back home. The strictest discipline is maintained, and extreme cleanliness enforced in the vessels. The diet daily allowed is a pound and a quarter of bread; a quart of thick gruel, morning and evening; on four days of a week, a piece of meat weighing 14 ounces before it is cooked; and on the other three days in lieu of meat, a quarter of a pound of cheese, also an allowance of small beer; and on certain occasions, when work peculiarly fatiguing and laborious is required, a portion of strong beer is served out; no where [except in the Colonies] does a good behavior meet its reward more than at the hulks. A chronicle is kept of the conduct of each, and the Captain and Chaplain have the privilege of recommending annually a certain number as fit objects for a mitigation of punishment, so that it frequently occurs that a man sentenced to seven years transportation, serves only three years and a half or four years; there are also other inducements to orderly conduct, such as having the irons lightened and being promoted to little appointments which relieve from severe labour. Besides those who are retained to serve out their term of transportation in England, thousands are every year sent to these colonies, upon an average about six transports arrive annually in Van Diemen's Land; and about twelve in New South Wales. Amongst others who are actually transported to the Colonies, such are invariably selected as are known to be old offenders, and those who appear to be incorrigible. One ship, the Bellerophon, at Sheerness, is appropriated exclusively to a reception of boys, not exceeding 16 years of age, most of whom are not expatriated, but are taught various trades, such as shoemaking, tailors work, bookbinding and etc. The morals of these youthful delinquents, some of whom are not more than ten years old, are very carefully attended to; it is, however, a lamentable fact, that not withstanding the severe lessons taught by the discipline of the hulks, very many instances occur of prisoners who have been discharged, again returning to habits of dishonesty, and, again incurring the penalty of transportation, eventually banished to these Colonies. The Penitentiary, at Millbank, was erected in order to serve some measure as a substitute for the hulks or exportation, but it is sufficiently notorious that this gigantic establishment which has cost the Mother County near a million of money, has hitherto most lamentably disappointed the expectation of its projectors, both in a moral and political point of view. About two years back, when much sickness prevailed in the penitentiary, an Act of Parliament was passed, to enable His Majesty to remove the prisoners from thence to the Hulks, and a certain number were drafted to each ship. These are said to have exhibited little symptoms of reformation, but, on the contrary, were generally found to be the most refactory. We have drawn this statement ,and we place it before the Public to convince them of the difference between the usage of American prisoners, and those subjected to a penal bond in the Colonies we inhabit; and we are the more eager to do so at the present period, from the influx of prisoners from England and the penal settlements, otherwise we should not have been induced to have entered thus fully into this subject."
1827
Constructed were The Cottage, Parsonage, Fortifications, Keep and Great Wharf. Primarily for the convicts but also for other Royal Navy personnel, a Church of England parson was sent from the UK to attend to the spiritual needs of the convicted and free. From that time on the Royal Navy property was known as the Parsonage and the bay in which it was located was referred to as Parson's Bay.

First Commissioner moved in to Commissioner's House.

Convict hulk Corondel (formerly Malabar II) arrived in Bermuda. Coromandel was a 20-gun store ship, formerly an East Indiaman that the Admiralty purchased in 1804, commissioned as a 56-gun Fourth-rate, and named HMS Malabar in 1804. She was refitted as a store ship in 1805 and renamed Coromandel in 1815. She became a prison hulk in 1827 and was broken up in 1853.
1828
Prison hulk Weymouth arrived.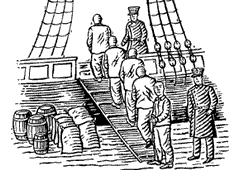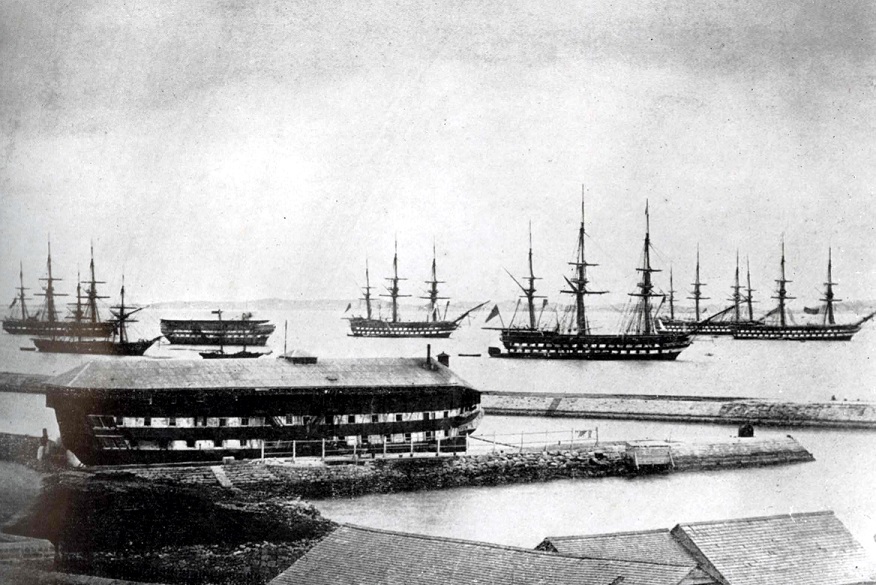 Weymouth and other prison hulks in 1828
1829
The 118-ton Bermuda-built cedar privateer, completed in 1825, also with the name Pickle in honor of the vessel of 1803, took part in a severe Royal Navy action of the northeast coast of Cuba that resulted in the capture of a Spanish slave-trading ship, the Boladora and the release of 330 slaves aboard.
1830
April. Irish convict James Ryan was shot and killed during rioting of convicts on Ireland Island. Another five convicts were given death sentences for their parts in the riots, with those of the youngest three being commuted to transportation for life.

Two reports by John Henry Capper, Esq, Superintendent of Ships and vessels employed for the confinement of offenders under sentence of transportation relating to the convict establishments at Devonport, Portsmouth, Chatham, Woolwich and Bermuda. London: House of Commons. 8pp. British Parliamentary Paper. HC170. Contains lists of convict hulks at Portsmouth, Gosport, Sheerness, Woolwich, Chatham, Deptford & Bermuda with numbers of convicts. Summaries of work performed, health etc. Parliamentary Papers.

The Dockyard and forts elsewhere in Bermuda began to be fully armed.
HMS Hussar, a Royal Navy 5th rate, 38 guns, built in 1805, was refitted at the Royal Navy Dockyard, Bermuda.
1831
Two careening capstans installed on the Camber.
The Old Cooperage building was built for Royal Navy storage (now the Bermuda Arts Center, the creative workshop of local artisans and artists, open 7 days a week).
1832
October 25. Death and burial in Bermuda early November of one-time Mount Wyndham resident Rear Admiral Sir Edward Griffiths (later Griffiths-Colpoys), on a voyage to England. The Royal Navy monument to him was the largest in the Royal Naval Cemetery at Ireland Island. (His sister, Martha Griffiths, married one Thomas Abbott in 1798 and her great great grandson, Admiral Sir Peter Abbot, GBE, KCB, served in Bermuda in the mid-1970s).
1833
First steamship-of-war, HMS Rhadamanthus, coaled at the Royal Navy Dockyard, Bermuda, whole en route from Jamaica to London.
1834
A traditional Bermuda-rigged sloop was built of Bermuda cedar partially by slaves freed or about to be freed. She was a Ballyhoo schooner, believed to have been a significant local evolution of the Royal Navy's "Shamrock" class of boats.
August 1. Slaves working at HM Dockyard, Bermuda, were officially declared freed and were promptly retained on the payroll.
Ports Island was made into a quarantine area for cholera.
St. George's was finally abandoned as a Royal Navy base.
1836
A hurricane breached the North East Breakwater and stopped work on Timlin's Narrows.
1837
Great Wharf and North East Elbow finished.
Post of Commissioner abolished. Mr Ballingall, Naval Storekeeper, assumed charge. He lived at the Cottage.
Commissioner's House became the residence for the Superintendent of Convicts.
First buildings erected in Keep Yard.
1838
Interior work began on North East Arm of Breakwater
Foundations for Lighthouse at Wreck Hill
HMS Malabar IV visited Bermuda for repairs
1839
Exterior work began on the North East Arm
Ports Island, made into a quarantine area in 1834, and Royal Naval Hospital improved
1840
Boat Slip was created at the Camber.
Houses were built near the Spar Yard
1841
May 28. Vice Admiral Sir Thomas Harvey, KCB, Royal Navy, stationed in Bermuda and Commander in Chief of the North American and West Indies Naval Forces, died at Clarence House (later, Admiralty House) and was later buried in the Royal Naval Cemetery, Bermuda. He was 66 years old.
Dockyard Main Gatehouse was opened.
Workmen's houses near the Royal Naval Hospital were constructed.
1842
Completion of Dockyard's last wooden buildings
Victualling Yard began construction

Image shows dockyard further taking shape, with Victualling Yard being built
Wall of North Yard completed
1843
South (small) Arm completed
SW Guard House created
Lodge Point houses constructed
Tenados hulk arrived
Cockburn's Cut re-opened to allow stone barges through. Wooden bridge constructed over gap.
August 18. Violent hurricane caused great damage to Dockyard and other buildings.
Worst Yellow Fever outbreak. 1047 sick, 114 died.
1844
Dockyard Boy's School established.
Thames hulk arrived.
1845
Albert Row 1-4 homes were built
Plumbers Shop in Spar Yard created
Gibb's Hill Lighthouse in Southampton Parish completed with the aid of newly-arrived convicts sent from Dockyard with Royal Navy officers overlooking by sea. The Royal Navy had played a key role from the sea in determining the best place for the lighthouse to be noted by mariners.
1845-1848. Captain Sir Michael Seymour, RN painted the distinctive watercolor below in Bermuda when his vessel toured ports of the North America and West Indies Station during that period. He commanded HMS Vindictive. They have been on display at the Bermuda Maritime Museum and its Commissioner's House. This one shows the Dockyard from Commissioner's House, including prison hulks on the left. The Victualling Yard had not yet been completed.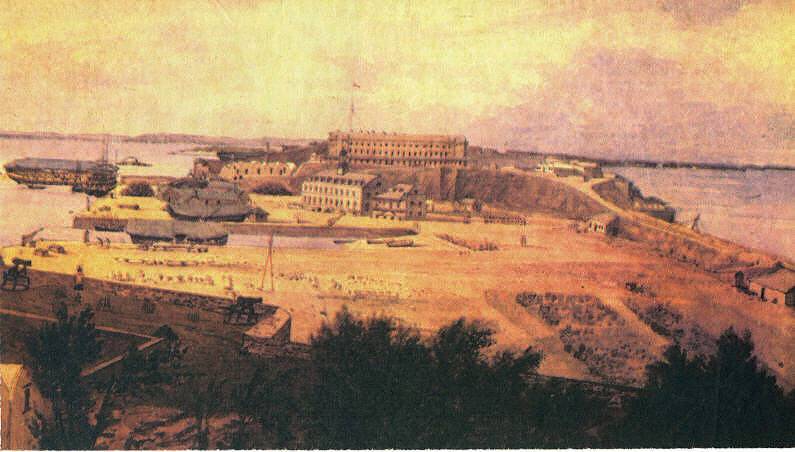 1846
Mortuary at the Royal Naval Hospital was created, in a hut by the Lagoon.

Victoria Row houses 17-24 were built as basic accommodation for lower ranks of Royal Navy personnel.

December. Captain Charles Elliott, Royal Navy, became Governor of Bermuda until August 1852
1847
Albert Row houses 5-8 were built. Both row houses, or terraced houses, were built as basic accommodation for lower ranks of Royal Navy personnel. When the Royal Navy left Bermuda in the 1950s, they became low-cost homes for local residents. But because more than 30 separate homes fell into disrepair, have not been lived in for more than a year. landowners the West End Development Corporation (Wedco), says demolition is the only viable option. The idea of leveling Victoria Row was first mooted in 2009, but a final decision over the property's fate was only made in mid 2015 once all other avenues had been exhausted.
A small slip for HMS Pickle was created in the Spar Yard.
A boat repair shed was built in the North Yard.
Stables and stable shed were built in the North Yard.
Breakwater in the North Yard was completed.
Gaspard Le Merchant Tupper, a British Army officer and noted artist, was posted to Bermuda from 1845 to 1848, was a Major with the Royal Artillery (he became a Lieutenant General, later, on his return to England). He painted the three images below.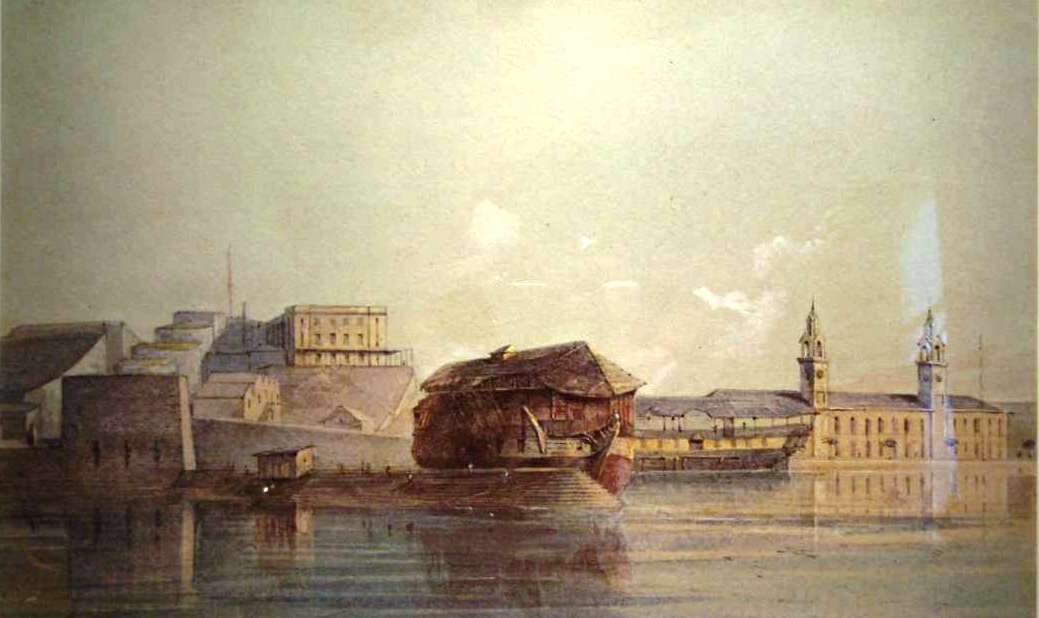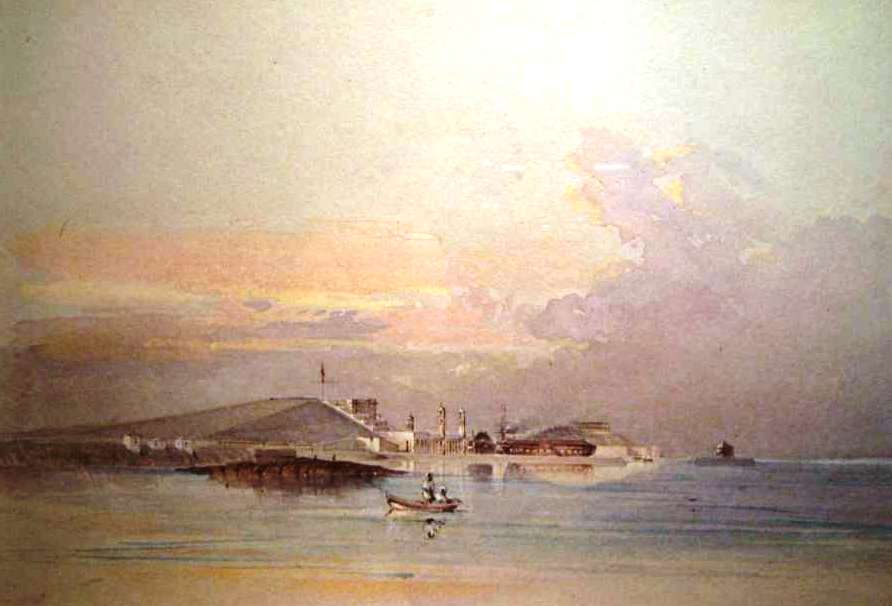 Royal Navy Dockyard, Bermuda, May 1847.
1848
Admiral the Right Honourable Earl of Dundonald—dubbed "Dauntless Cochrane" after his exploits at sea both in the Royal Navy and in the navies of Chile, Brazil and Greece—took over as commander-in-chief of the Bermuda-headquartered Royal Navy fleet then servicing Bermuda, the Caribbean and North America and promptly quashed plans to rebuild Admiralty House in Pembroke where he was then residing, saying, "It has been proposed to spend £11,000 on building a new Admiralty House. Don't sanction it! Look at the Commissioner's House [newly built at Dockyard]. It is scarcely credible that there is an 11-stalled stable and two coaches attached to this mansion." Though he stayed in Bermuda for just three years, Cochrane made his mark on the property, earning the nickname "Earth Mover." He made caves and tunnels. That is why a tunnel exists to this day from nearby the tennis court on the eastern end of the property to the now Government nursery on the other side of Spanish Point Road. And also why a large cave exists by the cove. Dundonald may have been chary of colonial expenditure, but that did not prevent him from offering magnificent entertainment. (In May 1850, he gave a full-dress grand ball at Admiralty House for 350 guests. After the dancing concluded and the supper was enjoyed, according to the Gazette, guests were allowed a novel experience. "We descended a flight of stone steps into the tunnel, thence into a room hewn out of the solid rock, about 14 ft in height and 40 ft circumference, lighted by day through an aperture in one side...." In the centre of the cave was a table "furnished with small brown jugs from which each visitor might quaff a beverage..."
Boaz Island was bought by the Royal Navy to serve as Convict Barracks
Naval Wells were pronounced as "bad" by Lord Dundonald.
Medway prison hulk arrived.
June 20. Arrival in Bermuda via the "Scourge" of British/Irish prisoner/convict/patriot John Mitchel, an Irish nationalist who had earlier established a newspaper in Dublin, through which he advocated a "holy war to sweep this island clear of the English name and nation. Mitchel was tried for treason-felony and was sentenced to transportation overseas for 14 years. At the Dockyard, Mitchel was to find his "appointed home", as a solitary on the hulk Dromedary for the next ten months. Convicts brought in to Bermuda this year from the United Kingdom to serve as manual laborers included many Irishmen, including participants in the ill-fated Young Irelander Rebellion of 1848. Conditions for the convicts were harsh, and discipline was draconian.

1848 woodcut showing Medway and other prison hulks moored off Ireland Island, Bermuda
1849
Rails and trucks were brought in by the Royal Navy from England to speed up coaling of Royal Navy ships calling at Bermuda
A Smithery was created.
July 3. Irish convict James Cronin, on the hulk Medway at Ireland Island, had earlier been placed in solitary confinement for fighting. On release, and being returned to work, he refused to be cross-ironed. He ran onto the breakwater, brandishing a poker threateningly. For this, he was ordered to be flogged on this day with the other convicts aboard the hulk assembled behind a rail to witness. When ordered to strip, he hesitated. Thomas Cronin, his older brother, addressed him and, while brandishing a knife, rushed forward to the separating rail. He called out to the other prisoners in Gaelic and many joined him in attempting to free the prisoner and attack the officers. The officers opened fire. Two men were killed and twelve wounded. Punishment of James Cronin was then carried out. Three-hundred men of the 42nd Regiment of Foot (Black Watch), in barracks at Casemates on Ireland Island, responded to the scene under arms.
Magazine in Keep Yard organized
At the Victualling Hard a Dockyard Terrace was built
Watford Cemetery on Watford Island was allowed to become a burial place for convicts
Grey's Bridge, connecting Ireland Island and Boaz Island for Royal Navy strategic reasons, began construction by British convicts serving hard labor. The bridge was built to accommodate the expansion-in-Bermuda aims of the Royal Navy. It was named in honor of the Rt. Hon. Henry, Earl Grey, one of Her Majesty's Principal Secretaries of State.
More Victoria Row lodgings were built by convict labor based on prison hulls.
By this time there were many such hulks in Dockyard waters.
1850
Introduction of the exploding shell and use of rifling inside a gun barrel for improved range and accuracy. Rifled muzzle loading and rifled breech loading guns were also much easier, safer and quicker to load and fire. The Royal Navy brought them to Bermuda in quantity to fight off an enemy.
Magazine was constructed on what was then still Cross Island (later referred to as Sober Island).
Boaz Island barracks were completed.
June. Mr. Ballingall ordered the layout of the top floor at No. 2 Victualling Store as a chapel.
Cockburn's Cut - named after a former Admiral at west end of Lagoon opened after re-excavation to allow free flow of water. It was originally built in 1817. It is between Ireland Island north and south.
Ireland Island, Bermuda, was formally physically connected by the Royal Navy to its nearest neighbor, Boaz Island. The Admiral on the North America and West Indies Station (headquartered at Bermuda), Lord Cochrane, the Rt. Hon. the Earl of Dundonald, opened The Grey's Bridge, begun in 1849, between those two military islands at the extreme northerly tip of Sandys Parish.
A large Magazine in the Keep Yard was built.
The Earl of Dundonald, the Bermuda-based Admiral Cochrane of the Royal Navy, nicknamed Cochrane the Dauntless, was aghast at British Government proposals to spend £11,000 on rebuilding Admiralty House in Pembroke Parish. In pithy terms, he warned against it, citing the horrendous expenditure on Commissioner's House at the Bermuda Royal Navy Dockyard as example of wasting money. At Admiralty House, he organized a grand ball, and also displayed for the first time the unique changes he had made there, including a tunnel to the fruit and vegetable gardens and the excavated caves, accessed via a flight of stone steps into a room 14 feet by 40 feet over the sea with places for small boats to tie up.

1851
Shipwright's Shop was created at the Cooperage, North Yard.
Master stone carver Charles Thomas arrived in Bermuda. He was appointed foreman of works with the Works Department of the Royal Navy, responsible for development of the strategic Royal Naval Dockyard.
The Oratory (formerly slaves quarters) opened as a Chapel
Organ received from USA for the Chapel
1852
Captain Charles Elliott, Royal Navy, became Governor of Bermuda.
Foundry and Fitting Shop established
Victualling Yard completed
Ports Island Isolation buildings constructed
1855
6 houses in Dockyard Terrace were completed
1856
Building of the Naval Storehouse and Great Eastern Storehouse, the latter huge - pictured below - with 3 foot walls and 100 foot towers, commenced.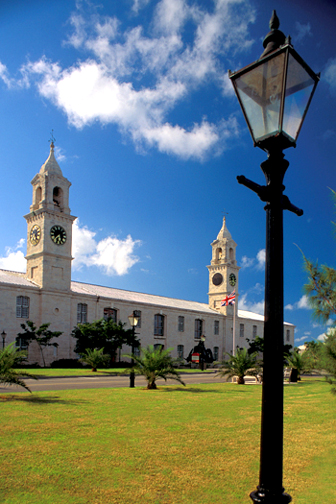 Maria Hill Fort was demolished, with the hill partly quarried away to supply the Dockyard with soft Bermuda stone, a quality of the rock indicated in several military reports.

Mr Ballingall retired. Captain F. Hutton, Royal Navy, became first Captain-in-Charge and hoisted his Broad Pennant on HMS Terror than moored at the Dockyard. He also moved into the Cottage as his residence.
1857
East Storehouse complex - later the Clocktower building - was completed and Old Storehouse was finally demolished. The clock on the south tower was cast in England in 1857 by John Moore and Sons. What seems to be a single hand clock on the eastern side of the north tower is a rare "tide clock." In Royal Navy days, the hand was set daily to indicate the time of high tide. Grassy areas lead to deep water berths. Today, it is a shopping mall - the Clocktower Mall.

After the completion of the Naval Storehouse and East Storehouse complexes, above, the Keep at the Dockyard was surrounded on three sides by sea water. The Royal Navy's firepower then had 68 guns, mostly of 24 and 32 pounds in ammunition size and range. In those days of Imperial sea power, one gun in the latter weight could fire a 32 pound ball for a distance of 1,000 yards. From these, shells were carried to the guns on special systems.
1858
More houses were built at Victoria and Albert Terraces
A steam pumping engine arrived from the UK and was installed.
1859
In his report titled "Defence of Bermuda" Colonel A. J. Hemphill, Royal Engineers, included this comment about the defence of the Dockyard: "There are mounted altogether on the Land Front and its outworks four 32-pdrs, fourteen 24-pdr guns and eleven 24-pdr carronades, and in rear of it, covered by its ramparts is a Bombproof Barrack, constructed for 13 officers and 307 men, with tanks underneath for 120,000 gallons of water; and on the flanks of the barrack, but at a lower level, bombproof magazines for 2500 barrels of gunpowder, (but now unused owing to the dangerous proximity of the Dockyard new blacksmiths), and a range of bombproof buildings, containing Commissariat offices, storehouses, bakery, etc., and barrack stores."

The Admiralty House area used by the Royal Navy was extended to 16.36 acres with the purchase by the Admiralty of an area east of Clarence Cove, often referred to as Burnt House Hill (see third graphic below). It included a small cottage, later known as the Clerk's Cottage from being occupied as the dwelling of the male Admiralty House clerk of the Admirals. A local scribe, H. J. Carr, wrote at the time that the addition of the tract was necessary because the Clerk's Cottage property had earlier been used as a house of ill repute, a haunt of bad characters, possibly even a brothel according to Spanish Point folklore. It later became the headquarters of the Pembroke Community Club.
1865
To help in it's battle against yellow fever that was then becoming an epidemic in British Army and Royal Navy units then based in Bermuda, the Royal Navy sent Dr. Henry Domville, of the RN's medical service, to the Royal Naval Hospital, Ireland Ireland. It is believed he and his wife were there for several years.

May 1. Because Hawkish individuals in the USA's Union side after the US Civil War (1861-1865) ended wanted the USA to seize Bermuda as war reparations or in retaliation for how Bermudians supported the Confederacy and the ships from Britain that preyed on Union shipping, Royal Navy installations at the Dockyard were strengthened and additional British Army troops were brought in from the UK primarily to defend the dockyard.
1869
January. The Royal Navy, both in Bermuda and in England, resolved to end the primary limitation of Bermuda as a Dockyard because of the porosity of its limestone sandstone, which prevented construction of a proper dry dock. It decided to remedy the problem with an order for a floating dry dock. This (and its successors), was a large hull, with a U-shaped cross section. It could be partly-submerged by filling ballast tanks with water, so that a ship might be brought in and braced into position. The tanks were then emptied to lift the ship out of the water for repairs below its waterline.
June 23. Bermuda's first Royal Navy Floating Dock was completed in England. The earliest dock proposal was made in 1823 but in 1827 the Clerk of the Works argued that the local rock was too heterogeneous and porous for an efficient coffer dam. But a slip was started to careen the hulls of ships and is still there. The idea of a floating dock was discarded for a generation. It was stated that the new slip had to be capable of accommodating two 46-gun frigates. Correspondence was renewed in 1852 on the relative merits of a dry-dock, a slip and a floating dock. At that time, it was specified that the largest vessel to be considered would have the beam of the Terrible and the length of the Simoom, or the size of an 80-gun ship as these were the largest that could come through the Narrows in the channel widened for ships. In 1854, a 600-foot slip was proposed at a cost of 35,000 pounds sterling but considered too costly. Three years later there was a plan for a dry-dock and yet another slip in 1862. Then it was finally decided Bermuda should have a floating dock. It was built by English floating dock engineers Campbell & Johnstone at Blackwall on the River Thames and completed on this day.
July 28. Bermuda's first Floating Dock, the mammoth HMS Bermuda, ordered seven months earlier from London and Bermuda, arrived after being towed from the United Kingdom starting on 20th May that year to Bermuda's Royal Navy Dockyard, following the decision taken to order it. In May 1869, the construction of what was then the world's second largest floating dry dock, HMS Bermuda, was finally completed by the company which had employed more than 1,400 skilled workers for the job. The floating dock was over 47,000 square feet in total size, 381 feet long, 123 feet wide, and 74 feet deep. It was ordered from Campbell's Patent Floating Dry Dock expressly for for H M Dockyard at Bermuda. It was designed by Col. Clarke R E. and built at Messrs Campbell Johnstone and Co Works, Silvertown near North Woolwich and launched by Col. Clarke's wife on Sept 3rd 1868. For its transit to the Island, the first-ever such long distance operation, the vessel was named HM Floating Dock Bermuda, with a crew of around 80 under Staff Commander William Hains, RN. It was designed for docking ships of the 'Bellephron' class when waterlogged between the caissons and capable of lifting without the caissons a vessel of 8,700 tons weight which with the weight of the dock itself 8,000 tons gave a total displacement of 16,700 tons. It was designed to accommodate ships up to 370 feet long and 25 feet wide. Due to her size, only three docks in the world were able to receive the 'Warrior', Portsmouth, Liverpool and Southampton - all in England. She could, however, berth at the floating dock at Bermuda. Floating docks were less expensive than investment in major permanent construction. Additionally, there was the strategic advantage of having moveable docking and repair facilities. It serviced both naval and civilian vessels, some weighing as much as 10,000 tons, from all over the world, until 1904 (while being towed away to a ship breaker's yard, the dock broke loose and stuck at the foreshore, Spanish Point, where some remains are still visible in the water). The floating dock lay in Grassy Bay until the following April when it was brought to the North Basin and moored against the Great Wharf. As a functioning Dockyard, this facility had ammunition depots, deep water berths, barracks, chapels, soldiers and sailors to guard it. The soldiers were based at the fort here, the largest in Bermuda (now the Bermuda Maritime Museum).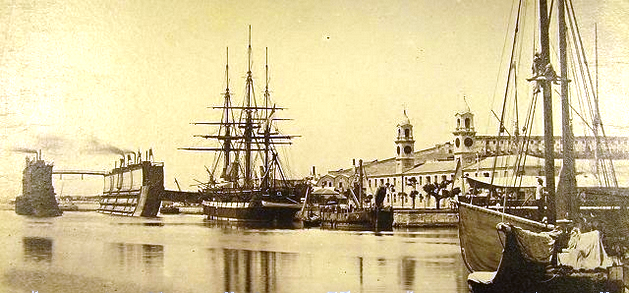 Above and below. Royal Naval Dockyard 1869, showing the Floating Dock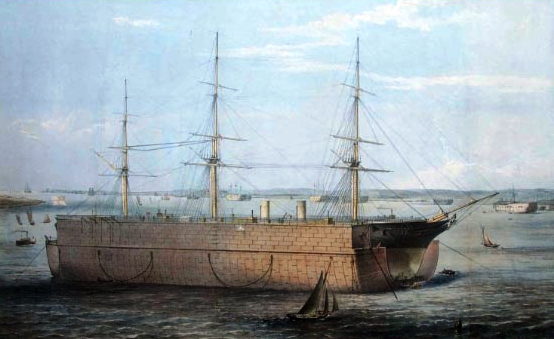 Bermuda's first Floating Dock for HM Dockyard with vessel inside. Thomas Dutton, artist and engraver. Original in the National Maritime Museum, London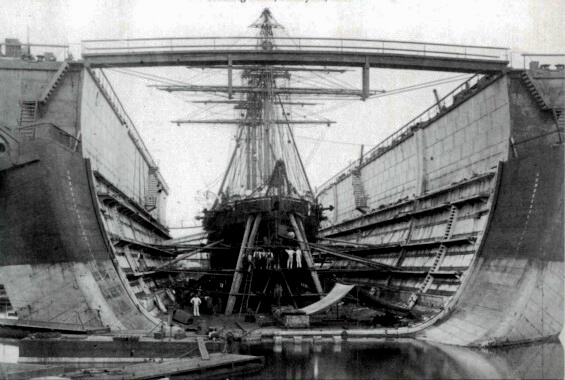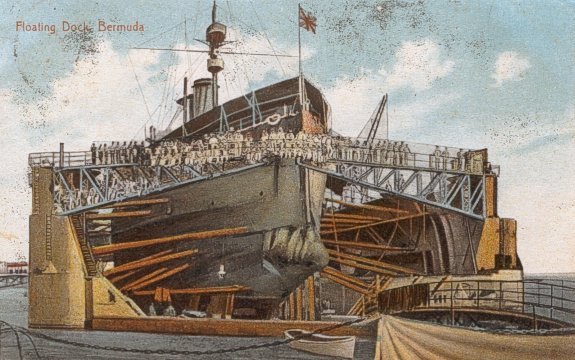 Floating Dock arrives in Bermuda 1869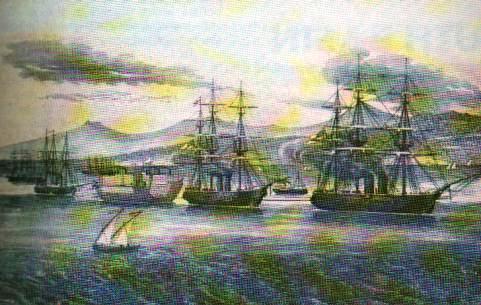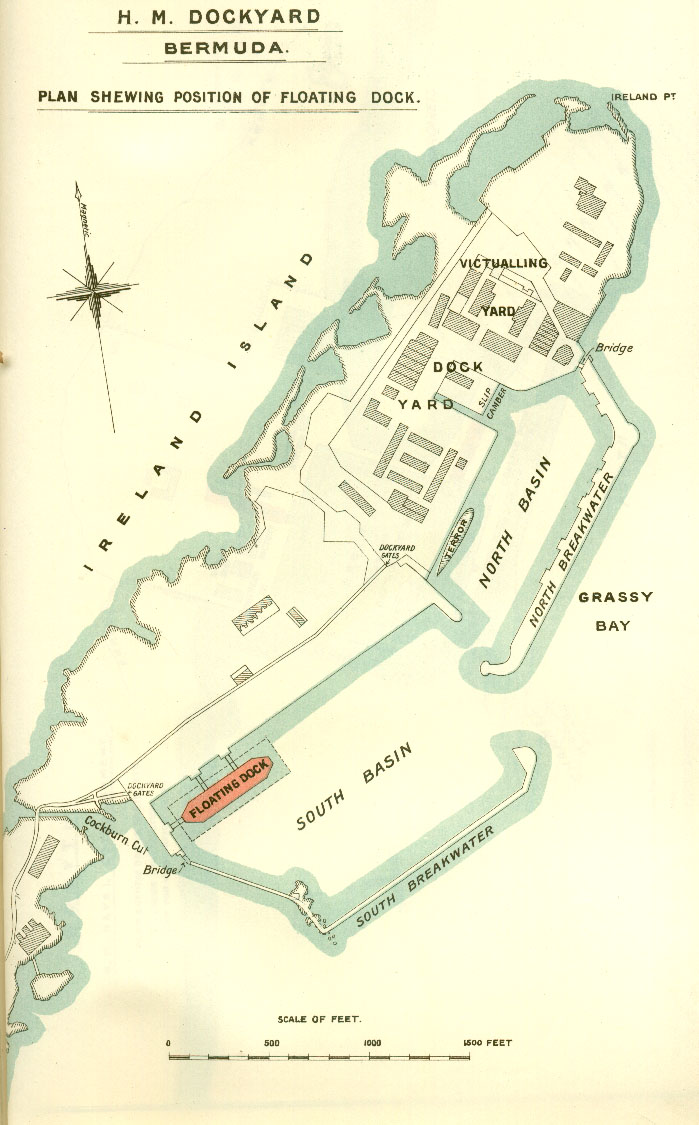 Location of the Bermuda Floating Dock
She was towed out by the HMS Agincourt and HMS Northumberland as far as Porto Santo, Madeira, where HMS Warrior (Britain's first iron-hulled battleship, built in Blackwall on the River Thames in 1860 as a counter to the naval ambitions of Emperor Napoleon III of France, the fastest, largest, strongest and best-armed warship in the world but by 1869 she was obsolete (but in May 2018 this author saw her in Portsmouth Harbour, restored) and HMS Black Prince took over. With HMS Terrible and a small gunboat fast astern, the voyage took 35 days. The ships and the floating dock arrived off Ireland Island on July 28. The floating dock lay in Grassy Bay until the following April when it was brought to the North Basin and moored against the Great Wharf.
As a functioning Dockyard, this facility had ammunition depots, deep water berths, barracks, chapels, soldiers and sailors to guard it. The soldiers were based at the fort here, the largest in Bermuda (now the Bermuda Maritime Museum).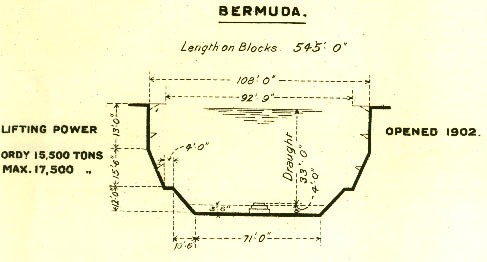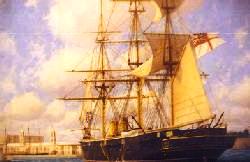 1870s
The Keep was freshly equipped, until 1905. Concrete emplacements for 10 inch rifled muzzle loading guns were built on five of the bastions. One could fire a 400 pound exploding shell for a distance of 4,800 yards. Two new magazines for ammunition were also built. In the 1880s, the Royal Navy brought modern breech loading guns with steel barrels to Bermuda, in accordance with the rearmament at British dockyards in Britain, Canada and Malta.
What is now the Queen's Exhibition Hall was a magazine built in the late 1800s for 4,860 kegs of gunpowder. The Shifting House once handled ordnance for naval vessels.
Cockburn's Cut - named after a former Admiral - was re-excavated, originally built in 1817. It is between Ireland Island north and south.
1880-1885
Dr. Edward Lewton Penny was the Dockyard parson, schoolmaster and librarian. during this 5-year period. A scholar, he described himself in Latin as "unhappily submerged and badly treated in the Bermuda Islands. " In the sketch by him shown below he notes in Greek that the man who borrows a volume and does not return it is committing a sin. He hoped for the best but expected the worst.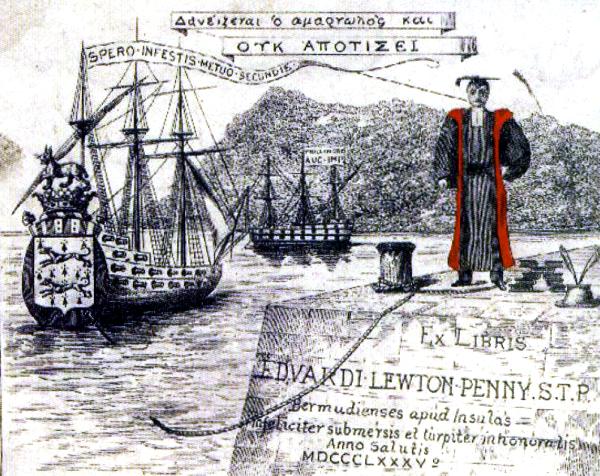 1881
April 1. Captain John Moresby, RN, later Rear Admiral, left Bermuda after a three-year assignment at the Royal Naval Dockyard: 'I handed over my command to another, when parting kindnesses, warm farewells, and much speechifying, poured in on me from all quarters, together with gratifying official recognition; but I think the Commander-in-Chief Sir Leopold McClintock's last words were my greatest pleasure, when he simply said: "I hope I shall be regretted as you are when I also give up my command."
1887
1887. The first Watford Bridge on Watford Island was conceived after a great storm cut communication between Somerset and the Royal Naval islands, it accentuated the need for a bridge. Later, when the Dockyard was to be expanded a "Watford Island Bridge" was deemed essential. Works on the South Yard of the Dockyard and what was intended for the new bridge meant that the descendants of any Bermudian families of today who now live in Somerset first came to Bermuda to be employed on the construction of the South Yard and the bridge. This bridge, now the third, was named after Watford, Ireland, not the English town in Hertfordshire as has long been claimed. It connects Somerset Island with Watford Island, Boaz Island, Ireland Island and the Royal Naval Dockyard. Sea views are marvelous. Bus routes # 7 ("Dockyard") and # 8 stop in the immediate area. There's also the Watford Bridge ferry stop, on the Royal Naval Dockyard to city of Hamilton route. See a British historic military cemetery on nearby Watford Island and another one near this bridge. In 1958 the bridge was rebuilt to provide fishing and pleasure boats a shorter trip to and from the West End. The first bridge was conceived in 1887 after a great storm cut communication between Somerset and the Royal Naval islands of Watford, Boaz and Ireland Islands. It accentuated the need for a bridge. In 1902, a bridge to the mainland, begin in 1901 and formally opened in September 1903, finally spanned the Watford gap. Prior to 1900, a "horse ferry", being a small flat-bottomed boat that could accommodate a horse and carriage, traversed the channel. It eventually spanned the 450 feet of the channel. Great cast-iron cylinders were sunk into bedrock and filled with concrete. Some 3,000 tons of local stone, 200 tons of cement and 55 tons of granite were required for the works, along with 433 tons of steel for the bridgework and central swinging span. The original bridge lasted for 54 years; its replacement from 1957, a mere 23 years. The present Watford Bridge, minus the Island, was built in 1982, and claims to be "one of the most successful tributes to the use of galvanizing in civil engineering." It is supposed to have a "design life" of 120 years.

Buildings on Maria Hill near the Royal Navy Dockyard were erected as the Single Mechanics Quarters.
1900
Not until 1900 did the USA and Britain become allies, which is why so many land based forts were built in Bermuda in the 19th century, primarily to defend against not European but American aggression. They and their powerful, long range, hill-top coastline cannons discouraged an enemy from seizing Bermuda. All the forts in the Western Parishes were designed to help protect the Dockyard. It was Britain's Atlantic naval base headquarters from Canada's Great Lakes to the Caribbean and remote islands of the South Atlantic. It was the Citadel of the Western Atlantic and Gibraltar of the West. At the Dockyard three 4.7 inch quick firing modern breech loading guns - mostly to guard against torpedo boats -and four new six inch breech loading guns were mounted on the bastions. Each was supplied by an underground magazine. Under this further improved system, a six inch gun could fire a 100 pound exploding shell for 12,000 yards.
1901
February. HMS Hotspur, after being retired from distinguished Royal Navy active service became a coast defence and port guard ship at the Royal Navy Dockyard, Bermuda. She was a Victorian ironclad ram - a warship armed with guns but whose primary weapon was a ram. She was built at Govan, Scotland by Napier, launched 19th March 1870 and completed 17th November 1871. She was commissioned at Devonport in 1871, and remained in reserve until 1876. She was similar in layout to Monitor HMS Glatton. She was an armored gun house with four gun ports. This was built instead of a turret as it was believed that the turret would not withstand a ramming. She served with HMS Rupert in the Sea of Marmara during the Russo-Turkish war of 1878. She then returned to Devonport, where she remained until her major reconstruction between 1881 and 1883. Her only active service thereafter was with the Particular Service Squadron of 1885. She was guard ship at Holyhead until 1893, was again in reserve until 1897, and was posted thereafter to serve as guard ship at Bermuda, where she stayed until sold for scrap in 1904. Her armament (after reconstruction in 1883) consisted of a 10ft armored ram, 2 x 12 inch guns, 2 x 6 inch guns, 8 x 3 in quick-firers. 8 x machine guns. Displacement: 4331 tons, Speed: 12.6 knots. Compliment: 209.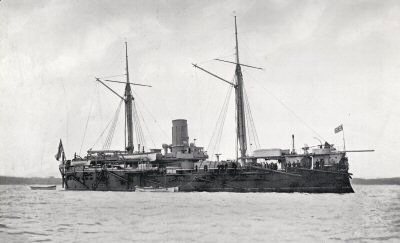 HMS Hotspur at Bermuda 1901
The South Yard was built in Dockyard between 1901 and 1910 to accommodate the larger naval ships that were becoming more commonplace across the world.
At Dockyard, the Royal Navy incorporated tiny Sober (Cross) Island into the land-based South Western Breakwater. By doing so, it created a natural defence against the sea, to plug what had earlier been an obvious breach of defences there. In the process, with a guardhouse established there partly to stem the outbreaks of drunkenness among the crews working on the project, the Royal Navy approved the change of name from Cross to Sober Island.
August. Watford Bridge was begun, mostly for Royal Navy personnel to access the Royal Navy Dockyard on Watford, Boaz and Ireland Islands. Until 1900, a "horse ferry" - a small flat-bottomed boat that could accommodate a horse and carriage - traversed the channel. The bridge eventually spanned the 450 feet of the channel. Great cast-iron cylinders were sunk into bedrock and filled with concrete. Some 3,000 tons of local stone, 200 tons of cement and 55 tons of granite were required for the works, along with 433 tons of steel for the bridgework and central swinging span.
1902
Primarily as the result of the economic boom created by the massive Walker Works project of expanding and modernizing the Royal Naval Dockyard, hundreds of West Indians from many Caribbean islands arrived in Bermuda by sea. The scope of that massive construction included Watford Island, Boaz and Ireland Islands, the building of a Watford (Swing) Bridge and construction of a railway to carry tons of fill for the reclamation of land from the sea.
In Bermuda, headquarters of the Royal Navy's America and West Indies Station, with Vice Admiral Sir Archibald Douglas in command of the Station, the following Royal Navy vessels were based at the RN Dockyard: Cruisers: Ariadne; Calypso; Charybdis; Indefatigable; Pallas; Retribution; and Tribune. Torpedo-boat Destroyers: Quail; Rocket. Sloops and gunboats: Alert; Columbine; Fantome. Gigs: 4.
July. The second Bermuda Floating Dock arrived in Bermuda. The dock was referred to officially as Admiralty Floating Dock No. 1 (AFD1) sometimes now as the "Bermuda Dock". AFD1 is a "floating graving" type floating dock designed by Clark & Standfield for the British Admiralty and built by C.S. Swan and Hunter Ltd, Wallsend. In the "floating graving" type dock, there are three separate pontoons each bolted to the continuous sidewalls on either side. Self docking was accomplished by unbolting the centre pontoon and sinking the dock allowing the centre pontoon to rise up. The pontoon was then reattached at the higher level and then raising the dock, thus lifting the centre pontoon clear of the water. A similar process could be applied to the other two pontoons, one at each end. Access to the underside of the sidewalls for repair was by careening. The dock was launched in February 1902 and completed June 1902, delivered in July 1902. She cost £226,000.
1903
September 24. The formal opening of the first Watford Island Bridge, begun in 1901, completed in 1902, in heavy rain. Many Bermudian families of today in Somerset first came to Bermuda to be employed on the construction of the South Yard and the bridge. The structure had been started in August 1901 and eventually spanned the 450 feet of the channel. Great cast-iron cylinders were sunk into bedrock and filled with concrete. Some 3,000 tons of local stone, 200 tons of cement and 55 tons of granite were required for the works, along with 433 tons of steel for the bridgework and central swinging span. Before that, a horse ferry, a flat-bottomed boat that could accommodate a horse and carriage had been the only way to cross the channel. "The bright smart-looking khaki of the soldiers quickly assumed the appearance of brown paper; many pretty dresses became limp and bedraggled, and clung affectionately to their fair owners." But the weather cleared for the opening of what was considered the crowning structure in the work of providing continuous overland communication throughout Bermuda following the completion of the Causeway at St. George's Parish in 1871. The people of Somerset had constructed a triumphal arch at their end of bridge and a great crowd gathered. The Governor, Sir Henry LeGuay Geary, KCB, pressed an electric bell and the swing span opened to allow a procession of boats, including as passengers all the schoolchildren of Somerset, to enter Mangrove Bay. This particular Watford Island Bridge lasted for 54 years.
1903. The Rev. Charles Monk, an AME minister and publisher of the "People's Journal" defended Jamaican and other West Indian workers at the Royal Naval Dockyard who claimed they had been exploited. He was sued in a criminal libel trial brought by the contractors and imprisoned.
1910
Royal Navy in Bermuda measures were taken to beef up defenses. Bermuda became the home of the Fourth and Eight Cruiser Squadrons on the North America and the West Indies Station, with Bermuda as the Royal Navy's central base on that Station, supported by Halifax to the north and Jamaica and other British possessions in the Caribbean arena 900 miles to the south of Bermuda. In overall command of the station was Rear Admiral Arthur M. Farquhar, CVO, appointed in 1909, whose Bermuda home was at Admiralty House in Pembroke.
1914 World War 1 or Great War
1917
At Admiralty House, Pembroke, Bermuda, residence and headquarters of the Royal Navy's Bermuda-based Admiral of the West Indies and North America Squadron, staff there included individuals in the following photograph: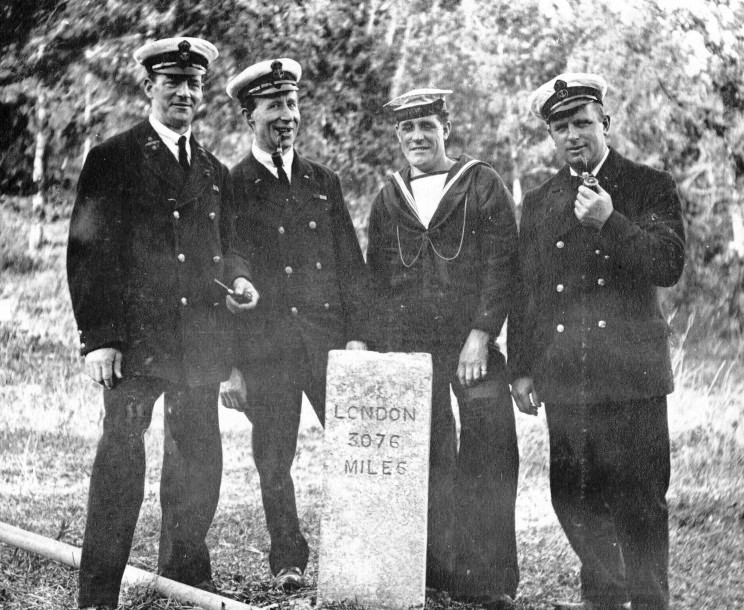 December 12. The death while at sea, in action against the German Navy, of Bermuda-based Lieutenant Commander Ernest Grant Ede RN, while on convoy duty in the North Sea on HMS Pellew. His wife, Winifred, was a Bermudian restaurant owner. Their infant son Herman had been born earlier that year (in 1940, as a Flying Officer, the first Bermudian to die in World War 2.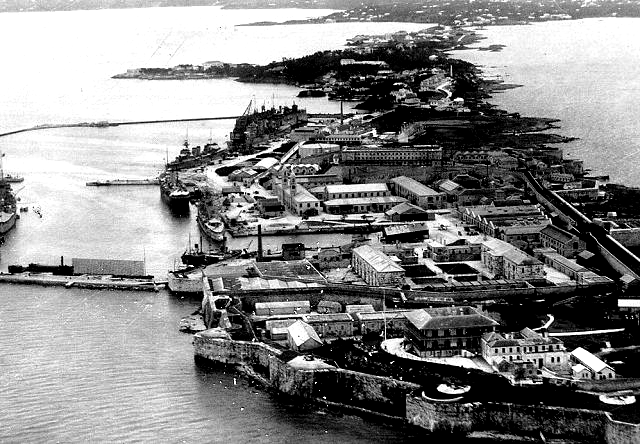 How the Dockyard looked then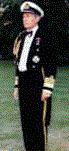 Admiralty House, in Pembroke Parish, where the Admirals lived and had their offices
1928
April. The Royal Navy in Bermuda expanded its wireless telegraphy facilities. Bermuda's Royal Naval Dockyard was sent a S/W (Short Wave) - or HF - transmitter, from HM Signal School, RN Barracks, Portsmouth. A 17-page explanatory note dated 29th April 1929 came with it. It was an ICW transmitter for radio frequencies between 21,428 and 6,000 kc/s (14 and 50 metres, also between 1,364 and 272.7 kc/s. A power amplifier was fed by one of two sources - S/W or L/W (Long Wave = MF) frequency determination units, and a choice of one of two aerials which would be selected manually by the site operator. The transmitter was of medium power, possibly in the region of 2kW. The transmitter and its related equipment were positioned inside a wooden frame. (Not until the mid 1930s did metal casings become the norm).
May. From then on the Dockyard became a strategic overseas naval coaling and classified wireless telegraphy transmission station for the Royal Navy. Whole areas of land had tall wireless masts and special fittings. During this period, hundreds of local boys and some lads from the Caribbean became apprentices at the Dockyard when they turned 13 or 14 years old. Ships steamed in and out almost on a daily basis. Apprentices helped to service them. Aptitude papers were kept by the Royal Navy. Young electricians were the most called for. Then there were pattern making, engineering, machine shop or woodworking areas for trainee shipwrights, joiners or carpenters. In those days, there were many specialist buildings at the Dockyard, including a Spar theater, hospital, cinema, cooperative stores for clothing, pharmaceuticals, canteen, officers' club and quarters, books, cafeterias. There was also a ginger beer plant and place where rum was imported in 55 gallon casks and dispensed in a British style public house. There were separate schools for boys and girls of locally based servicemen - and where the latter could go for special adult training. In the social scene, there were pantomimes, an amateur naval orchestra and sports events.
1933
HMS Malabar and British Military seaplanes based at Dockyard. Referred to as HMS Malabar as researched by a senior Royal Navy officer who was familiar with India, the word "Malabar" derives from the name of a series of floating ships and shore facilities once based in a district of India stretching about 145 miles along the west coast, south of Mangalore, in the general region of present-day Kerala. Its chief towns include Cannanore, Tellicheri, Calicut (Kozhikode), and Palghat. In its older, wider, and popular significance the Malabar Coast includes the whole southwest corner of India as far back as the ghaut line. The ancient form of the name was Male - "where the pepper grows" - thus the name Malayalam for the prevailing language. HMS Malabar in Bermuda was manned by RAF personnel, though under Royal Naval control. The primary duties there consisted of building up crated sea-planes, servicing, repairing and, when necessary, replacing aircraft from the fleet. These were mostly used for artillery spotting, reconnaissance and opportunistic attack roles. The anomaly in the command structure referred to in 1933 was rectified when this part of the Royal Navy Dockyard was transferred to the FAA and given this name. (Later, HMS Malabar was resurrected became the Signal Station in front of the Commissioner's House). Its crest was of a flaming sun with the motto "Our Guide" underneath.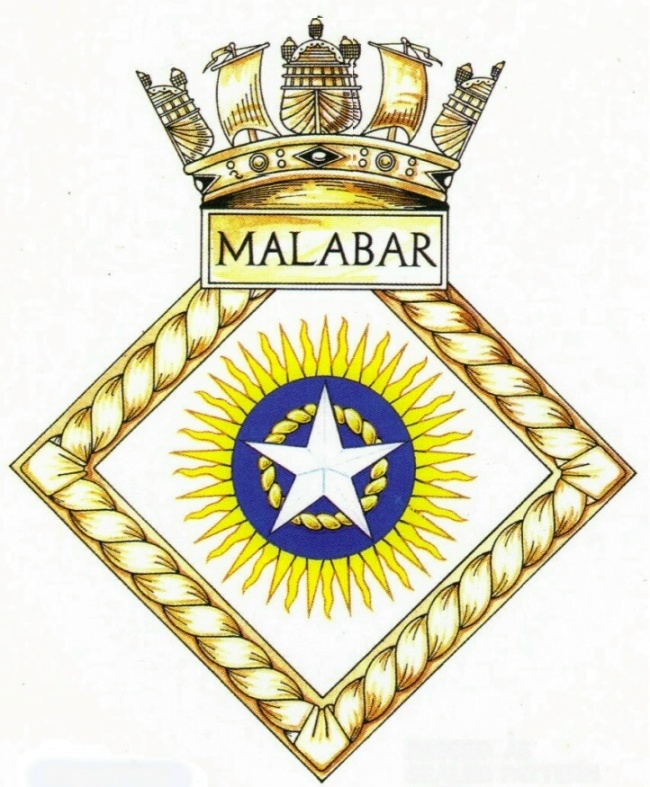 1939. New Royal Naval Air Station (RNAS) on Boaz Island
May 25. When the Fleet Air Arm was reconstituted as a branch of the Royal Navy, rather than an RAF detachment, the process of replacing them with naval personnel began. Its purpose as a station was to oversee the equipment and detachments to the naval vessels operating from the colony, within the Dockyard proper (on the dock beside the Stores building, on Ireland Island. It was how the new small Royal Naval Air Station (RNAS) in Bermuda began. From then on, all Royal Navy military aircraft became part of the Fleet Air Arm (FAA). They included a number of Hawker Osprey, Fairey Seafox and Supermarine Walrus seaplanes. Because the facilities at HMS Malabar referred to above was far too limited, and placed in the busiest part of the base, it was decided to relocate it to Boaz Island, one of the under-used appendages to the Ireland Island facility. Here, two slipways were built, allowing the use of the Great Sound or the open waters to the west, depending on whether the winds blew from West or East. Two hangars were also built, and a workshop, though the full plans for the facility were never realized. The RAF handed operations over to the Royal Navy on 3rd September, 1939-co-incidental with the re-location to Boaz Island ( and the same day volunteer units were mobilized in preparation for declaration of war on 8 September). Some RAF personnel were to remain until 1940 when 718 Squadron was disbanded and the remainder of its personnel were posted elsewhere. Fleet Air Arm (FAA) members were key players. See the book "The Flying Boats Of Bermuda" by Colin A. Pomeroy
1939 to 1945 World War 2 years Battle of the Atlantic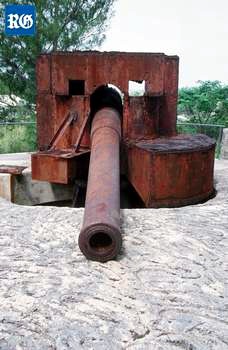 1939-1949. A Royal Navy wireless station operated.

Although primarily intended as a maintenance facility, on the advent of war the FAA at Boaz Island found themselves tasked with more active roles. Bermuda quickly became a major form-up point for trans-Atlantic convoys and U-Boats were a constant menace. Establishing regular patrols proved to be very difficult as RNAS Boaz Island lacked its own aircrew. Patrols were flown with whatever pilots were on hand, including aircrew from the two RAF Commands at Darrell's Island, and pilots from the Bermuda Flying School (BFS). The Chief Flying Instructor of the BFS, Captain Edward Stafford, a US citizen, flew a number of such patrols in the navy's Walrus amphibians, as did other local pilots. In May 1942, the last FAA assets on Ireland Island moved to Boaz Island, now, technically, RNAS, Bermuda (HMS Malabar II--though it had been preceded by at least four or five others of that name). The FAA would lose a number of aircraft in the colony over the years, though primarily from visiting vessels. There is still an FAA Swordfish floatplane sitting at the bottom of the Great Sound. A Skua dive bomber crashed on the Port Royal golf course after a sudden drop in wind speed prevented her returning to HMS Illustrious, anchored in the Sound, and a Walrus met her end in the Great Sound). When the BFS was closed down in 1942 due to a surplus of aircrew, Captain Ed Stafford joined the RAF Ferry Command. Shot down, he was captured by the Germans and not liberated until 1945). Although RAF Transport Command was soon flying many Catalina maritime patrol aircraft through the colony at RAF Darrell's Island, the FAA provided the only aerial patrols of the surrounding Atlantic until establishment of a US Naval Kingfisher unit on the colony in 1941.

They flew target towing sorties for ship and shore based AA guns, maritime reconnaissance and anti-submarine patrols. Personnel of all occupations and ranks often worked 24 hours a day, This Royal Navy base was one of the two most strategic British and Allied facilities in the North Atlantic. Its floating dry docks, towed across the Atlantic from Britain, provided the repairs most in demand by ships of all sizes. The cruisers HMS Ajax and Exeter which took part in the Battle of the River Plate, did so with aircraft serviced at RNAS Bermuda, having sailed from Bermuda before meeting the Graf Spee in December of that year. In six years of the conflict, artificers and engineers worked on merchant, Royal Navy and Allied ships damaged by German cruisers, pocket battleships and U-boats prowling Atlantic shipping sea lanes between Bermuda and New York. Nearly 600 vessels from all navies and merchant marines were repaired here and put back to sea.

Dockyard based Royal Navy sea patrols rescued, processed and transported to Britain and Canada thousands of men, women and children from torpedoed Allied ships, many after days or nights at sea in open lifeboats. German prisoners of war were sent via Bermuda under naval guard to POW camps in Canada. The Royal Canadian Navy was also prominent in Bermuda then. There was an anti-submarine warfare training base under Royal Navy auspices. Part of it was at Casemates Barracks. It spread east to Convict Bay in St. George's Parish, with the establishment in 1944 of HMCS Somers Isle. Royal Canadian Navy ships also played a major role in the War of the Atlantic. When Britain signed its "50 Destroyers for Bases" deal with the USA, once again the dockyard was twinned with Halifax for strategic military purposes.

Thousands of Royal Navy officers and men were conveyed from Bermuda to Halifax to take over 50 previously mothballed American naval ships. Many Swordfish aircraft were based here or at nearby Boaz Island and one crashed into the sea. There were also several Walrus torpedo bombers based in Bermuda to help the war effort. One crashed at Daniel's Head. A ditty was sung to the tune of "Meet Me in Dreamland" every time a ship steamed from the Dockyard. It went: "Good bye, Ireland Island. Farewell the floating dock. Good-bye to spuds and onions. Chin chin the Dockyard Clock. And when the boat you go home in steams out of Grassy Bay, you'll love this place dearer when you're no nearer than three thousand miles away. "No defensive air or sea action was seen from either RNAS Bermuda or the Royal Navy based here, however (though the presence of locally-based aircraft overhead and the Royal Navy's Bermuda-based heavy guns may well have thwarted German attacks on vessels in local waters). In April 1943 HMS Argonaut called into the South Yard for repairs after having her entire stern and part of her bow blown off by an Italian submarine. When the worst of the Battle of the Atlantic was over - especially with the entrance of the United States into the war from December 1941 and with the build up of the US Navy and USAAF air bases on the island from 1941, the FAA facility became somewhat superfluous and was placed on a 'care and maintenance' footing in April, 1944. It was never re-opened, but was used for a time, after the war, by civil float plane operators. Some remnants still survive.
1946
June. The second Bermuda Floating Dock, which had been stationed in Bermuda since 1902 and was of tremendous assistance, particularly during the War Years 1939-1945, was sold and left Bermuda. The dock was referred to officially as Admiralty Floating Dock No. 1 (AFD1) sometimes now as the "Bermuda Dock". AFD1 is a "floating graving" type floating dock designed by Clark & Standfield for the British Admiralty and built by C.S. Swan and Hunter Ltd, Wallsend. In the "floating graving" type dock, there are three separate pontoons each bolted to the continuous sidewalls on either side. Self docking was accomplished by unbolting the centre pontoon and sinking the dock allowing the centre pontoon to rise up. The pontoon was then reattached at the higher level and then raising the dock, thus lifting the centre pontoon clear of the water. A similar process could be applied to the other two pontoons, one at each end. Access to the underside of the sidewalls for repair was by careening. The dock was launched in February 1902 and completed June 1902. She cost £226,000. She was taken to Montevideo. Note that this dock should not be confused with the first Bermuda dock, which was designed by Campbell in 1869.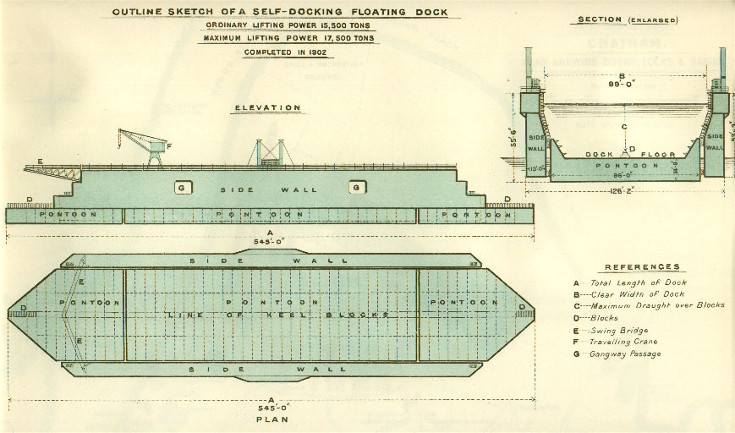 Departure of 1902-1946 Bermuda Floating Dock.
The Royal Navy arranged the transport from Alexandria, Egypt, to Bermuda of vessels including the Admiralty tugs Warden and Reward. They were towing the new Admiralty Floating Dock AFD No. 5. It arrived in Bermuda 47 days later.
1947
January. The Royal Navy completed the transport from Alexandria, Egypt, to Bermuda via Gibralter, of Admiralty Floating Dock (AFD) no 5. Vessels that pulled her included the Admiralty tugs Warden and Reward. It was part of the post-war British military withdrawal from Egypt. This floating dock had an illustrious history. In her, many of the world's most famous warships of that time recovered from World War 2 wounds. She arrived in Bermuda to replace the aging previous floating dock that had been there for generations and had performed with distinction in the Battle of the Atlantic off Bermuda in that war. AFD 5 was to spend more than four years in Bermuda before being towed to Britain in 1941 with the closure of the Bermuda Dockyard.
1948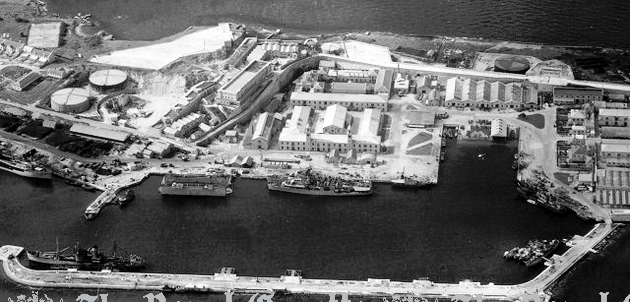 The Dockyard played a strategic NATO role as a naval base for Royal Navy during the Cold War years, Royal Canadian Navy and other NATO navies' ships. Many clandestine operations in submarine surveillance were conducted to keep the Soviets from regarding the Atlantic as "their ocean" for any warlike designs against the US East coast. By then the whole original purpose of the Dockyard had been reversed. Instead of being used as earlier to attack the USA and defend Bermuda, it became - with the former US Naval Annex in Southampton Parish - a principal naval base to defend the USA from Soviet attack.
The Royal Naval Radio Station in Bermuda, in existence since 1928, reached its highest number of employees, 40.
1949
February. The Royal Naval Radio Station in Bermuda, having earlier reached its peak of 40 employees, announced its pending closure, with the closure of the Dockyard the following year..
1950
It was clear that the Royal Navy was unlikely ever again to require the immense repair facility embodied in the Dockyard. While many anticipated it would be reduced to a care and maintenance level, few were prepared for the Admiralty announcement in 1950 that the Dockyard would close within 12 months.
1951
1951. March 31. The Dockyard closed officially after being in operation since 1809. Britain handed this important military property over to Bermuda. It took a while for this to take effect. The dismantling was virtually completed when the large floating dock Admiralty Floating Dock No 5, that had arrived in January 1947 from Egypt via Gibraltar, left Bermuda on July 11, bound for England. It was towed by the Royal Navy tugs Wanden and Reward, with the tug Prosperous in reserve. All reached Falmouth, England, on August 11. Most buildings were offered to the Bermuda Government and in 1953, when the great majority of the Royal Navy left, title of the Dockyard buildings was officially transferred to the Bermuda Government for 750,000 pounds sterling. A limited number of buildings and other facilities, mainly in the South Basin area, were retained by the Royal Navy (until 1995) for the support of visiting British, Commonwealth, NATO and foreign naval vessels calling in from time to time. They were administered by a small permanent Royal Navy staff under the Resident Naval Officer with the rank of Commander. The post of SNOWI (Senior Naval Officer West Indies) was established on 29 October 1956. In June 1965, HMS Malabar was re-commissioned as Malabar VII. Moresby House, close alongside, and the Magazine House on Boaz Island, became a sort of Supplies and Signals center but without official accreditation. Things were again cut back in December 1967 to a single Lieutenant Commander, RNO (Supplies). He left, with his SNOWI post, when Bermuda as a base for the Royal Navy was officially abolished on 1 April 1976. In 1980, the Bermuda Government underwrote an ambitious rehabilitation scheme covering the 214 acre site. Massive rehabilitation for civilian occupation and use began in 1982, after nearly three decades of Bermuda Government inactivity and crimes galore against property. In March, 1995 all remaining buildings were turned over to Bermuda as well. To date, the restoration and conversion to public use has cost more than $21 million in public funds and $42 million in private investment. The Royal Canadian Navy and United States Navy continued to have a base in Bermuda until 1993 and 1995 respectively, at separate naval bases. Now, they too have gone.
1956
October 29. The position of Commander-in-Chief of the America and West Indies Station was abolished, leaving the Commodore West Indies as the Senior Royal Navy officer (SNOWI) in the region, reporting directly to the Commander-in-Chief, Home Fleet, in England. SNOWI also served as Island Commander Bermuda (ISCOMBERMUDA) in the NATO chain of command, reporting to Commander-in-Chief, Western Atlantic Area, as part of SACLANT. The ships of the command were reduced to two Station Frigates
September 1960 to September 1961. HMS Rothesay was based Royal Navy Dockyard at Ireland Island. Crew enjoyed periodic station leave at the-then un-used former British Army camp near Horseshoe Beach, in between patrols covering the whole of North and South America. They enjoyed the hospitality of the local people. One crew member spent a few days with a local family over Christmas 1960 (when then was a brief appearance of snow, usually unheard of in Bermuda) and attended Mass with them on Christmas Eve.
When the Royal Navy left, it became the main Bermuda corrections center (prison) for convicted criminals until 1995. There was even an execution or two here in the 1960s and 1970's. It was such a damp, forbidding, gloomy place that the Bermuda Government built a brand new prison nearby, to make it more humane. The old building is still there, not used at this time.
1961-62. HMS Londonderry was based at the Royal Navy Dockyard at Ireland Island during her first commission and the ships company have very many happy memories of Bermuda and the hospitality that was afforded them whilst there.
1965. June 1. That part of the Royal Navy Dockyard in Bermuda still required for naval operations remained under Admiralty control under a ninety-nine year lease, and the South Yard Berthing Area was commissioned on this day as HMS Malabar, under the command of the RNO, with the headquarters of SNOWI and the RNO in Moresby House (originally built in the 1899s as the residence of the civilian Officer in Charge, Works.
1965. HMS Bermuda, the Royal Navy warship named after Bermuda, was scrapped. This last HMS Bermuda was a light cruiser of the Colony Class, launched in 1941, decommissioned in 1962. HMS Bermuda (No. 8) was built by John Brown & Company at Clydebank, laid down in November 1938 and commissioned on August 21, 1942. Originally, the ship had 12 six-inch guns, anti-aircraft pieces and six torpedo tubes. During the war, she served in the Mediterranean, the North Atlantic and Arctic and finally in the Pacific theatre. In later years, the vessel was a part of NATO, but was taken out of service in 1962. Some silver objects given to HMS Bermuda by the island are now at the Bermuda Maritime Museum. She visited Bermuda 3 times: 1958, Jul 1959, and Feb 1962.
1985. The South Basin was dredged to allow nuclear submarines to come into the South Yard
1995. April 1. HMS Malabar, a Bermuda-based Royal Navy supply base, officially closed in Bermuda, following the announcement a month earlier. After the closure of the dockyard in 1958, and the disposal of most Admiralty land holdings in Bermuda, a small part of the base, which included the wharf of the South Yard, had been maintained as a supply base under this name following the end of the Cold War. The closure of HMS Malabar marked the end of 285 years of permanent Royal Naval presence in Bermuda. Commander Robin Bawtree, OBE, was the last Resident Naval Officer Bermuda. His duties included supervision of the Royal Navy's 28 acres of Bermuda holdings. They were left in a pristine condition, including the dockyard with the buildings and facilities all in working order. Prior to taking over the property, The Bermuda Government's quango the West End Development Corporation (Wedco) said it planned to turn The Cottage, the former home of the Commanding Officer, Royal Navy, Bermuda, into a guest villa, with a sports/spa facility and commercial offices suggested for the other buildings. Wedco said at that time that it would make no "rash decisions," but hoped development could occur quickly because of the good shape of the buildings. (But Wedco allowed them to deteriorate).
2017. April 10. The last of Dockyard's historic naval emblems were painted over as part of the major renovation project on the South Basin. For decades navy crews proudly painted their ships' crest on the concrete walls surrounding the South Yard where the vessels berthed. Between 1951 and 1995 scores of vessels from across the world passed through Bermuda and left their mark in the West End. Over the years the crests have faded away or were whitewashed during redevelopment of the Dockyard (However, since 2009, available on our website at www.bermuda-online.org/rndshipscrestswalls.htm). Much proud old dockyard heritage was lost in the clearing of the South Yard of the old Royal Naval Dockyard for the erection of buildings for the teams competing in the America's Cup Between the 1920s and the 1940s the yard was used for basic repairs on passing naval ships. This continued throughout the Second World War while Bermuda was used as a base for the Allied forces. The South Yard remained the Royal Navy's base in Bermuda for the next four decades. In 1985 the South Basin was dredged to allow nuclear submarines to come into the South Yard and ten years later the Royal Navy left Bermuda and the South Yard was handed over to the Bermuda Government. Scores of naval ships left their mark in the South Yard between 1951 and 1995 including well known vessels such as HMS Brilliant and HMS Londonderry that have since been decommissioned. And even before then in April 1943 HMS Argonaut famously called into the South Yard for repairs after having her entire stern and part of her bow blown off by an Italian submarine.
2017. May 20. Renovations to Dockyard's historic Moresby House have been completed. The building was constructed in 1899 as the residence of the Office-in-Charge of Works. Later called HMS Malabar, it has remained empty since the Royal Navy left Dockyard in 1995. Craig Cannonier, Minister of Public Works, said the "remarkable" restoration was a "fitting tribute" to the building's history. "I am extremely pleased with the work the contractors have done in such a short space of time," the One Bermuda Alliance MP said yesterday. "To think that I was here only a few months ago touring a dilapidated building and now to see it today is truly amazing." Andrew Dias, general manager at West End Development Corporation, said the landmark building had fallen into disrepair. "It was always our intention to make sure this historic building was restored and with the help of a grant from the Ministry of Public Works, work has now been finished," he said. Wedco received a $3 million grant from the Government for the project. Mr Dias, who previously told The Royal Gazette that the project would be completed by April 20, said he was "delighted" with the final product. Restoration work was completed by Overnight Construction and Strike force, and was completed on budget. The building will be rented as a commercial space after the completion of the America's Cup.
2016. March 16. Improvements to the Royal Naval Dockyard continue ahead of the America's Cup with more than $10 million invested into the historic site over two years. Projects include renovations to the Glassworks building, work on the Sail Loft, the Spar Lane apartments and Prince Alfred Terrace, according to the West End Development Corporation. "This last year and for the coming year, Wedco will have spent $10m on improving buildings," chairman Ray Charlton said. "It has been a busy year and it is about to get even busier." Mr Charlton was speaking at the sixth annual pre-season breakfast held at Bone Fish Grill, in Dockyard. Wedco General Manager Andrew Dias added that a $900,000 renovation of the Glassworks building would soon be completed and that work on Cross Island was on schedule, with piling in its final phase and the area should be completely finished by the end of June. "We have stayed on deadline and on budget," he added. According to Wedco, improvements on the Sail Loft cost $500,000, while the Spar Lane Apartments has seen a $300,000 investment. Meanwhile, Prince Alfred Terrace will have benefited from $3.5 million, the hangar building on Boaz Island from $300,000, North Basin building 4 from $1 million, Detached Cottage 7 from $300,000 and Moresby Plains Road will have seen a $200,000 investment. Mr Dias added: "Wedco's mandate is to look after and improve the beautiful and historic buildings in the Royal Naval Dockyard and these projects, including the infill at Cross Island, have been in the pipeline for several years and I am delighted that people can now see the benefits of all our work." Mr Dias said that by the end of 2016, Wedco will have reached a milestone in that every historic building inside the North Basin will be wind and waterproof, apart from the Victualling Yard and associated buildings, which are being looked at under a Memorandum of Understanding. "In Bermuda, that is an extremely large task and we, at Wedco, are very pleased with that. It has been a busy and challenging eight or nine months for us but this is going to be a great season. The season will continue to build towards the America's Cup and we want to deliver a product for Bermuda that all of us can be proud of."
2017. March 9. More than $10 million has been invested in renovating historic buildings at Dockyard ahead of the America's Cup. The money has been used to make new office space and upgrade homes. Andrew Dias, General Manager at the West End Development Corporation (WEDCO), said: "The work was always in the pipeline but was given fresh impetus as a result an insurance payout from recent hurricanes and the America's Cup. Many of the buildings being renovated will be used by people from the America's Cup as well as the ACBDA team, but after that, they will be available to locals. We always wanted Dockyard to be a vibrant, 24/7 place and hopefully these developments will go some way towards that ambition. We are investing an enormous sum of money and we will see the transformation or protection of many buildings. When finished, we anticipate that it will be home to a range of commercial activities adding even more life and more attractions to Dockyard. People will be able to work, rest and play in the Royal Naval Dockyard." Some of the major restorations include work on Prince Alfred Terrace which is being renovated and restored to apartments at a cost of approximately $4.5 million. Once the renovations, which include a complete interior restoration including additional bathrooms and layout improvements, have been completed, first use will go to the ACBDA until the end of the America's Cup. The Spar Lane Apartments are being given a new lease of life and once work is finished they will again be used as homes. Moresby House, or HMS Malabar, is being restored and will be office space, the Sail Loft has been restored and will also be available for use after the America's Cup. The old Police Barracks is enjoying a new life as home to Artemis Racing, one of the teams taking part in the America's Cup. As well as major work, Wedco has tended to less obvious projects including roof upgrades, asbestos removal and electrical, plumbing and painting work. North Basin Building #10 — the Canvas Shop — on Smithery Lane, has been restored over a four-month period and North Basin Building #14 — West End Yachts — on Camber Road, has been restored. The North Basin Building #3 — the Anchor Restaurant — has also undergone renovation work including a roof replacement. Mr Dias added: "Dockyard is a very important part of Bermuda's tourism product and it is imperative that we at Wedco do not stand still. We have to continually invest and reinvent ourselves to keep us ahead of the competition."
Also see WEDCO's http://www.thewestend.bm.
Royal Navy ships under the overall command of the Admirals based at Admiralty House, Bermuda
See http://en.wikipedia.org/wiki/List_of_Royal_Navy_ships_in_North_America
HMS Bermuda - ships by that name
From the 1800s to 1942, eight ships of the Royal Navy were named after Bermuda, including the mammoth Floating Dock of 1869, now rotting at Spanish Point.
HMS Bermuda (1795). A 14-gun brig-sloop purchased in 1795, foundered the following year.

HMS Bermuda (1805). An 18-gun sloop-of-war launched in 1805 and wrecked 1808.

HMS Bermuda (1808). A 10-gun brig-sloop launched 1808, wrecked 1816, built by John Pelham of Frindsbury, Kent, UK.

HMS Bermuda (1813). A pilot boat acquired in 1813, broken up 1841.

HMS Bermuda (1819). A schooner purchased 1819 and foundered 1821.

HMS Bermuda (1848). A 3-gun schooner launched 1848 and wrecked 1855.

HMS Bermuda (1868). Not a ship but a naval Floating Dock, towed to the Bermuda Dockyard in 1869 by HMS Warrior, HMS Black Prince and Terrible.

HMS Bermuda (C52) - see below - was a cruiser launched 1941 and broken up 1965.
HMS Bermuda 1939 to 1965. A light cruiser of the Colony Class, launched in 1941, decommissioned in 1962, scrapped in 1965. Built by John Brown & Company at Clydebank, laid down in November 1938 and commissioned on August 21, 1942. Originally, the ship had 12 six-inch guns, anti-aircraft pieces and six torpedo tubes. During the war, she served in the Mediterranean, the North Atlantic and Arctic and finally in the Pacific theatre. In later years, the vessel was a part of NATO, but was taken out of service in 1962. Some silver objects given to HMS Bermuda by the island are now at the Bermuda Maritime Museum. She visited Bermuda 3 times:1958, Jul 1959, and Feb 1962.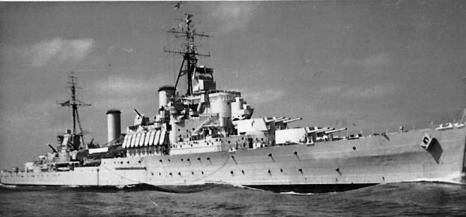 HMS Bermuda, Royal Navy photo
Admirals & Commanders in Chief, Bermuda of the Royal Navy
1767 Commodore Samuel Hood.
1770 Commodore John James Gambier. As Admiral Gambier later, he was Commander of the Baltic Fleet at the bombardment of Copenhagen, then elevated to the peerage as Lord Gambier. He took to gardening in his retirement and his head gardener, Mr. T. Tomson, made botanical history in developing the pansy by crossing and re-crossing varieties of Viola tricolor with the yellow Viola altaica, a native of the Crimea and Turkestan. By 1816, Mr. Tomson, still employed by Lord Gambier, was known in the British gardening world as the 'Father of the Heartsease' as pansies - flowers - were then called.
1771 Admiral John Montague.
1774 Admiral Samuel Graves
1776 Admiral Lord Howe
1779 Admiral Hon. John Byron
1779 Admiral Marriott Abbuthnot
1780 Admiral Thomas Graves
1781 Admiral Marriott Abbuthnot
1781 Rear Admiral Hon. Robert Digby
1782 Commodore Sir E. Appleck
1783 Commodore Sir Charles Douglas
1785 Rear Admiral Herbert Sawyer
1789 Rear Admiral Sir Richard Hughes
1791 Vice Admiral Hon. George Murray
1796 Vice Admiral George Vanderput
They were the first Bermuda based commanders of this Station.
1800 Vice Admiral Sir William Parker, Bt.
1802 Vice Admiral Sir A. Mitchell, KG, KB.
1806 Vice Admiral Hon. G. C. Berkeley
1807 Vice Admiral Sir J. B. Warren, Bt.
1810 Rear Admiral H. Sawyer
North America & West Indian Station (as it then became)
1812 Vice Admiral Sir John Borlase Warren, Bt., KB. This was when the Royal Navy Dockyard in Bermuda first began. It was then significant that the British West Indies was then included in the name of the post. Prior to that, from 1767, "North America" was the main title for the New World squadrons of the Royal Navy. The change of name indicated the coming importance of Bermuda and the British Caribbean islands. Admiral Warren participated in Britain's first war with the USA in 1776 and thereafter destroyed over 200 French vessels. He was also known for his purchase of Lundy Island in the Bristol Channel and a yacht.
North America Station (re-named)
1813 Vice Admiral Hon. Sir A. Cochrane, GCB.
1814 Rear Admiral Edward Griffith
1816 Rear Admiral Sir David Milne, KCB
North America & Lakes of Canada Squadron
1816 Rear Admiral Edward Griffith
St. Lawrence River and Coast of America
1821 Rear Admiral W. G. Fahie, CB
North America & N.F.L.D
1824-1827. Rear Admiral W. T. Lake
1827-1830. Rear Admiral Sir Charles Ocle, Baronet
North America & West Indies Station
(Included Halifax).
1830 - 1832. Rear Admiral Sir E. G. Colpoys, KGB
1832 - 1836. Vice Admiral the Rt. Hon. Sir George Cockburn, GCB
1836 Vice Admiral Sir Peter Halkett, Bt., KCH
1837 - 1839. Vice Admiral the Hon. Sir C. Paget, GCH
1839 - 1841. Vice Admiral Sir Thomas Harvey, KCB. He died in Bermuda and was buried at the Royal Naval Cemetery, Dockyard. In 1957 his ornate tomb with re-dedicated, with senior naval officers in attendance, one of whom was Captain George Edward Hunt, DSO DSC RN, late of His Majesty's submarine Ultor (1942-44).
1841 - 1844. Vice Admiral Sir Charles Adam, KCB
1844 - 1848. Vice Admiral Sir Francis Austin, KCB. Also in Bermuda, in a less senior post, from 1805 to 1810. The elder brother of novelist Jane Austen and Charles Austen.
1848 - 1851. Vice Admiral Sir Thomas Cochrane, GCB (later, Lord Cochrane, later yet the Right Honorable 10th Earl Dundonald). 1775 -1860. He was a son of an eccentric Scottish peer. He first entered the Royal Navy in 1793. In a series of outstanding and heroic actions, often fighting his ship against seemingly overwhelming odds, he established a unique reputation as one of the most daring and successful captains of his day. He served Britain at sea so gallantly that Napoleon dubbed him the "Sea Wolf." But his campaign as a Member of Parliament against corruption in high places in Parliament and the Royal Navy made him powerful enemies among less honorable men. He was deprived of further advancement in the Royal Navy at the very time when he could have altered the course of its history - for its significant betterment. He was framed on a Stock Exchange fraud, imprisoned, cashiered from the Navy and stripped of his Order of the Bath. Released from prison, he was too valuable to less snobbish and more honorable organizations abroad. He was appointed Admiral of the navies of Chile, Brazil and Greece and earned honors galore from them for his daring exploits during their struggle for liberation. He returned to England in triumph and won back his good name. He was granted a free pardon in Britain for his alleged misdeeds. He was reinstated in the Royal Navy. He was 72 years old when Lord Auckland wrote to him on December 27, 1847 to ask if he would accept the appointment. On his death, Lord Cochrane was buried as a hero of the United Kingdom at Westminster Abbey. After Nelson, he was the greatest naval hero in British history. While Palmerston and his Cabinet were notably absent from his funeral, Queen Victoria personally insisted that his banner as a Knight of the Bath should be reinstated beforehand in Henry VII's Chapel. The Brazilian ambassador was among those who carried his coffin into and out of Westminster Abbey.
1851- 1853. Vice Admiral Sir G. F. Seymour, GCH
1853- 1856. Vice Admiral Arthur Fanshawe, GB
1856- 1860. Vice Admiral Sir Houston Stewart, KCB
1860- 1864. Vice Admiral Sir Alexander Milne, KCB
1864- 1867. Vice Admiral Sir James Hope, KCB
1867- 1869. Vice Admiral Sir Rodney Munday, KCB, DCI.
1869- 1870. Vice Admiral George G. Wellesley, CB
1870-1873 Vice Admiral Sir Edward Gennys Fanshawe, GCB. (27 November 1814 – 21 October 1906). Born the eldest surviving son of General Sir Edward Fanshawe, and the nephew of Admiral Sir Arthur Fanshawe, Fanshawe was educated at the Royal Naval Academy, Portsmouth where he came second from the top in a very talented year and was commended for both his artistic and writing ability. Fanshawe joined the Royal Navy in 1828. During the Oriental Crisis of 1840 he took part in the capture of Acre. He was subsequently given command of HMS Cruiser and then HMS Daphne. He took part in the Crimean War as Captain of HMS Cossack. Later he commanded HMS Hastings, HMS Centurion and then HMS Trafalgar. He suffered some health problems from the 1850s, which curtailed his Mediterranean command of the HMS Centurion. He was made Superintendent of Chatham Dockyard in 1861, Third Sea Lord in 1865 and Superintendent of Malta Dockyard in 1868. He went on to be Commander-in-Chief, North American Station in 1870, Admiral President of the Royal Naval College, Greenwich in 1875 and Commander-in-Chief, Portsmouth in 1878. He retired in 1879. Fanshawe's marriage to Jane Cardwell took place in early 1843. His wife, Jane, was the sister of Edward (later Lord) Cardwell, a notable politician and, as Secretary of State for War under William Gladstone in the 1860s, instigator of the 'Cardwell Reforms' of the British Army. Their four sons included Admiral of the Fleet Sir Arthur Dalrymple Fanshawe, whose son Guy also became a Royal Naval Captain. He also had a daughter, Alice, whose watercolor paintings of Bermuda and the Caribbean were exquisite.
1873 Vice Admiral George G. Wellesley, CB
1876 Vice Admiral Sir A. Cooper, KEV, KCB, FRS
1878 Vice Admiral Sir E. A. Inglefield, GB, FRS, DCL
1880 Vice Admiral Sir F. L. McClintock, DCL, FRS
1882 Vice Admiral Sir J. E. Commerell, VC, CB, KCB. (Commerell has been an unusual but distinguished German name since 1357. His great grandfather, Friedrich Wilhelm, was born in Heilbronn 1716 and emigrated to England in 1732. Other Commerells went from Germany to Holland in about 1810).
1885 Vice Admiral Earl of Clan William, CB, KC, MC.
1886 Vice Admiral Algernon McL. Lyons
1888 Vice Admiral Sir George W. Watson, KCB.
1892 Vice Admiral Sir John O. Hopkins, KCB
1895 Vice Admiral James Elphinstone Erskine
1897 Vice Admiral Sir John Arbuthnot Fisher, KCB
1899 Vice Admiral Sir Frederick Bedford, KCB
1902 Vice Admiral Sir Archibald Douglas, KCB
1904 Vice Admiral Day H. Bosanquet
1907-1914. Appointment lapsed officially
Held temporarily by Admirals commanding Fourth Cruiser Squadron
1915 Vice Admiral Sir George Patey, KCVO
1916 Rear Admiral Montague Browning, CB, MVO
1918 Vice Admiral Sir W. L. Grant, KCB
1919 Vice Admiral Morgan Singer, CB. He served in World War I and was appointed Director of Naval Ordnance in August 1914 taking responsibility for the Admiralty's entire supply of guns, torpedoes and mines. He continued in that post until March 1917. Promoted to Vice Admiral in February 1919, he became Commander-in-Chief, America and West Indies Station the same month. He was appointed KCB later that year. While in Bermuda, based at Admiralty House, he was accompanied by his wife.
1919 Vice Admiral Sir Trevylyan Napier KCB, MVO
1920 Vice Admiral Sir William Pakenham, KCB, KCM, CMG, MVO
1923 Vice Admiral Sir Michael Culme-Seymour, Bt, KCB, MVO
1924 Vice Admiral Sir James A. Ferguson, KCB, KG, MC
America & West Indies Squadron (established 1 July, 1927, as the station HQ then became)
1928-1930. Vice Admiral Sir Cyril T. M. Fuller, KCB, CMG, DSO
1930-1932. Vice Admiral Sir Vernon H. S. Haggard, KCB, DMC. A daughter was Rae Lyster. A son, Hugh, commanded the submarine HMS Truant in World War 2.
1932-1934. Vice Admiral Sir R. P. Ernlie-Erle Drax, KCB, DSO
1934-1937. Admiral Hon. Sir Matthew Best, KCB, DSO, MVO
1937-1940. Admiral Sir Sidney J. Meyrick, KCB
1940-1942. Admiral Sir C. E. Kennedy-Purvis, KCB
Western Atlantic Squadron
1942-1944. Vice Admiral Sir Alban T. B. Curteis, KCB. He was in command of one of the unlucky Malta Convoys in mid-1942.
1944-1945. Vice Admiral Sir Irvine G. Glennie, KCB
1945 Vice Admiral Sir Irvine G. Glennie, KCB
1949 Admiral Sir William G. Tennant, KCB, CBE, MVO
1951 Vice Admiral Sir Richard Symonds-Tayler, KBE, CB, DSC
1951-53 Vice Admiral Sir William G. Andrewes, KBE, CB, DSO. His most recent service was in the Korean War theatre. His flagship was HMS Sheffield.
1953 Vice Admiral Sir John F. Stevens, KBE, CB
1955 Vice Admiral Sir John W. M. Eaton, KBE, OB, DSO, DSC
Station ended, but HMS Malabar continued. It shut down officially in stages from 1953. Commanding Officers included Commander J. A. Startin, RN who served from 1986 to 1990.
Royal Naval Cemetery (The Glade)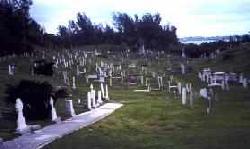 Ireland Island South in Sandys Parish. On Malabar Road, near Lagoon Park, approaching the former RN Dockyard. Phone: (441) 236-6483. Bus Routes: 7, 8. Admission is free. The Royal Navy purchased the land where the cemetery sits in 1809 and consecrated the ground in 1812. It reverted to the Bermuda Government in the late 1950s when the Royal Navy Dockyard here finally closed after approaching two centuries in Bermuda. Hallowed ground for officers and men Royal Navy in Bermuda from the 18th to 20th centuries. The cemetery grew in size and was open for burial to all until 1849 when convicts were excluded. Also known as 'The Glade,' it has memorials to many Royal Navy personnel from warships stationed here who died of the yellow fever that ravaged the British military in Bermuda during the mid-19th century. Maintained by the British War Graves Commission. Four Admirals were buried here. One was Vice Admiral Sir Thomas Harvey, KCB, RN. He died in 1841 on May 28 at Bermuda at the age of 66. He had been stationed in Bermuda as Commander in Chief of the North American and West Indies Naval Forces. He was 66 years old. He was entombed under a fine monument later erected by his family, and subsequent descendants who added a text engraved on a brass plaque in 1957 (see larger photo below). His monument shows an 19th century warship wedged between two cannon and cannonballs.
Small photo above by this author Keith A. Forbes.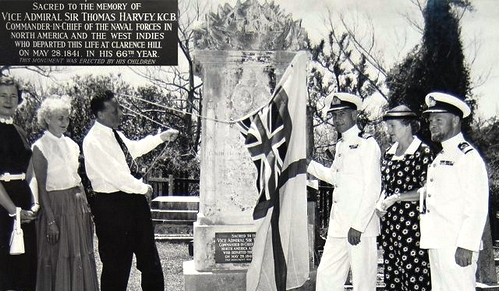 The cemetery also records the numerous accidents that befell the young servicemen in Bermuda, including deaths during World War 2 when Bermuda was a transit point in the Battle of the Atlantic. Close to the road are final resting places of Royal Navy seamen who died on their ships in mid Atlantic actions near Bermuda during World War II against German pocket battleships and U-boats.
Prince Albert Terrace
Cockburn Road.
2015. September 15. Bermuda's West End Development Company (Wedco), a Bermuda Government quango, is seeking planning approval to make improvements to Prince Alfred Terrace, while replacing the former Royal Navy Club with apartments. According to a planning application, viewable at the Department of Planning offices, Wedco is seeking to tear down the former Royal Navy Club — one part of the what had been the HMS Malabar shore station. The documents show two new buildings being erected on the Pender Road property, each containing two two-bedroom units and two three-bedroom units. The project would also include a parking area and a communal outdoor space between the new buildings. The Royal Navy Club building, erected in the 1880s, had served as the officers club before turning into the fleet canteen. While the building had been a Grade 1 listed building, it was formally delisted earlier this year. Home Affairs Minister Michael Fahy said the delisting was a "difficult decision", but the building was in a considerable state of disrepair and plans were afoot to restore the neighboring historical buildings — the Bungalow, Star of India and Moresby House. Meanwhile, in a separate application, Wedco sought planning permission to make renovations at Prince Alfred Terrace. The project will include removing the existing asbestos roof, replacing all of the external doors and windows, installing new wooden pergolas and making other external improvements to the ageing building. Prince Alfred Terrace was first built in the 1840s to serve as married officer quarters for the Dockyard. The building reportedly suffered hurricane damage in last year's twin hurricanes, and the proposed refurbishments are to bring the building to a "low to mid-level standard" for rental purposes. Wedco had previously announced that it had hoped to upgrade the Grade I listed building into 14 three-bed, two-bath units through a $3 million investment.
| | |
| --- | --- |
| Bermuda Maritime Museum | Old Royal Naval Dockyard. Telephone (441) 234-1333. Open daily 9:30 am to 5 pm, with last admission at 4:30 pm. There is a Board of Trustees, with local and overseas members; a Bermuda Maritime Museum Inc. in New York; and a Bermuda Maritime Museum Trust in London. |
| Bermuda Maritime Museum Association | P. O. Box 73, Somerset, Sandys MA BX. RC 136 |
| Royal Naval Association (Bermuda Branch) | Meeting, Bermuda Sailors' Home, Richmond Road, Pembroke, call 236 6089 or 236 7177. Meets monthly. |
Today, longer a dockyard, it still uses the name. The berths and all buildings are civilian. It still handles the occasional hydrographic survey and cable laying ships. The facilities include locally owned shops and restaurants. Access is free, except to the Bermuda Maritime Museum. Go by bus, ferry, moped or taxi.
Bibliography
"The Andrews And The Onions", by Lt. Commander Ian Strannack, RN, formerly based in Bermuda. The story of the Royal Navy in Bermuda.
Visitors Information Centres (VIC)
Formerly the Visitors Service Bureau. Phone (441) 296-9400. Email dockyardvic@bermuda-tourism.com. Three, when cruise ships are docked, one each at
Heritage Wharf pier;
just outside King's Wharf pier;
and at the ferry dock. Offer a friendly, free, quite comprehensive tourist brochures, information services, maps and more to walk-in visitors. Hours: 9 am to 4 pm Monday-Saturday. Closed Christmas Day, Boxing Day, New Year's Day, Good Friday.
West End Development Corporation (Wedco)
Dockyard. P. O. Box MA 415, Mangrove Bay, MA BX. Set up in 1982 to manage and develop 214 acres of Government-owned land in the West End, including Watford Island, Boaz Island, Ireland Island South and North, the small islands forming the Crawl off Ireland South and the North and South basins and breakwaters. Directors are political appointees. Revenue is generated from residential and commercial tenants plus berthing fees from the commercial and cruise ship docks. Mega cruise ships now dock there.
Hulks sent to Bermuda as convict prison ships included
Ardent ex 64 1813-1824
Antelope ex 50 1823-1848
Dromedary, transported convicts to New South Wales and Van Diemen's Land (Tasmania) in 1820, ex store ship 1825, ended up as a prison hulk in Bermuda from 1826 to 1851.
Coromandel ex 56 1827-1853
Weymouth ex 44 1828-1865
Slaney ex 28 1830-1838
Tenedos ex 38 1843-1875
Thames ex 38 1844-1863
Medway ex 74 1847-1865

Ruby, ex 64,1811-1821, depot ship

Romulus, ex 36, 1813-1816, hospital ship

Romney, ex 50, 1820-1837, hospital ship

Royal Oak, ex 74, 1825-1850, receiving ship

Resolute, ex brig, 1826-1852 diving bell

Despatch, ex transport, 1826-1846 receiving ship/slop ship

Dotterel, ex brig 1827-1848, receiving ship

Terror, floating battery, 1857-1901, base ship

Virginia, barque, 1862-1866, coal hulk

Irresistible, battleship 1868-1894, depot ship.

Scorpion, turret ship, 1869-1901 guard ship.

Minstrel, gunboat, 1874-1902 coal hulk

Forward, gunboat, 1892-1904 coal hulk

Shah, frigate, 1895-1919, receiving ship/coal hulk

Hotspur, turret ship, 1897-1903, guard ship

Malabar, troopship 1897-1918, base ship and from 1901 in place of Terror.

Rupert, turret ship, 1904-1907, guard ship
British Convict cemetery in Bermuda
The British convict cemetery is behind Albert Row on Ireland Island South, via a left turn onto one way Cochrane Road (named after Admiral Cochrane). About 2,000 of the 9,000 convicts died here from yellow fever or other diseases and were buried there, but the graves of many are no longer visible. Note the Redman headstone in the grave yard at Boaz Island which reads "Killed One Day, Died the Next." Nearby, past a tall stone chimney, is a weathered limestone formation known as Pulpit Rock, from the convicts who were denied freedom of worship. Because of the social stigma in Bermuda attached to the convicts, 98% of those who survived elected to go back home to England or Wales or Scotland or Ireland, or emigrate to Canada or USA if they wished after they had served their sentences and at least partly at their own cost. In addition to building the Dockyard, they also constructed parts of Pembroke Parish, for example, the caves and secret hideout at Admiralty House.
Few in Bermuda or the United Kingdom will admit they are descended from convicts, unlike in Australia where it has become a source of pride that many there are descended from men sent there as convicts for offences that today are so minor no-one is imprisoned at all. But it is known that some - not many - of the wives and children were voluntarily transported to Bermuda so as not to completely break the family ties.
Trial records for convicts tried in England can be found not in Bermuda but at the London Public Record Office (PRO) in Kew or at the County Record Office responsible for the place where the trial occurred. Generally in the UK, for British convicts sent to Bermuda, Assizes Court records are held at the PRO while Quarter Sessions records are held in local County Record Offices.
For more information in Bermuda on the convicts, see the books:
Bermuda: A Colony, A Fortress, and a Prison or Eighteen Months in the Somers' Islands. "A Field Officer." (Whittingham, Lt. Col. Ferdinand). Late 1840's. He focused on the British convicts sent to Bermuda for more than 40 years. Rare.
Convict Establishment Bermuda. Booklet by Chris Adams and Mike Davis. $7. A 1998 version of the 1820-1863 story of the convict hulk ships sent by the Royal Navy to Bermuda primarily to build the Dockyard.
Life of John Mitchel. Dillon. Two volumes. 1888. The Irishman Mitchel, John Mitchel (Irish: Seán Mistéil) was born on November 3, 1815 and died on March 20, 1875. He was an Irish nationalist activist, solicitor and political journalist and one of the most famous convicts on a Prison Hulk in Bermuda.
Jail Journal. Mitchel (above). 1910's. 320 pages.
The English Prison Hulks. Branch-Johnson, 1957, London, Christopher Johnson. 205 pages. Much about Bermuda and its British convicts.
An historical view of the progress of the physical and mathematical sciences." 1834. The author was Baden Powell, the father of Lord Robert Baden-Powell, founder of the Boy Scouts. Handwritten in the margins of the book, on two different pages, is "The Ireland Island Library Association" and the "Bermuda Convict Establishment". The author's brother-in-law, Sir Henry Augustus Smyth, was an army officer who served in Bermuda between 1847 and 1851. He was in the Royal Artillery which then helped to guard the Dockyard as well as other places. He may well have brought this book with him, but possibly donated it to the library there when he left.
History & daily newspaper reports

Authored, researched, compiled and website-managed by Keith A. Forbes. Last Updated: October 22, 2020
Multi-national © 2020. All Rights Reserved