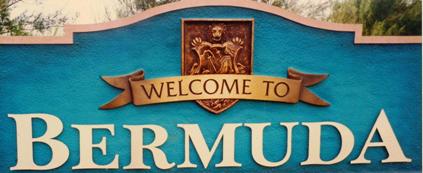 145 web files about the internally self-governing British Overseas Territory of Bermuda in a comprehensive, constantly updated Gazetteer. Accommodation, aircraft registry, airlines, airport, America's Cup 2017, apartments, art, banks, beaches, Bermuda citizenship by Status, Bermuda Dollar, Bermuda Government, Bermuda-incorporated international and local companies, Bermudians, books and publications, causeway, charities, churches, City of Hamilton, commerce, communities, credit cards, cruise ships, culture, cuisine, currency, disability accessibility, Devonshire, districts, Dockyard, economy, education, employers, employment, entertainment, environment, executorships and estates, fauna, ferries, flora, former military bases, forts, gardens, geography, getting around, golf, government, guest houses, history, homes, Hamilton, House of Assembly, housing, hotels, immigration, import duties, insurers and reinsurers, international business, internet access, islands, laws, legal system, legislation, legislators, location, main roads, magazines, marriages, media, members of parliament, motor vehicles, municipalities, music, nearest mainland, newcomers, newspapers, organizations, parishes, parks, Paget, Pembroke, permanent residents, pensions, political parties, postage stamps, public holidays, public transportation, railway trail, religions, retailers, Royal Naval Dockyard, Sandys, Smith's, Somerset, Southampton, St. David's Island, St George's, senior citizens, shipping registry, Somerset, Spanish Point, Spittal Pond, sports, taxes, telecommunications, time zone, traditions, tourism, Town of St. George, Tucker's Town, utilities, water sports, Warwick, weather, wildlife, work permits.

Bermuda Government Boards & Commissions
More than 108 advisory bodies and organizations with individuals appointed or renewed yearly

By Keith Archibald Forbes (see About Us) exclusively for Bermuda Online

See Bermuda Government for earlier full description of the types - Executive, legislative and judicial - ministries, departments and budget.
Bermuda size & population
20.75 (Twenty point seven five) square miles in total. 65,200 residents
Population density per square mile
3,142 (Three thousand, one hundred and forty two)
Number in Cabinet
13. Same number as USA, equivalent in Bermuda to 0.63 (Point six three) per square mile. They have "The Honorable" before their name.
Number of elected legislators in House of Assembly and their salaries
36. Equivalent to 1.93 (One point nine three) per square mile. They have "MP" for Member of Parliament after their name. In 2004, all MPs earned a minimum of $38.171. If they are also Cabinet Ministers, they earn at least $86,123 a year in addition. It was announced in 2003 that all Cabinet Ministers will earn in excess of $100,000 a year. Some Cabinet Ministers are already believed to earn over $100,000 a year, plus almost unlimited expenses they can charge to credit cards for reimbursement by - or charged directly to - the Bermuda Government. It has been said publicly at some point the number of Ministers (including the Premier) will be reduced from 12 to 8, but that Ministers will be full time not part time and will be paid substantially more than now. Some former Cabinet Ministers (like Ms. Webb and former Premier Pamela Gordon) have stated they want full-time salaries because they are full-time at their Ministries. There is an unofficial consensus within Cabinet members that their salaries should be nearly doubled, to at least the same level as the $127,000 paid annually to Permanent Secretaries, if not more. It is not a view shared by most members of the public.

These, the huge numbers of Bermudians and others the Bermuda Government employs as a percentage of the total working population and the cost of gasoline for aircraft and cruise ships are the main reasons why Bermuda is such an expensive destination. In the high season (April through October) it costs North Americans more to go the 720 miles to Bermuda from North America than it does to go the 3,000 -4000 miles to Hawaii or Europe. And at any time of year, it costs Europeans far more to go to Bermuda than it does to go to the USA, Canada, Middle East, Thailand, South Africa, Australia, New Zealand or Hawaii.

Number of appointed politicians in Senate
11. Equivalent to 0.53 (Point five three) per square mile. They have "Senator" before their name. In 2004, all Senators earned a minimum of $25,519.20. If they are also Cabinet Ministers, they earn this plus what is shown above under "Number of elected legislators."
Number of Government Boards
About 108. All require the approval of the Premier who controls all Public Information. See Bermuda Government Boards separate website shown at the end of this file.
Number of Justices of the Peace
Over 400, or 19.3 (nineteen point three) per square mile. They have "JP" after their name. Unlike in the USA, they do not perform weddings but may be asked to sign search warrants, etc. Also, during General and Bye Elections, they serve as Returning Officers.
Number of Police
About 421, over 20 per square mile. Plus, there are Reserve officers.
Number in Bermuda Regiment
All Bermudian, the authorized strength of which is 600 members, or 28.92 (twenty eight point nine two) per square mile, mostly part time.
Registered voters who participated in 2013 General Election
29,816 (compared to 29,638 in 1998). 75.06% compared to 81.4% in 1998. Total number of registered voters is 39,000.
Bermuda Government Boards & Commissions
The over 108 boards each have individual political appointments acceptable to the Premier. They include, at the top, a reference to the relevant Act of Parliament. They advise their respective Ministers who may or may not accept their recommendations.
The boards or commissions are published here do not seem to appear on the Bermuda Government's own website. Individuals appointed to each board are not shown on this website (those needing information on the yearly or periodic appointments to each board should consult the Bermuda Government, as it appoints each board).
A
| | |
| --- | --- |
| Advisory Architectural Panel | Development & Planning Act 1974. |
| Air Advisory Committee | Ministry of Transport. Constitution of Bermuda (2-1 Section 61 -4). |
| Air Transport Licensing Board | Civil Aviation (Licensing of Air Transport and Commercial Flying) Act 1950. Channel House, 1 Longfield Road, Southside, St. David's, DD 03. |
| Appeals Committee - Education | Education Act 1996. |
| Appeals Tribunal Hotel Licensing | |
| Appeals Tribunal | Banks & Deposit Companies Act 1999. |
| Architects Registration Council | Architects Registration Act 1969. A full list of registered architects in alphabetical order of name with their qualifications, is published every January. It includes those who left Bermuda years ago. Some have qualified academically and professionally as architects. Others have not. |
| Archives Advisory Council | The Bermuda Archives Act 1974. Includes representatives of Bermuda Heritage Foundation; Bermuda Historical Society; Bermuda Maritime Museum Association; Bermuda National Trust; St. George's Historical Society. |
| Audit Committee | Audit Act 1990. |
Bermuda
Bermuda Arts Council
Bermuda Arts Council Act 1969.
Bermuda Bar Council
Bermuda Bar Act 1974.
Bermuda Business Development Corporation (BBDC)
Formed in 2013 by Government through the Ministry of Economic Development. A private/public partnership intended to spearhead the promotion of Bermuda as a preferred domicile for a variety of international business activities, including reinsurance, asset management, trusts and fund administration. This has involved organizing all the relevant stakeholders and formulating a coherent mission for the BBDC and strategies to achieve that mission. The Government, via BBDC, will continue to support Bermudian entrepreneurs in their quest for success and will take any other necessary steps to stimulate economic growth through non-tax policy driven initiatives.
Bermuda Cadet Corps
Bermuda Cadet Corps Act 1944.
Bermuda Betting Licensing Authority
Bermuda Government.
Bermuda Casino Gaming Commission
2015. May. Tourism Development Minister Shawn Crockwell announced two new appointments to this Commission — Judith Hall-Bean and Derek Ramm. Ms Hall-Bean retired in October 2013 as Assistant Cabinet Secretary and has more than 40 years' experience in the public service, having served as department director of both human resources and tourism. Mr Ramm was appointed from overseas and serves as director of anti-money-laundering programmes for the Ontario Lottery and Gaming Corporation. He is responsible for the oversight of anti-money-laundering compliance at 24 casinos. They join three other commission members — chairman Alan Dunch, deputy chairman Garry Madeiros and Denis Tucker.
Bermuda Civil Aviation Authority
Replaced the Department of Civil Aviation.
Bermuda College Board of Governors
Bermuda College Act 1974 for this Bermuda Government owned and operated facility.
Bermuda Community Foundation
2016. November 3. The Bermuda Community Foundation has approved $480,000 in grants to 43 nonprofit organisations. According to a statement, the foundation's board of directors made the grants, which represent the BCF's final grants of the 2016 fiscal year, from seven donor funds. "BCF's grantmaking programmes are supported by a range of unrelated donors who wish to ensure the sustainability and success of nonprofits in Bermuda," managing director Myra Virgil stated. "These donors use the resources and expertise of BCF to support their grantmaking. This extraordinary set of grants totaling almost half a million dollars is the result." In the field of community improvement and capacity building, BCF approved $135,000 in grants to deliver para-transit services, build organizational capacity in the nonprofit sector, help build a national employment registry and database, and promote nonprofit certification and accreditation. Grantees include Age Concern Bermuda, Project Action, MyFutureBermuda, the Coalition for Community Activism and YouthNet. Community-based youth development efforts such as the PHC Foundation's scholarship programme, the Bermuda Bridge Club, Bermuda's Brazilian Football School, Raleigh and YouthNet also received support. To advance community development, BCF's board approved $155,000 in grants from donor-advised funds to go towards infrastructure building projects. These include the provision of residences for people struggling with mental health issues, an initiative managed by the Bermuda Mental Health Foundation. The Coalition for Community Activism received a grant to support efforts to improve educational outcomes through their work with parents and the Ministry of Education. And educational programmes received a funding boost of $81,000 to support the work of the Adult Education School, Bermuda Education Network, Impact Mentoring Academy, Centre for Talented Youth and CARE Computer Services scholarships. BCF also approved $44,000 in grants to the Coalition for the Protection of Children, Salvation Army, the Bermuda Society for the Blind, the Family Centre and others to continue providing direct service support to people in need. Those interested in setting up their own charitable funds to improve Bermuda can learn more about donor-advised philanthropy at bcf.bm. A complete list of grant recipients will also soon be available.
Bermuda Dental Board
Dental Practitioners Act 1950. It became notorious internationally when English dentists, most recently Dr. Thompson, were denied a Work Permit by this board on the grounds it would take business away from Bermudians. But locals have to wait for up to six months to see a dentist because of a severe shortage.
Bermuda Deposit Insurance Corporation

The 2011 Bermuda legislation to provide deposit insurance of $25,000 per depositor is the result of a collaborative effort between financial regulator the Bermuda Monetary Authority (BMA), the Ministry of Finance and the Bermuda Bankers Association (BBA). In addition, technical advice was provided by the International Monetary Fund. Deposit insurance is a guarantee to depositors in a bank that they will be compensated up to a maximum specified amount of their deposits upon failure of that institution. It has three main objectives, to protect small depositors; promote stability in Bermuda's financial system and economy by providing prompt reimbursement or access to insured depositors' funds; and promote competition between financial institutions in Bermuda. Under the legislation, membership of the scheme is compulsory for all relevant financial institutions. The premiums are paid by the banks as a fixed percentage of insurable deposits. The Bermuda Deposit Insurance Corporation has a Bermuda Government/ Ministry of Finance-appointed board of directors to run the scheme. The legislation also entails elements on protection from personal liability and preservation of confidentiality.

Bermuda Family Council
Ministry of Health and Family services.
Bermuda Casino Gaming Commission
2015. October 1. Former Ombudsman Arlene Brock was appointed to the Bermuda Casino Gaming Commission. Ms Brock served as Ombudsman for more than eight years and as the director and vice-president for the Caribbean and Latin America at the International Ombudsmans Institute. Richard Schuetz, the commission's executive director, said: "Chairman Alan Dunch and the other members of the Casino Gaming Commission gave me clear instructions to assemble the best and the brightest individuals available to assist in the introduction of regulated casinos in Bermuda. "Having Ms Brock join our team abundantly indicates that we are on target with that goal. Ms Brock will be an integral person in helping to make certain that our activities will operate at the highest standards of integrity and ethics, and to ensure that the casino experience will enhance the tourism profile of the Island, and increase investment and employment for the people of Bermuda." Ms Brock herself said: "I look forward to working with the commission and commission staff to realize the goal of introducing casino gaming into Bermuda with the highest level of integrity and best practices."

2015. February 12. The Bermuda Government announced the first three members of the Casino Gaming Commission, who will be tasked with regulating the industry. The five-member commission will be led by Alan Dunch, who was named chairman. Garry Madeiros was named deputy chairman while Dennis Tucker will also serve on the commission. Mr Dunch, an experienced lawyer, is the director responsible for the litigation practice group of MJM Ltd, while Mr Madeiros, a chartered accountant, is the former president and CEO of Belco and a director of BF&M Life Insurance Company. Mr Tucker, meanwhile, is a former director of the Bank of Bermuda, the CEO of the Hotel Pension Trust Fund and a director of the Bank of Bermuda Foundation. Tourism Minister Shawn Crockwell said the two remaining appointments have yet to be made, but one of the posts will be a former gaming commissioner from another jurisdiction with experience dealing with money laundering. "Advice was given and received that we should have someone with gaming commission experience sitting on this," Mr Crockwell said. "As you know, we have not done this before. The reason why I want to start now is that there are training opportunities in the very near future and I wanted to have, particularly the chairman and deputy chairman exposed to them, so we are getting the ball rolling. I don't know how long it will take to identify the overseas member, but a list is being compiled now so we don't expect it to be too long. The commission will be tasked with regulating the casino gaming industry on the Island when it is introduced, and will be the only entity which will determine who receives a casino licence. Legislation passed last December allows only three casino licenses to be in effect at any given time. The transfer of a casino licence without a fresh application to the commission will be prohibited, and licence-holders will be required to report any material changes in their circumstances. The commission will also have the power to approve the layout of a casino, gaming equipment and hand out licenses for key casino employees. I remain confident that resort casino gaming is right for Bermuda and that most Bermudians supported the legalization of gaming in Bermuda. It is now imperative that we put the regulatory structure in place to ensure that we create a responsible and highly respected gaming industry in Bermuda." Gaming has been a controversial issue for the One Bermuda Alliance, who had promised before their election in 2012 to hold a referendum on the topic. The Government scrapped the referendum plans in 2013 a decision which drew harsh criticism from opponents but were able to pass the Casino Gaming Act 2014 in both the House of Assembly and the Senate. Further gaming regulations are expected to come before Parliament later in 2015.

Bermuda Gaming Commission
2015. August 31. A gaming senior executive from the United States has been appointed executive director of the Bermuda Gaming Commission. Richard Schuetz will leave his post as commissioner for the California Gambling Control Commission to start work on the Island on September 1. According to a statement from the Bermuda commission, Mr Schuetz has worked as a senior executive in the gaming markets of Las Vegas, Atlantic City, Reno/Tahoe, Laughlin, Minnesota, Mississippi, and Louisiana. He has served on the boards of Shuffle Master Gaming, the Stratosphere Hotel and Casino, where he was also president and CEO, and Casino Publishing. He also sat on the International Advisory Board for the Institute for the Study of Gambling Commercial Gaming at the University of Nevada, Reno, and was the Co-moderator of the Institute's Executive Development Program. Commission chairman Alan Dunch stated: "All of us at the Commission are thrilled to have Richard join us in helping to introduce casinos to Bermuda. His extensive experience as both a casino operator and as a regulator make him ideally suited to ensure that the Bermuda casino experience operates with a high degree of integrity, and offers an additional world-class tourism amenity for Bermuda. In addition, Richard's strong background in teaching and publishing on the subject of casino gaming and its regulation is exactly what the Commission needs to assist us in educating the people of Bermuda about the benefits of this new industry to the Island as a whole." Mr Schuetz stated: "It is a true honour to be entrusted with such an important task, and I am thrilled to be able to work hand-in-hand with the people of Bermuda to usher in this new chapter of Bermuda's tourism and economic development." The Commission's task is to execute the Casino Gaming Act 2014, designed to increase employment and investment through casino development.
Bermuda Health Council
Since 2004. Sterling House, 16 Wesley Street, Hamilton HM11. PO Box HM 3381, Hamilton, HM PX. Phone 292-6420. Fax 292-8067. A Bermuda Government appointed entity. Official health watchdog. Responsible for regulating, coordinating and enhancing the delivery of health services in Bermuda. Made up of doctors, insurers, hospital officials and patient representatives. Also responsible for regulating the price of drugs sold to the public and conducting research on the subject of public health. Receives an annual grant from the Bermuda Government.
Bermuda Historical Wrecks Authority
Historic Wrecks Act 2001 (amended 2004), in place of the 1959 Wreck & Salvage Act.
Bermuda Hospitality Institute
Government-appointed, Premier announces the CEO, in 2010 Karla Lacey. Training institute, aims to encourage more Bermudians to enter the hospitality industry. 2010 board members are Allan Trew, E. Michael Jones, Miriam Johnston, Nelda Simons, Greg Wilson, Carlita O'Brien and Kevin Monkman.
Bermuda Hospitals Board
A Bermuda Government quango. Bermuda Hospitals Board Act 1970.
Bermuda Hospitals Charitable Trust

P. O. Box HM 2273, Hamilton HM JX. T. 441-298-0151. F. 441-296-1072. An independent organization founded as the formal charitable arm for accepting donations and fundraising on behalf of the Bermuda Hospitals Board (BHB). A separate entity from the BHB and Ministry of Health, governed by its own Board of Trustees who determine policy and are responsible for its own sound fiscal management.

2016. September 19. The Bermuda Hospitals Charitable Trust has named Lisa Sheppard as its new development director. Ms Sheppard, a former reporter at The Royal Gazette, will be tasked with fundraising for both the BHCT and the Bermuda Hospitals Board after being promoted to her role from within the Trust. "I am very excited by this opportunity to give back to my community," said the Bermudian in a statement. "There are so many great initiatives being under taken by the BHB. Healthcare is so important for all of us, and it's an honour to be able to help in such a tangible way." BHCT chairman Jonathan Brewin said: "I am delighted that Lisa has strengthened our team, as we strive to maximize support to the BHB. She has already demonstrated great energy and commitment to the development of the BHCT, and I look forward to working closely with her." BHCT executive director Ralph Richardson added: "Lisa's maturity, experience and temperament have been the key influencers in our decision to promote her to this new role. "We are looking forward to great things from her."

Bermuda Housing Corporation
A Bermuda Government quango. Bermuda Housing Act 1980. Established by law in 1973 and modeled after the Canada Mortgage & Housing Corporation. It was charged with the responsibility of ensuring Bermudians have adequate and affordable places to live.
Bermuda Housing Trust
Bermuda Housing Trust Act 1968. Established in 1965 after several businessmen and the Rector of Christ Church in Warwick recognized the need for housing at reasonable rental rates. Through their efforts and the generous financial assistance of W. S. Purvis, the trust built 62 units at Elizabeth Hills, Purvis Park and Heydon. For many years, Roderick Ferguson handled the daily functions.
Bermuda London Office
See www.bdalondonoffice.co.uk. Email emaileventslondonoffice@gov.bm or call 020 7518 9900.
Bermuda Medical Council
Medical Practitioners Act 1950.
Bermuda Monetary Authority
A Bermuda Government quango and regulatory agency. It processes applications and recommends to the Ministry of Finance when prudent to establish companies, partnerships, collective insurance schemes, trust companies and issue permits. It conducts background checks of applicants for incorporated business entities and regulates the banking and financial services industries.
Bermuda National Library Committee
Transfer of Functions and Reorganization Act 1970.
Bermuda National Trust Council
Bermuda National Trust Act 1969.
Bermuda Nursing Council
Nurses Act 1969. P. O. Box 674, Hamilton HM CX, Bermuda. Telephone (441) 236-0224 extension 304. Fax (441) 232-1823. Chairperson, three representatives of General Nurses; representative of Enrolled Nurses; a Chief Nursing Officer; two representatives of Nurse Specialists; one Member of the Public appointed by the Bermuda Government who is neither a registered practitioner nor a registered nurse; and one representative of the Bermuda Branch of the British Medical Association. Bermuda Nursing Council Committees are the Credentials Committee; Education Committee with four members; and the Regulations and Code of Ethics Committees with no specified members. It regulates nursing practice; revise rules and regulations governing nursing; issues licenses to persons who qualify to practice; uphold quality nursing standards; prescribes minimum educational courses for nurses wishing to practice in Bermuda; maintains a library source of accredited schools; provides financial assistance to nursing students through an awards scheme; advises prospective nursing students of other awards and scholarships; denies or suspend or revoke individual licenses for failure to comply with or meet council requirements; and prosecutes nurses who violate the law as determined by the Bermuda Nursing Council Act. The Nursing Act 1997 guides its day to day activities. Under the Nurses Act 1969, all nurses of all types, whether registered or enrolled, are required to renew their licenses annually, for a specific fee. Those not meeting the October 31 deadline pay a late licensing fee and are suspended from their jobs until payment is received. There is also a register of Inactive nurses and a fee payable by them. Many nurses earn less than $30 an hour, unlike in most hospitals in North America. The Council provides Scholarships to students who have entered a Nurse Training Program at a Council-approved institution, leading to eligibility for Licensure as a Registered Nurse in Bermuda.
Bermuda Parliamentary Boundaries Commission
2015. October 14. The members of the Boundaries Commission were announced by Governor George Fergusson. Chairman is Francis Alexis, QC, the former Attorney General of Grenada, who completed his role as chairman of that jurisdiction's constitutional reform advisory committee. David Jenkins, the Chief Justice of Prince Edward Island in Canada, is the new judicial member. He is also Chief Justice of its Court of Appeal. Mr Jenkins performed the role of Judicial Member on the 2009 Bermuda Parliamentary Boundaries Commission. Government appointees are Sylvan Richards and Mark Pettingill, while Opposition members Wayne Furbert and Walton Brown were also appointed. Mr Fergusson, as Governor, is bound under the constitution to appoint members before the end of 2017. The commission will report to Parliament on whether changes in constituency boundaries are required, and to specify changes if so required.
Bermuda Psychologists Registration Council
Psychological Practitioners Act 1998.
Bermuda Public Funds Investment Committee
Public Funds Act 1954.
Bermuda Small Business Development Corporation
Bermuda Small Business Development Incorporation Act 1980.
Bermuda War Pensions Commissioners
Pensions & Gratuities (War Service) Act 1947.
Betting - Building
| | |
| --- | --- |
| Betting Licensing Authority | Betting (Regulations & Tax) Act 1975. |
| Board of Agriculture | Agriculture Act 1930. |
| Board of Chiropodists | Professions Supplementary to Medicine Act 1973. |
| Board of Dieticians | Professions Supplementary to Medicine Act 1973. |
| Board of Education | Education Act 1996. |
| Board of Immigration | Bermuda Immigration & Protection Act 1956. |
| Board of Medical Laboratory Technologists | Professions Supplementary to Medicine Act 1973. Includes nominees from practicing Medical Laboratory Technologists. |
| Board of Occupational Therapists | Professions Supplementary to Medicine Act 1973. |
| Board of Physiotherapists | Professions Supplementary to Medicine Act 1973. |
| Board of Radiographers | Professions Supplementary to Medicine Act 1973. |
| Board of Speech Therapists | Professions Supplementary to Medicine Act 1973. |
| Board of Trustees of the Golf Courses | The Golf Courses (Consolidation) Act 1998. |
| Board of Works & Engineering | Public Works Department Act 1984. |
| Broadcasting Commissioners | Broadcasting Commissioners Act 1953. |
| Building Appeals Tribunal | The Building Act 1988. |
C
| | |
| --- | --- |
| Cedarbridge Academy Board of Governors | Education Act 1996. |
| Charity Commissioners | Charities Act 1978. The statutory board which decides on applications for charitable status. A government board with a chairperson picked by the government. Applications for status renewal are considered by the Charity Commissioners and they make recommendations to the Registrar General, who makes the final decision. |
| Child Care Placement Board | Children Act 1998. |
| Commission of Enquiry | Formed after concerns were raised by the Auditor-General over the handling of taxpayers' money in 2010, 2011 and 2012. The Commission is chaired by international jurist and former Bermuda Court of Appeal judge Sir Anthony Evans. Its members are lawyer and former MP the Honourable John Barritt, businesswoman Fiona Luck and businessman Kumi Bradshaw. More information about the Commission is available at www.inquirybermuda.com. |
| Commission for Unity and Racial Equality (CURE) | Commission for Unity & Racial Equality Act 1974. Melbourne House, Suite 202. 11 Parliament Street, Hamilton HM KX. Phone 296-0613 or fax 296-9142 or e-mail cure@ibl.bm |
| Constituency Boundaries Commission | Appointed on 5 November 2001 by the Governor under the Constitution of Bermuda. They had their first meeting on December 3, 2001. |
| Consumer Affairs Board | Ministry of Community Affairs and Sport. |
| Consultative Immigration Reform Working Group | The group, which will examine the issue of immigration policy, was appointed after a week of protests outside Parliament sparked by the controversial Pathways to Status legislation. The first meeting will focus on the topic of children adopted from overseas by Bermudians and the rights and privileges that should be extended to them. It will take place on Thursday between 6pm and 8pm at the Bermuda Public Services Union headquarters. The working group has said that it plans to have its policy on the issue formulated by June 10 after consulting with stakeholders. Anyone unable to attend the meeting can make submissions through the group's drop-box located on the ground floor of the Government Administration Building on Parliament Street, by calling 500-4664 or by e-mailing immigationbda@gmail.com. |
| Contributory Pensions Appeal Tribunal | Contributory Pensions Act 1970. |
| Court Commissioners | Mental Health Act 1968. |
| Criminal Injuries Compensation Board | Criminal Injuries (Compensation Act) 1973. |
D
| | |
| --- | --- |
| Defence Board | Section 6, Defence Act 1965. |
| Defence Exemption Tribunal | Defence Act 1965. |
| Defence Medical Board | Defence Act 1965. |
| Development Applications Board | Development & Planning Act 1974. |
E
E-Commerce Advisory Board
No legislation specified.
Economic Development Committee (EDC)
2013 Bermuda Government initiative intended to cut down on the bureaucracy and move projects forward faster. Its mandate is to compress the time taken to obtain the necessary approvals for direct inward investment into Bermuda. Unwelcoming and bureaucratic procedures in the years prior to 2012 reduced the flow of inward direct investment to virtually a trickle.
Employment Tribunal
Section 35 and Schedule, Employment Act 2000.
Energy Commission
Since November 2009. The mission is to assist in the development and maintenance of affordable, clean and sustainable energy, for the economic, social and environmental well-being of residents and businesses in Bermuda. As required by the Energy Act 2009, appointed by the Minister of Energy, Telecommunications and E-Commerce in November 2009. The Commission consists of a chairman and four other members, though an additional member may be appointed to assist in an inquiry by the Commission if their expertise/experience is required. Members are appointed for a period of three years. Meets twice a month and primary duties are to:

Review, and subsequently approve or disallow variations to the price or charge for electrical power submitted to the Commission by a specified businesses;
Set out the terms and conditions under which a specified business may make a variation to the price or charge for electrical power;
Conduct inquiries into the price or charge made for any energy-related commodity;
Conduct inquiries into other matters concerning the cost or supply of any energy-related commodity;
Conduct inquiries into any matter which may affect the exercise of the Minister's powers under the Energy Act 2009; and
Advise the Minister in the discharge of the Minister's functions under the Energy Act 2009.

It does not release its annual reports to the public — nor does it have to. The Energy Act requires only that it provides the relevant Minister with a report on its activities, not taxpayers. Visit www.energy.gov.bm for more information on the Commission and the Department of Energy.

Environmental Authority
Clean Air Act 1991.
The Essential Industries Disputes Board
Labour Relations Act 1975.
F
Financial Assistance Board
Financial Assistance Act 2001.
Financial Intelligence Agency (FIA)
Since 2007. Under the Financial Intelligence Agency Amendment Act 2008 and Act. Assists in rooting out money laundering or terrorism financing in Bermuda, with a remit limited to banks and deposit companies. Has summary powers to put a temporary freeze on bank accounts and order documentation checks if it receives a report of suspicion regarding money laundering or terrorism financing within the financial sector. The independent quango reports directly to the Minister of Justice and acts as a "buffer" between financial institutions and the Police service's Financial Investigations Unit. When the International Monetary Fund (IMF) visited Bermuda in 2003 it identified deficiencies in the area of identifying the proceeds of crime and the financing of terrorism. In July 2008 it was announced the number of people in the FIA will increase as part of new legislation aimed at combating money laundering and the financing of terrorism. The number of non-executive members will increase from three to six. They will be joined by a chairman and director. The new legislation follows a recent review that showed Bermuda was failing to comply with 29 international recommendations on anti-money laundering and fighting the financing of terrorism. The corresponding figures for the Bahamas and Cayman respectively are six and two.
Financial Investigations Unit (FIU)
Operated by the Bermuda Police, not be confused with the above.
Financial Policy Council (FPC)
2016. September 6. Two new members have joined the think-tank set up to advise Government on financial stability. Dame Amelia Fawcett and Gil Tucker have both been added to the Financial Policy Council. Bob Richards, the Finance Minister, who is also chairman of the council, said: "Since its inception last year the council has been developing an important role in advising the Government and the Bermuda Monetary Authority on the vulnerabilities and risks in the global economy and the Bermuda economy that might impact Bermuda's financial sector. Dame Amelia and Gil will bring extensive experience and wisdom to the council's work." Dame Amelia, a British and American national, is a former banking executive and chairman of the Hedge Fund Standards Board in London and a non-executive director and chairman of the risk committee of State Street Corporation in Boston. She is a former vice-chairman and chief operating officer at Morgan Stanley International in Europe and was also chairman of the Guardian Media Group. Dame Amelia is chairman of the Prince of Wales' Charitable Foundation and deputy chairman and member of the governing body of the London Business School. Mr Tucker, a chartered accountant, was managing partner for Bermuda with professional services firm Ernst & Young and later chairman. Although retired, he is active on a number of boards, including Government advisory boards and was three years ago made a Fellow of the Institute of Chartered Accountants of Bermuda. The two new appointees will join Sir Andrew Large, who acts as deputy chairman, Jeremy Cox, the Bermuda Monetary Authority CEO, Sir Courtney Blackman and Michael Butt on the council.

2015. December 8. This new advisory body set up to help Bermuda safeguard its economy from systemic risks met for the first time yesterday. The Financial Policy Council (FPC) will aim to monitor areas of potential financial systemic risk, recommend moves to strengthen regulation of the financial-services industry and also help devise plans for when things go wrong — such as bank failures. The advisory body is chaired by Bob Richards, the finance minister, and its members include Jeremy Cox, the chief executive officer of the Bermuda Monetary Authority and three independent experts. Mr Richards said: "In today's uncertain global economic environment, it is essential that we remain focused on maintaining the health of the financial sector in Bermuda — and the potential risks to the economy. All countries, including Bermuda, are facing threats to their financial stability and many are responding to them. For us in Bermuda this development represents a vital move further to underpin our own financial stability." The external members include Sir Andrew Large, former deputy governor of the Bank of England, now an adviser to central banks and governments. Sir Courtney Blackman the former Governor of the Central Bank of Barbados and Ambassador for Barbados to the US also sits on the council, as does Michael Butt, a veteran of the insurance industry and chairman of Bermuda-based Axis Capital Holdings Ltd. The FPC will meet three times a year. Mr Cox said: "It is critical that existing customers and those considering doing business in Bermuda see us as a jurisdiction where safety, soundness and fiscal credibility have top priority. Bermudians must continue to feel that their hard-earned assets are safe and secure and that decision-making as it relates to Bermuda's long-term financial stability is of the highest standard. This work is key to the Authority's objective of maintaining financial stability and the soundness of financial institutions in Bermuda, as well as being aligned with supporting Bermuda's role as a leading international financial centre." Many countries began to take financial stability more seriously after the global financial crisis in 2008, when US investment bank Lehman Brothers folded and many other institutions were kept afloat by government-funded bailouts. Bermuda was not as badly affected as some, as its flagship insurance industry came through largely unscathed. However, Butterfield Bank suffered hundreds of millions of dollars in losses on investments linked to soured US residential mortgages before its future was secured by the combination of a government-guaranteed capital raise and a huge cash injection from a group of private-sector investors. Government stated: "The formation of the council will overarch a strategic project begun five years ago to strengthen the financial stability framework in Bermuda." The work done in that time includes the formation of a deposit insurance scheme and the implementation of tougher international-standard regulations, which require banks and insurers to maintain larger capital buffers to be able to withstand a severe economic downturn or financial shock. Bermuda's major banks started this year to report under Basel III banking regulations, while the BMA's insurance regulation was earlier this month given "third-country equivalence" with the European Union's new Solvency II regulations by the European Commission. In 2011, the BMA also formed a dedicated systemic monitoring and analysis function to provide early warnings and take necessary actions to enhance its existing regulatory framework. The BMA's Financial Stability department's team of six is led by senior adviser George Pickering. More recently, the Financial Stability Committee (FSC), a committee comprising senior officials from the Ministry of Finance and BMA, was established to provide a supporting role to the FPC including in relation to implementing its recommendations. The Ministry of Finance and the BMA, along with the Department of Statistics, will also work closely with the FPC to provide it with data relevant to its work. The FPC's recommendations will include early warning functions, but will extend to further development of the recovery and resolution regime in accordance with standards laid down by the Financial Stability Board set up in Basel by the G20.

Fire Services Advisory Board
Fire Services Act 1982.
Fiscal Responsibility Panel
2015. October 2. Three leading international experts in public policy finance have been appointed to serve as members of the newly created Fiscal Responsibility Panel. According to the Bermuda Government, the panel will increase transparency and international credibility by providing an independent, external report of its actual fiscal conduct against the fiscal rules established. Finance minister Bob Richards said in a statement: "I am pleased to announce that we have put in place a Fiscal Responsibility Panel to help tackle our looming fiscal challenges. This group will publish, on an annual basis, an independent report assessing the Island's fiscal strategy, focusing on progress in meeting our medium term objectives for public spending, taxation, borrowing and debt reduction." In his 2015-16 Budget, Mr Richards said that the Government aims to balance the budget within three years. He said at that time: "To increase transparency and international credibility, Government intends to establish an international, independent committee to review, monitor, assess and publicly report on the fiscal progress of the Government. Several other islands have also adopted similar outside assessors and it has helped bolster credibility and confidence. The report prepared by this panel will be an input into the overall work to create a framework for financial stability policy in Bermuda." The Fiscal Responsibility Panel will be chaired by David Peretz, an independent consultant on international financial issues who has worked in the British Treasury, the International Monetary Fund and the World Bank, with particular experience in advising on strategic and economic issues affecting small countries. He is joined by Jonathan Portes, the director of the National Institute of Economic and Social Research, whose expertise covers economic policy issues including labour markets, skills, migration poverty, and international economic and financial issues. The third member, Peter Heller, is a 30-year veteran of the International Monetary Fund, professor and lecturer on public policy finance. The Government's press release states that its medium-term target is that, by 2019, Bermuda would be paying for the operations and programmes of the Government and not increasing debt relative to the size of the economy. Mr Richards added: "We look forward to the panel beginning its important work for the Bermudian people and for the first report to be published." Mr Peretz stated: "We are pleased to be asked to take on this important role for Bermuda and look forward to producing our first report later this year."
G
| | |
| --- | --- |
| General Improvement Area Tribunal | Bermuda Housing Act 1980. |
| Government Employees (Health Insurance) Appeals Tribunal | Government Employees (Health Insurance) Act 1986. |
| Government Employees (Health Insurance) Management Committee | Government Employees (Health Insurance) Act 1986. |
H
Health & Safety Advisory Council
The Health & Safety at Work Act 1982. Includes representatives from Bermuda Hotel Association; Bermuda Union of Teachers; Small Business Development Corporation; Bermuda Chamber of Commerce; Public Service Association; Bermuda Police Service Association; Bermuda Fire Services Association; Independent Employers; Bermuda Industrial Union; Ministry of Health & Family Services, ex-officio; Department of Personnel Services, ex-officio.
Historic Building Advisory Committee
Ministry of Environment.
Historic Wrecks Authority (HWA)
Government-appointed
Hospital Insurance Commission
Hospital Insurance Act 1970.
Hotel Licensing Appeal Tribunal
Hotel (Licensing & Control) Act 1969.
Human Rights Commission
Human Rights Act 1981.

2016. April 8. A fresh chapter has begun for the Human Rights Commission in its new headquarters at Milner Place, Hamilton, where the latest set of commissioners held its first meeting. Tawana Tannock, the HRC chairwoman, praised the work of the selection committee in bringing together commissioners from a broad variety of backgrounds. "I'm very pleased that we have this diverse body of 12 to help move the commission into a new era of greater independence," Ms Tannock said, referring to the HRC's official move out from the auspices of the Ministry of Community, Culture and Sports. Continuing member Jens Juul, a certified insurance arbitrator, has served on several local boards as well as operating Scandinavian Re, while new member Dany Pen, the education and communications officer for the Bermuda National Gallery, holds a special interest in women's rights, gender equality and education. New member Jonathan Young said he took inspiration from the service of his mother, Kim Young, as a commissioner; he comes from an insurance background, as well as teaching at the Bermuda College, where he was a shop steward. Carla George, a new commissioner coming from a legal background, has also served on a variety of boards, including CedarBridge Academy, the Bermuda Hospitals Board and the Board of Education, and gave education as one of her main interests. Returning commissioner Kim Simmons, a corporate attorney, expressed a broad interest in human rights, particularly in how the topic was perceived by young people. Ms Simmons said she looked forward to continuing her advocacy for persons with mental disabilities. Donna Daniels, a former teacher and principal of Dellwood Middle School, is also executive director of the Adult Education School. Ms Daniels gave education as her "passion", along with the protection of the vulnerable, the links between unemployment and poverty, and issues concerning mental health. New member Ben Adamson, a lawyer with 15 years' experience, has served as a human rights mediator for the past six years, while Quinton Butterfield, also new, works in the Bermuda Government's information technology office. Mr Butterfield said he looked forward to seeing the island "move forward on marriage equality, gender equality and gender identity", and gave another interest as education and advocacy on the topic of human rights. Absent from the gathering were members Carolyn Thomas Ray, Franklin Fahnbulleh, and deputy chairman John Hindes.

2006. The head civil servant at HRC resigned weeks after the chairman of the Government board also stepped down. Mr. David Wilson's resignation came after Rod Attride-Stirling, then chairman of the HRC, called for jobs to be lost over the Commission's repeated failure to produce annual reports in compliance with the Human Rights Act. The last annual report for the HRC was filed in 2001 and a report for 2005, which should have been presented to the Minister for Community Affairs by June, had not been delivered.
I, J, K
| | |
| --- | --- |
| Immigration Appeal Tribunal | Established in July 2011 by the House of Assembly as an independent but Government-appointed tribunal on immigration matters. In July 2012 it began to schedule its first appeals, more than a year after it was established. Itl makes the final decisions on grievances relating to issues such as Bermudian status, permanent residency and work permits. It replaced a Cabinet committee that previously heard appeals of Ministerial decisions. This committee ran the risk of being seen as biased, so the independent tribunal was established instead. There are 12 members of the panel. The tribunal has sought guidance from Government lawyers in drafting rules for the tribunal's use and the guidance of appellants and lawyers. |
| Immigration Reform Working Croup | 2017. May 2. The Immigration Reform Working Group is working with Government to collect data after a lack of available information slowed progress. Delivering an update on the group's work, chairman William Madeiros said that after a year of discussions, forums and submissions, calls for data about mixed status families in Bermuda were a "constant theme. All members take their responsibilities seriously and remain focused on making recommendations to the Government," he said. "No one expected to be working on these matters a year after we commenced. The group has spent hundreds of hours in deliberations, spoken to many outside agencies, studied numerous submissions and hosted ten productive public forums. To progress further, however, we need reliable data in order to make fair, well-conceived and multi-generational legislative proposals to the Government. The call for such information was a consistent theme during the many public meetings held last year. In the absence of relevant information being readily available, we are now developing, with Government assistance, a means to collect critically important data on mixed status families. Once collected, we will be able to advance our deliberations and come back to the public for its review and assessment. We have been challenged on our timeline, process and progress by some in the community. Our position is clear: we will examine the issues carefully, engage the public and arrive at informed positions on the issues at hand. Our mandate is to get the proposals right — inclusive of public consultation — and we know that Bermuda will allow us the necessary time to do so." Mr Madeiros said the group reports to Michael Dunkley, the Premier, through the Minister of Home Affairs, the Immigration Reform Action Group and the Bermuda Industrial Union, and has been regularly reporting on its deliberations to those parties, along with the Bermuda Public Services Union and the People's Campaign. The working group was formed in the wake of a week of protest outside the House of Assembly over proposed "Pathways to Status" legislation. Last June, the group presented its recommendations on adoption cases, and has since been working to examine the issue of mixed status families on the island. |
| Induction Committee | Established to consider who should be Bermuda's National Heroes and Heroines for Bermuda's National Heroes public holiday. |
| Insurance Advisory Committee | No legislation specified. |
| Judicial and Legal Services Committee | Recommends judicial and legal appointees. |
| Justice System Review Committee | |
L
| | |
| --- | --- |
| Labor Advisory Council | Ministry of Labor, Home Affairs and Public Safety. Includes Workers Representatives of Bermuda Public Services Association; Bermuda Industrial Union; Bermuda Union of Teachers; Electricity Supply Trade Union; Fire Services Association; Association of School Principals; Bermuda Federation of Musicians and Variety Artists. Employers' Representatives of Government; Independent Employers; Bermuda Employer's Council; Hotel Employers of Bermuda. |
| Land Valuation Appeals Tribunal | Land Valuation & Tax Act 1967. |
| Law Reform Commission | Proposed in the 2008 Throne Speech to ensure the constant review of legislation and to make the law responsive to the needs of society. How it will differ from the Law Reform Committee is not yet known. |
| Law Reform Committee | Ministry of Legislative Affairs. |
| Legal Aid Committee | Legal Aid Act 1980. |
| Liquor Licensing Authority | Determines which businesses in the retail, wholesale and restaurants sectors get liquor licences. |
M, N, O
Marine Resources Board
Fisheries Act 1972.
Medical Reference Committee
Motor Car Act 1951.
Mental Health Review Tribunal
Mental Health Act 1968.
Millennium Fund Committee
Millennium Fund Act 1988.
Ministers and Members of the Legislature Pension Fund
Ministers and Members of Parliament pay 12.5 per cent of their gross salaries into their pension fund by this name. Government matches contributions, to make a total of 25%. Pensions are paid out based on a formula pertaining to the number of years in which contributions were made.

2015. December 19. Retired Cabinet ministers are set to have their pension pots restored, after a resolution proposed by the Premier passed at the House of Assembly. Michael Dunkley explained on Wednesday night that ministers' salaries were reduced by 10 per cent in March 2013 to help cut costs, a move which remains in effect today. However, any minister who retired after that point has seen their pension from the Ministers of the Legislature Pension Fund (MMLPF) similarly docked. "This was an unintended consequence of the resolution, and is also unfair to the members who, for the most part, would have paid into the MMLPF at the higher salary," said Mr Dunkley. The Premier suggested the introduction of a retroactive resolution to fix the issue, which went through uncontested. "For the avoidance of doubt, nothing in this resolution shall be taken to modify the annual salaries actually payable to members of the legislature," Mr Dunkley added.

2013, February 12. The pension fund set up for Bermuda's legislators is worth well over $8 million. According to the latest audited financial statement of the Ministers and Members of the Legislature Pensions Fund, a total of $8,528,514 was available for benefits payable by the Fund on March 31, 2009. Assets increased by $1,449,348 during fiscal 2009 — $446,060 of that increase came from members' contributions, a matching amount was contributed by Government and the fund earned $557,228 in interest. Assets decreased by about $690,000, the largest share of that being $490,000 paid out in benefits. But the year started with net assets of $7.7 million. The Fund receives 25 percent of salaries paid to parliamentarians, senators and staff of the legislature, split equally between the Government and the contributors. Pensions are paid to contributors from age 60 if they have served at least eight years or at age 55 if they have served for 20 years or more. The pensions fund financial statements were tabled in the House of Assembly on Friday.

Ministers and Parliamentarians Salary Review Board
Set up by legislation enacted in 2005 in an effort to end the recurring controversy that flares up every time MPs vote for a pay rise for themselves.
National Accessibility and Advisory Council
Established after the Committee for a National Policy on Disabilities was established in 2005 to determine guiding principles; recommend policy objectives in the areas of access, communication, education, training, health, housing and transportation; and to identify overall goals and objectives for each area. Its its report was completed and Government accepted the recommendations with the 155 objectives.
National Drug Commission
National Drug Commission Act 1993.
National Parks Commission
The Bermuda National Parks Act 1986.
National Security Defence Review
Government-appointed. 2015, December 18. Legislation amending the Royal Bermuda Regiment was passed in the Senate. Lieutenant-Colonel Michael Foster-Brown, the Royal Bermuda Regiment's commanding officer, observed the debate. While the Defence Act was supported by independent senators, Diallo Rabain, the Opposition Leader in the Senate, pointed out the change in the One Bermuda Alliance's narrative from repeated pledges to eliminate conscription, to an Act that pointedly retains it as an option. However, Jeff Baron, the Junior Minister of National Security, told the Upper House: "The key word is 'transition'." Maintaining that the Government remained determined to end conscription, Sen Baron said: "This is not just trying to tick a box for an election promise. We could have done that on day one, but we recognise that is not responsible." Sen Baron said it would not present any pathways to citizenship for foreign nationals who joined up. The legislation opens up volunteering to non-Commonwealth citizens, and holders of Permanent Residents' Certificates can also sign up. The amendments are based on the recommendations of this National Security Defence Review.
National Training Board
The National Training Board Act 1997. 94 Reid Street, Hamilton HM 12. Telephone (441) 292-3700. Fax (441) 292-5984.
National Tourism Action Group
Ministry of Tourism.
National Youth Council
The Cabinet Office. A representative each of the Berkeley Institute; Bermuda Institute; Bermuda High School for Girls; Bermuda College; Cedarbridge Academy; Clearwater Middle School; Mount St. Agnes Academy; Sandys Secondary Middle School; Saltus Senior School; Warwick Academy Senior School
Office of Public Management & Procurement (OPMP)
2017. March 15. Guidelines are set to be put in place for the government's watchdog of fairness over public contracts, nearly six years after it was formally established. Premier Michael Dunkley told Parliament that $773,000 has been set aside in the 2017/18 fiscal year for the Office of Public Management and Procurement (OPMP) — most of it earmarked for salaries, which have dropped by $87,000 with the discontinuation of the temporary post of project manager. However, David Burt, the Leader of the Opposition, scolded the Government for neglecting the office, saying just four of the eight budgeted positions were filled. Mr Burt pointed to "ongoing instances of non-compliance" with Financial Instructions pointed out by the Accountant-General's financial statements for the Consolidated Fund as of March 21, 2016, which was tabled last week in the House. "The office that was created in 2011 to ensure that these violations were reduced is understaffed," Mr Burt said. "Meanwhile, the Government has refused to publish the code of conduct for procurement that will make violations of the rules an offence. The One Bermuda Alliance has been in office for 51 months and despite pleas from the public and the Commission of Inquiry, they still refuse to follow the Good Governance Act." MPs heard on Monday that the OPPM is to adopt a system for managing capital projects in the coming fiscal year, along with a procurement procedure manual and a code of practice. A draft code was published in November 2016, with consultation closing on January 31. OPPM was an early initiative under the former premier Paula Cox, unveiled in November 2010, as part of a host of measures under the Good Governance Act that Parliament passed in July 2011. But the understaffed office languished in subsequent years, with its code of practice a continual work in progress — something Ms Cox lamented in October 2016 during her appearance before the Commission of Inquiry. Under the 2016 Throne Speech, the Government has pledged to integrate the code of practice for project management and procurement within "a new unified legislative framework" to replace sections of the Good Governance Act and the Public Treasury (Administration and Payments) Act 1969. The OPPM has also been allocated a grant of $150,000 for 2017/18, which the Premier said would go towards an electronic purchasing and tendering system.

2015. September 30. This office, set up in 2011 to strengthen financial accountability in government has only half the staff it needs, it has been revealed. And a suitable candidate to lead the Office of Project Management and Procurement (OPMP) has yet to be found, despite the job being advertised twice and having a salary of more than $100,000 a year. A statement released by the unit under new public access to information requirements shows that it should have eight employees but lacks a director and is understaffed. Asked about the situation, a government spokesman told The Royal Gazette: "There are eight positions in the Office of Project Management and Procurement, of which four are filled. They are the contracts and compliance manager, the senior project manager, the procurement manager and an administrative assistant. The position of director is currently vacant and has been advertised twice. We are looking for the right person who will work to ensure the OPMP fulfils its mission to provide oversight and guidance to public authorities and implement the soon-to-be released code of practice on procurement and project management. The contracts and compliance manager is acting as director while the position is being recruited." The spokesman said the director, once recruited, would assess the skills needed to "assist the department and the managers to perform their oversight and audit functions. As a result, the recruitment of the procurement operations analyst, the procurement systems officer and the contracts and compliance officer will be completed after a director has been appointed." The OPMP was created under former Premier Paula Cox under the Good Governance Act 2011 and falls within the remit of the Cabinet Office. Michael Dunkley told parliament earlier this year, in reference to the office being set up under the Progressive Labour Party, that Ms Cox "had to do something … because those guys on that side were pilfering." The Premier withdrew the word "pilfering" but questioned what had happened to "missing assets." The office's website says it "provides oversight and guidance to government departments and ministries regarding project management and procurement activities to ensure fairness, transparency and consistency in awards of contracts and adherence to applicable rules and industry best practices."

Optometrists and Opticians Council
Optometrists and Opticians Act 1973.
Parish Councils
Bermuda Government appointed under the Parish Councils Act 1971.
| | | |
| --- | --- | --- |
| Devonshire Parish Council | Hamilton Parish Council | Paget Parish Council |
| Pembroke Parish Council | St. George's Parish Council | Sandys Parish Council |
| Smith's Parish Council | Southampton Parish Council | Warwick Parish Council |
P
Parliamentary Joint Select Committee on Women's Issues and Unemployment.
Bermuda Government.
Parliamentary Standing Committee on the Public Accounts (PAC)
Made up of Members of Parliament. It is authorized by the House of Assembly to look at public expenditure. The committee also investigates findings reported by the Auditor General in the annual and other special reports. Often meets in the Senate Chamber, Cabinet Building on Front Street.
Parole Board
The Parole Board Act 2001.
Pension Commission
The National Pension Scheme (Occupational Pensions) Act 1998. Phone 295-8672, Its website pensioncommission.bm began in July 2007. For information on private pensions. With links including Employer Information, Employee Information, National Pension Scheme and Act and Regulation. Forms are available online or phone 295-8672 or by e-mail at info@pensioncommission.bm.
Permanent Arbitration Tribunal
Labour Relations Act 1975.
Permanent Police Arbitration Tribunal
Permanent Police Tribunal
Police Act 1974.
Pharmacy Council
Pharmacy and Poisons Amendment Act 1984.
Police Complaints Authority
Police Complaints Authority Act 1998. A. Brock, Chair.
Ports Authority
Marine Board Act 1962.
Premier's Council on Fitness and Nutrition
Launched the Premier's Youth Fitness Programme
Price Control Commission
Price Commission Act 1974. See Bermuda Government Boards. 2013. October 1. The Price Control Commission has yet to meet six months after being re-appointed by the present government from the previous government. The Commission was established to protect consumers from unwarranted rate increases on essential goods and services, but Finance Minister Bob Richards said Government was using other committees and commissions to tackle the high cost of living. He said the cost of electricity is under the remit of the Energy Commission, the issue of healthcare is being dealt with by the Ministry of Health and a separate Committee under the Ministry of Home Affairs is looking into the cost of food. "Those are the three basic elements. They are not being dealt with under the Price Control Commission, but they are certainly being dealt with in broader government," he said. "This Government is a firm believer that free markets are the most efficient and cost effective way of delivering goods and services. Government doesn't fix prices. Government price fixing doesn't work. There's an old saying in economics that you can fix the price of something and you can fix the supply of something, but you can't fix both at the same time. If the government wants to fix the price of a loaf of bread they can do so, but they can't force someone to bring it in and sell it at that price." He said the best the Government could do is ensure there is a competitive market, and in cases where there may be a monopoly, ensure that there is a regulatory system in place to monitor them. Shadow Finance Minister David Burt said the Opposition does not support price fixing, but the Government had promised to meet with retailers when cutting the salaries of public sector workers, asking what success Government has had. Mr Richards responded that it was a "work in progress." Public Safety Minister Michael Dunkley, speaking for the Ministry of Home Affairs, said that both he and Home Affairs Minister Michael Fahy have been involved in talks with the Island's grocers, but due to the sensitive nature of talks he was not able to make a statement to the House. "The leading grocers are meeting among themselves, and once they look at the potential options, they will revert to the Government." Asked by Shadow Minister of Economic Development Glenn Blakeney about it there had been talks with the Island's wholesalers, Mr Dunkley said it was up to the grocers to get the wholesalers involved in the conversation. The Minister noted that the previous administration had attempted to work with the wholesalers in 2011, but nothing came of it. Economic Development Minister Grant Gibbons meanwhile said Government has had several meetings with Belco about energy costs. "Earlier this year, under this administration, the Ministry of Economic Development authorized the Energy Commission to undertake a review of the fuel adjustment rate being applied by Belco," Dr Gibbons said. "We are in the process of analyzing the findings of that review and are discussing them with Belco." Dr Gibbons said the Government has formed a consultation committee, the Bermuda Energy Working Group, which is collaborating with Belco and Government on several projects, including equitable interconnection agreements in order to reduce reliance on the energy company and lower prices. "There are several other initiatives we are working on, each with an aim to lower the average fuel bill, and I will make a statement when I am ready to report," he said. Mr Burt however said that Dr Gibbons' statement brought little comfort, saying his constituents had seen their fuel adjustment rates increase by 15 percent between January and September, and Government has announced a new tax that would further increase costs. Dr Gibbons said the last base rate was set under the previous administration, the fuel adjustment rate is based on the cost of fuel purchased by Belco.

Commission, set up in 2011, has specific terms-of-reference which include:

To look into the price of food on the Island to ensure consumers are protected from "unwarranted increases' the Premier announced. In her budget brief for the Ministry of Finance in March 2011, she made the following statement: 'Recently, the prices of food staples in global commodity markets have risen in worrying leaps. The Ministry of Finance has considered the implications for Bermuda and the policy options available to Government. Given that Bermuda imports substantial proportions of the food consumed on Island, we are in the position of 'price takers'. In these circumstances, a regime of price controls could have unintended consequences including the disruption of supply lines. Accordingly, Government will use the powers of enquiry available under the Price Commission Act 1974 to obtain information from food importers about their import costs and margins to ensure that consumers are protected from unwarranted price increases. Indeed, subsequent to this statement, both the Bermuda Public Services Union and the Bermuda Industrial Union have publicly echoed my own concerns. The Price Control Commission has been empanelled and gazetted.

1. Obtaining the relevant economic data from the Department of Statistics to identify the essential goods and services that should be the focus of the enquiry;

2. Inviting interest groups, consumers and individual Bermudians, who wish to provide data, statistics and other information, to make submissions to the Commission;

3. Inviting input from wholesalers; supermarkets; convenience stores, discount stores, other businesses and services that provide essential goods and services;

4. Consulting with the various unions including: the Bermuda Trade Union Congress, the Bermuda Industrial Union, the Bermuda Public Services Union, the Fire Services Union, Bermuda Union of Teachers, the Prison Officers Union, etc;

5. Consulting with the Bermuda Small Business Development Corporation, and employer groups including the Chamber of Commerce, Bermuda Employers Council, etc;

6. Obtaining information from shipping companies and other importers regarding the current cost of shipping, both air and freight;

7. Producing a report for the Minister recommending how Government can assist in ensuring that consumers can get the most reasonable price for essential goods and services.

This will be a collaborative team effort between Government, suppliers, retailers and consumers.

Problem Gaming Council
2017. May 2. The Bermuda Casino Gaming Commission has unveiled five Bermudians who will lead the Problem Gaming Council. Former deputy head of the civil service Judith Hall Bean will lead the council as chairman. She will be joined by Ernest Peets Jr, Sharon Apopa, Kevin Monkman and Kathleen Keane. Dr Peets is a long-serving family therapist and counselor, Dr Apopa is the executive director of the Mid-Atlantic Wellness Institute, while Mr Monkman was a long-serving civil servant. Mrs Keane, a retired lawyer, will serve as Secretary for the council. Richard Schuetz, the executive director of Bermuda Casino Gaming Commission, said that Ms Hall-Bean would provide the council with a "wealth of public service management experience", stressing the importance of the council's role. "One of our primary goals, since the inception of the Commission in 2015, has been to ensure that a Problem Gaming Council was established well before the opening of any casino on the island," he said. "We are pleased to have finally reached this stage in our progress, as it signals we are ready to move full steam ahead with gaming — and are doing our part to create a strong and successful gaming industry in Bermuda. Most importantly, we are proud with the abundance of talent, skill and experience that each of these council members brings to the table. They will ensure that no stone is left unturned when it comes to problem gambling and minimizing as much risk as possible to the people of Bermuda." The council will be tasked with ensuring that casino operators and employees are fully trained about problem gaming, making sure that treatment providers have the resources they require and working to make sure the public is aware of the risks of problem gaming and how to seek help. The Commission is still in the process of recruiting a Director of Problem and Responsible Gaming, who will be appointed on the advice of the council and serve as the conduit between the commission and the council. Their duties will also include overseeing the accreditation process for treatment providers, managing a gambling hotline and a self-exclusion list and community outreach.
Professional Engineers Registration Council
The Professional Engineers Registration Act 1972.
Professional Surveyors Registration Council
The Surveyors Registration Act 2001. A full list of professional surveyors in alphabetical order of name with their qualifications and area of specialty, is published every January.
Professions Supplementary to Medicine Council
Professions Supplementary to Medicine Act 1973.
Promotions Board for Bermuda Regiment
Defence Act 1965.
Public Accounts Committee

Authorized by the House of Assembly to look at public expenditure. The committee also investigates findings reported by the Auditor-General in the annual and other special reports.

Public Debt Management Advisory Group

Appointed in 2013 by the Minister of Finance. Reviews Bermuda Government borrowing arrangements and practices used to finance ongoing budget deficits. Formation of the group was promised as part of the OBA's election campaign and Government gets free expertise. It's a group of people involved professionally in the investment industry.

Public Records Committee
Bermuda Archives Act 1974.
Public Sector Negotiating Team
A Bermuda Government entity which in December 2016 comprised Gary Phillips, John Harvey and Martin Law. It makes contracts with bodies including the Bermuda Police.
Public Service Commission

F

ound within the Bermuda Constitution Order 1968 – section 81.

Public Service Superannuation Board
Public Service Superannuation Act 1981.
Public Service Vehicles Licensing Board
Motor Car Act 1951.
Public Transportation Board
Public Transportation Board Act 1951. info@ptb.bm.
Purchasing and Tendering Committee
Ministry of Works & Engineering.
Registers of health-related organizations/people
| | |
| --- | --- |
| Regulatory Authority | January 2, 2013. October 17, 2012. Government named Philip Micallef as its choice to be the CEO for the new Bermuda Regulatory Authority (RA) to oversee the telecommunications sector. Mr Micallef was then the executive chairman of the Malta Communications Authority. He holds a BSc degree in electrical engineering from the University of Malta and an MBA from the University of Warwick. Mr Micallef has extensive experience in middle and senior management roles from the last 25 years with various organisations in the Information and Communication Technology (ICT) and Telecommunication sectors across Europe, the Ministry of Environment, Planning and Infrastructure Strategy said. The RA will be set up as part of the regulatory reform in the telecoms sector, which will allow companies to offer bundled services. Between 2000 and 2002, Mr. Micallef served as a Government-appointed director on the board of Maltacom plc. In 2004 he was appointed the first CEO of Malta Enterprise. In 2006, he was appointed CEO of Melita Cable plc and then, a year later, he also led the Melita management team in the auction process which resulted in the sale of the company to the current shareholders. It was anticipated that the RA Commissioners will appoint Mr Micallef at their initial meeting on January 2, 2013. In the interim, he will work informally with the Minister , the RA Commissioners and their external advisers to keep the reform process moving forward. Earlier, the Minister had announced the selection of the three Regulatory Authority Commissioners, who began their terms on January 2, 2013 |
| Register of Audiologists | Bermuda Government maintained under the Professions Supplementary to Medicine Act 1973. A full list is published annually. |
| Register of Chiropodists | Bermuda Government maintained under the Professions Supplementary to Medicine Act 1973, not in alphabetical order but in order of day of registration so that those earliest currently registered are first and the most recent are last. A full list every year. |
| Register of Dental Hygienists | Bermuda Government maintained under the Dental Hygienists Regulations 1950. A full list every year. |
| Register of Dental Technicians | Bermuda Government maintained under Regulations 2(b) of the Dental Technicians Regulations 1950. A full list every year. |
| Register of Dental Practitioners | Bermuda Government maintained under the Section 6(2) of the Dental Practitioners Act 1950, not in alphabetical order but in order of day of registration so that those earliest currently registered are first and the most recent are last. A full list every year. |
| Register of Dieticians | Bermuda Government maintained under the Professions Supplementary to Medicine Act 1973, not in alphabetical order but in order of day of registration so that those earliest currently registered are first and the most recent are last. A full list every year. |
| Register of Emergency Medical Technicians | Bermuda Government maintained, registered with the office of the Chief Medical Officer. Some are Bermuda Hospitals Board, others are Bermuda Fire Service. A full list every year. |
| Register of Medical Laboratory Technologists | Bermuda Government maintained under the Professions Supplementary to Medicine Act 1973, not in alphabetical order but in order of day of registration so that those earliest currently registered are first and the most recent are last. A full list every year. |
| Register of Medical Practitioners | Bermuda Government maintained under Section 6 (2) of the Medical Practitioners Act 1950, not in alphabetical order but in order of day of registration so that those earliest currently registered are first and the most recent are last. A full list every year. |
| Register of Midwives | Bermuda Government maintained under Section 6 (2) of the Midwives Act 1949, not in alphabetical order but in order of day of registration so that those earliest currently registered are first and the most recent are last. A full list every year. |
| Register of Occupational Therapists | Bermuda Government maintained under the Professions Supplementary to Medicine Act 1973, not in alphabetical order but in order of day of registration so that those earliest currently registered are first and the most recent are last. A full list every year. |
| Register of Optometrists & Opticians | Bermuda Government maintained under Section 4 Part III of the Optometrists and Opticians Act 1973, not in alphabetical order but in order of day of registration so that those earliest currently registered are first and the most recent are last. A full list every year. |
| Register of Pharmacies | Bermuda Government maintained under Part IV Section 17(4) of the Pharmacy & Poisons Act 1979, in alphabetical order. A full list every year. |
| Register of Pharmacists | Section 7 (4) of the Pharmacy & Poisons Act 1979. It shows every currently licensed pharmacist - Bermudian and non-Bermudian - by full first, middle and last name and the year, day and month when entered in the register. |
| Register of Physiotherapists | Bermuda Government maintained under the Professions Supplementary to Medicine Act 1973, not in alphabetical order but in order of day of registration so that those earliest currently registered are first and the most recent are last. A full list every year. |
| Register of Psychologists | Registrar General, Section 8, Psychological Practitioners Act 1998. A full list every year. |
| Register of Radiographers | Bermuda Government maintained under the Professions Supplementary to Medicine Act 1973, not in alphabetical order but in order of day of registration so that those earliest currently registered are first and the most recent are last. A full list every year. |
| Register of Speech-Language Therapists | Bermuda Government maintained under the Professions Supplementary to Medicine Act 1973, not in alphabetical order but in order of day of registration so that those earliest currently registered are first and the most recent are last. A full list every year. |
R (other)
| | |
| --- | --- |
| Rent Increases Advisory Panel | Rent Increases (Domestic Premises) Control Act 1978. |
| Residential Child Care Advisory Board | Protection of Children Act 1943. |
| Review Committee | Investment Business Act 1998. |
| Road Safety Council | No specific legislation |
S
| | |
| --- | --- |
| Salaries Review Board | 2015. June 30. Inquiries into the fate of the dormant Salaries Review Board have gone unanswered, despite MPs continuing to debate the issue each year. The independent board, required by law to review the parliamentarians' pay every two years, is last known to have issued a report nearly seven years ago — even though MPs approved their own pay scales this March. Legislators' salaries were pegged at the same level for this fiscal year, but have had two cuts since April 2012. The Royal Gazette began questioning the status of the Salaries Review Board in April this year, beginning with Cabinet — only to be referred to the House of Assembly. |
| Seniors Advisory Council | Established by the Bermuda Government in March 2015 to help to improve the standards of care for the Island's elderly. The council will be made up of 15 individuals including, Dr John Cann as its chairman and Marian Sherratt as it deputy chairwoman. Minister of Seniors Jeanne Atherden made the announcement. "As a Government, we have an obligation to set policies and plan for the future, and we have a responsibility to ensure that the people who live and work in Bermuda have the knowledge they need to plan for their own future. We need to make sure that today's young people are prepared for their old age. We don't want them to be elderly and reliant on the Government for their housing and care. I will be asking the Seniors Advisory Council to work with our government department and our civil servants to develop a comprehensive National Ageing Plan for Bermuda. Part of that plan will, by necessity and as a matter of priority, need to address the issues surrounding long-term care." The frequency of the council's meetings will be determined by its members. Mrs Atherden said group would form subcommittees, which will invite the participation of individuals who are not on the council, but have expertise relevant to the subcommittee. "Caring for this growing population of Alzheimer's and dementia sufferers is, even now, putting a strain on caregivers, families and our long-term care facilities. This strain will only get worse in the future, so another of the tasks for the council will be to review the need for and development of what I am calling an Alzheimer's and dementia care strategy." The members of the council include Lorraine Beasley, Lauren Bell, Charles Jeffers, Joanne Tucker, Valerie Pethen, Susan Jackson, Winifred Fostine-DeSilva, Sharon Swan, Dr Htay Myint, Rosheena Masters, Judy Canale, Elizabeth Stewart and Jane Collis. |
| Seniors Law Reform Committee | In 2016 completed a review focused on improving the protection of seniors from financial abuse, with recommendations on amendments to legislation to ensure greater financial and personal protection of seniors. |
| Spending and Government Efficiency (Sage) Commission | See https://sagecommission.bm/. Can also be regarded as the Savings And Government Efficiency Commission. |
| St. George's Preservation Authority | Town of St. George's (Protection of Buildings of Special Interest) Act 1950. |
| Scientific Authority for the Convention on International Trade in Endangered Species of Wild Fauna and Flora | Endangered Animals and Plants Act 1976. |
| School Reorganization Advisory Committee (Score) | 2016. January 19. Parental anxieties fuelled by rumours over possible school closures have influenced the latest public school application figures, according to one principal, Romelle Warner, who led this committee. Reports to Minister of Education. |
| Special Courts Panel | No specific legislation |
| Stamp Design Advisory Committee | Bermuda Constitution Order 1968, Section 61. |
| Standing Medical Board | Pension and Gratuities (War Service) Act 1947. All surviving beneficiaries of such pensions are senior citizens. |
| Sustainable Development Roundtable (SDR) | c/o Ministry of the Environment. First introduced in April 2005. Its primary role is to advise the Cabinet on a sustainable future for the country in areas of economics, the environment and culture. Premier Ewart Brown unveiled his Sustainable Development Roundtable (SDR) members in March 2007 but also revealed that he won't ask the group to weigh in on the controversial Southlands Special Development Order (SDO) on the Southlands issue. Dr. Brown's panel is 13 members, five fewer than the panel of his predecessor Alex Scott. Seven of the members are new and six are from the previous Roundtable. Among those not invited back is environmentalist Stuart Hayward, who, since leaving the Government advisory committee, has become an outspoken opponent of the Southlands bid for an SDO. |
T-V
| | |
| --- | --- |
| Tax Appeal Tribunal Panel | Taxes Management Act 1976. |
| Tax Convention Advisory Committee | USA-Bermuda Taxes Management Act 1986. |
| Tax Information Exchange Portal | 2017. June 16. The Bermuda Government has created a new portal that meets the island's obligations under automatic exchange of tax information agreements. Bob Richards, the Minister of Finance, said the Tax Information Reporting Portal was essential for the island to adhere to international compliance standards and to protect its status as a financial centre. The new portal will enable overseas tax authorities to access tax information on individuals and multinational companies and was borne out of international agreements designed to clamp down on tax dodging. "Today's launch of Bermuda's automatic exchange of information (AEOI) portal is a milestone in protecting Bermuda as a leading international financial centre," Mr Richards said. "It is impossible to remain a viable centre in today's compliance climate without conforming to the Organisation for Economic Cooperation and Development AEOI regime, especially as it is required by both the European Union and the G20 to meet their standard for international co-operation on tax matters." The new rules mandate how countries collect information on the financial account information of individuals and also operations of multinational companies, to the benefit of interested tax authorities. The new portal confirms the island is meeting its obligations under the OECD CRS (Common Reporting Standard) and OECD CbC (Country-by-Country) AEOI regimes. "Bermuda is an AEOI Early Adopter jurisdiction, meaning that Bermuda's portal will receive year 2016 CRS and year 2016 CBC information from Bermuda persons and share the information with all countries that are also AEOI Early Adopters for year 2016 CRS and CBC information," Mr Richards said. "Many of the large countries are latecomers by only collecting and sharing under the OECD AEOI regime starting with either year 2017 information or year 2018 information. This includes some of the EU, G20 and OECD countries — some of the very countries promoting these very standards." The Ministry of Finance statement added: "Bermuda is the first UK Overseas Territory to join the OECD Base Erosion Profit Shifting committee known as the Inclusive Framework. Bermuda has also initiated renegotiation of all four of its double-taxation agreements to revise them to the standard articulated by the Multilateral Convention to Implement Tax Treaty Related Measures to Prevent BEPS." Reporting persons can now access Bermuda's Tax Information Reporting Portal at www.gov.bm |
| Technical Advisory Panel | Motor Car Act 1951. |
| Telecommunications Commission | Telecommunications Act 1986. |
| Treatment of Offenders Board | No specific legislation |
| Top Level Domain Committee | Ministry of Telecommunications & E-Commerce. |
| Tourism Board | Bermuda Constitution Order 1968, Section 61. |
| Trucks Advisory Committee | Motor Car Act 1951. |
| Veterinary Practitioners Council (VPC) | Established by the Veterinary Practitioners Act 2008 which states that overseas practitioners must either be a member of the UK's Royal College of Veterinary Surgeons, or hold a 'valid licence' in the US, Canada, European Union or Caribbean Economic Community to qualify. VPC promotes standards with a code of conduct, with powers to investigate all allegations of professional misconduct. It will examine the qualifications of overseas vets applying to practice here. In the past, the profession had only been governed by a short section of the Agriculture Act 1930 which was inadequate. There is now an annual register of vets to be published and re-registration will be required every three years to ensure vets keep up to date with latest standards. The register also bars those not on it from treating sick and injured animals, under penalty of a $5,000 fine or six months' imprisonment. Veterinary certificate holders under the Agriculture Act 1930 will automatically qualify for the register. |
W-Z
| | |
| --- | --- |
| West End Development Corporation | A Bermuda Government quango. West End Corporation Act 1982. P. O. Box MA 415, Mangrove Bay, MA BX. |
| War Veterans Pensions Commission (WVPC) | Unlike veterans in other countries, Bermuda pays a pension only to those who served overseas |
| Waterfront Task Force | Established by the Premier in 2005. It includes members from the private sector, Corporation of St. George's, West End Development Corporation (Wedco) and Corporation of Hamilton. For the six months the Corporation of Hamilton declined to participate on the Task Force. It was made clear that in the future the number of cruise ships in Hamilton and St. George's would decrease and the opportunity would exist to redevelop the waterfronts at each port. |
| Water Safety Council | Ministry of Transport. |


Last Updated: June 26, 2017.
Multi-national © 2017 by Bermuda Online. All Rights Reserved.