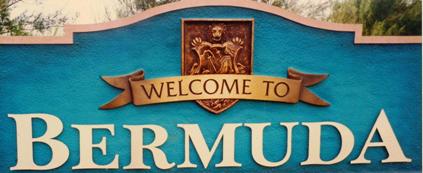 125+ web files in a constantly updated Gazetteer on Bermuda's accommodation, activities, airlines, apartments, areas, art, artists, attractions, airport, aviation pioneers, banks, banking, beaches, Bermuda Status and citizenship, books and publications, British Army, businesses, calypso, Canadian military, causeway, churches, city of Hamilton, commerce, community, cruise ships, culture, cuisine, customs, Devonshire Parish, disability accessibility, districts, Dockyard, economy, education, employers, employment, entertainment, environment, executorships and estates, fauna, ferries, flora, food, forts, gardens, geography, getting around, golf, government, guest houses, history, Hamilton Parish, homes and housing, hotels, internet access, islands, laws and legal system, local groups and organizations, location, media, motor vehicle options, music, municipalities, Paget Parish, parishes, parks, Pembroke Parish, politics, postage stamps, public holidays, public transport, railway trail, religions, Royal Navy, Sandy's Parish, St. David's, St. George's Parish, shopping, Smith's Parish, Somerset, Southampton Parish, Spanish Point, Spittal Pond, sports, stores, telecommunications, traditions, time zone, town of St. George, United States armed forces, tourism, vacation planning, villages, vital statistics, water sports, weather, Warwick Parish, wildlife, work permits, etc. For tourists, business visitors, employers, employees, newcomers, researchers, retirees, scholars.

Bermuda's Cruise Ship Calls in 2014
All visits are from March to December

By Keith Archibald Forbes (see About Us) at e-mail exclusively for Bermuda Online
To refer to this file use "bermuda-online/cruises.htm" as your Subject
Bermuda 2014 Cruise Ship Schedule
See http://www.marineandports.bm/Documents/Shipping_schedules/2014_Cruise_Ship_Schedule.pdf.
For 2014, there will be 104 regular callers and 27 occasional calls, including Carnival Splendour and Vision of the Seas. Cruise ship arrivals began on April 5 when the Wind Star arrived at Penno's Wharf in St. George's. It is hoped they will bring $82.5 million to Bermuda's economy. This includes fees paid to Government, expenditures made by cruise visitors and crew members while on-Island and shore excursions booked by cruise visitors, including taxi and bus tours, walking tours and water sport excursions. Bermuda expects to see 21,000 more cruise ship visitors in 2014 than in 2013, a total of 356,000, appreciably more than the total number of visitors by air.
The Norwegian Breakaway makes 22 visits to the Island in 2014. In 2013 it brought 90,000 cruise ship visitors to the Island. Also returning are Norwegian Cruise Lines Norwegian Dawn, sailing from Boston with 22 calls; Royal Caribbean's Explorer of the Seas, sailing from Cape Liberty, New Jersey with 27 calls; Royal Caribbean's Grandeur of the Seas, sailing from Baltimore with 14 calls; and Celebrity Cruises Summit, sailing from Cape Liberty with 19 calls. There will be three cruise calls from Charleston, South Carolina on Royal Caribbean's Vision of the Seas.
Bermuda Government Passenger Cabin Tax Guide - see http://www.gov.bm/portal/server.pt?open=512&objID=275&&PageID=231429&mode=2&in_hi_userid=2&cached=true. The Marine and Ports division of the Bermuda Government controls every aspect of the cruise ship calls and publishes, usually by every January, a yearly schedule of all cruise ship calls.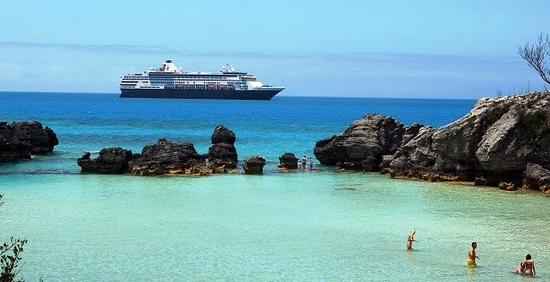 Cruise ship off Bermuda
Cruise ships arrive in and depart from Bermuda on a seasonal, not year-round, basis. Most visits are scheduled from spring through summer and the early fall. Bermuda is not the Caribbean but 1200 miles north of it, so has a cooler climate in the winter months than the Caribbean. Cruises to Bermuda from the USA, generally in the high season and Bermuda's warmest months of April to November, are solely to Bermuda, not any other island. But a major compensation is that cruise visitors often have much more time in Bermuda - days, not just hours. Cruises from the USA include smaller, premium ships which can dock in City of Hamilton and Town of St. George. Larger ships cannot, they are limited to either treating the above two ports as tender ports, or mooring solely at Dockyard.
Contract cruise ships are those subsidized by the Bermuda Government to come to Bermuda weekly in the season. They include Norwegian Cruise Line (Norwegian), Royal Caribbean and Celebrity Cruises. They offer regular Bermuda sailings in 2014.
Other cruise lines include Aida Cruises, Azamara Club Cruises, Crystal Cruises, Cunard, Holland America, Oceania Cruises, P&O, Princess Cruises, Regent Seven Seas Cruises, Royal Caribbean International, Seabourn Cruises, Silversea Cruises and Windstar Cruises.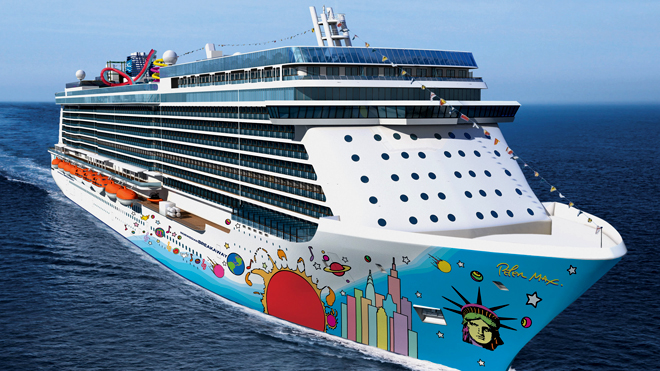 The 4,028-passenger vessel is the largest ship to homeport in Manhattan. The giant and gaudy 'city on the sea' is the largest liner ever to visit Bermuda. The 18-deck monster has 5,300 passengers and crew.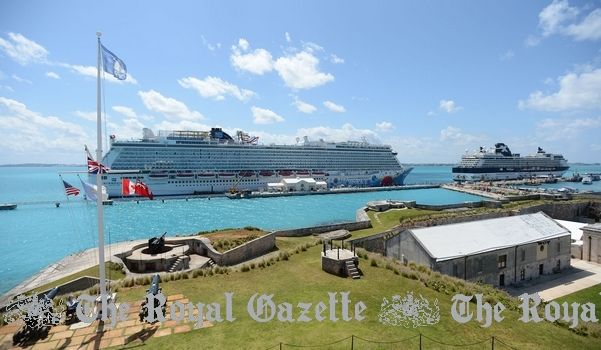 Norwegian Breakaway's May 15, 2013 arrival in Bermuda at Dockyard
US and European ports of departure include:
Baltimore, Maryland, Cruise Port and Cruise Terminal. Baltimore, MD 21230.
Bayonne, New Jersey, Cape Liberty Cruise Port. 14 Port Terminal Boulevard, Bayonne NJ 07002-5038.
Boston, Massachusetts, Cruiseport Boston/ Black Falcon Cruise Terminal, 48 Boylston St, Boston, MA 02116.
Charleston, South Carolina, Cruise Port, Union Pier Terminal, 32 Washington St. Charleston, SC 29401.
New York, NY. Cruise Ports in Manhattan and Brooklyn. Manhattan Cruise Terminal. Piers 88, 90, 92, 711 12th Avenue at West 55th Street New York, NY 10019. Brooklyn Cruise Terminal, Pier 12, Building 112, Bowne Street & Imlay Street, Brooklyn, NY 11231.
Norfolk, Virginia, Cruise Port, Nauticus National Maritime Center, One Waterside Drive Norfolk, Virginia 23510.
UK and Europe. Cruises to Bermuda generally call at other islands first, then Bermuda, and are usually in Bermuda's low season or cooler months.
Cruise visitors exploring Bermuda;
Bermuda Cruising
Bermuda is a lovely place to go on a cruise. You get to spend several days in Bermuda and thus have the chance to see Bermuda in some depth. whereas on other ships going to other islands or mainland ports you will usually see, in a visit lasting only 10 hours or so, only a superficial glimpse.
Just be aware of certain things that apply only in Bermuda, as shown below.
Cruise ship gambling casinos will no longer be closed, as they had been for many years until October 2013. In that month, Bermuda's Members of Parliament changed the law, to allow them to remain open, after prolonged intensive lobbying from cruise ship lines who had pointed out that this restriction applied nowhere else in the cruise ship world. MPs enacted Bermuda's Cruise Ship (Casino) Act 2013. On-board casinos can now operate between 9pm and 5am, in return for a license fee per ship payable to the Bermuda Government. However, smaller ships capable of berthing in Hamilton and St Georges, with a passenger capacity not exceeding 2,000, would not be charged a licence fee, because Bermuda has so far failed to attract smaller, high-end cruise ships, and that the exemption could encourage more visits. Bermuda Tourism research has indicated that the majority of visiting cruise passengers return to their ship by 9pm and, by this time, most of Bermuda's retail shops are closed. Cruise ships have to be in port for one night or more to qualify. The use of the casino is to be limited to passengers on board the ship only. No local residents or visitors to the ship will be allowed to participate in casino activities. Most cruise ships derive their on-board revenue mainly through their casinos and shops.
Bermuda's Cruise ship Passenger Tax Guide. See http://www.gov.bm/portal/server.pt?open=512&objID=275&&PageID=231429&mode=2&in_hi_userid=2&cached=true .
Illegal drugs. Cruise passengers who don't use or sell or transport or otherwise profit from illegal drugs - narcotics - won't be affected and need not be concerned by this. But passengers who do are warned that by special arrangement between their applicable law enforcement and Bermuda authorities, their personnel routinely travel as special working passengers on board the vessels and are free to search suspected passengers and their cabins whether in or beyond territorial waters. Bermuda has a very strict zero-tolerance policy towards all illegal drugs and other dangerous imports. Court appearances in Bermuda, heavy fines and/or imprisonment of miscreants and subsequent international travel restrictions and more are common.
Internet Service ashore is limited and not free, unlike in many ports elsewhere with nearby shopping in shopping malls. People on cruise ships who need to use their laptops or notebooks or iPads' or iPhones, etc. should expect to pay from $3 an hour. See Internet in Bermuda.
Shopping ashore. Bermuda has no tax-free facilities for cruise ship or airline passengers, unlike some ports in the Caribbean over 900 miles to the south.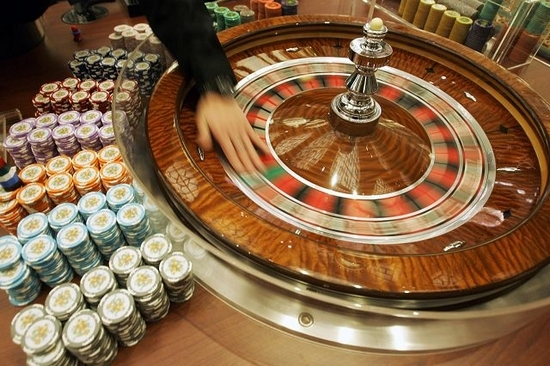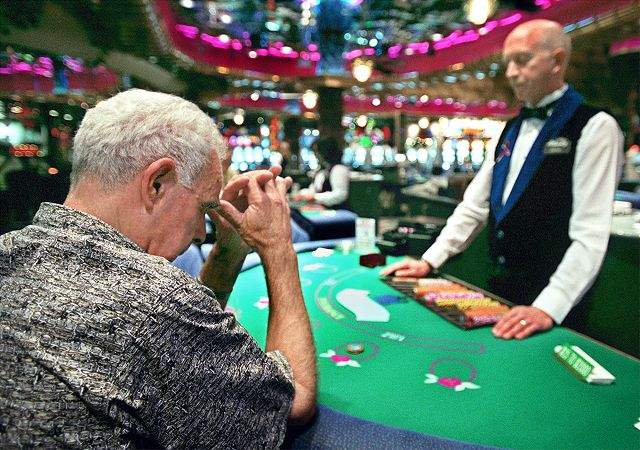 Gambling by cruise ship passengers is finally allowed
Bermuda's City of Hamilton is the most central by far of Bermuda's three cruise ship ports but the city's harbour and docks can only accommodate up to medium-size cruise ships, no mega-ships.

Cruise ship Veendam docked in City of Hamilton. Royal Gazette photo

Another view of the Veendam moored in City of Hamilton

Bermuda does not offer free unrestricted WIFI access to its cruise ship passengers when going ashore. But since June 2012, cruise passengers and other visitors who go to qualifying shore-based stores and restaurants in Hamilton can get WIFI. There is a charge. TeleBermuda International (TBI) now has a Wi-Fi hotspot. It costs from $3 for one hour for visitors by cruise ship or air, or up to $29.99 monthly. Any Wi-Fi enabled device such as a smart phone, tablet, personal computer or digital audio player, can connect to the network via seamless access points installed throughout the city. All you need to do is turn on your device, enable Wi-Fi connection, look for the TBi Wi-Fi Zone network and connect, then proceed to the Wi-Fi hotspot login page.

The city is central (15 miles from the Town of St. George) and has 2 cruise ship berths, the # 1 Passenger Terminal; and # 5 & 6 Passenger Terminal. Both can take ships of up to 750 feet in length - small and medium-size cruise ships. Bermuda's highest-rated port by a huge margin, also the most central, easiest to get to and from, with biggest choice of shopping and facilities. Two Rock Passage has been the entrance to Hamilton Harbour since 1896. A huge advantage here is that passengers can walk off ships docked here and be right in the city. A port city for hundreds of years and Bermuda's single main attraction and main shopping area by a very wide margin. From here there are frequent by-day buses and ferry service going east to the Town of St. George (about 1 hour) and west to the Royal Naval Dockyard (about 1 hour).

From here there are many options. The adventurous cruise ship visitor who seeks other diversions will find a nice variety of places to go, alone or with a spouse or friend or group.

By land from here. For those whose cruise ship docks here. See Bermuda Beaches. By bus or taxi or moped/scooter. John Smith's Bay in Smith's Parish is a lovely public beach about 30 minutes by the # 1 bus every half hour during the day. Other public beaches are ( the public section of) Elbow Beach in Paget Parish, on the # 7 bus route; Warwick Long Bay (another personal favorite) in Warwick Parish, on the # 7 bus route; Horseshoe Bay in Southampton Parish, on the # 7 bus route; Church Bay, also in Southampton Parish, also # 7 bus route. Or, if you prefer a more leisurely pastime, head into Devonshire or Paget, on either side of the city, and walk along a relevant part of the Railway Trail.

By sea from here.
Go fishing, on a licensed commercial fishing boat operating a whole day or half-day service. Some fishing boats, by prior arrangement with you and your cruise line, will meet you either where your cruise ship docks or elsewhere convenient to you.
Go by ferry to Dockyard and/or Town of St. George, a gorgeous way - and the least expensive of all trips by boat - to see the western and eastern parishes.
Marine sightseeing tours. There are a number of options, all leaving from Albouy's Point near the Ferry Terminal.
Rent a Boston whaler. Ask for a map and directions. A special recommendation, if you or a member of your family or group or a friend can handle such a boat is go to Paradise Lake - not served by ferry - passing a number of islands, for gorgeous swimming, a picnic and sightseeing of a type most cruise ship visitors won't experience.
Bermuda Cruise ship ports - King's Wharf/Heritage Wharf/Dockyard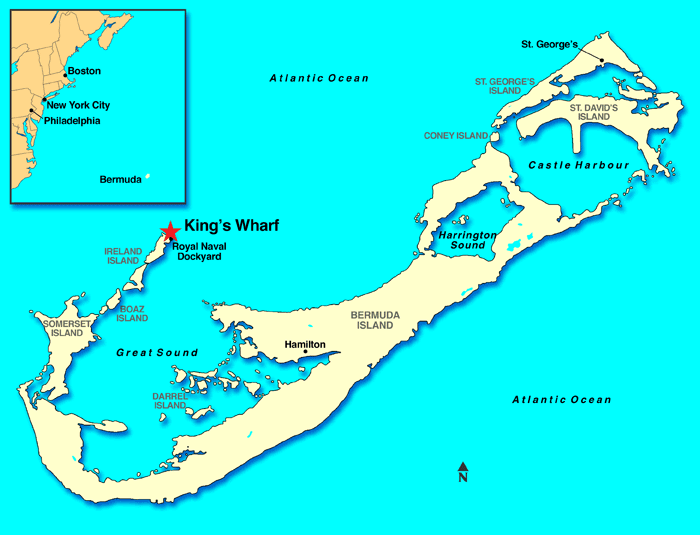 King's Wharf (and Heritage Wharf adjacent) are the most westerly of Bermuda's three cruise ship ports, the only ones in Bermuda that can accommodate large cruise ships. From here, there are frequent public transport ferries and buses to the major shopping areas of the City of Hamilton and historic St. George's.

Cruise ship at King's Wharf, Dockyard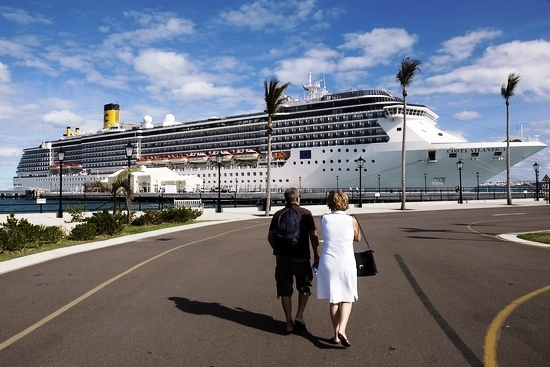 Cruise ship at Dockyard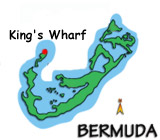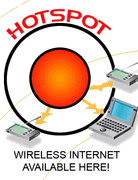 No free WIFI Hotspots but in 2012 a $3 an hour WIFI hotspot became available to cruise passengers and other visitors when they go ashore. TeleBermuda International (TBI) manages the WIFI platform on behalf of the West End Development Corporation (WEDCO). Visitors can purchase WIFI coupons from a few of the establishments in Dockyard, but WEDCO will also make free coupons available to their tenants. Alternatively, the platform is able to process credit card transactions.
At the former Royal Naval Dockyard, at former islands now joined to the mainland in Somerset, Sandy's Parish. This is the westernmost (note that Bermuda is not rural but now largely urban) part of Bermuda, an interesting part of the island if you have plenty of time and opportunity to explore. This is where most cruise ships dock at the express wish of the Bermuda Government. This is the only port in Bermuda where large vessels can berth. There are frequent but often full buses going west to and east from here and ferries to and from the City of Hamilton, Bermuda's capital and major port of commerce. Public-transport ferries are more enjoyable and can be quicker too, than the public transport buses. Shopping is limited, with only the Clocktower Mall locally - within walking distance of the cruise ships docked here - offering realistic options. From this port, the nearest village is sleepy Somerset, going east. Buses go there but ferries do not.
Building and subsequent modifications to Dockyard's two cruise ship wharfs, Heritage Wharf and King's Wharf, needed to enable them to accommodate new, larger cruise ships, have cost millions of dollars. There was also a Ministry of Public Works hefty consultancy contract to Mott MacDonald Ltd for the Dockyard wharfs, to undertake a thorough structural assessment of both King's Wharf and Heritage Wharf, Ireland Island in order to determine the docks' capacities to accommodate the latest cruise ships in production by both the Norwegian Cruise Line and the Royal Caribbean Cruise Line. The contracted price of $148,750 did not include provisional sums for detailed design, as the investigation and assessment works were required first in order to determine the extent of any design works required. The final contract cost about $250,000. Modifications were to accommodate the new Breakaway class cruise ship in the 2013 season and the new Sunshine Class in 2014. Heritage Wharf was first opened in 2010 at a cost of $60 million, after originally being budgeted at $35 million. Government also had to repair for a multi-million $ sum, a broken thruster wall. The hole was caused by the thruster engines of the cruise ship that had moored there, and it has been eroded to such an extent that major repairs were necessary. Dockyard is both a Historic Preservation Area under the Planning Act and a Marine Heritage Site under the Historic Wrecks Act, because of the numerous artifacts that have been found in the basin. There are historic wrecks still lying in the mud. It is believed they include a couple of historic convict hulks. British convicts were sent to build the Dockyard for Britain's Royal Navy in the early to mid 1800s.
By land from here. See Bermuda Beaches. A really nice beach - the best in this Parish - is Somerset Long Bay, but it is a fair walk from where the nearest public bus stop at Mangrove Bay. Or, if you prefer a more leisurely pastime, walk along a relevant part of the Railway Trail. Or indulge in one of the many Watersports options within reach.
By sea from here.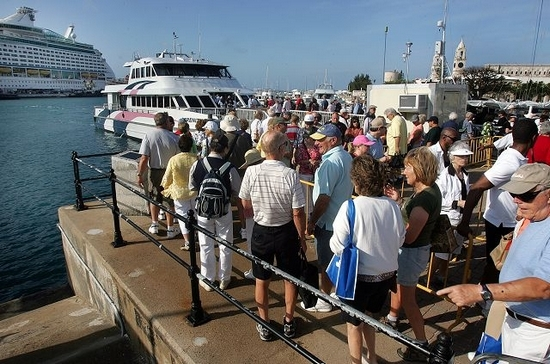 Cruise passengers ashore at Dockyard lining up to board a ferry to Hamilton. Royal Gazette photo.
Go fishing, on a licensed commercial fishing boat operating a whole day or half-day service. Some fishing boats, by prior arrangement with you and your cruise line, will meet you where your cruise ship docks.
Ferries don't stop at Ely's Harbour. Rent a Boston whaler. Ask for a map and directions. Then go, keeping to the 5 knot limit in the harbour. Take a day or half day exploration of Ely's Harbour and then a relaxing swim after the harbour to the small beaches of the Daniel's Head Village hotel. To stay legal, go on any beach up to but not beyond the high water mark. Go at high tide to give you the best chance of evading reefs and shoals.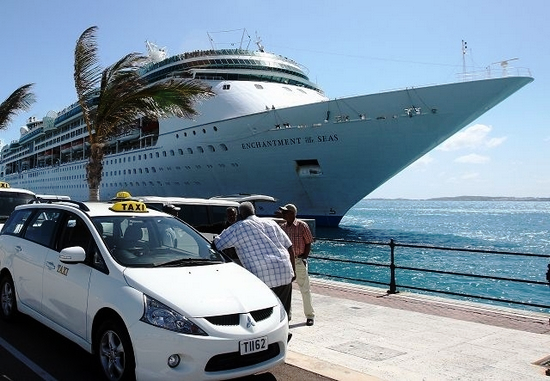 Cruise ship moored at Dockyard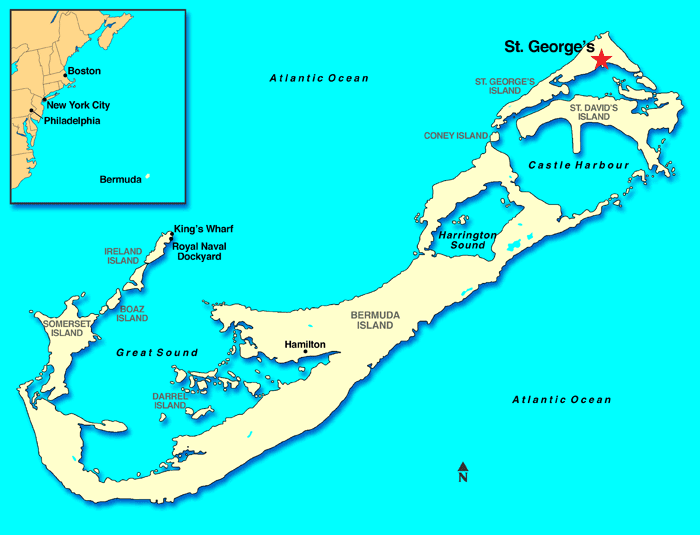 St. George's, right, is the most eastern of Bermuda's three cruise ship ports. It can only take smaller cruise ships at its two docks and that depends on whether wind conditions will allow them to enter the narrow Town Cut channel shown below.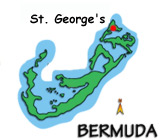 No free WIFI Hotspots. At the East End, or most eastern part of Bermuda (15 miles from the City of Hamilton). (Appears to be north on the map). If small enough, the cruise ship will enter via the narrow Town Cut channel, 220 feet wide - when wind conditions permit, in St. George's Harbor between Gates Fort and Higgs Island. It has been deepened and widened since 1846. But often, if the wind will present a hazard to the ship or passengers or crew, the captain of the cruise ship may elect to avoid St. George's and go to Hamilton instead. The town has berths at Penno's Wharf and Ordnance Island. Both can take ships of up to 750 feet in length. The town itself is within easy walking distance of the cruise ship berth for most passengers. There are frequent buses and less frequent ferries going to and from Hamilton. There are also periodic seasonal daily ferry services all the way west to the Royal Naval Dockyard. The tender Bermudian, a large ferry capable of carrying up to 700 passengers, services ships which due to to their size are unable to dock in the town. Instead, such ships anchor in Murray's Anchorage, an area off of Fort St. Catherine, weather permitting. The tender may take approximately 1 hour each way to ferry the passengers to Penno's Wharf and the tender may have to make more than one trip each way if there are too many passengers for one trip each way.
The town occupies a unique place in Bermuda's history. Discovery Bay, not far away, was the first place in Bermuda where in 1609 British colonists landed involuntarily after their ship the Sea Venture, sank after being destroyed by reefs. Prior to that, Bermuda had been uninhabited except by stranded Portuguese and Spanish mariners in New World expeditions. In 1612 it was the first place in Bermuda where British colonists settled, this time purposefully, as the second English settlement in the New World, after Jamestown.

The town also played a role in the American Revolution. Bermuda depended on the American Colonies for food, and when the war began, supplies grew dangerously low. Defying and ignoring the town-based British governor, George Washington and prominent British Bermudian but pro-American legislator and landowner Henry Tucker and his friends agreed that Tucker and his supporters would steal a large quantity of town-based British Army gunpowder for food under the cover of night and roll it down the hill to nearby Tobacco Bay from where it was loaded on to American ships, in the very first action by a group of American sailors and militia who later became the US Marine Corps. During the war of 1812-14, this time when Bermudians were seen to be more openly pro-British, the town again played a significant military role, both as a depot for British prison ships moored at Convict Bay housing American prisoners-of-war and again as the capital of Bermuda from which the Attack on Washington DC was planned from the Royal Navy's main command post then at Mount Wyndham nearby.
On October 7, 2013, Government confirmed it is considering plans for a new cruise ship terminal in St Georges in a bid to bring more passengers to the Island. Pennos Wharf would be the likely location for a new terminal. Commercial activity currently taking place at the wharf could be shifted to Marginal Wharf once that had been upgraded. But the Town Cut channel will first have to be widened to allow larger cruise ships access to the town.
Go fishing, on a licensed commercial fishing boat operating a whole day or half-day service. Some fishing boats, by prior arrangement with you and your cruise line, will meet you where your cruise ship docks. Or go by sea, rent a boat - a Boston whaler or personal watercraft - for a day or half day.
By land from here. By bus or minibus or taxi or moped/scooter. See Getting Around for Visitors. Arrange with the cruise ship to supply you with a packed lunch and towels. Wear your swimsuit under your clothes. Bring a camera and sun tan lotion. Go by mini-bus to not-far-away places such as:
See Bermuda Beaches.
public beach Tobacco Bay
private beach Achilles Bay half a mile away.
public Fort St. Catherine Beach.
By sea from here:
Ferries don't go to Paget Island. Residents and visitors can, but always check in advance from where you rent a Boston whaler. Be sure to ask for a map and directions. Then go, keeping to the 5 knot limit in the harbor until you get to the Paget Island beach. Take photographs with no problem but be sure not to litter the beach in any way. Find a little-known-to-tourists island beach, such as those on Paget Island, 10 minutes away by water from the Old Town. It is owned by the Bermuda Government but is accessible by water (only) up to the high tide mark. (Only when you trespass beyond the high water mark will you see the sign telling you not to access without permission). The author recommends it as a lovely romantic getaway, but pick a day when the water is calm.
Ferries don't go Castle Harbour. Residents and visitors can, but always check in advance from where you rent a Boston whaler. If Be sure to ask for a map and directions. Then go, keeping to the 5 knot limit in the harbor. Go west from the Town of St. George's via Ferry Reach and under Swing Bridge and then east again under Longbird Bridge into Castle Harbour, for sightseeing or beaching. For best results, go when the tide is low. In Castle Harbour, stop first on the sea side of the small beach exposed at low tide at Cable End, then moor off Castle Island.
For more extensive touring, ferries go from here, depending on their timetable, to the City of Hamilton and Dockyard.
Bermuda-registered cruise ships and their corporate entities
They include Cunard, Princess Cruises, P&O Cruises and Viking River Cruises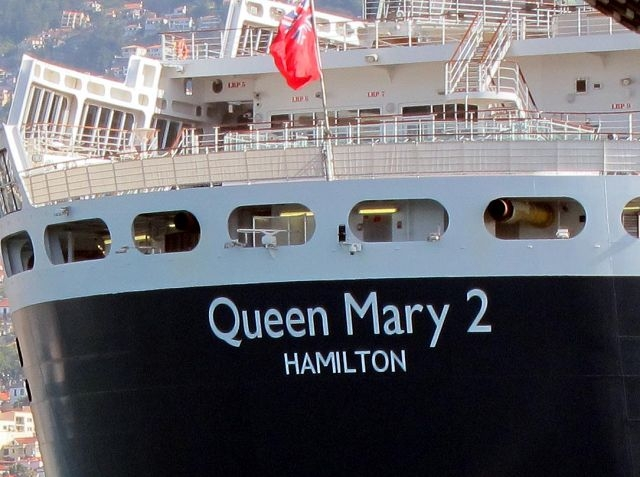 Queen Mary 2 in her new Bermuda-registered livery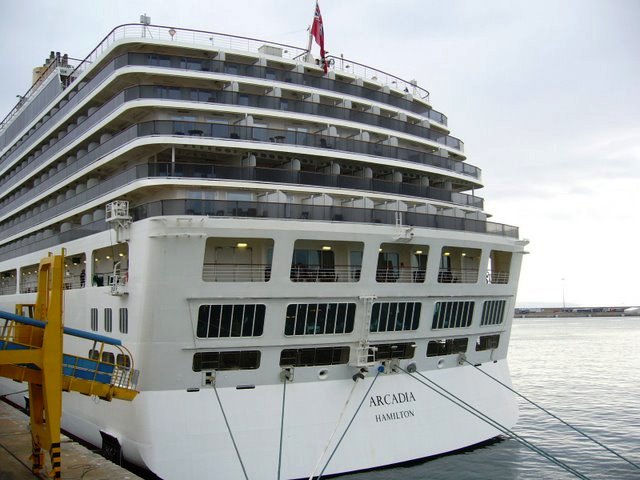 P&O cruise ship Arcadia (see below), also registered in Hamilton, Bermuda.
Instead of Southampton (England) on the ships' hulls Cunard vessels now show "Hamilton," Bermuda. Earlier, there had been speculation this would occur in either Malta (Valetta), from where many of the Cunard ships' crews come, also a major ships' registry like Bermuda, Bahamas, etc. or Bermuda. Being registered, or flagged, in the U.K. means that Cunard lost out on the lucrative business of weddings at sea. UK law, which governed until the change in registry of the three Cunard ships, states that couples can only wed when the ship is in port and the service is conducted by a minister or other notary -– a less romantic proposition than exchanging vows in mid-ocean. But on ships registered in Bermuda or Malta, which include the fleets of Cunard's sister lines, Princess Cruises and P&O Cruises - all already Bermuda-flagged - couples can marry at a service officiated by the captain, in port or at sea. Weddings at sea are now big business. Cunard options included simply keeping the ships registered in Southampton; creating one 'wedding ship' with Bermudian (never "Bermudan") or Maltese registry; or changing the registration of all three of the line's ships. Cunard elected for the latter. This development has brought Bermuda hundreds of thousands extra in annual fees, to a registry that already takes in about $3 million a year. However, in the UK there was huge disapproval in Southampton following the announcement in the UK. Cunard had been UK-registered for the last 171 years, but has said it will continue to use Southampton as its home port.
There was another reason for Cunard flagging its ships outside the UK, involving a change in European law. The enactment of Britain's Equality Act 2010 requires that staff from countries in the European Union must be paid wages equal to those of British citizens when working on British-registered ships. While many other lines use more crew from countries outside of Europe to save on operating costs, Cunard had been using mostly Europeans or Maltese in the dining rooms and bars. Now, Europeans and Maltese are likely to be replaced by others.
Cunard. Cruise ships were Bermuda-registered in October, November and December 2011.(Queen Elizabeth October 24, Queen Victoria October 27 and Queen Mary 2 on December 1). Cunard has been UK-registered for the last 171 years, but continues to use Southampton as its home port. The following Cunard corporate entities were earlier Bermuda-registered and remain so: Cunard-American International Cruises, since 3/20/2992; Cunard Line, since 8/20/1999; and Cunard Line Limited (Amalgamated) since 4/30/1998.

P&O Cruises. Cruise ships became Bermuda-registered in years shown. Arcadia (2005); Artemis (1984); Aurora (2000); Azura (2010); Oceana (2002); Oriana (1995); Ventura (2008). The following P&O corporate entities are also Bermuda-registered; P&O (Bermuda) Ltd, since 12/13/1996; P&O Bulk Carriers, since 10/18/1965; P&O Containers (International) Ltd, since 8/16/1996; P&O European Ferries (Bermuda) Ltd, since 12/13/1996; P&O Oil Trading Ltd, since 1/17/1962; P&O Services (Operations) Ltd, since 5/29/1968; and P&O Ship Management (Bermuda) Ltd, since 11/4/1996.

Princess Cruises. Cruise ships became Bermuda-registered in years shown. Caribbean Princess (2004); Coral Princess (2002); Crown Princess (2006); Dawn Princess (1997); Diamond Princess (2004); Emerald Princess (2007); Golden Princess (2001); Grand Princess (1998); Island Princess (2003); Ocean Princess (1999); Pacific Princess (1999); Royal Princess (2001); Ruby Princess (2008); Sapphire Princess (2004); Sea Princess (1998); Star Princess (2002); Sun Princess (1995). Corporate entities include Princess Cruise Lines Ltd, since 5/5/1999.

Viking River Cruises. Their river cruise ships don't sail to Bermuda, cruise only on European and other rivers. Their ships are not registered in Bermuda but in Germany. etc. However, a good number of Viking corporate entities are Bermuda-registered including: Viking Bermuda Ltd, since 3/27/2013; Viking Cruises Ltd, since 8/21/2012; Viking Holdings Ltd, since 8/21/12; Viking Ocean Cruises Finance Ltd, since 9/26/2012; Viking Ocean Cruises Ltd, since 12/20/2011; Viking River Cruises Ltd, since 9/23/2005; Viking River Cruises (Bermuda) Ltd, since 11/30/2010 and more.
Cruises generally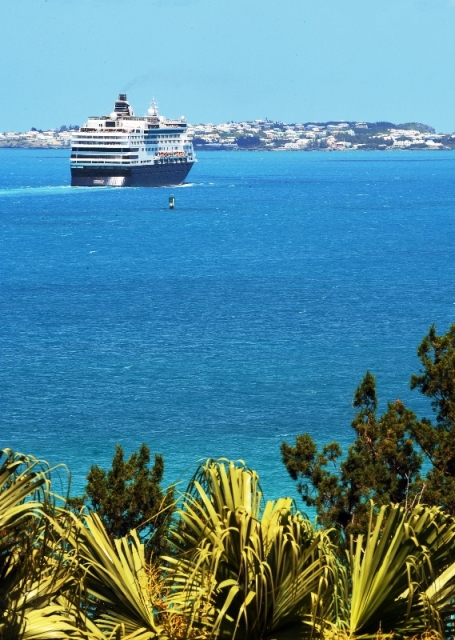 World's 10 best cruise ports. See http://www.aarp.org/travel/cruises/info-12-2012/which-cruise-vacation-port-trips.html?cmp=NLC-TRVL-NMCTRL-031913-TS3#slide1.

Cruises are the easiest way to see a part of the world you want to see and often offer more value for the dollar than any other international vacation option. Bear in mind though that unless you are on a cruise that goes to only one island - like Bermuda - and can stay there for a couple of days, your experience of that island will be limited to less than 12 hours, so at best you'll get to see only a small part of that island.

Unpack once and - except in Bermuda, where you'll likely be at the same port overnight during your stay - wake up every morning in a uniquely different fascinating destination.

Receive comfortable, well-maintained accommodations with twice-daily maid service, 3+ meals, a full slate of shipboard activities and nightly entertainment included, with your only extras being for optional items including alcoholic and possibly soft drinks and juices, beauty treatments such as hair salons, buying at boutiques or other stores of the ship, casinos, excursions, Internet connectivity, luxury choices of dining venues, ship's photographers prints purchased, spas and souvenir stores. If you are tempted by the latter, be aware that often on the last full day of a particular ship's voyage the stores may have a 50% off sale, which may contain Chinese-made men's and women's watches that look good and are seemingly bargain-priced but have flaws. Or they may offer diamonds or other jewels and advertise them at duty-free prices. But they are not always so. Check before you travel on a cruise ship.

Be cautious about Cruise Ship additional charges. See http://www.cruisecritic.co.uk/articles.cfm?ID=1584.

The typical cruise ship has teams of room stewards, chefs and waiters working 7 days a week to clean all cabins per day and prepare and serve three or four meals a day to hundreds or thousands of passengers, with provisions always made before sailing for the full complement of passengers.

Every cabin, table and employee is usually fully utilized, every day. It's much more efficient and less wasteful than the system land-based hotels and restaurants must employ to serve a smaller group of customers who vary in number daily.

Cruise ships have gotten larger and cruise lines have grown into billion-dollar enterprises. On most cruise lines, a significant percentage of the crews' compensation comes from gratuities. Venues or services such as casinos, spas, boutiques, photographs taken by cruise staff and excursion desks are completely dependent on onboard purchases, which are directly related to the number of people onboard. Larger cruise ships will usually offer world-class theatrical shows of singers and dancers, in two shows timed to be after 1st and 2nd restaurant sittings.

Dinner-time preferences or needs. Some better, mid-size or small cruise ships have just one dinner-time sitting, which is ideal for many. Bigger ships may have two sittings, which can create a problem. If you don't ordinarily eat your dinner at 8:30 pm but at 6:30 pm or thereabouts either from your own preference or because of a medical condition then insist on a 1st sitting. If you won't be assured this in advance of your cruise then don't book, go with another cruise line that will tell you in advance. Don't be fobbed off with the information you've been wait-listed for the 1st sitting. It will not happen. One reason why it won't happen but unpublished by the cruise line is repeat passengers get priority and many want to eat at the earlier sitting so as to have time to relax after they eat before they go to the show in the ship's theatre.

Non-smokers on cruise ships. If you don't smoke and can't stand the smell of third-party cigarette smoke, make it clear when you book you want to be well away from and not have to pass through any smoking areas.

Smoking on Cruise ships. See http://cruiseline.com/bonvoyage/cruising-101/cheat-sheet/where-can-people-smoke-on-cruise-ships-.

Disability/physically handicapped passengers often don't have good excursions ashore. Most good cruise ship lines have decent facilities including modified cabin-doors and often extra-large cabins to store wheelchairs and/or mobility scooters when aboard. But going ashore and participating in excursions or trying to find their way around independently can present real problems for them. Only in American mainland ports in all 50 states and those of Puerto Rico, St. Croix, St. Thomas, and other American islands such as American Samoa, Micronesia, Guam, Marshall Islands, Northern Mariana Islands and Palau will there be decent facilities compliant with the Americans With Disabilities Act (ADA). In Bermuda and throughout the non-American Caribbean where cruise ships visit, even when those cruise ships are registered in that particular port or island (such as a number of cruise ships registered in and flying the flag of Bermuda) cruise lines don't require their hosting jurisdictions to have ADA equivalency. Bermuda does not. (See our for the disabled/physically handicapped cruising to Bermuda).
Cruise Ship Extras, Gratuities and Tips
For cruise ship special deals or regular cruising.
Extras can easily cost much more than the cost of tickets. Extras such as per person, not per cabin rates; all beverages, whether water or wines or beers or cocktails or liqueurs, plus a 15% gratuity each time you order; exclusive onboard specialty restaurants, with a 15% or minimum of $90 per person gratuity; spas and treatments; bingo; use of gyms and fitness centers; photographs taken by cruise staff; casino; art auctions; golf lessons; tuxedo rentals if appropriate; flower delivery; shore excursions.
In their own interests, before they book cruises, prospective passengers should always ask their cruise lines if gratuities and tips included or excluded? Some better cruise lines include them. If excluded:
How much per day per adult, as a basic charge
How much per day per child, as a basic charge
Additional charges for items such as drinks and bar bills, beauty treatments, ship's boutiques, spa services
How to pay, such as pre-pay or ship's account payable at end of voyage or by debit or credit card at time of purchase.
Cruise Ship Luxury Cruising
Instead of cruise ship special deals or regular cruising.
If offered this as an option by the cruise line (Note that some of the best cruise lines offer all-inclusive pricing which will include most if not all the following Luxury Cruise tariffs below)
Defined as cruise fare plus on-board spending. Passengers may be surprised to know that this may end up being a better overall cruise ship deal than cruise ship bargain price or regular cruising. If offered the option of one or the other, consider costing the whole cruise experience (namely, cruise fare plus on-board spending for extra-pleasurable moments such as fine food and exotic cocktails and much more at an all-inclusive cost). Doing things this way avoids what could be a considerable shock of a final cruise ship bill/check. Your final cost of a cruise is not what you pay to get on the ship but what you pay to get off.
Each ship may offer an All-Inclusive or Luxury Cruising package or combination of packages to give passengers various options. Items to consider per person may include:
| | | |
| --- | --- | --- |
| | Regular 7-day Cruise | Luxury or all-inclusive 7-day Cruise |
| Cruise fare | from say $1200 | from say $1600 |
| Gratuities/tips | say $100 | may be included |
| Specialty dining | say $50 | may be included |
| Wine with dinner | say $120 | may be included |
| Cocktails or after-dinner liqueurs | say $90 | may be included |
| Drinks service charge | say $70 | may be included |
| Shore excursions | say $150 | may be included |
| Spa treatments | say $90 | if also offered |
| Bottled water | say $15 | may be included |
| Total | $1,885 | $1,600 |
All visitors should have health and travel insurance
Always prudently take out travel insurance, spare money and have adequate hospital and medical health insurance to cope with possible unexpected problems in a foreign country, such as Bermuda. In emergencies, contact the King Edward VII Memorial Hospital - note its rate of charges for visitors - in Paget Parish. If you are hospitalized in Bermuda, you or your insurance, if valid in Bermuda, will always be responsible. Unlike Canada, United Kingdom and Ireland, Bermuda has no National Health Service and no free clinics or free medical or surgical or prescription for visitors. Bermuda now no longer gives free hospital and surgical benefits to visitors from USA who claim they have no health insurance. Sorry, but if you ignore warnings not to hire a scooter or moped unless you are thoroughly used to driving them on the left hand side of the road and don't have healthcare/major medical insurance, you won't get much sympathy, your consulate will be told and you will have to pay. The Overseas Family Help Committee of the Hospital Auxiliary organization in Bermuda, chaired by John Gilbert, is at telephone (441) 236-2488.The Committee has only two rooms available to house your family at the Nurses Residence of the hospital, from US$ 35 per person per day per room. Affordable local accommodation in Bermuda for spouses or friends or families who come to visit you in hospital, is difficult or impossible to find, especially in the cruise ship or tourist high season from April to November.
Arriving passengers
The Revenue Amendment Act 2007 obliges ships and aircraft to provide the Collector of Customs with electronic lists of passengers and crew prior to arrival in Bermuda when required. Government anticipates that this will assist local security officers in pin-pointing high-risk individuals and cargo items. The information to be listed will include sex, date of birth, passport number and country of issue. The bill also obliges ships and aircraft to provide electronic data in advance on cargo including the marks, numbers and contents of every item of goods on board.

Two cruise ships moored in Bermuda
Allowed in Bermuda Customs inspection
Visitors may bring in, duty free for personal use only while they are here, their clothes and articles like cameras, golf bags, 50 cigars or 200 cigarettes or 0.454 kilos (1 pound weight) tobacco; 1 liter of liquor or wine and a $30 gift allowance. Returning residents are allowed an allowance of US$ 100, no longer per person but per household (until 1989 it was US$400 a person, reduced in 1990/91 to US$250 a person and subsequently reduced yet again to the present US$100 per person) before they pay duty on items they bring but visitors are not entitled to such an allowance. Items brought in by visitors and residents that are not within their duty free category incur a stand import duty rate of 35% of purchase cost. Produce receipts from a retail store satisfactory to the Customs Department of actual purchase price of the items or be prepared for the Customs Department to assess items for your payment of duty at much higher Bermuda prices. This is applied vigorously. To avoid being arrested and having goods confiscated, do not try to import goods into Bermuda without paying the duty.
Most Consumer and electronic goods can be imported if determined to be free of narcotics, but be prepared to pay a heavy import duty on them if they exceed your per-trip duty-free allowance of $100 per household if you are a Bermudian or approved resident. If with nothing illegal and with no items to declare, you may be waved through.
If you are bringing any foodstuffs with you, be sure to check yourself with Bermuda Customs to know what is legal and dutiable. Only Bermuda Customs can be the definitive source of information. Write in advance to Bermuda Customs at Hamilton Hall, 40 Front Street, Hamilton HM 11, P. O. Box HM 2084, Hamilton HM HX, Bermuda.
Owners of arriving animals, plants, flowers, fruits and vegetables must have proper documentation approved earlier by the Bermuda Government's Department of the Environment. Only prepared fresh, frozen or cooked fish or shellfish can be brought in providing the packaging is free of algae or seaweed.
Cruise ship passengers are strongly recommended to read, learn, inwardly digest and pay strict heed to the webfile above. It applies to those who arrive by air or cruise ship or yacht. The full list of the hundreds of banned narcotics are in the Bermuda Government's Misuse of Drugs Act 1972 and Misuse of Drugs (Controlled Drugs) Order 2001 enacted on August 1, 2001. It is not an excuse if you fail to make yourself familiar with the contents of the full list. Penalties are very severe for those who ignore this warning. Locals, tourists and visitors are not given any breaks. It is wrong and misleading for cruise ship passengers caught with drugs and fined very heavily to claim they are not given any warning. The claims they invariably offer that they do not have the money to pay the fines are routinely ignored. They are remanded in custody or are put on bail with their transportation tickets impounded until they do. Also, there are many other repercussions.
If beaches are your idea of heaven, or combining them with sightseeing, be sure to take a picnic lunch, drinks, camera, swimsuit and towels. For tourists arriving by cruise ship from March through May and September through February, please note only you and possibly a few hardy local souls will want to use the beaches. Most Bermudians won't use them then, they consider the water too cold until late May and after Labour Day.
Bermuda shopping
Visitors to Bermuda will notice that unlike in some other parts of the world Bermuda stores:
Are not duty-free, especially now with significant new import duty rates announced in February 2012 - see http://www.bermuda-online.org/Bermudadutyfree.htm - that impose a 25% wholesale duty-rate on everything imported, meaning an effective 50% or more for most items. Most ( 99.99%) of all consumer goods in Bermuda are imported. There was a time - but no more - when tourists to Bermuda delighted in the bargains they found on Front St. returning back to the USA, Canada, etc. with cashmere sweaters, Liberty scarves, Harris tweeds, perfumes along with china, glassware, cameras and jewellery. Bermuda advertised itself as a place where goods were cheaper than in the USA and elsewhere and, as a further incentive to shop in Bermuda, there was no sales tax. There still is none, but most goods available in Bermuda are now appreciably more expensive than those bought in USA, Canada and UK. As merely one example of this, consider a pair of shoes retailing in the USA for $59, but costing $112.94 in Bermuda, with the additional $53.94 once all the additional costs — customs duty, shipping according to weight, insurance and fuel surcharge and local mark-up — are factored in.
Are not routinely open on Sundays. There is no requirement for them to do so as Sunday is regarded as a public holiday. But Government encourages them to do so.
There's an almost complete absence of all major American, British UK or Canadian or other-country department and smaller regular stores and supermarkets. There are no Aldi, B&Q, Costco, Curry's, Dollarama, Dollar Giant, JC Penney, John Lewis, KMart, Kohl's, Lidl, Marshall's, Macy's, Meijer,

Neiman Marcus,

Nordstom, Sak's, Sam's Club, Sainsbury, Selfridge's, Target, Tesco, T. J. Maxx, Zeller's, Walmart, W. H. Smith, or any of the expensive, exclusive international stores now seen in many world financial and/or fashion centers. However, there is a locally-franchised Marks and Spencer's. You'll also notice an almost complete absence of typical American, British, Canadian and other chainstore diners or restaurants.
There's a reason for this. Bermuda stores must by local law be independent of any foreign-owned (including British-UK) majority holding and be at least 60% overall beneficially owned by Bermudians (not a local requirement in most other cruise ship and offshore or onshore business jurisdictions). Once, especially before the 1990s, two superb Bermuda stores, now both extinct, H. A. & E. Smith and Trimingham Bros, side-by-side, albeit both locally-owned, were the principal ingredients of a once-local but of world-standard international shopping mecca. No longer.
A good indication of the average size of local stores and their purchasing power in favor of consumers is in the number of retail stores in Bermuda - 375 in total. They employ about 4,800 people, an average of about 13 persons per outlet. Another increasingly important factor is the up-to-date standing, prices quoted on, shipping capability shown and overall quality of their websites.
Some nice products from Bermuda and around the world can certainly be obtained locally. Prices in the City of Hamilton, Town of St. George and Dockyard are the same for outlets with branches in all three local ports.
Churches and other places of worship
If your cruise ship will be in Bermuda on a Saturday or Sunday or other religiously-significant day and you want to attend Mass or a service ashore, expect the on-board cruise director staff to have full information on what churches and other places of worship are nearby, with times of services, and what public transportation or taxi services are available.
At King's Wharf/Heritage Wharf/Dockyard, the nearest churches are St. James (Anglican/Episcopalian), and St. Joseph's (Roman Catholic), both in Somerset, about 2 miles away from cruise ship berths for large ships.
In the city of Hamilton, the nearest churches are the Bermuda Cathedral (Anglican/Episcopalian) on Church Street and St. Theresa's Cathedral (Roman Catholic) on Cedar Avenue, both within walking distance of the cruise ships' berths for small to medium size cruise ships.
In the Town of St. George, the nearest churches are St. Peter's Church (Anglican/Episcopalian) and Stella Maris (Roman Catholic), both within walking distance of the town's cruise ship berths for small to medium size cruise ships.
Disabled Facilities on Cruise Ships
Cruise ships can materially help improve Bermuda Disability concerns. But cruise lines sailing to Bermuda from American ports don't require Bermuda to have facilities similar to those relevant to the Americans With Disabilities Act (ADA). See this extract of a July 24, 2013 email from a disabled resident of Pittsburgh PA: "It is disappointing you don't yet have and regrettably are not likely to get any Bermuda laws similar to those in the USA specifically for the disabled and handicapped. But there is something the cruise ship lines can do, especially Norwegian Cruise Line (NCL), owner of the Breakaway. I understand Its corporations are Bermuda-registered, so it has a greater reason and far more international clout than we as disabled individuals do to press the Bermuda Government to pass meaningful laws to bring services for the disabled up to international par. I recommend that before family members who include a disabled traveler go ahead and pay a high cruise price for a Norwegian Breakaway cruise to Bermuda, they should contact NCL directly instead of dealing with a travel agent. They should tell NCL they know its home port, New York, and all other US ports are required to have full compliance with American disability laws. They should expect NCL to confirm that when it accepts passengers with disabilities on its cruises, it requires governments of all places where it sails including Bermuda to enact similar disabled-friendly laws, so that its disabled passengers get equal value for money instead of being disadvantaged in public transport and other ways."
It's a constant problem for the disabled, not only in Bermuda but in Caribbean and other ports too, where cruise ships visit but port and shore excursion facilities for the severely disabled are scarce or don't exist. However, disabled cruise ship passengers visiting American ports are usually pleasantly surprised by ADA laws applicable there.
Physically challenged or blind or hearing impaired or mobility-restricted passengers should check in advance or ask their caregivers do so, what facilities are available for them on the cruise ships of the cruise lines they favor or, when not available, on competing cruise ships. These can vary considerably. Matters of particular importance may include:
Disabled cabins on board with adequate door width for wheelchair access. Is the furniture lowered? Do their bathrooms have grab rails? Are the toilet seats raised? Are there shower stools?
Wheelchair or scooter rental on board (generally, no).
Wheelchair height and weight restrictions (generally, 23 inches wide, maximum)
Or can you take your own wheelchair or scooter and if so can the latter also be used in Bermuda?
Guide dogs allowed on board? Be aware they need special permission before they can disembark. See Guide Dogs for the Blind and Disabled, below.
Hoists available on board? If so, where? If not, you may have to take one, if allowed.
Mobility aids available
Braille available for the blind
Facilities for deaf or hard-of-hearing
Those sailing from US ports to Bermuda are required by US laws have between 15 and 25 disabled cabins and staterooms, more roomy than for the non-disabled. cruise lines and their travel agents should check to see that people really are disabled - wheelchair confined, blind, deaf or ambulatory with a stick - and are registered as such with their state or provincial government agencies, they allow persons who are not disabled to occupy staterooms intended solely for the disabled and their caregivers or carers. Disabled persons, if denied a cabin specifically for the disabled, under American laws But not in other countries) have specific legal remedies if such cabins are instead given by cruise ship operators to persons not officially registered as disabled and don't have appropriate disability and ID documentation to prove it.
Cruise lines don't tell you, but should be required to, that if you are disabled in a wheelchair or using crutches or walking sticks or walkers (Zimmer frames) and/or are otherwise in any way mobility-impaired, you will encounter some substantial difficulties both on and off your cruise ship (on shore excursions). Here are some of the problems:
Cabin bathrooms especially on ocean-going cruise ships, also on riverboats. Many are so tiny and narrow that those who have a mobility or balance problem and don't ask for a disabled-friendly cabin will suffer, especially in the showers seemingly designed for half-grown children. They are awful.

Using a cruise-ship's elevator (lift). Although many cruise ships have them you will probably have to wait for many minutes to get one. Most often, they are packed.

Getting seating for the ship's shows. You'll miss out because by the time you get via wheelchair or by walking slowly due to your reduced mobility to the night club or venue, you may find that all seats are taken.

Shore excursions. You'll possibly go to some exotic ports, but in the Caribbean especially you'll have a problem. Why? Because cruise lines calling at Caribbean and other ports don't require those ports, for the business the cruise lines give them, to have disabled-friendly transportation. You won't be able to go on many shore excursions even though you may have pre-paid for them. Only in American and American-Caribbean (for example, Puerto Rico or St. Croix or St. Thomas or the other US Virgin Islands), or American-Pacific ports will you find these facilities, as required by the Americans with Disabilities Act (ADA). In only a very few ports can ferries, when available, take wheelchairs and when they can most - except in US ports - don't have priority reserved seating for the elderly and/or disabled.
Cruise ships arriving in Bermuda with blind other otherwise disabled passengers with their own guide dogs should see "Guide Dogs for the Blind or Disabled" below.
Accessible Cruising, see http://www.cruise118.com/cruise-holidays/disabled-passengers.html
Carnival Cruises with a disability. See http://www.carnival.com/legal/guests-special-requirements.aspx
Carnival Cruises Special Requirements Questionnaire, see http://www.carnival.com/cms/fun/images/Special_Requirements_Information_Form.pdf
Celebrity Cruises Accessible Staterooms, see http://www.celebritycruises.com/onboard/tabLanding.do?pagename=onboard_special_needs&tab=onboard_accessible_staterooms_tab
Cruising with a disability. See http://www.cruisecritic.com/articles.cfm?ID=9.
Cruise ships not classified as disability-friendly despite having some accessible facilities, see http://cruise-international.com/qa-emma-sanger-why-are-some-cruise-ships-not-classified-as-having-disabled-access-when-some-of-their-cabins-are-wheelchair-friendly/
Cunard Disabled Cabins, see http://www.disabledcruiseclub.com/about/disabled-cunard-cabins.html
Disabled Cruise Club (UK) - see http://www.disabledcruiseclub.co.uk/
Holland America Facilities and Services for Guests with Disabilities, see http://www.hollandamerica.com/assets/news/SpecialNeedsTravel_FactSheet.pdf.
NCL Accessibility Assistance, see http://www.ncl.com/about/accessible-cruising
Norwegian Cruise Line (NCL) Disability Accessibility Policy. See http://www.ncl.com/nclweb/cruiser/cmsPages.html?pageId=Accessibility. Note how it states its compliance with ADA.
NCL Disability Cruises, see http://www.disabledholidaydirectory.co.uk/about/ncl-cruises.html
P&O Cruises Accessible Cabins, see http://www.cruise.co.uk/images/Cruise//cruise_gallery/1/PO_Accessible_Cabin_List_0.pdf.
P&O Cruises disability and reduced mobility policy. See http://www.pocruises.com/Legal-Mobility-at-Sea/. Compare this with what your cruise ship line offers.
Princess Cruises Accessibility for disabled passengers, see http://www.princess.com/news/backgrounders_and_fact_sheets/factsheet/Princess-Access-Makes-Cruise-Vacations-Accessible-For-Passengers-With-Disabilities.html#.Ugi08btwZD8.
Regent Seven Seas Cruises Accessibility. See http://www.specialneedsatsea.com/about-us/cruise-lines/regent-seven-seas-cruises/.
Royal Caribbean Disabled Acessibility Cruises, see http://www.royalcaribbean.co.uk/why-cruise/accessibility/.
For Bermuda's only complete A-Z of facilities and services for the disabled, see the extensive notes in the Bermuda Physically Handicapped Association web file, written by a local disabled journalist.
This website deals in detail with all the forms of public transport available to visitors and what they can and cannot carry.
Note how each course is shown with nearest Bermuda port for cruise ship passengers, how best to get there, how close public transportation will go of you do not have your own clubs; and whether public or private. Always check yourself with the course what the rates are as they can vary significantly by time of day and time of year.
Guide Dogs for the Blind
Cruise visitors who are blind and have their own guide dog are advised to get their caregivers or family members who are not blind to apply as long as possible in advance, as all animals including guide dogs must be approved. The same applies to blind newcomers with their own guide dogs who are not working including those who may be dependents of those on Work Permits. Bermuda does NOT have a quarantine period. You can personally import and export animals, usually from the USA but also from Canada and the UK, with sufficient notice (which can be as high as 6 months). A proviso is that they must be licensed and micro chipped and are free from any problems. For all personal importers of pets, there is a strict import and export procedure for their documentation and certification. In all cases, including for cruise ship visitors, a formal application must be made in advance to the Ministry of Environmental Protection. See ApplicationForPermitToImportSmallAnimals.pdf.
International cellular calling from Bermuda
It is recommended cruise passengers get their service in the USA or Canada or UK or Europe or beyond to confirm Bermuda calls can be received and sent when they visit here. Some cell phone services may not be represented in Bermuda.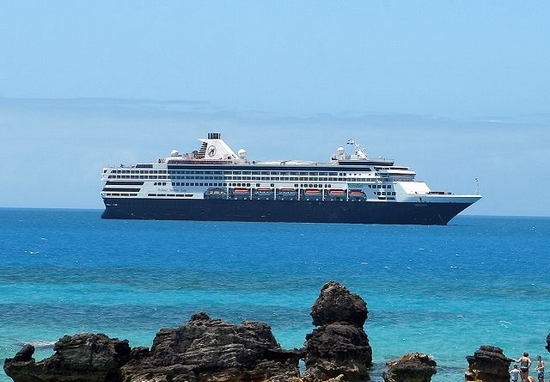 Cruise ship off St. George's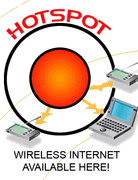 Bermuda does not yet offer free unrestricted WIFI access to its cruise ship passengers when going ashore. But since 2012, cruise passengers and other visitors who go to qualifying shore-based stores and restaurants in the King's Wharf/Dockyard areas can get onshore WIFI, possibly free if they patronize a restaurant or store, or for a moderate charge, in the City of Hamilton and Dockyard. (See details in the ports mentioned). This author recommended to the Government of Bermuda which operates the pier at Dockyard and to the authorities in Hamilton and St. George's, that they all have free WIFI sites, as part of the services for which they charge all passengers in passenger taxes, to give passengers a break from those super-expensive but invariably dead-slow systems aboard ship. Any WIFI sites found accidentally by passengers will not be free to all, are usually reserved for specific homes or businesses, may be strictly limited in operating times and can't be relied on to serve their non-customers.
Some passengers who may in the past have been able to get free WIFI in 2010 or earlier on their ships when approaching places such as the Bermuda Maritime Museum and other Bermuda-based employers will find they can no longer do so. All local WIFI systems have undergone significant security protection changes to limit them to their managements, employees and guests who pay for admission - to protect against unauthorized piracy. They no longer offer free WIFI from an insecure site.
See the following for a 2014 guide on cost of Internet on cruise ships: http://cruiseline.com/bonvoyage/cruising-101/cheat-sheet/what-is-the-cost-of-internet-access-on-cruise-ships-
All cruise ships, big and small, irrespective of where they sail, now use pinpoint satellite navigation. (Inmarsat satellites provide voice, data and broadband services to most cruise ships and aircraft in conjunction with LightSquared, a Virginia-based corporation which wants to build a coast-to-coast WIFI network and has won regulatory approval to do so. Inmarsat plc global HQ is at 99 City Road, London EC1Y 1AX. There are also main offices in Dubai, Singapore, Miami, Washington DC and one in Bermuda). The captain, his senior staff, their hotel managers and more, depend on reliable internet satellite navigation to plan their duties, issue daily ship's reports in several additions depending on where the bulk of their passengers come from - USA, UK, Canada, Australia, etc. Their passengers, who pay dearly for their cruises, should have the same service.
In an article published in the UK's Daily Telegraph of Saturday, March 19, 2011 Thomas Mazloum, senior vice president of operations of Crystal Cruises was quoted as stating that to provide passengers with an internet service on board, cruise ships rely on a single feed from a satellite, and the signal can vary according to where the ship is in relation to the satellite. He also said that performance may also be affected by the number of people on the ship accessing the web and the type of sites they are viewing - for example, image-heavy ones or those playing video or music which take longer to load. As none of these factors are under their control it is impossible for the cruise company to guarantee passengers a consistent service. But providing on-board internet access for passengers is a top priority at Crystal Cruises and their people are constantly assessing the situation and applying new technologies. For example, they have improved connections and downloads by installing web accelerator software, which compresses data in transit between ship and satellite, optimizing communication and transmission time. Because of this, executives and business people prefer to cruise with Crystal Cruises.
But the fact remains that Internet Access on most cruise ships are hugely expensive, slow, poor, restrictive and unreliable. Some cruise ship loyalty programs now include free internet for qualifying repeat passengers but this benefit is virtually useless. On cruise ships, there is usually no notification of the general unreliability, usually because of infuriatingly slow speeds, of internet access. WIFI, when offered at cost or for free on cruise ships, may be OK for small handheld devices but is usually so low powered that it is impossible to send photographs or other attachments via a laptop or notebook. Costs should be reasonable when service is not good. But some cruise lines offer as some of their optional services classes and courses in internet and website methodology which are outrageously high-priced for internet access ranging from slow and frustrating to completely useless. Cruise ships are the worst and most expensive places to get familiar with this technology. Ever noticed how, when travel writers write about their cruises - presumably often paid for by the cruise lines to get publicity - they never mention this aspect of their cruise? Or invite comments on their articles and give their email addresses? Or state that because of the poor quality and huge expense of Internet access on board many cruise ships, many who habitually or occasionally cruise on these ships and bring their own laptops or notebooks don't depend at all on them for this service. Instead, they prepare their notes and comments in advance, wait until they reach a port or a port's shopping centre with free WIFI access, such as is now common in Lisbon, Cadiz and some Canary Islands. This author has personally seen how most crew with laptops and frustrated passengers wait for the ship to dock then immediately make a beeline for the nearest Free WIFI shopping plaza to log on to the websites they use and send and receive their emails, attachments, any ftp files, etc. Passengers are not told about this by pursers or other ship staff, they have to find this out for themselves.
Prospective cruise ship passengers who are internet savvy should make a point of checking this out thoroughly well in advance. It can be hugely important that their cruise ships have good, fast wireless Internet as a standard or an optional extra throughout the ship, not just in public rooms, giving passengers the ability to send and receive entirely at their convenience not only emails but ftp files and attachments including digital photographs. It's now been accepted in all of the United Kingdom and Europe that unrestricted free WIFI on inter-city trains is not a luxury optional extra but a good-business essential. Many cruise passengers assume wrongly that when they go on an expensive holiday or vacation they will have at least the same, if not better, abilities and Internet facilities on their ships as they do ashore in their homes and places of employment, and at the same price. But this is rarely the case. Some cruise lines don't have ship-wide wireless Internet access but limit their service to Internet rooms for passengers to send and receive text emails only, no attachments such as photographs, with no ftp facilities as are now common in most good hotels worldwide for those who have or want to send ftp files. Viking River Cruises, AMA Waterways and other European river boat operators now state they offer free WIFI to all their passengers, throughout their ships, in every cabin, not just in public areas. That sounds great, it should give them a huge marketing advantage over ocean-going cruise ships which levy obscenely high prices in comparison. Problem is, as this author and many others discovered to their acute dismay, most recently in May 2012, it is so slow, so poor, it's completely unusable, hugely frustrating. But AMA Waterways, alone it seems among riverboat operators, at least offers a stateroom where wired Internet (done through a TV screen and attached wired keyboard) is free, to receive and send your email (but not to send or receive) any large photographs or attachments. It's better than nothing. Riverboat passengers are not told about these shortcomings by cruise staff, nor are they told to look for a place in one of the river ports (such as Cologne) that have reliable (reasonably fast) free WIFI for up to 2 hours, at Starbucks or selected fast food places or restaurants, where, for the price of a cup of coffee or beer or light food, they can bring their laptops or notebooks and send pre-sized digital photographs to their friends and families all over the world.
If you are on any ocean or river cruise ship in the Atlantic, Caribbean, Bermuda, Mediterranean, Pacific or elsewhere and need to get your email from say the USA or Canada or UK or wherever you live, you may not be able to do so at all, or may have to wait. If, like any prudent user on Internet banking you need to go online everyday just to check your balances against the possibility of any banking fraud or attempt of identity theft, or check your investment portfolio, you can't, not unless you take the time and trouble of searching out any local non-ship cafe or restaurant in a local port that might offer free WIFI with a meal, or an internet cafe where it will cost you. Passengers who travel to wonderful places want to be able to email photos back home to their families, friends and colleagues, at no cost. If they cannot, it's a significant opportunity wasted for both passengers and the cruise line in terms of publicity and more clientele.
Note also that all cruise lines cruising between New York and other American ports and all from the UK to Bermuda may block Skype.
Road Traffic density
See Getting around for Visitors. Also Transport Options for Residents.
Marriages/Weddings at sea
Celebrity Cruises, see http://www.celebritycruises.com/onboard/tabLanding.do?pagename=onboard_special_occasions&tab=onboard_weddings_tab.
NCL Cruises, see http://www2.ncl.com/freestyle-cruise/wedding-and-romance
P&O Weddings, see http://www.pocruises.com/wedding/termsandconditions.asp.
Princess Cruises, see http://www.princess.com/learn/onboard/gifts_services/celebrations/wedding/index.jsp
Royal Caribbean Cruises, see http://bookings.royalcaribbean.co.uk/findacruise/experience/html.do?exCode=622&wuc=GBR
Marriages on board a cruise ship are conducted by either the captain or staff captain. Bermuda-registered ships such as Cunard, P&O and Princess Cruises mean that wedding certificates will be issued by the appropriate Bermuda Government agency.


Last Updated: September 21, 2014.
Multi-national © 2014 by Bermuda Online. All Rights Reserved. Contact Editor/writer and webmaster.