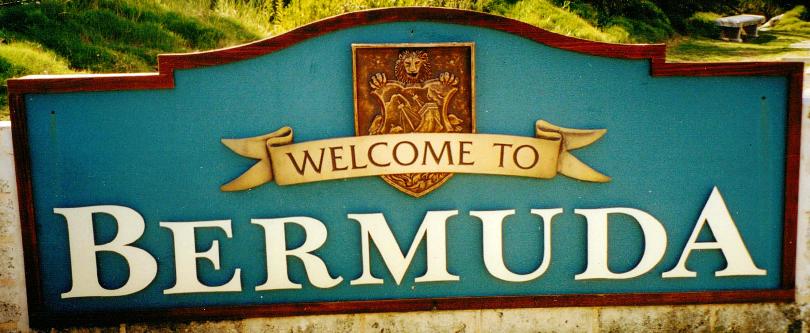 Click on graphic above to navigate the 165+ web files on this website, a regularly updated Gazetteer, an in-depth description of our island's internally self-governing British Overseas Territory 900 miles north of the Caribbean, 600 miles east of North Carolina, USA. With accommodation options, airlines, airport, actors, actresses, aviation, banks, beaches, Bermuda Dollar, Bermuda Government, Bermuda-incorporated businesses and companies including insurers and reinsurers, Bermudians, books and publications, bridges and causeway, charities, churches, citizenship by Status, City of Hamilton, commerce, communities, credit cards, cruise ships, cuisine, currency, disability accessibility, Devonshire Parish, districts, Dockyard, economy, education, employers, employment, environment, executorships, fauna, ferries, flora, former military bases, forts, gardens, geography, getting around, golf, guest houses, highways, history, historic properties, Hamilton, House of Assembly, housing, hotels, immigration, import duties, internet access, islands, laws, legal system and legislators, main roads, marriages, media, members of parliament, money, motor vehicles, municipalities, music and musicians, newcomers, newspaper, media, organizations, parks, parishes, Paget, Pembroke, performing artists, residents, pensions, political parties, postage stamps, public holidays, public transportation, railway trail, real estate, registries of aircraft and ships, religions, Royal Naval Dockyard, Sandys, senior citizens, Smith's, Somerset Village, Southampton, St. David's Island, St George's, Spanish Point, Spittal Pond, sports, taxes, telecommunications, time zone, traditions, tourism, Town of St. George, Tucker's Town, utilities, water sports, Warwick, weather, wildlife, work permits.

Bermuda's 2021 Cruise Ship Schedule of Calls
It is hoped they will resume in April if the 2020 Covid-19 pandemic has ended
By Keith Archibald Forbes (see About Us).

Introduction
Cruise ship at Royal Navy Dockyard. Largest of Bermuda's three cruise ship ports. Bermuda Tourism Authority photo.
Latest news
2021 Schedule. http://www.marineandports.bm/Documents/Shipping_schedules/2021%20Cruise%20Ship%20Schedule.pdf. Also see
https://crew-center.com/bermuda-cruise-ports-schedules-2021
2020 Schedule. See Bermuda Government's official 2020 cruise ship schedule at http://www.marops.bm/Documents/Shipping_schedules/2020%20Cruise%20Ship%20Schedule.pdf. It shows where and when in Bermuda each ship will dock, in chronological order, with time of arrival and departure; which one of Bermuda's three ports will apply; Bermuda port agents for each ship and more.
Since 1966, there has not been a regularly-scheduled passenger shipping service to Bermuda. From that time on, ships serving Bermuda year-round from both the USA and elsewhere in the world have been freight-only vessels. However, there are seasonal cruise ships to and from Bermuda, mostly from/to US ports.
Note that the months of January through March are Bermuda's off-season and colder months - not as cold as the Eastern USA or UK or Europe but appreciably colder than in the Caribbean 900 miles to the south of Bermuda. Cruises to Bermuda occur mostly in Bermuda's high season, from April through October, Bermuda's warmest and most humid months. Larger cruise ships dock at the former (civilianized for decades) Royal Navy Dockyard at the western end of Bermuda, the only dock area that can handle them, at either the King's Wharf or the Heritage Wharf adjacent. Smaller cruise ships only can dock at City of Hamilton and Town of St. George. Many of the cruises operate via Bermuda-incorporated companies/corporations.

All Bermuda cruise ship arrivals were cancelled until further notice due to the 2020 Covid 19 pandemic
2020. September 4. Daily Telegraph, London. Cunard announced an extension to its operational pause, saying it will halt all sailings until spring 2021. In June, the company stated it would suspend cruises until November 2020, citing Covid-19 concerns and the FCO's advice against cruise travel, but now says voyages will not resume until next March – at the earliest. Cunard currently has three ships: the Queen Victoria, Queen Mary 2, Queen Elizabeth. The Queen Victoria is now slated to resume service in May 2021, and the Queen Mary 2 in April 2021. The Queen Elizabeth will begin its season in March 2021.
2020. September 4. Daily Telegraph, London. Crystal Cruises cancelled all ocean voyages (aboard Crystal Symphony and Crystal Serenity) and yacht voyages (aboard Crystal Esprit) during the remainder of 2020. Affected guests are being offered a full refund or future cruise credit equal to 125 per cent of their cruise fare, valid on any Crystal experience (ocean, river, yacht or expedition) before December 31, 2023.
2020. September 4. Daily Telegraph, London. Disney Cruise Line – proposed restart date 2021. .
2020. September 4. Daily Telegraph, London. Fred Olsen Cruise Lines – proposed restart 2021. The Norwegian-owned cruise line's two new ships, Bolette and Borealis, will take on the existing itineraries for Boudicca and Black Watch, as well as offering some exciting new sailings, and alongside Braemar will take to the waters again in March and April 2021.
2020. July 30. Since mid-March, only a small handful of the world's 400-or-so cruise ships were able to accept passengers. A few dozen are sailing the world solely to repatriate crew members from every corner of the globe. The rest are sitting idle in cruise ship purgatory, unable to sail commercially for the foreseeable future. (In the U.S., the industry has agreed not to resume business at least until Sept. 15.) The problem for many cruise lines is that remaining idle during the pandemic isn't just bad for the company's bottom line, it's a potential death warrant for their costliest assets: the ships themselves.

2020. May 28. Costa Cruises, Aida Cruises and Marella Cruises have all delayed the return of sailings in the wake of the Covid-19 outbreak. Costa announced a further pause for its cruises until July 31st. The line said the decision is linked to the uncertainty of a gradual reopening of ports to cruise ships and the restrictions that may still be in place for the movements of people due to the global pandemic. Costa added it was taking steps to inform both travel agents and guests affected by the changes. Aida Cruises, which is also owned by Carnival Corporation, said it appreciated the current international efforts to normalize tourism. However, in many frequently visited destinations in Europe regulations for international tourism are still being adjusted and the specific conditions for a restart have not yet been fully clarified. As a result, all cruises before August have again been suspended. TUI UK & Ireland confirmed that due to the on-going travel restrictions it is extending its cancellations of all beach holidays until June 30th and all Marella Cruises sailings up to July 30th. All customers whose bookings are impacted by the above changes will receive a refund credit and if their booking was for a package they will also get an up to 20 per cent incentive, or they can request a cash refund via an online form on the TUI website.
2020. April 27. More cruise ship visits to Bermuda have been cancelled in the wake of Norwegian Cruise Line's decision to extend the suspension of its voyages until the start of July. The move wiped a further 16 cruise ship visits from the island's 2020 schedule and brought the total number of cancelled cruise ship visits by all operators to 60. It was expected before the Covid-19 crisis that 192 cruise ships would visit the island this year. Norwegian operates Norwegian Cruise Line, Regent Seven Seas Cruises and Oceania Cruises, all of which make calls to the island. It earlier suspended voyages until May 11, and then extended that period to May 14. It announced yesterday it would halt its cruise ship operations up to the end of June. The Bermuda-incorporated company said: "The safety, security and wellbeing of our guests, crew and communities we visit is our No 1 priority. We continue to closely monitor the Covid-19 coronavirus situation and the global health environment. With Covid-19 continuing to impact communities and ports around the globe, we have extended our voluntary temporary suspension of voyages. Our suspension that was for voyages embarking March 13 to May 14 has been extended to now include all voyages embarking through June 30. We plan to recommence operations beginning July 1."
Several other cruise ship operators with sailings to Bermuda have also announced cancellations. Carnival Corporation, which operates Carnival Cruise Line, has stopped departures up to June 26, and Royal Caribbean, which operates Royal Caribbean International, Celebrity Cruises and Azamara Cruises, has suspended its voyages until June 10. MSC Cruises and TUI Group have also cancelled visits to Bermuda. A 100-day "no-sail order" on cruise ships in the United States, imposed by the Centres for Disease Control and Prevention on April 9, could be extended into the second half of July. The CDC order said that cruise ships cannot board passengers and return to their sailing schedules for 100 days, or until either the Department of Health and Human Services ruled that Covid-19 no longer constituted a public health emergency, or the CDC director modified the no-sail order.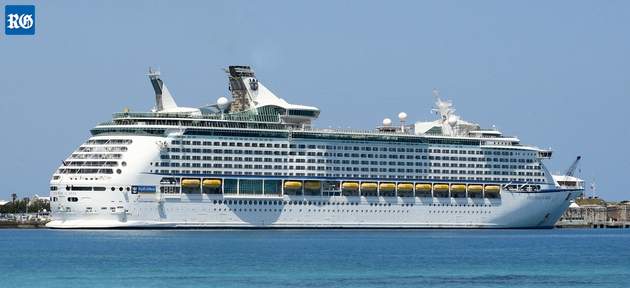 2020. April 20. Eight more cruise ship visits to Bermuda were cancelled following Royal Caribbean Cruises Ltd's decision to extend a suspension of its cruise operations. The company, which operates Royal Caribbean International, Celebrity Cruises, and Azamara Cruises, has halted voyages for a further one-month period beyond its previously stated pause to May 11. The move came a few days after another company, Carnival Corporation, announced it would not be resuming cruises in the North American region until June 27. The total number of cancelled cruise ship visits to Bermuda by all operators is now 41. At the start of the year it was expected that 192 cruise ships would visit the island this year. Royal Caribbean, in a statement, said: "Given global public health circumstances, Royal Caribbean Cruises Ltd has decided to extend the suspension of sailings of our global fleet through June 11. We are working with our guests to address this disruption to their vacations, and we are genuinely sorry for their inconvenience." The decision brings to 13 the number of cruise voyages to the island the company has cancelled this year as a result of the impact of the Covid-19 pandemic. Meanwhile, Norwegian Cruise Line Holdings Ltd is said to be working with investment bank Goldman Sachs Group to explore financing options that could include the sale of a stake in the company, according to a report by Reuters. The company has operating headquarters in Florida, but is domiciled in Bermuda. It is unclear if it will be eligible for a share in a $2.3 trillion stimulus package in the US aimed at supporting the economy and provide aid to troubled companies. To be eligible for relief, a company must be "created or organised in the United States or under the laws of the United States" and "have significant operations in and a majority of its employees based in the United States."
A number of other major cruise ship companies are also incorporated outside the US. Norwegian Cruise Line Holdings, which operates Norwegian Cruise Lines, Oceania Cruises and Regent Seven Seas Cruises has, due to the global pandemic, suspended all voyages embarking before May 11. Norwegian and another cruise line that sails to Bermuda, MSC Cruises, have yet to update their suspension dates following a 100-day "no sail order" on cruise ships in the US, imposed by the US Centres for Disease Control and dated April 9, which could continue until July 17. The CDC order states that cruise ships can't board passengers and return to their sailing schedules for 100 days, or until either the Department of Health and Human Services declares that Covid-19 no longer constitutes a public health emergency, or the CDC director modifies the no sail order. MSC Cruises has halted its cruise ship departures through to May 29. In addition, the Marella Explorer 2, operated by TUI Group and originally due to start a two-day visit Bermuda on May 1, was among cruises cancelled by the German travel company last month.
2020. April 16. More than 15 per cent of all planned cruise ship visits to Bermuda this year were cancelled as cruise line operators curtail operations due to the Covid-19 pandemic. Carnival Cruise Line this week extended its pause on North American cruise operations until the final week of June. The company said it has plans to resume cruises in the region on June 27, and added that it shared the global priorities of health and safety for all. Carnival previously had six cruise ship visits scheduled for Kings Wharf, Dockyard, in the period now affected by the cancellations. It brings the total number of cancelled cruise ship visits to Bermuda by all operators to 32. At the start of the year it was expected that 192 cruise ships would visit the island this year. However, that number could go much higher if a 100-day "no sail order" on cruise ships in the US, imposed by the US Centres for Disease Control and dated April 9, plays out to July 17. The CDC order states that cruise ships can't board passengers and return to their sailing schedules for 100 days, or until either the Department of Health and Human Services declares that Covid-19 no longer constitutes a public health emergency, or the CDC director modifies the no sail order. Carnival did not mention the order in its latest statement about the continuation of the pause to its North American operations. The ships that should have been visiting Bermuda, but are now affected by its own extended "pause" period are Carnival Sunrise, which carries up to 3,730 guests, and was to have made two one-day visits in late May, and a further two in mid-June, while the smaller Carnival Pride, which accommodates up to 2,680 guests, had been expected to make a three-day visit starting on June 3. In addition, the Carnival Radiance, which can carry 4,375 guests, had been due to visit Dockyard on June 27.
2020. April 16. Holland America Extends Cruise Pause.
2020. April 10. Costa Cruises Extends Suspension of Operations.
2020. March 16. Caribbean Journal reported that Richard Branson's new cruise line, Virgin Voyages, announced the "proactive" postponement of its official launch until July, in light of the novel coronavirus. The launch of the adults-only cruise brand's Scarlet Lady cruise ship is now scheduled to take place July 15, according to a statement from Virgin Voyages. That will kick off a showcase tour, after which the first-ever Virgin Voyages cruise to the Caribbean out of Miami is slated to take place on Aug. 7, 2020. "Virgin has always championed our customers and, most importantly, listened to them. With those principles in mind and based on your feedback, our team has made the very difficult decision to postpone," Branson and Virgin Voyages CEO Tom McAlpin said in a joint statement. "We want to make this change as convenient and fair as possible. So we are offering a range of options from a full refund and a voyage credit to extra special bonuses if you book a future sailing. The choice is entirely up to our Sailors, as it should be," Branson and McAlpin said. Scarlet Lady, which was slated to launch this month, is the first of a cruise ship pipeline that includes plans for three other new cruise ships.
2020. March 14. Norwegian Cruise Line announced "suspension of all cruise voyages embarking between March 13 and April 11, 2020 for its three cruise brands".
2020. March 13. A total of three cruise lines suspended visits to Bermuda in the wake of the Covid-19 pandemic, it was revealed tonight. The Ministry of Tourism and Transport said that Norwegian Cruise Lines, Royal Caribbean, and Ponant Cruises for the ship have suspended cruises. Following the announcement that NCL has voluntarily suspended all cruise voyages between March 13 and April 11, a spokesman for the tourism ministry said that seven cruises scheduled to travel to Bermuda have effectively been suspended. Ponant Cruises also suspended its April 29 visit. Although Bermuda is not scheduled to receive Royal Caribbean ships until April 22, the line has suspended service for 30 days. The Azamara Pursuit, part of a Royal Caribbean affiliate brand, was cancelled for April 8. Zane DeSilva, the tourism minister, said: "In light of the monumental impact of Covid-19, the suspension of cruise ship travel was inevitable. Such decisions are among the many that governments and organizations will make as we continue working toward containing the global spread of Covid-19. Unfortunately, this will have an impact on a number of businesses that would normally service the cruise lines and cruise passengers. I would urge residents to support our local community during these difficult times.
2020. March 12. Carnival cruise lines announced it had suspended operations of its Princess Cruises, which does not visit Bermuda, until May 10. A cruise that was due to include a stop in Bermuda later this month has been cancelled, its operators said yesterday. The Divina, operated by MSC Cruises, was scheduled to arrive at Dockyard on March 26 for a 24-hour visit. A spokeswoman for the cruise line said: "MSC Cruises has revised its itineraries for its ships, that were due to call at Italian ports in connection with the Italian Government's decision on March 9 to introduce further strict measures that have impacted the country as the Covid-19 coronavirus public health emergency continues to evolve. Some ship itineraries have changed up until April 3, the date set by the Italian Government for emergency coronavirus measures, and in some instances beyond this date." A government spokesman, however, said they had not received any notification about the cancellation. The spokesman said: "MCS has not officially released the Bermuda space for March 26 to 27 at this time. The Ministry of Tourism and Transport has not received any cruise ship cancellations affecting April's cruise ship schedule." Divina was the only ship scheduled to dock in Bermuda this month, with the next expected on April 3. The MSC Cruises website showed that the ship's itinerary was to sail from Miami to New York, from where it would travel to Bermuda before going on to Europe, with a stop at Ponta Delgada in the Azores. The Divina was expected to have 4,203 passengers and 1,751 crew.
2020. March 10. The global spread of the coronavirus epidemic could affect the island's tourism business, the Bermuda Tourism Authority said yesterday. However, Stephen Todd, the deputy chairman of the BTA, said it was "early days and too difficult to predict" what impact the outbreak could have on Bermuda. Mr Todd was speaking after the United States and Canadian governments warned their citizens to avoid cruise ship travel A total of 22 ships are scheduled visit Bermuda next month, with 24 in May and 23 in June. Mr Todd said the BTA was liaising with the cruise industry, mostly through its New York office. He added: "There clearly is concern for them right now. It's difficult to measure." A spokesman for the tourism and transport ministry said yesterday that cruise ships that want to dock in Bermuda will be assessed before being allowed to tie up. The ministry spokesman said Bermuda remained free of the Covid-19 illness. He added: "So yes, there is a possibility that cruise lines may contact the Department of Marine and Ports requesting Bermuda be included in their cruise itinerary." He said officials would "gauge the safety of each vessel entering our waters and decide whether to allow entry". All other ships that plan to dock in Bermuda will have to meet the same standards. The tourism ministry spokesman said the Government "continues working to fine-tune our plan". The epidemic had claimed nearly 4,000 lives and infected more than 110,000 worldwide by last night. The US Department of State on Sunday warned its citizens, "particularly travellers with underlying health conditions", not to take cruises. The department said that the Centres for Disease Control and Prevention had highlighted an "increased risk of infection of Covid-19 in a cruise ship environment". Canada's top doctor issued a similar warning yesterday. Theresa Tam, the Chief Public Health Officer, said Canadians should "avoid all cruise ship travel due to Covid-19". Dr Tam agreed with the US that the virus could spread fast on cruise ships "due to the close contact between passengers". Mr Todd said the outbreak had "already impacted islands to our south — this would be considered their high season". Bermuda's cruise season runs from April to November, with one ship, the Divina, scheduled to arrive in Dockyard from New York on March 26. Mr Todd added: "In Bermuda, there is heightened activity at our borders for cruise ships and at the airport. But to the credit of our cruise partners, they have taken as many precautionary steps as they can." The island got a visit from Royal Caribbean's Anthem of the Seas cruise ship last month after a long quarantine in New Jersey in the wake of suspected Covid-19 cases on an earlier cruise having led to the cancellation of its Bahamas voyage. All the passengers were later given the all-clear. Yesterday, the Bermuda Government issued a guidance document for hotels, guesthouses and Airbnb operators. The Ministry of Health said last Friday the Covid-19 threat was being included in plans for the coming cruise season. A spokeswoman said all cruise lines that visited Bermuda had forwarded their passenger screening policies. International regulations require ships to provide a Declaration of Health form to the Bermuda Government at least 24 hours before arrival.
2020. March 9.
2020. March 7. The Bermuda Government said tonight it had been planning for the cruise ship season in view of the threat from the virus. It stated "All cruise ship lines serving Bermuda have been contacted and they have shared their individual policies for the health screening of passengers." David Kendell, the Director of the Department of Health, explained: "By liaising closely with shipping agents, government personnel are preparing for the planned arrival of all cruise ships to the island. Under the International Health Regulations, all ships must forward a Declaration of Health form to the Department of Health which must be received at least 24 hours before the ship's arrival. The declaration will detail any instances of infectious diseases on-board and lists any previous ports of call. By having this information in advance we can make decisions based on risk assessments and in line with the International Health Regulations as to whether or not we need to intervene in any way. We also carry out full inspections of cruise ships on request in order to issue Ship Sanitation Certificates."
2020. February 15. Bermuda recorded its highest tourism numbers last year, but visitor air arrivals dropped by 6 per cent. The increase to more than 808,240 tourists was fuelled by a record 535,561 cruise ship passengers, up 51,222 on the previous year, or 10.6 per cent. Air arrivals, however, fell by 12,280 from 203,697 to 191,417 over the same period, although the Bermuda Tourism Authority highlighted it was still the second-highest air arrival figure since 2006. There was a total of 770,683 tourists in 2018. Total visitor spending last year increased by $6.5 million or 1.6 per cent to $417.5 million. Kevin Dallas, the chief executive of the BTA, said the authority predicted a drop in air numbers at the start of last year. He added: "On the upside, our long-view gains were more robust than anticipated, so the industry and all of Bermuda should feel upbeat about that. Sustained double-digit growth in air arrivals and spending through 2018 positioned us well to respond to short-term challenges and we continue to see green shoots fuelling the island's tourism resurgence. Investors, for example, are showing clear confidence in our tourism product, which is moving the island strategically towards growth." Bermuda Tourism Authority figures for 2019 showed a 5 per cent drop in air capacity after two airlines cut flights from New York. Flight schedules from Boston were also reduced. The BTA report said the total number of tourist arrivals was up 4.9 per cent year on year, and that 2019 marked the third consecutive year with record-breaking numbers. Mr Dallas added airlift capacity was expected to fall more this year, which could hit growth prospects. He said a decline over the past 12 years in business travel and people visiting friends and family in Bermuda contributed to difficulties in getting enough airline service. Mr Dallas added: "Achieving strong airlift demands growth in all our markets; leisure travel, business travel, friends and relatives travel and residents travel. It's a delicate balance and when one or more of these sectors suffers, especially in non-summer months, it hurts the overall picture. Bermuda is in a far better position to attract more capacity when we have growth across the board." Mr Dallas said that air capacity was a "worldwide challenge", but the BTA had joined forces with the Government and airport operators Skyport to hire air service development consultants. He added: "Global competition remains fierce. Maintaining our strongest air routes and building on already established relationships with key airlines will be critical to our success." The BTA report said that the biggest growth in cruise ship arrivals happened outside the traditional summer peak months. It added, the 15 per cent growth in the off season showed the authority's strategy of using cruise travel to boost numbers for winter, spring and autumn had worked. January and February 2019 both saw major increases in cruise ship arrivals; 8,253 cruise ship visitors came to the island in those two months in 2019 compared to just 602 in the year before. November also saw an increase in cruise ship passengers, from 18,620 to 28,155, but that increase was countered by a decrease from 7,996 to 872 in December. The BTA said there were several other potential sources of tourism growth. The body highlighted the new airport terminal and hotel projects, such as Azura Bermuda and the Bermudiana Beach Resort/Tapestry Collection by Hilton, both Warwick and the St Regis hotel development in St George's. The BTA said the recently announced sales of the Fairmont Southampton and the St George's Club showed investor confidence in the tourism industry. The report added the BTA will continue to promote the island through media collaborations and multiyear partnerships with the US Open, the PGA Tour and the Clipper Round the World Race. New legislation designed to encourage superyachts to spend more time in Bermuda also came into force this year. Mr Dallas said the national tourism plan would continue to guide the work of the BTA in the long term.
2020. February 13. A cruise ship re-routed to Bermuda after a scare over a deadly coronavirus strain delayed its scheduled trip to the Bahamas tied up in Dockyard yesterday. Minibus operators waiting for the Anthem of the Seas said taxi numbers in Dockyard were down despite reassurances the virus, which had claimed more than 1,100 lives, was not on board. One driver said "a lot of people were scared" earlier this week. But he added: "They're not going to send a boat to Bermuda with sick people." Passengers coming ashore at Heritage Wharf from the Royal Caribbean liner included Zane DeSilva, the Minister of Tourism and Transport, who boarded the ship at 4.30am from a pilot boat as the vessel neared the island. Mr DeSilva said the mood on the ship was "fantastic". He added: "People are glad to be here. No one had any concerns. Our concern is for our people, and I am confident the US health officials have done their job." Mr DeSilva added: "I am disappointed with a lot of the social-media posts about this ship that were based on misinformation." He said he "did not think" the Covid-19 outbreak, which has hit several cruise ships worldwide, would hurt cruise business to Bermuda. Mr DeSilva added: "Most people will cruise like these folks have done. Health officials have done what they have to do." In a statement, Mr DeSilva said "all fears have been put to rest" and said staff on the ship had "gone above and beyond the norm". Carnival Cruise Lines announced yesterday that travel bans on ports in China, where the outbreak originated in Wuhan province, would affect cruises elsewhere in Asia and hit its financial performance. The MS Westerdam, a Holland America Line ship, was given permission to dock by Cambodia yesterday after five other countries turned it away over fears one of its passengers might have the illness. Boeing also warned that the drop in air traffic to Asia would have an impact on deliveries of new aircraft in the first quarter of this year. The Anthem of the Seas, with a capacity of 4,825 passengers and crew, was scheduled to cruise from New Jersey to Florida and the Bahamas. A couple from Lancaster County, Pennsylvania said "a lot of people bailed" after the cruise shortened and switched to Bermuda. The man said: "We weren't expecting to be here, but we're just glad to be somewhere." His wife added: "It's probably better than most cruises we've been on — they treated us great." The ship was held up last week in its home port of Bayonne, New Jersey, as four passengers on board an earlier cruise were tested and later cleared of infection with the new coronavirus strain. Passengers for the trip to Bermuda were allowed on board on Sunday. The ship is scheduled to leave Bermuda for New Jersey at 3.30pm today.
2020. February 11. A cruise ship due to dock in Bermuda after it was at the centre of a scare over a deadly strain of coronavirus is no more a threat than any other vessel, the health minister said yesterday. Kim Wilson said that no passengers or crew on the New Jersey-based Anthem of the Seas had been found to have the new 2019-nCoV coronavirus and that four passengers who became ill had been cleared of infection by the strain. Armell Thomas, a senior environmental health officer, confirmed that ferry pilots had "aired concerns and opinions" over the transportation of cruise ship passengers. Mr Thomas added: "They were very concerned because they are on the front line; they are satisfied at this time." Cheryl Peek-Ball, the Chief Medical Officer, said people concerned over the potential importation of the virus "will know almost as soon as we know". She added: "We are not in the business of keeping back information about public safety. Information that comes in to us has to be verified and digested before it is sent out. It's very important that social media not get ahead of the actual facts and evidence." Dr Peek-Ball admitted that screening at ports or at the airport required people to volunteer information about their previous travel and possible exposure. She said: "We have to accept we are relying on people to be open and transparent with us." She was speaking as the Government acted to allay fears over the virus, which first appeared in Wuhan, China, and has killed more than 900 people in the country and infected more than 40,000. The Royal Caribbean cruise liner was held up in its home port of Bayonne over the weekend as it prepared to travel to the Bahamas. The ship's departure was delayed because four passengers became ill and the destination was changed to Bermuda. Ms Wilson emphasised that the decision to reroute the vessel to Bermuda was taken to "provide a better experience for passengers whose cruise time was shortened" because of the delay. She added: "This was simply a logistical decision taken by the cruise line and rumors to the contrary should be ignored." After tests, confirmed by the US Centres for Disease Control, it was found that one of the sick passengers had influenza. Different times have been given in news reports on the incubation period for the new coronavirus. But Dr Peek-Ball said: "The fact is, it appears that until you're having symptoms, until you start getting sick, you do not pose a risk to others." Travellers arriving in Bermuda will undergo a travel risk assessment by a health officer, and could have their health monitored and movement on island restricted for up to 14 days. Patricia Gordon-Pamplin, the Shadow Minister of Health, said: "While New Jersey may be comfortable that there are no episodes of the virus in that state at this juncture, the truth is that they really just don't know, and unfortunately, this is a situation where only time will tell the real story. The confirmation by another jurisdiction as to their health and safety is in no way a guarantee that Bermuda will be protected, and that we have the ability to manage this challenge should even one incident of the coronavirus surface."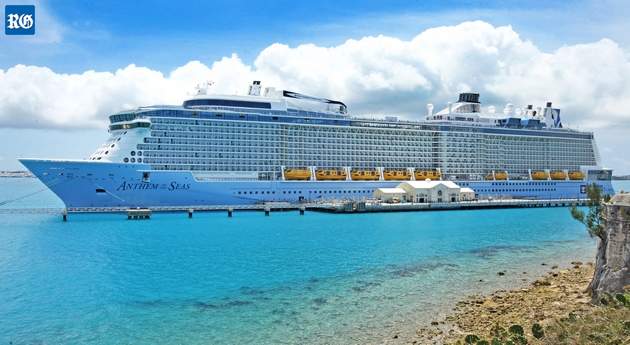 Cruise ship Anthem of the Seas
2020. January 8. The recently launched Spirit of Discovery cruise ship rang in the new year in Dockyard on its first visit to Bermuda. The ship, operated by Saga Cruises, arrived last Tuesday morning from New York with 506 crew members and 873 passengers for a one-night stay. The ship left the next day for the final leg of its 35-day journey and will end in Southampton in Britain. The Spirit of Discovery was launched on July 10 and was designed for the British market and passengers aged 50 or older. The wheelchair-friendly vessel has 540 staterooms, all with private balconies, four restaurants, several bars and a fitness complex.
2019. October 26. Theatre fans will be able to cruise to Bermuda next autumn with a glittering cast of Broadway stars as part of a theatre-themed cruise on the Norwegian Pearl. The inaugural Broadway Cruise, set to sail from New York next October, will feature performances by Allan Cumming and fellow Tony Award-winner Laura Benanti. Mr Cumming, who won a Tony for Cabaret, has appeared in a variety of stage and screen productions including the James Bond blockbuster Goldeneye and the hit television show The Good Wife. Ms Benanti won a Tony for her role in Gypsy. They will be joined by Broadway talent from shows including Cabaret, My Fair Lady, School of Rock, Porgy and Bess and Mean Girls. The cruise will also include talks from make-up artists and costume designers, as well as choreographers. Mr Cumming said: "It's going to be a super-duper Broadway extravaganza. I'm going to be performing twice on the main deck. I'm really, really looking forward to it." Prices for the Broadway Cruise, which will run from October 10 to 14, start at $995 per person. The presale registration at website TheBroadwayCruise.com.
2019. October 18. The number of people expected to visit Bermuda by cruise ship in 2020 is 1,000 less than the 544,000 predicted for this year. A government announcement this week said that next year's schedule included "more total calls, more passengers, and more visits distributed throughout the year". It said an estimated 543,000 cruise ship passengers would visit the island in 2020. The Ministry of Tourism and Transport said last December that the island was expected to host about 544,000 passengers in 2019. A ministry spokesman said this week: "The emphasis is more correctly placed on the total number of calls, an increased distribution of cruise ships throughout the year, and a greater number of stops in smaller ports rather than the specific number." Hurricane-related cancellations meant that the year-end total was expected to be lower than the earlier prediction. The spokesman explained: "In terms of absolute numbers, as a result of cruise cancellations due to weather conditions, yes, we are likely to be below the projected 544,000. However, we won't be compiling those stats until the end of the year, when we can take into consideration all the changes that occurred during the year." The Government said on Sunday: "The total projected number of ship calls for this year fell slightly from 185 to 176 due to eight cancellations during recent hurricane activity in the Atlantic." No information was given on the remaining call included in the drop in numbers. The Government added that almost 60 per cent of this year's cruise visitors came during the "non-summer" months from September to May. It said next year's line-up will continue the "encouraging trend" of extending the season into December. A combination of contract calls and occasional callers brought the total number of cruise ship visits projected in the 2020 schedule to 197. St George's was expected to take 19 calls — up from 16 this year — with the same number for Hamilton, an increase of six. Figures from the Bermuda Tourism Authority showed more than 484,000 cruise passengers visited in 2018 — a record-breaking year for overall visitor arrivals and which pumped about $505 million into the economy. The first draft of the 2020 cruise ship schedule can be viewed at http://www.marops.bm/shipping_button_link.aspx and is subject to change.
2019. October 16. In September 2020, the Uniformed Services Nurse Advocates Virtual Chapter and the Surviving Spouses Virtual Chapter will host a 6-day, 5-night cruise to Bermuda. They will be exploring the pink sand beaches, pastel-painted estates, military strongholds and enjoy underwater adventures, fine dining and brilliant golf courses. Col. Jeri Graham, USA (Ret), founding member and president of the virtual nurses chapter, decided to organize the Bermuda cruise as a way for the online groups to meet face-to-face. There are 159 cabins available for the Bermuda trip exclusively to MOAA members, family and friends. Reservations start at $429 per person for an inside cabin, with options available for ocean view balconies and suites. All room prices are based on double occupancy. Graham has even established a "hugely successful" Cabin Mate Finder program to help members traveling by themselves to find a roommate for the cruise. To participate, Graham will pair one membere with another MOAA member who has similar interests. The Cabin Mate Finder program can "help people meet other people and help split expenses" for the cruise, Graham said. On at-sea days, Graham plans to hold chapter and advocacy meetings with breakout sessions to discuss MOAA's key legislative issues. She is also hoping to have a few high-profile speakers as well. "We've invited the three surgeons general," Graham said.
2019. October 15. Bermuda's cruise-ship schedule for 2020 includes more total calls, more passengers, and more visits distributed throughout the year — including a greater number of stops in the smaller ports of Hamilton and St George's. A total of 197 cruise-ship calls are projected in the 2020 schedule, comprising 100 contract calls and 97 occasional callers, bringing an estimated 543,000 passengers to the island. Of the occasional calls by non-contract liners, 38 will visit Hamilton and St George's, while contractual visits by larger liners will make port at the West End's Royal Naval Dockyard. St George's is projected to receive 19 calls in 2020, up from 16 this year, and Hamilton will also receive 19 — up from 13 in 2019. The increase is primarily attributed to Royal Caribbean Cruise Line's commitment to bring six additional calls to the island with the Empress of the Seas, which will promote two-port itineraries between St George's and Hamilton in May, July and August next year with 1,800 passengers per call. "We are delighted with the news of additional calls to St George's and Hamilton next year, and the ministry in partnership with the Bermuda Tourism Authority (BTA) is working diligently to attract even more calls to these smaller ports in future," Zane DeSilva, the Minister of Tourism and Transport, said. "In addition, Carnival Cruise Line has committed 28 occasional calls in 2020 from New Jersey, Baltimore and Charleston ports and will attract a range of passengers interested in the diverse pursuits Bermuda offers." Notably, next year's cruise ship schedule continues the encouraging trend of extending the season through to December. In 2019, a third of cruise ships visiting Bermuda arrived during springtime months of April, May and June, while nearly a quarter made port here in the months of October, November and December. Overall, the majority (59.7 per cent) of annual cruise visitors arrived in non-summer months of September through May. "We've successfully worked with non-contract cruise lines to extend the traditional season with occasional calls through the spring and fall — a strategy which aligns with the goals of the National Tourism Plan," said Kevin Dallas, chief executive officer of the BTA. "The fact most passengers are now arriving in non-summer months says it all. Greater use of ports in Hamilton and St Georges's, along with less seasonality throughout the year, creates a more sustainable industry." Bermuda can expect 33 further cruise calls during the remaining months of 2019. The total projected number of ship calls for this year fell slightly from 185 to 176 due to eight cancellations during recent hurricane activity in the Atlantic.
2018. October 13. Disney Cruise Lines marked its first trip to Bermuda with a plaque and key ceremony. The Disney Magic stayed in Dockyard on last Saturday night, with 2,399 guests and 1,024 crew on board, after its arrival from New York City. It was the first of five calls to the island scheduled for the rest of 2018. Walter Roban, the transport minister, and West End Development Corporation representative Carmen Tucker attended the ceremony and festivities. Mr Roban said of the weekend visit: "I am delighted that after many years of discussion with Disney Cruise Line, that Disney was finally able to come to our shores. It is an honour to welcome Captain Fabian, Disney Cruise Line executives, and the Disney Magic crew and passengers." A celebration event at Heritage Wharf included a Marine and Ports tug salute, Gombey performances and a greeting from Bermuda Tourism Authority ambassadors.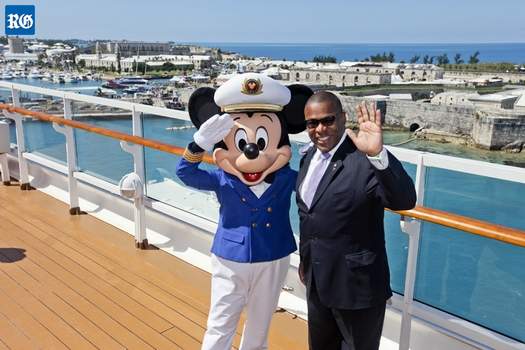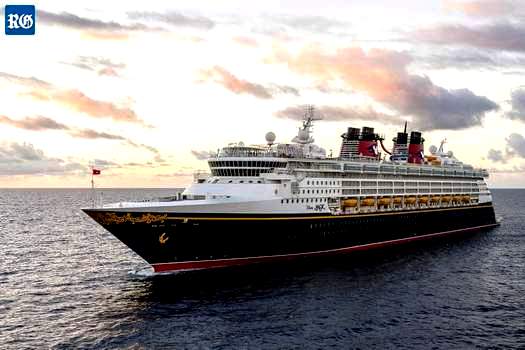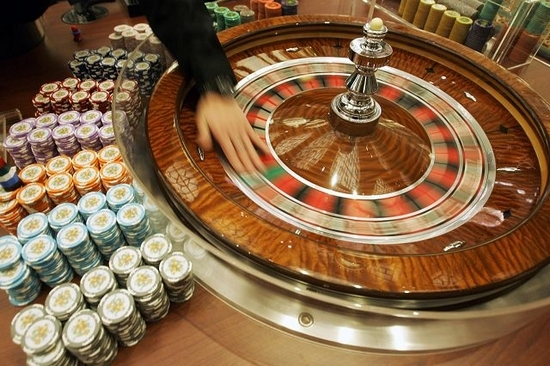 Cruise ship gambling

Bermuda-bound cruise ships US and European ports of departure include: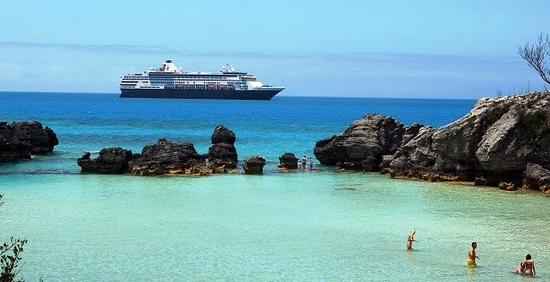 Cruise ship off Bermuda
Baltimore, Maryland, Cruise Port and Cruise Terminal. Baltimore, MD 21230.

Bayonne, New Jersey, Cape Liberty Cruise Port. 14 Port Terminal Boulevard, Bayonne NJ 07002-5038.

Boston, Massachusetts, Cruiseport Boston/ Black Falcon Cruise Terminal, 48 Boylston St, Boston, MA 02116.

Charleston, South Carolina, Cruise Port, Union Pier Terminal, 32 Washington St. Charleston, SC 29401.

New York, NY. Cruise Ports in Manhattan and Brooklyn. Manhattan Cruise Terminal. Piers 88, 90, 92, 711 12th Avenue at West 55th Street New York, NY 10019. Brooklyn Cruise Terminal, Pier 12, Building 112, Bowne Street & Imlay Street, Brooklyn, NY 11231.

Norfolk, Virginia, Cruise Port, Nauticus National Maritime Center, One Waterside Drive Norfolk, Virginia 23510.

UK and Europe. Cruises to Bermuda generally call at other islands first, then Bermuda, and are usually in Bermuda's low season or cooler months.
Contract and other cruise ships
Contract cruise ships. Those those subsidized by the Bermuda Government to come to Bermuda weekly in the season. They include Norwegian Cruise Line (Norwegian), Royal Caribbean and Celebrity Cruises. They offer regular Bermuda sailings. Those on contract ships get to spend several days in Bermuda and thus have the chance to see Bermuda in some depth. Other cruises last only part of a day, 12 hours or less.

Other cruise lines. Include Aida Cruises, Azamara Club Cruises, Crystal Cruises, Cunard, Holland America, Oceania Cruises, P&O, Princess Cruises, Regent Seven Seas Cruises, Royal Caribbean International, Seabourn Cruises, Silversea Cruises and Windstar Cruises.

Bermuda-bound cruise passengers need to know: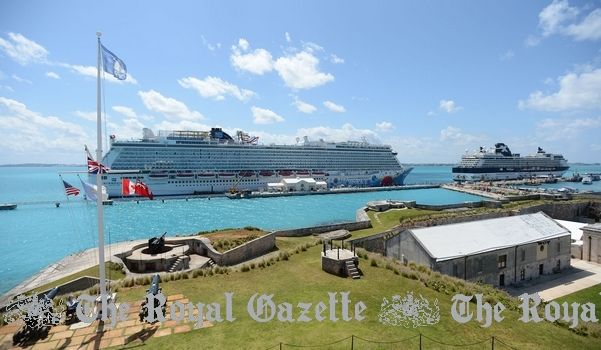 Norwegian Breakaway's arrival in Bermuda at Dockyard

Cruise ships at Dockyard
The Bermuda Government's The Revenue Amendment Act 2007 obliges ships and aircraft to provide the Collector of Customs with electronic lists of passengers and crew prior to arrival in Bermuda when required. This assists local security officers in pin-pointing high-risk individuals. The information includes sex, date of birth, passport number and country of issue.
Cruise ships Passenger Departure Tax. Included in most cruise ship tickets. For ships that dock in Hamilton or St. George's, from $20 per passenger to a maximum of $60 for each 24 hour period the ship is in Bermuda in high season April 1-October 31. For ships that dock in Dockyard April 1-October 31 $25 per passenger for each 24 hour period subject to a maximum of $75. No charge for ships visiting at other times. Applicable to passengers only, not payable by or on behalf of officers and crew of the ship. Administered by the Bermuda Tourism Authority under the Bermuda Tourism Authority Act 2013.
Cruise ship Passenger Cabin Tax. Included in most cruise ship tickets. From $14 per passenger May 1-August 31.
Cruise ship operators gratuity. Varies from ship to ship. Once, this was voluntary, passengers could give what they thought was fair, based on service. Now an increasing number of passengers are being automatically billed 15-18% on top of their ticket prices before they leave the ship. Not paid to the Bermuda Government.
Illegal imports. Arriving Cruise passengers are warned not to use narcotics on the cruise. It applies to those who arrive by air or cruise ship or yacht. The full list of the hundreds of banned narcotics are in the Bermuda Government's Misuse of Drugs Act 1972 and Misuse of Drugs (Controlled Drugs) Order 2001 enacted on August 1, 2001. It is not an excuse if you fail to make yourself familiar with the contents of the full list. Penalties are very severe for those who ignore this warning. Locals, tourists and visitors are not given any breaks. You cannot bring in any drug or narcotic, even for medical purposes. Cruise passengers who ignore these warnings are caught, imprisoned or fined hugely, can miss their ship when it leaves and are placed on an international Interpol register.
Large Ship Infrastructure Tax. Charged to the owner, operator or agent of visiting ship over a certain size. $22 per passenger, April 1-October 31, not at other times

Bermuda's City of Hamilton is the most central by far of Bermuda's three cruise ship ports but the city's harbour and docks can only accommodate up to medium-size cruise ships, no mega-ships.

Cruise ship Veendam docked in City of Hamilton. Royal Gazette photos above and below
The city is in the center part of Bermuda, 15 miles from the Town of St. George) and has 2 cruise ship berths, the # 1 Passenger Terminal; and # 5 & 6 Passenger Terminal. Both can take ships of up to 750 feet in length - small and medium-size cruise ships. Bermuda's highest-rated port by a huge margin, also the most central, easiest to get to and from, with biggest choice of shopping and facilities. Two Rock Passage has been the entrance to Hamilton Harbour since 1896. A huge advantage here is that passengers can walk off ships docked here and be right in the city. A port city for hundreds of years and Bermuda's single main attraction and main shopping area by a very wide margin. From here there are frequent by-day buses and ferry service going east to the Town of St. George (about 1 hour) and west to the Royal Naval Dockyard (about 1 hour).
From here there are many options. By land. See Bermuda Beaches. By bus or taxi or moped/scooter. John Smith's Bay in Smith's Parish is a lovely public beach about 30 minutes by the # 1 bus every half hour during the day. Other public beaches are ( the public section of) Elbow Beach in Paget Parish, on the # 7 bus route; Warwick Long Bay (another personal favorite) in Warwick Parish, on the # 7 bus route; Horseshoe Bay in Southampton Parish, on the # 7 bus route; Church Bay, also in Southampton Parish, also # 7 bus route. Or, if you prefer a more leisurely pastime, head into Devonshire or Paget, on either side of the city, and walk along a relevant part of the Railway Trail. By sea. Go fishing, on a licensed commercial fishing boat operating a whole day or half-day service. Some fishing boats, by prior arrangement with you and your cruise line, will meet you either where your cruise ship docks or elsewhere convenient to you. Go by ferry to Dockyard and/or Town of St. George, a gorgeous way - and the least expensive of all trips by boat - to see the western and eastern parishes. Marine sightseeing tours. There are a number of options, all leaving from Albouy's Point near the Ferry Terminal. Rent a Boston whaler. Ask for a map and directions. A special recommendation, if you or a member of your family or group or a friend can handle such a boat is go to Paradise Lake - not served by ferry - passing a number of islands, for gorgeous swimming, a picnic and sightseeing of a type most cruise ship visitors won't experience.

Bermuda Cruise ship port - (2) King's Wharf/Heritage Wharf/Dockyard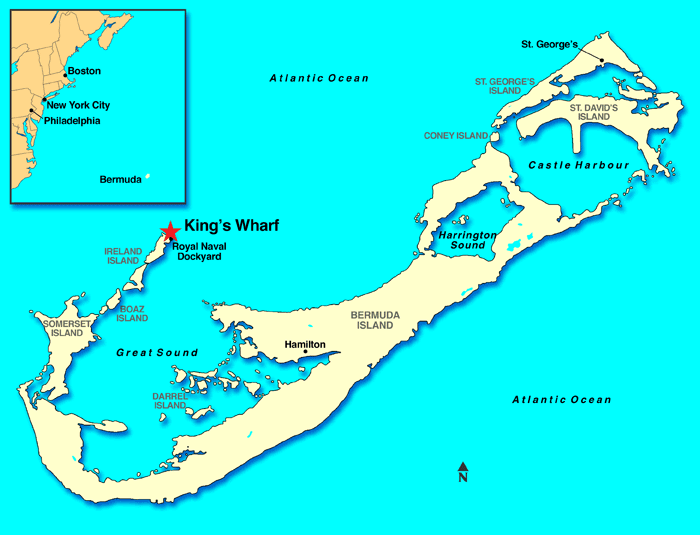 King's Wharf (and Heritage Wharf adjacent) are the most westerly of Bermuda's three cruise ship ports, the only ones in Bermuda that can accommodate large cruise ships. From here, there are frequent public transport ferries and buses to the major shopping areas of the City of Hamilton and historic St. George's.

Cruise ship at King's Wharf, Dockyard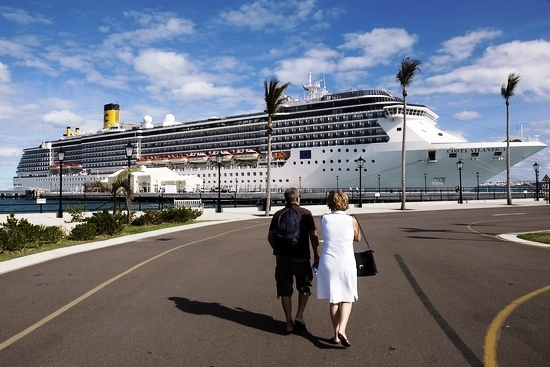 Cruise ship at Dockyard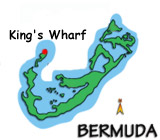 The only port in Bermuda where large vessels can berth. At the former Royal Naval Dockyard, at former islands now joined to the mainland in Somerset, Sandy's Parish. This is the westernmost part of Bermuda. There are frequent but often full buses going west to and east from here and ferries to and from the City of Hamilton, Bermuda's capital. Public-transport ferries are more enjoyable and quicker than the public transport buses. Shopping is mostly at the Clocktower Mall - within walking distance of cruise ships docked here. From this port, the nearest village is sleepy Somerset, going east. Buses go there but ferries do not. Building and subsequent modifications to Dockyard's two cruise ship wharfs, Heritage Wharf and King's Wharf, needed to enable them to accommodate new, larger cruise ships, cost millions of dollars. Heritage Wharf was first opened in 2010 at a cost of $60 million, after originally being budgeted at $35 million. Government also had to repair for a multi-million $ sum, a broken thruster wall. The hole was caused by the thruster engines of the cruise ship that had moored there, and it has been eroded to such an extent that major repairs were necessary. Dockyard is both a Historic Preservation Area under the Planning Act and a Marine Heritage Site under the Historic Wrecks Act, because of the numerous artifacts that have been found in the basin. There are historic wrecks still lying in the mud. It is believed they include a couple of historic convict hulks. British convicts were sent to build the Dockyard for Britain's Royal Navy in the early to mid 1800s. By land from here. See Bermuda Beaches. A really nice beach is Somerset Long Bay, a fair walk from where the nearest public bus stop at Mangrove Bay. Or, if you prefer a more leisurely pastime, walk along a relevant part of the Railway Trail. Or indulge in one of the many Watersports options within reach. By sea from here. Go by ferry to City of Hamilton and/or Town of St. George, a gorgeous way - and the least expensive of all trips by boat - to see the central and eastern parishes. Go fishing, on a licensed commercial fishing boat operating a whole day or half-day service. Some fishing boats, will meet you where your cruise ship docks. Rent a Boston whaler. Ask for a map and directions. Then go, keeping to the 5 knot limit in the harbour. Take a day or half day exploration of Ely's Harbour and then a relaxing swim after the harbour to the small beaches of the Daniel's Head Village hotel. To stay legal, go on any beach up to but not beyond the high water mark. Go at high tide to give you the best chance of evading reefs and shoals.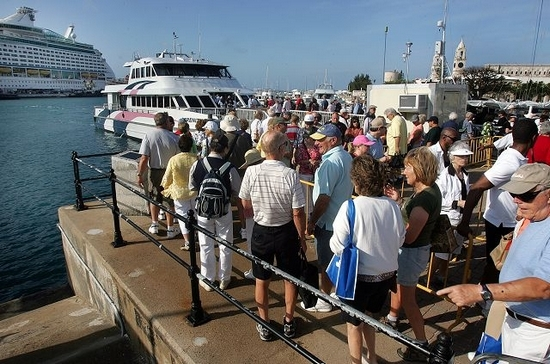 Cruise passengers ashore at Dockyard lining up to board a ferry to Hamilton. Royal Gazette photo.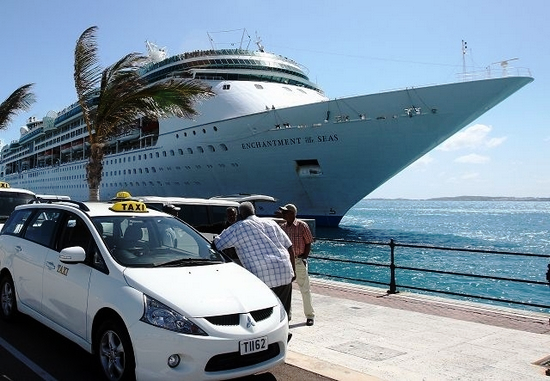 Taxi service from Dockyard berths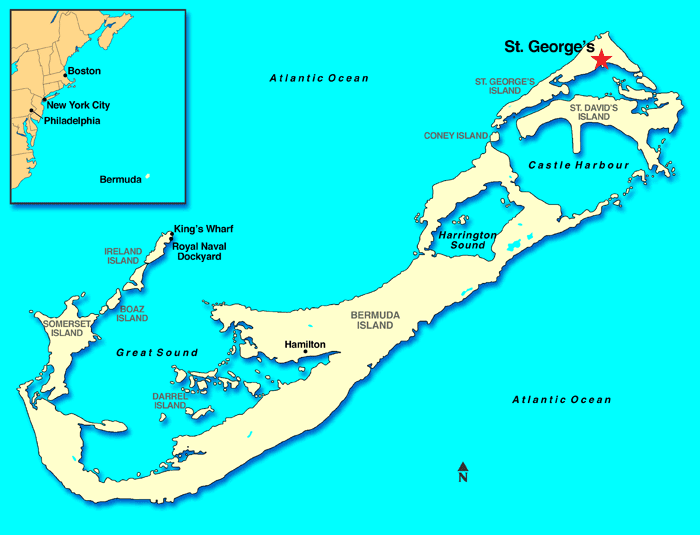 St. George's, right, is the most eastern of Bermuda's three cruise ship ports. It can only take smaller cruise ships at its two docks and that depends on whether wind conditions will allow them to enter the narrow Town Cut channel shown below.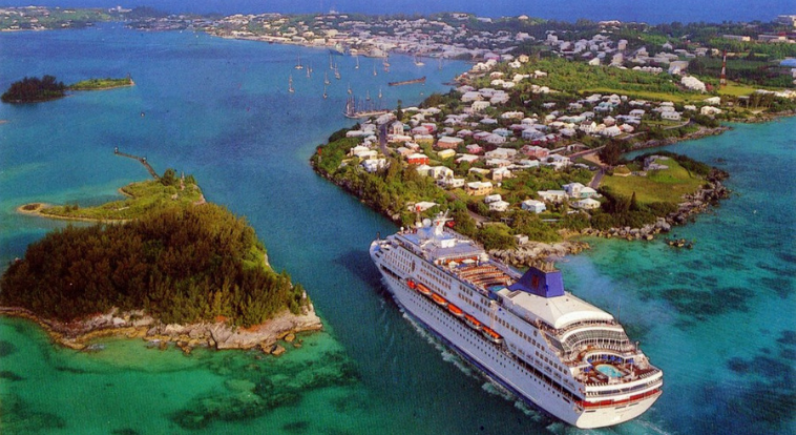 Cruise ship entering St. George's, Bermuda. BTA photo. Smallest of Bermuda's three cruise ship ports..
2016. October 14. A new ferry stop for St George, including berths for an extra cruise passenger service, is in the works for the Olde Towne. Plans to move the stop to Hunter's Wharf, which can be viewed at the Department of Planning office, include adding a 2,200 square foot open shelter, landscaping and six parallel parking spots for pick-up and drop-off on Penno's Drive, opposite the historic Hunter's Building. The work will extend to the edge of the Penno's Wharf site, including the rubble seawall lining the harbourside property. Along with a docking space by the southern edge of the wharf, plans show a gangplank jutting from the eastern corner for the bow loading of passengers. Quinell Francis, the Mayor of St George, said the stop would help to accommodate two new Norwegian Cruise Line ferries bringing passengers to and from the town. According to a letter by Michael Kirkos of engineering firm Brunel Ltd, the project requires the creation of two ferry berths — one for bow loading and a second for side loading. The existing marine structure from Works and Engineering will likely be relocated, with the exception of the piled foundations, for the ferry berths. Proposed works include a new reinforced seawall, concrete or paving stone walkways, and sitting areas. In the letter, Mr Kirkos requested an "expedited processing" of the application, explaining that work must be completed by March in time for the America's Cup. Twelve extra cruise ships are to call on St George each year from 2017 to 2022 as part of a deal between the Bermuda Government and Norwegian Cruise Lines. The agreement also includes bringing two catamaran ferries to the island for the run from Dockyard to the East End, along with a yearly investment of $150,000 by NCL to sponsor tourism enhancement in co-operation with the Bermuda Tourism Authority.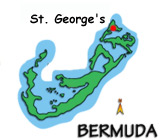 At the East End, or most eastern part of Bermuda (15 miles from the City of Hamilton). (Appears to be north on the map). If small enough, the cruise ship will enter via the narrow Town Cut channel, 220 feet wide - when wind conditions permit, in St. George's Harbor between Gates Fort and Higgs Island. It has been deepened and widened since 1846. But often, if the wind will present a hazard to the ship or passengers or crew, the captain of the cruise ship may elect to avoid St. George's and go to Hamilton instead. The town has berths at Penno's Wharf and Ordnance Island. Both can take ships of up to 750 feet in length. The town itself is within easy walking distance of the cruise ship berth for most passengers. There are frequent buses and less frequent ferries going to and from Hamilton. There are also periodic seasonal daily ferry services all the way west to the Royal Naval Dockyard. The tender Bermudian, a large ferry capable of carrying up to 700 passengers, services ships which due to to their size are unable to dock in the town. Instead, such ships anchor in Murray's Anchorage, an area off of Fort St. Catherine, weather permitting. The tender may take approximately 1 hour each way to ferry the passengers to Penno's Wharf and the tender may have to make more than one trip each way if there are too many passengers for one trip each way. Government is considering plans for a new cruise ship terminal in St George's. Pennos Wharf would be the likely location for a new terminal. Commercial activity currently taking place at the wharf could be shifted to Marginal Wharf once that had been upgraded. But the Town Cut channel will first have to be widened to allow larger cruise ships access to the town. From here, Go fishing, on a licensed commercial fishing boat operating a whole day or half-day service. Some fishing boats, by prior arrangement with you and your cruise line, will meet you where your cruise ship docks. Or go by sea, rent a boat - a Boston whaler or personal watercraft - for a day or half day. By land from here. By bus or minibus or taxi or moped/scooter. See Getting Around for Visitors. Arrange with the cruise ship to supply you with a packed lunch and towels. Wear your swimsuit under your clothes. Bring a camera and sun tan lotion. Go by mini-bus to not-far-away places such as public beach Tobacco Bay; private beach Achilles Bay half a mile away; public Fort St. Catherine Beach. See Beaches. By sea from here: Ferries don't go to Paget Island. Residents and visitors can, but always check in advance from where you rent a Boston whaler. Be sure to ask for a map and directions. Then go, keeping to the 5 knot limit in the harbor until you get to the Paget Island beach. Take photographs with no problem but be sure not to litter the beach in any way. Find a little-known-to-tourists island beach, such as those on Paget Island, 10 minutes away by water from the Old Town. It is owned by the Bermuda Government but is accessible by water (only) up to the high tide mark. (Only when you trespass beyond the high water mark will you see the sign telling you not to access without permission). The author recommends it as a lovely romantic getaway, but pick a day when the water is calm. Ferries don't go Castle Harbour. Residents and visitors can, but always check in advance from where you rent a Boston whaler. If Be sure to ask for a map and directions. Then go, keeping to the 5 knot limit in the harbor. Go west from the Town of St. George's via Ferry Reach and under Swing Bridge and then east again under Longbird Bridge into Castle Harbour, for sightseeing or beaching. For best results, go when the tide is low. In Castle Harbour, stop first on the sea side of the small beach exposed at low tide at Cable End, then moor off Castle Island. For more extensive touring, ferries go from here, depending on their timetable, to the City of Hamilton and Dockyard.

Bermuda-incorporated cruise ship lines
It will surprise you to know how many of the world's leading cruise lines are both flagged and registered in Bermuda and why.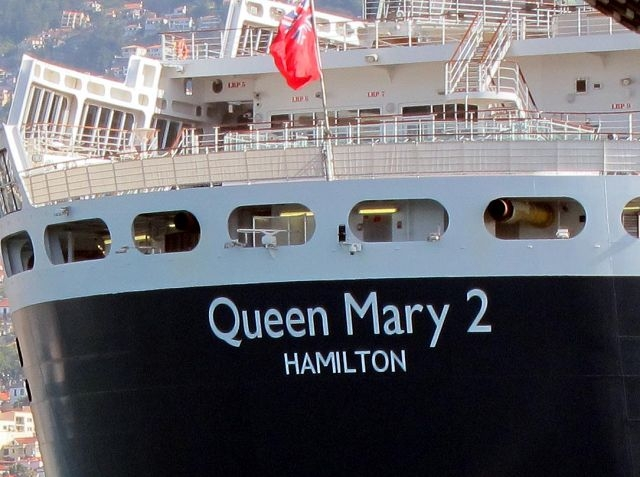 Queen Mary 2 in her new Bermuda-registered livery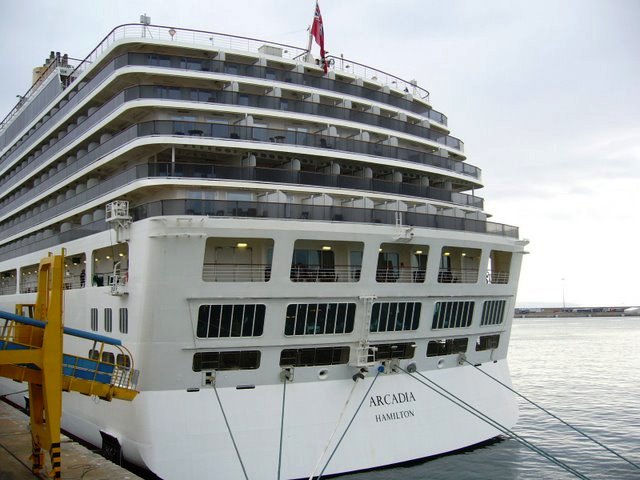 P&O cruise ship Arcadia (see below), also registered in Hamilton, Bermuda.
Instead of Southampton (England) on the ships' hulls Cunard vessels now show "Hamilton," Bermuda. Earlier, there had been speculation this would occur in either Malta (Valetta), from where many of the Cunard ships' crews come, also a major ships' registry like Bermuda, Bahamas, etc. or Bermuda. Being registered, or flagged, in the U.K. means that Cunard lost out on the lucrative business of weddings at sea. UK law, which governed until the change in registry of the three Cunard ships, states that couples can only wed when the ship is in port and the service is conducted by a minister or other notary -– a less romantic proposition than exchanging vows in mid-ocean. But on ships registered in Bermuda or Malta, which include the fleets of Cunard's sister lines, Princess Cruises and P&O Cruises - all already Bermuda-flagged - couples can marry at a service officiated by the captain, in port or at sea. Weddings at sea are now big business. Cunard options included simply keeping the ships registered in Southampton; creating one 'wedding ship' with Bermudian (never "Bermudan") or Maltese registry; or changing the registration of all three of the line's ships. Cunard elected for the latter. This development has brought Bermuda hundreds of thousands extra in annual fees, to a registry that already takes in about $3 million a year. However, in the UK there was huge disapproval in Southampton following the announcement in the UK. Cunard had been UK-registered for the last 171 years, but has said it will continue to use Southampton as its home port.
There was another reason for Cunard flagging its ships outside the UK, involving a change in European law. The enactment of Britain's Equality Act 2010 requires that staff from countries in the European Union must be paid wages equal to those of British citizens when working on British-registered ships. While many other lines use more crew from countries outside of Europe to save on operating costs, Cunard had been using mostly Europeans or Maltese in the dining rooms and bars. Now, Europeans and Maltese are likely to be replaced by others.
Cunard. Cruise ships were Bermuda-registered in October, November and December 2011.(Queen Elizabeth October 24, Queen Victoria October 27 and Queen Mary 2 on December 1). Cunard has been UK-registered for the last 171 years, but continues to use Southampton as its home port. The following Cunard corporate entities were earlier Bermuda-registered and remain so: Cunard-American International Cruises, since 3/20/2992; Cunard Line, since 8/20/1999; and Cunard Line Limited (Amalgamated) since 4/30/1998.

P&O Cruises. Cruise ships became Bermuda-registered in years shown. Arcadia (2005); Artemis (1984); Aurora (2000); Azura (2010); Oceana (2002); Oriana (1995); Ventura (2008). The following P&O corporate entities are also Bermuda-registered; P&O (Bermuda) Ltd, since 12/13/1996; P&O Bulk Carriers, since 10/18/1965; P&O Containers (International) Ltd, since 8/16/1996; P&O European Ferries (Bermuda) Ltd, since 12/13/1996; P&O Oil Trading Ltd, since 1/17/1962; P&O Services (Operations) Ltd, since 5/29/1968; and P&O Ship Management (Bermuda) Ltd, since 11/4/1996.

Princess Cruises. Cruise ships became Bermuda-registered in years shown. Caribbean Princess (2004); Coral Princess (2002); Crown Princess (2006); Dawn Princess (1997); Diamond Princess (2004); Emerald Princess (2007); Golden Princess (2001); Grand Princess (1998); Island Princess (2003); Ocean Princess (1999); Pacific Princess (1999); Royal Princess (2001); Ruby Princess (2008); Sapphire Princess (2004); Sea Princess (1998); Star Princess (2002); Sun Princess (1995). Corporate entities include Princess Cruise Lines Ltd, since 5/5/1999.

Viking Ocean Cruises. A number of Viking corporate entities are Bermuda-registered including Viking Bermuda Ltd, since 3/27/2013; Viking Cruises Ltd, since 8/21/2012; Viking Holdings Ltd, since 8/21/12; Viking Ocean Cruises Finance Ltd, since 9/26/2012; Viking Ocean Cruises Ltd, since 12/20/2011; Viking River Cruises Ltd, since 9/23/2005; Viking River Cruises (Bermuda) Ltd, since 11/30/2010 and more.

If you visit them, be sure to take a picnic lunch, drinks, camera, swimsuit and towels. For tourists arriving by cruise ship from March through May and September through February, please note only you and possibly a few hardy local souls will want to use the beaches. Most Bermudians won't use them then, they consider the water too cold until late May and after Labour Day. There is an optional ($16 per person round trip) minibus service specifically for cruise ship passengers to go to/from Horseshoe Bay.

Churches and other places of worship
If your cruise ship will be in Bermuda on a Saturday or Sunday or other religiously-significant day and you want to attend Mass or a service ashore, expect the on-board cruise director staff to have full information on what churches and other places of worship are nearby, with times of services, and what public transportation or taxi services are available.
At King's Wharf/Heritage Wharf/Dockyard, the nearest churches are St. James (Anglican/Episcopalian), and St. Joseph's (Roman Catholic), both in Somerset, about 2 miles away from cruise ship berths for large ships.
In the city of Hamilton, the nearest churches are the Bermuda Cathedral (Anglican/Episcopalian) on Church Street and St. Theresa's Cathedral (Roman Catholic) on Cedar Avenue, both within walking distance of the cruise ships' berths for small to medium size cruise ships.
In the Town of St. George, the nearest churches are St. Peter's Church (Anglican/Episcopalian) and Stella Maris (Roman Catholic), both within walking distance of the town's cruise ship berths for small to medium size cruise ships.

Cruise ship Health and travel insurance to visit Bermuda
Bermuda hospital and emergency treatment costs are higher than in the USA. Always prudently take out travel insurance, spare money and have adequate hospital and medical health insurance to cope with possible unexpected problems in a foreign country, such as Bermuda. In emergencies, contact the King Edward VII Memorial Hospital - note its rate of charges for visitors - in Paget Parish. If you are hospitalized in Bermuda, you or your insurance will always be responsible. Unlike Canada, United Kingdom and Ireland, Bermuda has no National Health Service and no free clinics or free medical or surgical or prescription for visitors. Bermuda does not give free hospital and surgical benefits to visitors from USA who claim they have no health insurance. If you ignore warnings not to hire a scooter or moped unless you are thoroughly used to driving them on the left hand side of the road and don't have healthcare/major medical insurance, you will have to pay and dearly. Affordable local accommodation in Bermuda for spouses or friends or families who come to visit you in hospital, is difficult or impossible to find, especially in the cruise ship or tourist high season from April to November.

Cruise ship marriages
Cruise ship passengers who either arrive in Bermuda or who are on Bermuda-registered cruise ships anywhere else in the world should note Marriages in Bermuda.
NCL Cruises
P&O Weddings
Princess Cruises
Royal Caribbean Cruises
Marriages on board a cruise ship are conducted by either the captain or staff captain. Bermuda-registered ships such as Cunard, P&O and Princess Cruises mean that wedding certificates will be issued by the appropriate Bermuda Government agency and marriages will be under Bermuda law.

Cruise ship visitors and shopping
Shopping in Bermuda is expensive.
Bermuda stores are not duty-free. 99% of all Bermuda's goods are imported and with Bermuda's small size of only 21 square miles of total land area and resident population of about 64,500 there are no economies of scale. Instead of goods being allowed in duty free to reduce the cost of living, local importers of goods have to pay a very high wholesale Bermuda Government customs duty on practically everything imported, meaning most items are at least 50% more expensive than at Caribbean duty-free shops and in USA. Bermuda's Cost of Living is the highest in the world for residents, business visitors, tourists and retirees by a very large margin. There was a time when tourists to Bermuda delighted in the bargains they found on Front Street but those days are long gone.
Stores are not routinely open on Sundays. There is no requirement for them to do so as Sunday is regarded as a public holiday.
No American, British UK or Canadian or other-country department or discount stores are allowed in Bermuda. There are no Aldi, B&Q, Costco, Curry's, Dollarama, Dollar Giant, JC Penney, John Lewis, KMart, Kohl's, Lidl, Marshall's, Macy's, Meijer,

Neiman Marcus,

Nordstom, Sak's, Sam's Club, Sainsbury, Selfridge's, Target, Tesco, T. J. Maxx, Zeller's, Walmart, W. H. Smith, or any of the expensive, exclusive international stores now seen in many world financial and/or fashion centers. Once, especially before the 1990s, two superb Bermuda stores, now both extinct, H. A. & E. Smith and Trimingham Bros, side-by-side, both locally-owned, were the principal ingredients of a once-local but of world-standard international shopping mecca. No longer.
No American, British, Canadian and other chainstore diners or restaurants are allowed in Bermuda. Bermuda stores must by local law be independent of any foreign-owned (including British-UK) majority holding and be at least 60% overall beneficially owned by Bermudians (not a local requirement in most other cruise ship and offshore or onshore business jurisdictions).

Disabled Facilities on Cruise Ships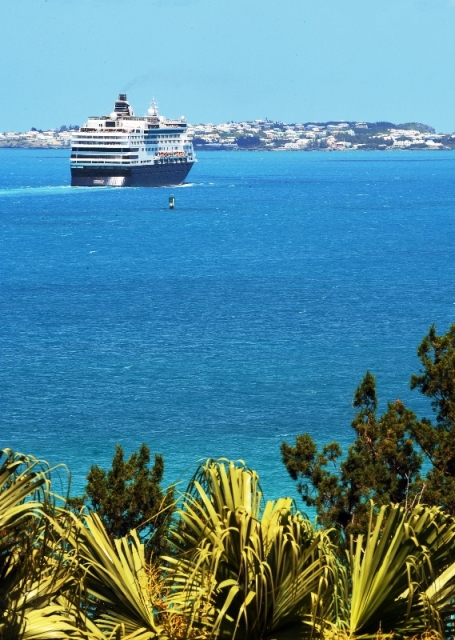 See Bermuda Disability concerns. Disabled cruise ship passengers visiting American ports are pleasantly surprised by ADA laws applicable there. But cruise lines sailing to Bermuda from American ports should know that Bermuda does NOT have facilities similar to those relevant to the Americans With Disabilities Act (ADA).
Physically challenged or blind or hearing impaired or mobility-restricted passengers should check in advance or ask their caregivers do so, what facilities are available for them on the cruise ships of the cruise lines they favor or, when not available, on competing cruise ships. These can vary considerably. Matters of particular importance may include:
Disabled cabins on board with adequate door width for wheelchair access. Is the furniture lowered? Do their bathrooms have grab rails? Are the toilet seats raised? Are there shower stools?
Wheelchair or scooter rental on board (generally, no).
Wheelchair height and weight restrictions (generally, 23 inches wide, maximum)
Or can you take your own wheelchair or scooter and if so can the latter also be used in Bermuda?
Guide dogs allowed on board? Be aware they need special permission before they can disembark. See Guide Dogs for the Blind and Disabled, below.
Hoists available on board? If so, where? If not, you may have to take one, if allowed.
Mobility aids available
Braille available for the blind
Facilities for deaf or hard-of-hearing
Those sailing from US ports to Bermuda are required by US laws have between 15 and 25 disabled cabins and staterooms, more roomy than for the non-disabled. cruise lines and their travel agents should check to see that people really are disabled - wheelchair confined, blind, deaf or ambulatory with a stick - and are registered as such with their state or provincial government agencies, they allow persons who are not disabled to occupy staterooms intended solely for the disabled and their caregivers or carers. Disabled persons, if denied a cabin specifically for the disabled, under American laws But not in other countries) have specific legal remedies if such cabins are instead given by cruise ship operators to persons not officially registered as disabled and don't have appropriate disability and ID documentation to prove it.
Cruise lines don't tell you that if you are disabled in a wheelchair or using crutches or walking sticks or walkers (Zimmer frames) and/or are otherwise in any way mobility-impaired, you will encounter some substantial difficulties both on and off your cruise ship (on shore excursions). Here are some of the problems:
Cabin bathrooms especially on ocean-going cruise ships, also on riverboats. Many are so tiny and narrow that those who have a mobility or balance problem and don't ask for a disabled-friendly cabin will suffer, especially in the showers seemingly designed for half-grown children. They are awful.

Using a cruise-ship's elevator (lift). Although many cruise ships have them you will probably have to wait for many minutes to get one. Most often, they are packed.

Getting seating for the ship's shows. You'll miss out because by the time you get via wheelchair or by walking slowly due to your reduced mobility to the night club or venue, you may find that all seats are taken.

Shore excursions. You'll possibly go to some exotic ports, but in the Caribbean especially you'll have a problem. Why? Because cruise lines calling at Caribbean and other ports don't require those ports, for the business the cruise lines give them, to have disabled-friendly transportation. You won't be able to go on many shore excursions even though you may have pre-paid for them. Only in American and American-Caribbean (for example, Puerto Rico or St. Croix or St. Thomas or the other US Virgin Islands), or American-Pacific ports will you find these facilities, as required by the Americans with Disabilities Act (ADA). In only a very few ports can ferries, when available, take wheelchairs and when they can most - except in US ports - don't have priority reserved seating for the elderly and/or disabled.
Blind cruise and other visitors who have guide dogs should get their sighted caregivers or family members to apply as long as possible in advance, as all visiting animals including guide dogs that go ashore must be pre-approved. In all cases, including for cruise ship visitors, a formal application must be made in advance to the Ministry of Environmental Protection. The guide dogs must be licensed and micro chipped in their normal place of residence and be free from any problems that could potentially affect Bermuda. See ApplicationForPermitToImportSmallAnimals.pdf. The same applies to blind newcomers who are not working, with their own guide dogs and dependents of those on work Permits. For all personal importers of pets, there is a strict import and export procedure for their documentation and certification. You can personally import and export animals, usually from the USA but also from Canada and the UK, with sufficient notice (which can be as high as 6 months). Bermuda does NOT have a quarantine period.

This website deals in detail with all the forms of public transport available to visitors and what they can and cannot carry.

Note how each course is shown with nearest Bermuda port for cruise ship passengers, how best to get there, how close public transportation will go of you do not have your own clubs; and whether public or private. Always check yourself with the course what the rates are as they can vary significantly by time of day and time of year.

Internet and WIFI not free in Bermuda for cruise ship visitors
No free WIFI. Unlike in an increasing number of ports where Internet access and WIFI are free and unrestricted, in Bermuda there is no free WIFI access to cruise ship passengers either from the ship or when going ashore. In contrast, much of the Caribbean, Canary Islands, Europe, have now added free WIFI. Being connected to the Internet at any time and anywhere, from any laptop, smart phone, tablet, etc. is a way to promote and spread the beauty and uniqueness of where they are. See Internet in Bermuda.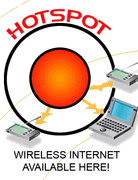 See the following for a 2020 guide on cost of Internet on cruise ships: http://cruiseline.com/bonvoyage/cruising-101/cheat-sheet/what-is-the-cost-of-internet-access-on-cruise-ships-

Internet Access on most cruise ships remains hugely expensive, slow, poor, restrictive and unreliable. Some cruise ship loyalty programs now include free internet for qualifying repeat passengers but this benefit is of limited value. On cruise ships, there is usually no notification of the general unreliability. Costs are not reasonable when service is not good. Yet some cruise lines offer as one of their optional services classes and courses in internet and website methodology. Because of the poor quality and huge expense of Internet access on board many cruise ships, many passengers and crew bring their own laptops or notebooks, prepare their notes and comments in advance, wait until they reach a port or a port's shopping centre with free WIFI access, such as is now common in Europe including Amsterdam, Paris, Lisbon, Cadiz, some Canary Islands, Barbados, Curacao and elsewhere in the Caribbean . This author has personally seen how most crew with laptops and frustrated passengers wait for the ship to dock then immediately make a beeline for the nearest Free WIFI shopping plaza. Passengers are not told about this by pursers or other ship staff, they have to find this out for themselves.

All cruise ships, big and small, irrespective of where they sail, now use pinpoint satellite navigation. Inmarsat has main offices in Dubai, Singapore, Miami, Washington DC and one in Bermuda. The captain, his senior staff, their hotel managers and more, depend on reliable internet satellite navigation to plan their duties, issue daily ship's reports in several additions depending on where the bulk of their passengers come from - USA, UK, Canada, Australia, etc. Their passengers, who pay dearly for their cruises, do not have the same service. Providing on-board internet access for free or for a moderate cost and at a decent, not exorbitant, price for passengers should a top priority of all cruise lines. Note also that all cruise lines cruising between New York and other American ports and all from the UK to Bermuda may block Skype.

In all the United Kingdom and Europe, there is now free unrestricted free WIFI on inter-city buses and trains. This not a luxury optional extra but a good-business essential. Many cruise passengers assume wrongly that when they go on an expensive holiday or vacation they will have at least the same, if not better, abilities and Internet facilities on their ships as they do ashore in their homes and places of employment, and at the same price.

In accessibility to cruise visitors, note the challenges faced.

Road Traffic density
See Getting around for Visitors. Also Transport Options for Residents.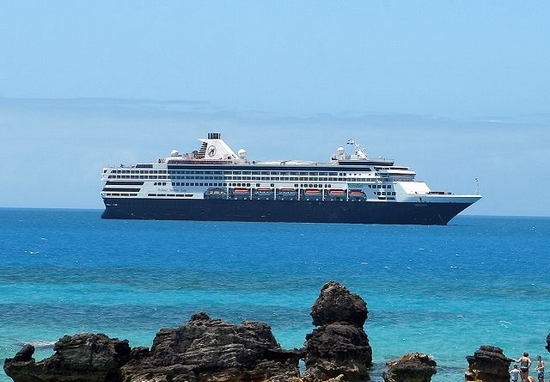 Veendam in Bermuda



Authored, researched, compiled and website-managed by Keith A. Forbes.
Multi-national © 2020. All Rights Reserved