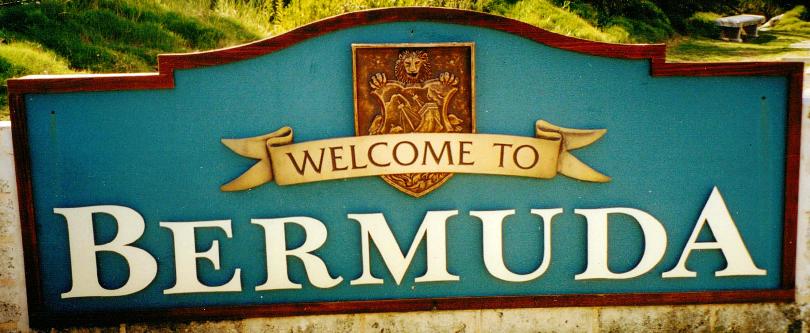 Click on graphic above to navigate the 165+ web files on this website, a regularly updated Gazetteer, an in-depth description of our island's internally self-governing British Overseas Territory 900 miles north of the Caribbean, 600 miles east of North Carolina, USA. With accommodation options, airlines, airport, actors, actresses, aviation, banks, beaches, Bermuda Dollar, Bermuda Government, Bermuda-incorporated businesses and companies including insurers and reinsurers, Bermudians, books and publications, bridges and causeway, charities, churches, citizenship by Status, City of Hamilton, commerce, communities, credit cards, cruise ships, cuisine, currency, disability accessibility, Devonshire Parish, districts, Dockyard, economy, education, employers, employment, environment, executorships, fauna, ferries, flora, former military bases, forts, gardens, geography, getting around, golf, guest houses, highways, history, historic properties, Hamilton, House of Assembly, housing, hotels, immigration, import duties, internet access, islands, laws, legal system and legislators, main roads, marriages, media, members of parliament, money, motor vehicles, municipalities, music and musicians, newcomers, newspaper, media, organizations, parks, parishes, Paget, Pembroke, performing artists, residents, pensions, political parties, postage stamps, public holidays, public transportation, railway trail, real estate, registries of aircraft and ships, religions, Royal Naval Dockyard, Sandys, senior citizens, Smith's, Somerset Village, Southampton, St. David's Island, St George's, Spanish Point, Spittal Pond, sports, taxes, telecommunications, time zone, traditions, tourism, Town of St. George, Tucker's Town, utilities, water sports, Warwick, weather, wildlife, work permits.

Bermuda's getting around options for visitors
They can rent electric 2 seater cars, scooters and mopeds and use public transportation bus and ferry or taxi

By Keith Archibald Forbes (see About Us)

Airport minivans by prior arrangement
There are no courtesy or fee-payable luggage-carrying airport buses to or from any Bermuda hotels or other tourist or visitor accommodation properties.
However, hotels and certain other properties can contract with minivan operators to collect their guests from and take them back, later, to the airport. The vehicles are locally insured and licensed 8-12 passenger vans. They carry passengers (except the disabled in wheelchairs) to where the buses don't go, by prior arrangement before arriving and on departure, to specific places. Public pick-up services are not allowed.

Automobile rental (2-seater electric cars only)
In all other tourist-friendly parts of the world, with the solitary exception of Bermuda, tourists and other visitors who plan to rent an automobile for all or part of their stay routinely head for airport-located car rental desks when they arrive and then head for their hotels or other guest accommodation. But here, there are not yet any such airport facilities. Until 2017 when some local laws were relaxed at the insistence of the America's Cup event then held in Bermuda, visitors were not allowed by the Bermuda Government to rent any kind of automobile and could only rent locally a low-powered moped or scooter or use local taxis or public transport.
Since 2017, tourists and visitors, irrespective of from where they come from or live beyond Bermuda, have been able, not from the airport but after they have arrived at where they are staying, to rent a small, 2-seater electric vehicle, providing they have and can produce a valid driving license from where they live. A number of such small imported electric vehicles are now available from different suppliers for rent to visitors. Figure on a per-day cost including locally-provided insurance of at least $150.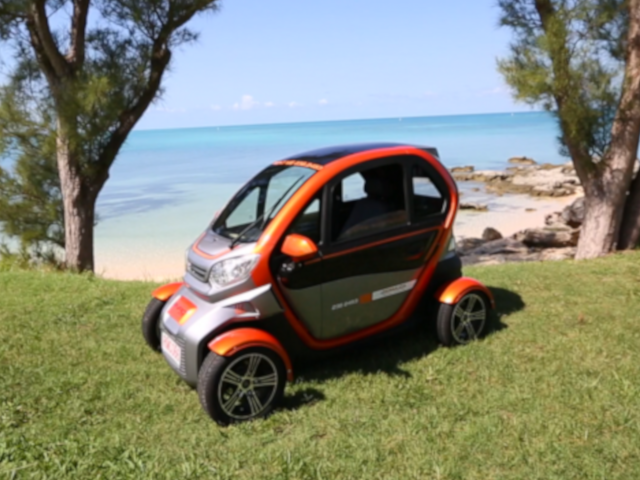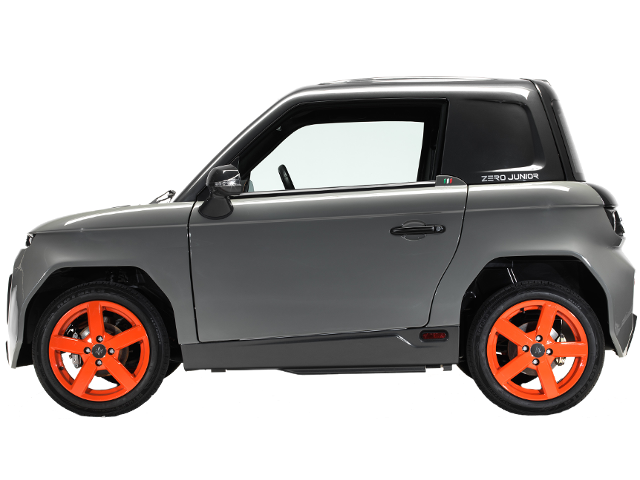 These and others can be rented in Bermuda subject to certain conditions

Auxiliary cycles (mopeds or scooters)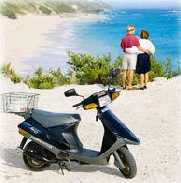 Readily available but be warned these machines - rented (not personally locally owned) mopeds or scooters - on the hugely busy roads are not recommended for anyone who has not driven them before habitually on the left hand side of the road. Auxiliary cycles for tourists - so called because they are limited to 50 cc (cubic capacity) in size but are powerful enough to go up Bermuda's many hills. They are examined, passed and re-licensed annually by the Bermuda transport authority (Transport Control Board), and insured by a Bermudian insurance company. Mopeds and scooters can be so dangerous to those not accustomed to them that some cruise ships disclaim all responsibility and warn their passengers accordingly. Mopeds have larger wheels than scooters and are safer. The minimum age to ride one is 18 if you are a visitor, 16 if a local, and proof of identification and age may be required. Electric starting vehicles are advised, even though they may be more expensive than kick start models. They carry one or two persons. No licenses are required by visitors but all rentals are entirely at your own risk. Visitors who use rented mopeds or scooters and are not used to them incur the most common form if injuries to visitors while in Bermuda. All who come from the USA, Canada, Europe and other places will find it very confusing to drive in Bermuda on the left side - not the right - of the highway. With all the turn signs on the "wrong" side also.
But for those who decide to rent them anyway, note the following:
Make sure you first have adequate travel and accident/medical insurance covering yourself. If you don't buy it before you leave home your vacation or visit could be spoilt. Tourists and visitors won't have any Bermuda-issued health or travel or accident/medical insurance. It is not sold where you rent a bike. Bermuda hospitals won't pay for your hospital or doctors' visit in the same way that American hospitals don't. Don't invalidate your insurance by not wearing a helmet or not fastening it properly.
At where you rent a bike, the vehicle insurance supplied - on a compulsory, not voluntary basis - is to cover any third party person or property involved in an accident or injury, not you.
Safety helmets - specifically those approved for use in Bermuda - are required for each driver and passenger. Ask for the safest type.
Rental fees usually include your use of a lock and helmet for each passenger. Be sure to use the lock if provided, as moped and scooter thefts are rampant.
Wear sensible clothing, in other words pants, not shorts, a long-sleeved shirt, not a short-sleeved one. Why? Because if you have an accident and fall off your bike, your knees, limbs and hands will hit the road and you could be badly bruised or cut or worse.
You must rent one, you cannot bring your own on a visit.
Never allow an infant or child under 16 to ride in front or back.
If you damage someone's property, refuse to pay but let the rental company know immediately.
Know how and when to refuel. Make sure you are told about the very high gasoline price of well over US$ 9.00 per per gallon. Some visitors think gasoline is cheap in Bermuda because they don't realize how small gas tanks are on scooters and mopeds and when prices are mentioned, tourists think it is gallons. It is not, it is in liters - about 0.25% of a gallon.
It is against the law:
to wear an improperly fastened or not locally approved helmet, yet many do and are injured. Always return the helmets when returning the vehicle.
to operate a scooter or moped if you are over the legal limit and drunk. The Selective Driving Enforcement Program is a methodology to stop, book and indict drunk or drug impaired local and visiting drivers, people who overtake dangerously by weaving in and out of rush hour traffic, speeders, not yielding to traffic on the other side of the road, backing up without looking, those without or with improperly fastened helmets and those with faulty vehicle lights.
If you are not used to the British way of driving on the left side of the road mentioned earlier, remember to
Keep arms and legs covered because if you fall you will likely incur a possibly nasty road rash or worse that may require medical attention or a visit to the hospital.
Drive on the left and continue on the left when you turn.
Obey the speed limit of 35 KM per hour (22 mph). Or at least don't go any slower than other traffic going your way. Most visitors go too slowly for locals and are passed routinely, often dangerously. It makes things worse when you are with a spouse or friend or partner and try to go both too slow and two abreast. Those who do not obey the speed limit should know there are speed cameras in operation. If you go more than 50 KM an hour, you run the risk of being stopped by Police and given a ticket, payable by you or the owner of the vehicle.
Overtake on the right - never the left - and return to the left-hand lane after overtaking.
Unlike locals who do so illegally, never try, on a scooter or moped, to overtake slowed-down or backed-up rush-hour traffic
Turn left at roundabouts and always give way to traffic on the right. This means stopping or slowing down because such traffic always has preference in the right of way.
If you are involved in an accident, call the police.
If you see an accident of any vehicle, immediately contact police and if necessary ambulance by phone at 911. Do not move accident victims. Get names and addresses of those involved and witnesses. This is the law.
Do not use cell phones while driving.
Give way to Police cars, fire engines and ambulances sounding alarms.
Always use headlights in poor weather and at night.
Traffic lights are red (stop); amber (stop); green go, if safe to proceed. Red signals do not allow you to proceed left or right if the road is clear, wait for lights to turn green.
Never overtake where the road has two lines, only when the line nearest you is dotted and there is no traffic coming towards you, providing you return to your own lane before the line becomes solid again
Be very careful of crosswalks (pedestrian crossings to those from the UK), where pedestrians have the right of way. They are painted in a zebra pattern. Once pedestrians have stepped out on them, all vehicles must stop to let them pass. If you fail to stop and are seen by Police, you will be prosecuted.
Do not park, not even for a moment, at any bus stops on or off the road; or anywhere there is a yellow line in the middle of the road. So many tourists do. It infuriates bus drivers who cannot park in bus stops and persons lined up behind them on Bermuda's very narrow roads.
Unless you are disabled yourself and carry a sign proving you are so and personally have the proper permit, do NOT park at any Handicapped or Disabled Parking space, not even for a moment. Visitors from the USA especially will know how tough their own laws are back home about parking illegally in a disabled-only parking area and abusing the system locally will get you some extreme unpleasantness.
For your own protection, don't leave for a moment anything valuable like credit cards, hand bags, jewelry, money, passports, watches, wallets, etc. unattended while you are on or off the machine. Also ensure you do not ride with your hand bag or shopping not locked in your machine's basket while you are in transit. Know that even locked compartments on mopeds are not safe from local thieves so make sure you always take your wallet, credit cards and other valuables with you instead of leaving them unattended, even in a locked compartment.

Local roads often have very heavy traffic - most travel agents overseas will not tell you that Bermuda has more cars and motor vehicles per square mile than anywhere else in the world - and too many people who drive too fast and dangerously, plus they punctuate their journeys by car or scooter or moped with drivers hooting and waving at all their friends passing in opposite directions. Avoid Bermuda weekday rush hours and the "crazy hours" after midnight and other times when young Bermudians drinking or on drugs drive recklessly at high speeds in cars or on pack-racing mopeds, at considerable danger to themselves and other road users. Main roads have been closed completely for up to 7 hours after road accidents. Many Bermudians totally ignore Government noise controls on their vehicles and illegally soup up engines on mopeds especially to make them sound as high as a jet aircraft overhead. When these vehicles pass you at illegally high speeds as well, the combination of speeds and noise can easily result in traffic accidents, sometimes severe, or stress, or temporary or permanent loss of hearing or complete deafness.

Bicycles (pedal cycles)
Note that in the summer months when the heat and humidity can be very high, cycling in Bermuda can be strenuous. It is not recommended for those not used to regular exercise in heat and great humidity. Nor is it serene on Bermuda's narrow roads, with so many buses, cars, mopeds and scooters and trucks per square mile all anxious to pass you,. Bermuda is not flat but hilly, with some hills very steep. Several places rent these by the day or week, with safety headgear. With bicycles you can explore much more of the fabled Bermuda Railway Trail than by walking. They are the only vehicles allowed on the Trail. They are allowed to have saddle bags but are not allowed to tow trailers. There are no country lanes for rural cycling. All roads are urban and the main roads of North Shore Road, South Road, Middle Road and Harrington Sound Road are one lane each way but are Bermuda's equivalent of interstate highways or trunk roads. To avoid holding up licensed motorized traffic, try not to use unlicensed cycles on the main roads during rush hours.

Boat cruises
A variety of licensed boats, excursion and party type, take visitors into the Great Sound, Little Sound, Castle Harbor and other routes to see the sights. Most of the operators are based in or near the city of Hamilton. But if you wish to go by yourself, or in a party of up to four, in one boat, your choice may be limited to a 13 foot Boston whaler with a 15 horse power outboard engine, to see and explore as you wish.

Buses (public transport)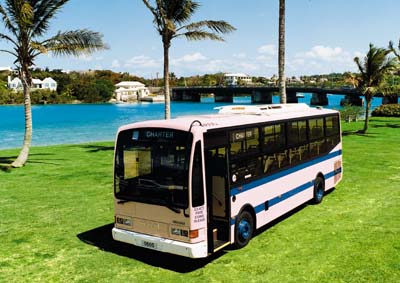 Unfortunately, in recent months and years, tourists and visitors have expressed dissatisfaction with the bus service. Visitors by air and cruise ships have described it as "now notoriously internationally unreliable" after experiencing a constant series of sudden, constant, cancellations of buses from wildcat strikes. Many tourists cannot afford more than an occasional taxi ride which limits access to the many island amenities. With Bermuda one of the very few places in the world not allowing normal-size rental cars and being the single most expensive place in the world for tourists to visit, they expect a compensatory package of a decent public transport services. They have complained about it in Bermuda, on cruise ships and overseas websites galore and on social media.
Operated by the Bermuda Government's Department of Public Transportation established in 1946 at 26 Palmetto Road, Devonshire DV 05. Mailing Address: P.O. Box HM 443, Hamilton HM BX, Bermuda. Telephone: (441) 292-3851. Fax: (441) 292-9996. Buses first appeared in Bermuda in April 1945 as the Bermuda Omni Bus Service, a division of the Bermuda Railway Company. Before then the only public transportation were trains and ferries. Bermuda's imported buses run on diesel fuel only. All are custom-built in Europe to suit narrow local roads. They carry 32-34 seated passengers, up to 65 standing. They are made by prominent German/Belgian/Dutch public transportation firms. There are plans to replace Bermuda's diesel buses with electric ones.
Buses in Bermuda can be frequent by day compared to most other urban, town and city places in North America and rural, urban and town places in the United Kingdom. Only in UK cities (not towns) is there a more frequent service.
Timetables are available free of charge from the bus terminal in the city of Hamilton and sometimes from drivers as well.
All Bermuda bus stops are marked by poles painted - like the buses - in pink and blue. They are all "request" stops which means that if no passengers are waiting to get on or off at a particular stop, the bus driver will not stop. If the pole by the bus stop is PINK, the bus will be traveling towards the city of Hamilton. If the pole is BLUE, the bus will be traveling away from Hamilton. If a bus passes you without stopping, it may be full. This happens frequently when cruise ships are in port. Their passengers often crowd the buses. Sometimes, they or local commuters have to stand in a narrow bus aisle on sharply winding roads.
All buses have buzzers for passengers. Press the buzzer at least 150 yards before the bus stop you want. If you don't know when to press the buzzer, tell the driver when you get on the bus where you want to get off and ask for help, if possible, given traffic conditions.
Buses don't have overhead racks or luggage compartments. While one service goes close to the airport, it will not take passengers with luggage or suitcases from or to the airport. (Only taxis or limos or minivans will do so, by prior arrangement). Nor can buses take baby strollers or prams or golf clubs. Bags larger than flight attendant bags will not be accepted. Umbrella strollers only are allowed. All shopping bags must go under the seat or on your lap.
Accessibility. Bermuda buses are not equipped to take disabled in wheelchairs or those who cannot get on or off the bus unaided. Unlike in most other countries where many buses are accessible, Bermuda's buses not low floor type, do not offer access to wheelchairs, do not have specifically designated for persons with mobility impairments, the elderly and frail. Nor do they have electronic information highlighting the next bus stop. However, most buses are air conditioned.
Senior Citizens/Disabled who are local, have a Bermuda Special Persons Card. and who can use a bus (not for those in a wheelchair, see Disabled), free passes are available. Seniors from abroad without such a card must pay full price. There are no signs for reserved seating for the walking (ambulatory) disabled as there are in London and other city and urban buses.
State your exact destination when paying cash or purchasing tokens or tickets. Visitors using cash, tickets or tokens (not passes) and having to change buses to get to a particular destination should ask the driver of the first bus, as soon as they board, for a transfer, to avoid paying another fare on the second bus. A transfer is valid for 30 minutes for the next scheduled trip of the connecting route and should be presented to the driver of the second bus when boarding.
No paper money is accepted. Only coins (exact change is required) or valid passes, tokens and transfers (only at established points).
No wet clothing, no bathing suits, proper attire only.
No eating or drinking or more than a single aisle of standing passengers.
Bus Fares for regular local buses (and ferries)
Payable by local passengers and visitors by air or cruise ship. Bus schedules are timed for operators who drive at 35 kph (21 mph). There are bus routes and schedules.
2020. March 10. A plan to introduce the "next generation" of buses for Bermuda is in its final stages, the Minister of Tourism and Transport said. Zane DeSilva added that the size of the new vehicles would be dependent on the routes they were expected to serve. He said: "The department is focused on replenishing the bus fleet and modernizing the public service. Sightseeing and charter services remain suspended as previously noted and the focus is on real-time delivery of the public bus schedule and school bus services." Mr DeSilva said the department, with the US-based green-energy non-profit the Rocky Mountain Institute, last year completed a request for information and request for proposal for "the next generation of buses. The department will introduce appropriately sized buses according to the route demand — smaller buses will be used on smaller routes resulting in less fuel and emissions, improved road safety, less vehicle damage and lower operating costs. Features such as low floors and buggy bays will improve accessibility on the buses, providing a better passenger experience for all." Mr DeSilva was speaking as he delivered a Budget briefing last Wednesday on operations at the Department of Transportation. The House of Assembly heard that the DPT was expected to generate revenue of $7.4 million in 2020-21, mostly from fees charged for bus tickets, passes and tokens. Mr DeSilva said that the capital acquisition estimate for the department was almost $4.9 million "primarily for the acquisition of new buses". Mr DeSilva continued: "A total of eight buses were delivered in 2019. An RFP for new, appropriately sized, accessible and low-emissions buses was issued in 2019 and the department is finalizing the procurement strategy for continued replenishment of the aged bus fleet. The capital budget also includes phase one of the digital-fare media system, that will facilitate app-based ticketing with smart phones and tap and go validation. The digital-fare media project aims to provide frictionless, convenient and secure access to public transportation." The DPT's modernisation plans also include the introduction of high-speed passenger information systems and computer-aided dispatch. Mr DeSilva added that 16 buses bought in 2014 had been refurbished to tackle high emissions and to upgrade their air conditioning. Mr DeSilva said that the bus schedule operated 18 hours a day, seven days a week. Leah Scott, the Deputy Leader of the Opposition and Shadow Minister of Tourism, Transport and Regulatory Affairs, challenged the minister on the status of the much-delayed, and much-maligned new schedule. She said: "I have the ultimate question for the minister — what's the status of the bus schedule?" Mr DeSilva replied: "That's an easy one. The status of the bus schedule will remain the same until we get more buses." Ms Scott, a One Bermuda Alliance MP, also asked for information on dress codes and regulations for minibuses. The minister responded: "That's very close to coming here." Mr DeSilva added: "I would certainly think within the next month, so probably before the season, we would like to get it done."
2019. August 22. Air-conditioned buses should be a must on longer public routes, a senior user of the service said yesterday. Elizabeth Adams, 71, said she was at her "wits end" over the failure to use AC-equipped buses on long runs. She said that the buses in use on long-haul journeys "have their windows open, the driver is burning up, and the passengers are uncomfortable". Ms Adams added: "We have politicians that are supposed to be doing their job. I don't understand why they would have these short routes air-conditioned and not the lengthy routes when these people are suffering. It's just wrong. Where is the mentality? Where is the thinking?" Ms Adams, a volunteer with three island charities, said that she depended on the bus service, which she often used several times a day. She added that the lack of air conditioning on some buses, combined with summer humidity, triggered her asthma. Ms Adams said: "The air conditioning does help. As soon as I walk into my house I put the air conditioning on. I stay in as much as I can in the afternoon." She said that a "second look" should be taken at how buses were deployed. Ms Adams added: "I believe that if they are going to be using air conditioning, they should use it on the lengthy routes — from Hamilton terminal to St George's and Hamilton terminal to Dockyard." Roger Todd, the director of the Department of Public Transportation, said yesterday that an "air-conditioning campaign" had been launched by the department. He was speaking at a press conference held by Zane DeSilva, the Minister of Transport to publicize an increase in the number of buses on the roads. Mr Todd said that some models of bus in the fleet were "particularly problematic". He added: "We have a programme in place to address that, as well as the older units. Our position is that if it has an AC unit on the roof, it should be working." The transport ministry did not respond to a request for comment yesterday.
2019. August 21. Bermuda commuters have benefited from a 40 per cent boost to public bus service, the transport minister said this morning. Zane DeSilva said that improved maintenance projects had brought the average number of daily in-service buses from 50 up to 70. Mr DeSilva said the boost had led to "far fewer service cancellations". He said the Department of Public Transportation had worked "tirelessly" to boost bus service with the addition of new vehicles and through maintenance and repair of the current fleet. Mr Desilva added: "I am pleased to report that nine new buses have entered the service over the past year and three more buses are scheduled to arrive between September and November this year." He said the new vehicles included USB charging ports, on-board CCTV, and signage which complied with the Disability Discrimination Act. Mr DeSilva said that 14 buses were recently given a "midlife refit" that would extend their life "by a minimum of five years". He added that another project would look to fix emissions problems with 16 vehicles. Mr DeSilva said that school bus service would resume on September 9, one day before the start of the new public school year. He said that the safe and timely transport of pupils to their schools was of "paramount importance" and that the DPT would continue to send daily e-mails about after-school bus service. Mr DeSilva said that a hiring drive had been launched to fill operational and technical positions in the DPT. An advertisement for 15 bus operator jobs was posted last week. Roger Todd, the director of the DPT, said that the new operators were needed to drive the increased number of buses on Bermuda's roads. He added: "This compliment will help to ease some of the burden on the overtime." Mr Todd said that work on problem air conditioners was being done. He added: "Our position is if it has an AC on the roof, it should be working."
2019. August 6. Suppliers of low-emission buses are being invited to submit bids to provide transport in Bermuda. The Ministry of Tourism and Transport and the Department of Public Transportation issued a Request for Proposals for "appropriately sized, accessible, and low emissions buses" for the island. The RFP specifies two sizes of bus and is open to electric, diesel and hybrid diesel-electric vehicles. It comes after the DPT teamed up with sustainability group Rocky Mountain Institute to carry out a feasibility study on reducing the carbon footprint of the public transportation fleet. A transport ministry spokesman said: "The findings were encouraging and highlight the opportunity to acquire buses that meet local regulations and customer needs, while being both environmentally and financially sustainable."

2019. June 8. A work-to-rule by bus operators has ended, Minister of Transport Zane DeSilva said yesterday. It was confirmed in a statement today by the Department of Public Transportation, which said that during the nine days of industrial action, management and the Bermuda Industrial Union had engaged in "constructive dialogue". The Minister of Transport, responding to comments made on a Green Paper in Parliament, said he had visited the St George's bus depot on Thursday. He said the building had a notice posted on the door stating that it was condemned from July 2014. Mr DeSilva said the problem would be remedied within the next week. The bus operators started a work-to-rule last month, over what Mr DeSilva said was "a myriad of issues".
2019. June 7. Almost 20 buses were cancelled this afternoon, according to a Government alert. A total of 19 buses scheduled to be released between 4.11pm and 10.20pm have been cancelled. Affected routes include Routes 8, 9, 7, 11, 10, and 4. The alert was released at about 4pm. A Transport Green Paper, which details planned changes regarding public and private transportation, was submitted this morning during the House of Assembly. It has been the first comprehensive review of transportation since 2002. Changes suggested to the bus system included GPS tracking, access to wi-fi, and cashless bus fares. For a full list of this afternoon's bus cancellations, click here. Chris Furbert, the president of the Bermuda Industrial Union, said earlier this week that a work-to-rule by bus operators would only be lifted if two portable air-conditioned restrooms were made available for staff in St George's. He added the BIU had made Zane DeSilva, the transport minister, aware of the condition.
2019. June 6. Bus operators will continue a work-to-rule until safety problems at the St George's bus depot are tackled, the president of the Bermuda Industrial Union said yesterday. Chris Furbert was speaking after bus service BIU members gathered yesterday for talks as part of a dispute that has seen a work-to-rule imposed. Mr Furbert said that the work-to-rule would only be lifted if two portable air-conditioned restrooms were made available for bus staff in St George's. He added the BIU had made Zane DeSilva, the transport minister, aware of the condition. Mr Furbert said the workers were not comfortable using the facilities in St George's because of health and safety fears. He added: "It is my understanding that place has been condemned twice. They have to use the facility every day, that's where they sign on and off." He said workers were also concerned about the poor condition of the depot in Dockyard. Mr Furbert added that bus staff also wanted changes to their job descriptions and complained about radios which are not working, lack of security for cashiers, the flooring in eastern depots and roaches on the buses. Mr Furbert said drafts of new job descriptions would be available by tomorrow. He said 16 new staff members were also expected to be hired to ease a shortage of 25 staff members in maintenance and operations. The bus operators started a work-to-rule last Thursday, over what Mr DeSilva said was "a myriad of issues". Cancellations of bus routes this week have included school services. The DPT announced a total of 46 cancellations on Tuesday afternoon and 20 on yesterday.
2019. June 5. Buses will be off the roads for two hours today as bus drivers hold a union meeting. The bus service, already on a work-to-rule, will down tools between 10.30am and 12.30pm. The Department of Public Transportation said there would be an interruption of service as staff were updated on "matters of concern to the employees" in an effort to end the industrial action. A spokesman added: "The DPT look forward to resuming full bus services and apologise for the inconvenience to the traveling public." The announcement came yesterday as 46 bus routes, including school runs, were cancelled.
2019. June 3. A series of bus routes were called off this afternoon, including school routes. Affected schools include CedarBridge Academy and the Berkeley Institute. 44 routes were cancelled. The move comes to a backdrop of industrial action over what Zane DeSilva, the transport minister, said on Friday were "myriad" issues.
2019. June 1. Industrial action launched by bus drivers on Thursday is likely to be resolved early next week, the transport minister said yesterday. Zane DeSilva was speaking after bus drivers voted for a work to rule after a midweek meeting at the Bermuda Industrial Union. A work to rule means that staff stick to their contracts and minimum duties. Mr DeSilva said that the drivers were concerned about a number of problems. He added: "It's a myriad of issues — facilities at the east and west ends, roaches on the buses, and not having hot water at some facilities." The transport minister said he had inspected the West End depot on Thursday and planned to visit the St George's terminal next week. He added that he and Lieutenant-Colonel David Burch, the public works minister, had agreed a schedule to tackle problems with bus service buildings. Mr DeSilva said: "We'll look at these issues in terms of infrastructure and get them sorted out quickly." He added that if bus drivers were "confident that we will move on this, we will see a resolution". His remarks were made just before 29 services were cancelled yesterday afternoon.
2019. May 31. Almost 30 bus services were cancelled this afternoon after industrial action by drivers was announced. The Government's alerts, issued at about 4pm, showed a list of 29 services across the island that would not run. Bus drivers started a work to rule at 6am yesterday. The Ministry of Tourism and Transport said the Department of Public Transportation was notified of the industrial action by the Bus Operators and Allied Workers Division of the Bermuda Industrial Union on Wednesday. A ministry spokesman said then: "Bermudians of all walks of life depend on the public transportation system. We are determined to resolve this impasse and restore full service for our passengers." He said the transport department apologized for the inconvenience. Chris Furbert, the BIU president, told ZBM on Tuesday that bus operators raised a number of concerns during a meeting on Monday. He added that the division had sent the head of the civil service a letter expressing a lack of confidence in the senior management team.
2019. May 30. Bus drivers were set to begin a work to rule from 6am today, according to the Ministry of Tourism and Transport. A spokesman said the Department of Public Transportation was notified of the industrial action by the Bus Operators and Allied Workers Division of the Bermuda Industrial Union yesterday. The spokesman said: "As part of our mandate to provide safe and reliable transportation, we are committed to meeting with the members to find common ground and work together to resolve the issues raised. Dialogue is open and a meeting is scheduled for tomorrow to address the concerns. Bermudians of all walks of life depend on the public transportation system. We are determined to resolve this impasse and restore full service for our passengers. The DPT apologizes for the inconvenience to the traveling public and will provide updates as new information becomes available." Chris Furbert, the BIU president, told ZBM on Tuesday that bus operators raised a number of concerns during a meeting on Monday. He added that the division had sent the Head of the Civil Service a letter expressing a lack of confidence in the senior management team.
2019. May 13. Bermuda's public bus system experienced a "learning curve" over its problems getting a new schedule up and running, the transport minister said. Zane DeSilva told MPs in the House on Friday that the decision to revert to the old bus schedule "was not taken lightly, but was the only recourse to address the concerns of our passengers and operators". Mr DeSilva said that the new 50-bus schedule, which came into effect on March 18, had been "insufficient to meet the demands of our commuters, visitors and students". He added: "Additionally, there were challenges with the rest times between some trips, presenting health and safety concerns for bus operators and the traveling public." Mr DeSilva said that the scrapped schedule "is an advancement to build on as we move forward". He added: "The ministry, unions and Department of Public Transportation have fostered stronger working relations, demonstrated in part by our ability to agree the definition of night work and collectively develop and implement work rosters." Mr DeSilva said that the replenishment of the bus fleet remained a priority and that the average in-service bus count over the last year was up to 65 buses from 50 as a result of new bus purchases, refits and repairs. He added: "We have taken possession of six new buses in the past year, with a further six arriving between June and September." Mr DeSilva said that the DPT had recently completed a request for information for new buses and was in the process of preparing a request for proposal. He said: "We are taking this opportunity to review the bus market and available vehicle types that meet Bermuda's needs, as well as international public transportation standards. This includes consideration for sustainability and the environment, appropriately sized buses, accessibility, on-board features, and total cost of ownership." Mr DeSilva said that the Government would also invest in human resources. He added: "We are in the process of recruiting for a variety of posts including vehicle technicians, operators and support staff." The new bus schedule was first announced at a press conference last December. It was originally set to take effect on January 7 but was postponed twice that month after staff raised concerns about rosters and night work. Canadian company Schedule Masters Inc was paid more than $1.6 million over 17 years to create the new bus schedule, which lasted for six weeks.
2019. April 6. Fed-up bus users have blasted the new bus timetable — and predicted the service will get worse in the peak summer tourist season. Passengers added that the new schedule, which uses fewer buses, appeared to have hit the West End of the island hardest. The Royal Gazette spoke to Stacey Dunn, 54, from Southampton, at Hamilton bus terminal at lunchtime on Wednesday. She said: "It's not working. Fortunately for me, I am not making early hours, but for the people making 9am, it's tough." Ms Dunn added: "I was in Somerset last summer and you had buses coming out of Dockyard full of tourists. What's going to happen now if you lessen the number of buses? There's the possibility for a lot of locals that once it comes out of Somerset, there won't be any room." A 61-year-old woman, also from Somerset, said she had used a bus a week earlier and that it was "horrible". She explained: "This was a one-off because my husband was working late. I thought I would leave a little early from my job in town because I had heard how the new schedule was not working. I got there at 5pm and both the Number 7 and the 8 were full, no seats." The woman, who asked not to be named, said: "They got rid of the express, which was very convenient for St George's as well as Somerset. So now the lines get ridiculously long." She added: "I have to give credit to the female bus driver, because she made the students get up to give people seats. She was complaining about the schedule, too. Who wants to stand on a bus all the way from Hamilton? So I'm sad to say that catching the bus is going to be my absolute last alternative." A hospital worker from Warwick's Marley Beach, about 5pm the same day said he was waiting on the No 7. He added morning and evening rush hour buses were often full. The man said: "A lot of people go into town early on this route. It's wisest to get the first one in, because you're not sure if the next one is going to be full." The man added that many hospital staff came into Hamilton to catch a bus because the buses were often packed to capacity by the time they reached the hospital in Point Finger Road, Paget. He said: "Sometimes it's even full by the time the bus gets from the terminal to Church Street." A 26-year-old man who works near Crow Lane and lives in Sandys backed the hospital worker. The man said he had to catch a bus or walk into town at 5pm in a bid to get on board a No 7 or 8 bus because buses were full by the time they left the city. He added that it was "okay right now because schools are out — but it will be worse next week". The Department of Public Transportation said yesterday that passenger views on the new schedule, introduced on March 18 by Zane DeSilva, the transport minister, were being reviewed. A spokesman for the DPT said that problems identified with the timetable, which cut the number and frequency of buses, would get "immediate adjustments" where possible and that "others are noted for future iterations of the schedule". The spokesman insisted there were fewer delayed services this week and that sweeper buses had been "effective in relieving capacity issues during peak times". The second of eight new buses will arrive on April 14, with another to follow every three weeks. The Riviera cruise ship, with a capacity of just 1,400 passengers, arrived in Dockyard yesterday. But the Carnival Pride, with about 2,500 passengers on board, is scheduled to moor at King's Wharf for two days from next Wednesday. It will joined by the Norwegian Getaway with 3,900 passengers on Thursday. Leah Scott, the Shadow Minister of Transport, said the new schedule was "a disaster". The Southampton East MP said: "The minister put out a message claiming that people were happy with the routes, but my constituents, particularly seniors, having been calling me upset because they're not getting around. Kids aren't getting to school on time and workers are having the same thing with their jobs." Ms Scott said she suspected senior management at the DPT had contributed to the transport problems. She said: "Mr DeSilva is an astute businessman. He would not allow his own business to run this way." Ms Scott added: "I'm glad they are only imposing this for 18 months. At the same time, I can't understand why we don't have a permanent schedule with the consultants we hired." The Royal Gazette reported last week that Canadian firm Schedule Masters, which took in $1.6 million over 17 years to draw up the schedule, never had a contract with the Bermuda Government. Ms Scott said: "That went on under the One Bermuda Alliance as well as the Progressive Labour Party, That's unacceptable under either government. You can't continue to pay out money and, at the end of the day, still not have a satisfactory product."
2019. March 23. The new bus schedule has 50 buses on the road at peak times but a temporary reduction in frequency while the ageing vehicles are repaired or replaced, MPs heard yesterday morning. Zane DeSilva, the transport minister, said the first of eight new buses had arrived last month. The second is expected to arrive next month and one new bus every three weeks is scheduled to go into service until August. Mr DeSilva said there will also be "real time passenger information" provided online this year. He added a request for proposal had been completed for digital payment of fares.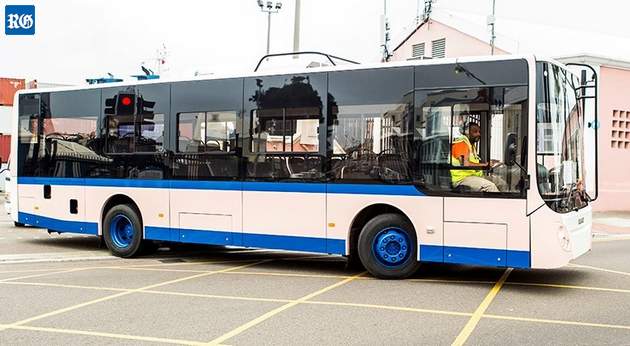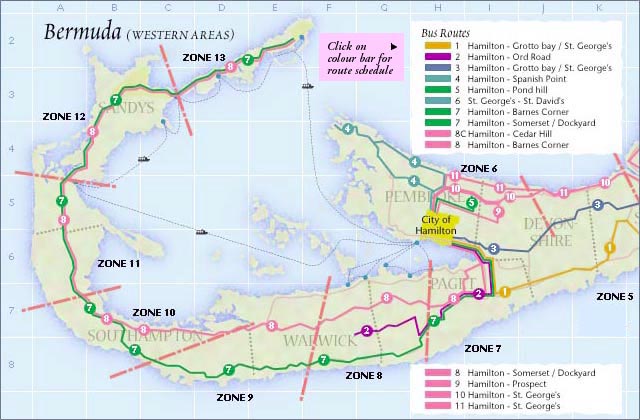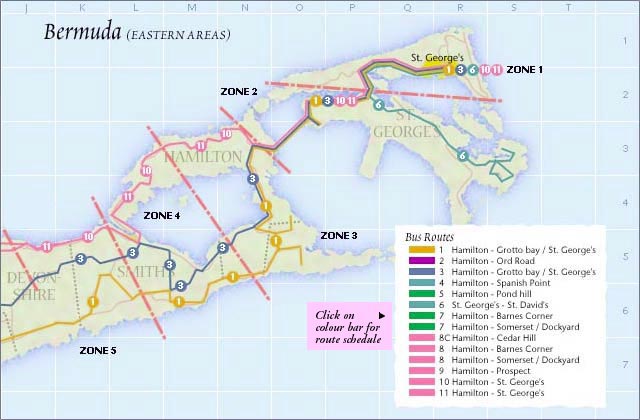 Cabs
See under Taxis

Carriages
All horse-drawn, they are remnants of an old Bermuda tradition and are mostly found at near the cruise ship terminals in the city of Hamilton and town of St. George.

Carriage drivers, most of whom wear pith helmets in the summer, are required by law to have a rate card posted in the vehicle. They are expensive. Ask for fares and an informative spoken guided tour.

Horses in the City of Hamilton must wear diapers.

These are very slow moving vehicles so try not get one during rush hour traffic times as they will hold up traffic.

Cycles
See Bicycles.

Ferries
There are two Ferry Schedules, summer and winter.
Bermuda ferries conform to rigid standards of ferry construction by Lloyds Register of Shipping. They meet USA environmental standards, have low-emission diesel engines, low noise, low wake, sewage holding tanks, wheelchair access, comfortable cushioned seats and a concession stand for coffee, tea, soft drinks and food.
The Ferry Service is operated by the Bermuda Government's Department of Marine and Ports. Phone 295-4506. These relaxed sea routes are unequalled, a superb sea or harbor crossing in unrivalled scenery, much better than going by bus on overcrowded and perpetually noisy roads. They are far more ecological than a bus, with daily or weekly or monthly passes included in the same price as the buses, and far less expensive than a taxi. The only extra charge is for cycles or mopeds. All places to stay, cruise ships and the ferry terminal have copies of the ferry timetable at no charge. Most, but not all, ferries have covered lower-deck seating accessibility for the disabled. The high season 2017 Summer schedule (see above) now applies. From Hamilton, they serve Paget, Warwick, Somerset and Dockyard on a varied daily basis (see timetable) and St. George's on Wednesdays and Thursdays from April 18 through November 2 only). They do not operate when the weather is too windy. The ferry service's Green Route serves Waterford Bridge and Cavello Bay and Rockaway stops. The Pink Route is mostly used by the locals and office goers. The Orange Route ferry service that caters to St. George is seasonal - usually does not operate during the winter (i.e. mid November to mid April). There are numerous occasions during the Cruise Ship season when large cruise ships together carrying more than 3,500 passengers are in the same Bermuda port (for example, Dockyard) at the same time, for up to three days. Cruise ship passengers should note the times of the ferries especially if they wish to be back on board for meals.
Fares are payable for both buses and ferries.
Accessibility. Unlike the buses, ferries to and from Dockyard and St. George's (see below) can take wheelchairs for the disabled. The Paget to Warwick ferry will take the walking disabled. They also take cycles or mopeds.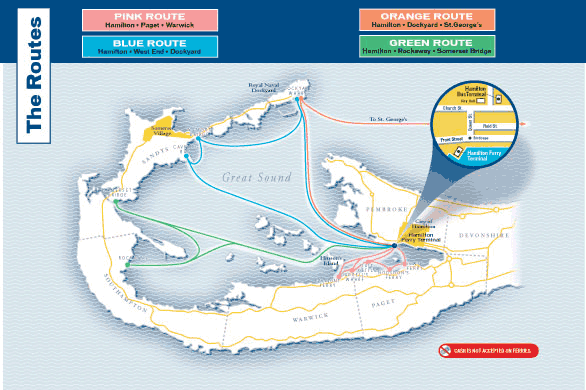 The Department of Transport operates six high-speed ferries and three harbour ferries, with additional service between Dockyard and Hamilton.
Not shown is the route to St. David's via St. George's
Water distances and direction in miles from Hamilton
Lower Ferry, Paget. Across the harbor and south east.......................0.25
Salt Kettle, Paget. Across the harbor and south west..........................0.75
Belmont, Warwick. Across the harbor and south west.......................1.25
Rockaway, Southampton. Via the harbor and west.............................2.75
Mangrove Bay, Sandys. Via the harbor and west...............................4.50
Cavello Bay, Sandys. Via the harbor and west...................................6.00
Dockyard, Sandys. Via the harbor and west..................................... 6.14
St. George's. Via the harbor and west, then east............................ ..12.00
St. David's. via St. George's to/from Hamilton....................................14.00
Names of Ferryboats
Coralita
Corona
Deliverance
Georgia
J. L. Cecil Smith
Patience
Resolute
Serenity
Tempest
Venturilla
Warbaby Fox
Names of Ferry Stops
Belmont Ferry
Cavello Bay
Darrell's Wharf
Dockyard Wharf
Hamilton Ferry Terminal
Hodsdon's Ferry
Lower Ferry
Rockaway
Salt Kettle
St. David's
St. George's
Watford Bridge
Million-dollar ferries bought for the Bermuda Government and paid for by Bermuda taxpayers
Two 25m passenger catamaran ferries ex Gladding and Hearn, Massachusetts, USA (Serenity, delivered March 2002 and Resolute, delivered June 2002) and Pilot Rescue Boat St. David's in October 2011.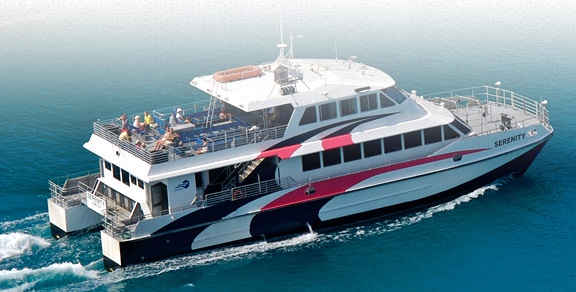 Serenity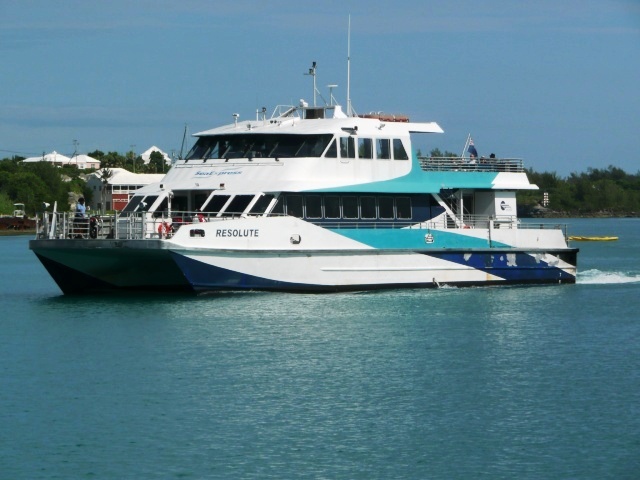 Resolute
Two 23m passenger catamaran ferries ex North West Bay Ships, Hobart, Australia (Tempest and Venturilla)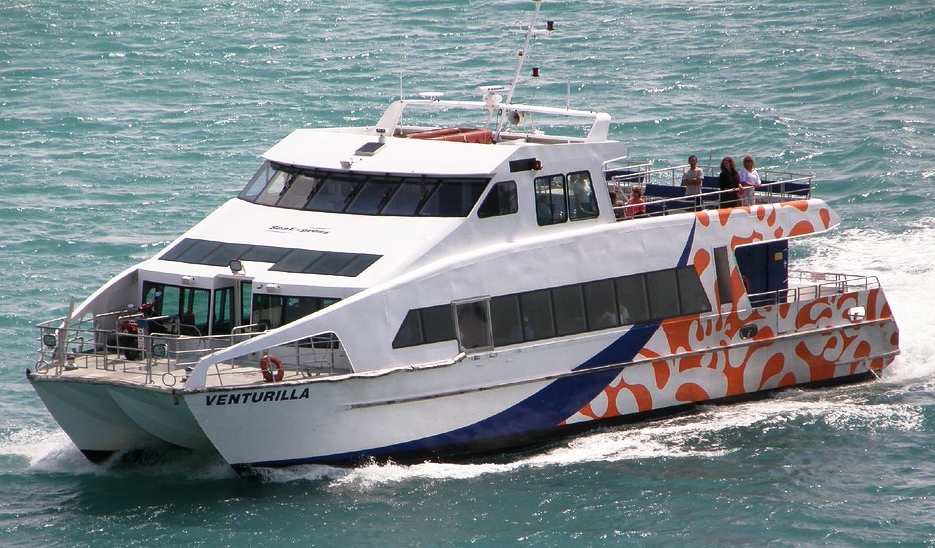 Venturilla
Two 38m passenger catamaran ferries ex Derecktor Shipyards, Bridgeport, Connecticut, USA (Warbaby Fox in 2006 and J. L. Cecil Smith in 2007.

Warbaby Fox, 2006
Of the above vessels, Venturilla was named after the first black person in Bermuda, a slave believed to have spent several months in Bermuda, after a shipwreck in 1603). Tempest is named for the storm that led to the colonization of formerly uninhabited Bermuda in 1609. Warbaby Fox, so-named after Charles Hilgrove W. Fox, owner of the Black Horse tavern in St. David's and a prominent figure in the Eastern County and Cup Match cricket games. The latter ferry has a top speed of 33 knots per hour and can carry 350 passengers. It is powered by four diesel and four water jet engines. Unfortunately, for a combination of reasons but most likely to be the exceptionally high salinity of Bermuda's waters, all the above-mentioned vessels, still quite new - purchased after 1998 - have had major problems.

This web site explains why Bermuda one of the most expensive places in the world for locals and visitors in gasoline costs. It is more than double the price of gasoline anywhere in Canada and the Caribbean, higher since April 1, 2016 than in the UK and more than three times the price of the USA, due to a recent hike in local taxation.

Horse Riding
Horse riding stables are not in a municipal area. There are approved routes in a number of areas. But horse riding is NOT allowed on the beaches. Qualified instructors are available, offering lessons for the inexperienced. When on a horse, be sure to avoid the constantly busy and noisy main North Shore, Middle Road and South Roads.

Hotel Shuttle service to and from airport
Bermuda hotels are not allowed by government to have airport shuttles, despite requests from hotels to be allowed to operate such vehicles, as hotels can abroad. Bermuda is one of the very few places in the world that will not allow this. The only hotel shuttles allowed are those connecting some hotels to their private beaches. However, some hotels and guest houses work around this by privately arranging with individual taxi operators or taxi businesses to pickup and deliver their guests from/to the airport.

Limousines
The Bermuda Government created in June 2006 a new category of public service vehicle. It is known as a limousine, borrowed in name but not in style or size from limousines common overseas. It does not refer to a stretch-limo vehicle - not allowed in Bermuda - but can be a larger automobile car or former taxi. A number of limousine licenses have been issued, with some taxi drivers having exchanged their taxi permit to become a limousine operator.

Mini buses
Privately owned. They offer pickups, transportation and special tours. A potentially good option for individual or group tours going to specific places. Mini-buses can go where public transportation buses don't go, and/or at more convenient times and/or offer a more tailored and personalized service for smaller groups, at less cost than for taxis. Ricky's Island Tours and Minibus Service Ltd, phone (441) 703-3659 beyond Bermuda or 703-3659 in Bermuda, email rb@rickysminibus.com offers a Monday-Saturday 9 am to 5pm service, of particular appeal to cruise ship and other visitors.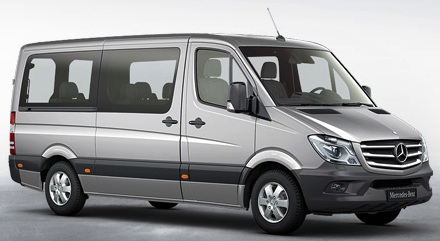 Ricky's Minibus Service
Minibuses are examined, passed and re-licensed annually by the Bermuda transport authority (Transport Control Board), and insured by a Bermudian insurance company. These are not big buses. Instead, they are passenger vans or smaller buses in various sizes. Some can carry up to 27 people. Some can also carry up to two disabled passengers in wheelchairs.

Ministry of Transport
The responsibility of the Ministry is to manage and regulate transportation in Bermuda, including the airport, weather services, buses and ferries.

Mopeds
See under "Auxiliary cycles."

Motor Cycles
See under "Motor Cycles" in Bermuda Road Transport for Locals." Not mentioned here because, like cars, they cannot be driven by tourists.

Road Traffic accidents
Every year there are hundreds of road traffic accidents and numerous road fatalities in Bermuda's 21 square miles and 69,400 residents and tourists. Riding mopeds and scooters are the most common form of injury to locals and visitors by a very wide margin.
When involved in any kind of accident involving injury to a person or damage to a vehicle, call the Bermuda Police Service (BPS) at 911. Local insurance companies will not entertain claims without a police report. Drivers should have a cell phone available. Involved parties should exchange names, addresses, home and business phone numbers and insurance companies. Don't elect to pay for any damage you caused without calling the Police, always call the Police. Visitors should note the fee they pay to ride a rented moped or scooter includes the cost of insurance, so should not pay any extra. Keep your most important ID papers with you. Expect the Police to tell you, if the other driver does not, that the latter is licensed and insured. The Bermuda Government collects money from services provided by the BPS, which processes more than 1,000 requests for traffic accident reports every year. There is a fee for a traffic report. There is also a fee to interview a police officer and supply of evidence for civil proceedings
The fees increase the cost for insurers but it should be noted a traffic accident report is only required in either serious or contentious accidents or to settle claims submitted to insurance companies.

Scooters
See under "Auxiliary cycles."

Summary of main transport services and how they are used
In order of preference
| | | | |
| --- | --- | --- | --- |
| Mode | Used by air passengers | Used by cruise passengers | Total |
| Taxi | 89% | 59% | 78% |
| Bus (public) | 52% | 65% | 57% |
| Ferry | 42% | 42% | 42% |
| Scooter or moped | 44% | 16% | 35% |
| Minibus | 22% | 19% | 21% |
| Airport limo | 30% | | 30% |

Taxis (Cabs)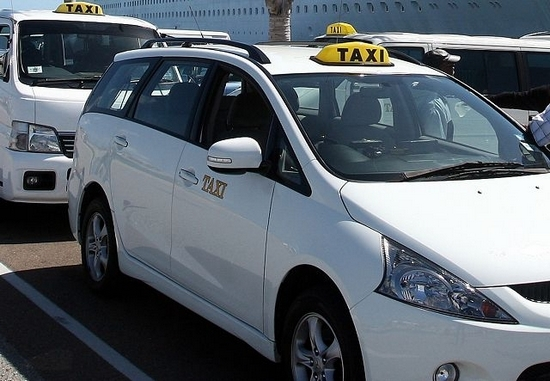 There are more than 550 in Bermuda.
None are Uber, much to the chagrin of some tourists and visitors.
Sizes and types of vehicle. Most taxis are now minivans which require a foot-high step-up, fine for the sighted non-disabled but not for the disabled or mobility-impaired. A small number can take a wheelchair. Under The Motor Car Amendment Act 2005, drivers of the Island's 600 cabs - equivalent to 28.57 taxis per square mile - must be "appropriately equipped" - meaning having a two-way radio set; a mobile data terminal; a global positioning device; and an alarm device, approved by the Bermuda Government's Minister of Transport. They must be examined, passed and re-licensed annually by the Bermuda transport authority (Transport Control Board), and insured by a Bermudian insurance company. Taxis are imported at a low Bermuda Government import duty rate of 10% compared to more than 100% for some other automobiles. There are often not enough taxis to meet seasonal demand from arriving or departing passengers. For taxi drivers, the busiest time of year is when cruise ships are in port - from April to October. All taxi drivers will accept cash in Bermuda or US dollars. Not all taxi drivers will accept credit card payments.
Some taxis are larger than others, the smaller ones for 1-4 passengers and the largest for 5-6 passengers and their luggage. Most arriving passengers do not need to make a reservation at the airport or cruise ship terminal but if you take a taxi for sightseeing and/or to leave Bermuda from your hotel, make a reservation each time with a taxi service (there are several (see below). A blue flag fluttering from the taxi's bonnet signifies the driver has qualified as a tour guide. Residents and visitors should not plan on being able to get a taxi to go anywhere on Christmas Day or New Year's Eve. All taxi drivers are self-employed. The condition of any person taking the taxi is a factor. If drunk or disorderly or unruly, a driver may refuse to take or continue to take passengers. Each taxi has a GPS satellite-navigation system. In late 2003, they were increased in maximum length and width to 210 inches long and 77 inches wide. Limits to engine capacity have been eliminated, to make way for luxury vehicles such as a Mercedes Benz taxi. Any taxi owner wishing to replace the taxi with a wheelchair accessible one may do so without needing approval from the Public Service Vehicles Licensing Board, but they are not allowed to charge wheelchair-disabled passengers any more than able passengers. However, if disabled and in a wheelchair be sure to ask if the taxi can take both an electric wheelchair and a manual wheelchair or just one or the other. Some taxis are not equipped to take both. Rates are required by law to be the same for both able passengers and disabled passengers in a wheelchair. Most taxis use a GPS system.
There is a Taxi Owners and Operators Association. There has been debate on whether Uber, a ride-sharing network using mobile devices, or another taxi alternative should be allowed to operate in Bermuda. An Uber-style service could hit cab drivers in Bermuda or put them out of work, as it has done overseas. Presently, there is no central dispatch service to organize the operation of the 600 licensed cabs on the island. Bermuda at present has the Island Taxi Service, BTA Dispatching and taxi booking app Hitch. There has been online confusion between Bermuda's Hitch and an Uber-style service. Hitch is a mobile app that has created some problems for some.
All taxis are inspected twice a year and owners pay an annual license fee, with no Sunday Permit extra. All are insured, with visible taxi signs and meters. Most taxi drivers are not owners of their taxis. Owners must register with a taxi dispatch company, but have a choice in which one. Taxi fares are always in USA or Bermuda dollars. A prime purpose of the GPS system is to reduce the wait time for a taxi called by telephone to no more than 15 minutes. All taxi drivers have a 2-way taxi radio. Taxis are all right hand drive, with sliding doors on the LEFT side, in conformity with Bermuda's LEFT SIDE, so passengers can enter and exit safely instead of having to face oncoming traffic.
Costs of taxis. They are generally referred to as taxis, not cabs, in Bermuda. A number of local taxi companies operate, private entities but government-regulated. In the past, their voices of dissent have been the single biggest major reason why rental of automobiles/cars was never allowed in Bermuda. Only in 2017 were some very small 2-seater only electric vehicles finally going allowed, primarily because of the massive global publicity Bermuda wanted as the host of the 2017 America's Cup.
Credit Cards. More than 150 of the 600 taxi operators have adopted credit card technology through a promotion put together by the Bermuda Tourism Authority, the Ministry of Tourism and Transport and more. Card readers are able to accept payments via chip and pin, swipe or "tap and go" technology and, using a mobile phone app, the funds are transferred into the taxi driver's bank account within two business days. While operators would usually be required to pay a monthly fee for the service, that fee will be waived for a year through this programme, after which the operators can decide if they want to continue accepting cards or not.
Taxi fares are currently split in to two groups: For 1-4 passengers and for 5-6 passengers. Presently, for 1-4 passengers, taxi fares cost $8.00 for the first mile and $2.80 for each additional mile, based on a taxi charge formula set by Bermuda's Transport Control Department (TCD). A tourist traveling to, or from, the airport to the Fairmont Southampton on a weekday will now pay about $47 plus luggage charges for an approximately 15-mile journey. This does not include a tip, of between 15 percent and 20 percent and the cost of luggage, which is charged at $1-$4 per piece depending on size. The cost increases by 25 percent on Sundays, public holidays, and after midnight. For 5-6 passengers in a single taxi the costs are higher, $10 for the first mile and $3.50 for each additional mile, plus luggage charges. All taxis are required to be registered with a taxi dispatching service. Taxi fares are very expensive in Bermuda for two main reasons, the first being the cost of gas (diesel or petroleum), at about $8.50 a gallon in July 2014, compared to about $2.20 a gallon in July 2014 in most of the USA. The second reason is that unlike in the USA, from where 85% of all Bermuda's tourists come, the average 2014 salary of a Bermuda taxi driver is over $60,000 a year and only Bermudians, not any non-nationals, are allowed to own and/or drive taxis.
Taxi tours and prices. Priced on an hourly rate, for a minimum of 3-4 hours. Prices are from $50 an hour for up to 4 passengers, or from $70 an hour for 5-7 passengers. Prices exclude gratuity or tip of 15% and are apply on weekdays, Sundays and Public Holidays. Taxis will wait for you when viewing attractions or stopping for photos or eating lunch. But this waiting time counts as part of the total time for which the taxi is booked. If you have lunch during a tour, include the driver and pay for his lunch.
There are two major routes from and to the airport from Front Street, Hamilton and further west. One via the North Shore Road, the other via the Middle, South and other roads via Harrington Sound. Taxi drivers, who have GPS and know traffic conditions at that particular time, know which route to take to get passengers there quickest. There may be some small difference in taxi fares depending on traffic conditions. Only full-time residents who know the roads well can usually tell whether one way for them is preferred to another. If you know Bermuda well and live or are visiting a central or western parish, it is suggested you tell the driver, before you start your journey, which of the two routes you prefer.
Seat belts. Since 1 January 2004, under The Motor Car Act 1951 and Motor Car (Seat Belts) Regulations 2002, seat belts are required. Adults sitting in the front seat must wear a seat belt. Adults in the rear seat are not required to do so. Children from birth to one year and up to 20 lbs in weight must be in a rear facing seat. Children from 30 lbs to 40 lbs must be in a forward-facing child seat. Children from 40 to 80 lbs must use a seat belt positioning device or booster seat. All children are safest in the back seat. The driver of the vehicle is legally responsible for ensuring compliance and may be fined for non-compliance, but the law does not seem to be clear on who must provide booster seats or special child seats for young children. To be on the safe side, parents using taxis for their young families should bring their own. If they do not, so as not to risk being liable by default, taxi drivers may not wish to take them. Occupants 18 and older are legally responsible for themselves. Non-compliance otherwise attracts a fine of $2,100 per offence. The relevant regulatory price-approving agency is the Bermuda Government's Public Service Vehicle Licensing Board (PSVLB).
Taxi drivers will not accept any locals, tourists and visitors who wear any kind of wet clothing that could damage or stain or wet their car upholstery. Those concerned should make sure they dry themselves and their clothing and remove any sand from their clothes or bodies or bags before they hail a taxi.
Taxi drivers will expect a gratuity or tip of 15% in addition to their basic cost, especially when they lift heavy luggage.
2019. June 25. The owners of taxis that are off the road should lose their permits if they fail to renew them in six months, said the Bermuda Taxi Owners Association. David Frost, the BTOA president, said: "We believe that owners who do not renew their licences within six months should have them revoked completely — no exceptions. We can't allow a few to damage the industry. There is a demand for taxi licences." The get-tough proposal on licences was among several suggestions made by the taxi industry at a meeting with Zane DeSilva, the transport minister. The association predicted the number of taxis on the roads would increase from 565 to 600 if non-operational drivers had their licences taken away. Other proposals at last week's meeting included the creation of a transport committee, credit card readers in all taxis and third-party insurance for second drivers. The association said it also wanted to enforce rules to ensure cabs were on the road for a minimum number of hours a day. It added that drivers who only do corporate work for international business clients should exchange their taxi permits for corporate transportation licences. Mr Frost added: "We talked about dress code, driver behavior, drivers refusing jobs. The minister is prepared to ensure that someone's pockets will hurt if they don't do it. I have faith in Mr DeSilva in that he is the first minister that has sat down and listened. He doesn't talk like a politician, he talks like he wants to get something done. Taxis are public-service vehicles which means that you are working to serve the public. If you can't do the job, you need to find something else."
2019. June 10. A government plan to issue 20 temporary taxi permits to boost the number of cabs on the road has been put on hold. The news came after Zane DeSilva, the transport minister, held a meeting with 300 members of the Bermuda Taxi Owners' Association to discuss improvements to the service. Taxi drivers said they were concerned about the $4,000 cost of a temporary permit compared with about $100,000 for a standard permit. David Frost, the president of the BTOA, said: "There is a lot more to just putting an extra 20 cars on the road — you are talking about a $100,000 taxi permit being devalued because you are putting a $4,000 taxi on the road. We have 600 registered taxi permits in Bermuda and we have to make sure that we have 600 taxis on the road before we start moving to bring other taxis on the road. The minister knows why they are not on the road — you have taxis in probate, taxis that are not insured and taxis that are owned by drivers, including government workers, that are not on the road during the day. They should be, but it comes down to enforcement." Mr DeSilva said: "It is some people's perception that this move would devalue their permits. I am a listening minister. If we don't get to a stage where we can move people around without waiting hours on end for transportation then we are going to have to make some moves. I would prefer to do it with the taxi drivers than to make that decision. Maybe we need to change the law to say if you own a taxi we need to know who you are going to leave it with when you die. Or maybe if the taxi is not used, the permit gets returned to TCD and we give them a prorated refund." Mr DeSilva added that the law on taxis "needs to be blown up and rewritten, which I will do". The meeting was held at Warwick Workmen's Club last Thursday. Taxi drivers also discussed the need for better regulation of the industry by the Transport Control Department, night-time taxi availability, as well as abusive taxi drivers and badly behaved passengers. Mr DeSilva said that after a Green Paper on transport was unveiled last month he would issue 20 special taxi permits for use during restricted hours to help boost taxi numbers because only 556 out of 600 taxi licences issued were being used. Taxis owners are required have their vehicles on the road for 16 hours a day, but they are not monitored after a policy decision was made in 2010 by the TCD. But Mr DeSilva said that a decision had now been made to collect information from dispatchers on the hours that individual taxis were on the road. He added: "We are compiling the information. Once we start seeing the trends and seeing who is working and who isn't then we are going to take action." Mr DeSilva said that he planned further meetings with the BTOA.
2019. May 31. Policies will limit the use of special taxi permits when they are introduced, according to Zane DeSilva, Minister of Tourism and Transport. Mr DeSilva said that while the announcement of the permits was met with an "overwhelmingly positive" response from the public, he said he was aware of concerns among taxi operators. He said: "We are looking at the options very carefully and have already decided to make the permits subject to an annual fee and assessment. Our goal is to get these taxis on the road and running before the end of July. I also wish to make it clear, to existing and potential taxi licence owners, that the new permit will be restricted to working times that fill the identified service gaps — the proposed hours are from 3pm to 6am and this will be finalized soon. To ensure all regulations are adhered to, the special permit taxis will be required to register with a dispatcher who will send them work only during the permitted times." Mr DeSilva added that once launched, the programme would be carefully monitored to determine if any additional special taxi permits were required. He said as part of the creation of the Transport Green paper, the Government had looked at the data from three of the four dispatching services on the island and were able to identify times and locations when the public could not secure transport. Mr DeSilva explained: "There are a number of individuals willing and able to drive taxis, but they are unable to do so because some owners have declined to make their taxis available for rent. This, along with other factors such as some drivers choosing not to work during unsociable hours, results in a shortage of taxis, specifically at certain locations and times of the day. "It is for this reason we are looking to introduce special taxi permits." He added that the Government would implement many of the ideas recommended during the Transport Green Paper consultation period as it seeks to address shortcomings in the system, but the special taxi permits were the quickest and most efficient way to get more taxis on the road to provide transportation during the summer season. Mr DeSilva added: "I look forward to working with stakeholders to fix these problems which have festered for years without resolution. In tourism and transport, we cannot let attachments to the past prevent us from modernizing the future. We were elected to fix problems and must move forward to make transportation better while providing more Bermudians the opportunity to earn a living and benefit from our growing tourism economy."
2019. May 28. Taxi law and regulatory changes suggested in a Green Paper on transport are already on the books but not enforced a former president of the industry's association said yesterday. Leo Simmons, who headed the Bermuda Taxi Owners Association from 2014 to 2017, said that proposals by interested groups in the government paper to tackle a "taxi crisis", including making it illegal for drivers to refuse rides based on distance or route, were in force. Mr Simmons added: "It is an enforcement issue. It has been an enforcement issue for years. The change has got to start from the top. You have people who sit behind desks making decisions but some are not practical and they have no clue how to enforce it. The law also has a lot of loopholes — the taxi association in the past was looking to bring the taxi regulations into the 21st century." Mr Simmons highlighted part of the Motor Taxi Regulations 1952 Act which said a "driver of a taxi shall not, while the taxi is standing or plying for hire, refuse to accept a passenger for a lawful journey". Another suggestion in the Green Paper was to revoke the licence of any taxi owner whose vehicle was not on the road for the legal minimum of 16 hours a day — which is also already in force. The Transport Control Department has the authority to enforce regulations but admitted last year that it had not monitored taxi operation times since 2010 because of a "policy decision". Mr Simmons said that there was a reluctance by cab drivers to lend out their vehicles to cover the mandated time period because if the substitute driver damaged the car, the insurance bill was the responsibility of the owner. He added if the second driver was found to have broken the law, TCD would revoke the owner's permit. Mr Simmons said: "The offence goes against the car and not the person. If I have a car and my driver commits an offence, my permit can get suspended but it doesn't affect the driver. These are antiquated laws. We tried to get operator's liability insurance so every operator can get their own insurance but it didn't happen."



Authored, researched, compiled and website-managed by Keith A. Forbes.
Multi-national © 2020. All Rights Reserved