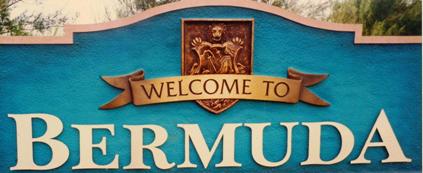 125+ web files in a constantly updated Gazetteer on Bermuda's accommodation, activities, airlines, apartments, areas, art, artists, attractions, airport, aviation pioneers, banks, banking, beaches, Bermuda Status and citizenship, books and publications, British Army, businesses, calypso, Canadian military, causeway, churches, city of Hamilton, commerce, community, cruise ships, culture, cuisine, customs, Devonshire Parish, disability accessibility, districts, Dockyard, economy, education and universities abroad, employers, employment, entertainment, environment, executorships and estates, fauna, ferries, flora, food, forts, gardens, geography, getting around, golf, government, guest houses, history, Hamilton Parish, homes and housing, hotels, internet access, islands, laws and legal system, local groups and organizations, location, media, motor vehicle options, music, municipalities, Paget Parish, parishes, parks, Pembroke Parish, politics, postage stamps, public holidays, public transport, railway trail, religions, Royal Navy, Sandy's Parish, St. David's, St. George's Parish, shopping, Smith's Parish, Somerset, Southampton Parish, Spanish Point, Spittal Pond, sports, stores, telecommunications, traditions, time zone, town of St. George, United States armed forces, tourism, vacation planning, villages, vital statistics, water sports, weather, Warwick Parish, wildlife, work permits, etc. For tourists, business visitors, employers, employees, newcomers, researchers, retirees, scholars.

Bermuda's costs of electricity, imported cooking gas, gasoline and oil
Lack of economies of scale and huge import duties make them very costly compared to North America

By Keith Archibald Forbes (see About Us) at e-mail exclusively for Bermuda Online
To refer to this webfile, please use "bermuda-online.org/electgas.htm" as your Subject
Electricity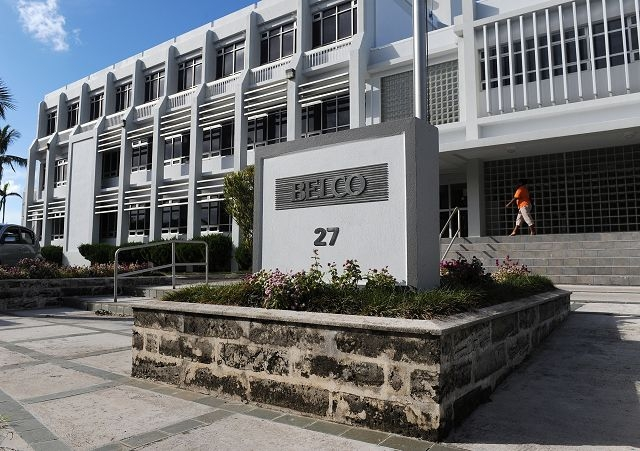 The voltage system is 120 volts, 60 cycles - same as in North America. Some larger appliances use 220/240 volts, smaller ones and lights use 110 volts. No UK-produced consumer appliances will work in Bermuda. Electricity for residential - mostly at 120V - heating, lighting, cooking and cooling is provided exclusively in Bermuda by the Bermuda Electric Light Company Limited (BELCO) at 27 Serpentine Road, Pembroke HM 07, Bermuda. Telephone (441) 295 5111. Fax (441) 292 8975. The Ascendant Group has seven operating companies: Belco, Bermuda Gas & Utility, iFM Ltd, iEPC Ltd, Air Care Ltd, Purenergy Renewables Ltd, and Ascendant Properties Ltd. Belco began in 1904, commenced selling electricity in 1908 and was originally called the Bermuda Electric Light, Power and Traction Company. It has a Bermuda Government legislated monopoly on the supply of electricity locally, is the sole supplier to the government at a preferred rate and is a local commercial joint stock company majority owned by Bermudian shareholders.
Bermuda's mere 20 square miles - more than 600 miles away from the USA in the North Atlantic - resident population of only 68,500 and obvious inability to have no economies of scale makes local costs very high.
The demand for electricity has continued to increase and is always greater in the summer than in the winter. Belco is presently capable of generating up to 152 megawatts of electricity. Large commercial organizations use about 40 percent of all local electrical output.
Belco does not have off-peak rates.
In Bermuda, the architecture, closeness to others and small land size of most Bermuda homes, plus the complete lack of any rivers, nuclear plants, etc. don't allow alternatives - often, less expensive - such as wind farms or solar panels or ground source systems, so imported fuel oil is used exclusively. It is piped directly into the central electricity generating plant owned by the utility on Serpentine Road in Pembroke Parish, west of the City of Hamilton, via a 9-mile 6 inch underground pipe from the oil docks terminal at Ferry Reach, St. George's Parish.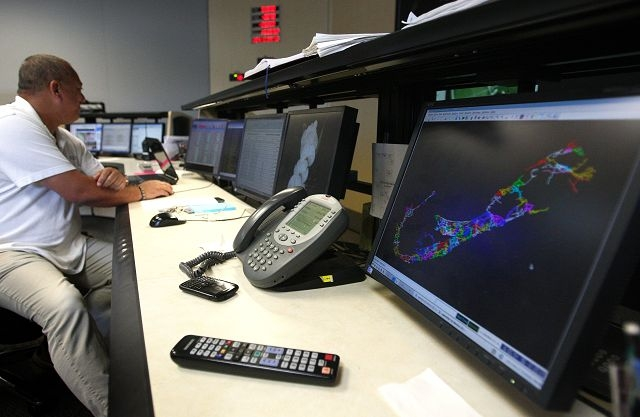 Belco staff monitoring electricity usage. Royal Gazette photo
Solar and other renewable energy sources may be cleaner and cost-effective elsewhere, but in Bermuda they are still considerably more expensive than oil. Recently, during a Bermuda visit, former CIA director James Woolsey urged Bermuda to go solar, saying the Island needed to end its nearly 100-percent dependence on imported oil because the cost of petroleum had become increasingly volatile and unpredictable. But the cost is unrealistic. However, Belco is exploring importing natural gas, which could be a "promising alternative" to oil. Belco supports reducing reliance on imported fossil fuel (oil), noting that its "Energy Equation" for Bermuda called for renewable energy sources, including solar. Belco's own target is 20 percent of energy produced from renewable sources by 2020. That said, renewable energy resources, such as solar and wind, provide only intermittent power; that is, only when the sun is shining or the wind is blowing. Belco alone is responsible for providing secure, reliable power, meeting the Island's base load, likely to continue with conventional fossil fuel generation, although it is exploring the liquefied natural gas as a cleaner alternative. Currently, there is no commercially available wave or tidal power generation equipment; all such technologies are in the research and development phase.
Liquefied natural gas has been converted temporarily to liquid form for ease of storage or transport. (It's estimated 23 percent of America's energy comes from natural gas). Belco believes significant infrastructure would be needed to offload and store imported natural gas, and there would be costs associated with conversion of the generating plant. Belco supports the introduction of large- and small-scale renewable energy installations, however it does not have responsibility for encouraging solar or other alternative energy use in Bermuda. That responsibility lies with the Bermuda Government, in particular with the Ministry of Environment, Planning and Infrastructure Strategy, as well as the Energy Commission, which regulates Belco. The Bermuda Government also has authority over where such installations would be located, and Bermuda's limited land mass makes location of large solar installations challenging.
Belco has established an Interconnection Policy for any residential and commercial renewable energy installations. The Interconnection Policy is for those interconnecting their commercial or residential alternative energy installations with Belco's transmission and distribution system. They must meet certain technical specifications to ensure that they are operating safely, and that they don't compromise the overall system.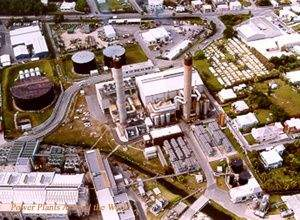 Presently, There are two generating stations on 23 acres of property on Serpentine Road in Pembroke Parish. The East and West Power Stations contain a total of 12 diesel engines and 9 gas turbines. The type of fuel used depends on which engines are in operation. Heavy fuel, used by 82% of the entire system, powers four newest diesel engines which carry the basic load of power used on a daily basis. They are slower to start up than the gas turbines but are more efficient to operate. A very light diesel fuel called Cetane runs the six smallest gas turbines. Both types of engines generate a maximum of 168 megawatts of electricity at a frequency of 60 Hz. A generator (alternator) produces alternating current. Voltage is about 18,500 volts. A generation transformer increases voltage to 22,000 volts to transfer electricity more efficiently over long distances. Transmission cables are made from copper or aluminum because they have low resistance.
Belco's central plant needs to be redeveloped. It wants a new North Station, located between Cemetery Road and St John's Road. It will initially feature several 18MW diesel engines along with a 65m (213ft) smoke stack, storage tanks and external radiators. Once the new facilities are in place, Belco plans to decommission its oldest power station, located to the north of the Belco offices. Belco has said that the new site needs to be in place by 2013 in order to guarantee reliable power delivery throughout the Island as several of the plant's generators are already working beyond their normal service life. According to the company's long-term plan, new diesel generators will be built within the site's existing footprint as older generators are decommissioned. While Belco believes that fossil fuels will continue to make up the backbone of the Island's electricity system, it has set a goal of having 20 percent of Bermuda's energy coming from renewable sources by 2020. The company believes that Bermuda could see the construction of a large-scale solar farm by 2015, and an offshore wind farm by 2018.
Underground cables are not as vulnerable to wind damage but cost more to repair than overhead cables. In most rural and urban areas, the cables are overhead, not underground. But BELCO funded underground cabling in the Town of St. George to help improve the look of the town as it went for and got World Heritage Site status. All electrical cabling for new developments such as office buildings and hotels, both in the City of Hamilton and elsewhere are located underground. Otherwise, this is done only when customers request it and pay for it themselves.
There is a major step down sub station where electricity is routed for commercial or domestic use. 30 substations transform high voltage to low voltage. For commercial use, transformers in large buildings and some other buildings transform low voltage electricity even lower to 120 or 220 volts. For domestic use, the electricity passes along high voltage poles to pole-mounted transformers to low-voltage poles to households.
In Bermuda, for domestic premises, the average per kilowatt hour (KwH) cost before tax (Fuel Adjustment Rate, FAR) is huge by international standards. It is higher than any of the countries named in the International Energy Agency's key world statistics report. The cost to Bermuda consumers is per KwH, plus the Fuel Adjustment Rate of 19.5 cents per Kwh.
2014. November 8. Bermuda's power firms are to come under the control of the Regulatory Authority in an attempt to boost competition and promote alternative energy sources. The change was signaled in the Throne Speech, delivered by Governor George Fergusson yesterday. He said: "The Government, in keeping with its strategic goals to ensure a secure supply of energy for the Island and to reduce energy costs, fossil fuel dependency and greenhouse gas emissions, will use the year ahead to achieve regulatory reform and promote alternative energy use." Mr Fergusson said a new Energy Act would transfer regulation from the Ministry of Education and Economic Development and the Energy Commission to the Regulatory Authority. "This will provide greater clarity and scope to the regulatory decision-making process, an increased level of competition between power producers, equitable interconnection in the grid and the development of a robust licensing regime," he said, adding that Government will also this year call for proposals to turn the unused airport "finger" into a massive solar panel farm to provide renewable energy for Bermuda. He added that an Energy Summit, to be held next week, would discuss Bermuda's "energy future, the reform of the energy regulatory environment, the diversification of Bermuda's energy mix, including the introduction of liquefied natural gas and measures to address energy conservation and efficiency."
2014. October 31. Lingering and widespread blackouts since Tropical Storm Fay 18 days ago, then a week later Hurricane Gonzalo, both of which caused massive blackouts for days and in some cases over two weeks, have prompted the question of why the Island's power lines aren't safely underground. But burying the network of distribution cables comes with its own steep costs, Belco responded — and, contrary to rumor, the utility company never requested a rate increase to put the system underground. The company estimates that the job would take a full decade, at an estimated cost of $375 million, that would force Belco to allocate costs across its customer case at an extra $87 each, per month, for ten years. That is up from the $250 million estimated in 2003, in the aftermath of Hurricane Fabian. A Belco spokeswoman told The Royal Gazette that 100 per cent of the company's transmission system — the high voltage wires carrying power from the plant to its distribution network — already lie below ground. "Also, approximately half of the distribution system is underground, and new builds are typically done as underground — unless there is some reason that a property owner chooses to forego under grounding, such as cost or logistics," she said. But for Belco to retroactively embed its above-ground system would present operational challenges along with an exorbitant cost — such as the difficulty of repairs. "Identifying, excavating, repairing and reinstating underground cables can be a time-consuming, labour-intensive process," she said. "In addition, unless the entire Island is under grounded, a property owner's under grounding is only going to work up to the first span of overhead lines in the distribution system. If there is a fault anywhere along the overhead spans between the customer and the Central Plant, the under- grounded customer will be without power. In addition, permission to go underground would require the consent of landowners and Government — and some locations on the Island might not be suitable for under- grounding."
2014. June 13. A proposal to drag Belco power generation into the 21st century could eventually cost half a billion dollars, the company said in an interview yesterday. It would include, in one of the first stages, an ambitious multiyear plan to begin mounting solar panels on Bermuda homes for hot water heaters — targeting 1000 a year. It would eventually, perhaps in the fifth year, also include the use of liquefied natural gas (LNG) fuel, removing the need for importing expensive oil. Belco uses a million barrels of oil a year, at an annual cost of $150 million — 55 percent of the total cost of running the utility — including $15 million in government duty. Belco's parent company, Ascendant Group Limited, has an Integrated Resource Plan (IRP) that they say would generate a host of skilled and unskilled jobs, improve Bermuda's balance of payments, reduce our carbon footprint, conserve energy, reduce pollution and contain household electricity costs. At present, there is no regulatory framework in Bermuda that would allow Ascendant's plan to proceed. The current regulatory regime, suitable in the past, will have to be discarded for a far more sophisticated administration. And legislative changes are required before the appropriate framework will be put in place. Ascendant's President and CEO Walter M Higgins, told Bermuda's The Royal Gazette newspaper, "The government is committed to putting the right regulatory regime in place. They indicated that commitment in the Throne Speech last year. They want a 21st century regime in place that is in line with world standards to regulate the electric utility. Standard regulation today, allowing for our substantial costs to be recovered and accumulated in certain ways, is exactly what lenders will look for when they consider lending money to us to do this work." While the scheme to replace the current technology is pending, officials concede that they are not just faced with dated technology, but a facility that includes engines that are coming to the end of their useful life — and at least one which should have already been retired. While in an ideal world, the company should have begun upgrading years ago, they know there is no time like the present. Mr Higgins said, "The challenge Bermuda faces today is an ageing generating infrastructure with the engines near the end of their life, on average. Some of them are past the end of life. We have an oil burning infrastructure with all of the things that you can imagine are good and bad about that — highly transportable, highly dense, energy dense fuel. But it's dirty. There is an issue if it is spilled. There's sulphur in it, so there is a certain amount of pollution that comes out of those stacks. Soot can be a problem. We have to deal with it very carefully. And carbon dioxide, which is a world problem according to a lot of people, is also emitted in large quantities when you burn diesel or heavy oil like we do. And the third part of this is that every gallon of oil coming into this Island has to be paid for with money which is hard-earned by sending some product or service of value off the island. That must be one of the things that make (Finance Minister) Bob Richard's life hard. We are about cash-outflow when the Minister is trying to get product outflow and cash inflow."
2014. March 7. Belco has put forward a change to its facilities charge that would cut electricity bills for nearly half of its residential customers but more than one in four households would end up paying more. Those who consume the least electricity will benefit through a reduction in the facilities charge currently fixed at $33 per month for all customers while the largest consumers will see the charge rise to as much as $75 per month. Meanwhile, Walter Higgins, CEO of Ascendant Group, parent company of Belco, told The Royal Gazette a massive infrastructure project that would convert Bermuda's electricity generation system from using diesel fuel to natural gas would be presented to his company's board within a month. The work, which would cost in the region of $200 million, would enable Belco a subsidiary of Ascendant to use a fuel that is cheaper and cleaner than the diesel oil it currently burns and to lower electricity rates by an estimated 15 percent. Mr Higgins said investors were interested and the project to build a new terminal and pipeline, and to convert generators to burn natural gas would involve two to three years work from the point of gaining all necessary approvals. Belco said yesterday its proposal for a Graduated Facilities Charge based on electricity usage had been sent to the Energy Commission for consideration. The company stated: "The proposal is in response to the call to assist lower-income customers who struggle to meet monthly bills, during these difficult economic times. Those who use between zero and 15 kilowatt hours (kWh) per day around 44 percent of Belco's residential customers could expect to save between five and 21 percent from their overall bill, according to the company. However, the 28 percent of customers who use 25 kWh per day or more can expect to see their bills increase by nearly four percent, while the remaining 28 percent of customers will see no change to the charge. The facilities charge will be calculated according to the customers electricity consumption over the previous 12 months. This will be reassessed monthly, giving consumers the opportunity to fall into a lower bracket for the charge if they use less electricity. Mr Higgins said the proposal meant those who made greatest use of the system would pay more. He added that the burden added to larger, wealthier consumers, would be outweighed by the burden removed from the shoulders of low or fixed-income customers who tended to use the least electricity. Belco received sharp criticism from Finance Minister Bob Richards in his Budget statement last month, when he said claimed the company's inefficiency is eroding Bermudas competitive position and the high cost of electricity was a great burden for the Bermudian people whose buying power is reduced due to the high cost of just keeping the lights on. But yesterday, Belco's move was welcomed by Education and Economic Development Minister Grant Gibbons whose department has been in talks with Belco on pricing issues. "We believe that if approved, this proposal will provide some helpful cost relief for those residential customers who are low users of electricity and who tend to be seniors, as well as families and individuals in the lower income brackets. It would be premature to comment further because it is the Energy Commission who must consider and rule on the submission by Belco. The goal is to lower the cost of energy for all individuals, businesses and organisations while maintaining the reliability that we have come to expect in our energy supply."
How Belco's proposed Graduated Facilities Charge would impact customers divided by electricity usage levels:
Tier 1: 0-10 kWh per day facilities charge goes from $33 to $15 21.1 percent reduction in overall bill (26% of customers)
Tier 2: 10-15 kWh per day $33 to $25 5 percent reduction (18 percent)
Tier 3: 15-25 kWh per day $33 Unchanged NO CHANGE (28 percent)
Tier 4: 25-50 kWh per day $33 to $49.50 3.8 percent increase (22 percent)
Tier 5: 50+ kWh per day $33 to $75 3.9 percent increase (six percent).
2013. December 27. Solar energy firms have called for power company Belco to adopt a Caymans-style agreement to buy back excess power generated by the sun from commercial generators. A source close to the Bermuda Sustainable Energy Association said it was difficult to understand why there has been such intransigence in formulating and agreeing the necessary interconnection and power purchase agreements her in Bermuda, especially considering that there are numerous agreements already in existence all over the world representing all sizes of jurisdictions which can be used as a model. "There is absolutely no requirement for Bermuda to reinvent the wheel we simply need to select the best proven models and get them implemented without any further delay. An agreement between Grand Caymans Caribbean Utilities Co and commercial users had been in place since early 2011, while Bermuda has yet to introduce a policy and a buy-back tariff." Belco does buy back power from domestic solar power plants under an agreement thrashed out in 2010 but a proposed agreement has been with the Department of Energy's Energy Commission since May without a decision on how to implement a buy back scheme from large-scale commercial solar power users. The source said there are many geographic and demographic similarities between Bermuda and Grand Cayman as well as comparable scale in terms of power generation, customer base and pricing per kilowatt hour. Cayman has adopted a feed in tariff model for both residential and commercial customers that has been in place since February 2011. A feed in tariff system defines the rate at which power is purchased by the utility company from the residential or commercial customer and guarantees the term of the agreement, usually 20-25 years, to allow the owner of the solar grid to get an assured return on investment. The Caymans agreement on interconnection and power purchase is only eight pages long, while the domestic buy back agreement in Bermuda runs to more than twice that length. The source added that Government had set a target in the 2011 White Paper on Energy of 20 percent of energy to come from renewable sources by 2020. However, the growth of solar electric photo voltaic systems in Bermuda has been severely hampered by the lack of commercial interconnection and power purchase agreements. The Royal Gazette reported in October that large scale solar systems, including Gorham's hardware store, were already supplying energy to the Belco network, which is then sold on, but not receiving payment for it. The source said obviously, this arrangement is beneficial to Belco but provides no incentive for the investment in commercial solar photo voltaic systems as evidenced by the very low growth in commercial installations. Belco referred requests for comment to the Energy Commission. A spokeswoman for the Ministry of Education and Economic Development said the Ministry recognizes the importance of developing fair and equitable interconnection agreements as a basis for the further expansion of solar and other alternative energy production in Bermuda. The Bermuda Energy Working Group which was established earlier this year has been working diligently for some time and is very near to proposing a recommended interconnection agreement. With regard to the interconnection agreements, the challenges are in the technical requirements and the cost recovery mechanism for any amounts paid. The primary concerns are the purchase price, but it is also the quality of power, intermittency, the safety of the systems, and the fairness of pricing not only in terms of what the utility will pay for power produced, but also how that cost is then absorbed by the rate base. This must be done so that it is sustainable, safe, and equitable to all rate payers, not just to those who are producing power. This must be done in close collaboration with the industry stakeholders, power producers, the Department of Energy and the Energy Commission. The process is complex, and it must be done correctly to avoid risk to the entire grid, or inequitable subsidies.
2013. November 22. A green energy firm is to lease solar panels to homeowners, a first for Bermuda. The offer from Alternative Energy Systems (AES) allows domestic users to get six solar panels installed with no upfront cost. AES CEO Tim Madeiros said: "In the past year, we've seen a phenomenal move to solar power in the residential market in Bermuda. To continue the momentum, AES is introducing this financial mechanism to further encourage the transition to solar technology among Bermuda residents. It is AES's goal to make solar technology accessible to everyone in Bermuda, which in turn will reduce the Islands reliance on expensive imported oil that significantly drives up our cost of living and operating a business. Those who sign up will get six SunPower 240w solar panels and a web-based monitoring kit, fully installed and commissioned, as well as Government and permit fees paid. The kit, which takes up 80 square feet of roof space, 2,200 kilowatt hours of power a year and comes with a 25-year guarantee. The monitoring kit allows uses to keep track of energy production from anywhere in the world using a computer or mobile device. Mr Madeiros declined to comment on leasing costs but he said: "The costs will be less than energy saved so the customer can realise an immediate savings on energy. This leasing programme offers a fresh, modern approach to the energy industry in Bermuda." AES, founded in 2008 by Mr Madeiros, a former Belco employee, has installed more solar panels than any other firm in Bermuda. For more information or to schedule a free site assessment visit, call AES on 505-0804 or e-mail tim.madeiros@aes.bm.
2013. November 9. Lower energy costs for consumers could be in the pipeline after Government pledged yesterday to open up the energy market to more competition. And the move could also make the Island more attractive to outside investors by lowering the cost of doing business in Bermuda. But a spokeswoman for BELCO which currently enjoys a monopoly position on electricity power urged caution in opening up the market. She said: "Movements toward competition in the electric utility industry need to be undertaken very thoughtfully to avoid bad outcomes for reliability and price." BELCO intends to continue to work very closely with Government on these matters. Delivering the Governments legislative programme for the new Parliamentary year in the Throne Speech, Governor George Fergusson said: "The high cost of energy is an important factor for residents and business alike and it is an issue that companies and developers consider when looking at the Island as a potential domicile." Following the successful launch of the Regulatory Authority in January of 2013, the Ministry of Economic Development will move the regulation of energy to this independent body. This move will involve changes to the Energy Act 2009 and the Regulatory Authority Act 2011. One of the aims of this initiative is to help lower the cost of energy for consumers. The Bermuda Energy Working Group has been formed and comprises a diverse group of energy professionals, independent engineers, non-governmental organisations and interested members of the public, working in collaboration to provide advice and guidance to the Department of Energy. One of their primary tasks is to develop equitable interconnection agreements for independent power producers to contribute to the production of electricity, a development that can lead to price competition, diversified energy production, increased use of renewable energy sources and the opportunity for lower-cost fuels such as natural gas. The BELCO spokeswoman said: BELCO is aware of all of these matters and is actively participating and working with Government on these topics.
2013. October 31. Commercial users of solar power already export electricity to power firm Belco, but they don't get paid for it, an industry expert said yesterday. Tim Madeiros boss of Alternative Energy Systems (AES) said he had been working for four years to thrash out a payment scheme for commercial solar power with Belco, but with no result. In the meantime, Belco has been free to sell on the power to other customers and it doesn't cost them a cent. Mr Madeiros said: "Not only is the excess energy exported by the businesses to Belco without compensation, but growth in the commercial solar energy industry overall being restricted because businesses that would consider a switch to renewable energy are reluctant to move forward until a final interconnection agreement with Belco has been established. I have been working for four years to try and thrash out an interconnection policy for commercial users with Belco long before the first commercial solar system was installed. Promises made by Belco that an agreement would be in place before the first system came online did not materialize." The Royal Gazette reported on Monday that Gorham's chief Rod Ferguson had asked both the Energy Commission and Belco for an explanation for the delay but had not received a reply. But a spokeswoman for Belco said the firm had kept members of his management up-to-date on progress. She added that solar panel installers had failed to respond to requests for comment on a draft agreement, which was submitted in May to the Energy Commission. AES has since installed 1,592 solar panels at three businesses home goods and building supply store Gorham's, drinks firm Goslings and Lindo's supermarket which produce a total of 392 kilowatts. But Mr Madeiros said: "These three businesses are closed on Sundays and public holidays, which means that for 62 days a year, they are exporting energy to Belco for free, that's two months of electricity a year." Clean energy produced by the renewable solar arrays owned by these businesses is received by Belco and is then onward sold by Belco through its grid to its retail customers. Mr Madeiros added that Belco's current rates are around 46c per kilowatt hour. Gorham's chairman Rod Ferguson, where solar power panels were installed two years ago, said he had been under the impression power generated at his firm had been wasted, not pumped into the Belco grid. He added: "They have been having it all this time and giving us diddly. Maybe what Belco needs to do once this agreement is in place is to look at a retroactive agreement. It means they are not using expensive fossil fuel if they are getting our electricity free." Belco said last week that it had submitted a proposal in May to the Energy Commission, which comes under the Ministry for Economic Development, but had yet to receive a response. Mr Ferguson said: "If Belco said look, we have not heard from you and because we feel an obligation to our larger customers, we want to roll this out now to appease them, then maybe the Energy Commission would be energized to complete its task. That would be a satisfactory result for us." But the Belco spokeswoman said: "In fact, those customers, such as Gorham's, who have installed commercial-sized solar renewable generating systems and connected them to Belco's grid have done so without any consultation, permission or approval from the utility. In every case, the affected commercial customers and the solar installers who built the systems did so in the full prior knowledge that until such time as a commercial interconnection mechanism is in place and approved by the Energy Commission, the customer could not be compensated. A solar system which is not properly installed could cause electrical back feed into Belco's electric system under certain circumstances, possibly endangering the safety of Belco line workers and the public. Similarly, arriving at the proper level of compensation ensures that the commercial customer with a solar installation is receiving fair compensation for the excess power they sell to the utility and, very importantly, is not being subsidized by all other Belco customers. Belco stands ready to implement the commercial solar interconnection agreement upon approval and has stated so many times. Mr Ferguson knows this and it is sad the he chooses now to misrepresent the truth." Government did not respond to requests for comment.
2013. October 4. A new tax on fuel - also see below - landed at the St Georges oil docks will raise funds necessary to protect the towns World Heritage site status, Government has claimed. MPs voted in favour of the Corporation of St George (UNESCO World Heritage Fund and Levy) Act 2013 in the early hours of yesterday morning. The bill puts a one quarter of a cent per litre tax levy on petroleum imports. Noting the historical significance of the town, Public Safety Minister Michael Dunkley said that Bermuda had long struggled to maintain its World heritage site to the standards set out in the criteria of the designation. He said that additional income raised from the tax will go straight to the Corporations coffers to maintain, develop and promote the World Heritage site. This will provide much needed funding to revitalize St George's into a centre that Bermuda can be proud off, Mr Dunkley said, adding that the towns potential as a major tourism attraction had not been exploited fully. The Minister noted that damage inflicted to the towns wharf by Hurricane Fabian ten years ago had still not been repaired. "It is acknowledged that any measure that results in even the slightest increase in cost creates an atmosphere of tension and impacts the consumer," Mr Dunkley said. "But this Government is not about to let the east end or anywhere else on the Island slide any further." Opposition MP Zane DeSilva said he support the bill in principle, but questioned the timing of the increase, claiming that the man on the street was hurting, while Independent MP Terry Lister asked what else the town could do to raise revenues. And Glenn Blakeney raised concerns about the long-term impact of an increase, questioning whether fuel cost increases might eventually result in a rise in public transport fares. But St Georges North MP Kenneth Bascome insisted that the PLP had dropped the ball by allowing the jewel of a town to fall into decline, and said that the funding would have long-term benefits. "It is going to help the Corporation of St Georges to increase their work crews and improve infrastructure, " he said.And Finance Minister Bob Richards concluded that the increase was negligible. "It's important to put this in perspective it is a 0.047 percent increase less than half of one tenth of one percent. It's negligible, it really is. And in terms of jobs, at the very least this measure will save jobs in St Georges."
2013. September 24. A new tax on oil imports will help protect and promote the world heritage site of St George's. But oil importers yesterday reserved judgment on the one quarter of a cent per litre tax levy proposal until the details — including whether they can pass it on to consumers — are thrashed out with Government. David Rose, CEO of RUBiS, said: "It's a levy on all fuel imports into Ferry Reach. We were given a heads-up it was coming and there is no date set for its implementation. And there will be further discussions between the oil companies on this. The oil importers and the Finance Ministers have to get together to discuss this. We can't absorb any more costs in this financial climate. We as oil companies simply cannot pass on a tax. It's the Ministry of Finance which allows for any new tax being recouped. It's nothing at all to the consumer — but to the oil companies and BELCO it has an impact. As far as the oil companies and BELCO are concerned it's an added cost — we're in the same position as any other company in Bermuda. There has been declining demand for five or six years in a row and operating costs don't go down." Mr Rose was speaking after the bill, designed to raise funds on oil importers, including BELCO, was tabled in the House of Assembly. Mark Fields, country manager for ESSO, added: "I can't comment on it at this point time. I'll have to have my lawyers review it and see what it's all about. I just looked at it and I think we can pass it on, but that's just a cursory reading." A spokeswoman for BELCO said: "We're just trying to get some information on it at the moment — we're trying to get some clarity. We're looking into it to see what it means and we're reserving comment until we do." The cash raised will be used to create the "UNESCO World Heritage Fund", which will be managed by the Corporation of St George's. Finance Minister Bob Richards, who tabled the bill, said Government was still in the process of working out how much cash the move might raise. He added his Ministry had been in contact with oil importers. We're still organizing the particulars and exact arrangements haven't been finalized yet. We wanted to get the legislation through so we can get things going. They are pretty strapped for cash in St George's, so I'm sure this will be welcome as far as they are concerned." St George's Mayor Garth Rothwell could not be contacted for comment yesterday. But Shadow Finance Minister David Burt said: "We all know that the old town needs help and the PLP supports maintaining the historic jewel of the Town of St. George. But we hope that the Government has thought this new tax hike through. It is likely that this new tax will be passed on to the consumer increasing the cost of living for hardworking families and small businesses at the worst possible time. We have to consider the knock-on effects of this plan. Not only will consumers face higher prices on their BELCO bills and to refuel their vehicles; but companies who will also see their costs rise are likely to increase the price of their goods and services. This can lead to an increase the price for food and essential services. We have learned that the Chamber of Commerce wasn't consulted on the cruise ship gaming bill so we hope the same mistake hasn't been made with this new tax. Rubis and Esso have hopefully been consulted and have been asked to hold off passing this new tax on to the consumer. If not this planned new tax is the wrong way forward and we urge the OBA to reconsider."
2013. July 24. Power demand has been marginally higher so far this summer than it was a year ago. According to Belco figures, the peak load on July 19 was 112.6 megawatts, compared to 108.7 megawatts on the same date last year. However, while demand has been higher, a Belco spokeswoman said the cost of fuel on the world market had been lower. That translates into lower fuel charges this month when compared to the same period last year. The cost per kilowatt hour in July was 18 cents compared to 20.5 cents in July 2012. The spokeswoman encouraged customers to use energy efficiently, particularly during the hot summer season. "In years past, we have had peaks in July, August and in September. It really depends on Mother Nature and how high temperatures go. If temperatures cool down or it gets rainy, then we may already have had our peak for this summer." Apart from that she said it's impossible to predict. The company has also published 'Understanding Your Bill' advertisements this month following changes to the information that appears on Belco bills. The facilities charge is now listed as a separate item on monthly bills. It was previously embedded in other costs on the bill. "When we listed the facilities charge, some customers called with questions, so we decided to do some advertising to inform all customers of the change," said the spokeswoman. "We are now adapting the print ad to become a flyer and bill stuffer. Our aim is to communicate clearly with customers about all of the elements of their bill, so they understand what they are paying for."
2013. May 29. Government is exploring alternative forms of energy. Government's 2011 White Paper on Energy promised a "bright, exciting" future "not bound by fossil fuels" for Bermuda. But, two years on, the Island remains as reliant on them as ever and the cost of electricity keeps rising — a fact not lost on Economic Development Minister Grant Gibbons. "It's an issue that Government is very much looking forward to tackling," he said. "There are a lot of pieces to addressing this challenge of high energy prices." Dr Gibbons, whose Ministry includes the Department of Energy, said he understood the frustration felt by many about steep bills from Belco, the Island's only electricity provider. That discontent was voiced by his Cabinet colleague Bob Richards earlier this month, with the Finance Minister accusing Belco of taking advantage of its "monopoly power" by charging too much and reaping in the profits. Dr Gibbons said he appreciated where Mr Richards was coming from, particularly in light of rising prices, with the latest Consumer Price Index showing consumers paid three percent more for their electricity in March than in February. "It's been a long-term trend," said the Minister, adding that he also appreciated the challenges faced by Belco. "Belco runs on diesel and fossil fuels to generate their electricity. Part of their problem is that a good portion of their pricing structure is based on the price of oil. We need to look at alternative ways. I know Belco is doing this." The 2011 White Paper detailed how Bermuda became dependent on fossil fuels derived from oil when "they were cheap, easy to transport and could power a wide variety of machines." It noted: "Unfortunately, as our use of fossil fuels has grown we have become increasingly aware of a range of issues related to their use and now realize our choice was short-sighted and is neither environmentally nor economically sustainable." Dr Gibbons said the White Paper, which will be revised, was a little dated but contained a "lot of good things ... which we are now moving ahead on. Government is exploring energy production from wind and waves, along with combined heat and power plants (CHP), photovoltaic fuel panels and the real prospect of a solar farm at the old Navy munitions pier at the airport. We'd like to move forward to a point where we have different independent power producers feeding energy into the grid. Such projects involved a good deal of initial cost for the producers and they'd need the ability to sell power back to Belco. One of the areas that we are working on now, and we have got a number of people looking at it, is the whole issue of interconnect ness. At Tyne's Bay right now, some of the power generated by waste to energy is sold back to Belco at a certain rate. The rate is important and is known as a feed-in tariff. There is a need to find a rate that is fair and equitable. Government had to consider: "What are the interconnect ness arrangements? What are the feed-in tariffs? Is the grid capable of handling an intake of megawatts? Part of it, obviously, would be up to the grid [Belco] as to what they are going to require but part of it may be the responsibility of the independent power producer. There are issues there, but I think the point is we would like to be able to move towards a situation where we have other people, whether it be households [or others] generating energy. That's going to require some logistical and infrastructural changes, which we are going to have to work through and which Belco will have to be a key part of. It was highly likely that the new authority tasked with regulating the telecommunications industry, would also take on energy — with its remit to include setting feed-in tariffs. The authority would replace the Energy Commission. The structure is there and it's a full-time professional structure and much better suited to dealing with some of these areas. That's going to require legislation. During the course of this year, we'll be probably moving in that direction. The challenge that I think we have inherent with the Energy Commission is it does not have a lot of power. It doesn't have the teeth required to address the issues. We need a stronger regulatory structure and a lot of co-operative arrangements. Over the course of this summer we are working through policy direction and working with different stakeholders. Belco had many of its own proposals and was "pushing for alternatives as well. The company already has an interconnection policy which allows householders with small-scale renewable energy generation systems to feed excess power to the grid at the same rate they pay for power. And it has put together potential commercial agreements for larger-scale operations. The last Government, meanwhile, put rebates in place for those wanting to import alternative, and greener, means of producing power, such as solar water heating systems and solar photovoltaic electric generating sets. But such systems, which don't come cheap, had not really taken off here yet. The White Paper was very optimistic in terms of the take-up in terms of solar panels and solar thermal [energy] and it's been a much, much slower uptake than I think the writers of the White Paper anticipated. One of the reasons for that is cost. Photovoltaic panels is a very interesting solution for Bermuda, along with solar thermal energy, where the sun is used to generate hot water. CHP plants have been talked about for some time and could potentially prove effective in Bermuda. Instead of using 40 percent of your fuel, you can use 80 to 90 percent of it. You are using that to produce cold water and steam for other purposes. It's a much more efficient method of generating power. Natural gas, and how it could be used here, is also being seriously investigated. The United States, in the last few years, has become an almost independent producer of natural gas. They may be an exporter in the next few years. The price of natural gas has come down dramatically. Natural gas is a much cleaner fuel and has a lower carbon footprint. One of the abridging strategies here is to use possibly a source of liquefied or compressed natural gas as an alternative to bringing in lots of diesel. Belco is looking at it and there are other people looking at it as well. It's going to require a fair degree of investment, capital assets. You have to find a steady source of fuel to get it here. You need to turn it back into compressed natural gas — you have to deliquefy. It requires a certain amount of physical plant. We think at the very least this could provide better stability in terms of the price of fuel here, which is a key piece of the costs of electricity. It would also provide other opportunities. It's a cleaner, greener fuel in that sense. It's not as good as solar or wind but it could be a nice bridging technology, let's say for the next five or 20 years. I agree with Mr Richards that the cost of energy was a factor in Bermuda's ability to attract business here, including hotel projects. They [hotels] are very sensitive to it, because they have a very narrow operating margin. That's been an issue for many of the existing ones and ones considering Bermuda as well. Government was committed to finding cheaper electricity but it had to be sustainable. We can't have a situation where we have power outages because the wind drops for a few days or because we are in heavy cloud. It does require quite a bit of cooperation, working together and sorting through these problems."
2013. May 22. Belco does not profit from the Fuel Adjustment Rate, and nothing parent company Ascendant Group is doing affects the price of electricity in Bermuda. This from Ascendant president and CEO Walt Higgins. The Fuel Adjustment Rate applies to the price Belco paid above a Price Commission-set $30 per barrel base rate. So, if Belco paid $130 per barrel $100 would be the amount upon which the Fuel Adjustment Rate is set. The cost is collected on a per kilowatt hour usage basis. The cost of fuel for Belco is thus made up of: The actual cost of the fuel purchased on the world market, refinery, plus transport, terminal processing fees and Bermuda Customs duty of $15.10 per barrel, which provides over $15 million in Government revenue, annually. Commenting on Ascendant's recent steps to diversify, including formations and acquisitions, he said: "Nothing Ascendant is doing is affecting the price of electricity. "What we are doing is taking shareholder money and investing it in other business opportunities to offset the fact Belco is in a fourth year of seeing diminishing sales." Belco saw electricity sales decrease for a third year in 2012, on fewer customers and reduced consumption; at the end of 2012 Belco had 35,770 customers compared to 35,862 in 2011. Kilowatt hours have declined from a high of 656.1 million in 2009, to 606.3 million in 2012., a drop of 49.8 million, or 7.6 percent. Ascendant noted in its annual report that fuel adjustment revenues increased $12.7 million to $104.1 million from $91.5 million in 2011, primarily due to a 12.6 percent increase in the average price of fuel, which for 2012 was approximately $135 per barrel as compared to $119.88 a barrel in 2011. The remainder of the increase was due to a higher rate paid for more kWh purchased from the Government's Tynes Bay waste-to-energy incinerator plant as well as drop in overall fuel efficiencies, as aging plant required more time of service for maintenance. Mr Higgins said there will always be a fuel adjustment rate, it will just get bigger or smaller, based on the true cost of oil. As Ascendant explained, Belco applies to the Energy Commission each month to set the monthly Fuel Adjustment Rate, which covers the cost of fuel purchased to supply electricity. The Energy Commission sets the rate based on the price Belco paid for the fuel shipment. The Fuel Adjustment Rate will vary from month-to-month, up and down, dependent upon the price Belco paid for the fuel. The Fuel Adjustment Rates so far this year have been:
January 16.5 cents

February 17.5 cents

March 18 cents

April 18 cents

May 17 cents
Mr Higgins said he welcomes meeting with Finance Minister Bob Richards who has accused Belco of charging too much for electricity and has urged it to give some of its profits back to customers by lowering prices. Mr Richards charged the company was using its "monopoly power" to grow its business and pay dividends to its shareholders, while cash-strapped consumers suffered from its high charges.
2013. May 16. Bermuda could have imported liquefied natural gas as an alternative to costly oil in as little as three to five years if all falls into place. This from Ascendant Group president and CEO Walt Higgins, who says residents could see a savings of at least 15 percent on their electricity bills. "We are making terrific progress in the process of helping to bring the Island to a decision on the importation of natural gas," said Mr Higgins, a US energy industry veteran. "The current wisdom now in Bermuda is we ought to be moving towards liquefied natural gas as our principal source of fuel for electricity generation in Bermuda." But he stressed it will take a substantial investment of hundreds of millions of dollars in building infrastructure, facilities and even at least two dedicated LNG tankers to bring the liquefied natural gas to the Island from the US. Mr Higgins sees this being done in partnership with an experienced international company in the LNG industry. And he said hopefully Belco will be refitting and replacing power plant engines one day to burn imported natural gas and not imported oil. Mr Higgins said following a Government agreement of concept and process there are a number of steps that need to be taken including: A detailed feasibility study covering the financial, environmental, engineering, procurement and logistic aspects of the project; and a long-term natural gas purchase agreement including pipeline transport of the natural gas to a liquefaction and export facility, where the gas would be liquefied and loaded onto specially built ships. A liquefied natural gas terminal would need to be built in Bermuda and a pipeline from the terminal to Belco. Much of this work would take place simultaneously, Mr Higgins said. It is expected the initial feasibility study would take approximately 12 months, after which pending approvals development of the terminal would take upwards of 24 months, Mr Higgins said. He cautioned that making deals to import natural gas will be a challenging process, requiring the securing of pipelines and a facility in the US that can liquefy the gas before shipping, which will not be easy because of record demand right now for America's supply of cheap, clean and abundant natural shale gas. "Everybody in the world wants to tap into the low prices of US shale gas supplies," he said. The International Energy Agency (IEA) has predicted in a report this week that rising shale oil production will help meet most of the world's new oil demand in the next five years. The agency said that North America "set off a supply shock that is sending ripples throughout the world". "The good news is that this is helping to ease a market that was relatively tight for several years," the agency said in the report. Oil traded near $103 a barrel this week, well below its peak of $147 back in 2008. Another benefit of natural gas is it emits about 50 percent less carbon dioxide than oil and coal.
2013. May 9. Finance Minister Bob Richards accused Belco of charging too much for electricity and urged it to give some of its profits back to customers by lowering prices. Mr Richards claimed the company was using its "monopoly power" to grow its business and pay dividends to its shareholders, while cash-strapped consumers suffered from its high charges. He said: "They are a private enterprise, they are entitled to make a profit, but when those profits are used to buy other businesses and, of course, they still have money left over to pay dividends, you say to yourself perhaps some of that profit could have been given back to customers Perhaps they shouldn't be charging us what they are charging us." Belco's parent company Ascendant Group hit back at his comments, with a spokeswoman saying the cost of electricity here was primarily driven by the price of fuel oil on the global market. She said "electricity rates in Bermuda did not support diversification by Ascendant and it was using a combination of earnings from across its group of companies, as well as investor funds and debt, to expand. As for dividends, the spokeswoman said: "Investors in any business will only invest if they receive a fair return on their investments." Economic Development Minister Grant Gibbons, meanwhile, said "my Cabinet colleague was simply voicing the frustration that many people feel about high energy costs" he had seen a willingness on Belco's part to be involved with efforts to make energy more affordable. I think a lot of people see Belco as the enemy but I think we have to see them as part of the solution and they will need to be part of the solution. Dr Gibbons is responsible for the Department of Energy, as Economic Development Minister. He also stated that reducing energy costs was a priority for Government, with several alternatives to fossil fuel being explored for Bermuda. They include wind, wave, photovoltaic solar panels, solar thermal energy and combined heat and power plants. There is a "real prospect" of a solar farm being built on the old navy munitions pier at the airport — an area jutting into Castle Harbour sometimes referred to as the Finger. "We have a number of proposals where people are interested in putting in a solar farm down there. The idea is to cover that area with solar cells and use that to generate electricity, which is different to what Belco is generating in Pembroke. The issue of high energy costs is right across the board, whether you are an individual householder, a business or, in fact, Government. Our current budget for energy — which is not all Belco — is something in the order of $20 million a year so Government is invested in this as well. I think we all understand, because we are all paying." Mr Richards said: "I think there is something intrinsically unbalanced about a company that has a monopoly using monopoly power to buy third-party companies. If they have that kind of money left over, and are still able to pay dividends, it says to me that we are paying too much money [for electricity]. "It's a private enterprise, I understand that [but] because of the nature of it, it strays into public policy. I don't know anywhere where power costs as much as it costs in Bermuda." The One Bermuda Alliance MP recalled how the United Bermuda Party Government of the late 1990s "broke the monopoly" in the telecommunications industry, when he was Telecommunications Minister. And while he suggested it wasn't "necessarily practical to talk about having another Belco in Bermuda", it was important to have tougher regulation of the company. Their interests are not necessarily, as a company, in sync with the public interest. Our job as government is the public interest." The Minister admitted he couldn't "reel off solutions" for driving down energy costs but said there was a will within the new Government to find a way. "I'm just sort of laying down markers here insofar as my job as Finance Minister to oversee the Bermuda economy," he said. "I believe that this is a critical factor in how we are competitive as a jurisdiction. I really do believe there are a list of reasons why Bermuda has become uncompetitive and has had four, going on five, years of economic contraction. On that list is the cost of doing business and the cost of living and fundamental to those costs is the cost of energy. I won't stop talking about it and I won't stop looking at ways to do something about it." Shadow Economic Development Minister Glenn Blakeney said soaring energy costs were something the Progressive Labour Party Government tried to get to grips with, adding: "I don't think we did. That was a great disappointment." But he said he saw a "level of disingenuousness" in the Finance Minister's comments because "we are in a capitalist market, driven by meeting projections." No one wants to sacrifice the profit margin. People invest in companies to be paid dividends, so the bottom line is that those that are charged with the corporate well-being of the company are looking to drive the bottom line. They aren't in business to be socially conscientious. Electricity was an essential need, so to make it affordable the only way you can encourage the free enterprise system to work is to encourage competition." The Ascendant spokeswoman said the group shared Government's concern about the high cost of living here and the impact that the cost of electricity had on that and on doing business. She said "any new initiative in the energy industry should focus on a reduction in energy prices and that it was a "strategic imperative" for Ascendant to work with Government and others to increase the efficient use of energy, reduce costs and find alternatives to traditional electricity production. Belco had no influence over the price of fuel oil globally but was always looking to get the best rates and had saved $5.9 million since January 2010 with efforts to hedge its fuel purchases. Electricity rates in Bermuda do not support diversification by the Ascendant Group. Electricity rates and the return on utility investment are regulated by the Energy Commission. The current return on utility investment of less than four percent is now well below average international accepted rates of return, which are closer to ten percent, as well as previously acceptable Bermuda rates of return. Ascendant is using a combination of earnings from across the group of companies, as well as investor funds and debt to expand its service and product offerings beyond the traditional electricity generation and delivery product, to other energy infrastructure solutions which will combine to bring better efficiencies and, in the long term, lower overall prices."
2012. November 15. Belco proposed to increase base tariff rates over the next three years to finance a planned expansion of its facilities after electricity sales have stagnated. According to the proposal being made to the Energy Commission, base costs for residential customers would increase by 3.5 percent annually in 2012, 2013 and 2014. Facilities fees would increase by $3 in 2012 and 2013 and $2 in 2014. A Belco spokeswoman said that because the rate of electricity increase is based on how much is used by a customer, the rise would be less than 3.5 percent for most. She said the average residential customer uses 700 kilowatt hours (kWh) per month. Based on that usage, a Belco bill would increase from $280.13 to $283.05, or around $2.92 per month between 2011 and 2012. "The present average price per kWh for this customer inclusive of the facilities fee and with an average fuel adjustment rate of 15 percent per kWh is 40.02 cents, as compared with the proposed price of 40.04 cents per kWh for 2012. The recommended rate structures have been designed to encourage customers to use energy efficiently, with higher prices for higher usage." According to a notice appearing in yesterday's The Royal Gazette, the company proposes to remove the $40 minimum bill for residential service as of next year. Commercial demand customers would see rates increase by five percent per annum until 2014, while small commercial customers would see a 3.75 percent rate increase annually during the same period. The spokeswoman said: "In the past, Belco was largely able to avoid rate increases and finance operations and capital expansion from income growth that was achieved by kWh sales growth and cost containment efforts. Belco continues to make strides with respect to cost containment. However, stagnant electricity sales have led to the company to submit the application for rate increases to ensure a strong fiscal platform that can support the debt financing costs of the capital replacement programme. Belco had received approval to increase rates this year, but chose not to do so given the current economic climate. The increase in fees will be used to fund a $300 million expansion, replacing ageing equipment that has reached the end of its operational life. Capital work over the next decade is imperative so that Belco may continue to provide a secure, reliable base load electric poser system for Bermuda's residents and businesses." Along with a recently approved North Power Station, to be built in Pembroke, Belco intends to improve its transmission and distribution, replacing underwater cables and ageing equipment in several substations. "Throughout its 105-year history, Belco has always maintained a core infrastructure that accommodates the growth of power throughout the Island, regardless of whether it is an extension to a single-family home or a major commercial development. Belco's application to increase rates is necessary to ensure that the people of Bermuda continue benefiting from a secure, reliable and sustainable base load electricity power system that supports the Island's progress." Belco also said they are looking at piloting a Time-Of-Use rate next year, which would offer lower electricity costs at times of low usage, and higher rates at high-use periods. Members of the public are also invited to make written submissions to the Energy Commission between now and November 30, delivered either at their headquarters at the Department of Energy in the FB Perry Building, or at energy@gov.bm.
2012. September 19. Minister of Environment Marc Bean is "bullish" on pursuing natural gas as an alternative energy solution for Bermuda. His comments came as part of his welcoming remarks at the Association of Caribbean Electric Utility Companies, CARILEC, Annual Renewable Energy Forum being held this week at the Fairmont Southampton. "We are working closely with our local utility Belco, to assist them in introducing natural gas as the short to midterm solution for our energy requirements," he said. "I am extremely bullish on natural gas, and have high expectations for its use in electrical generation." But according to Belco, the idea is still very much in the theoretical stage. "Belco and Government continue to explore alternative energy options, including liquefied natural gas (LNG). We appreciate Minister Bean's comments and agree that LNG has real potential as a fuel source for the Island. We, too, are enthusiastic about the prospects. That said, discussions about LNG are in very early stages, and there is considerable work to be done to determine the viability of LNG for Bermuda," the company said in a statement. In late August, new President and CEO of Ascendant Group Walt Higgins, who has been a US energy industry leader and nuclear engineer, said it would cost hundreds of millions of dollars to transport liquid natural gas and build a LNG terminal and infrastructure in Bermuda. While natural gas is the cheapest and cleanest fossil fuel and is available in abundance, the fuel would need to be transported to Bermuda in its liquid form and a LNG terminal would need to be constructed to receive, cryogenically store and re-gasify the LNG for distribution. The construction of the terminal and associated infrastructure, said Belco, have a high capital cost. Mr Higgins, though, said that along with solar thermal heating and commercial scale solar photovoltaic projects, natural gas is the best alternative energy option for Bermuda. During his remarks to more than 30 Caribbean country representatives at the forum, Minister Bean added Government's "two-pronged approach" to energy security — focusing on natural gas and other renewable energy sources — was on the cusp of great progress. "Combined with the complimentary energy generation via wind, solar, and tidal, I am convinced that our strategy for Bermuda will not only ensure energy security, but also, social and economic stability," he said. Minister Bean also stressed that the Government was actively looking to the private sector to start the renewable energy process — inclusive of wind, solar, and tidal methods — rather than forcing change via government initiatives. "We must look to the private sector, who use economic calculation as the basis of their decision making, to innovate, develop, and produce technologies that stimulate demand in the market. It is my position that Government's role is to facilitate the private sector to becoming the lead agent of this change," he said. "Examples abound of state-led renewable energy initiatives that, ultimately, have led to increasing production cost, misallocation of scarce resources, and even the bankruptcy of some firms. It has been, in my opinion, a road to hell with good intentions." To help facilitate growth in the industry, the Senate approved the Companies Amendment Act 2012 in July that allows for certain publicly traded companies in certain industries — including energy — to apply for relief from the rule that requires a minimum of 60 percent Bermudian ownership. The move lowers entry barriers for overseas investment in firms like Ascendant Group.
2012. July 1. With the approval of the Bermuda Government's Energy Commission, the fuel adjustment increased to 20.50 cents per kilowatt hour sold for meter readings taken on or after that date and until further notice. BELCO does not profit when the fuel adjustment rate increases. The Energy Commission sets the fuel adjustment rate every month based on a calculation that includes the cost of fuel and projected usage, and starts with a base cost of $30.00 per barrel of fuel. The cost of fuel for BELCO is made up of: the actual cost of the fuel purchased on the world market, plus transportation and a static Bermuda Customs duty of $15.10 per barrel. As the actual cost of fuel changes on the world market, the fuel adjustment rate changes. World market prices fluctuate greatly due to the growing demand for fuel around the world, limited refineries to process crude oil, and the impact of political, economic and other events. The fuel adjustment rate is announced in the media by the first day of each month. The fuel adjustment rate has climbed steadily rising since July 2009, when it stood at 11.5 cents. Now it is nearly 20 cents per kWh. The Bermuda Government's huge import duty on fuel oil is by far and away the highest tax in the world per square mile, both for oil and for the generation of electrical power. These make electricity three times the cost of the product in North America, Britain and most of Europe, plus the latter have no additional Fuel Adjustment Rate.
2012. May 16. Ascendant Group Ltd said last night it has shelved plans to install a new, more fuel-efficient power plant after Environment Minister Marc Bean ruled against the company's request to raise base electricity rates. The Energy Commission had previously turned down Ascendant subsidiary Belco's plan to raise rates for residential customers by 3.5 percent for three successive years. Belco appealed against the decision to Minister Bean. Last night, Ascendant revealed that the Minister had rejected its appeal. The revelation came in the company's earnings statement, which showed Ascendant's profits plunged by more than 30 percent as one-time charges related to early retirements and weakening energy demand in the slowing economy took their toll. Ascendant said it was now looking at its legal options and in light of the Minister's decision, work on a the planned new, $70 million North Power Station would not proceed. The company said this left Belco "with no choice but to continue to meet Bermuda's future energy demand with older, less efficient and less reliable generation plant". Ascendant, which is also the parent company of Bermuda Gas, recorded net income of $11.12 million last year, down from $16.02 million in 2010. In its earnings statement, Ascendant said one-time charges totaling $3.88 million arose from decisions regarding both the company's pension plan and employee early retirements. Electricity demand fell significantly last year, resulting in Belco's net income falling $1.49 million to $14.54 million. Sales of electricity, net of fuel adjustment income, decreased $3.22 million in 2011 to $150.75 million, down from the $153.97 million in 2010. Residential kilowatt hour (kWh) sales decreased 4.2 percent in 2011, following an increase in 2010 of 1.9 percent. Average consumption per customer decreased 4.2 percent during the year to an average monthly consumption of 678.5 kWh. Ascendant stated: "A significant decrease of 11.58 million kWh is directly related to the economic downturn, as the number of active, metered residential units has declined due to a weak economy and increased numbers of non-Bermudian work permit holders leaving the Island, as some businesses either moved operations out of Bermuda or reduced staffing levels." Electricity sales in the commercial sector also fell 1.3 percent, compared to a decrease of 1.9 percent in 2010. "Primary factors responsible for the reduction are business closures, reduced hours of operation, lower occupancy levels and concerted efforts by many businesses to reduce operating costs through energy conservation, due to the Island's economic downturn," Ascendant noted. The diesel fuel which Belco burns to generate electricity was a soaring expense in 2011. Fuel costs increased $14.71 million from $107.34 million in 2010 to $122.05 million. Ascendant saw a 17.7 percent increase in the average cost of fuel or an additional $18.05 per barrel, up from $101.83 per barrel in 2010 to $119.88 per barrel in 2011. Ascendant said Belco's planned North Power Station project was budgeted to cost around $70 million over four years, involving the design and construction of three 14 megawatt (MW) diesel generating units plus associated work, with the engines scheduled to start operating in July 2013. "The introduction of these engines is essential to meet Bermuda's future energy demand, as three less efficient existing engines are scheduled for retirement in 2013, as are all East Power Station Phase I engines in 2017. However, in February 2012, Belco received notice from Government's Energy Commission that its October 2011 submission to increase basic tariff rates with effect from 1 January 2012 had been rejected. The rates increase is essential for Belco to secure financing for the North Power Station project. The Commission's decision was appealed by Belco to the Minister of Environment, Planning & Infrastructure Strategy and on 9 May 2012, Belco received notification that the appeal had been rejected by the Minister with respect to the basic tariff rates increase. At the time of writing, Belco is considering its legal options. If the Minister's decision stands, then the North Power Station project will not proceed, leaving Belco with no choice but to continue to meet Bermuda's future energy demand with older, less efficient and less reliable generation plant. The rejection of the rates increase would also impact other capital projects. For example, in 2011 Belco commenced logistical work in preparation for the Prospect-to-Flatts transmission cable replacement in 2012; however, as a result of the Minister's decision this project has been deferred. This project is considered extremely important, as it would allow very old, problematic and operationally expensive 22 kV cables on the eastern portion of the Island to be retired, providing a more secure link to the Flatts substation and mitigating possible overloads on Fort Hamilton feeds to Flatts." Bermuda Gas's net income fell 26.8 percent to $969,104, compared to $1.32 million in 2010. Two other Ascendant companies, PureNERGY and inVenture, both reported widening net losses. Renewable energy company PureNERGY sustained a loss of $1.39 million in the current year, following a 2010 loss of $405,276. Ascendant stated: " Although recent announcements regarding financing, tax relief and other incentives for small-scale renewable energy systems are encouraging for PureNERGY, the operation of this company will be assessed during 2012, if these do not result in opportunities." inVenture, which was formed to pursue new investment opportunities outside of the energy business, reported a net loss of $184,560 in 2011, as compared to a 2010 loss of $72,035. Ascendant added that plans "were well under way" to replace Vincent Ingham, who retired as chief executive officer at the end of last year.
2012. April 17. It was reported that Bermuda's total reliance on fossil fuels is largely to blame for the most recent huge hike in household electricity bills. The average family's monthly Belco bill has jumped from $185 to $312 in the space of eight years, an increase of nearly 70 percent. Figures provided by Belco show the fuel adjustment rate, a section of the bill based on world oil prices and determined by the Energy Commission, has soared by nearly 400 percent since 2004, from $33 a month to $138 a month. The charge for owning a meter, meanwhile, has tripled from $10 a month to $30. Even though Belco froze its own section of the bill two years ago to help families during the economic crisis, the overall cost of the bill has continued to grow, thanks to the fuel adjustment increase. The fuel adjustment cost - presently nearly 20 cents per kWh. has fluctuated by almost 400 percent since 2004 and at present accounts for over 41 percent of the total average household energy cost.
2010. November. The Bermuda Electric Light Company Ltd (BELCO) began to allow residential customers with small-scale energy production systems to feed excess power to its grid at the same rate they pay for power. But take-up has been limited so far — probably due to heavy initial costs.
2009. November. The Energy Commission, a regulatory body, was empowered by the Energy Act 2009. It does not release its annual reports to the public — nor does it have to. The Energy Act requires only that it provides the relevant Minister with a report on its activities, not taxpayers. Visit www.energy.gov.bm for more information on the Commission and the Department of Energy.
Newcomers to Bermuda should ensure the premises (apartment or flat or condominium or house) they rent or buy - see Homes - has its own electricity meter and should establish an account without delay. There is an upfront deposit payable. If returning to the UK from Bermuda after an employment contract, sell or give away your US-type appliances before you go and give one month's notice in writing to BELCO. On request, it will also give a written reference to a customer who goes abroad and uses an electricity supplier there.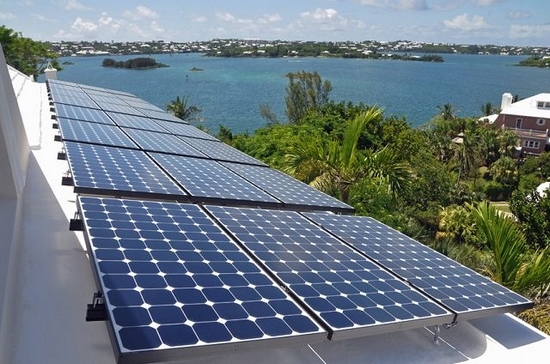 Alternative energy sources, when practical such as wind turbines and solar panels, are welcomed. To those with their own Bermuda homes - not most rented units - solar water heaters are expensive to purchase and install but may be able to pay for themselves in a few years. Also available are air-sourced heat pumps and geothermal heating/cooling systems. To encourage their use, Government has a 0% customs duty tariff on relevant imported items. However, there is not yet any plan, similar to that in the UK and believed to be in parts of Canada and the USA too, for any kind of government grant for home-owner-qualified purchase of solar panels or for surplus energy over and above that used by homes concerned to be sold to local or regional electricity providers.
Recommended to all locals and newcomers are energy-efficient light bulbs and consumer electric appliances such as air conditioners, refrigerators, freezers and washing machines with an Energy Efficiency Recommended logo or North American equivalent.
Air conditioners are essential in Bermuda from May to October to live comfortably at home or in the office. Those who come to work and rent a three bedroom home with say two air conditioners running 24 hours a day to help combat Bermuda's hot and very humid months. At other times - November to April - note there is no central heating in most Bermuda homes and apartments. Some winter days and nights can be damp and chilly for non Bermudians accustomed to seasonal central heating. Some homes have a fireplace, while others may have a ductless split heat pump system with reverse cycle heat during the winter and air conditioning in summer. If not, electric heaters and separate air conditioning units for winter and summer comfort levels are available commercially.
Outages
Most residential electricity is from electricity poles placed in the ground. In severe windstorms and hurricanes this can mean outages for days or weeks in extreme cases. Beyond Bermuda, many other places using electricity poles have found a solution or part-solution to this. Unlike in Bermuda, their utility entities do not use a centralized system with its limitations. Instead, they employ distributed generation which allows outages to be isolated with minimal consumer impact. BELCO has long considered the implications and costs of an all-underground system in Bermuda. But it would cost far too much, inconvenience far too many people using Bermuda's crowded small roads; and not be the technical answer.
When power outages occur (as they often do just as frequently beyond Bermuda), far more is lost in Bermuda than just the use of dishwashers, cable and local television, computers, electric can openers, electric clocks & clock radios, electric shavers, electric stoves, freezers, kitchen sinks, refrigerators, shavers, showers, stereo and CD or DVD systems, and other electricity-powered items. Each property in Bermuda then also loses the use of all toilets, bidets, wash basins, showers, baths and kitchen sinks fed from electrical pumps from the private water tanks supplying their home or apartment. There is an almost-complete absence of any central piped-in potable fresh water supply or waste water (sewage) removal. In such dire conditions consumers have to draw water from their water tanks by hand in buckets, haul them inside to pour into toilets to make them flush and clean dirty wash basins and do without a shower or bath. Plus, in the high Bermuda temperature and humidity, when prolonged outages occur, frozen foodstuffs in their freezers perish. To help avoid this and other problems mentioned it is recommended that Bermudian and Bermuda-based home owners buy an emergency back-up system - their own generator - and if a suitable unit is not available locally, to import one privately and pay the applicable customs duty.
Computers at home or work
Most homes with computers and businesses running computers should have at least one UPS for each computer. You can lease surge protection equipment for appliances, computers, stereo sets and televisions against damage caused by lightning or fluctuations in electricity. Businesses in Bermuda and in North America use a UPS routinely, unlike in the UK where they are much more the exception than the rule.
Paying BELCO bills online
Log on to the Bermuda Electric Light Company Limited website. Double-click on the icon on the bottom left corner of the page, called "Your account." Follow instructions. Fill out on online registration form and physically take it to where specified. Also see your payment history, account history and more.
LP gas companies

With no natural gas available in Bermuda, all gas is imported and is very expensive compared to USA. Canada, United Kingdom and Europe. The Bermuda Government levies a very significant import duty on LP gas, the highest anywhere per square mile.

LP gas (liquid propane) is available in Bermuda for cooking, heating, hot water supply, clothes' drying and other commercial purposes as an alternative to electricity, but is not produced in Bermuda. It comes from Argentina, is supplied by an overseas oil company and imported by tanker ships in bulk. It is then distributed by the three wholesale and retail commercial companies shown below - all Bermudian joint stock companies.

The gas is not underground piped to homes and businesses on a metered system from a central plant.

Instead, it is brought to premises in cylinders and piped to the relevant appliances.

Many homeowners and owners of commercial premises use imported liquid propane for cooking and other purposes, instead of electricity. For home use, there is a standard 100 lb. household cylinder, delivery included. It fluctuates in price. A cylinder lasts for about three months, depending on usage. Home users are billed immediately on delivery, with established customers having 30 days to settle the account. The cylinders remain the property of the company supplying them to households. When a current cylinder is exhausted, the company concerned will remove it and replace it with a fresh cylinder; and bill you for it.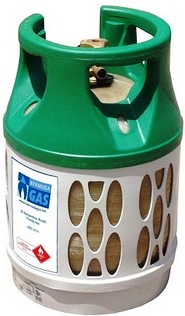 There are also imported barbecue cylinders. These come in the 20 lb. size - as shown above - and can be purchased or rented by consumers. As well as for outdoor barbecue purposes, they are the source of heat for blow torches, etc. Customers can go to the companies and get them refilled immediately.
Or they can go to the Bermuda Gas BBQ cylinder exchange program at local gasoline stations.
Newcomers will find a selection of new gas operated domestic and commercial stoves and other relevant appliances from reputable manufacturers in showrooms of various companies.
No vehicles in Bermuda use imported propane gas or any imported bio-fuels (unlike vehicles in the UK, Europe, USA. etc).
Bermuda Gas & Utility Company Limited. Wesley Street, Hamilton. Telephone 295-3111. Fax: 295-8311. Sunshine Company Limited, The Famous Building, 57 Victoria Street, Hamilton HM 12, phone 295-6246.
Gasoline and oil prices
Note that Bermuda, while using British traditions and ways of doing things in many respects, uses the American system, not the British UK one in calculating gasoline prices, yet oddly, prices gasoline in the UK/European way by the litre (liter), not per gallon. There is a significant difference between US gallon and British 1 gallon prices in liters. In the USA and Bermuda, the US gallon is the equivalent of 3.785411784 liters., compared to 1 Imperial (UK) gallon = 4.54609188 liters.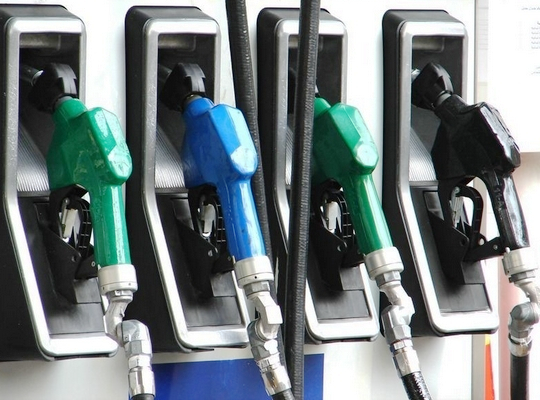 2014. April 27. Gasoline prices rose in April, up 1.6 cents a litre, the Finance Ministry announced. As a result, the maximum gasoline retail price displayed on the pumps is 213.90 cents a litre (liter), or $2.13.90. Diesel declined 0.2 cents a litre. Its maximum price at the pump is now 187.80 cents a litre, or $1.87.80. Kerosene also declined, down 1.6 cents a litre. The maximum cost is now 158.60 cents a litre, or $1.58.60. Thus, in April 2014 the Bermuda price for unleaded gasoline for cars and scooters, mopeds, etc is $8.10 per gallon.
About the same for unleaded gasoline as in London, cheaper for diesel fuel than in London where diesel costs more than for gasoline.
How Bermuda prices affect US and Canadian visitors. Bermuda prices for unleaded gasoline (petrol to newcomers from Britain) will come as a shock to our North American visitors, especially when compared to gasoline prices in the Caribbean. Here, the price of gasoline is higher than most other places anywhere in the world. Only the far North of Scotland, namely Sutherland, Caithness, Orkney, plus in Europe, Norway, Ireland and Iceland are they higher. Fluctuations in the US$ rates with UK Sterling and the Euro must also be taken into account.
In Bermuda, the Ministry of Finance regulates fuel prices in Bermuda based on a pricing formula agreed between Government and the industry. The selling price of fuels changes monthly in sympathy with supply prices. Costs to motorists and consumers of petrol (gasoline) and oils are on average, nearly three times the prices in USA; well over two times the prices in Canada; far more than double the cost of anywhere in the Caribbean. (213 percent more than the cheapest nation in the region, l liter of regular gasoline in the Cayman Islands was $1.69 and in Trinidad and Tobago, only $0.69 a liter).
But when you consider that Bermuda is
only 21 square miles (56 kilometers) in total land area, far smaller than anywhere else mentioned above

not near a mainland but a tiny island 600 miles due east of the nearest mainland, North Carolina, USA

has a total resident population of under 66,000 and a resident plus tourist population of under 69,000
there is far more justification for higher petrol (gasoline) and oil prices in tiny Bermuda than in Britain, despite the latter being a North Sea oil-producing country of 60 million people. Britain is the only oil-producing country in the world - the others are mostly in Saudi Arabia, other countries of the Middle East and Venezuela - that applies gasoline taxes far more heavily than most of the non oil-producing nations.
| | |
| --- | --- |
| Bermuda prices are in liters, not gallons | There are 3.785 liters to 1 US gallon |
Comparisons

Bermuda consumes more oil and gas annually than the combined Caribbean islands - more than 800 miles to the south - of Antigua, Dominica, Grenada, St. Lucia and St. Vincent combined, yet pays so much more for them than those islands do in government duty and retail prices. It is one of the reasons why Bermuda is so expensive. Prices of oil, gasoline and related petroleum products are key factors mostly responsible for not only the cost of transport by air and land but also the prices we pay for accommodation, electricity, air conditioning, food, furniture, heat, household goods and more.
Bermuda prices are fixed and heavily taxed and, with all gasoline and oil imported, has very high Bermuda Government Customs Duties of US$ 0.54 per liter. This alone is 44 percent of the price consumers pay at the gasoline service stations, the biggest single reason for - and biggest single beneficiary of - the huge local prices. Government duties mentioned above of 44% plus employment and other taxes and their repercussions amount to about 58% of the total price. Perhaps because Bermuda visitors use mopeds - with gas tanks in liters, not gallons - they don't realize the price differential. Bermuda does not produce any oil or gas, all in imported - and is tiny in land area, only 21 miles in total land area. In contrast, the United Kingdom, which is an oil, petrol and gas producing country and is 58,000 miles in total land area, charges consumers 75% in total taxes.
More than 21,000 automobiles and 30,000 mopeds, trucks, taxis and buses are on the roads of Bermuda.
The Bermuda Government appoints a Price Control Commission (see Bermuda Government Boards) under the Price Commission Act 1974, to approve prices of petroleum products. It meets on or about the 16th day of each month to determine local prices. It sets the maximum levels that service stations may charge.
It is wrong to state that because Bermuda is only 21 square miles in total area, less gasoline is used proportionately. Because Bermuda's top legal speed is only 22 miles an hour (33 kilometers per hour), it does not enable motor vehicles to use fuel most efficiently. So the impact of the Bermuda cost is even more noticed, not less. Inefficient use adds to the expense instead of mitigating it.
The only two retailers allowed to offer gasoline and oil in the Bermuda marketplace are USA-owned ExxonMobil (trading in Bermuda as Esso) and the French business of Rubris, SA, see below.
Because of the price the Bermuda Government expects per liter from gasoline service stations, there is no competition between Esso and Shell shown below, the only two gasoline corporations allowed to sell to Bermuda and visiting consumers.
May Bermuda gas (petrol) stations are closed during Bermuda Public Holidays. Visitors on mopeds or scooters should tank up the day before or after. Also, gas (petrol) stations keep different - not standard - hours.
Esso Bermuda's downstream retail) business, see below, sold
2013. July 10. Exxon Mobil and its affiliates signed an agreement with Barbados-based SOL (Simpson Oil Ltd) for the sale of Esso Bermuda's downstream (retail) business. Esso Bermuda country manager Mark Fields said the deal was a share sale and the general public should not see any changes in the stores or branding for some time the Esso brand and Tigermarkets will remain the same. Coral Petroleum is the parent of Esso Bermuda. "Everything is business as normal," Mr Fields said, noting that the Esso Bermuda offices would remain in Ferry Reach, St George's and there would be no layoffs or job losses. "There will be no change in the Esso brand in Bermuda and the suppliers will still be Exxon Mobil. It's essentially a change of the corporate ownership in the background." He said none of the eight Esso service stations in Bermuda was being sold either; their ownership remains the same. Premier Craig Cannonier owns Esso City Tigermarket, Collector's Hill Esso and Warwick Esso. SOL, which has been growing in the Caribbean for eight years, is buying Exxon Mobil and its affiliates in Barbados and a number of other Caribbean territories. The purchase includes 170 Esso service stations across the Caribbean, its industrial and wholesale operations as well as marine and aviation refuelling. It also includes a 14.5 percent share in SRA Oil Refinery located in Martinique. SOL, led by Barbadian business mogul Sir Kyffin Simpson, several years ago acquired Shell Antilles and Guianas Limited. The acquisition gave the company control over Shell's retail and commercial fuels business in Barbados, St Lucia, Antigua, Anguilla, Guyana, Suriname, Belize, St Kitts/Nevis, St Vincent, Grenada, British Virgin Islands, Netherlands Antilles and Dominica. Simpson Motors, another of Sir Kyffin's companies, is the holder of the Suzuki franchise in the region.
ExxonMobil group of companies in Bermuda
Based at its Ferry Reach head office, Ferry Reach, St. George's Parish, GE 01. Telephone (441) 294-5220. Fax (441) 294-5243. An Esso oil tanker arrives in Bermuda about once every six weeks to discharge fuel. But instead of being in competition with each other, their prices are the same. About half the 30 gas stations are owned by Esso. It alone pays the Bermuda Government many US$ millions a year in fuel taxes.
Esso Bermuda is a division of a Bermudian corporation, Coral Petroleum Company Limited, owned by ExxonMobil. Stretching from the Esso Oil Docks at Ferry Reach in St. George's Parish to the Belco electricity generating plant in the industrial part of Pembroke Parish is the Esso pipeline that feeds Belco with heavy atmospheric gas and heavy oil. It enables Belco to generate 509 million kilowatt hours of electricity annually to businesses, hotels, guest houses, efficiency units and homes.
Esso gasoline stations and marinas
Many outlets island-wide. Always call first to ask for opening hours
Rubis SA in Bermuda
Update: French oil company RUBiS SA purchased Shell Oil's operations in Bermuda in 2007. It continued to be marketed under the Shell brand until 2011 after which it switched to RUBiS. Terms of the purchase were not disclosed. Rubis revealed that Shell, which in Bermuda owns two major fuel depots, one liquefied natural gas terminal and 12 gas stations, had sales of $45 million per year in Bermuda and net income of $3.6 million. The agreements signed with Shell provide for a licence to use the Shell brand in the service stations as well as finished goods supply contracts. Rubis already has an extensive network of energy businesses in the Caribbean and French Guiana. The deal was announced in July 2006 at when Phil Burton, country chairman of Royal Dutch/Shell Companies Bermuda said a final decision was subject to the approval of shareholders and the Bermuda regulatory authorities. Shell has had the Bermuda operation on the market since late 2005. Rubis is one of the largest bulk storage operators in France. Through Rubis Gaz, the company distributes liquefied petroleum gas (LPG) to retailers as well as propane and butane to residential and commercial customers.
History: Based at its Ferry Reach head office, Shell House, Ferry Reach, St. George's Parish, GE 02. Telephone (441) 297-1577. Fax (441) 297-8472. In 1947 - a full three years before appropriate legislation officially launched the industry - Bermuda welcomed an organization known worldwide because of its distinctive trademark of a sea shell. With dramatic implications to fuel and light Bermuda's lawyers for future business of equal caliber, the Provident Fund of the combined petroleum companies known in The Netherlands as Voorzieningsfond Der Verbonden Petroleum Maatschappojen was transferred to Bermuda. It had been granted exemption from payment of United Kingdom Income Tax on its investments when it had to quickly transfer its Headquarters from The Hague to London following the fall of Holland in 1940.
Thus Shell arrived in Bermuda, initially as an investment vehicle to protect the pensions of employees of all companies within the Royal Dutch Shell umbrella from unnecessary taxation by Britain. Lawyers Conyers, Dill & Pearman, with bankers Jack Tucker (later, Sir Henry) of the Bank of Bermuda and Hal Butterfield (later, Sir Harry) of the Bank of N. T. Butterfield & Son, assisted in the transfer of Shell's Provident Fund to Bermuda. Three Shell VIPs, Sir George Legh-Jones, Mr. Tim Wilkinson and Mr. Tim Boyle even bought land in exclusive Tuckers Town. They built very expensive homes there, as a visible sign that Shell was here to stay. Its first staff - a group of 20 mostly young ladies - arrived from England on Shell tankers on September 28, 1947. Most have since died. Its first service station - still there - was on May 12 1952 at East Broadway in Pembroke Parish.
Shell was also the first to operate a corporate administrative structure for a collection of affiliated international companies outside the City of Hamilton, at Ferry Reach in St. George's Parish. Now they look after the retirement plan interests of Shell employees worldwide.
About half the 30 gas stations and marinas were until recently owned or operated by Shell. It paid the Bermuda Government more than US$ millions a year in fuel taxes. They have since been taken over by and since 2011 have traded as RUBiS.
Many outlets island-wide. Always call first to ask for opening hours.
Kerosene
It was the first product brought in by the West Indian Oil Agency (later, Esso) for cooking, lighting and heat. It is still imported, mostly for heating kerosene units in the winter months and as an emergency fuel source during frequent electricity outages. Until the year 2000, this was far less expensive than electricity, although also with a very heavy import duty.
Oil
Then naphtha, it was first imported into Bermuda by West Indian Oil Agency (later, Esso) in Bermuda in 1908 to coincide with the introduction by the Bermuda Electric Light Power & Traction Company (later, the Bermuda Electric Light Company Limited or Belco) of electricity in Bermuda. When commercial aircraft first flew between Bermuda and the USA in 1937, Esso Bermuda supplied the fuel.


Last Updated: December 14, 2014.
Multi-national © 2014 by Bermuda Online. All Rights Reserved. Contact Editor/writer and webmaster.