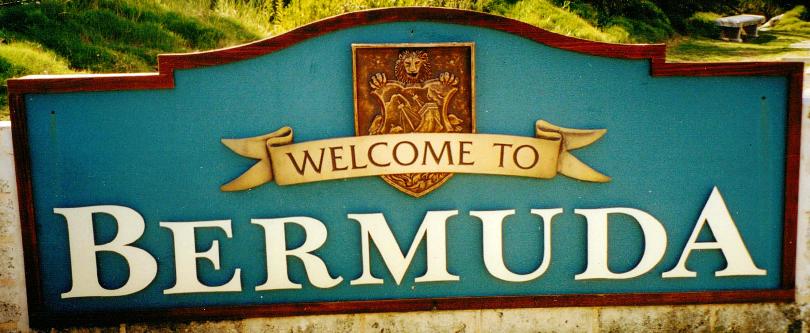 Click on graphic above to navigate the 165+ web files on this website, a regularly updated Gazetteer, an in-depth description of our island's internally self-governing British Overseas Territory 900 miles north of the Caribbean, 600 miles east of North Carolina, USA. With accommodation options, airlines, airport, actors, actresses, aviation, banks, beaches, Bermuda Dollar, Bermuda Government, Bermuda-incorporated businesses and companies including insurers and reinsurers, Bermudians, books and publications, bridges and causeway, charities, churches, citizenship by Status, City of Hamilton, commerce, communities, credit cards, cruise ships, cuisine, currency, disability accessibility, Devonshire Parish, districts, Dockyard, economy, education, employers, employment, environment, executorships, fauna, ferries, flora, former military bases, forts, gardens, geography, getting around, golf, guest houses, highways, history, historic properties, Hamilton, House of Assembly, housing, hotels, immigration, import duties, internet access, islands, laws, legal system and legislators, main roads, marriages, media, members of parliament, money, motor vehicles, municipalities, music and musicians, newcomers, newspaper, media, organizations, parks, parishes, Paget, Pembroke, performing artists, residents, pensions, political parties, postage stamps, public holidays, public transportation, railway trail, real estate, registries of aircraft and ships, religions, Royal Naval Dockyard, Sandys, senior citizens, Smith's, Somerset Village, Southampton, St. David's Island, St George's, Spanish Point, Spittal Pond, sports, taxes, telecommunications, time zone, traditions, tourism, Town of St. George, Tucker's Town, utilities, water sports, Warwick, weather, wildlife, work permits.

Bermuda's Resident Population of 63,779 and local Expatriate Organizations
Origins of citizens and residents, 64% black, 32% white, 4% Asian and other

By Keith Archibald Forbes (see About Us).
Population basics
At the end of 2019 there were 63,908 resident (not tourists or visitors) adults and children, mostly Bermudian, in Bermuda's 20.75 square miles or 56 square kilometers. Women outnumbered men by 2,398. For more information go to the Bermuda Government's Department of Statistics at gov.bm/bermuda-census.
Bermuda today is the third most densely populated place on earth. In terms of population per square miles, this is only exceeded by Monaco with 15,921 and Singapore with 6,891 persons. After Bermuda comes Vatican City with 2,200 per square mile; Malta, with 1,229; Puerto Rico, with 1112 (yet often written about in USA, including by the National Geographic, as one of the most densely populated places in the world); Bahrain, with 1,042; Maldives, with 1,036; Bangladesh, 962; Taiwan, with 699; Mauritius, with 647; and Barbados, with 642. In contrast, note the very low populations per square mile of the United States of America - from where over 85% of its visitors come; then Canada; United Kingdom (632); Japan (870); Netherlands (1002).
Bermuda is the fifth smallest country in the world at only 21 square miles in total, after Vatican City, Monaco, Nauru and Tuvalu; and is one of the most isolated.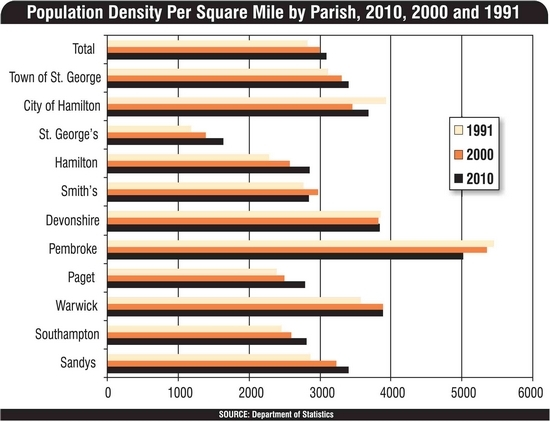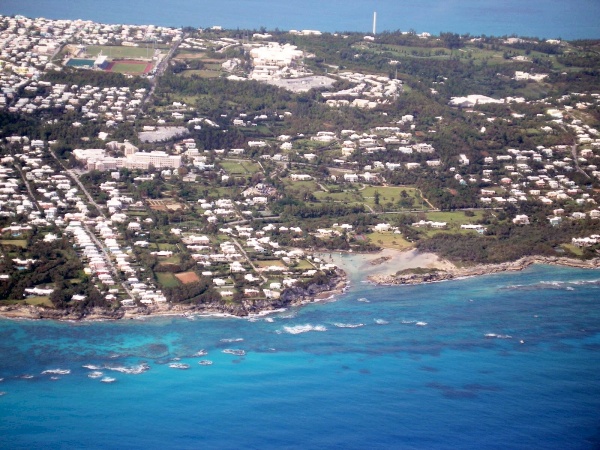 The least densely populated area of mainland Bermuda is Tucker's Town in St. George's Parish, an exclusive area for the very wealthy that denies access to all locals and visitors who are not members of the Mid Ocean Club.
Unlike most other places with a native population dating back to the mists of time, Bermuda had no resident permanent population at all until 1609 when English settlers came by accident, then came deliberately from 1612. Only a few stranded mariners were here earlier, involuntarily and briefly. Bermuda was too tiny (only 21 square miles in total area), had no natural resources, no gold or silver or anything else that could be mined or refined. It remained without a permanent population long after the Spanish, Portuguese and Dutch East Indies empires were established, the French founded French Canada and the British founded Jamestown. See History. Nowadays, Bermuda is both a tourism resort and offshore business center.
Other population statistics, Bermuda has
36 elected Members of Parliament, 11 appointed Senators. In its ratio of legislators per square mile and legislators to voters )about 37.000) voters, far more than any other country in the world in the ratio of legislators to voters. For example, in the European Union, there are 736 Members of the European Parliament (MEPs) for 350 million voters throughout the EU, equivalent to 1 MEP for every 470,000 voters; in the United Kingdom 647 MPs for 40 million voters, equivalent to 1 MP for every 64,000 voters; but in Bermuda 36 MPs for 33,500 voters or 1 MP for every 1097 voters in its 21 square miles. Other examples include St. Lucia, with 14 parliamentarians in its 240 square miles; Barbados, also in the Caribbean, with 28 elected members in its parliament and 12 senators, in its 166 square miles and with a population of 266,000.
Highest number of telephone lines, computers online and televisions per population.
The fourth-highest in Gross Domestic Product (GDP) in the World, according to the World Bank, but also the highest by far in cost of living.
The least generous benefits and services to its senior citizens and the disabled of any of the countries with a high GDP.
There is a current population growth rate of 1.5% per annum. The birth rate is 15 births per 1,000 population and the total fertility rate is 1.7 children born per woman. The death rate is 7 deaths per 1,000 population, the net migration rate is 7 migrants per 1,000 population, and the infant mortality rate is 3.6 deaths per 1,000 live births. Life expectancy at birth is 72 years for males and 78 years for females.
Most - about 78% - of residents were born in Bermuda of Bermudian parents or a Bermudian parent and are therefore Bermudian. For decades now, it has not been sufficient for persons born in Bermuda to be regarded as Bermudian, even if born here, unless one parent is also Bermudian.
Bermuda Vital Statistics
| | |
| --- | --- |
| Bermuda size & population | 20.75 (Twenty point seven five) square miles in total. 63.908 residents in 2019. Women then outnumbered men by 2,398. |
| Resident population density per square mile | 3,097 (Three thousand, zero nine seven). Third highest in the world |
| Government Code of Conduct for legislators | None. There is a voluntary code, with no legislative teeth. It is ignored by some. No equivalent of the UK's Ethical Standards in Public Life Act. |
| Number in Cabinet | 13. Same number as USA, equivalent in Bermuda to 0.63 (Point six three) per square mile. They have "The Honorable" before their name. |
| Number of elected legislators in House of Assembly and their salaries | 36. Equivalent to 1.93 (One point nine three) per square mile. They have "MP" for Member of Parliament after their name. If they are also Cabinet Ministers, they earn well in excess of $100,000 a year, plus unlimited expenses. |
| Number of appointed politicians in Senate | 11. Also salaried. Equivalent to 0.53 (Point five three) per square mile. They have "Senator" before their name. If they are also Cabinet Ministers, they earn this plus what is shown above under "Number of elected legislators." |
| Number of registered voters per Member of Parliament | 1,297. On date of last General Election. Contrast this with no fewer than 72,810 and no more than 80,433 per member of parliament in the UK in 2018 and approximately the same in the USA per congressperson and Canada. |
| Number of Government Boards | About 122. All require the approval of the Premier who controls all Public Information. See Bermuda Government Boards separate website shown at the end of this file. |
| Number of Police | About 465, over 20 per square mile. Plus, there are Reserve officers. Bermuda has more police per square mile and per population than anywhere else in the world |
| Number in Bermuda Regiment and its Coastguard | 600 members, mostly Bermudian men, also some women, mostly part time, all now volunteers. Conscription of Bermuda-born males ended a few years ago. |
| Registered voters who can participate in a General Election | About 46,750. Total number of registered voters in the last General Election, about 60% of the entire resident population. Varies from year to year. |
| The Bermuda Society | |
Majority

The majority of the permanent residents are described first, followed by the minorities. More than 68 percent of Bermudians are black, of African heritage, Afro-Bermudians. The first came here in about 1616, appreciably after the first white colonists. Some descend from slaves imported by British settlers, not directly from Africa but from Africa via the Caribbean more than 900 miles to the south. Some American Indians were also brought to Bermuda in the 17th and 18th centuries, as slaves or prisoners-of-war. Black slavery (like white slavery or serfdom much earlier) was effectively abolished in Britain since the early 1800s. Slavers and slave ships were relentlessly hunted down in the Atlantic and Caribbean by Royal Navy warships. Slavery was formally abolished in Britain much earlier and in Bermuda in 1834.
| | | |
| --- | --- | --- |
| Poor | Bermuda 19 percent | United States 28 percent |
| Nearly poor | Bermuda 11 percent | United States 10 percent |
| Middle income | Bermuda 46 percent | United States 36 percent |
| Affluent | Bermuda 24 percent | United States 36 percent |
From the 1880s to the early 1900s, many Afro-West Indians arrived voluntarily from many islands of the Caribbean 900 or more miles to the south and settled. Many Bermudians have forebears who came originally from them. There are also Bermudians and non-Bermudians here, originally or currently from the following islands.
| | | | | |
| --- | --- | --- | --- | --- |
| Anguilla | Antigua/Barbuda | Aruba | Bahamas | Barbados |
| Belize | Bonaire | British Virgin Islands | Cayman Islands | Curacao |
| Dominica | Dominican Republic | Grenada | Guyana | Haiti |
| Jamaica | Montserrat | Puerto Rico | Saba | St. Eustatius |
| St. Kitts & Nevis | St. Lucia | St. Vincent | Trinidad & Tobago | Venezuela |
In July 2003, Bermuda formally joined the Caribbean Community, as an Associate Member (non-voting member), in certain areas but not in others. This specifically excludes the free movement of Caribbean nationals to Bermuda and any prospect of Bermuda joining CARIFTA or its newest free trade organization - the Free Trade Area of the Americas (FTAA) - and its hopes. Membership of the Caribbean Community will cost Bermuda about US$90,000 a year. Direct trade between Bermuda and Caribbean countries is also welcomed and encouraged, especially given the close or extended family links many Bermudians have with Caribbean islands or territories. Because of this, there is a Monday-Friday 10 am and 5:45 pm 5-minute Caribbean news feature on local radio (VSB) produced by the BBC of England and a lively Caribbean-produced feature on certain evenings. But the irony is that there are no scheduled air or sea services at all between Bermuda and the Caribbean, as there were in the 1930s, 1940s, 1950s and 1960s. Only Japanese car carriers - no regular freighters - call at both Bermuda's City of Hamilton and some Caribbean ports. It is hoped they will resume. Many visitors to Bermuda from the USA and Canada assume - wrongly - that there are air services connecting Bermuda with the Caribbean nearly 1,000 miles to the south. Presently, virtually all imports to Bermuda made in the Caribbean come via the USA or Canada. All visitors to Bermuda who are nationals of and resident in Caribbean islands must come via the USA or Canada or United Kingdom and must have appropriate visas to come via those countries. Effective January 2003, all Jamaican nationals who are not Bermudian must also have a visa to enter Bermuda on business or vacation.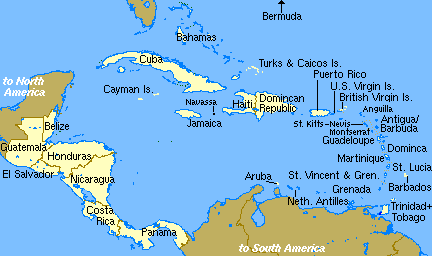 Minority

The second-largest (about 33 percent) ethnic group of Bermudians are Caucasians - white. They were the first to arrive as colonists by an appreciable time and for years outnumbered Afro-Bermudians. Many are of European extraction, descend from original British colonists who emigrated here voluntarily and can often trace their roots back to England, Scotland, Wales and Northern Ireland. More were imported, either as free people or as indentured laborers for a period until they earned their freedom. Relatively few came in one of these two ways originally from Ireland, France or other European countries. They were joined by one-time Portuguese laborers brought in initially from the Madeira Islands as agricultural labor when slavery was abolished in the 1830's, then from the Azores. More recent arrivals have come, in order of numbers, from Canada, the United Kingdom (Scotland, Wales, Northern Ireland again and Channel Islands as they too use British passports) and the United States of America. But as Bermuda is an international business center, many collectively have also come from Europe, Asia, Russia, Turkey and more.
| | | | | |
| --- | --- | --- | --- | --- |
| Austria | Belgium | Canada | Chile | China |
| Costa Rica | Czech Republic | Denmark | Finland | France |
| Germany | Ghana | Great Britain | Greece | Hungary |
| Iceland | India | Ireland | Israel | Italy |
| Luxembourg | Mexico | Netherlands | Norway | Philippines |
| Portugal | Romania | Russia | South Africa | Spain |
| Sweden | Switzerland | Turkey | Ukraine | USA |
Bermuda also hosts people from Ghana, Japan, Nigeria, Pakistan, Sri Lanka and more.
In those who are not Bermudian - not by preference but by law, despite having been here for many years and would easily qualify by residence as citizens in all other Western Hemisphere countries - Canadians are the most prevalent in the international industry of accounting and auditing, banking, Bermuda Government, commerce and education, the largest single group of guest workers. Britons are next. Many Americans are here, some as spouses of Bermudians. A number of Asians work in the hotels and restaurants. Some from the Philippines are in domestic service or the restaurant industry or are registered nurses.
Those born in other countries, or in Bermuda but without a Bermudian parent and are also not Bermudian, may have access to a Bermuda-based Consulate from or representing their country. A number of these are in Bermuda, serving both their incoming or resident nationals and visitors going to such countries from Bermuda.
Expatriate Organizations in Bermuda
Quite a few, including:
African Community in Bermuda
American Ladies in Bermuda (ALIB). Despite its name, it provides information, support and fund-raising activities for new residents of all nationalities. Meets third Sunday each month at Royal Bermuda Yacht Club, 2-4 pm. Registered charity 103.
American Society of Bermuda. Since 1961. Phone: 441/291-3543 (PO Box HM3339, Hamilton HM PX, Bermuda). Membership fee.
Association of Canadians in Bermuda. P. O. Box HM 2071, Hamilton HM HX. A non-profit organization for Canadians in Bermuda, to help keep the Canadian culture alive. Founded in 2000. Registered charity 566.
Association of Filipinos in Bermuda. There are about 600, including doctors, accountants, nurses, waiters including domestic servants and more. Bermuda Registered charity 529.
Bahamian Association of Bermuda.
Barbados Association of Bermuda. An organization of Barbadians living and working in Bermuda. Includes an annual show of Bajan dishes cooked by men. About 300 Bajans work in Bermuda, including teachers, Police, chefs, lawyers, judiciary. Registered charity 401.
Bermuda Branch of the British Conservative Party. Contact Neil Hitchcock, The Glebe House, 17 Glebe Hill, Tucker's Town, HS 02, Bermuda.
Bermuda Irish Association. There are about 500 Irish residents of Bermuda. They hold an annual formal dinner and celebrate other events before, during and after St. Patrick's Day every March.
Bermuda Newcomers Inter-varsity Club. Phone 292-9018.
Caledonian Society of Bermuda. Since 1936. Celebrating all things Scottish, known for ceilidhs, St. Andrew's Ball, New Year/Hogmanay Ball, Burns Supper.

Circulo Hispanico. Informal bi-weekly gathering of people in Spanish/Central or South American/language and culture. Beginners to native speakers. Alternate Thursdays 6 pm at Wesley Methodist Church Hall, Church Street, Hamilton. Phone 295-7506 by day or 238-0724 evenings.
Club de la Boule Gourmande. Petanque or boule every second Sunday of the month, 1-3 pm. Bermuda College.
Emerald Isle Society. Meets third Friday of each month. Phone 292-6889 evenings. Primarily for Irish nationals resident in Bermuda. Always celebrates St. Patrick's Day with a fine, black-tie 5-course dinner, with everything in green, white and gold and an Irish entertainer flown in. John Kane, Irish Consul.

See entry above
Voter statistics
There are currently about 43,200 registered voters, about 60 percent of Bermuda's total current population. As soon as local citizens become at least 18 years old they can register to vote.


Authored, researched, compiled and website-managed by Keith A. Forbes.
Multi-national © 2020. All Rights Reserved