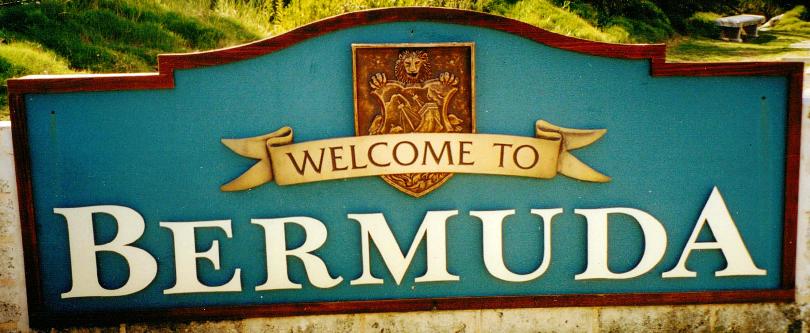 Click on graphic above to navigate the 165+ web files on this website, a regularly updated Gazetteer, an in-depth description of our island's internally self-governing British Overseas Territory 900 miles north of the Caribbean, 600 miles east of North Carolina, USA. With accommodation options, airlines, airport, actors, actresses, aviation, banks, beaches, Bermuda Dollar, Bermuda Government, Bermuda-incorporated businesses and companies including insurers and reinsurers, Bermudians, books and publications, bridges and causeway, charities, churches, citizenship by Status, City of Hamilton, commerce, communities, credit cards, cruise ships, cuisine, currency, disability accessibility, Devonshire Parish, districts, Dockyard, economy, education, employers, employment, environment, executorships, fauna, ferries, flora, former military bases, forts, gardens, geography, getting around, golf, guest houses, highways, history, historic properties, Hamilton, House of Assembly, housing, hotels, immigration, import duties, internet access, islands, laws, legal system and legislators, main roads, marriages, media, members of parliament, money, motor vehicles, municipalities, music and musicians, newcomers, newspaper, media, organizations, parks, parishes, Paget, Pembroke, performing artists, residents, pensions, political parties, postage stamps, public holidays, public transportation, railway trail, real estate, registries of aircraft and ships, religions, Royal Naval Dockyard, Sandys, senior citizens, Smith's, Somerset Village, Southampton, St. David's Island, St George's, Spanish Point, Spittal Pond, sports, taxes, telecommunications, time zone, traditions, tourism, Town of St. George, Tucker's Town, utilities, water sports, Warwick, weather, wildlife, work permits.
British Military Graves in Bermuda
Thousands of soldiers, sailors and families from Britain died from various fevers and were buried locally

By Keith Archibald Forbes (see About Us).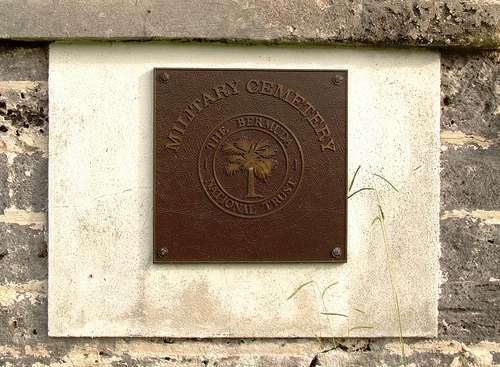 Our other files on military topics in Bermuda include:

Introduction
If you live beyond Bermuda and are searching for any kind of records of once Bermuda-based non-Bermudian (British UK) military or civilian personnel (a) at one time stationed in Bermuda and/or buried in Bermuda, please note the following:

When the British Army and Royal Navy at the Bermuda Dockyard left Bermuda in the 1950s (except for a token presence until later in the case of the RN) they took most if not all their civilian and military personnel records re their once-active and subsequently de-activated Bermuda military bases and their employees with them back to the UK. Only (a) Bermudian and (b) locally-employed apprentices with got some personnel records. British Army and RN military and civilian personnel units then stationed in Bermuda were at designated sovereign military bases areas outside of local government and reported directly via their COs to the UK and were not in any way (except for contravention of local laws for speeding and other minor legal infringements) recorded by Bermuda's local civilian government. This may explain why certain sought-after information never appeared in local (i.e. civilian) records. In the UK, It may necessitate a search of British Army or RN records at Kew. It is not known if there is a particular place or office in the MOD or Kew that handles any records from the British Army units once stationed in Bermuda or the Bermuda Dockyard.
If you visit Bermuda anyway in search of any civilian records of a family member once based or stationed in Bermuda, it is recommended that your Bermuda search include, for any records of marriages, births or deaths, a visit to both the Registrar General and the Bermuda Archives. It is suggested you also check with the Anglican Church of Bermuda if they were C of E or another local church if they were not Anglicans. If they were church goers there might be a local register of parishioners. Or there might be records of births, church marriages or burials available directly and solely to interested family members to supplement what the Registrar General has. Bermuda Archives materials may also be limited. Genealogy/family history matters are beyond the remit of http://www.bermuda-online.org but it is hoped the information given above and below will help.

British Military Cemetery names and locations below
The Bermuda National Trust (BNT) has a contract to maintain all twelve historic and military - and Commonwealth War Graves Commission - graveyards in Bermuda. It - not this author - should be contacted about any British Army graves in Bermuda. In the UK, best places to check are the regimental museums concerned, or British Army records. British military graveyards in Bermuda are not frequently visited. Sadly, some of the graves have clearly deteriorated greatly. Some can no longer be identified as their military plaques have disappeared.
Book: Bermuda Memorial Inscriptions. Hilary and Richard Tulloch. 2011. Bermuda National Trust and the National Museum of Bermuda. Gravestones at the Bermuda-based British Military graveyards of British Army personnel who died in Bermuda and were buried at the eastern end of St. George's Island and Royal Navy personnel including several Admirals buried at the Royal Naval Cemetery at Ireland Island. Inscriptions from all the memorials found in the naval, military and historic cemeteries of Bermuda, as well as memorials of sailors, soldiers, airmen, servants, slaves, merchants, mariners, convicts and consuls, both local and from overseas from the parish and community cemeteries. The volume also includes short histories of each of the naval, military and historic cemeteries now managed by the Bermuda National Trust. The husband and wife team, Hilary and Dick Tulloch, both come from military and families. While resident in Bermuda they noticed that many headstones in the local cemeteries were deteriorating and recorded the inscriptions.

Ferry Point and Ferry Reach Military Cemeteries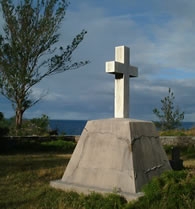 Ferry Reach Road, St. Georges. After the yellow fever epidemic of 1853 and the many deaths it caused, the British Army Garrison in Bermuda kept about half its soldiers encamped at Ferry Point. Many of the soldiers died of yellow fever and were buried in two cemeteries located at Ferry Road in St. George's.
The smaller one, Ferry Point Military Cemetery, now stands simply as a small walled area, with no visible memorials. There is evidence that there were several headstones in the 1950s but it is believed they were relocated to the Grenadier Lane cemetery.
In 1782 barracks had been built near the site of the Ferry Point Cemetery and the walled area was where livestock had been kept. It had varied uses over the years: it was the site of a cockfight in 1785, a cemetery by the early 19th century and later it became a garden.
Ferry Reach Military Cemetery was established later and may have been a result of both the Ferry Point Cemetery being full due to the high death rate of the Second Battalion, 56th Regiment (West Essex), of which nearly 230 of its officers and men died from yellow fever. It prompted a growing awareness that it was better to locate yellow fever cemeteries further away from places of habitation. It has a large cross and two other memorials to commemorate soldiers from the 2nd Battalion 2nd Queen's Royal Regiment who died during the yellow fever epidemic of 1864.

Garrison Military Cemetery, Prospect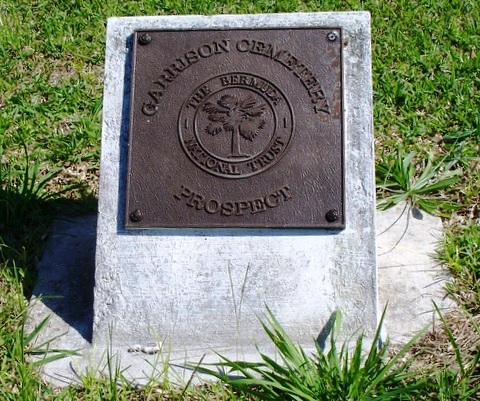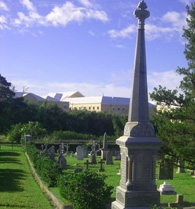 Devonshire Parish. Greenwich Lane, off Alexandria Road, Fort Hill, from Middle Road. The cemetery until 1953 for the British Army in the 19th and 20th centuries when Prospect Barracks housed the central British garrison. In 1912, after the death in Bermuda while still in office and burial of Governor Lieutenant General Sir Frederick Walter Kitchener, he was interred here, in the cemetery's biggest and most ornate grave. He had served since 1908. He was given full military honours. He was the brother of British Army hero General Sir Herbert Kitchener, who as Commander in Chief of the Anglo Egyptian army, smashed the Mahdi Rebellion in the Anglo Egyptian Sudan at the Battle of Omdurman and was later created Lord Kitchener of Khartoum by Queen Victoria. In 1914, November, 6838 Private Allen Arthur Cuthbertson, one of the members of the Royal Canadian Army sent to Bermuda to relieve the Lincolnshire Regiment, died in Bermuda on 16 November and was buried here, Grave Ref 848. In 1915, April, 7665 Private Joseph R. Marshall, another member of the Royal Canadian Army sent to Bermuda to relieve the Lincolnshire Regiment, died in Bermuda on 24 April and was buried here, Grave Ref 520. The cemetery also contains many fine examples of classic tombstone masonry Later, it become the police cemetery and an assassinated Police Commissioner is buried here.

Long Island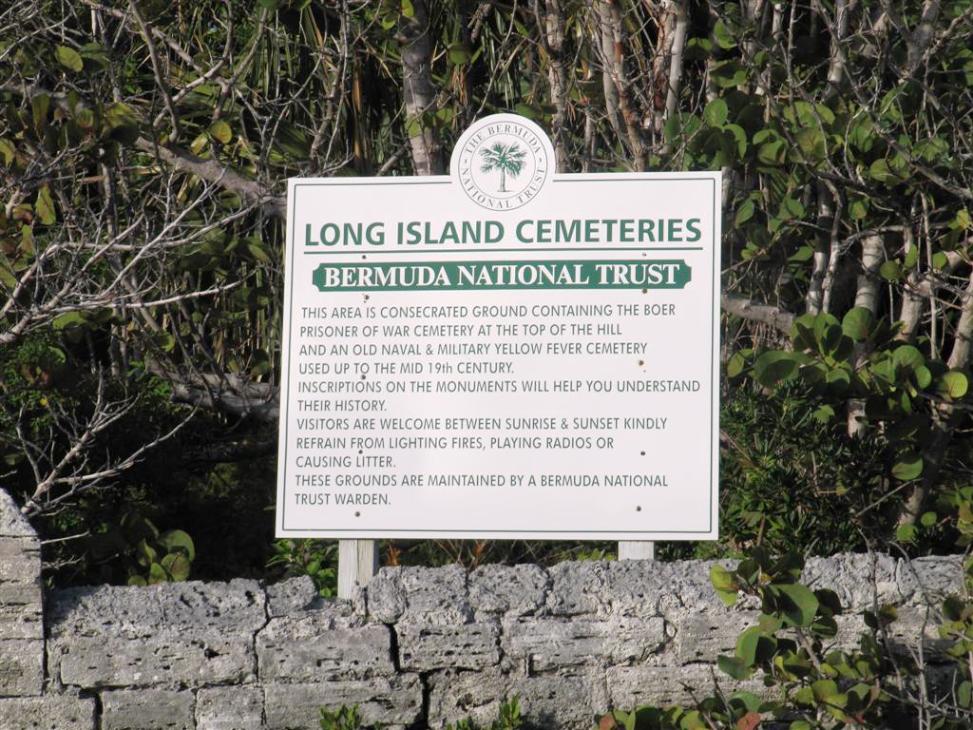 Warwick Parish. Two cemeteries. British Army and Royal Navy men who died of yellow fever were buried here until the middle of the 19th century. (Later, from 1902, in a nearby separate graveyard, Boer War prisoners of war who died in Bermuda were buried here).

St. George's Military Cemeteries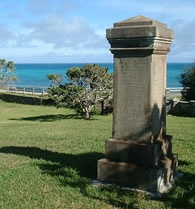 St. George's Parish. Two, one at Grenadier Lane and the other at Secretary Road, north of the St. George's Golf Course, approximately 15 minutes walk apart. They are north and east respectively of the old British Army Garrison Town of St. George's.

Phone:

(441) 236-6483.

Bus Routes (part of the way only):

1, 3, 6, 10, 11. Admission is free. Both overlook the sea and are the final resting place of yellow fever victims of the 19th century, c.1850. One particularly interesting grave at Grenadier Lane is that of a surgeon. He served in the Crimean War at the battles of Balaclava and Sebastapol only to succumb to yellow fever in tranquil Bermuda.

Over the hill to the west the Military Cemetery on Secretary Road has perhaps the most notable monumental sculpture of any of the Bermuda Military Cemeteries. George Sampson, Victoria Cross holder of the Royal Naval Reserve, is interred here. Some older military graves are also included in the neighboring Secretary Road cemeteries.

Somerset Military Cemetery
Somerset, Sandys Parish. GPS Coordinates: Latitude: 32.30459. Longitude: -64.85993. Includes 13 British Army personnel buried in Bermuda while serving there during and after World War 1. Commonwealth War Graves Commission Find these records. Located west of Watford Bridge, off Mangrove Bay Road, immediately west of Watford Bridge behind bus stop. Phone: (441) 236-6483. Bus Routes: 7, 8. Admission is free. The cemetery contains 13 Commonwealth war graves from WW1. Among them are West Indians and Canadians and three Bermudians of the Bermuda Militia Artillery, who died of accidental injuries in 1915. The cemetery was consecrated in 1903 and the latest memorial is dated 1918.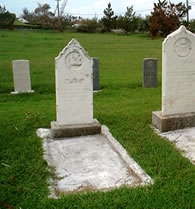 Watford Cemetery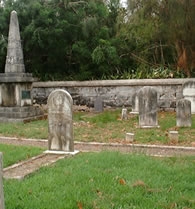 Somerset, Sandys Parish. Bus Routes: 7, 8. Admission is free. On the right going to Royal Naval Dockyard immediately after crossing Watford Bridge, hidden at end of footpath from car park. Contains memorials to soldiers and their families from 1853-1899. Here the Queen's Regiment honored their comrades, who died of yellow fever in the 1864 epidemic. This cemetery became the final resting place of four Grenadier guardsmen who died when the 2nd Battalion was stationed in Bermuda in 1891. Also here lie the graves of soldiers from other regiments. Includes graves of those and their wives and/or infants stationed at Boaz Island. Many of the tombs were erected by fellow officers or non-commissioned officers as marks of respect. Some were inscribed, complete with the regiment's insignia, while others were plain. So many died that it is impossible to show all their gravestones
Photos above by author Keith Archibald Forbes solely for Bermuda Online

Graves British Army's 42nd Regiment (Royal Highlanders or Black Watch)
Men who died from yellow fever when stationed here 1847-1851.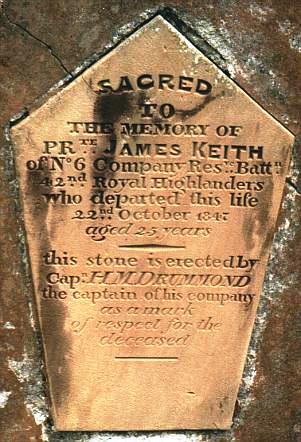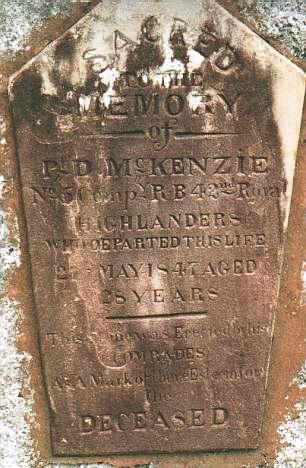 Internationally copyright protected, taken by author Keith Archibald Forbes solely for Bermuda Online
The men wore dark tartan to distinguish them from Guardsmen or Red Soldiers - hence the name Black Watch. Bermuda's Black Watch Well at the junction with the North Shore Road is named in tribute. It was dug in 1849. When the Governor ordered British soldiers to seek a fresh water supply for the poor of Pembroke Parish and their cattle during a prolonged drought, the Black Watch was the first to volunteer and dug so thoroughly the facility still exists today. One of the officers was Captain G. W. MacQuarie, who lived in St. George's at what was then Rendell House, later the Redan Hotel, now Clyde's Cafe. Several of this unit's soldiers are not in this graveyard but were buried at St. Peter's Church in St. George's. They include Ensign Maitland, Ensign Abercromby and beside them the grave of bandmaster Philip Goldbergh.
In Aberfeldy, Perthshire, Scotland, a monument - still there - was erected in 1887 to mark the enrolment in 1740 of the Black Watch as the 42nd Regiment of the line. The "Watch" as it was known originally was first raised in 1667 by various Whig clan chiefs "to be a constant guard for securing the peace in the Highlands and to watch upon the braes."

2nd Battalion 56th Regiment (West Essex), 1851-53
Typical of the regiments that were decimated in Bermuda by yellow fever. In 1853 alone, nearly 230 of its officers and men died in Bermuda from yellow fever. One of them was Lieutenant Alexander George Woodford, who died on September 12, 1853 when his unit was stationed in St. George's - then a garrison town. He was buried at St. Peter's Church. The Woodford Memorial Tablet is still there. His father was Field Marshal Sir Alexander George Woodford. Others - included in a separate mention at the same church at the same time - included Captain E. F. Hare, Captain G. S. Hanson, Lieutenant F. H. Sykes and many more officers, men and their wives and children. The cemetery for yellow fever victims of this regiment is in Ferry Reach Park, St. George's Parish.

26th Foot Regiment (Cameronians or Scottish Rifles), 1854-59
The regiment dates back to when Richard Cameron the field preacher declared war on King Charles II. For his pains, he and his followers were cut to pieces by dragoons at Airdmoss outside Auchinleck on July 22, 1680. But in the reign of King William III the organization came into its own and Camerons and men from Skye formed the left wing at Killiecrankie. It was where "Bonnie Dundee" was killed and the Stuart cause lost. The 1st Battalion of the Cameronians is directly descended from the Cameronian Guard embodied in 1689. In Bermuda, the regiment had a special instructor shipped out from England to give the men courses on the use of the Enfield Rifle. Many men died and were buried in Bermuda from yellow fever. Three of the graves are shown here, one opposite and two below.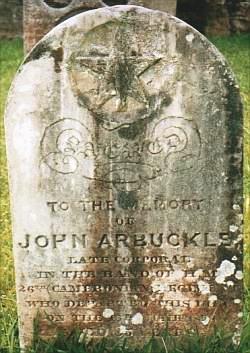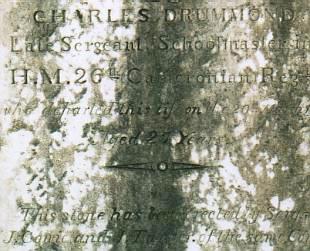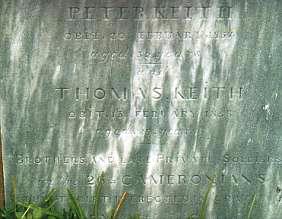 Bermuda graves at the main military graveyard in St. George's of 26th Foot Regiment (Cameronians or Scottish Rifles)
Internationally copyright protected, taken by author Keith Archibald Forbes solely for Bermuda Online

39th Regiment, 1859 - 1865
It was known to be here until at least 1864 because the 39th Regimental Band gave a concert in January of that year for amateur dramatics night of children of garrison officers. Members of the regiment, like this private, are buried in the military graveyard at St. Georges.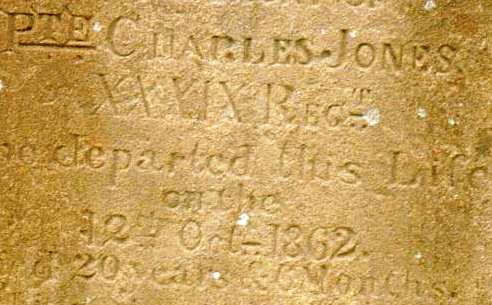 Internationally copyright protected, taken by author Keith Archibald Forbes solely for Bermuda Online

2nd Battalion, 2nd Queens Regiment (Queen's Royals), 1864
At the end of the US Civil War in case of repercussions from the USA from the victorious North. It was feared the hawks of the North would try to attack Bermuda for the help Bermudians gave to the South despite a strict British Government order of neutrality. Many of this regiment's members died in Bermuda from yellow fever and were buried in the military graveyard at St. Georges.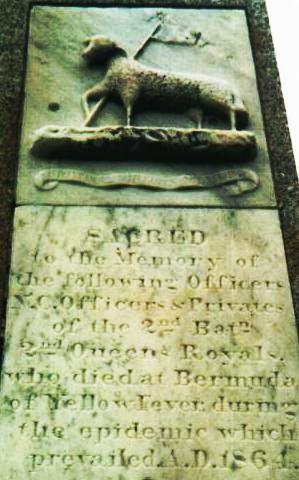 Internationally copyright protected, taken by author Keith Archibald Forbes solely for Bermuda Online

30th Regiment, 1864
Its 2nd posting to Bermuda. It came from Montreal to Bermuda this time to relieve other units of the British Army in Bermuda losing men from the effects of yellow fever. One of its members, Dr. David Milroy, MD, FRCS, died and was buried in Bermuda on 3 September 1864, at the age of 38, from yellow fever, after treating men for it. There is this handsome grave to him in the St. George's military graveyard.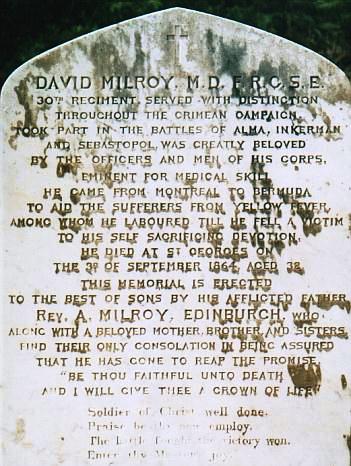 Internationally copyright protected, taken by author Keith Archibald Forbes solely for Bermuda Online

Royal Engineers (originally Royal Miners and Sappers), continuously
For the British Army, they built roads in Bermuda in the 1840s, long before the American military did in the 1950s. They paved and repaired the original military (now a civilian) road from Fort Prospect in Pembroke Parish to the Royal Naval Dockyard in the west and the garrison town of St. George's in the east - and erected the rifle range at what used to be the British Army training camp on the Old Military South Road - now the South Road - in Warwick Parish. Many died here from the effects of yellow fever, as did this officer.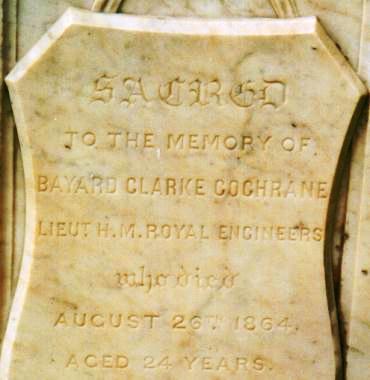 Internationally copyright protected, taken by author Keith Archibald Forbes solely for Bermuda Online

Royal Artillery, continuously
Especially after the 1840s. Many died here from the effects of yellow fever, as did these officers.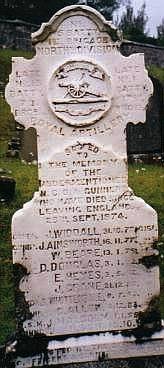 Internationally copyright protected, taken by author Keith Archibald Forbes solely for Bermuda Online

1st Battalion, 15th Regiment (Yorkshire), 1868-70
Until 1868, they were at St. John's, New Brunswick, Canada. In Bermuda, a unit under Major Wilkinson was relocated from St. George's in July 1868 to Boaz Island because of typhoid and yellow fevers. But it did not help. Ensign William Gaskin died at Boaz Island in 1868 and because it was so much closer than the British Army graveyards, was buried at the Naval Cemetery at Ireland Island. Two Sergeants, one drummer, and 13 Privates died and were buried in Bermuda British Army military graveyards. At HQ, Assistant Surgeon John Dennis Healy died at St. George's on 19 June 1868 and was buried there. To make up for these losses a draft of 102 men under Captain Moffatt arrived from the Depot at Chatham on October 24, 1868.

Prospect Hill Garrison Cemetery
Greenwich Lane. This cemetery was built and used first by the British Army until it stopped posting British Army troops in Bermuda in the 1950s - see British Army Units in Bermuda - and subsequently by the Bermuda Police Service. When the British Government was carrying out a major expansion of Bermuda's fortifications in the 1840s, it was decided that the Garrison in St. George's was not ideally located and a 'flying camp' was needed to give troops quick access to any part of the island in an emergency. The British Army, partly because of the threat at that time of the invasion of British-held Bermuda by the USA in retaliation for the activities of pro-southern Bermudians in the US Civil War that had just ended, requisitioned large areas of Devonshire and Pembroke for Fort Prospect, Fort Hamilton and Fort Langton. Fort Prospect and the military cemetery are located on what was previously known as White Hill. Between 1840 and 1868, the camp at White Hill (later Prospect) was temporary, with soldiers living in tents and wooden huts. The first permanent structure was a military hospital built in 1868 to look after patients with yellow fever and typhoid, two illnesses which plagued the troops in Bermuda. The graves date from 1866 but it is believed the land was not consecrated until 1888. The cemetery was last used by the military in 1966, and there is also a modern burial ground for police officers within the cemetery. At the rear of the cemetery, surrounded by an iron railing, lie the monument and grave of Sir Walter Kitchener, Governor of Bermuda 1908-1912, who died of appendicitis while in office.

Royal Naval Cemetery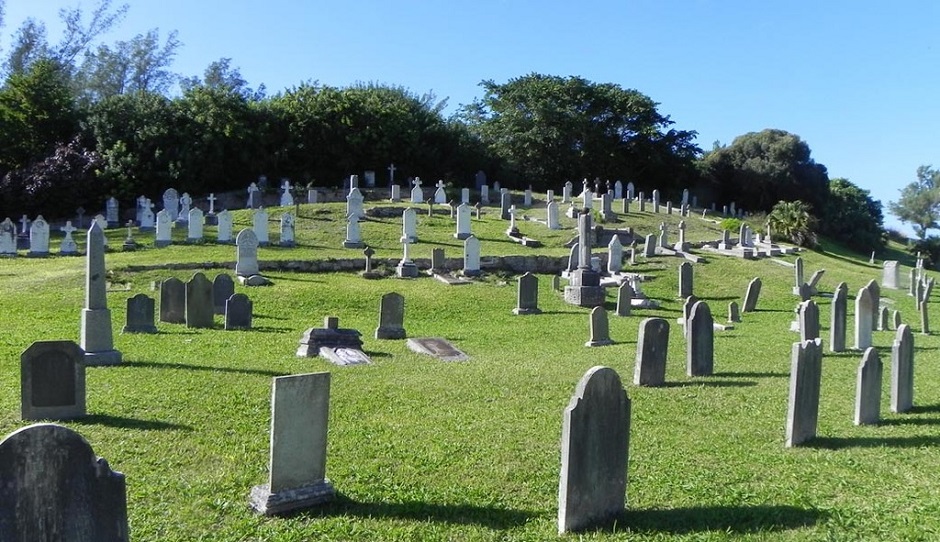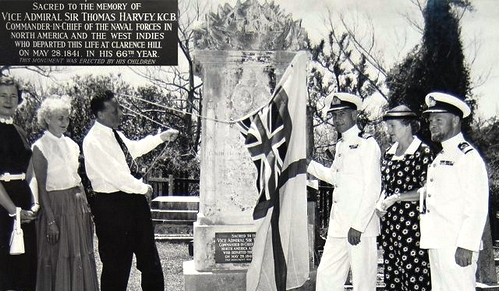 Ireland Island South. On Malabar Road, approaching the former RN Dockyard. Bus Routes: 7, 8. Admission is free. This large naval cemetery, 2.73 acres at the side of the road leading into Dockyard, was once known as the Glade. All of Ireland Island was bought by the Admiralty for the Royal Navy in 1809 and the cemetery was consecrated in 1812. The first burial ground was a narrow strip which is now the central portion of the cemetery; it was enlarged several times, notably after three yellow fever epidemics in 1837, 1843 and 1853. It is estimated that over 1,000 graves rest here. As the cemetery filled up, the categories of people who could be buried there were reduced, starting with the exclusion of convicts in 1849. By 1853 only Royal Naval personnel and residents of Ireland Island could be interred there. January 3rd, 1854 was marked as a day of thanksgiving in Bermuda for those who survived the dreadful scourge. However, it was not the last yellow fever epidemic and it took another thirty years to completely eradicate the mosquito-borne disease in Bermuda.
Some of the many buried here, with their names, dates and ships. See https://wrecksite.eu/refPosView.aspx?180318.
The cemetery lies in a depression, with the earliest graves at the lower centre, and the later graves on the rising ground around them. Five admirals are buried here, as well as children and sailors. The oldest gravestone now legible is that of Sergeant John Kitchener, late Royal Marines, who died in 1816, with its cautionary verse urging the onlooker to prepare to meet his God. At least one Royal Navy admiral is buried here. Several of the older headstones have poetic inscriptions, some personal and others supplied by stonemasons as far afield as Nova Scotia and England. In contrast are the Commonwealth War Graves Commission headstones which stand out in their stark simplicity. The cemetery contains the graves of servicemen from the Second World War, when Bermuda was a transit point in the Battle of the Atlantic, and memorials to some of those who were buried at sea. Overlooking the whole cemetery is the Oration Stand, a reproduction of the original structure from which the funeral oration, or formal speech at a funeral, was given.

British - non-military - graveyards in Bermuda
They include several Anglican (Episcopalian) Parish churches where, during World War 2, civilians and Merchant Navy personnel who perished at sea as victims of German U-boat attacks against torpedoed ships, were brought to Bermuda for burial. One example is St. Paul's in Paget Parish. For details of where outside of Bermuda British soldiers are buried overseas during world wars - not the case in any of the pre-1914 burials in Bermuda, but certainly so during World Wars 1 and 2, consult the Commonwealth War Graves Commission.

Associated sites links:



Authored, researched, compiled and website-managed by Keith A. Forbes.
Multi-national © 2020. All Rights Reserved