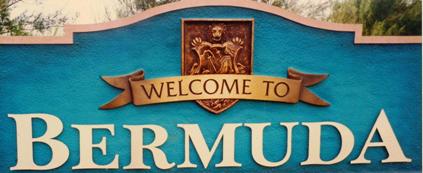 165+ web files about Bermuda, regularly updated as a Gazetteer, focusing on this internally self-governing British Overseas Territory 900 miles north of the Caribbean, 600 miles east of North Carolina, USA. Accommodation options, aircraft & shipping registers, airlines, airport, America's Cup 2017, artists &culture & performing arts, banks, beaches, Bermuda Dollar, Bermuda Government, Bermuda-incorporated international and local businesses and companies including insurers and reinsurers, Bermudians, books and publications, bridges and causeway, charities, churches, citizenship by Status, City of Hamilton, commerce, communities, credit cards, cruise ships, cuisine, currency, disability accessibility, Devonshire Parish, districts, Dockyard, economy, education, employers, employment, environment, executorships, fauna, ferries, flora, former military bases, forts, gardens, geography, getting around, golf, government, guest houses, history, historic homes, Hamilton, House of Assembly, housing, hotels, immigration, import duties, internet access, islands, laws, legal system and legislators, location, main roads, marriages, media, members of parliament, money, motor vehicles, municipalities, music, nearest mainland, newcomers, newspaper, organizations, parks, Paget Parish, Pembroke Parish, residents, pensions, political parties, postage stamps, public holidays, public transportation, railway trail, real estate, religions, Royal Naval Dockyard, Sandys Parish, Smith's Parish, Somerset Village, Southampton Parish, St. David's Island, St George's Parish, senior citizens, Somerset, Spanish Point, Spittal Pond, sports, taxes, telecommunications, time zone, traditions, tourism, Town of St. George, Tucker's Town, utilities, water sports, Warwick Parish, weather, wildlife, work permits.
Bermuda's banks
Only four operate in the local market

By Keith Archibald Forbes (see About Us) exclusively for Bermuda Online
While Bermuda is certainly an offshore international business and insurance center, it is not an international banking center. International banks, which in other offshore locations and also in many onshore jurisdictions, are allowed to register as banks and can operate in those countries, are not allowed in Bermuda to register or operate as banks.
2017. June 26. Home-grown Bank of Butterfield has outstripped global giant HSBC to become Bermuda's biggest bank. Butterfield was listed as having assets of $11.1 billion last year, compared to $8.7 billion for HSBC Bermuda, overtaking its rival by a sizeable margin. A KPMG report into the state of the island's banking industry said: "The change in position arose as Butterfield completed their acquisition of HSBC's private banking operations in April 2016." But the banking sector as a whole in Bermuda shrunk by around $1.49 billion last year, a 6 per cent drop. Clarien Bank had more than $1.1 billion in assets in the same period, while Bermuda Commercial Bank's assets totaled a little over $649 million. Net profits across the industry went up by $26 million, some 15 per cent compared to 2015.The details were revealed in the latest Bermuda Banking survey carried out for KPMG's Insights magazine. Craig Bridgewater, head of banking at KPMG in Bermuda, said: "Six per cent is not a big number and what's happened is there have been some movements in the industry." HSBC sold its private banking to Butterfield and Butterfield is restructuring its business." He added: "From time to time, customers may move funds around in the nature of their business — large reinsurance claims could see funds leave banks. "Mr Bridgewater said that since the Insights survey was first produced six years ago, regulation of the sector had increased. He said that the impact of stricter regulation had been a major topic in the Insights round table featuring the heads of the four island banks. "Customer experience remains of paramount importance and investment in technology enablement has the potential to benefit the business, employees and customers." According to the survey, despite the drop in assets the banking sector remained stable. "The cost-to-income ratio, a key performance indicator for the productivity and efficiency of banks, has remained in line with the five-year average." Mr Bridgewater said: "Clearly, there is the regulatory environment and that continuously becomes more of a challenge. I don't see any weakness in there so far — they have been able to absorb these challenges." He added: "It has been an eventful year for Bermuda's banking sector. Butterfield listed on the New York Stock Exchange, HSBC sold their private banking operations, BCB moved into its new premises and Clarien received a significant capital injection." HSBC reported $117 million in profits for 2016, up $34 million, or 34 per cent, compared to the previous year. Butterfield made $116 million profits over the same period up $37.8 million, or 48 per cent, compared to 2015.Clarien Bank ended the year with $1.2 million in net profits, more than double the 2015 figure, while BCB had a net loss $6.63 million, put down to poor performance of investments, as well as currency depreciations as result of the fall in sterling after the UK voted to leave the European Union.
Banks are listed by size, not in alphabetical order.
Butterfield Bank
The Bank of N. T. Butterfield & Son Limited. 65 Front & Reid Streets, Hamilton HM 12. Phone 295-1111. About 38% of the local banking market. Like all local banks, charges a monthly checking account fee.
2017. October 7. A former top executive of the US Central Intelligence Agency has joined the board of Butterfield Bank. Meroe Park has been appointed as a non-executive director. She was most recently the executive director of the CIA, serving as the agency's chief operating officer in its most senior career post. Prior to her retirement from the CIA in June, Ms Park was a 27-year career intelligence officer and one of the US Government's leading professionals. She held increasingly senior positions at the CIA, including chief of human resources and a senior mission support officer for locations in Eurasia and Western Europe. Ms Park successfully led key strategic initiatives, including the modernization of the CIA's technology systems and organizational structure, and the implementation of talent initiatives focused on workforce development and inclusion. Ms Park earned a number of awards during her career, and has twice been the recipient of the Presidential Rank Award, the Executive Branch's highest honor for Government career professionals. She holds a Bachelor of Science degree from Georgetown University. Michael Collins, Butterfield's chief executive officer, said: "On behalf of my fellow directors, I am excited to welcome Meroe to the Butterfield board. Meroe's leadership skills and unique geopolitical perspective, developed over nearly three decades of domestic and international experience with the CIA, will help support our growth in high quality international financial centers. I look forward to working closely with Meroe and our other directors as we continue to build shareholder value."
2017. August 18. Butterfield Bank is confident it will return its operating expenses to its target level by the end of the year. And while it has twice raised its lending rates this year, in line with moves by the US Federal Reserve, it has no declared intention on what it will do if there is a further hike by the Fed. Regarding expenses, the bank has a 60 per cent efficiency ratio target for the end of 2017. However, between March and the end of June it went off target. Its non-net interest expenses rose to $75.3 million, about $9.5 million higher year-on-year. Part of the reason for the blip was the impact of the 35th America's Cup. The bank was an official supplier and official Bermuda bank of the event, and it hosted more than 800 guests and clients during the sailing competition in May and June. Michael Collins, chief executive officer has previously described the one-time expenditures as yielding "unparalleled opportunities for business development and retention". And during a conference call following the release of the bank's quarterly results last month, he said expenses had been driven by "marketing for the America's Cup, Sarbanes Oxley, investment in compliance systems and capabilities and the build-out of our Halifax, Nova Scotia Support Centre". Mr Collins said that the America's Cup expenses were non-recurring, while the costs of Sarbanes Oxley, a US Act which relates to management and accounting, and investment in compliance systems had picked up in the second quarter "but should start to level off by the end of 2017". He added: "Expenses related to the Halifax build-out will likely continue through the end of the year, before fading in early 2018, and thereafter will start to create operational efficiencies for the group." Butterfield is moving some middle-office functions and back-office departments to its service centre in Halifax, Canada. Mr Collins said: "We continue to be very focused on expenses and expect to show significant progress by the end of the year as projects conclude and we achieve the anticipated savings." During the second quarter, the bank's net interest income increased $3.6 million over the prior quarter. Michael Schrum, chief financial officer, said: "The increase was due mainly to improving yields on the Bermuda and Cayman mortgage books, as adjustable rates began to reset following the recent Fed rate moves." On the question of how the bank might react to future Fed rate hikes, Daniel Frumkin, chief risk officer, noted that Butterfield had passed along the March and June rate rises to its Bermuda mortgage customers. But he added: "We don't have any forward-looking view of what we'll do on the next rate rise."
2017. May 11. Butterfield Bank is aiming to cut operating costs as it moves some middle-office functions and back-office departments to its service centre in Canada. It is expected that this will allow the bank to reduce its expenses in Bermuda and Cayman. There has been no announced impact on jobs in Bermuda, but the bank acknowledges the ongoing changes "may involve the redefinition and relocation of select roles to Halifax". Favorable tax treatment is a carrot for the bank to create more jobs in Nova Scotia. Butterfield has a service centre in Halifax, where it employs about 35 people. Last month it amended a six-year agreement it made in December 2015 with Nova Scotia Business Inc, increasing the projected number of jobs it will create in the province from 50 to 100. By doing so, the bank is qualified to earn up to $1.7 million through payroll tax rebate over the six years of the agreement. However, that amount will be lower if it creates fewer than 100 jobs in Nova Scotia. Halifax is about 40 or 50 per cent less expensive than Bermuda and Cayman, according to Michael Collins, Butterfield's chief executive officer. When asked by The Royal Gazette if jobs will be lost in Bermuda as a result of building up its operations in Halifax, a spokesman said the middle-office positions for which it is presently hiring in Halifax are primarily additions to the overall headcount of the group. The new positions are said to reflect investment in regulatory compliance and administration. However, the bank is expecting cost savings in the second half of this year, with a reduced salaries bill being a key component. In a presentation to accompany its first quarter earnings, Butterfield showed how salary and other employee benefits totaled $36 million from the start of January to the end of March. That was $1.8 million, or 5.3 per cent higher than the proceeding quarter, and $4.5 million more than the first quarter of 2016. During an earnings conference call with analysts on April 26, Mr Collins was asked about the higher expenses. He said it was caused by two things: one was continuing compliance work "which all banks are doing", the other was operating and employee costs. "There's a bit of cost overlap in terms of building our Halifax service centre, so as we continue to move middle-office functions and non-client-facing departments and positions to Halifax, obviously we have to staff up in Halifax before we start reducing expenses in Bermuda and Cayman." Mr Collins said the bank would start to see savings in the second half of the year as a result of its Halifax operations, and noted: "Bermuda and Cayman are very expensive jurisdictions. Halifax is about 40 per cent or 50 per cent less expensive, and also [has] a very good talent pool, so we're very excited about that." During the same discussion, Michael Schrum, Butterfield's chief financial officer, said the bank's renegotiation of its contract with outsource IT provider HP Enterprise, was bringing net cost savings of $4 million annually. He said other cost savings will be "primarily on salaries" in the second half of the year. Butterfield's Halifax operations range from finance to human resources, middle office and administration. The bank's spokesman said: "As the bank continues to expand in Bermuda, Cayman and Guernsey, and as banking regulations and technology evolve, we will assess the back-office and middle-office functions that support our client businesses, making adjustments to maximize efficiency and enhance customer service. This may involve the redefinition and relocation of select roles (based in Bermuda, the Cayman Islands and elsewhere within the group) to Halifax."
2017. April 7. The Bermuda Stock Exchange has this year launched its "Own Your Share of Bermuda" campaign to raise awareness of opportunities to invest in the island's public companies. The Royal Gazette is supporting the effort by publishing weekly features on each of the 13 domestic companies listed on the BSX. In the fifth of the series, Jonathan Kent looks at Butterfield Bank. Butterfield Bank may be in its 160th year in business, but in 2017 it is effectively embarking on a new era. Having been brought to its knees by the impact of the US subprime mortgage crisis nearly a decade ago, Butterfield can claim to have finally put that painful episode behind it after a pivotal last 12 months. It was a year when the rescuers of the bank — those who invested in $200 million of preference shares issued in 2009 and the institutions that ploughed $550 million into the bank a year later — got their money back with a tidy profit. And on a momentous day in September, the bank launched a successful initial public offering of shares on the New York Stock Exchange, with chairman Barclay Simmons, chief executive officer Michael Collins and Michael Dunkley, the Premier, on hand to ring the opening bell on Wall Street — not to mention a troupe of Gombeys on the trading floor. "With these events behind us, I believe Butterfield has emerged fully from the impact of the global financial crisis and is well placed to benefit from economic growth in our key markets," Mr Simmons stated in Butterfield's 2016 annual report. From an investor's viewpoint, there are many promising signs to note in recent years, including increasing earnings, a rising share price and acquisitions that will boost future earnings capacity. Full-year net income in 2016 was $115.9 million, up $38.2 million on the year before. Both interest and non-interest income rose last year and the prospects for further gains look good in an rising interest-rate environment. Twice in the last four months, Butterfield has raised its base rate for residential and commercial lending in line with quarter-point hikes by the US Federal Reserve. And with the Fed signalling two or three more increases this year alone, that should translate into improving margins for the bank. While that will not be popular with borrowers, it's certainly good news for shareholders. The bank declared a quarterly dividend of 32 cents per share for the fourth quarter of last year — tripling the payout to shareholders from the same period a year before. Going forward, that translates into an attractive 4.1 per cent yield on the current share price of $31.50. Since the crisis, the bank has cleaned up its loan portfolio — of which non-performing loans made up just 1.6 per cent as of the end of last year — and has made strides towards its strategic aim of becoming "the leading independent offshore bank and trust company". Acquisitions over the past three years have included a trust business in Guernsey, banking operations in Cayman and last year, the private banking investment management and trust businesses of HSBC in Bermuda. While retail banking remains a key part of its business and a generator of the deposits that make up much of Butterfield's $4.4 billion investment portfolio, Mr Collins sees the greatest opportunities ahead in catering to wealthier types. As the CEO stated in the annual report: "Our mission is to build relationships and wealth as a trusted adviser to generations of mobile, high-net-worth families moving capital around the world." And he made no secret that the bank is on the lookout for further acquisitions that will fit with its growth objectives. "We continue to see opportunities to acquire offshore trust companies, with large international banks exiting certain jurisdictions and smaller firms sensing their vulnerability as the industry consolidates," Mr Collins said. While investors who have bought into the bank in recent years have done very well, longer-term shareholders still have a long way to go to recover the paper value they once had. Ten years ago today, Butterfield shares were trading at $59 on the BSX. Taking into account the stock splits since then, today's share price is down by about 84 per cent from that day. Hundreds of millions of dollars were lost on the bank's investments tied to US subprime mortgages that soured dramatically, sparking what was hopefully a once-in-a-generation global financial crisis. But today's Butterfield appears more focused in its purpose, more conservative in its management and all the wiser for the painful lessons of the past. It is by far the biggest constituent of the BSX — with its $1.68 billion market capitalisation more than nine times bigger than second-largest BF&M — and the only domestic-board stock on the BSX trading above book value. What is evident from the share price, at more than 2.3 times book value, is that the slew of institutions that have ploughed millions into the bank since its shares launched on the NYSE are bullish about its prospects for the future.
2017. February 22. Butterfield Bank's biggest shareholder, The Carlyle Group, is a step closer to exiting its position with the bank. A public secondary offering of common shares in the bank, including an additional offering to the underwriters, includes all 7.6 million of the stock owned by Carlyle. It had always been expected Carlyle would move on after between five and seven years as a major shareholder. It was one of the key investors that put $550 million into the bank as part of a recapitalisation programme in 2010. That move helped the Bermudian bank overcome difficulties it faced after it lost millions of dollars as a result of the US sub prime meltdown. Last September, Butterfield joined the New York Stock Exchange after a successful initial public offering. The listing has given the bank's stock greater liquidity. US-based Carlyle Group is one of the world's largest investment firms, with about $170 billion of assets under management. It has a 14.3 per cent stake in Butterfield. After the close of the markets on Wednesday, Butterfield announced the launch of the secondary offering. The bank will not receive any of the proceeds of the sale as the offering is from a group of major shareholders. In a statement, the bank said a group of its shareholders, including affiliates of The Carlyle Group, intend to offer 9.55 million common shares in an underwritten public offering. In addition, the underwriter will be offered a 30-day option to purchase up to an additional 1.4 million shares at the public offering price, less underwriting discounts and commissions. The shares offered will include all 7.6 million common shares owned by Carlyle. Butterfield will not be issuing any shares in connection with the offering. Goldman Sachs & Co, Citigroup, Sandler O'Neill & Partners, and Keefe, Bruyette & Woods are acting as the joint book-running managers. Raymond James and Wells Fargo Securities are acting as co-managers for the offering. The pricing and completion of the offering remain subject to a range of conditions. The bank's share price has gained nearly 40 per cent since last year's IPO. On Wednesday, the shares fell eight cents in New York to close on $32.93.
2017. February 13. Bank of Butterfield has reported profits of $115.9 million for last year — up $38.2 million on the $77.7 million recorded the year before. Net income per share was $1.18, down 5 cents on the previous year. After removing the effects of non-core items, core earnings for the year were $138.6 million, an increase of $24.7 million on the year before. The bank declared a dividend of 32 cents per common share for the last quarter of 2016, a threefold increase on the previous quarter and the same quarter last year. Michael Collins, Butterfield CEO, said that the bank had successfully completed its initial public offering on the New York Stock Exchange, which had improved liquidity for shareholders and given the bank access to international capital. He added: "Our community banking and wealth management businesses performed well in 2016, leading to a 22 per cent increase in core net income." Mr Collins said the bank had bought HSBC's wealth management business on the island, which had increased core net income by 22 per cent and wound down Butterfield's UK private bank. He added: "Having repositioned the bank in jurisdictions in which we have scale, we are now focused on growing our community banking market share while cautiously expanding our wealth management business through trust acquisitions." Mr Collins said the bank last year recorded core return on average common tangible equity of 20 per cent — without the level of credit exposure faced by a typical US regional bank. He added the bank had an $11 billion balance sheet, with $3.6 billion in loans and $7.2 billion in cash and securities, invested mostly in US government and federal agencies. Mr Collins said: "With high barriers to entry in each of our jurisdictions we are uniquely positioned to service the global private wealth emanating from Asia, Europe and Latin America." After the IPO, the bank used $212 million of capital to buy back all the outstanding preferred shares, eliminating $16 million of dividends and government guarantee funds. Mr Collins said: "The bank's shares have performed well, increasing in value by approximately 40 per cent since the IPO. The bank has declared a common dividend of 32 cents per share for quarter four 2016, which is more than three times the 10 cents quarterly dividend paid to common shareholders for the fourth quarter of 2015." Non-interest income at the bank rose by $7.3 million, attributed to increases in revenues from banking fees, trust services and asset management, plus the acquisition of HSBC's private banking investment management and trust businesses. Michael Schrum, Butterfield chief financial officer, said: "The HSBC acquisition was largely responsible for the year-on-year increase in deposits of nearly $1 billion, which, against a backdrop of limited loan demand in our core markets, drove the bank to direct more funds to its investment portfolio, which grew from $3.2 billion at year-end 2015 to $4.4 billion at year-end 2016. "Funds were invested primarily in US government agency securities and 93.7 per cent of the bank's investment portfolio is held in A or better rated securities. The asset quality of the bank's loan portfolio is similarly strong, with non-performing loans as a percentage of our total loans amounting to 1.6 per cent." Operating expenses rose by $0.7 million to $285.9 million in 2016, although there were increased salary and other costs related to the HSBC acquisition, "significant" redundancy costs related to the London bank closure and $8.5 million in costs associated with the vesting of performance-based options triggered by September's IPO. The bank also reduced professional and outside services costs, which went down by nearly $8.8 million last year. Net income for the last quarter of 2016 was $35.4 million, up $37.7 million from a loss of $2.3 million in the same quarter the previous year.
2016. December 22. Butterfield Bank gained some massive new shareholders — including some of the biggest names on Wall Street — as a result of its initial public offering on the New York Stock Exchange in September. Regulatory filings show an impressive breadth of institutional support for the offering, with 12 asset managers having holdings of more than $10 million in Butterfield, as of the end of September — and the value of those shares has risen more than 31 per cent since then. Butterfield's IPO proved to be well timed. Expectations of higher interest rates, raised further by Donald Trump's victory in the US presidential election, have resulted in the market turning bullish on the banking sector as a whole. A basket of mainly bank stocks, known as the Financial Select Sector SPDR ETF, which trades as XLF, rose 21 per cent from the close of trading on September 15, the day before Butterfield's NYSE debut, through yesterday. Butterfield's shares have outperformed even this remarkable rally. Yesterday, the bank's New York-listed shares closed on $32.76, more than 38 per cent above the IPO price of $23.50. Most of that increase has come since the end of September, when Butterfield's share price closed at $24.76. Holders of the bank's Bermuda Stock Exchange-listed shares, which closed on $31 yesterday, have enjoyed the ride too. US regulatory filings show that Carlyle Group, which originally invested about $150 million in Butterfield as part of a recapitalisation of the bank in 2010, remains the largest shareholder with 7.63 million shares, valued at $189 million as of the end of September. The private-equity firm planned to offload 17.5 per cent of its shareholding during the IPO. However, the second-largest shareholder was a newcomer — Wellington Management Group LLP, whose holding of 5.27 million shares was worth $130.5 million. Though this comprises a major shareholding in the bank it's a small investment for Wellington, an 88-year-old Philadelphia-based global asset manager with nearly $1 trillion under management. Another new shareholder is Rovida Advisors Inc, now the bank's third-largest owner with two million shares that were worth $49.6 million. The investment is Rovida's second largest holding and represents just shy of a quarter of the firm's total $201 million portfolio. The Wellcome Trust — another firm to invest in the 2010 recapitalisation — continued to hold the fourth largest stake of 1.8 million shares worth nearly $46 million. But then come a string of new investors, the biggest being Alyeska Investment Group, led by Anand Parekh, which bought a $39.6 million position in the stock, comprising 0.4 per cent of its portfolio. FMR LLC, the US investment arm of fund management giant Fidelity Investments, loaded up with 1.29 million Butterfield shares that were worth $32 million at the end of September. Asset managers Southpoint Capital Advisors ($16.3 million), Millennium Management ($15.3 million), Hotchkis & Wiley Capital management ($14.5 million), NWQ Investment Management ($13.5 million), Philadelphia Financial Management ($12.2 million) and Citadel Advisors ($11.6 million) all had stakes with eight-figure valuations at the end of the third quarter. Some better known names also partook in the offering, including Goldman Sachs ($6.1 million), Bank of New York Mellon ($1.1 million), Morgan Stanley ($1.1 million) and Bank of America ($348,000).
2015. The Canadian Imperial Bank of Commerce, one of the major investors of 2010, exited its 19 per cent stake. Butterfield paid $120 million to buy back 80 million shares for cancellation. The Canadian bank's remaining 23 million shares were taken by the Carlyle Group and subsequently sold to exiting shareholders. Carlyle's involvement in the bank was originally expected to last between five and seven years, however its investment is now held in a fund featuring a ten-year investment. Butterfield currently has six primary shareholders. Entities affiliated with the Carlyle Group hold 22.7 per cent of the bank's common shares, with the majority of these owned by Caryle Global Financial Services Partners. The other primary shareholders, each holding between 5 and 8 per cent of the common shares, are Ithan Creek Master Investors (Cayman), Rosebowl Western, Nicholas Roditi, the Government of Bermuda Contributory Pension Plans, and Wyndham Holdings. Smaller shareholders include Bermudians and nominee companies. Once, until 2010, the bank was majority Bermudian-owned. In 2010, CIBC was part of a rescue investment group that pumped $550 million into the bank. At the time Butterfield was struggling due to the economy and toxic loans. It was given a new lease of life thanks to the refinancing. CIBC and Carlyle Group each injected $150 million and took an equal 22 per cent ownership of the bank at the time. The companies bought the stock at $1.21 per share. The new capital allowed Butterfield to de-risk its balance sheet and sell off hundreds of millions of dollars worth of troubled investments that had been backed by US mortgages.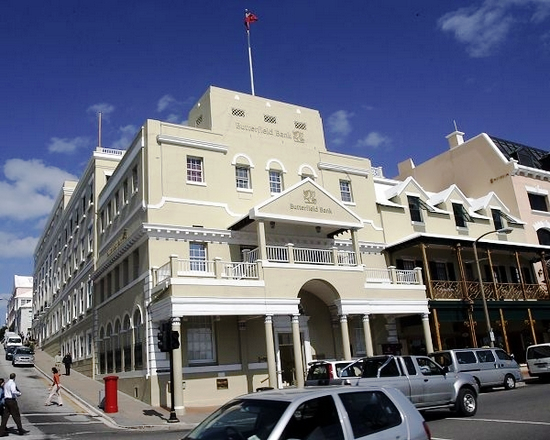 Bank of Butterfield, Bermuda
HSBC Bank of Bermuda Ltd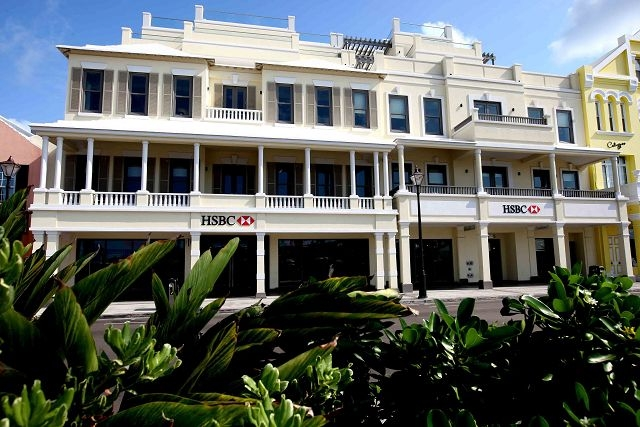 HSBC, Bermuda, Royal Gazette photo

Harbourview Centre, Front and Reid Streets, Hamilton. Phone 295-4000. Fax 295-7093. Since 1889. Formerly the Bank of Bermuda Limited. The largest by a considerable margin and most profitable Bermuda bank, especially since February 2004 under HSBC ownership when acquired for US$1.3 billion. At HSBC acquisition the bank employed 1,050 people but reduced this to about 730 in 2012. About 47% of the local banking market. Charges a monthly checking account fee.

2017. September 6. Bank of Bermuda Foundation has launched a new website that will soon enable online funding applications, while also unveiling what it describes as "bold new goals for grant-making". The changes, which have been two years in the making, are described as being part of a "more deliberate approach" to supporting the Bermuda community. The foundation's long-term vision for Bermuda is that "all people are healthy, independent, financially secure and connected to community, with equitable opportunities for all". The foundation's new grant-making strategy focuses on four new areas of funding: economic participation, education, healthy families and connected communities. The new website offers extensive information on the foundation's funding guidelines and details the new areas in which it intends to focus its grant-making. The website also provides clear information about the process of applying for grants. Designed and developed locally by Sebastian Matcham of Subtropik, the new website provides information on the foundation's background, the people involved and the process of developing the foundation's new direction. Soon the site will also feature an online grant application system, enabling local organisations to make paper-free applications. Tom Conyers, the foundation's chairman, added: "Our areas of funding, consistent with our vision, represent a focus on economic equity; education for independent thinking and productive engagement; health and well-being for all age groups and an inclusive and welcoming community. The new website provides an in-depth guide to our new grant-making goals and assists potential grantees through the application process online." The non-profit sector has been included in several ongoing presentations this year, introducing the new grant-making system and has responded eagerly to the Foundation's new goals. With a December 1 deadline for the first round of applications for 2018 grants, non-profit organisations are urged to visit the new website to learn more about the new focus areas for grant-making and the new application form. Application form orientation is scheduled for early October and all non-profits are invited to attend. Under the new restructure, the foundation is supported by key people in spearheading the foundation's new goals for grant-making. David Lang, managing director, oversees the overall relationships with the community and community organisations as well as the general business affairs of the foundation. Vivien Carter, programme officer, is responsible for developing resources and relationships to assist in implementing the foundation's new direction. And Kim Pratt, senior trust officer, Butterfield Trust (Bermuda) Ltd, handles all inquiries and organizational administration. The Bank of Bermuda Foundation website can be found at www.bankofbermudafoundation.bm

2017. February 24. HSBC Bank Bermuda Ltd booked net profits of $117 million last year — up more than a third on 2015. A fall in loan impairment provisions and lower operating expenses after the sale of private banking operations last year contributed to the increase. Mark Watkinson, HSBC Bermuda's chief executive officer, pointed to "continuing modest improvement" in the economy and said the bank had seen a significant rise in demand for residential home loans. In its earnings statement, the bank said it took a $21 million charge to lower the carrying value of buildings, since last year's decision to "explore alternative options" for its offices near Albuoys Point. But this was largely offset by a $20 million gain recorded on the sale of the private bank unit. And the bank paid a $280 million dividend to its owner, HSBC Holdings Ltd, the global banking group. Return on equity was 12 per cent, exceeding the 10 per cent target of the parent group. Excluding the buildings charge, operating expenses were $145 million, down $31 million, or 18 per cent on last year. The decrease was mainly due to the sale of the private banking operations to Butterfield, completed last April, which reduced the number of employees in Bermuda and cut support costs. Total loan impairment charges decreased to $19 million from $36 million in 2015. But non-performing loans, making up 14 per cent of the total loan portfolio, down from 17 per cent in 2015. Phil Alvey, HSBC Bermuda's chief financial officer, said NPLs included all loans that had been renegotiated — even though the majority of such borrowers were now making repayments on time. Total loans and advances to customers were $2.29 billion at the end of 2016, a decrease of 7 per cent compared to a year earlier. The decrease is the product of the debt being paid off by borrowers outsizing new loans being taken out. Mr Watkinson said new mortgages tended to be smaller than older ones, given the 30 per cent fall in real estate values from pre-recession highs and the 20 per cent minimum down-payment requirement these days. "We saw double-digit growth in lending in the residential housing market last year," Mr Watkinson said in an interview. "There is generally more confidence in the economy. But there is a split in the level of confidence between local and international. In the local community, people are feeling much better about life. That filters through into car sales, so the auto sector is feeling very good. On the international business side, it's more difficult. There were a couple of significant surprises last year and it's a very uncertain world and so the international business sector is feeling a bit uncertain. So in Bermuda we have to be very careful, because international business is a critical part of the economy and we need it to feel positive about Bermuda and the opportunities here." The recent approval of legislation to enable the building of a new airport terminal was something that would strengthen international business confidence, Mr Watkinson said. "Infrastructure is often overlooked," he added. On the impact of the change in political power in the US and potential corporate tax cuts eroding Bermuda's tax advantage, Mr Watkinson said: "No one knows what's going to happen with the US tax situation. But when I talk with customers about why they choose Bermuda, tax is a factor but it's not that high on the list. In terms of insurance, it's a real market. You can walk down the street and put together a half-billion-dollar insurance policy. The regulators do a great job and Solvency II equivalence was an outstanding success and great work by the Bermuda Monetary Authority." In the earnings statement, Mr Watkinson said it continued to be a challenging environment for banks. "Our core businesses all delivered strong results and show robust prospects for the future," he said. "The local economy is displaying greater resilience than in recent years and it appears we have worked through many of the problem loans in our portfolio." The sale of the private banking operations was the main factor in the 19 per cent fall in total assets to $9.76 billion. Total capital adequacy ratio — a measure of financial stability — improved to 24 per cent at the end of 2016 from 22 per cent a year earlier. HSBC said that the sale of its private banking operations allowed it to focus on core strengths in Bermuda. These are retail banking wealth management, including HSBC Asset Management and Premier banking, commercial banking and global banking and markets. The net profit from these continuing operations was $93 million for the year with a cost efficiency ratio of 59 per cent, the bank said. Excluding impairment of buildings, net profit from continuing operations was $114 million with a cost efficiency ratio of 51 per cent. "The core businesses all delivered results ahead of expectations in 2016," the bank stated. HSBC added: "The balance sheet remains conservative with strong capital and liquidity positions, even after making significant returns to our shareholders in 2016. The bank is well positioned to absorb the impact of future regulatory requirements under Basel III." Mr Watkinson said staff had also doubled volunteer hours on the bank's time from 2015. "Such efforts have now accumulated over 10,000 hours of community service since we launched the Staff Volunteer Community Action Day Programme in 2006," Mr Watkinson said. "We were also able to contribute $700,000 directly to various education, environment and community initiatives, partly supported by funds made available by the HSBC Group to mark its 150th anniversary." The volunteer effort included a programme in conjunction with the Salvation Army and the Eliza DoLittle Society to provide free cooked meals to the needy once a week at Cathedral Hall. Staff from the bank have been divided into 43 teams, Mr Watkinson said, and two teams per week — one cooking and one serving — make meals for around 100 homeless and poor people. "It energizes our staff and they appreciate that they can go out and do something so worthwhile during bank hours," Mr Watkinson said. "For the bank, it's great for team-building and there's a great return on investment — and it's a great community investment as well."

Bermuda Commercial Bank Ltd (BCB)

L P. Gutteridge Building, Hamilton, PO Box HM1748, Hamilton HM GX, Telephone: 441.295.5678 Fax: 441.295.4759

.

One of Bermuda's four licensed banks. Charges a monthly checking account fee and more. On June 2, 2015 it announced it was moving its custody services relationship to Royal Bank of Canada's (RBC) investor & treasury services, an award winner in the global custody services sector. BCB said its custody provides a single dedicated contact person to ensure that the client does not feel 'lost in the stream' as is the case in many large institutions.

Owned by Somers Ltd. A listed Bermuda-incorporated international financial services investment holding company whose major assets include its 100 percent owned subsidiary, Bermuda Commercial Bank Limited, one of Bermuda's four licensed banks and a 62.5 percent holding in Waverton Investment Management Limited, a UK wealth manager with over US$8.7 billion assets under management. The Group's other investments include an approximate 68 percent economic interest in the London Stock Exchange listed Private & Commercial Finance Group PLC, a UK asset financing company, an 84.6 percent stake in Westhouse Holdings PLC, a corporate and institutional stock broking group, a 30 percent economic interest in Ascot Lloyd Holdings Limited, a UK independent financial adviser and a 21 percent economic interest in Merrion Capital Holdings Limited, an Irish financial services group.

2017. August 15. Somers Ltd reported a $6 million profit for the quarter ended June 30. The financial-services investment holding company, which owns Bermuda Commercial Bank and holdings in the UK and Australia, said it had benefited from currency fluctuations during the three-month period. After the end of the quarter, Somers announced the sale of its stake in UK-based financial advisory form Ascot Lloyd Holdings — a sale which has allowed Somers to pay off all of its debt. Warren McLeland, chairman of Somers, said: "The investee companies continue to perform strongly with excellent financial results in particular at Homeloans and Waverton. At the end of the quarter, the Company completed the profitable sale of its investment in Ascot Lloyd. "The company's results have benefited from strong capital markets in 2017 and during the quarter ended June 30, 2017 both the Australian dollar and sterling increased in value against the US dollar. This positively impacts the company's overall valuation given 60 per cent of the investment portfolio is denominated in either Australian dollars or British pounds. We were pleased to recently announce the company's bonus warrant issue, the proceeds of which combined with the proceeds from the sale of our Ascot Lloyd investment has enabled the company to completely eliminate all of its debt post the quarter end. The company's balance sheet is strong and we therefore look forward to the rest of the year with cautious optimism." The results did not specify net income for BCB, but Somers said the bank maintains "a high capital ratio of 23.2 per cent and a highly liquid balance sheet with 43 per cent in cash and high quality liquid assets". Assets under management at Homeloans Ltd, Somers' Australian holding, increased to $9.4 billion and as part of its funding programme completed a successful A$1 billion residential mortgage-backed securities issue. Its major UK investment, Waverton Investment Management Ltd had assets under management of £5.2 billion at June 30. During the first six months of its fiscal year, through the end of March, the company announced a loss of $6.6 million. Somers' $6 million net income compared to $0.1 million in the corresponding quarter of last year. This reduced the year to date net loss to $0.6 million. Somers' diluted net asset value per share was $17.63 as at June 30, 2017. As of the close of trading on the Bermuda Stock Exchange on Tuesday this week, Somers' share price was $13. Somers recorded a $2.7 million gain on its investment portfolio during the June quarter and this reduced year to date investment losses to $1.4 million.

2017. July 4. Somers Ltd has announced the surprise sale of its entire investment in Britain's Ascot Lloyd Holdings. The price of the transaction has not been disclosed, however Somers held a 51 per cent controlling stake in independent financial advisers Ascot Lloyd. The news comes only a week after Somers, the parent company of Bermuda Commercial Bank, released its earning report for the six months to the end of March, which showed a $6.6 million net loss. Ascot Lloyd yesterday said it had merged with Bellpenny, a fast-growing financial planning and consolidation company based in England. Somers sold its stake in Ascot Lloyd, comprising £8.75 million ($11.3 million) of convertible loan notes and £4.45 million ($5.76 million) of loans, to CPL Bidco, a company ultimately controlled by global investment management firm Oaktree Capital Management. Oaktree supports Bellpenny. The merger in Britain created Ascot Lloyd Bellpenny, which is said to have £6 billion assets under advice. Somers' investment in Ascot Lloyd stretches back to 2012 and was linked to a private placement with Utilico Investments Ltd, the company's largest shareholder, which saw Somers acquire Utilico's interest in Ascot Lloyd. It increased its investment in Ascot Lloyd, particularly in 2014 and 2015, and invested a further £2.3 million in the company this year. Somers is a Bermuda Stock Exchange-listed financial services holding company. It holds a major stake in Bermudian property and investment company West Hamilton Holdings. It also has stakes in a number of businesses around the world, including Homeloans Ltd in Australia, and Waverton Investment Management Ltd in the UK. Somers has been hit by the weakness of the British currency during the past few years, most notably following the UK's vote last year to leave the European Union. The company has said more than half of its gross assets are denominated in currencies other than the US dollar — chiefly sterling and the Australian dollar. Meanwhile, a capital-raising programme was launched by Somers on Friday when it listed a rights issue of bonus warrants to existing shareholders. The company has invited its shareholders to buy two bonus warrant shares at $13.50 for every five common shares they already own. The company is issuing up to 4,837,066 of the bonus warrant shares, representing a potential capital boost of $65 million if all are exercised. The offer expires on September 30. Announcing the bonus warrant shares on June 23, Warren McLeland, chairman of Somers, said: "The bonus warrant issue offers qualifying shareholders an opportunity to those shareholders who would like to participate in the growth of the company. It enables Somers to significantly reduce its debt burden, thereby freeing up cash flow to invest in new opportunities or to support existing investments." Somers has a market capitalisation of $187.9 million. Its shares were yesterday trading at $13 on the BSX.

2017. June 27. Financial services investment company Somers Ltd yesterday announced a net loss of $6.6 million for the six months to the end of March. However, the parent company of Bermuda Commercial Bank and part owner of several businesses in Britain and Australia, was still able to raise its dividend by more than 10 per cent, reflecting its board's confidence in its investee firms' performance. A major reason behind the net loss was investment losses of $4.1 million in the year to date, compared to around half that figure — $2.2 million — in the same six-month period the previous year. The six-month report said: "Investment gains and losses result from changes in the valuation of the company's investments and the year-to-date loss was due to reductions in the value of our holding in Ascot Lloyd following a reduction in the company's maintainable earnings before interest, taxes, depreciation and amortization." Somers' total assets stood at $337.3 million at the end of the first quarter, down from $346.9 million at the end of September 2016. Somers owns Bermuda Commercial Bank and has a 59 per cent stake in Australian firm Homeloans Ltd, and a 62.5 per cent holding in the UK's Waverton Investment Management. Other investments include 51 per cent of Ascot Lloyd Holdings in the UK, a 57 per cent share of Bermudian property management and investment company West Hamilton Holdings, a 23 per cent investment in Ireland's Merrion Capital Holdings and a 75 per stake in Britain's Stockdale Securities Ltd. Warren McLeland, chairman of Somers, said: "The investee companies continue to perform strongly with excellent financial results, in particular at Homeloans and Waverton. During the quarter, the company invested a further $2.3 million in Ascot Lloyd to fund a portion of the deferred consideration owed by Ascot Lloyd on one of its recent acquisitions." Mr McLeland added that both the UK pound and Australian dollar had increased against the US dollar in the first quarter of 2017, which had improved Somers' overall valuation as 59 per cent of its holdings are in pounds or Australian dollars. He said: "The board of directors is pleased to recommend an interim dividend of 20 cents per share, a small increase on last year's interim dividend. This reflects the performance of the underlying investee companies and the company's future prospects. We were pleased to recently announce the company's bonus warrant issue, the proceeds of which will enable the company to materially reduce its debt. We therefore look forward to the rest of the year with cautious optimism."

2017. February 21. The weakness of the UK pound was the major factor driving the owner of Bermuda Commercial Bank to a $10.7 million loss in the fourth quarter of last year. Somers Ltd, a Bermuda Stock Exchange-listed financial services holding company, said more than half of its gross assets were denominated in currencies other than the dollar — chiefly the UK pound and the Australian dollar. During the quarter, sterling weakened by 5 per cent against the US dollar as the repercussions of the UK's vote to leave the European Union continued to weigh on the currency. Somers' net asset value per share fell to $17.58 from $17.81 during the three months ended December 31, a fall of 4.4 per cent, mostly unrealized losses. Net foreign exchange losses were $6.6 million for the quarter with an additional $3.6 million of exchange losses on Somers' investment in its foreign operations. Somers has stakes of varying sizes in several UK-based firms, including Waverton Investment Management Ltd, Ascot Lloyd Holdings Ltd, Merrion capital Holdings Ltd and Stockdale Securities Ltd. During the quarter, Somers completed a deal that gave it a 59 per cent stake in Australian lender Homeloans Ltd. There was a $3.7 million loss on the company's investment portfolio during the last three months of the year, resulting from a change in the valuations of holdings including Ascot Lloyd, Waverton and BCB. The investment portfolio was $317.2 million at the end of last year, down from $332.0 million as of September 30, with equity investments accounting for 95 per cent of this total. The company did not detail earnings for BCB, but said the bank maintained "a high capital ratio of 23 per cent". Shareholders' equity ended the quarter at $215.7 million, down from $230.4 million at the end of the third quarter. Somers bought back 3,149 of its own shares at a cost per share of $13.30 during the three months. Somers' share price on the BSX ended the period at $13.75 — a discount of 22.8 per cent to the company's diluted net asset value per share. "The last quarter has been characterized by continued US dollar strength and this has negatively impacted our net asset value by 4.6 per cent due to a significant percentage of our portfolio being denominated in non-US dollar currencies," Warren McLeland, chairman of Somers, said. "However, the underlying performance of our invested companies continues to be strong. During the quarter, Resimac merged with the ASX-listed Homeloans Ltd and Somers is now a 59 per cent shareholder in Homeloans. We look forward to working with the Homeloans management team and assisting them in driving the synergies that made the merger compelling. In December, PCFG received conditional approval for a deposit-taking licence in the UK and they anticipate being in a position to accept deposits in the second half of 2017. This is a key moment in their development and has the potential to be a step change for the business. Our other investee companies continue to benefit from strong equity markets and even allowing for the increased geo-political risk are well positioned for 2017." We therefore look forward to the rest of the financial year with cautious optimism."
Clarien Bank Limited
19 Reid Street, Hamilton HM 11. P. O. Box HM 1194, Hamilton HM EX. Phone (441) 296-6969. Fax (441) 296-7701. On January 7, 2014 it amalgamated with and on April 22, 2014 changed its name. Formerly Capital G Bank Ltd.
2017. April 3. Clarien Bank Ltd's net profit more than doubled last year to $1.2 million as new lending grew strongly and operating expenses fell. However, non-performing and impaired loans made up 15 per cent of the bank's loan portfolio — up from 14 per cent in 2015 — evidence that some borrowers are still struggling to keep up with repayments. Revenues fell 3 per cent to $55.1 million, year over year, while Clarien cut operating expenses by $2.4 million, or 5 per cent, to $44.7 million. The bank is owned by the Gibbons family through Edmund Gibbons Ltd. EGL and Portland Private Equity invested $12.6 million in the Clarien Group a year ago, a capital injection which enabled the bank to strengthen its total capital ratio — a key measure of financial strength — to 17.5 per cent as of the end of 2016. The $1.2 million profit was up 133 per cent from the $0.5 million earned in 2015. Clarien's loan portfolio fell by $53.3 million to close the year at $809.7 million. The bank said this was due to a continuing trend of "clients using cash to pay down mortgages in order to avoid continued debt". The shrinkage in the loan book led to a 4 per cent decrease in interest income from loans, mortgages and credit cards, to a total of $52 million. However, the accelerated payments trend was offset by strong growth in new lending, which more than doubled from 2015, climbing to $52.6 million — up by $30 million. Around 9 per cent of the loan portfolio — around $79 million — is made up of "impaired loans", the bank said, while a further 6 per cent of loans were "non-performing", or past due by 90 days or more. Ian Truran, Clarien Bank's chief executive officer, said: "Although the continued general increase in Bermuda property prices is encouraging, the continued high level of non-performing loans is an indication that the island's economy still faces challenges. "Clarien's approach is to continue to work with borrowers facing challenges and therefore the improvement in non-performing levels will take time while we conservatively increase our reserves against troubled assets." Clarien increased its provisions against bad loans to $26.1 million in 2016, up from $20.7 million a year earlier. More than a third of the cut in expenses was achieved through a $0.9 million reduction in salaries and benefits, while the remainder came from savings on IT expenses through completion of debit and credit card initiatives, improved office efficiencies and disciplined budgeting, the bank said. In the second quarter of last year, the bank launched a new electronic banking system called Clarien iBank, as well as Visa credit cards. Clarien Merchant Services was launched in the fourth quarter aimed at improving services for commercial clients. "The successful launch of these projects resulted in a substantial reduction in technology costs that contributed to a $2.4 million reduction in our operating expenses," Mr Truran said. "It should be noted that the reduction was achieved at the same time as incurring $0.7 million in costs associated with the introduction of the Bermuda Deposit Insurance Scheme." Mr Truran added that last year's capital injection had left the bank "well-positioned for strategic growth and we look forward to the coming 12 months with increased confidence and energy".
2015. April 8. The Gibbons family bought back control of Clarien Bank Ltd, just 15 months after it sold a controlling interest in the institution. The news was announced in an earnings announcement published yesterday. The statement did not specify why Edmund Gibbons Ltd (EGL) had repurchased the 80 per cent stake in the bank that it sold to CWH Ltd in January 2014. Asked the reasons for the Gibbon's' resumption of full ownership, a Clarien spokesman said: "As a result of robust discussion within the bank's strategic planning process it was agreed between shareholders that EGL once again take a sole ownership stake in Clarien Group Ltd (CGL). CGL will continue to explore arrangements with partners to allow for growth, expansion into new product areas, and in planning for Basel III compliance." The terms of the deal were not disclosed. In January 2014, EGL sold a four-fifths stake in the former Capital G Bank Ltd to Bermuda exempted company CWH Ltd. Two of the founders of CWH, Ian Truran and Zoran Fotak, became co-CEOs, but Mr Fotak left the role in October last year. Two months later he took a new post as CEO of CWH — the holding company of the bank's majority shareholder at that time. The Clarien spokesman said the CWH founders who would continue to be involved with the bank were Mr Truran as CEO, Keith Stock as chairman and David Carrick as chief financial officer. There was no mention of any role for Mr Fotak. In the bank's statement yesterday, EGL director James Gibbons said: "On behalf of Edmund Gibbons Ltd and the Gibbons family, we are pleased to report that we have become sole shareholders of Clarien Group Ltd. We remain committed to expanding Clarien Bank Ltd's financial services business by working with strategic partners that will support our overall investment strategy to deliver world-class products and services for residents of Bermuda and international clients from around the world. We will continue to work towards Basel III compliance as it is phased in given the extra responsibility that brings to us as a designated domestically, systemically important institution." Clarien also revealed that net profit in 2014 slumped to $500,000, down from $3.6 million in 2013, representing an 86 per cent drop. The bank said that core earnings, which exclude one-time charges, rose 44 per cent. Net operating income was flat at $51.7 million. Borrowers' struggles were also reflected in the bank's results, as non-performing loans — 90 days or more past due — and impaired loans represented 13 per cent of Clarien's total loans. Loans categorized by the bank as "impaired" totaled $62.4 million and represented 7 per cent of the loan book, up from 5 per cent in 2013. Specific provisions on the balance sheet against impaired loans increased to $18 million last year, up from $11.6 million in 2013. The value of total loans fell by 7 per cent to $876.4 million from $942.6 million in 2013. "Bermuda continues to be challenged by its current economic position as evidenced by some of our clients' inability to service their debt payments," Mr Truran said. As a result, net provisions on loan losses rose by 27.3 per cent from $7.7 million in 2013 to $9.8 million in 2014. We continue to work empathetically with our clients to facilitate their long-term financial successes and early indicators for the year show some improvement in the relevant sectors of the economy." He added that the bank would be "strengthened by the increased support of EGL and the Gibbons family" with their return to full ownership. Mr Truran said the bank's consolidated capital ratio improved to 15.52 per cent from 14.84 per cent. The bank's statement added: "During the year, Clarien Bank undertook a strategic review of its property portfolio and determined that certain premises would no longer be required in the ongoing operations of the company. Therefore the Bank distributed a property to its parent company, CGL, at its carrying value as a common control transaction." On the balance sheet, Clarien's total assets fell by more than 11 per cent to $1.18 billion at the end of last year from $1.33 billion 12 months earlier. Deposits and interest owed to depositors totaled $1.08 billion at the end of 2014, down by more than $140 million or 11 per cent, compared to a year earlier. Summing up last year, Mr Truran added: "In 2014, Clarien Bank achieved its goal of becoming a more operationally efficient bank focused on service excellence, with a greater proportion of non-interest income, resulting in fewer risk-weighted assets on the balance sheet. Clarien Bank saw an increase in total revenues, and the decline in our profit was predominantly due to large, one-off expenses that will not have any continuing effect on earnings going forward."
Until April 2015 the bank was part of Clarien Group Ltd, a wholly owned subsidiary of Bermuda exempted company CWH Ltd. The deal gave the newly formed Bermuda company a controlling interest in what was until April 22. 2014 the Capital G Bank Ltd. Edmund Gibbons Ltd, which had earlier wholly owned the institution, remains involved as a minority shareholder. Subsidiaries with their new names are Clarien Brokerage Ltd, formerly Capital G Brokerage Ltd; Clarien BSX Services Ltd, formerly Capital G BSX Services Ltd; Clarien Investments Ltd, formerly Capital G Investments Ltd; Clarien Nominees Ltd, formerly Capital G Nominees Ltd; and Clarien Trust Ltd, formerly Capital G Trust Ltd.
Charges a monthly checking account fee.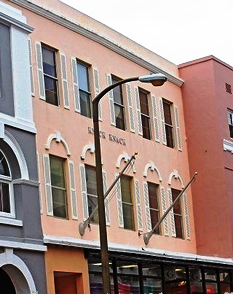 Bank charges and fees
All four Bermuda banks charge at least $8 a month for current accounts and levy other banking fees and charges considerably higher than their USA, Canadian and UK counterparts. In services, facilities and competence the local banks benefit the economy generally and enjoy many advantages, especially to visitors and newcomers who, in their own home countries will not find any of their High Street banks with the same national and international range of easy Foreign Exchange and other facilities and services. But the Bermuda Government charges them some of the highest banking fees in the world. Plus, they pay millions of dollars in Payroll Tax for their labor-intensive staff. Thus their interest rates are lower, interest bearing checking accounts do not exist and bank service fees to consumers are the highest in the world.
Bank Deposit protections are very low compared to the USA and UK
In July 2011 Bermuda's House of Assembly parliament ( finally) enacted an insurance scheme to partially protect individuals, charities and small businesses, with the Deposit Insurance Act. Membership of Bermuda's Deposit Insurance Scheme [DIS] - see Bermuda Deposit Insurance Corporation (BDIC) below - is mandatory for all four commercial banks, the one deposit company licensed under the Banks and Deposit Companies Act 1999 and the sole credit union. The maximum threshold for compensation is, compared to the USA's $250,000 a mere $25,000, although that amount "could grow over time." The legislation put the Bermuda Deposit Insurance Corporation [BDIC] in place to administer the scheme. In Bermuda, which has no lender of the last resort and no central bank, the safety net relies heavily on prudential regulation and supervision by the Bermuda Monetary Authority (BMA) which overall administers and regulates the scheme. Deposit insurance is a guarantee to depositors in a bank that they will be compensated up to a maximum specified amount of their deposits upon failure of that institution. This legislation came many years after The USA, UK, Canada and elsewhere enacted the FDIC and equivalents, and for significantly larger amounts than Bermuda's $25,000 where the BMA is the only banking-relevant regulatory authority and the relevant pieces of legislation are The Banks & Deposit Companies Act 1999 and The Banking Appeal Tribunal Regulations 2001. The BMA is responsible for the licensing, supervision and regulation of all financial institutions in Bermuda (including those conducting deposit taking, insurance, investment and trust business). Since 2009, the BMA has required all Bermuda banks to ensure they have a "capital buffer" which would keep them on a solid footing even in the case of a dramatic worsening of economic conditions. The BDIC deposit insurance of $25,000 per depositor is the result of a collaborative effort between financial regulator the Bermuda Monetary Authority (BMA), the Ministry of Finance and the Bermuda Bankers Association (BBA). Technical advice was provided by the International Monetary Fund. Deposit insurance is a guarantee to depositors in a bank that they will be compensated up to a maximum specified amount of their deposits upon failure of that institution. It has three main objectives, to protect small depositors; promote stability in Bermuda's financial system and economy by providing prompt reimbursement or access to insured depositors' funds; and promote competition between financial institutions in Bermuda. Under the legislation, membership of the scheme is compulsory for all relevant financial institutions. The premiums are paid by the banks as a fixed percentage of insurable deposits. The Bermuda Deposit Insurance Corporation has an appointed board of directors to run the scheme. The legislation also entails elements on protection from personal liability and preservation of confidentiality.

Bank deposits in Bermuda banks or trust companies by US or other non-Bermudians are not covered by the US Government's Federal Deposit Insurance Commission (FDIC) which insures deposits of all kinds in all USA licensed banks up to $250,000 per depositor for all deposits, savings and individual retirement accounts.

Bermuda bank deposits are not covered by the UK Government's Financial Services Compensation Scheme (FSCS) - http://www.fscs.org.uk/ - under the UK Financial Services and Markets Act, 2000. It too offers a hugely more generous financial compensation than Bermuda, but significantly less than in the USA. Currently, individual UK-based bank clients are insured up to £75,000 pounds sterling. However, from July 2015 this will be upped to £1 million for those who have large sums in their accounts arising from the sale of their homes. (There is no such similar plan for Bermuda, where most houses sell for well over Bda $1.5 million and some for as much as $20 million and the average condominium sells for over $800,000). Also, in the UK, the FSCS pays compensation usually within 7 days of a bank, building society or a credit union failing, except for more complex claims that might take 20 days. Most recently, the FSCS declared it may not even be necessary to claim from it even when a financial organization fails because it ensures customers will have continuous access to their funds via another FSCS mechanism whereby accounts are transferred to another financial organization in the event of a bank or similar going bust. However, continuous access applies only to sums within the £85,000 threshold, not to temporary large balances of up to £ 1 million caused by the sale of a property. No such provisions in any of these categories are made in Bermuda.

In addition, they are not licensed to conduct banking business in the United States or Canada.

Nor are they covered by any Canadian or European or any other country whose nationals live and/or work in Bermuda.

Investment vehicles and services of Bermuda banks have not been registered or licensed under any United States securities legislation and are not being offered, directly or indirectly, in the United States or in any of its territories or possessions or areas subject to its jurisdiction or to its citizens or persons thereof.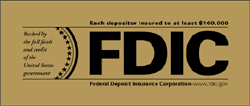 The Bermuda Government has not approved any local bank as the depository of public funds. Instead, it awarded this to the Bank of New York.
Applicable Bermuda laws
Anti-Terrorism (Financial and Other Measures) Amendment Act 2009. Following dialogue between the UK and Overseas Territories with the declared aim of ensuring that countries like Bermuda cannot be used as a backdoor for certain types of undesirable and illegal activities
Banking Special Resolution Regime Act 2014 established a comprehensive bank insolvency framework that meets international standards and operates independently of general insolvency law. Amendments to legislation have been made to allow the BMA to license money-service businesses. In the past, the BMA has been unable to license these businesses because the money service business regulations do not provide sufficient details for appropriate oversight.. However, changes to 2007 legislation allow the BMA to license and regulate the industry. Legislation governing the insurance and reinsurance sectors, also policed by the BMA, are being updated in line with global developments. Bermuda banks can address the Island-wide need to increase the flow of credit to help re-flate the economy, providing Bermudians with the support they need for their business ventures, their educational ambitions and their dreams of home ownership.
Banks and Deposit Companies Act 1999
Bermuda Commodities Exchange Act 1996
Bermuda Commodities Exchange Clearing House Act 1996
Bermuda Monetary Authority (Collective Investment Scheme Classification) Regulations 1998
Bermuda Monetary Authority (Financial Institutions) (Control) Regulations 1994
Bermuda Monetary Authority Act 1969
Bermuda Stock Exchange Company Act 1992
BIU Members Credit Union Co Op Society Act 1983
Commission on Racial Equality (CURE). See Bermuda Government Boards. Melbourne House, Suite 202. 11 Parliament Street, Hamilton HM KX. Telephone (441) 296-0613 or fax (441) 296-9142. In other countries, these racial guidelines and regulations apply only in the public sector. But the Bermuda Government has made them apply in the private sector as well.
Companies Act 1981
Credit Unions Act 1982
Electronic Transactions Act 1999
Exchange Control Act 1972
Exchange Control Regulations 1973
Exempted Partnerships Act 1992
Insurance Act 1978
Interest and Credit Charges (Regulation) Act 1975
Investment Business Act 1998
Investment Business Regulations 1999
Limited Partnership Act 1883
Proceeds of Crime (Money Laundering) Regulations 1998
Proceeds of Crime Act 1997
Trusts (Regulation of Trust Business) Act 2001
ATMs
The Bank of Bermuda/HSBC and Bank of Butterfield have Automatic Teller Machines (ATMs) scattered throughout Bermuda, plus full service offices in and beyond the City of Hamilton. Most American, Canadian & other visitors will find that if they need cash in Bermuda, local ATMs from either of the two largest local banks will service them. But the dollar notes they dispense will be in non-exportable Bermuda dollars only (which cannot be cashed overseas).
Banking Special Resolution Regime Act 2014
This established a comprehensive bank insolvency framework that meets international standards and operates independently of general insolvency law. Amendments to legislation have been made to allow the BMA to license money-service businesses. In the past, the BMA has been unable to license these businesses because the money service business regulations do not provide sufficient details for appropriate oversight.. However, changes to 2007 legislation allow the BMA to license and regulate the industry. Legislation governing the insurance and reinsurance sectors, also policed by the BMA, are being updated in line with global developments. Bermuda banks can address the Island-wide need to increase the flow of credit to help re-flate the economy, providing Bermudians with the support they need for their business ventures, their educational ambitions and their dreams of home ownership.
Bermuda Banks and Foreign Exchange rates
Bermuda banks charge between 4 and 5 points more for foreign currency purchase transactions than US, Canadian, British, etc banks do. For example, on February 1, 2013, see the UK rate of 1.6266 at http://www.bm.butterfieldgroup.com/Business_Corporate/treasury/Foreign_Exchange_Rates/Pages/Home.aspx compared to http://www.hifx.co.uk/.
Bermuda Local Currency, tied to the US Dollar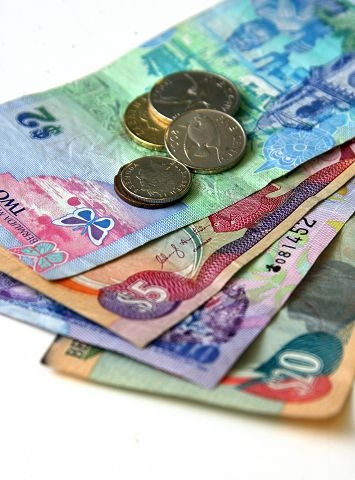 The Bermuda Dollar, not an exportable or international currency, is not available from any bank in USA, Canada, UK, etc. and only usable within Bermuda. But for all non-Bermudian visitors the US Dollar - on which the Bermuda Dollar is based and in Bermuda is worth the same - is accepted everywhere in Bermuda despite the fact that Bermuda is not part of the USA politically and is not a US Commonwealth country like Puerto Rico or the USVI, etc. Until 1970 but not thereafter, Bermuda had its own local pound sterling notes, based on UK sterling. All visitors from the UK, Canada, Europe and elsewhere should bring US dollars only. If visitors who purchase goods and services in Bermuda get their change offered in Bermuda dollars they should ask if it can be exchanged for US dollars.
Bermuda Association of Licensed Trustees (BALT)
Founded in 1994. The organization that in Bermuda represents the trust and related industry. BALT is a forum for the interests of its stakeholders and acts as a representative body for all 30 companies licensed by the Bermuda Monetary Authority to carry on trust and related business in Bermuda. BALT makes representations to Government and is often invited to deliver submissions and reports on trust legislation, fiduciary ethics, good practice and regulation of the industry. The Association is a key contributor to the Bermuda Business Development Agency's strategic plan to promote existing international business and actively develop new business in Bermuda.
Bermuda Bankers Association (BBA)
Since November 2007. Funded by its members. Created its own (voluntary) code of conduct for its member-banks. Serves as the main representative body for banks and deposit taking/lending firms on the Island. Similar to banker's associations in other financial jurisdictions, an industry think tank, lobby group and a forum for increased cooperation on non-competitive issues among the Island's banks. Stated mission is to be a leading contributor in the development of public policy on the financial services sector and ensure the legal and regulatory framework governing banks operates in an efficient, effective and fair manner. All the Island's chartered banks and lending/deposit taking institutions are eligible for membership and currently all banks doing business in Bermuda are members. The Bermuda Monetary Authority, responsible for the licensing, supervision and regulation of all financial institutions in Bermuda (including those conducting deposit taking, insurance, investment and trust business), is an ex officio observer of the BBA.
Bermuda's first bank and currency note came from Halifax, NS, Canada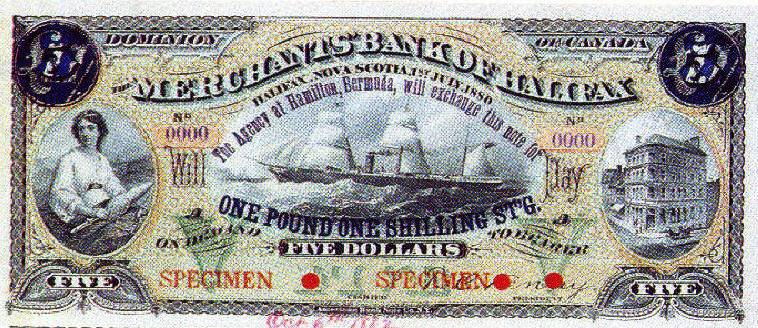 First Bermuda Banknote, 1883. A Canadian $5 note printed for the Merchant Bank of Halifax and converted to a £1 1 shilling (one guinea) note for use in Bermuda.
The Merchants' Bank of Halifax (later, the Royal Bank of Canada), established in Halifax in 1864, opened an agency in Bermuda in 1882 via the local Butterfield's Bank. On October 6, 1883, it issued its own money for use in Bermuda. It began circulating a $5 Canadian note printed by the American Bank Note Company in Ottawa for its bank in Halifax and converted to a one pound, one shilling (guinea) note for use in Bermuda. This Canadian/Bermudian note has considerable historical value as the first "Bermudian" paper money to arrive in Bermuda; some 31 years before Bermuda got its own official currency notes. Later, the Merchants' Bank of Halifax divorced itself from Butterfield's Bank in Bermuda and ran its own branch bank in Bermuda for four years. Thus it also became the first (and only) non-Bermudian bank in Bermuda. Later yet, the Merchants' Bank of Halifax's Bermuda operation was bought out by banking newcomers in Bermuda who established from it the present day Bank of Bermuda Ltd.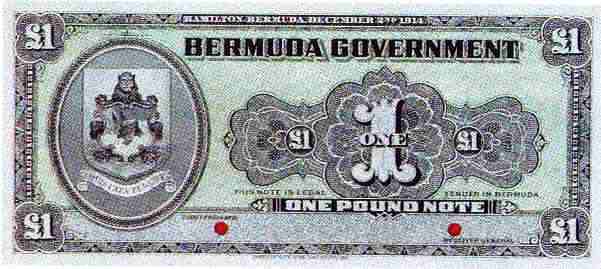 First Bermuda Government £ sterling note of 1914, also printed by the American Bank Note Company in Ottawa.
Bermuda Monetary Authority (BMA)
BMA House, 43 Victoria Street, Hamilton. P O Box 2447, Hamilton HM JX. Tel: (441) 295-5278. Fax (441) 292-7471. 2014. November 8. Bermuda's financial watchdog is to get new powers to police banks. The Bermuda Monetary Authority (BMA) would be able to intervene in case of "a troubled bank." The move is in line with International Monetary Fund recommendations made in 2008. To address this recommendation, the Government has brought legislation to establish a special resolution regime for banks licensed in Bermuda. The purpose of this resolution is to address the situation where all or part of the business of a bank has encountered, or is likely to encounter, financial difficulties that cannot be resolved by any other means. The Banking Special Resolution Regime Act 2014 established a comprehensive bank insolvency framework that meets international standards and operates independently of general insolvency law. Amendments to legislation have been made to allow the BMA to license money-service businesses. In the past, the BMA has been unable to license these businesses because the money service business regulations do not provide sufficient details for appropriate oversight.. However, changes to 2007 legislation allow the BMA to license and regulate the industry. Legislation governing the insurance and reinsurance sectors, also policed by the BMA, are being updated in line with global developments. Bermuda banks can address the Island-wide need to increase the flow of credit to help re-flate the economy, providing Bermudians with the support they need for their business ventures, their educational ambitions and their dreams of home ownership. Government was also examining a "reverse mortgage" scheme and talking to the Bermuda Bankers' Association in an attempt to allow seniors to access money locked up in their homes. There are many elderly people in Bermuda who own their own homes, many valued at more than a million dollars, but who do not have the cash flow to maintain an adequate lifestyle or to pay for rising healthcare costs. Reverse mortgages can be an option for people who want to turn substantial home equity into cash in order to ease these challenges. Banking remained an important earner of foreign exchange for the Island. The Government is concerned about shrinkage in the banking sector, in terms of its lending policies and employee numbers. The Ministry of Finance, as a result, is examining policy reforms to expand and diversify the banking sector and, by extension, Bermuda's foreign exchange earnings and the capacity for job creation. The Government is in talks with the banks and other interested parties with a view to changing bank and deposit company law. Accountancy firms could also offer community support by donating time for audits and reviews of community clubs required under the Charities Act. Accounting firms can adopt a club in this regard, freeing up precious dollars to support their worthy operations.
Bermuda Monetary Authority Fees 2015
See http://www.bma.bm/FEES%20AND%20PENALTY/Bermuda%20Monetary%20Authority%202013%20Fees.pdf.
Bermuda's USA Patriot Act involvement
As a result of the enactment of the USA PATRIOT Act (Public Law No. 107-56 - October 26, 2001), the U.S. Department of the Treasury has issued regulations requiring U.S. financial institutions to obtain certain information relating to foreign banks that maintain relationships at U.S. financial institutions using a certification form. This certification is needed to comply with provisions of the USA Patriot Act. Bermuda banks are involved when they, as foreign banks, maintain relationships at US financial institutions, using a certification form. This certification is needed to comply with provisions of the USA Patriot Act, and a relevant Patriot Act Certificate is available for inspection at the Bermuda banks concerned.
Euro currency
Incoming visitors from Europe should note that the Euro is not accepted anywhere in Bermuda as a trading currency. They should use US dollars. But all Bermuda's banks offer the Euro - € - to all visitors and business executives or representatives heading for Ireland and EU countries of Europe. Avoid using Euro traveler's checks, instead use credit or debit card cards at ATMs of banks in Euro countries.
Financial Services Tax Act 2017
2017. March 17. A Bill to introduce a new tax for financial services won narrow support in a House of Assembly vote after Opposition MPs argued it would result in higher fees for "Mr and Mrs Bermuda". Finance minister Bob Richards admitted that there was no initial consultation with any of the affected parties with regards to the Financial Services Tax Act 2017. The Bill came to a vote, with Government Whip Susan Jackson counting 15 votes against, and 15 votes in favour, herself casting the deciding vote in favour making 16 in favour. The Bill was branded "The Airport and America's Cup Tax Bill" by Progressive Labour Party MPs Diallo Rabain and Kim Wilson. However, Mr Richards countered that the Bill "is the PLP deficit tax increase" rather than an "airport or America's Cup tax". The Act will see money service businesses hit with a 1 per cent tax on their aggregated incoming and outgoing transmission volume. That figure was reduced from the 5 per cent announced in the Budget Statement, after consultation with the business services industry, according to Mr Richards. Banks will pay 0.005 per cent of their consolidated gross assets, while local insurance companies will have a 2.5 per cent tax on gross premiums earned, excluding premiums from health insurance. Mr Rabain and Ms Wilson claimed that the new tax on banks, insurance companies and money service businesses, expected to generate more than $11 million per year, would eventually impact "Mr and Mrs Bermuda". Ms Wilson, shadow health minister, said: "If I am an insurance company, I will not eat that — I'll pass it on to the consumer." Speaking on "astronomical" bank fees, she described the Bill as "reverse Robin Hood, that takes money from the poor, or in this case the middle class, and gives it to the rich". Shadow Attorney-General Michael Scott echoed concerns about the equity of the Bill and PLP backbencher Wayne Furbert asked: "Is this the best they can do?", while deputy Opposition leader Walter Roban said the move could bring concern to the business community. Opposition leader David Burt, who pointed out that Bermuda is "the most expensive place in the world to live", also insisted this "Act here will make it more expensive to fill the revenue hole to pay for the Minister's projects". He also noted that the tax on money services businesses had been dropped, "just like the mysterious customs duty hikes, which have magically disappeared". Mr Richards stressed that the "overriding objective and the overriding risk to the Bermuda economy, to Bermuda as a country and to the Bermudian people is the excessive debt that this Government has". Noting that "nobody likes to pay more taxes", he added "we made a decision because nobody was going to agree to it". Mr Richards said the Government had made a decision to reduce the deficit "that we inherited from the other side". Responding to questions from the Opposition about why the tax on money service businesses had been reduced to 1 per cent, Mr Richards said 5 per cent was deemed "way too high" after consulting with stakeholders of the business service industry. But he added that it is "really not that big a deal in so far as the dollar amount of the taxes raised" because money service businesses "are very small compared to the business operations of the banks and insurance companies". But, pressed by Mr Burt about what consultation was made with the money service business before the 5 per cent was set, Mr Richards admitted that there was none. And when Mr Burt questioned what consultation was done with the banks and insurance companies, Mr Richards conceded that "this tax was not arrived at with prior consultation with the members involved". He added: "We used comparative numbers with some other similar jurisdictions to Bermuda." And when pressed what these were, he said: "Mainly the Bahamas — these rates are very similar to what they use." MPs voted along party lines, with Independent MP Shawn Crockwell voting in favour.
Foreign Account Tax Compliance Act (FATCA) of the USA and how it affects Americans, Bermudians and those with US connections.
See http://en.wikipedia.org/wiki/Foreign_Account_Tax_Compliance_Act.
Those likely to be affected by FATCA include US citizens and green card holders resident in the US and living abroad such as Bermuda who have foreign financial bank accounts, financial interests and other holdings; US residents for income tax purposes (those who do not have a US passport or citizenship but have resided in the US long enough to meet the substantial presence test), and others with US connections such US owned foreign entities. Also liable are US-classified foreign financial institutions and non-financial foreign entities including all those with US proprietary investments, US account holders, or other US financial dealings. FATCA cooperation is both encouraged and enforceable in Bermuda because Bermuda has signed Tax Information Exchange Agreements (TIEAs) in the last few years with the United States and other countries. TIEAs, tax treaties, and Intergovernmental Agreements all aid in mutual information exchange cooperation. In cases where tax evasion, etc, is suspected or determined, the US Internal Revenue Service has profound regulatory powers (agreed on by the TIEAs and tax treaties) to request detailed significant confidential information on specified US individuals and related parties.
May 22, 2013. More than 250 local industry professionals were told "now is the time to take action in preparation for FATCA", during KPMG's second FATCA forum, held earlier this week at the Fairmont Hamilton Princess. Building on the topics raised during the 2012 FATCA forum, the interactive session again asked the question "Are you ready for FATCA?" and delivered the message that as we approach the looming FATCA threshold dates, it is clear that FATCA is not going away. Discussion covered a wide range of topics, including FATCA from a global perspective; Bermuda's response to FATCA; the Intergovernmental Agreement (IGA) models; FATCA's potential impacts on business in Bermuda; and the cost of compliance and impact on customers, investors and counterparties. Describing why KPMG in Bermuda felt it was important to run a second FACTA forum for Bermuda professionals, KPMG managing director Charles Thresh, said; "This US legislation will have far-reaching consequences for the financial industry worldwide and Bermuda is no exception. If companies haven't yet started planning for FATCA, it is not too late to become compliant, but the window is closing and the time to do so is now." A key component of the panel portion was discussions around the IGA models, with particular interest on the differences between Models 1 & 2, the potential benefits and impacts of a Model 2 IGA, and the potential impact of FATCA on Bermuda's insurance, funds, trust and banking industries. Additional analysis was also sought around the final FATCA regulations, as issued January 17, 2013, and a high degree of interest was shown around the compliance timeline, strongly echoing last year's forum. In the wake of the timeline discussion, consensus again reflected that the time for Bermuda companies to act on FATCA is now. Describing the global implications of planning and preparation, David Neuenhaus, KPMG global FATCA lead partner said; "How companies transition to FATCA compliance will have a significant impact on their relationships with their customers, investors, counterparties and services providers. Companies who are early adopters of a robust compliance programme will have the competitive advantage — so a timely response is key." This year's forum was led by Charles Thresh, Managing Director of KPMG Advisory, Bermuda with keynote address provided by KPMG Global's David Neuenhaus and Daniel Dzenkowski, and additional local market insights from KPMG FATCA team members including Catherine Sheridan Moore, James Berry and Will McCallum. In addition, valuable industry insights were provided by Kiernan Bell, managing partner, Appleby; Alison Morrison managing director, Oyster Consulting; Peter Pearman, partner CD&P; and Lyndon Quinn of HSBC.
On October 11, 2012 it was announced in the Royal Gazette daily newspaper of Bermuda that Bermuda's four banks are facing a 2013 deadline to supply a list of all accounts held by US citizens to the US tax authorities. Failure to do so would mean the local banks would face a 30 percent withholding tax on all the many transactions they do with the USA. The obligations have been placed onto all non-US financial institutions by the Foreign Account Tax Compliance Act (FATCA), enacted by the US Congress in 2010. For Bermuda banks, compliance may entail a lot of work. As well as the thousands of US guest workers on the Island, there are many dual-nationality Bermudian-Americans, and spouses of Americans, people with an American parent and green card holders, who fall into the category of "US persons" whether or not they possess a US passport. The USA is one of few countries in the world that taxes its citizens living overseas on the income they earn outside the US. With the US Government's national debt up around the $16 trillion mark, the Internal Revenue Service (IRS) is seeking to maximize tax revenue — and a growing focus is Americans overseas that may be slipping through its net. A recent visitor to Bermuda was Anne Hornung-Soukup, finance director of American Citizens Abroad (ACA), an advocacy group which has long fought for taxation based on residency rather than citizenship, as practised by most countries. In an interview she outlined her concerns about FATCA. "What FATCA means is that every financial institution in the world outside the US will effectively be an instrument of the IRS. How it will work in practice is posing a lot of problems. They're struggling to put the system in place. There are a couple of models being discussed. The first is that the information from the bank goes straight to the IRS. For them to give this type of information directly to a foreign government is against the law in many countries. In the second model the information would go to the domestic authorities, for example the Bermuda Government, who would then pass it onto the US Government." Some European governments, including the UK, have agreed to provide account holders' information to the IRS on the condition of reciprocity. Germany, for example, has reportedly been particularly vocal about the need for US banks to supply information about German account holders in return for their Fatca compliance. Some have suggested that the clampdown could backfire, if institutions or countries choose not to comply with FATCA, and their clients and residents pull their money out of US investments. US citizens resident overseas have been required to report their US bank accounts and file tax returns for decades, but only in recent years has the IRS been really clamping down on compliance. For more information on FATCA, visit http://www.irs.gov/Businesses/Corporations/Summary-of-Key-FATCA-Provisions
Foreign Currency Purchase Tax
All who work in or have business dealings in Bermuda or who visit there on vacation should note that Bermuda, uniquely in the economies of the international business centers, has a Foreign Currency Purchase Tax (FCPT). It applies to the purchase of all non-local currencies including the US Dollar. In theory the Bermuda Dollar is on a par with the US Dollar but in in fact it is worth less. Why? Mostly on account of the FCPT, also because of Bermuda bank currency processing charges, in addition to the FCPT applied on every transaction. On February 26, 2010 the Bermuda Government doubled this tax, from one half of 1% to a full 1% per transaction.
This includes all purchases of foreign currencies for travel and business purposes and all telegraphic (wire) transfers of monies from Bermuda to individuals and businesses abroad. This means that in addition to bank charges built into the cost of wire transfers, government alone will now charge consumers $1,000 for every $100,000 taken or wired abroad. There is no Government Receipt given for this FCPT charge. The local-only Bermuda Dollar is not exportable. It is not used by traders world-wide. It is not cashable or exchangeable by any foreign banks. It is used only by local citizens and residents - not by international companies based in Bermuda (all of which use US dollars).
Foreign Exchange brokers in Bermuda
Currently, none independent of the Bermuda banks above.
Travelers Checks
Should not be brought by newcomers, tourists or visitors. No longer accepted or issued by any Bermuda banks, hotels, guest houses or other accommodation or any restaurants or stores.

2014. January 14.

A bank ban on US travelers' cheques and money orders was commented on unfavorably. Butterfield Bank said it would no longer accept US dollar traveler's cheques or money orders, which are issued by places like the US Postal Service and Money Gram, because US-imposed restrictions aimed at money launderers meant they cost too much in time and money to process. But a consumer travel service has complained. "They're making it more and more difficult for people to come down. People don't necessarily want to use credit cards, they want to use travelers' cheques and cash and money orders, and the banks are making it increasingly difficult.". Butterfield Bank told its customers it had changed its policy on traveler's cheques and money orders, effective from the end of next month, because of restrictions designed to crack down on money laundering imposed by the US Patriot Act and the Bank Secrecy Act. The statement said: "As they can be purchased for cash with no identification required, there has been increasing use of these instruments in fraudulent financial transactions, with the result that enhanced screening and handling protocols are required, which adds cost and time to their processing." Butterfield, however, said that certified cheques and bank drafts issued by US financial institutions, would continue to be accepted. The advice to customers said: "Butterfield will continue to accept certified cheques and bank drafts for deposit. Drafts and certified cheques are only sold by financial institutions to their existing known customers. The customer must have an account to purchase a draft or have a cheque certified. The customer will have provided their bank with full 'know your customer' information when they opened the account." The new rules state that travelers' cheques will not be accepted by the bank after February 28, 2014.
No longer usable in Bermuda, see above story
Trust Companies
There are two types, numerous.
Trust companies don't have the same powers as banks. The BMA is also their regulatory authority. Major further changes to the Trust Companies Act were enacted recently, as a result of which the Trusts (Regulation of Trust Business) Amendment (No. 2) Act 2002 came into force. This Act replaced the Trust Companies Act 1991. Licensing is a requirement.
Private trust companies are similarly regulated and licensed. There are now specific tests for carrying on private trust business in Bermuda.


Last Updated: October 16, 2017.
Multi-national © 2017 by Bermuda Online. All Rights Reserved.