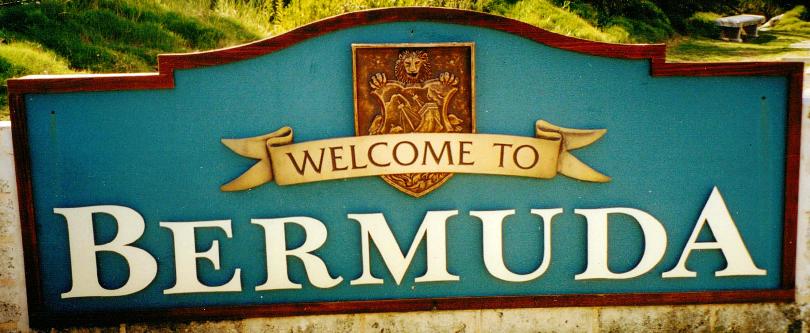 Click on graphic above to navigate the 165+ web files on this website, a regularly updated Gazetteer, an in-depth description of our island's internally self-governing British Overseas Territory 900 miles north of the Caribbean, 600 miles east of North Carolina, USA. With accommodation options, airlines, airport, actors, actresses, aviation, banks, beaches, Bermuda Dollar, Bermuda Government, Bermuda-incorporated businesses and companies including insurers and reinsurers, Bermudians, books and publications, bridges and causeway, charities, churches, citizenship by Status, City of Hamilton, commerce, communities, credit cards, cruise ships, cuisine, currency, disability accessibility, Devonshire Parish, districts, Dockyard, economy, education, employers, employment, environment, executorships, fauna, ferries, flora, former military bases, forts, gardens, geography, getting around, golf, guest houses, highways, history, historic properties, Hamilton, House of Assembly, housing, hotels, immigration, import duties, internet access, islands, laws, legal system and legislators, main roads, marriages, media, members of parliament, money, motor vehicles, municipalities, music and musicians, newcomers, newspaper, media, organizations, parks, parishes, Paget, Pembroke, performing artists, residents, pensions, political parties, postage stamps, public holidays, public transportation, railway trail, real estate, registries of aircraft and ships, religions, Royal Naval Dockyard, Sandys, senior citizens, Smith's, Somerset Village, Southampton, St. David's Island, St George's, Spanish Point, Spittal Pond, sports, taxes, telecommunications, time zone, traditions, tourism, Town of St. George, Tucker's Town, utilities, water sports, Warwick, weather, wildlife, work permits.

Bermuda's Botanical and Other Flowering Gardens
Some are public, open every day including holidays

By Keith Archibald Forbes (see About Us)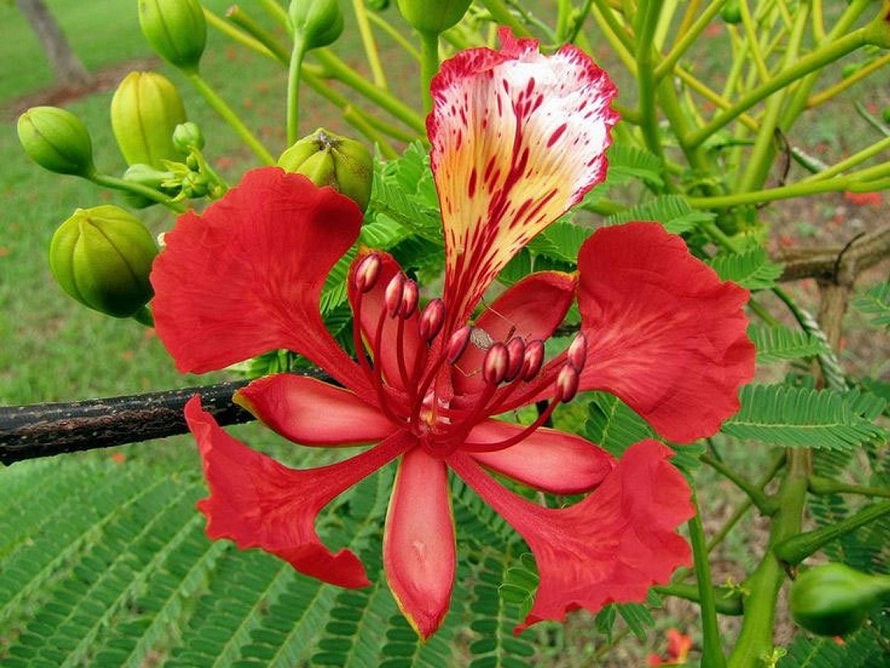 Introduction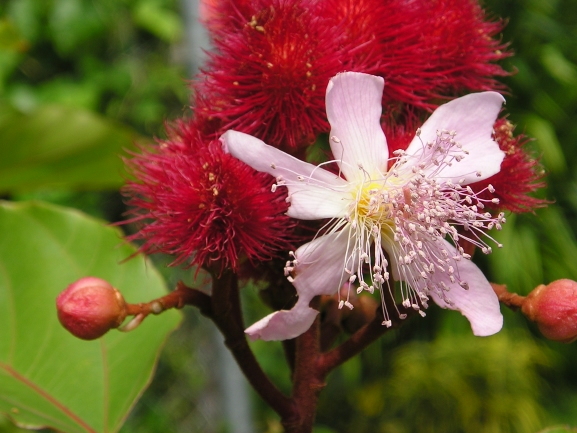 Visitors to Bermuda may visit public (local taxpayers) gardens without making any special arrangements. But visits to private gardens should always be made well in advance, either directly or through local organizations (see below) such as the Bermuda Botanical Society or Garden Club of Bermuda.
Bermuda's native flora and fauna originates from south-eastern North America and the Caribbean, supplied by wind-borne dispersal and via the Gulf Stream. Yet despite this isolation, and small size, over 8,000 species have been recorded from the island and its surrounding waters.
Bermuda, in USDA Zone 11, is at 32 degrees North, with about 50 inches of rain annually. For the few species of plants and trees that are endemic, the considerable number that are native and the vast majority that were introduced, see Bermuda Flora. There is no wet and dry season, but summer droughts and winter gales are common. It has a sub tropical and frost free climate.
There is a constantly high humidity, especially from May to October, but no frost or snow. Temperatures rarely drop below 50 degrees F or rise above 90 degrees F. The surrounding Atlantic Ocean and proximity of the Gulf Stream exert a moderating influence on the climate. Bermuda soil is alkaline, limestone in origin and with depth from two to three feet to an inch or less. Below it is solid limestone. Shallow soil and periodic droughts of up to eight weeks can test and defeat the tolerance of plants. Bermuda has Asia's subtropical regions but no orchids of its own.
Not generally known by residents or tourists or visitors is the fact that due in great part to original first accidental in 1609 and deliberate from 1612 colonization of Bermuda and subsequent development, Bermuda is now one of the world's five most densely populated islands (1,500 people per square kilometre) in our 56 square kilometers or 21 square miles. Great care must be taken to ensure that threats to the native flora and fauna are identified to control habitat loss or deterioration and competition with invasive species. Nevertheless, past years have resulted in the known extinction of 25 endemic species, the decimation of an estimated 200 native species and naturalization of at least 1,200 exotic terrestrial species. Bermuda's undeveloped land area is now dominated by 22 plant species considered invasive, out-competing and overshadowing the native flora. Population numbers are continuing to decline for several species, and without active intervention, further extinction may occur.
A most critical example of this is the case of the endemic Governor Laffan's fern (Diplazium laffanianum); only one mature specimen of this fern species remains in Bermuda, maintained in a nursery environment by the Department of Parks. Although not as dire a case, the yellow wood tree, prized for its timber value by early settlers and exported to England for cabinet wood, also suffered a dramatic decline leading to a present day total population of 23 mature trees. Belonging to the citrus family, the yellow wood tree is an asset to one's backyard, recorded to have a pleasant aroma when in bloom.
Plants to avoid. Bermuda has numerous areas on trails, woodlands and even private roads with plants including poison ivy (Toxicodendron radicans) and stinging nettles, very similar in size and shape to those in North America. Keep well clear of them. Worst garden pests. They include mealy bugs on crotons, controlled with Volk oil; black spot on roses and hemispheric scale on hibiscus, kept at bay with a mild solution of malathion.

Importance of Horticulture to Bermuda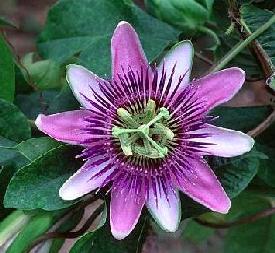 In Bermuda and elsewhere, horticulture is the growing of flowers, fruits and vegetables, and of plants for ornament and fancy.
It is the cultivation, processing, and sale of fruits, nuts, vegetables, and ornamental plants as well as many additional services.
It also includes plant conservation, landscape restoration, soil management, landscape and garden design, construction and maintenance, and arboriculture. In contrast to agriculture, horticulture does not include large-scale crop production or animal husbandry.
Horticulturists apply knowledge, skills, and technologies to grow intensively produced plants for human food and non-food uses and for personal or social needs.
Their work involves plant propagation and cultivation with the aim of improving plant growth, yields, quality, nutritional value, and resistance to insects, diseases, and environmental stresses.
They work full-time or part-time as gardeners, growers, therapists, designers, and technical advisors in the food and non-food sectors of horticulture.

Books about Bermuda flora include
Bermuda - a floral sampler. Elizabeth W. Curtis. 1978. Illustrations by Diana Amos.

Bermuda: A Gardner's Guide. 2002. Garden Club of Bermuda. Many illustrations and color photographs. $45.

Bermuda's Botanical Wonderland. Christine Phillips-Watlington. 1996. Bermudian Publishing Company Ltd. The most valuable resource for botanists and gardeners since Britton's "Flora of Bermuda" in 1918. Illustrated.

Bermuda, Her Plants and Gardens. Jill Collett.

Bermuda's Seashore Plants and Seaweeds. Wolfgang Sterrer and A. Ralph Cavaliere. 1998. Published by Bermuda Natural History Museum and Bermuda Zoological Society. 269 pages. About $15.

Bulletin of Marine Science. Bermuda Natural History Museum. The issue prior to July 14, 2000 had an inventory by Dr. Wolfgang Sterrer on the number of species (at least 8,299) of flora and fauna in Bermuda, of which 4,597 are marine and 3,702 are terrestrial.

Flora of Bermuda. Nathanial Lord Britton. New York, Scribners. 1st edition, 1918.

Flowering Trees of the Caribbean. 1951. 125 pages. Illustrated.

Flowers in Bermuda. Cunninghame, Judy. 1969. Longtail Publishers. 12 plates of artwork on Bermuda's flowers.

Flowers of Bermuda. Hannau. No date. 64 pages and illustrated.

Flowers of Bermuda. Middleton. c. 1927. E & C. Tucker, Bermuda. 18 pages, illustrated.

Marine Fauna and Flora of Bermuda. Dr. Wolfgang Sterrer. 1986. Wiley Interscience, New York. Out of print.

Plants of the Bermudas or Somers Isles. 1883. By Oswald Reade, a British pharmacist then working at the Royal Navy Hospital, Dockyard, Bermuda.

The Bermuda Garden. Whitney (editor). 1955. Garden Club of Bermuda, 231 pages. Illustrated.

The Bermuda Jubilee Garden. Edited by Elfrida L. Wardman. 1971. Published by The Garden Club of Bermuda, to mark its 50th anniversary. Printed in Scotland by Robert MacLehose and Company Limited. The University Press, Glasgow. 349 pages. Illustrated.

The Conspicuous Flora and Fauna of Bermuda. Dr. Ralph Cavaliere, Ph.D.

The Story of Bermuda. Strode, Hudson. 1932. New York, Random House. Fish scale cover, 374 pages, with illustrations by Walter Rutherford. Strode spent three years in Bermuda then returned to the University of Alabama where he was Professor of English. He also describes Bermuda's fishes, flora, open spaces and trees of the period.

Trees and Plants of the Bermudas. Zuill, 1933. Published by Bermuda Book Store, Hamilton.

Aberfeldy Nurseries
Pomander Road, Paget PG 05. Open Monday-Saturday 8 am to 6pm. Telephone 236-2927. Fax 236-7853. Privately owned commercial nursery for trees & shrubs, scented plants, Bermuda Roses, herbs, special orders, seeds, fertilizers, etc. Plants of every description for sale. Will Onions started the business from scratch with manager David Gill in 1950 as a hobby at first, but that passion soon grew into a fully-fledged operation when Sir Jeffrey Astwood stepped in to take charge. He became chairman of the board. He ran the nursery growing and selling hedge plants like Oleander and Hibiscus from his back garden at Aberfeldy in Somerset to begin with, before setting up the retail and wholesale side of the business at its current site in Pomander Road, Paget, while continuing to produce stock at its greenhouses in Somerset. On his death, it was taken over by his son J.C. (Kit) Astwood who ran the business for about 20 years. In February 2009 it was acquired by businessman and owner of Bermuda General Agency and The Phoenix Stores, Wendell Brown. The nursery owns the land on which it sits, which is made up of three acres.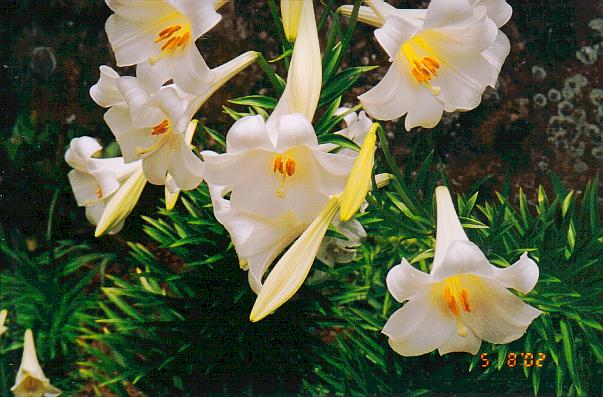 Bermuda Easter lilies. Photo by the author, exclusively for Bermuda Online

Arboretum
Devonshire Parish. At the corner of Montpelier and Middle Roads. A Bermuda National Park. Public. There is scooter and car parking. A serene inland setting of 22 acres of open space with a gazebo, tall trees, open meadows, pathways, shrubs, collections of conifers, palms and genus ficus. Enjoy a picnic here, not landscaped or manicured, no organized flower beds or formal gardens but a great walking area, also popular with runners, with shade trees. It is accessible by the route 3 bus and a short walk. Go via Montpelier Road, off Middle Road. It is open from sunrise to sunset, free to the public. There are interesting plants and shrubs on walkways and paths. An ornamental bridge has small pools underneath. The property has an interesting history. From the mid 19th century, like most of the Parish at the time, it was part of British Army lands at "Montpelier" nearby - the private house now owned by the Bermuda Government and now lived in by the Deputy Governor. In 1962, some years after the British Army left Bermuda, the lands were planted as an arboretum. Good for bird-watching. Now maintained by the Bermuda Government's Parks Department.
Banana Manor
4 Blockade Alley, Town of St. George. Originally called Lough House. Name was changed in the 20th century. Won the 2003 Bermuda In Bloom best Garden in this Parish Award. A privately-owned, not open to the general public, historic house in the Town of St. George built by one of the town's most prominent 18th-century citizens. He was the Honorable Dr. George Forbes, originally from Strathdon, Aberdeenshire, west of Aberdeen, in Scotland. Born there in 1710 he was a graduate in 1734 of the University of Aberdeen, specializing in "phisick and surgery." He emigrated to Bermuda shortly after his graduation, as a medical doctor. He brought with him recommendations from his relatives Lord Forbes, the Duchess of Gordon and his kinsman, Lord Gordon, Sir Arthur Forbes and Sir Duncan Forbes. In Bermuda, he fell in love with and married Mary Jones, daughter of Francis Jones, a prominent local merchant, councilor, militia general and frequently Bermuda's President (leading legislator, president of the legislative counsel). He became renowned throughout Bermuda for his decency and humanity. He pioneered smallpox inoculation in Bermuda and saved many lives. He was the personal doctor of Governor William Popple and became a councilor, vestryman, Justice of the Peace in 1763, briefly Chief Justice in 1749 and, like his father-in-law, President of the Council, member of the Executive Council of the Bermuda Government. In 1759 he was made the Honorable George Forbes. He purchased Paget Island - then called Paget Ford Island and 36.35 acres - in St. George's Parish for sixty pounds sterling. There is a large tomb in his honor on the left, shortly after you enter the ancient church of St. Peter's . His first child was Francis - born at Brackish Pond, Devonshire, Bermuda. Others, including James, William and Thomas, were born in the old town above. Two sons, Francis and Robert, were sent to medical school in Edinburgh and two others, William and Thomas, left Bermuda and became merchants in St. Kitt's, West Indies. James did not succeed as a merchant in Georgetown, now Guyana, and Charlestown, South Carolina, and returned to Bermuda. Dr. Francis Forbes married Mary Tucker of Bermuda and had a son, also Francis, later Chief Justice in Canada, was knighted and as Sir Francis Forbes was transferred by the British Government to Australia as Chief Justice of New South Wales, lived in Sydney and died there. His descendants today include Forbes family members of Sydney, Bermuda, Scotland, England, South Africa and Forbes wineries in Victoria, Australia. Some time later, the house passed to a member of the Lough family which descended from the Forbes family of Bermuda. During the American Civil War it was leased by the Confederate military agent in Bermuda, Major Norman Stuart Walker, and his family. Lough House was where a son of Major and Mrs Walker was born on June 15, 1863, and at the special request of Mrs. Walker, a Confederate flag was ceremoniously draped over her lying-in bed. It then had various owners including F. C. Outerbridge and at one point was subdivided. Now owned by a member of the Hayward family originally from St. David's.

Bermuda Botanical Gardens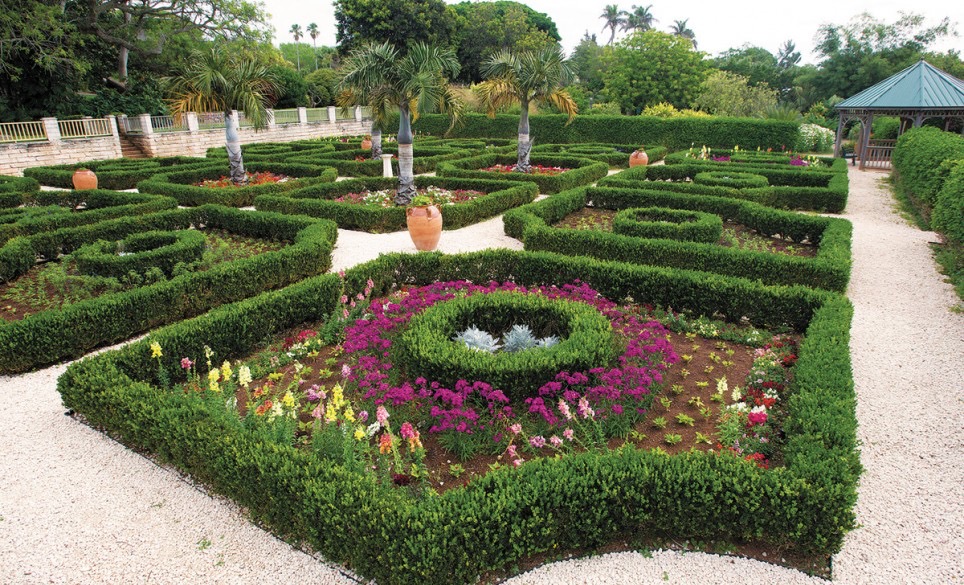 169 South Road in Paget Parish DV 04. Or P. O. Box HM 834, Paget HM CX. Phone (441) 236-4201. Fax (441) 236- 7582. The largest local public garden by far, with over 100,000 visitors and locals each year. Since April 2002 part of the Department of Conservation Services of the Bermuda Government's Ministry of the Environment. On Main Island. One mile from the City of Hamilton, they are open daily from sunrise to sunset, via Berry Hill Road, Point Finger Road and South Road. Bus routes 1, 2 and 7 go to King Edward VII Memorial Hospital nearby. Open 365 days a year. Free for 362 days (except during the Agricultural Exhibition every April). A mix of park, woodland, greenhouses, agricultural buildings and horticultural collections. A Bermuda National Park under the Bermuda National Parks Act 1986. Chiefly of interest for its trees, orchard, collection of orchids and Camden. Visitors should expect a fair amount of walking.
A Board of Agriculture was formed after the Board of Agriculture Act 1875 during the governorship of Sir John Henry Lefroy. The Public Garden Act 1896 provided funds for the acquisition of land for experimental gardens and the appointment of a full-time superintendent. The Gardens began officially in 1898 as the Public Garden with 10 acres (which became the Agricultural Station in 1912), with the arrival of Ga. A. Bishop, a professional horticulturalist trained at the Royal Botanic Garden at Kew, near London, England.
The Public Gardens continued to be under the Board of Agriculture until the Department of Agriculture Act 1912 went into effect. They nearly doubled in 1921 after the Montrose estate was acquired. An outbreak of oleander scale in Bermuda (in 1917) led to legislation that in 1923 provided for a plant pathology section of the Bermuda Government, still there today. In 1958, the Bermuda Botanical Gardens were established instead of the Agricultural Station. In 1958, remaining experimental plots at the Gardens were moved to other Government properties such as "Avocado Lodge" and "Clifton." Three acres were lost in 1962 when King Edward VII Memorial Hospital was expanded. The Gardens expanded again in 1965 when Camden House and its garden were acquired from the Tucker family. They now occupy 36 acres. The 72nd Agricultural Exhibition was here in April, 2009.
Facilities include, in a particularly serene area, a lovely Sensory Garden for the Blind, well worth sensing by the blind and disabled and also of great interest to those who help them professionally. The actual design is based upon a Garden for the Blind constructed in Queen's Park, Harborne, Birmingham, England. Geographically, the site chosen was formerly known as the Banana Patch . A map of the Garden made in Braille was placed in the stone pillars framing the entrance. Enclosed by a Bermuda stone wall, it was made in 1960 for the benefit of those unfortunate persons not blessed with sight. While it may appear a little unusual to those who can see, the idea on the designer's mind was the make the Garden easy for the sightless to use and enjoy. In the paths made of Bermuda stone chippings will be noticed a large cement stone at each path junction. This is to indicate a change of direction. The sightless person is soon able to pick his or her way round the garden by the aid of these stones. The raised beds on the eastern side are to enable the plants to be touched without the person having to stoop. Running water is an essential feature of a garden of this type, hence the small pool and fountain. The fountain centerpiece is a replica of one by Verrochio to be found in the Vatican Gardens, Rome. The choice of planting material used in this Garden is limited to plants which have a pleasant odor when handled or which have a pleasant texture. Most of the herbs such as sage, thyme, lavender, rosemary and many others have been used freely. The large tree in the center of the lawn is the Camphor tree (Cinnamomum camphora) the natural source of camphor and a native of Formosa and China. Growing over the shelter in the north east corner is coralita, a slender but vigorous vine which bears masses of small pink flowers in summer. The Garden is bounded on the western and eastern sides by a hedge of the Martinique laurel (Murraya exotica), related to the citrus family. This attractive evergreen shrub bears fragrant white flowers which are followed by red berries. Its fragrance makes it an ideal choice as a hedge to this garden.
Beyond the Sensory Garden, for details of what other plants grow in Bermuda, see Bermuda Flora.
A new Cactus House was completed in 2003 after a Master Plan for the Gardens was published in March 2003. In September 2003, the Gardens, Grandstand and buildings were so badly damaged by Hurricane Fabian that it forced the cancellation of the 2004 Annual Exhibition normally held here every late April. They have since been repaired.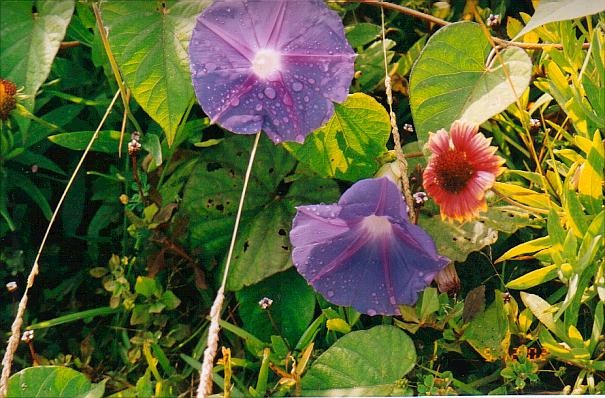 Morning Glory. Photo by the author, exclusively for Bermuda Online

In April 2008, a five-year project transforming the Botanical Gardens by introducing historical designs came to fruition.

The new Formal Gardens feature a new exhibit featuring a Japanese Zen Garden, 17th Century-style English Parterre Garden, 12th Century-style Persian Garden and Tudor-style children's Maze Garden. The development increases the Botanical Gardens' aesthetic appeal, and will help the location serve as an attraction for tourists and locals alike. Each of the four gardens is about 90-square feet and has themed plants, and they are all separated by a central viewing gazebo. Working locals can sit there on a Saturday or Sunday afternoon in the summer and de-stress. The gardens give further appeal to the locale for wedding photographs.

Camden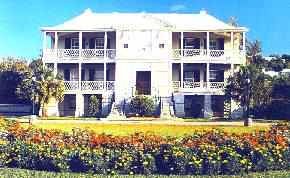 A part of the Bermuda Botanical Gardens, Paget Parish. Public property, open 365 days a year. Free at most times. Chiefly of interest for its house, front garden, including roses and vegetable garden behind it. With a panoramic view of the South Shore. The house itself is open to the public on Tuesdays and Fridays from 12 noon to 2 pm. An historic house in typical Bermudian architecture, the official residence of the Premier of Bermuda, although not lived in by her (the Bermuda Government pays for her to live elsewhere).

City Hall Garden
City Hall, City of Hamilton. This small but choice garden in the City of Hamilton, owned by the city, has been gorgeous. It is well worth a stop to admire the plants and flowers to the left, middle and right of the City Hall. They give beauty, peace and tranquility.

Corporation of Hamilton's Plant Nursery
"The Willows, " Laffan Street, Hamilton HM 09. How the City of Hamilton grows its plants for its parks and public spaces.

Elbow Beach Hotel Garden
A leading hotel in Paget Parish with 50 acres of lush, year-round flowers, shrubs, bushes trees, leading down to the South Shore Ocean and spectacular beach. Freely available for guests to enjoy. By special arrangement through the hotel for others.

Fort Hamilton Garden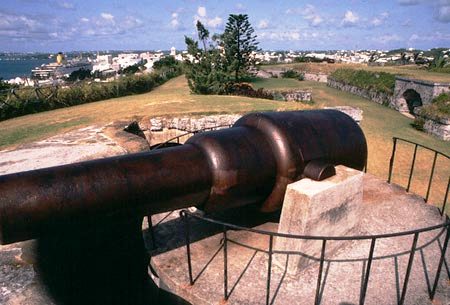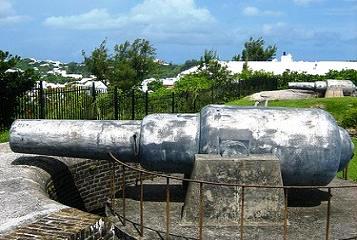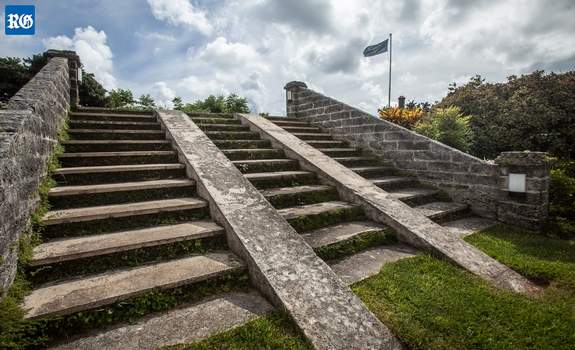 6 Happy Valley Road. A central fort, built in 1870. Just northeast of the city of Hamilton. Constructed by the British Army in order to protect Hamilton Harbour, by forming a line of defence for the western Royal Naval Dockyard. At that time, following the conclusion of the US Civil War, it was deemed possible the USA might have wanted to try to invade Bermuda in view of its earlier help to the Confederacy. It is now a scenic 10 acre park, offering vista views of Hamilton, lush gardens growing within its' deserted moats and tunnels that go deep into the limestone bedrock of the fort. Open from 9:30 am to 5.00 pm. Admission is free. Open from 9:30 am to 5.00 pm. Admission is free. The entrance to the fort is on the right. Bear right, immediately after the entrance. From the ramparts, see all Hamilton Harbor, city of Hamilton, the Great Sound - and even the South Shore ocean. The imposing structure includes the moat, 18 ton guns and underground passageways. This is where the gardens are located. It was ordered by the Duke of Wellington. It was completed out of solid rock by the British Army's Royal Engineers. At that time and for the next two decades, it was fully manned, bristling with long range guns operated by detachments of the British Army's Royal Artillery. Those were the days when Bermuda had a full garrison of British Army regulars. But the fort, outdated before completion, never fired a shot in anger. Its former subterranean military walkways are now lovely moat gardens lined with tall bamboo's, other fine shrubs and flora - a botanist's paradise.
The staircase leading from the moat gardens to the upper level, to access the ramparts, is steep, with many steps. But your reward will be grassy areas superb as places for picnics. Periodically, the Corporation of Hamilton sponsors an exhibition of drumming and dancing by the kilted Bermuda Isles Pipe Band. It performs a distinctive skirling ceremony on the fort's green every Monday at noon.
George Ogden, who retired in mid 2001 from the Corporation of Hamilton, was the man most responsible for creating first a park from an old set of fortress ramparts, magazine tunnels and gun emplacements. He arrived in Bermuda in 1962 with a diploma in horticulture from the Royal Horticultural Society in Wisley, Surrey. He found that the 40-foot moat had become a dumping ground. But today, allspice, palmetto, lots of ground cover plants that tolerate shade, ferns, bamboos and imported orchids now populate the moat. The area is a place of serenity and cool escape. The only drawback is that the fort is for able people only, not the disabled.
Not well known by the public is that Fort Hamilton before and after World War 2, was used to accommodate Portuguese men imported from San Miguel and other islands of the Azores as laborers to do the agricultural or otherwise manual work Bermudians black or white and other non-Bermudians would not do. Thirteen Portuguese men at a time lived here. When they came to Bermuda they were required to agree to a contract that among other things stipulated a minimum of three years of service and an acknowledgement that they would not bring their wives or family for seven years. But this policy was by no means confined to the imported Portuguese from the Azores who were indentured laborers living at the fort. It had applied for years past to other Portuguese from the Azores housed elsewhere in Bermuda as well. It is believed some continued to be housed at Fort Hamilton until the 1960s when the fort was purchased by the Corporation of Hamilton. Some will say that what these Portuguese had in Bermuda was far better than the conditions they left in the Azores. Many had very little education. But in Bermuda, they were very hard workers, dependable and took very little time off. Many were grateful, despite the family deprivations, for regular work with a regular pay packet much of which they sent home or saved. The City of Hamilton was one of the many organizations in Bermuda that benefited immeasurably from their services - and still does so.
For other forts, see Bermuda Forts.

Gardens of Woodlands
9 Middle Road. Private garden, one of the loveliest in Bermuda. Once known for its cedar stands, Woodlands is recognized today for its beautiful gardens which extend from the ridge of a hill, with vistas of Hamilton Harbour, to a valley where citrus grow beside the tennis courts. Woodlands House is a historic property.

Agapanthus. Photo by the author, exclusively for Bermuda Online

Government House Gardens
Pembroke Parish, Bermuda. The largest Bermuda Government-owned property and gardens in Bermuda by far but not usually open to the public.
2018. August 31. The opening of the Government House Gardens to the public each Sunday afternoon from 12 noon to 5 pm came to an end last Sunday, 26 August. The grounds have been open since 27 May and have been enjoyed by numerous residents and visitors alike. The Governor, Mr John Rankin, said: "I hope that all residents and visitors who were able to visit the Government House Gardens during the Sunday afternoon openings this year enjoyed the opportunity to see the historic trees located on the grounds and the wonderful views." All who visited were extremely respectful not only of the grounds themselves but also of the gardens being run by students from the three Pembroke Parish primary schools: Victor Scott, Dellwood and Northlands. I look forward to continuing the Sunday openings next summer."
2018. May 24. Government House Gardens will be open on Sunday afternoons from Sunday 27 May until Sunday 2 September 2018. This will be the fifth summer that the gardens have been opened to the public. Entry and exit will be via the North Gate on North Shore Road. Visitors are encouraged to come on foot, by pedal bike or use the No 11 bus, which stops near the gate. Parking will not be available in the grounds. The gardens will be open from 12 noon to 5pm each Sunday, but will not be open over the Cup Match weekend. Families are encouraged to come, relax and enjoy the grounds and to picnic. Visitors are asked to respect the grounds, especially the vegetable gardens being run by students from the three Pembroke Parish primary schools: Victor Scott, Dellwood and Northlands. They are also asked not to bring dogs. The Governor, Mr John Rankin, said: "I am once again looking forward to seeing families — particularly those living near Government House — make use of this wonderful area. I encourage residents and visitors alike to enjoy the grounds, the historic trees and the wonderful views. "
2017. April 28. Government House Gardens will be open on Sunday afternoons throughout the next four months. Governor John Rankin said of the initiative, which begins on Sunday for the fourth summer: "I am looking forward to seeing families — particularly those living near Government House — make use of this wonderful area and have a chance to enjoy the grounds, the historic trees and wonderful views." Entry and exit will be via the North Gate on North Shore Road. Visitors are encouraged to come on foot, by pedal bike or use the No 11 bus, which stops near the gate. Parking will not be available in the grounds. The gardens will be open from noon to 5pm each Sunday until September 3, but will not be open over the Cup Match weekend. Families are encouraged to come, relax and enjoy the grounds and to picnic. Visitors are asked to respect the grounds, especially the vegetable gardens being run by students from the three Victor Scott, West Pembroke and Northlands primary schools. They are also asked not to bring dogs.
The attractive garden is the site of the Garden Party hosted by the Governor every Queen's Birthday public holiday in June. The more than 300 trees at Government House are a living tapestry of historical events, offering an unlikely insight into periods of political upheaval and change. Two palms, planted by President John F. Kennedy and Prime Minister Harold Macmillan during their visit in 1961, recall the dangers of the Cold War and the impending Cuban Missile Crisis while a sturdy Bermuda cedar planted by Sir Winston Churchill commemorates his wartime visit in 1942 to thank Bermudians for supporting the establishment of American bases on the island. Committed to a reforestation programme, Lady Vereker, wife of a former Governor Sir John Vereker, supervised the planting of hundreds of cedar, palmetto, Bermuda olivewood, palms, snowberry and southern hackberry. The gardens and their adjacent endemic and native forests are home to a large number of birds and monarch butterflies. A year after she and Sir John arrived in Bermuda, more than 900 trees and shrubs were lost in Hurricane Fabian. They included many shrubs, just about every citrus tree, the entire banana plantation and hundreds of Chinese palms, fiddlewood, spice trees, all the frangipani, most rose bushes, young cedars and all that was anywhere near a casuarina. Some 60 trees were propped up in an effort to save them. But Fabian also helped remove the invasive casuarinas lining the North Shore boundary, that up to that point had been encroaching on the endemic trees. A mango tree planted by the future George V in 1880 remained unscathed, as did over 200 trees planted by distinguished guests including a cedar planted by Churchill's daughter Lady Soames in 2003 to commemorate the 50th anniversary of the Churchill, Eisenhower and Laniel Summit: There was no shortage of guests after Fabian to contribute to the replanting effort with Prince Edward planting a Bermuda olivewood, as well as former British Cabinet Minister Lord Heseltine, who planted a calabash tree. Other trees include two Bermuda palmettos planted by Prime Minister Tony Blair and his wife in the palm grove. While clearing invasive species, staff uncovered several treasures, including a hooded and smiling bronze monk's face set into a stone wall in a charming stone quarry garden. Featuring Bermuda limestone, several of these walled gardens have since been discovered, including a "secret" citrus grove. A palm was planted by Emperor Haile Selassie of Ethiopia and for a while the garden was opened by appointment to Rastafarians who wish to worship his memory at this tree. A stone bench was placed in the spot for this. Various organizations also have connections to Government House and its gardens, including the Bermuda Girl Guides who hold camps on the grounds every year and recently buried a time capsule near the slat house. The Audubon Society, who helped replant more than 80 trees to mark the 50th anniversary of the society, also help maintain the bluebird trail in the grounds. The society also hosts bluebird workshops on the grounds every year. It became a yearly tradition. In addition to bluebirds, cardinals, chicks-of-the-village, European goldfinches and warblers all visit the gardens. A night heron makes itself at home near the swimming pool.

Heron's Nest
Southampton Parish. Magnificent private gardens open on special occasions to groups such as the Bermuda National Trust for fund-raising dinners and special functions.

Louise Outerbridge Memorial Garden
Bermuda High School, Pembroke Parish. Opened in spring 2003, owned by the school. Maintained by a teacher who studied Horticulture at the University of London. Created for students as a Butterfly and organic vegetable garden, with plants that create a sheltered habitat for butterflies. No pesticides are used! The garden has two raised beds in the shape of butterfly wings and a slat house. Plantings vary by season. Also see a small pond and butterfly garden. The monarch butterfly lays its eggs on milkweed, a good nectar plant for butterflies. Also a good host plant for caterpillars and their butterflies (Monarch). Two types in Bermuda, the red and orange blood flower or wild ipecac (Asclepias currasavica) which grows about three feet high; and the taller, white-flowered tennis ball plant (Asclepias physocarpa) which grows to five to 6 feet tall. The garden is maintained by Bermuda High School primary students from year 6 and year 5. Year 1 students study the monarch butterfly and giant toad cycle. Year 3 students use the butterfly garden for their mini-beast studies.

Manor House Gardens
Smith's Parish. A lovely condominium development overlooking picturesque Harrington Sound, built from the historic (1930s) property once known as Deepdene Manor, just east of Flatts, Smith's Parish. The property has beautiful, well maintained, 10 acres of manicured gardens. Manor House is the relevant corporate entity.

Mitchell Green Garden
Waterville, Bermuda National Trust. Established August 1999. Dedicated to the memory of Mary-Jean Mitchell Green, a keen amateur gardener who died in 1990. Her widowed husband Peter Green and family were present and funded the garden. Includes a Victorian-style gazebo.

Monte Cristo Gardens
Phone 234-4125. Square foot gardens for seniors, destroyed by Hurricane Fabian in September 2003 but since restored under the Ministry of the Environment's Environmental Grants Scheme to continue their work of using gardening to enhance the lives of seniors living here.

Mount Pleasant
8 Middle Road. Privately owned by Mrs. Robert B. Chappell, Jr. Unusual and beautiful trees grow on this private historic property. The grand white cedar (Tabebuia pallida) was planted in the mid-1800s. At the far end of the splendid gardens, impeccably cared for by the owner, one of the finest private gardens in Bermuda, is a cloistered quarry garden.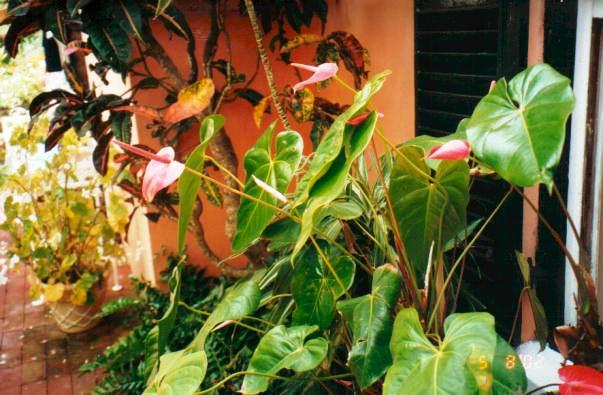 Anthurium. Photo by the author, exclusively for Bermuda Online

Orange Grove
Off Middle Road, Smith's Parish, at the top of Flatt's Hill and then west on Middle Road for half a mile. This private garden, part of the grounds of a lovely old Bermudian historic property, has features including a garden gate made from the steering wheel of a ship that sunk off the coast of Bermuda.

Palm Grove Gardens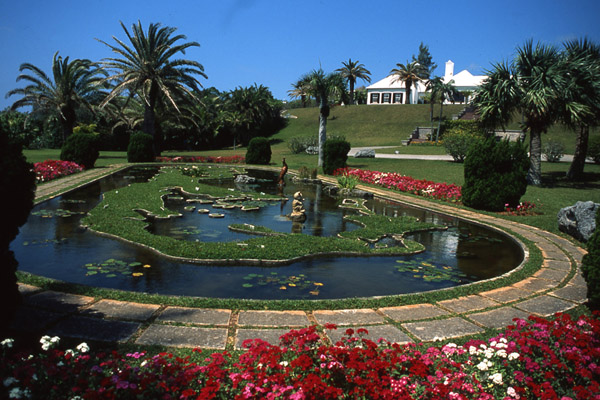 South Road, Devonshire Parish. Hours: 9am-5pm Monday through Thursday. South Road. Private but public are welcome, no charge. Owned by the Gibbons family, of whom Sir David Gibbons was a former Premier (chief minister) of Bermuda. Managed by Gibbons Management Services Ltd, P. O. Box HM 1194, Hamilton HM EX, phone 295-0022, fax 292-1277. So-named because of its splendid collection of palms including Bermuda palmettos and other exotic palms. The 18+ acres of gardens are open Monday through Thursday. They have lovely South Shore views. See the still-yielding citrus grove (Bermuda-grown oranges and grapefruit are the best in the world but are difficult to now to find. At the beginning of the 20th century Bermuda oranges were exported in quantity to New York). Residents and visitors often have their wedding pictures taken here. There is an aviary of tropical birds - parrots - and are open year round, with free admission. The Waterworth family built Palm Grove and it was their family home until the death of the patriarch in the late 1940's after which it was sold it to the Gibbons family. Be sure to see the Bermuda Moon gate and map in a pond. Many Bermuda weddings take place here.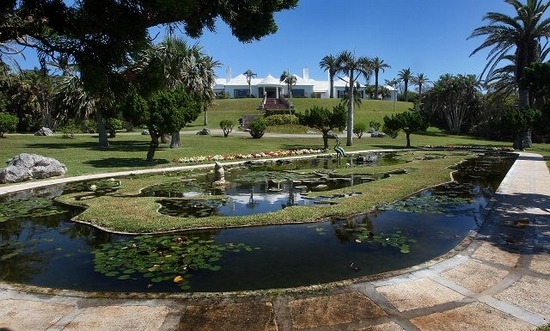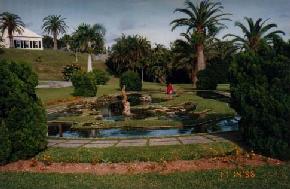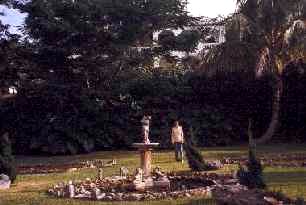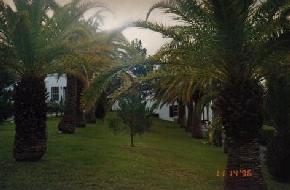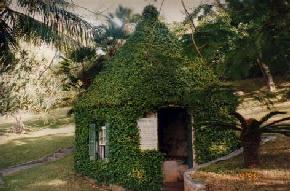 4 photos immediately above by author Keith A. Forbes

Par-la-Ville Gardens
Behind Perot Post Office, Queen Street, City of Hamilton. Centrally located. A very nice surprise, a public garden off one of the busiest streets in the city, next to the Par La Ville historic property home of the Bermuda Historical Society and adjacent Bermuda National Library. With footpaths, benches and well-labeled plants. A favorite among working locals on weekdays. At the entrance to the gardens is a massive rubber tree once much admired by Mark Twain during his Bermuda visits.

Smith Garden
St. George's, just off Barber's Alley. Designed by Garden Club of Bermuda (GCB) member Evelyn Young and created by other members as a GCB gift to St. George's when it acquired World Heritage Status some years ago. The GCB has looked after it since then. It has been on show during Bermuda National Trust annual Christmas Walkabouts. Small but worth seeing by visitors to the Old Town.

Somers Gardens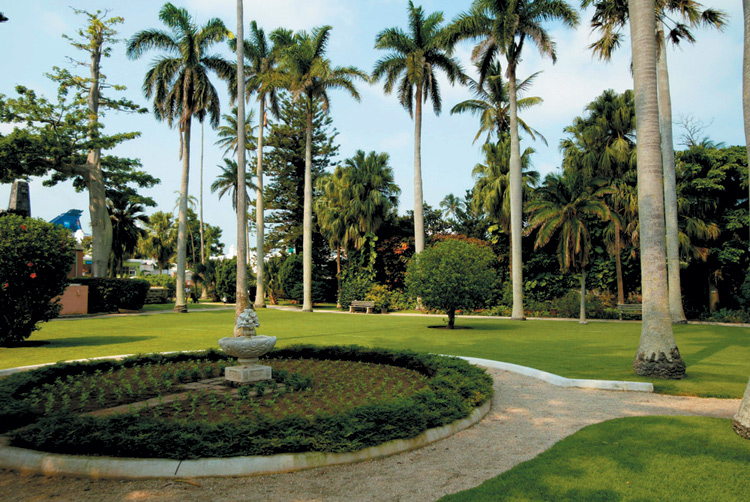 Duke of York Street, St. George's. Open every day and admission is free. Owned and maintained by the Corporation of St. George municipal body. Not much by way of a formal garden, mainly open space. But definitely worth seeing. A lovely quiet spot. While there, visit the gravesite of Admiral Sir George Somers who officially founded and colonized Bermuda. The site named for Sir George Somers himself and where Sir George's heart is buried. Sir George Somers had been so appreciative of the island that it was his wish to be buried here. When he fell ill and died, it is said from a surfeit of pork, on his way back to Bermuda to collect more provisions to take back to the starving colonists in Virginia, his nephew Matthew Somers, one of the original colonists, buried his uncle's heart here, but transported his body in a rum barrel to help preserve it by ship back to his uncle's home town of Lyme Regis, Devon, England where it was buried in a church grave.

These public gardens were opened in 1920 by the Prince of Wales at the time (later the Duke of Windsor), during his first visit (voyage) to Bermuda. Albert Edward, Prince of Wales (later, briefly, King Edward VIII) was then a serving Royal Navy officer on the 1920 refitted Royal Navy battle cruiser Renown, on a tour of Bermuda, the Caribbean, the USA and Australia. HMS Renown, lead ship of a class of two 26,500-ton battle cruisers, was built at Glasgow, Scotland. Completed in September 1916, she served with the Grand Fleet in the North Sea during the remaining two years of World War I. She was at HM Dockyard Bermuda during the Royal Visit.

The main feature of the gardens is the monument - the Somers Memorial, below - to Admiral Sir George Somers whose body was shipped to England but whose heart was buried here. In the Christmas season, the Gardens are lit, from 5 pm to 8:30 pm. with nest views of the light display from Shinbone Alley and the York Street side.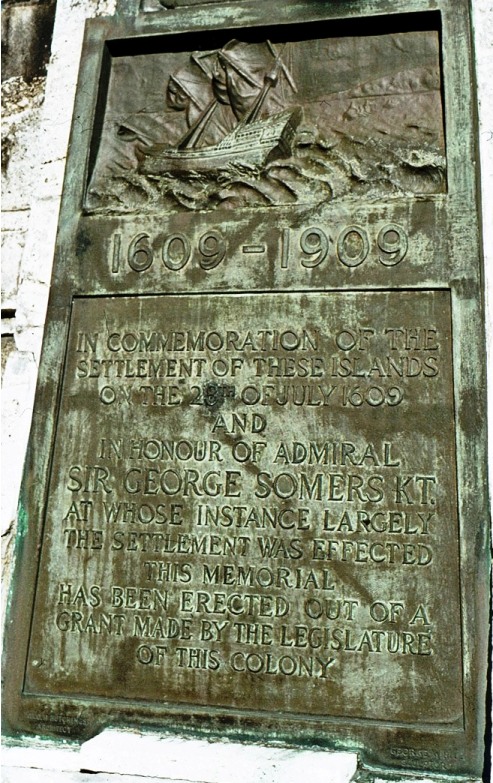 Tulo Valley Gardens and Nursery
15 Tulo Lane, Pembroke Parish HM 12. Telephone 292-2503 or fax 295-7054 to know when it is open to the public. A Bermuda National Park. Since April 2002 part of the Department of Conservation Services of the Bermuda Government's Ministry of the Environment. On Main Island. Number 24 on your Parks and Reserves map. If you take a number 4 bus, check its infrequent times. There are places to park a rented scooter. Conducted tours by volunteer groups are available from time to time if you book in advance. The tunnel from here to Admiralty House Park - adjacent and to the north - It is often closed but when not - for example, for a conducted tour - you can walk through. Here is where the Bermuda Government has its main experimental flowering and other garden. It was once the kitchen garden of Admiralty House adjacent to it when an Admiral of the Royal Navy was in residence there. It was taken over by the Bermuda Government in 1957 and converted to a plant nursery. Staff do some fine work in saving certain indigenous species and in working with different public and private sector organizations. Most of the plants found at roundabouts and other public areas are grown from here.

Verdmont Historic Manor House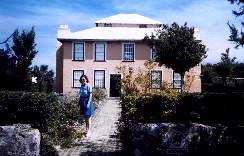 Top of Collector's Hill, at junction with Sayle Road, Smith's Parish. Phone (441) 236-7369. Owned by the Bermuda National Trust which, in 2003, was given a major award by the American Society of Travel Writers (SATW) for the restoration of Vermont. SATW visited during its 2001 Annual Conference in Bermuda. Georgian style and three floors.
With rose and flower, herb and mixed period gardens. Both the house and garden are open to the public at specific times. With a parking area for the able (no Disabled by Permit Only parking signs).
Admission is Tuesday through Saturday (except public holidays) from 10.00 am to 4:30 pm, a specific charge for adults, free for Bermuda National Trust or affiliated members and children under 12. The house has four chimneys with fireplaces in all eight rooms. It has a superb collection of antique Bermuda cedar furniture and valuable mahogany. Other period artifacts include English and Chinese porcelain, Georgian silver including pieces by Bermuda silversmiths, portraits in oils, children's furniture and toys.
Photo by author Keith A. Forbes

Waterville
Pomander Road, Paget Parish. Phone 441 236 6483. Hours: 9am-5pm Monday through Friday. Admission: Free. Centrally located in a very scenic area one mile east and south of the City of Hamilton. Tranquil small but well-worth-seeing garden setting at the historic property headquarters of the Bermuda National Trust. Some of the garden fronts the eastern end of Hamilton Harbour. This is the place to see the Bermuda Roses shown below.
It is often assumed, incorrectly, that some roses are indigenous to Bermuda. All were imported, without exception, but many have now been naturalized. There is no such thing as a true "Bermuda Rose" as they are sometimes referred to. It was not until the coming of the 18th century clipper ships , with their cargoes not only of spices, tea and silks but roses for Southern Gardens of the USA and to a much smaller extent for Bermuda too, that the majority of so-called "Bermuda Roses" including Bermuda Mystery Roses, first arrived. The latter are referred to as such because they have no known name or pedigree and were given local names to reflect where they were found. The main flowering period for Old Garden Roses is from end of October through May. With a few exceptions, they are dormant during the long, hot and humid summers, unlike in Britain and Europe where they bloom from June or July. But many Bermuda-grown roses not in places where they are sheltered, suffer from the lack of a climactic "breaking space" which a cooler or temperate climate elsewhere gives them. It is one of the reasons why some roses with local Bermuda names but under different names elsewhere can be found in zones 7-10 of North America.
Roses are in many types, sizes, names, all over Bermuda, in many public and private gardens. Not indigenous to Bermuda, all were originally imported.
October is the start of the rose season in Bermuda. Roses should not be pruned in the hot months of June to September unless there is a storm and branches get broken. The summer is the forced dormant period during which roses should not be removed or disturbed. At the appropriate time, any branch that goes into the bush should be removed and any branch rubbing against another, likewise. They were exported by special license from the USDA many years ago. Old Garden and Heritage Roses - those of the China, Tea, Noisette and Polyantha varieties - are lovely. See the list below for many growing in Bermuda.
Anna Oliver. Tea rose, a vigorous, 1872, achieves a height of six feet.
Archduke Charles. 1840 china rose. Once known incorrectly as the Seven Sisters Rose but renamed. Buds are a dark red and flowers open up to a rose pink with dark red outer petals. Like most China roses, flowers darken with age. Bush has flowers of two different colors.
Archduke Joseph. A tea rose of 1872.
Austrian Briar. Introduced to Bermuda from Cambridge, MA in 1874. One of the roses that according to Governor John Henry Lefroy grew in Government House (Mount Langton) 1874-77.
Baltimore Belle. Because it came from Baltimore, MD. From the 1840s for many years, young Bermuda ladies trimmed their bonnets with fresh flowers specifically including this one. Fragrant clusters of pink to white double flowers, appears to be a hybrid descendant of the wild Prairie Rose, R. setigera, of southern USA.

Banksia. R. banksiae. A rose known to have been growing in Bermuda in the time of Governor Lefroy.
Bon Silene. First introduced to Bermuda in the mid 1980s. An old tea rose.

Bourbon Rose. R. borboniana. It grew in Government House (Mount Langton) 1873-77.Bridal Rose. See "Souvenir de la Malmaison."
Cabbage Rose. Or Provence. R. centifolia. A Bermuda Mystery rose at the Bermuda National Trust garden at Waterville. Once of the oldest roses anywhere. It grew in the gardens of ancient Rome.
Catherine Mermet. A mystery pink rose.
Cherokee Rose. Once found growing in the Walsingham and Pembroke March areas.

Conyers. A Bermuda Mystery rose at Bermuda National Trust garden at Waterville.
Damask Rose. R. damascena. One of the roses that according to Governor John Henry Lefroy grew in Government House (Mount Langton) 1873-77. It was brought to Bermuda from England sometime earlier, where it was said to have been brought to England by the Crusaders. Long known in England as the source for attar of roses.
Dr. Grill. A tea rose of 1886.
Duchesse de Brabant. A shell or fragrant tea of 1857. With a strong tea scent. Introduced to Bermuda by Mr. Phies who lived at Lemon Grove in St. George's and was mayor of the Old Town from 1863-1880.
Emmie Gray (pictured). A Bermuda Mystery china rose. The bush can grow eight feet high.
Fairy Rose. Or Lawrenceana. R. chinensis var. minima). Known to have grown in Bermuda in the time of Governor Lefroy

Febvier. A china rose of 1832.
Gen. Schablikine. A tea rose of 1878.
Green Rose. R. chinensis viridiflora. Frequently seen in Bermuda gardens in 1918 and noted in
"Flora of Bermuda" by botanist Nathanial Lord Britten.

Homere. A tea rose of 1858.
Hume's Bush. A tea rose of 1760.
Isabella Sprunt. Deep yellow. One of the two roses introduced to Bermuda in about 1880 by General and Mrs. Russell Hastings, who lived at Soncy, in Pembroke Parish.
Le Vesuve. A china rose of 1825.

Little White Pet. This polyanthus has a low spreading bush no more than two feet in height.
Macartney Rose (Rosa bracteata). Locally, fried egg rose. Came to Bermuda via USA. Has white fragrant flowers with heart-shaped petals surrounding bright yellow stamens.
Madame Joseph Schwartz. A tea rose of 1880.
Madame Lombard. A tea rose of 1878.
Maitland White. A Bermuda Mystery rose.
Miss Atwood. A Bermuda Mystery rose.
Mlle. Francesca Kruger. A tea rose of 1880.

Mrs. B. R. Cant. A tea rose of 1901.
Mrs. Dudley Cross. A tea rose of 1907.
Mutabalis (rosa chinensis mutabalis). China rose of 1952, can climb to five feet.
Niles Cochet. A tea rose of 1903.
Noisette. R. noisettiana. A rose known to have been growing in Bermuda in the time of Governor Lefroy.
Pacific Rose. Locally-named variant of Cabbage Rose. Introduced in 1800s when Captain Samuel Nelmes, on a Pacific voyage, met a French ship in distress. After he gave water and provisions, the French ship's captain gave him a prized rose bush from his garden in Normandy. Nelmes brought it to Bermuda and planted it at "Grasmere, Riddell's Bay, then the home of his daughter Mrs. Joseph C. Lightbourne. The family called it the "Pacific Rose."

Papa Gontier. A tea rose of 1883.
Parson's Pink. Or "Old Bush.' A favorite china rose for its lovely coloring. A compact bush of 1752 that grows up to four feet.
Pasture. R. carolina. One of the roses that according to Governor John Henry Lefroy grew in Government House (Mount Langton) 1873-77.
Perle des jardins. A tea rose of 1874.
Pink Mamam Chochet. A climbing tea rose of 1893.
R. Chin. Semperflorens. (Bermuda Mystery rose, Belfield residence).
R. Ch. Veridiflora. A china rose of 1883.
Rosette Delizy. A tea rose of 1922 with a vigorous growth. It can reach six feet as an open bush.
Safrano. Or Saffron rose. A slow growing lemon yellow tea rose up to five feet high. It was well-known in rose catalogues in the American South in 1843. It was introduced to Bermuda in about 1880 by General and Mrs. Russell Hastings, who lived at Soncy, in Pembroke Parish.
Slater's Crimson China. Until 1956, it was thought to have been lost from cultivation. Its rediscovery in the garden of Belfield in Somerset has caused excitement.
Smith's Parish. With a lovely old flower. A mystery rose, but referred to by a central parish in Bermuda. With an open bush form growing up to six feet in height.
Soncy. A Bermuda Mystery rose seen in the Bermuda National Trust garden at Waterville.
Souvenir de la Malmaison. Also called the "bridal" rose. A climbing bourbon rose first brought to Bermuda in 1844 or 1845 via the USA after it was sent to the USA in 1843 by Beluze of France who noticed it. More than 30 years earlier, it had been seen growing in the garden near Paris of Empress Josephine of France, wife of Napoleon 1, a noted lover of roses. Locally, it can grow into a compact bush usually three to four feet in height, with double white flowers faintly flushed with pink. It became an established favorite of Bermuda brides.

Souvenir de St. Anne. A bourbon rose of 1950.
St. David's Rose. A Bermuda Mystery china. It usually grows into a compact bush of about four feet. Named after a former island in the parish of St. George.
Sweet Briar. R. rubiginosa. One of the roses that according to Governor John Henry Lefroy grew in Government House (Mount Langton) 1873-77.
Tea Rose. R. odorata. One of the roses that according to Governor John Henry Lefroy grew in Government House (Mount Langton) 1873-77.
Trinity. Another vigorous Bermuda Mystery rose going up to six feet.
Vincent Godsiff. A Bermuda Mystery rose seen in the Bermuda National Trust garden at Waterville.
William R. Smith. A tea rose of 1903.

Garden-related Bermuda organizations
Bermuda African Violet Society
No garden of its own. A popular garden club for those who favor this species. Meets fourth Tuesday each month, 7:30 pm, Horticultural Hall, Bermuda Botanical Gardens, Paget, new members welcome. Call 234-0650 or 292-6662.
Bermuda Botanical Society
Since 1985. No garden of its own. A popular membership-based garden club and registered charity. Contact it at PO Box HM 2116, Hamilton HM JX.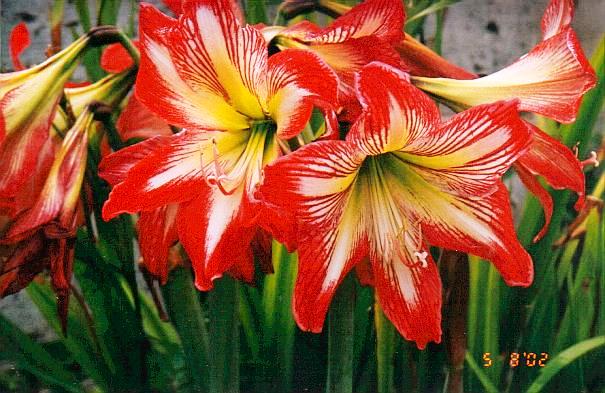 Amaryllis. Photo by the author, exclusively for Bermuda Online.
Bermuda in Bloom
Annual Awards given by The Garden Club of Bermuda in June to homeowners of outstanding gardens. In Bermuda, the only requirement is that their gardens must be visible from a public or estate road. It is possible for homeowners to make arrangements for private tours.
Bermuda Judges Council for Floral Art
No garden of its own. An organization of local and overseas floral judges. Contact the Department of Agriculture and Fisheries for current information.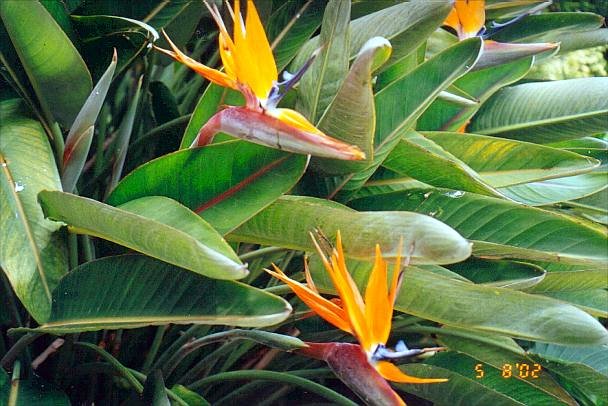 Bird of Paradise. Photo by the author, exclusively for Bermuda Online
Bermuda Orchid Society
An affiliate of the American Orchid Society. It meets regularly, usually in one of the buildings of the Bermuda Botanical Gardens. Visitors are welcome. The Annual General Meeting is every late November.
Bermuda Rose Society (BRS)
P.O. Box PG 162, Paget, PG BX, Bermuda. It began in 1954. Its own garden has been since 1988 the Repository Garden of the Bermuda National Trust at Waterville in Paget (See under Waterville, above). It is an associate of the Royal National Rose Society, an Affiliate member of the American Rose Society and Heritage Roses Group. In 1987, the BRS hosted the World Federation of Rose Societies regional conference. It is a founding member of the Heritage Rose Foundation. A major function is to help with the care of rose gardens, including those at the Bermuda National Trust. Members meet monthly from October to May. Guest speakers are often invited from overseas. Members propagate between 500 and 750 rose bushes annually for sale to members of the public and for donations to various organizations. They welcome new members and visitors from overseas rose societies. They do well in Bermuda.
Friendship Garden Club
No garden of its own. Contact the Department of Agriculture and Fisheries for current information.
Garden Club of Bermuda






Since 1921. More than 300 members. Telephone (441) 232-1273. It used to organize each year for many years an annual spring (April and/or May) program of fabulous Bermuda Open House and Garden tour, all in that grouping can be visited on the same day, usually a Wednesday. It is affiliated with the National Garden Clubs of the USA, the Garden Club of America, the National Association of Flower Arrangement Societies of Great Britain, The Royal Horticultural Society, the World Association of Flower Arrangers and the Garden Clubs of Ontario. Private tours of gardens by members of these associations may be organized by prior arrangement. In 1971 the Garden Club celebrated its 50th Anniversary by publishing the book "The Bermuda Jubilee Garden." In 2002 "Bermuda, a Gardener's Guide" was published (shown below). It has the best source of information in Bermuda on when to plant annuals, what perennials, shrubs and trees will fare well and more. Anyone interested in becoming a member can apply directly to the Club at P. O. Box HM 1141, Hamilton, Bermuda HM EX. The Club organizes the "Bermuda in Bloom" competition for the best private gardens in Bermuda visible from a public or estate road.
Hibiscus Garden Club
It began in 1959 when members of the St. Mary's Church Guild with a passion for flowers and gardening sought to further their interest by applying for membership in the Garden Club of Bermuda.

Their applications were not accepted, it is claimed by outsiders it was because they were all 'coloured' women. If so, no longer applicable. The club is not restricted to growing hibiscus, can grow anything.



Authored, researched, compiled and website-managed by Keith A. Forbes.
Multi-national © 2020. All Rights Reserved