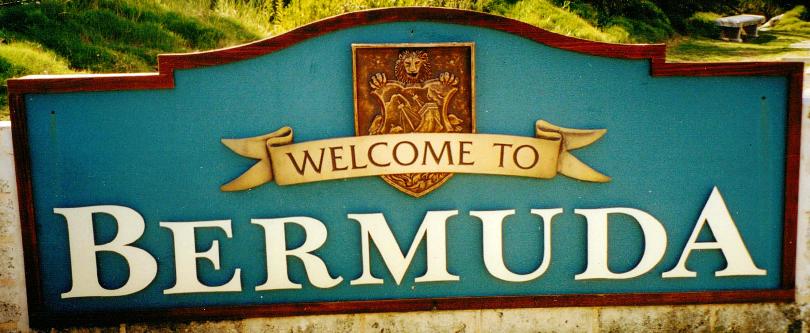 Click on graphic above to navigate the 165+ web files on this website, a regularly updated Gazetteer, an in-depth description of our island's internally self-governing British Overseas Territory 900 miles north of the Caribbean, 600 miles east of North Carolina, USA. With accommodation options, airlines, airport, actors, actresses, aviation, banks, beaches, Bermuda Dollar, Bermuda Government, Bermuda-incorporated businesses and companies including insurers and reinsurers, Bermudians, books and publications, bridges and causeway, charities, churches, citizenship by Status, City of Hamilton, commerce, communities, credit cards, cruise ships, cuisine, currency, disability accessibility, Devonshire Parish, districts, Dockyard, economy, education, employers, employment, environment, executorships, fauna, ferries, flora, former military bases, forts, gardens, geography, getting around, golf, guest houses, highways, history, historic properties, Hamilton, House of Assembly, housing, hotels, immigration, import duties, internet access, islands, laws, legal system and legislators, main roads, marriages, media, members of parliament, money, motor vehicles, municipalities, music and musicians, newcomers, newspaper, media, organizations, parks, parishes, Paget, Pembroke, performing artists, residents, pensions, political parties, postage stamps, public holidays, public transportation, railway trail, real estate, registries of aircraft and ships, religions, Royal Naval Dockyard, Sandys, senior citizens, Smith's, Somerset Village, Southampton, St. David's Island, St George's, Spanish Point, Spittal Pond, sports, taxes, telecommunications, time zone, traditions, tourism, Town of St. George, Tucker's Town, utilities, water sports, Warwick, weather, wildlife, work permits.
Bermuda's Golf Courses
Seven in our 21 square miles and among the world's most expensive

By Keith Archibald Forbes (see About Us)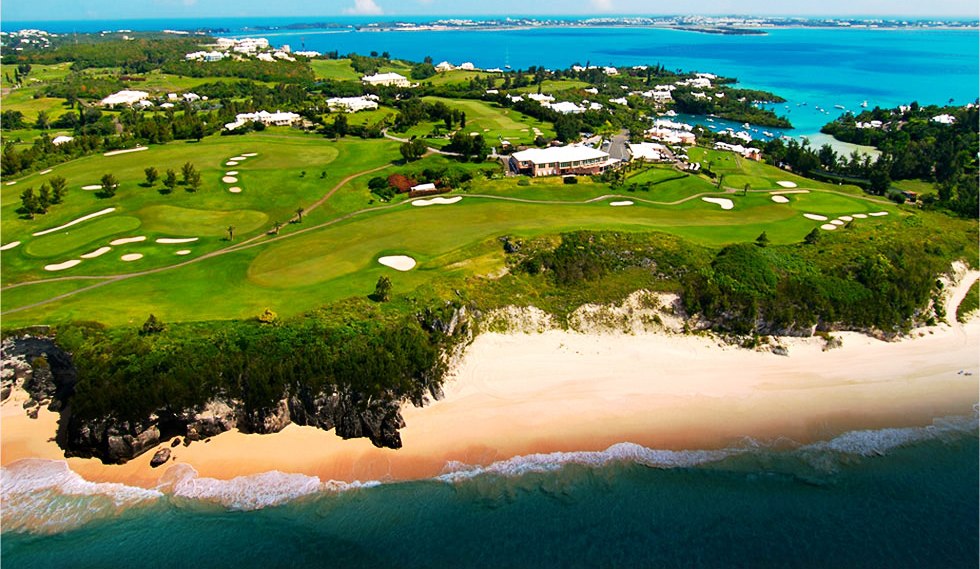 Bermuda Golf at Mid Ocean Club. Photo: Bermuda Tourism
Introduction
Golf was introduced to Bermuda when British Army officers brought their golf clubs in the late 1800s. Unlike tennis which was, golf did not get to the USA via Bermuda. In Scotland, UK, home of golf, the sport was introduced to the USA in the 1880s via the Dunfermline Golf Club to the Yonkers Golf Club and spread from the latter to all over the USA. Unlike in Scotland where anyone can play and visitors are welcomed by all clubs, private clubs in Bermuda welcome non-members only with an introduction from a member or if they are staying at an associated hotel (for example, at the Mid Ocean or Tuckers Point). Most Bermuda clubs are private but three - Ocean View, Port Royal (Bermuda's second best) and St. George's (presently closed) - shown below - are public courses owned by the Bermuda Government (in other words, Bermuda taxpayers) but are not free, charge fees. All the latter three has a management committee, Board of Trustees and golf pros approved by the present government.
Belmont Hills, private, 18 holes, 6017 yards, par 70

Fairmont Southampton Golf Club, private, 18 holes, 2737 yards, par 54.

Mid Ocean Club, Private. 18 holes, 6512 yards, par 71. PGA Grand Slam site 2007, 2008

Ocean View Golf Course. Public. 2940 yards, par 35. . See below re Bermuda Government's involvement.

Port Royal. Public. 18 holes, 6842 yards, par 71. Reopened in January 2009 after renovations. PGA Grand Slam site, 2009, 2010, 2011, 2012, 2013, 2014.

St. George's Golf Course. Public. 18 holes, 4043 yards, par 62. See below re Bermuda Government's involvement. Closed for demolition of nearby hotel and redesign.

Tucker's Point Golf Club, Private. 18 holes, 6361 yards, par 70.
They are shown alphabetically below, in more detail.

Bermuda golf tournaments include
Bacardi National Par 3.
Belmont Invitational.
Bermuda 3s World Team Championship
Bermuda Amateur.
Bermuda Amateur Four Ball.
Bermuda Championship (see below)
Bermuda Goodwill Golf Tournament, in December
Bermuda Institute Annual.
Bermuda Open.
Debbie Franklin Memorial.
Easter Lily Invitational for Ladies.
Goodwill Tournament.
Goslings International Invitational, November
Hacker's Cup. Charity Golf Tournament, played at both Mid Ocean and Port Royal. 2018, October. Eighth Annual. Autumn golfing tournament pitting celebrities against journalists.
Pompano Beach Club's couples golf tournament tees off later in October, continuing a long tradition that started about 15 yeas ago.
Ross "Blackie" Talbot Memorial Charity Invitational.
Senior Golf Classic.
Valentine's Mixed Foursome.
World Corporate Golf Challenge.
YES Annual Classic.
Nike Golf PGA Team Championship of Canada, often in Bermuda.
Annual Skyport, Aecon & Bermuda Airport Authority Charity Golf Day. See below.
2019. November 5. Brendon Todd entered rich company in more ways than he could have imagined on Sunday after shooting a record-equaling 62 to win the PGA Tour Bermuda Championship by four strokes. In carding 24 under par to almost lap the field, the 34-year-old Pittsburgh native joined none other than Tiger Woods in becoming the second player in the 2019-20 season to win an inaugural PGA Tour event. While 80 wins separate men who are miles apart on the order of golfing pedigree, they are united in having overcome great adversity. Woods's travails have been well chronicled, the most recent being another knee surgery that preceded victory at the Zozo Championship, which tied him with Sam Snead for the most PGA Tour wins at 82. But, for Todd, the road back from the yips, a run of 36 missed cuts out of 37 and a return to the lower reaches of professional golf presented a different challenge. His first tour win at the AT&T Byron Nelson Classic in 2014 had seemed a distant memory, 100 starts ago, and there were genuine thoughts of walking away from the sport to start a business. The thousands who gathered at Port Royal Golf Course are grateful he found his way back, for they were witnesses to a virtuoso performance that put the tournament to bed before the turn and elicited genuine hope of seeing a magical 59. A sub-60 round has been achieved only ten times on the PGA Tour, with Jim Furyk's 58 in the final round at the 2016 Travelers Championship being the record. Todd needed two birdies on his final three holes to join that illustrious company, but finished par, par, bogey to match the course record set by Scottie Scheffler in the first round on Thursday. "With two or three to play, I was trying to shoot 59, so I had to play a little more conservatively on 17 just because there's no reason to give anything back, so I didn't make birdie there," he said. "[From there] I pretty much knew 59 was out the window, but I was still playing smart and laid it back off the [par-five 17th] tee. Then I missed the green left and then I'm like, well, I want to shoot a bogey-free 61 today." Sole possession of the course record went when a six-footer for par at the last drifted past the hole for his only blemish of the day, but unlike Furyk whose 58 did not come with a winner's cheque — the 2018 US Ryder Cup captain finishing joint fifth at TPC River Highlands — Todd takes home $540,000. He also pockets 300 FedEx Cup points, gains exemption on the tour through the 2021-22 season, and has earned a place at the Sentry Tournament of Champions, the PGA Championship, The Players Championship, well established as "the fifth major", and six other invitational events this season.
2019. October 1. More than 20 partners and sponsors have come on board for the inaugural Bermuda Championship. The PGA Tour event is scheduled for October 28 to November 3 at Port Royal Golf Course. Bermuda Tourism Authority is the tournament's title sponsor, while Digicel is the official telecoms partner and the Fairmont Southampton is the official hotel partner. The founding partners are Butterfield Bank, Caliburn, Hamilton Princess and Beach Club and Island Construction. Sean Sovacool, the tournament director, said: "The success of any PGA Tour event relies upon investment from the local business and corporate community. We are delighted to form partnerships with so many organisations in such a short timeframe. We are grateful to every business leader and company who have lent their support to this historic new event, the community and our participating charities." Other sponsors are:
Programme Sponsor: BF&M
Junior Ticket Sponsor: Butterfield & Vallis
Skybox Hospitality: Clarien Bank, Liberty Special Markets, and Oil Casualty Insurance, Ltd.
Ocean Club Hospitality: Allied World, Anchor, Ashley Gillis, Bermuda Economic Development Corporation, CAT Entertainment Services, Neon, Willis Towers Watson
Pro-Am: AIG, Bruno Event Team, Pompano Beach Club.
2019. June 13.The PGA Tour Bermuda Championship. Port Royal Golf Club. October 31-November 3. "We are excited to add the Bermuda Championship to the PGA TOUR beginning next season," PGA Tour executive vice president Ty Votaw said. "Bermuda is an appealing year-round destination, and the players will love visiting in the fall, plus we will be hosted by an outstanding golf course. It promises to be a wonderful opportunity to showcase Bermuda - a beautiful island destination that embodies genuine hospitality - to the world." The Bermuda Tourism Authority will serve as the tournament's title sponsor through 2023. Port Royal previously played host to the now-defunct PGA Grand Slam of Golf, featuring the year's four major winners, from 2009-2014.

Bermuda Golf Association
Victoria Place, 31 Victoria Street, Hamilton HM 10. P. O. Box HM 433, Hamilton. Phone 295-9972 or fax 295-0304.

Belmont Hills Golf Club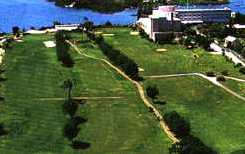 25 Belmont Hills Drive, Warwick Parish, WK 09. Telephone (441) 236-6400. Fax (441) 236-0694. Check rates directly with course depending on time of day and time of year. Private but will accept off-the-street golfers by prior appointment. features include Sunset Rate. Carts are mandatory for most of the day. It was designed originally by Deveraux Emmett and first opened for play in 1924. Formerly the Belmont Golf Club, then connected with the now-defunct and destroyed Belmont Hotel, mostly recently the Belmont Hills Golf and Country Club. From September 2001, it became under the management of Belmont Golf Course Management Ltd, 97 Middle Road, P. O. Box WK 251, Warwick WK BX. For visitors who arrive at the airport on one of the commercial airlines or cruise ships, the closest cruise ship berth is City of Hamilton, about 4 miles away to the east. If you bring your own clubs, you won't be able to go by public transportation (bus). Instead, take a taxi. Or if without clubs, consider taking the # 8 bus - the only way by public transportation - most of the way to the course.
It has an 18 hole. 6,017 yards long course, par 70. Facilities include a pro shop, snack bar and restaurant. A periodic Golf Special including green fees and cart is available from Monday to Friday for tee times from 2:00 pm. It closed in January 2002 for up to 15 months, for very extensive renovations (shown below). The course was reopened on June 1, 2003. It is more challenging, less hazardous and more attractive, designed by Californian Algie Pulley and his son Jeff, both of whom had had earlier carried out improvements at the former Castle Harbour course. This one has greens made faster by Tiff-Eagle sprigs, fairways made more lush by an irrigation system and a million-gallon lake located between holes two, seven and eight. Golfers are steered away from residential areas.
Holes 1 and 2 remain much the same s before but the third dog-legs up towards a new green just below the 4th green. The original 5th hole became the 4th and the original 6th the 5th, with a new green further to the left than before. The original 7th became a new par-five 6th winding its way through the lakes, with the 7th a new par-3. Rather than a dog-leg, the 8th is short, tight and straight and 9th almost the same but with the green moved slightly to the left with a new clubhouse to the left. The old 10th is the present 15th and 11th is where the 14th was. Each has new greens. The present par-5 10th became an even longer 12th, with a new green on the original 11th fairway. The 11th became the 13th, a straight par four over the existing "Ian Crowe" lake.
With safety in mind, the old 12th became the 14th, directed away from houses to the right. The 15th, 16th, 17th and 18th remain much as they were, except the 16th has a new green 30 feet to the left to take play away from homes on Belmont Road. Rubble taken from the demolition of the old Belmont hotel was used to fill in the large hollow on the 18th, long considered the most unfair of the golf course. With protected caves underneath the fairway, decisions were taken on how best to level out the land.
Overall, accurate iron play, rather than big hitting, is the key to success on this course. Take care to try to avoid hitting the ball into the lake.

Castle Harbour
See "Tucker's Point."

Mid Ocean Golf Club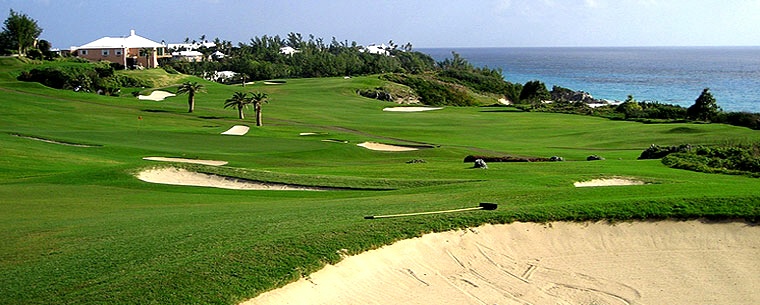 Photo: Bermuda Tourism
1 Mid Ocean Drive, Hamilton Parish (East End). Phone (441) 293-0330. Fax (441) 293-8837. Bermuda's number one private course. A private club, an introduction is needed from a member, or try an hotel's Social Desk or cruise ship's Shore Excursion office. The first three holes run parallel to the ocean. Designed originally by Charles Blair MacDonald to fit into the natural terrain. It was a par-71 layout, over 600 acres of rolling countryside, 6,519 yards from the back tees. MacDonald won the first US Amateur Golf Championship in 1895 and later designed the National Golf Course in the USA. The course first opened for play in 1921 and was officially declared open in 1922. Ralph A. Kennedy of Mamaroneck, NY, regarded at the time as the "Dr. Livingstone of Golf," rated it one of the five best courses in the world in the 1920s. It was revised in 1953 by international golf course architect Robert Trent Jones. In the 1990s this course hosted the Merrill Lynch Classic and later the Gillette Classic. All the greens were re-built in 2002. The club played host to the PGA Grand Slam of Golf in 2007 and 2008. Today, it is ranked the 47th best golf course outside of the United States by Golf Digest. In October 2015 it hosted the inaugural Nike Golf PGA Team Championship of Canada and it is hoped this can be repeated.
Distinguished persons who have played there include heads of state as Presidents Dwight Eisenhower; Richard Nixon; John F. Kennedy; Jimmy Carter; George H. W. Bush and Dwight Eisenhower; The Duke of Windsor; Winston Churchill; Harold Macmillan; Edward Heath; former Canadian Prime Minister Brian Mulroney. Golf celebrities have included Sam Sneed and baseball icon Babe Ruth. When the latter, normally as good with a club as he was with a bat, played the 433-yard fifth, known as the "Cape," he knocked eleven straight balls into Mangrove Lake before finally driving one over the hazard.
For visitors who arrive at the airport or on a cruise ship, the closest cruise ship berth is Town of St. George, about 5 miles away to the south west. If you bring your own clubs, you won't be able to go by public transportation (bus). Instead, take a taxi. If without clubs, take the # 1 bus to property and walk. Check rates directly with course depending on time of day and time of year. Private but will accept some off-the-street golfers by prior appointment if referred by a member. Ask about playability on the day you have in mind.

Ocean View Golf Club
(9 holes, Government-owned)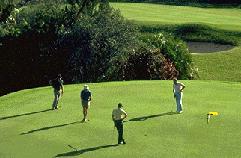 2 Barker's Hill Road, Devonshire Parish DV 05. P. O. Box DV 358, Devonshire DV BX. Phone (441) 295-9092. Fax (441) 295-9097. A Bermuda Government-owned public golf course, the regulatory agency of which is the Ministry of Tourism, charging membership fees to locals and admission fees to tourists and visitors. A 9 hole par 35 course over 2,819 yards. In the past, the trustees and Government had relied on the Port Royal course to subsidize Ocean View. The problem with Ocean View is the traffic. It's only nine holes so unlike an 18-hole course you can only have so many on the course at any one time. Ocean View historically has been a working man's club and was taken over by Government in the 1990s but before that it was run by the members. The site of one of the units of the clubhouse here was once a grand old manor house known as Watlington House, now used as a storage facility. It was used for British Army purposes during World War 2. The former Fort Langton and part of its structure were used as the foundations for the clubhouse after the war and more of the former fort became the bus garage in the 1970s. On the field below the bus garage, now the golf course, were two US Army posts during World War 11. One was a unit of the US Army Signal Corps and the other was the US Army's Artillery, at APO 856. It was a unit (including 1st Platoon Battery A) of the 423rd Field Artillery Group, under the command of Captain F. W. Clipper, US Army. For visitors on cruise ships, the closest cruise ship berth used to be (until 2007) the City of Hamilton, about 5 miles away to the east, but is now Dockyard, about 12 miles away. If you bring your own clubs, you won't be able to go by public transportation (bus). Instead, take a taxi. Buses only go a part of the way. Check rates directly with course depending on time of day and time of year. Public. Ask about playability on the day you have in mind.

Port Royal Golf Course
18 holes, Government-owned.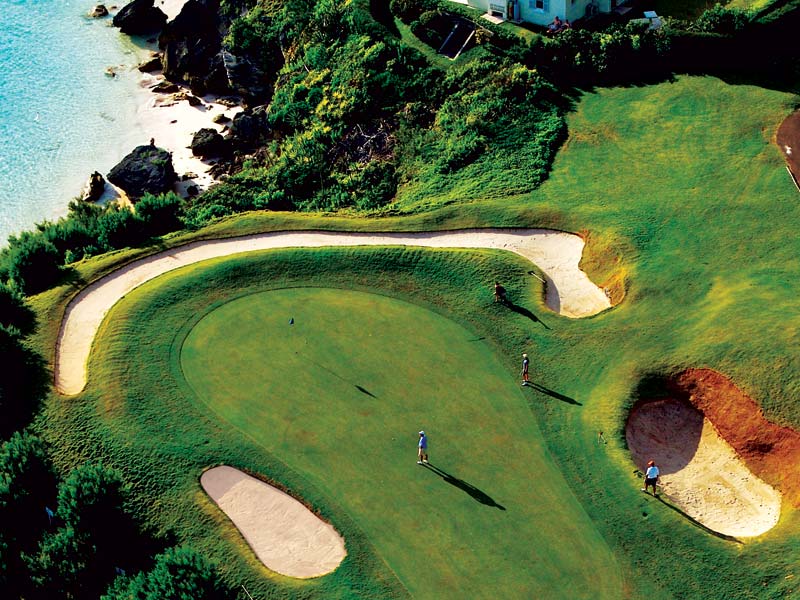 Photo: Bermuda Tourism
5 Middle Road, Southampton Parish, SB 02. Mailing address P. O. Box SN 189, Southampton, Bermuda SN BX. Phone (441) 234-0974. Fax (441) 234-3562. It opened in 1970 as a Robert Trent Jones-designed 18 hole, 6,561 yards par 71 public course. Re-opened in January 2009 after a final-cost $15.9 million (originally $7 million budgeted) renovation of the 37 years old course including increase of the course yardage by 281 yards to 6,842 yards. In June 2006, the Bermuda Government's House of Assembly passed an Act that switched responsibility for the Government golf courses from the Ministry of Works & Engineering to Tourism. It hosts many tournaments and has been the home of the Bermuda Open. Sunset golf is from 4:00 pm with a reservation. Bermudians pay 30% less than visitors. For visitors who arrive on cruise ships, the closest cruise ship berth is Dockyard, about 8 miles away. Buses go to nearest stop about 600 yards away. If you bring your own clubs, you won't be able to go by public transportation (bus). Instead, take a taxi. Check rates with course depending on time of day and time of year.
This is the highest-rated by far of Bermuda's two government-owned and run courses, considered one of the best - and most expensive - of world public courses. More rounds are played here than on any other Bermuda course. The signature hole has been the 176-yard, par 3 16th, the small green of which, perched on the edge of the coastal cliffs, has become notorious. Drive too far left and the ball ends up in the ocean. Site of the October 19-21, 2009 and 2010 PGA Grand Slam venues. With these in mind, in a $14 million Bermuda taxpayers investment, the greens were rebuilt, a huge amount of earth was moved by bulldozers, new sand put into trickier bunkers, cart paths repaved, a landscaping project completed, a new restaurant - 64 Degrees - and bar, pro shop and locker rooms, re-routing two holes, creating new bunkers, a computerized irrigation system from tees to greens, and the planting of TifEagle on redesigned greens. Bermuda Cedar trees also replaced Casuarinas and the course was lengthened to 6,842 yards, to make it the longest on the Island. The reverse osmosis plant produces 250,000 gallons of water per day on 1,200 new sprinkler heads.

St. George's Golf Club (reopening in 2020 or 2021)
Government owned, closed for now.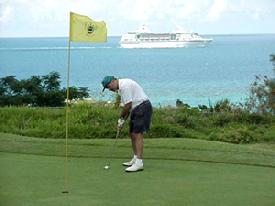 1 Park Road, St. George's GE 03. North of and near Town of St. George. Not on bus route. An 80 acres scenic 18 hole par 62 course over 4,043 yards, first opened in 1985. This was one of the last designed by Robert Trent Jones Senior prior to his retirement. Cruise ships pass by. Extensively renovated in most of 2006 to 6,000 yards and redesign by top British golf professional and winner of six Major tournaments Nick Faldo, by his corporation Faldo Design. The 18th hole is named after Bermuda's first Governor, Richard Moore. One of the greens overlooks historic Fort St. Catherine.
For golfing visitors who after 2019 will be arriving at the airport on one of the airlines or cruise ships, the closest cruise ship berth is the Town of St. George, about 2 miles away to the south. Until it closed, many cruise ship visitors played this course. Buses (# 1 or 3 or 10 or 11) go part of the way.
2019. July 16. Developers are hoping to complete a comprehensive makeover of St George's Golf Course before the end of next year. Hotelco Bermuda Holding Ltd, which is building a new hotel and residences near St Catherine's Beach, is also revamping the former government golf course, which was closed down by the club's trustees more than a decade ago. Now the group is asking for the public's support in keeping motorized vehicles and horses off the course as work progresses on the reconstruction of key course features, including green and tee boxes. December 2020 is the target for the completion of the course overhaul. Meanwhile the 120-room hotel, which will be operated by St Regis, is about 30 per cent complete, according to Hotelco Bermuda's general manager Laura Purroy. She added that the residences are about 15 per cent complete and that Hotelco hopes to have a model room and a model residence built before the end of this year. There are 128 workers on site, of whom 68 are Bermudian. Another beneficial economic side-effect of the project is that Hotelco rents 25 homes in the area to house some of its guest workers. It also buys 60 meals a day from Somers Supermart and a further 30 meals from the St George's Club. On February 18 this year, the Hotelco team began clearing vegetation including small trees from the overgrown golf course. Five months later, the clearing work is now 90 per cent done and the team is already working on the next phase: reconstruction of key features, including tees, greens and bunkers. Ms Purroy said: "This work has been a pleasant experience for all the team, especially thanks to the kindness of the people of Bermuda and the beauty of this wonderful island. We are grateful for the support we have received from our neighbours to preserve the work already done at the course. As we advance our efforts to restore this beautiful course to its former glory, we would like to request the support of the public in refraining from driving motor vehicles or riding horses on the golf course. As work progresses, certain golf cart paths will be restricted for the transit of private vehicles. The public's understanding in this regard will help our efforts to create a first-class golf course, which will be enjoyed by the people of Bermuda and our visitors alike for many years to come, a course for the island to be proud of." Salomon Valles, landscape and hardscape supervisor and the chief engineer for the project, said: "It is very important to mention that this is mostly a restoration project with just two new holes and the upgrading of the greens contours done by Steve Weisser of Reeds Jones golf architects. "Our main mission is to make this golf course environmentally friendly, socially responsible and economically sustainable, and with that in mind we are going to use materials that are available in Bermuda, many of them recycled materials." Recycled glass, for example is being used in new drainage trenches, while the sand dug out during work on the hotel is being used in golf course reconstruction work. Alexander Capitillo, the golf course redesign supervisor, said there would be a change in the route of the course, with the old 18th hole becoming the new first hole, and the 18th now being down near the hotel. He said the tenth, which follows a stretch of spectacular coastline, will be the course's signature hole. A 120-space parking lot will also be provided, close to a practice area, ideal for players to practise their short game. The course will total about 3,600 yards and will be par-60, with 12 par-three holes and the rest, par-fours.
2019. May 27. The rebirth of the former St George's golf course has been welcomed by an East End MP. Kim Swan, the Progressive Labour Party MP for St George's West and a former professional golfer, said the work, being carried out for the new St Regis Hotel, had made "good progress". He added: "It's made a huge difference to the aesthetic of the community." Mr Swan said: "I would go so far as to say it's increased people's property values in one fell swoop. It's certainly made the area more appealing. A finished product will add a great economic benefit to the community, when you factor in that a good golf course can play between 20,000 and 40,000 rounds a year depending on the marketing." Mr Swan highlighted deterioration of the course after it closed in 2008. Hotelco Bermuda, the developer of the new hotel, said clearance work at the course started in February and the job was 90 per cent finished. The developers will begin the reconstruction of main features such as greens, tees and bunkers, as well as starting to install a water-efficient irrigation system, over the next three months. Two new holes and a change in the play route will also be created. The course will be a par-60 to allow for a shorter play time.
With the new St. Regis Hotel being built, with completion due by 2019, the Bermuda Government has confirmed the new course will be taken out of state hands and run (although will still be owned by the government) by the hotel development company. When reopened, the course will likely be offered to both St. Regis Hotel guests and the general public.
Re-opened briefly in part in May 2011 after being closed since July 2008, as a joint venture with the Bermuda Chamber of Commerce, the St George's Club and the government's Economic Empowerment Zone (EEZ). The course was then maintained at a similar level to municipal courses in the UK. But because it was losing money for the Bermuda Government which owns the course and the latter wanted to allow for building of a planned adjacent new Park Hyatt hotel it was again closed. The hotel development never began until April 2017, which is why the golf course has remained closed.

Tucker's Point Golf, Beach & Tennis Club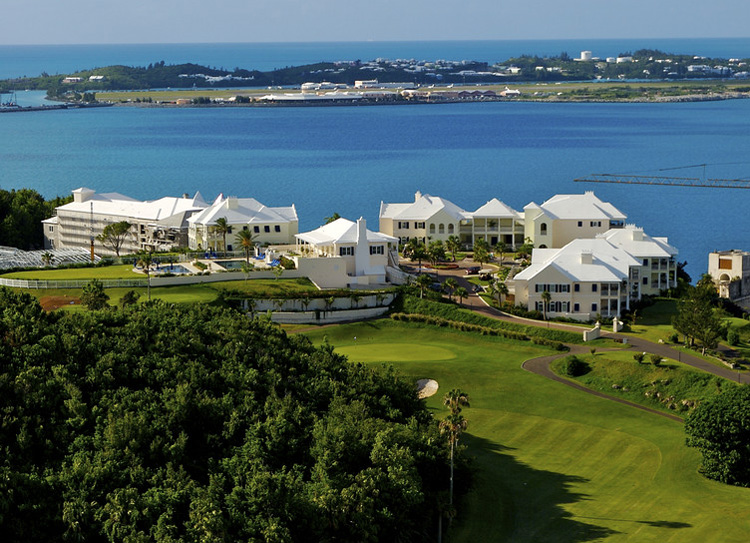 Tucker's Point Golf. Photo: Bermuda Tourism
60 Tucker's Point Drive, Hamilton Parish (East End). Phone (441) 292-6970. Fax:(441) 298-4001. Originally designed by Charles Banks and Robert Trent Jones for what was then the Castle Harbour Hotel, with later amendments by Californian Algie Pulley, it began as an 18-hole course, but was cut back to 9 holes during World War 2. It became a challenging 18 hole, par 71 course over 6,440 yards with sea views, when it was opened by the Governor of Bermuda in December, 1959. It has a scenic opening hole and incredible views. But with closure of the Castle Harbor hotel, it became 9 holes from January 10, 2000. It was completely re-vamped and reopened in April 2002 as 18 holes again. Of a very high standard, it is a private club for members only, similar to the Mid Ocean Golf Club. A par 70 course. The re-vamped Tucker's Point Golf, Beach and Tennis Club was formally opened in December 2004. Numbers 13 and 17 are new signature holes, back to back in east and west directions. # 17 has sweeping views of Tucker's Town and Castle Island. #13 has a panorama of the entire north coast and west end of the island with spectacular vistas and sunsets. The old number 10 is now number 12, reconfigured. Number 9 has been re-laid. Rye grass, Bermuda grass and a hybrid Bermuda grass have been used. The facilities also have clay tennis courts.
For visitors who arrive at the airport or on cruise ships, the closest cruise ship berth is the Town of St. George, about 6 miles away to the east. Take a taxi as buses (#1) go only to nearest stop about half a mile away below the hill. Check rates directly with course depending on time of day and time of year. Private but will accept off-the-street golfers by prior appointment. Ask about playability on the day you have in mind.
Situated between the harbors of St. George's and Castle Harbor, Tucker's Town was so-called because it was intended by a Bermuda Governor by the name of Tucker to be a port to rival St. George's. But it was far more exposed to the weather and failed to attract many early settlers. So it was never built. In 1781, 40 acres of cotton were found growing here, which led directly to the British government encouraging the planting of cotton as a commercial crop in 1788.
The golf driving range was once a neglected, not dug-up, cemetery. Ancestors of present-day black Bermudians (the great majority) are buried there. The tiny gravesite is surrounded by a wall of fairly recent vintage. While it contains the remains of only 12 or so known graves of the last century it is believed many more black men, women and children were much earlier planted without graves or coffins in the golf greens outside the wall. The original Tuckers Town - of which this golf course is a part - represented a Black community initially of free Blacks, and later of emancipated Blacks who struggled and successfully created a safe and isolated environment for their families by building their own school and church, and creating a community made up of land owning farmers, pilots and fishermen. Their lands were acquired by Bermuda Government (then white) compulsory purchase order in the 1920s for commercial tourism development.

Turtle Hill Golf Club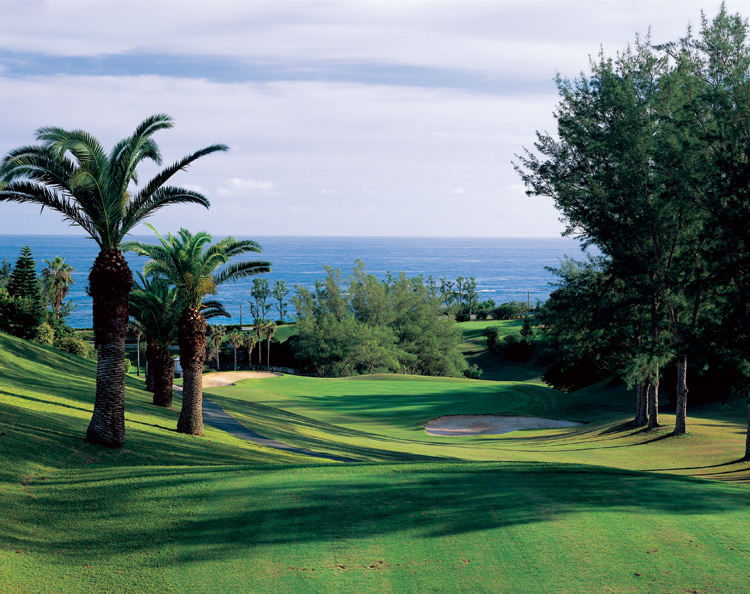 Turtle Hill Golf Club. Photo: Bermuda Tourism

Fairmont Southampton Hotel, 18 South Road, Southampton Parish SN 02. For reservations call (441) 238-8000. Fax (441) 238-8968. The golf course is part of and adjacent to the Southampton Princess Hotel complex. An 18 hole par 54, manageable yet quite challenging course over 2,684 yards. With superb marine and landscape views. Carts are mandatory and included in the green fees. There's a pro shop, tennis courts, bar and restaurant. Single Annual Membership; Double Annual Membership and an Initiation Fee. Members get special benefits. For visitors who arrive on cruise ships, the closest cruise ship berth is Dockyard, about 8 miles away. If you bring your own clubs, you won't be able to go by public transportation (bus). Instead, take a taxi. Buses (# 7 or 8) go only to nearest stop about half a mile away below the hill.

Bermuda Junior Golf Association
P.O. Box HM 224, Hamilton, HM AX. A very successful local sports development program, begun in 1975 when the Bermuda Golf Association (BGA) formed the Golf Development Committee which forged the basic development for junior golf in Bermuda.

Bermuda Government's involvement
It invests hugely annually in public golf course expenditure. The Board of Trustees of the Government-owned golf course pays over $3 million a year in salaries at Port Royal alone, including consultants for the course. Mechanics at the government golf courses earn over $63,000 a year while the General Manager earns over $115,500 and Assistant Superintendents earn between $80,000 and $93,000.

Boards of Trustees of the three Bermuda Government Golf Courses
Bermuda Government appointed under the Golf Courses (Consolidation) Act 1998.

Executive Women's Golf Association (EWGA)
Formed in 2012 to cater to female professionals looking to up their game both on and off the golf course. The Bermuda Chapter of Executive Women's Golf Association (EWGA) held informational sessions. Initially funded by the Department of Tourism and supported by golf directors from the Bermuda's golf courses. The international organization consists of more than 14,000 members in over 125 countries.

PGA Grand Slam of Golf, in Bermuda 2007-2014
The Professional Golfers Association of America (PGA) organization was formed in the United States in 1916 at the instigation of Rodman Wanamaker, a Philadelphia businessman, with the stated purpose of promoting interest in professional golf, elevating the standards of the game, and advancing the welfare of its members. By the early 21st century, the PGA had a membership of more than 25,000 playing and teaching professionals. The PGA Grand Slam of Golf is for the winners of the four majors in golf — the Masters, the US Open, the British Open and the PGA Championship. It was held yearly in Bermuda from October 2007 through 2014 at considerable cost to Bermuda's taxpayers. The Department of Tourism struck a deal with the PGA of America to play the prestigious 36-hole, $1.25 million event initially at the Mid Ocean Club (see below) from October 16-17, 2007, again in 2008 at the same place, then from 2009 to 2014 at the renovated Port Royal, instead of in Hawaii. It reached a worldwide audience of 88.9 million US homes and international viewers in more than 100 countries.
2014. Won by German professional golfer Martin Kaymer. Had a purse of a $1.35 million with the winner receiving $600,000. Second place was worth $300,000, third place $250,000 and fourth place $200,000. In 2014 it featured PGA and Open Champion Rory McIlroy, Masters winner Bubba Watson, US Open champion Martin Kymer and Jim Furyk,
2013. Won by Masters champion Australian Adam Scott who broke the course record with a 7-under 64 to win by two shots over U.S. Open champion Justin Rose.
2012. Won by Padraig Harrington.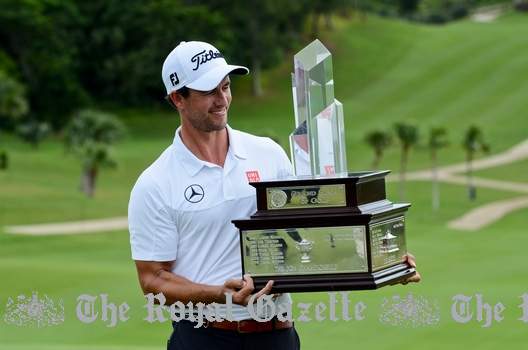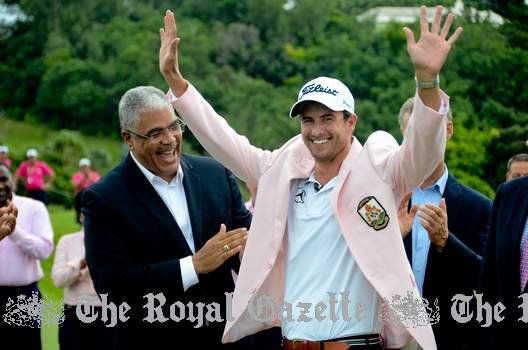 Bermuda 2013 PGA Grand Slam winner Adam Scott and below, with Bermuda's then-Premier Craig Cannonier. Winner is wearing Winner's Pink Jacket with Bermuda Crest, presented by Mr. Cannonier.



Authored, researched, compiled and website-managed by Keith A. Forbes.
Multi-national © 2020. All Rights Reserved