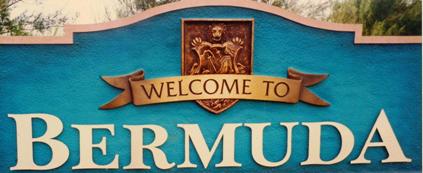 165+ web files, a regularly updated Gazetteer, overall an in-depth description of our island's internally self-governing British Overseas Territory 900 miles north of the Caribbean, 600 miles east of North Carolina, USA. With accommodation options, airlines, airport, actors, actresses, aviation, banks, beaches, Bermuda Dollar, Bermuda Government, Bermuda-incorporated businesses and companies including insurers and reinsurers, Bermudians, books and publications, bridges and causeway, charities, churches, citizenship by Status, City of Hamilton, commerce, communities, credit cards, cruise ships, cuisine, currency, disability accessibility, Devonshire Parish, districts, Dockyard, economy, education, employers, employment, environment, executorships, fauna, ferries, flora, former military bases, forts, gardens, geography, getting around, golf, guest houses, highways, history, historic properties, Hamilton, House of Assembly, housing, hotels, immigration, import duties, internet access, islands, laws, legal system and legislators, main roads, marriages, media, members of parliament, money, motor vehicles, municipalities, music and musicians, newcomers, newspaper, media, organizations, parks, parishes, Paget, Pembroke, performing artists, residents, pensions, political parties, postage stamps, public holidays, public transportation, railway trail, real estate, registries of aircraft and ships, religions, Royal Naval Dockyard, Sandys, senior citizens, Smith's, Somerset Village, Southampton, St. David's Island, St George's, Spanish Point, Spittal Pond, sports, taxes, telecommunications, time zone, traditions, tourism, Town of St. George, Tucker's Town, utilities, water sports, Warwick, weather, wildlife, work permits.
Bermuda's Golf Courses and Ranges
Nine, in our total of 21 square miles of land area

By Keith Archibald Forbes (see About Us) exclusively for Bermuda Online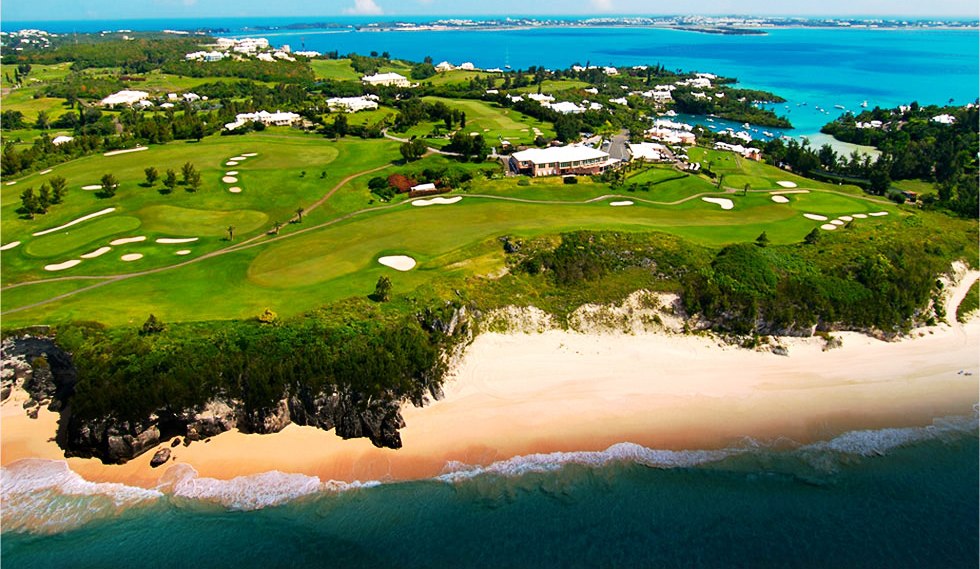 Bermuda Golf at Mid Ocean Club. Photo: Bermuda Tourism
Introduction
Golf was introduced to Bermuda when British Army officers brought their golf clubs in the late 1800s. Unlike tennis which was, golf did not get to the USA via Bermuda. In Scotland, UK, home of golf, the sport was introduced to the USA in the 1880s via the Dunfermline Golf Club to the Yonkers Golf Club and spread from the latter to all over the USA. Unlike in Scotland where anyone can play and visitors are welcomed by all clubs, private clubs in Bermuda welcome non-members only with an introduction from a member or if they are staying at an associated hotel (for example, at the Mid Ocean or Tuckers Point). Most Bermuda clubs are private but three - Ocean View, Port Royal (Bermuda's second best) and St. George's (presently closed) - shown below - are public courses owned by the Bermuda Government (in other words, Bermuda taxpayers) but are not free, charge fees. All the latter three has a management committee, Board of Trustees and golf pros approved by the present government.
Belmont Hills, private, 18 holes, 6017 yards, par 70

Fairmont Southampton Golf Club, private, 18 holes, 2737 yards, par 54.

Mid Ocean Club, Private. 18 holes, 6512 yards, par 71. PGA Grand Slam site 2007, 2008

Ocean View Golf Course. Public. 2940 yards, par 35. . See below re Bermuda Government's involvement.

Port Royal. Public. 18 holes, 6842 yards, par 71. Reopened in January 2009 after renovations. PGA Grand Slam site, 2009, 2010, 2011, 2012, 2013, 2014.

Riddell's Bay Golf and Country Club. Private. 18 holes, 5800 yards, par 70.

St. George's Golf Course. Public. 18 holes, 4043 yards, par 62. See below re Bermuda Government's involvement. Closed for demolition of nearby hotel and redesign.

Tucker's Point Golf Club, Private. 18 holes, 6361 yards, par 70.
They are shown alphabetically below, in more detail.
Bermuda golf tournaments include
Bacardi National Par 3.
Belmont Invitational.
Bermuda 3s World Team Championship
Bermuda Amateur.
Bermuda Amateur Four Ball.
Bermuda Championship (see below)
Bermuda Goodwill Golf Tournament, in December
Bermuda Institute Annual.
Bermuda Open.
Debbie Franklin Memorial.
Easter Lily Invitational for Ladies.
Goodwill Tournament.
Goslings International Invitational, November
Hacker's Cup. Charity Golf Tournament, played at both Mid Ocean and Port Royal. 2018, October. Eighth Annual. Autumn golfing tournament pitting celebrities against journalists.
Pompano Beach Club's couples golf tournament tees off later in October, continuing a long tradition that started about 15 yeas ago.
Ross "Blackie" Talbot Memorial Charity Invitational.
Senior Golf Classic.
Valentine's Mixed Foursome.
World Corporate Golf Challenge.
YES Annual Classic.
Nike Golf PGA Team Championship of Canada, often in Bermuda.
Annual Skyport, Aecon & Bermuda Airport Authority Charity Golf Day. See below.
2019. June 13.The PGA Tour Bermuda Championship. Port Royal Golf Club. October 31-November 3. "We are excited to add the Bermuda Championship to the PGA TOUR beginning next season," PGA Tour executive vice president Ty Votaw said. "Bermuda is an appealing year-round destination, and the players will love visiting in the fall, plus we will be hosted by an outstanding golf course. It promises to be a wonderful opportunity to showcase Bermuda - a beautiful island destination that embodies genuine hospitality - to the world." The Bermuda Tourism Authority will serve as the tournament's title sponsor through 2023. Port Royal previously played host to the now-defunct PGA Grand Slam of Golf, featuring the year's four major winners, from 2009-2014.
2018. November 29. The 1st Annual Skyport, Aecon & Bermuda Airport Authority Charity Golf Day raised more than $30,000 for two local charities. The event was held on October 11 at Tucker's Point Golf Club with all proceeds going to Mirrors and Big Brothers Big Sisters of Bermuda. Thirty teams registered to play with 120 golfers taking to the course for the inaugural event. Aaron Adderley, President, Skyport, says: "We are thrilled with the response to our first charity fundraiser. Mirrors and Big Brothers Big Sisters were both chosen for their positive impact on the lives of our young people. Skyport believes in supporting the education and development of kids by investing in schools and various programs, so for us, these two organizations were ideal charities to donate all proceeds to. We look forward to an even more successful event next year." Thanks to sponsors and partners, the 1st Annual Skyport, Aecon & Bermuda Airport Authority Charity Golf Day was able to raise $33,737 for charity in its first year. Many of the sponsors included subcontractors who are presently working on the site of the airport redevelopment project. Patrina O'Connor-Paynter, Managing Director, Big Brothers Big Sisters of Bermuda, says: "On behalf of Big Brothers Big Sisters of Bermuda, I would like to thank Skyport, Aecon, Bermuda Airport Authority and their partners for their commitment to the youth of Bermuda. We are truly grateful for this generous donation. We are also excited that members have reached out looking to get involved in both the BBBS and Mirrors programs by offering their time and various skill sets. This fundraiser has also encouraged BBBS and Mirrors to look at other ways we can collaborate and build on our relationship. Thank you for being a part of our village." Kimberley Jackson, Programme Coordinator, Mirrors, says: "On behalf of the entire Mirrors family, we are very much appreciative of this generous donation from Skyport, Aecon and Bermuda Airport Authority. The Mirrors Programme is committed to the success of youth. Our aim is to connect them to opportunities that can lead them to success, allowing them to participate as productive citizens of our community. This donation will allow us to further our cause and build on the relationship between Mirrors and Big Brothers Big Sisters. With help from supporters like Skyport, we will strengthen our youth and families for a better Bermuda. Thank you!" Sponsors for the event included Aecon, Argo, BAC Group of Companies, BCM McAlpine, Benson Steel, Bermuda Scaffolding, Burrows Lightbourne Ltd, Correia Construction, Current Vehicles, Digicel, Fairmont Southampton, Fish Construction, Foursite-Greymane, Glidepath, Grotto Bay Beach Resort, Hamilton Princess, HDDC, iHope Global, JetBlue, Kaissa, Lili Bermuda, LinkBermuda, Menzies Aviation, MEF, NYIAX, NORR, NR Windows, Palgag, Performance Solutions, Peugeot, Sea Cargo Air Cargo/Best Shipping, Rosewood Bermuda, Sea Link Construction, Security Associates, Scott Associates, Stantec, St. George's Club and Update Group.
Bermuda Golf Association
Victoria Place, 31 Victoria Street, Hamilton HM 10. P. O. Box HM 433, Hamilton. Phone 295-9972 or fax 295-0304.
Bermuda Golf courses
Designers of the ten local courses include Charles Banks, Deveraux Emmett, Robert Trent Jones, and Charles Blair Macdonald. There will eventually be a new one on the 250 acre former US Naval Annex in Southampton Parish - in an area now re-named Morgan's Point - but it is several years away. Many international events occur in Bermuda. Check directly with the golf clubs shown below for rates for playing, tee-off times, temporary or regular memberships, carts or pull carts, clubs, lessons and any specials.
Golfers in these islands since the 1940s have included Dwight Eisenhower, Jack Kennedy, Richard Nixon, George Bush and Jimmy Carter; Winston Churchill, Harold Macmillan and Edward Heath; Britain's Royal Family; and Babe Ruth. They, Bob Hope and countless others have enjoyed local conditions.
Some local golf clubs give lower rates to local senior citizens who are members but not to non-locals. Golfers can now book up to 60 days before tee off.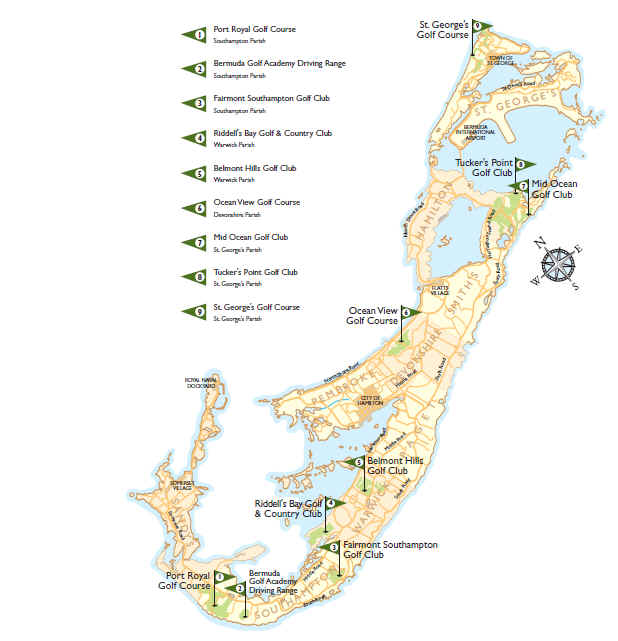 Belmont Hills Golf Club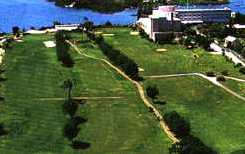 25 Belmont Hills Drive, Warwick Parish, WK 09. Telephone (441) 236-6400. Fax (441) 236-0694. Check rates directly with course depending on time of day and time of year. Private but will accept off-the-street golfers by prior appointment. features include Sunset Rate. Carts are mandatory for most of the day. It was designed originally by Deveraux Emmett and first opened for play in 1924. Formerly the Belmont Golf Club, then connected with the now-defunct and destroyed Belmont Hotel, mostly recently the Belmont Hills Golf and Country Club. From September 2001, it became under the management of Belmont Golf Course Management Ltd, 97 Middle Road, P. O. Box WK 251, Warwick WK BX. For visitors who arrive at the airport on one of the commercial airlines or cruise ships, the closest cruise ship berth is City of Hamilton, about 4 miles away to the east. If you bring your own clubs, you won't be able to go by public transportation (bus). Instead, take a taxi. Or if without clubs, consider taking the # 8 bus - the only way by public transportation - most of the way to the course.
It has an 18 hole. 6,017 yards long course, par 70. Facilities include a pro shop, snack bar and restaurant. A periodic Golf Special including green fees and cart is available from Monday to Friday for tee times from 2:00 pm. It closed in January 2002 for up to 15 months, for very extensive renovations (shown below). The course was reopened on June 1, 2003. It is more challenging, less hazardous and more attractive, designed by Californian Algie Pulley and his son Jeff, both of whom had had earlier carried out improvements at the former Castle Harbour course. This one has greens made faster by Tiff-Eagle sprigs, fairways made more lush by an irrigation system and a million-gallon lake located between holes two, seven and eight. Golfers are steered away from residential areas.
Holes 1 and 2 remain much the same s before but the third dog-legs up towards a new green just below the 4th green. The original 5th hole became the 4th and the original 6th the 5th, with a new green further to the left than before. The original 7th became a new par-five 6th winding its way through the lakes, with the 7th a new par-3. Rather than a dog-leg, the 8th is short, tight and straight and 9th almost the same but with the green moved slightly to the left with a new clubhouse to the left. The old 10th is the present 15th and 11th is where the 14th was. Each has new greens. The present par-5 10th became an even longer 12th, with a new green on the original 11th fairway. The 11th became the 13th, a straight par four over the existing "Ian Crowe" lake.
With safety in mind, the old 12th became the 14th, directed away from houses to the right. The 15th, 16th, 17th and 18th remain much as they were, except the 16th has a new green 30 feet to the left to take play away from homes on Belmont Road. Rubble taken from the demolition of the old Belmont hotel was used to fill in the large hollow on the 18th, long considered the most unfair of the golf course. With protected caves underneath the fairway, decisions were taken on how best to level out the land.
Overall, accurate iron play, rather than big hitting, is the key to success on this course. Take care to try to avoid hitting the ball into the lake.
2018. May 10. An innovative six-hole tournament is to be launched at Belmont Hills Golf Club in an effort to widen the game's appeal and help reverse a decline in participation on the island. The Bermuda Golf Association is hoping the Corona Golf Super6 tournament will also spark interest in the sport among those not classed as traditional fans. Craig Brown, the BGA president, said the event is in line with shifting patterns towards shorter and more dynamic sporting formats such as Twenty20 cricket, rugby sevens, and super-sprint team triathlons. Players of varying levels can sign up for the tournament, which will involve teams of four competing for points every Thursday from May 17 for six weeks in a relaxed and fun environment. There will be a week off on May 24 because of Bermuda Day. "The BGA has been keeping abreast of global patterns in the game," Brown said. "Globally, the golf landscape is changing, and Bermuda is no different. The number of rounds played per year are decreasing, our membership numbers are reducing and golfers are finding less available time to enjoy a traditional full round of 18 holes." Brown believes the event, a dramatic break from tradition in local golf, will attract social golfers, with players being encouraged to wear team shirts or football jerseys. The maximum gross handicap will be 24 for men and 30 for women. "The inaugural Corona Golf Super6 is open to all golf clubs, community clubs, sports clubs, corporate companies and groups of friends," Brown said. "We want to encourage people to come together, have fun and enjoy golf in a fun, alternative format. It is our intention, the Corona Golf Super6 will appeal to a large cross-section of our community and bring some fun activity to the local golf scene." Six-hole golf has been elbowing its way into the mainstream, with Ireland winning the second edition of the European Tour's GolfSixes at the Centurion Club in St Albans, England, last weekend. Another sign of golf's attempt to modernize came at the Zurich Classic of New Orleans last month, which included a two-man format for the second successive year. "On both sides of the Atlantic, over the last few weeks, we saw both of the two major golf tours hosting new formats of the game," Brown added. "The Golf Sixes in Europe and the two-man team event at the PGA Tour stop in New Orleans were introduced last season, both designed to inject fun and engage with a younger audience." The BGA intended to launch the competition, which will feature modified Stableford scoring, a 75 per cent handicap adjustment, and a shot clock, last summer but delayed plans as the island's focus was on the 35th America's Cup on the Great Sound. Brown emphasized that the BGA remained committed to protecting the traditional 18-hole format and will continue rolling out its full calendar of major amateur championships. "While we fully understand purists of the game may have a different outlook with a new format, we feel in order to grow, we need to adapt," said Brown, who added that additional points will be awarded to teams including female players. The BGA still offer a full, traditional golf calendar, hosting the major amateur championships, and our monthly medals throughout the island." The team entry fee is $1,200 for six registered players, including 36 holes, green fees and a cart. Any four of the six registered players can represent the team. Special guests, including visitors to the island, can play for a team and register on the day of play for $100. All proceeds will go towards the Bermuda Golf Foundation in aid of the BGF Golf in Schools and Young Pro Programmes. The event is sponsored by Corona Extra, Premier Tix, Belmont Hills, Divots and APEX Physio. The two best net scores on each hole will count for points. The accumulated total of modified stableford points over the six holes will produce a team total for the week. Each team will receive points dependent on their weekly six holes and placement in the field. Ten additional bonus points are available for mixed teams. Week one to three will be straight points. Week four to six will be double points. The champions will be the team that accumulates the most overall points. Points
Double Bogey +1
Bogey +2
Par +3
Birdie +4
Eagle +5
Albatross +6
2016. January 11. Belmont Hills Golf Course has teed off a $1.5 million renovation programme. The Warwick course is to demolish its existing clubhouse and restaurant and rebuild bigger and better facilities. The development will feature a larger members' lounge and bar along with a new restaurant and pro shop. At the same time, Blu Bar and Grill, which shares the building, will expand into the present pro shop to add around 2,000 square feet to its floor space to create a new private dining room. Larry Doyle, the Belmont Hills owner and US businessman, said: "The members of Belmont — most of whom have been loyal to the club for many years — have waited a long time for the much needed upgrade in this area and I am happy to be able to do this for them." Mr Doyle, a hedge fund manager who already owns the old Lantana property in Somerset, sealed the deal for the Newstead Hotel and Belmont Hills last year with a price tag thought to be as high as $18 million, although the terms were never disclosed. He said: "When I invested in Newstead and Belmont back in 2014 I said my intention was to invest further. I am pleased that my building plans were approved and I can now do this." The existing Shanks restaurant will be "razed" and rebuilt with more space and higher ceilings, while a new pro shop will also be built to replace the existing one, located next to Blu on the upper floor of the complex. Mr Doyle said: "The restaurant downstairs was really tired and needed a big upgrade. I just think the members have been very loyal to the place and it was really beyond tired. It had been neglected for years — I was hoping to get it done a year ago, but it took time to get all of the approvals." Mr Doyle added that the expected America's Cup boost to tourism in 2017 had not been factored into the plans, as he had designs on improvements before the Island was chosen as the venue for the coveted sailing event. But he added: "We feared the America's Cup might take construction crews away from us, so we thought we'd better get on with it." Mr Doyle said that Blu, run by the Dining Bermuda chain, which also includes Little Venice and L'Oriental in Hamilton, as well as the luxury yacht Venetian, would be reopen in three months, while the golf course improvements would be completed by mid-August. Belmont general manager Bushara Bushara added: "I'm excited about this major improvement for our members — expect more news about other improvements during 2016." Dining Bermuda partner Constanzo Di Meglio, who manages Blu, said that taking over the present pro shop would also mean a bigger patio area, with views over the golf course and the Great Sound, the venue for the America's Cup finals. He added: "We wanted a larger and more beautiful terrace. It's a beautiful view and I think unique in Bermuda. It will also be facing where the America's Cup is going to be held." And Mr Di Meglio said: "We will be refurbishing the lounge — it's going to be more like a living room than just tables and chairs."
Boards of Trustees of the three Bermuda Government Golf Courses
Bermuda Government appointed under the Golf Courses (Consolidation) Act 1998. See Bermuda Government Boards.
Castle Harbour
See "Tucker's Point."
Fun Golf
Since 2015. At Dockyard. Mini golf course. A favourite of locals and overseas guests.
Mid Ocean Golf Club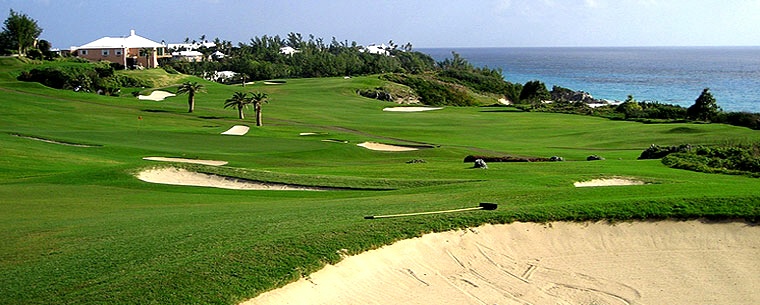 Photo: Bermuda Tourism
1 Mid Ocean Drive, Hamilton Parish (East End). Phone (441) 293-0330. Fax (441) 293-8837. Bermuda's number one private course. A private club, an introduction is needed from a member, or try an hotel's Social Desk or cruise ship's Shore Excursion office. The first three holes run parallel to the ocean. Designed originally by Charles Blair MacDonald to fit into the natural terrain. It was a par-71 layout, over 600 acres of rolling countryside, 6,519 yards from the back tees. MacDonald won the first US Amateur Golf Championship in 1895 and later designed the National Golf Course in the USA. The course first opened for play in 1921 and was officially declared open in 1922. Ralph A. Kennedy of Mamaroneck, NY, regarded at the time as the "Dr. Livingstone of Golf," rated it one of the five best courses in the world in the 1920s. It was revised in 1953 by international golf course architect Robert Trent Jones. In the 1990s this course hosted the Merrill Lynch Classic and later the Gillette Classic. All the greens were re-built in 2002. The club played host to the PGA Grand Slam of Golf in 2007 and 2008. Today, it is ranked the 47th best golf course outside of the United States by Golf Digest. In October 2015 it hosted the inaugural Nike Golf PGA Team Championship of Canada and it is hoped this can be repeated.
Distinguished persons who have played there include heads of state as Presidents Dwight Eisenhower; Richard Nixon; John F. Kennedy; Jimmy Carter; George H. W. Bush and Dwight Eisenhower; The Duke of Windsor; Winston Churchill; Harold Macmillan; Edward Heath; former Canadian Prime Minister Brian Mulroney. Golf celebrities have included Sam Sneed and baseball icon Babe Ruth. When the latter, normally as good with a club as he was with a bat, played the 433-yard fifth, known as the "Cape," he knocked eleven straight balls into Mangrove Lake before finally driving one over the hazard.
For visitors who arrive at the airport on one of the commercial airlines or cruise ships, the closest cruise ship berth is Town of St. George, about 5 miles away to the south west. If you bring your own clubs, you won't be able to go by public transportation (bus). Instead, take a taxi. If without clubs, take the # 1 bus to property and walk. Check rates directly with course depending on time of day and time of year. Private but will accept some off-the-street golfers by prior appointment if referred by a member. Ask about playability on the day you have in mind.
Ocean View Golf Club (9 holes, Government-owned)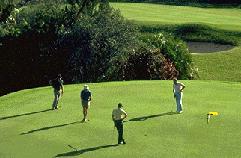 2 Barker's Hill Road, Devonshire Parish DV 05. P. O. Box DV 358, Devonshire DV BX. Phone (441) 295-9092. Fax (441) 295-9097. A Bermuda Government-owned public golf course, the regulatory agency of which is the Ministry of Tourism, charging membership fees to locals and admission fees to tourists and visitors. A 9 hole par 35 course over 2,819 yards. In the past, the trustees and Government had relied on the Port Royal course to subsidize Ocean View. The problem with Ocean View is the traffic. It's only nine holes so unlike an 18-hole course you can only have so many on the course at any one time. Ocean View historically has been a working man's club and was taken over by Government in the 1990s but before that it was run by the members. The site of one of the units of the clubhouse here was once a grand old manor house known as Watlington House, now used as a storage facility. It was used for British Army purposes during World War 2. The former Fort Langton and part of its structure were used as the foundations for the clubhouse after the war and more of the former fort became the bus garage in the 1970s. On the field below the bus garage, now the golf course, were two US Army posts during World War 11. One was a unit of the US Army Signal Corps and the other was the US Army's Artillery, at APO 856. It was a unit (including 1st Platoon Battery A) of the 423rd Field Artillery Group, under the command of Captain F. W. Clipper, US Army. For visitors who arrive on one of the cruise ships, the closest cruise ship berth used to be (until 2007) the City of Hamilton, about 5 miles away to the east, but is now Dockyard, about 12 miles away. If you bring your own clubs, you won't be able to go by public transportation (bus). Instead, take a taxi. Buses only go a part of the way. Check rates directly with course depending on time of day and time of year. Public. Ask about playability on the day you have in mind.
2018. February 8. The golf club that removed the colour bar in the sport has been honored by the Governor. John Rankin presented the Ocean View Golf Club with the memoirs of former governor Sir Julian Gascoigne, who presented the club with the Governor's Cup in 1964 to help in its battle to overturn the island's racial segregation. Cheryl-Lynne Thompson, president of Ocean View, said it was "the first golf club on the island that allowed black Bermudians and those of Portuguese descent to play". She said: "At a time of need, it was supported by Sir Julian, as Governor of Bermuda, including through the holding of a meeting at Government House, to which members of the House of Assembly were invited. Ocean View then played a key role in bringing about the desegregation of golf in Bermuda." Ms Thompson added that the club will celebrate its 64th anniversary on Sunday and mark the journey in which black members worked hard to create a golf course from overgrown farmland. She added club members had "a lot of financial worries hanging over their heads" during its history and it had been twice hit by arson. The Government bought the land in Devonshire in 1961, but two surviving members of Ocean View's original executive board can trace its roots back decades beyond that. The Reverend Vernon Lowe, Ocean View's first president, joined past executive member Harrison Simons to talk about the club's past. Mr Lowe said A.B. Place, editor of the Bermuda Recorder, asked the land-rich Gibbons family for help to create a proper golf course. Mr Lowe said: "They developed a nine-hole golf course named Ocean View. Mr Place was the first president in the organisation of the golf course, and I was the first president in the operation. My brothers, and others who were interested in golf, used to get down on their hands and knees and pull up the sage bushes so we would have a fairway to play golf until it was constructed and then we, with pride, decided to formulate a golf organisation and here we are." Mr Lowe added the drive to develop Ocean View went back to "the late 1930s, early 1940s. It's because of the capability of golfers that we had as colored people. We were complaining at not being able to play the other courses without going down there first thing in the morning, 5am, to play. After we got organized and started playing here, I wrote a column for the Recorder called 'Up and Down the Fairway'." The column caught the attention of Sir Alexander Hood, Governor from 1949 to 1955, who invited Mr Lowe, now 91, to have tea at Government House, where they discussed the issue of "bringing together the races". Mr Lowe said: "I informed him that Bermuda was too small to have such a division of the races." The cause was taken up by Sir Julian, Governor from 1959 to 1964, who gave the club "a huge cup, still being played for", to help unite a racially fragmented community. Mr Lowe added: "It did help in some aspects. Ocean View played Mid Ocean on this course, and they went also to play at Mid Ocean. It did bring about some change in the environment of the Bermuda Golf Association." Mr Simons, 80, looked back on getting involved in the mid-1960s when Ocean View was "really not a golf course, it was run by the British garrison until they left". He said a group of 25 men formed Ocean View's first executive group. Mr Simons added: "When the former president approached the Governor about us having this golf course, Bermuda was in a very segregated place." He said the Government allowed the land to be used on condition it would be "for all people, meaning brown, yellow, black and white". Mr Simons added: "The response was yes. Hence this golf course, known as the garrison golf course, was given to Ocean View." Farm animals still roamed the Devonshire land overlooking North Shore when the club took over. The course was nicknamed "the cow pasture" as a result. Mr Simons said: "But since that time, we stood with it, we worked hard, and when the Governor agreed to give us this golf course, we all came in many times on a Thursday afternoon or Saturday morning and prepared greens so that anybody could play. We have produced some of the best golfers in Bermuda. We stand by our record 100 per cent." Mr Simons said he hoped to erect a plaque to the three founders of Ocean View, the Reverend Erskine Simons, Bill Pitt Sr, and George Lowe. The memorial would mark the site of the first club house, which was built of wood. Mr Simons said: "One day the wind was in the right place, and somebody set fire to it. We lost all the golf clubs, the pounds, shillings and pence. It all went up in a blaze. We stood with it, and were able to bounce back, and come up with this facility." Brian Morris, head golf professional at Ocean View, said it was important to keep the memory of the club's past alive: "It's important for me. It's my obligation, not just for my job, but to the club. I started golfing here when I was 7 or 8. I'm from Devonshire and my first tournament was here. These days there is a lot of excitement around the club, and a lot of the old traits are coming back. It's always been social. We just need to get the great golfers back. These guys were sharp in their day."
Port Royal Golf Course (Government-owned)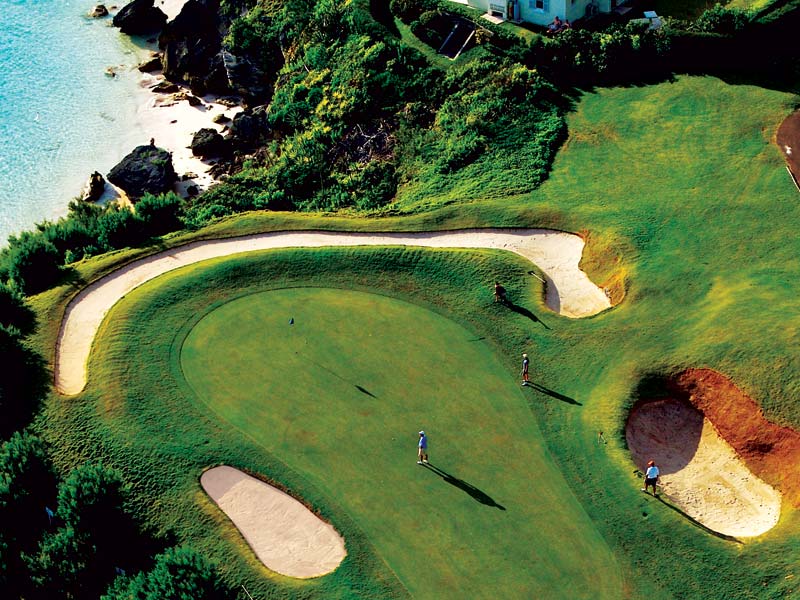 Photo: Bermuda Tourism
5 Middle Road, Southampton Parish, SB 02. Mailing address P. O. Box SN 189, Southampton, Bermuda SN BX. Phone (441) 234-0974. Fax (441) 234-3562. It opened in 1970 as a Robert Trent Jones-designed 18 hole, 6,561 yards par 71 public course. Re-opened in January 2009 after a final-cost $15.9 million (originally $7 million budgeted) renovation of the 37 years old course including increase of the course yardage by 281 yards to 6,842 yards. In June 2006, the Bermuda Government's House of Assembly passed an Act that switched responsibility for the Government golf courses from the Ministry of Works & Engineering to Tourism. It hosts many tournaments and has been the home of the Bermuda Open. Sunset golf is from 4:00 pm with a reservation.
Since it re-opened, a $3,000 initiation fee became applicable, plus a yearly subscription of $3,500, but some elderly Bermudians are exempted from the former. Also, Bermudians pay 30% less than visitors.
For visitors who arrive on one of the cruise ships, the closest cruise ship berth is Dockyard, about 8 miles away.
Buses go to nearest stop about 600 yards away. If you bring your own clubs, you won't be able to go by public transportation (bus). Instead, take a taxi. Check rates with course depending on time of day and time of year. This is the highest-rated by far of Bermuda's two government-owned and run courses, considered one of the best - and most expensive - of world public courses. More rounds are played here than on any other Bermuda course. The signature hole has been the 176-yard, par 3 16th, the small green of which, perched on the edge of the coastal cliffs, has become notorious. Drive too far left and the ball ends up in the ocean. Site of the October 19-21, 2009 and 2010 PGA Grand Slam venues. With these in mind, in a $14 million Bermuda taxpayers investment, the greens were rebuilt, a huge amount of earth was moved by bulldozers, new sand put into trickier bunkers, cart paths repaved, a landscaping project completed, a new restaurant - 64 Degrees - and bar, pro shop and locker rooms, re-routing two holes, creating new bunkers, a computerized irrigation system from tees to greens, and the planting of TifEagle on redesigned greens. Bermuda Cedar trees also replaced Casuarinas and the course was lengthened to 6,842 yards, to make it the longest on the Island. The reverse osmosis plant produces 250,000 gallons of water per day on 1,200 new sprinkler heads. Here, as grounds workers, until September 2010 the Bermuda Government employed four men, Uighurs, who were once prisoners of the USA at its notorious Guantanamo Bay detention camp as suspected terrorists.
Riddell's Bay Golf and Country Club (18 holes), now closed permanently

Photo: Bermuda Tourism
2019. July 20. The owners of the former Riddell's Bay Golf Course have applied to break up the land into 22 lots. A subdivision application, submitted to the Department of Planning by Castile Holdings earlier this month, proposed the creation of new lots on the recreation-zoned land as part of a plan to create luxury homes. The proposed subdivision at the Warwick site would create seven homes on the western side of the land, nine on the eastern edge and another two on the southeast side. The centre of the property would remain undeveloped with four lots made up of 14 acres of open space, 12 acres of open-space woodland, 18 acres of nature reserve and 22 acres of land zoned for recreational use. The master plan for the project said Riddell's Bay Gardens and Nature Reserve will "create a unique and unprecedented model of conservation management in Bermuda". The document said: "The Riddell's Bay project aims to reconvert and rehabilitate more than 66 acres of land, formerly occupied by a bankrupt golf course. More than 38 acres will benefit from increased conservation zoning in areas identified as having prime ecological value. The financing to maintain and convert this extensive area into a combination of nature reserve, open space and recreational space will be entirely private and funded through the addition of low impact residential lots. In addition to restoring a once heavily treated area of open space, the proposal will allow for limited public access." A report from Bermuda Environmental Consulting said 51 per cent of the property would be a combination of coastal reserve, nature reserve and open space, with another 22 per cent retained as recreational land. The report added: "Private funding for the initiative will be achieved through the sale of three existing lots, plus the creation and sale of 18 new, low-density recreational lots through an endowment, to be set up through those sales coupled with monthly homeowners association fees." Residential lots will cover 23 acres, or 24.5 per cent of the site. The report said that the proposal, if approved, would reduce the amount of recreational land, but that the remainder of the land would receive greater use. It added: "As there is no current formal recreational use installed on the land, this change in zoning does not impact any user group or functionality, but primarily impacts the zoning pattern as articulated in the Draft 2018 Bermuda Plan. In fact, public access will be enhanced and neighborhood access will be formalized and both these groups will be able to utilize the site for passive recreation, thereby increasing the recreational functionality of the site over the current baseline. Therefore, though reduced in size, any material perception of loss of recreational-use lands is not expected given that 66 acres will, for the first time, be available for passive open-space activities by the area community." The report said there had been consultation with residents and environmental groups, such as the Bermuda Environmental Sustainability Taskforce, and some changes to the plan had been made as a result. It said one lot that had been earmarked for residential development was included in the nature reserve after David Wingate, a veteran conservationist, said it was "critical" to do so. Riddell's Bay, Bermuda's oldest course, closed in March 2016 after nearly a century because the club could not meet its operational costs. The Royal Gazette revealed later that year that a group of island-based investors had banded together to buy the golf course and planned to create a conservation zone with a limited amount of land used for residential lots on "the outer fringes" of the area. The subdivision application can be seen at the Department of Planning offices in the Dame Lois Browne-Evans Building on Court Street, Hamilton.
2016. December 19. The Bermuda National Trust has welcomed the idea of proposals to transform the old Riddell's Bay Golf and Country Club in Warwick into a 50-acre nature reserve. But the charity, whose objective is preserving many of the island's open spaces, has urged investors behind the scheme to consult with the Trust as plans progress. A group of local investors has purchased the property. It hopes to use the majority of the land as a conservation zone, although the deal has not been finalized. The group has said only a "minimal amount of land on the outer fringes of the property" would be kept for "very low-impact, restricted, residential lots" and not condominiums. Bill Zuill, the Trust's executive director, told The Royal Gazette: "We have not seen any of the plans as yet, but we would hope to have some discussions with the proposed buyers soon. In principle, the Trust naturally welcomes the idea of establishing nature reserves but we would need to know much more about the proposal, especially how much of the land would be rezoned and set aside for sale and development and where it is located, before we can take a position for or against the idea. We do not know enough about it at the moment, but we would certainly hope that the investors would talk to us and consult with us. That has not happened, but we would welcome it. We would like to be part of the conversation." The new plans also call for the planting of more than 500 endemics and "stunning natural gardens", significantly larger than the 36-acre Botanical Gardens. Riddell's Bay, Bermuda's oldest course, closed abruptly on March 31 after nearly a century because the club could not meet operational costs. The group of investors, the majority of whom are Bermudian, met with residents in October to outline their vision. They maintain that the majority of local residents are in favour of the project.
2016. November 30. Investors behind plans to transform the old Riddell's Bay Golf and Country Club into a 50-acre nature reserve have described their venture as an "unprecedented conservation project". At the beginning of this month The Royal Gazette revealed that a group of local investors had joined together to purchase the property hoping to use the majority of the land as a conservation zone. The proposals prompted some residents and club members to launch a petition against the plans over fears they will include residential development. But this week the group said only a "minimal amount of land on the outer fringes of the property" would be kept for "very low impact, restricted, residential lots" and not condominiums. "We aim to protect most of the land by rezoning it to a much more restrictive and protected zoning status such as Nature Reserve, Conservation, Park and Open Space Reserve," a spokeswoman for the investors said. "Once this project is finalized, Bermudians will be able to benefit from over 50 acres of reforested conservation area, which will be the first of its kind in Bermuda of this scale. This is a unique opportunity to undertake an unprecedented conservation project for the benefit of Bermuda. The new plans call for the planting of over 500 endemics and stunning natural gardens, significantly larger than the 36-acre Botanical Gardens. The conservation project is being undertaken in consultation with highly respected landscape architects and Bermuda's leading environmentalists; all highly accomplished Bermudians in their fields." Riddell's Bay Golf and Country Club, Bermuda's oldest course, closed abruptly on March 31 after nearly a century in operation because the club could not meet operational costs. The group of investors, the majority of whom are Bermudian, met with local residents in October to outline their vision. They maintain that the majority of local residents are in favour of the project. However, those behind the petition claim the Development and Planning Act 1974 should protect the golf course from residential and commercial real estate development. The petition, which has attracted 363 signatures and been sent to Cole Simons, the Minister of the Environment, and local Government MP Jeff Sousa, states: "[We are] asking Government to protect and prevent Riddell's Bay from being rezoned and developed into housing. [We] are demanding that it remain zoned as recreational space and have high hopes of it remaining a golf course. We believe that any efforts to rezone the property would set a dangerous precedent for all of Bermuda's property zoned Recreation and impact the island's limited green space." The group of investors say the petition is being promoted by one or two individuals and insist they want to provide greater protection for the land by making it a nature reserve. Several residents contacted The Royal Gazette yesterday to express their support for the project. Elspeth Weisberg, who owns a property on Burgess Point Road, said: "My overall message is that the majority of residents support the ideas proposed. It's qualified support because no one wanted to see the golf course close. The majority of us feel this is the best option that has been presented." Resident Stephen Catlin added: "I have immense sympathy with the disappointment of losing the golf club but unfortunately getting a golf club back now will never happen. Many of us feel we have to be pragmatic and be grateful for the different proposal." Meanwhile, resident Gill Riihiluoma added: "I have been playing golf at Riddell's Bay for 40 years and if it could be a course again it would be fantastic, but there is just no way this is going to be possible. I am 100 per cent behind these new proposals; it is the best way forward." Nick Jones, a Riddell's Bay resident of 53 years, told The Royal Gazette: "I personally think that what they are doing is a big positive for the area. I will support them going forward." Another resident, who owns a Riddell's Bay property and asked not to be named, added: "If it pans out as they suggest with a large swathe of land dedicated to green space that is a positive thing for Bermuda. If that means giving up some small area of land to residential that is fine by me. Bermuda already has a sufficient number of golf courses, losing one and gaining a large area of green space is fine."
2016. November 1. A group of local investors have joined together to purchase Riddell's Bay Golf and Country Club. The Royal Gazette understands that the group plans to use the majority of the land as a conservation or green zone, with provision for a 50-acre nature reserve. Representatives from the investors met with Riddell's Bay residents last Tuesday to outline their vision for the golf and country club that closed down abruptly at the end of March. One resident, who was at the meeting, however expressed concerns that the group planned to use some of the Riddell's Bay property for residential purposes. "We were basically told that they would be closing the golf course," the resident, who asked not to be named, said. "They also outlined plans for a 50-acre nature reserve. But there is some concern that there are proposals to use some of the land for residential purposes. There has been a lot of uncertainty around the property for some time now since it closed earlier this year and the grass around the course is getting longer and longer. So some residents might say they are happy that someone has actually done something about this situation. But then on the other side of that, there has also been a plan put forward by residents and members to maintain the operation of the golf course." The Royal Gazette reached out to the group of investors — the majority of whom are Bermudian — for a comment on this story, but none was forthcoming. Riddell's Bay Golf and Country Club, Bermuda's oldest course, closed on March 31 this year after nearly a century in operation. Professional services firm PwC, who were appointed as liquidators, said the club had "limited and insufficient cash" to meet operational costs and "that there is no prospect of the necessary funding becoming available in the immediate future". Members were told to clear out their lockers, while pre-booked parties and events at the clubhouse were cancelled. PwC's Alison Tomb and Simon Conway were appointed joint provisional liquidators to liquidate the club after the board of directors lodged a petition with the Bermuda Supreme Court. A few days after the closure construction company chief Zane DeSilva revealed he had designs on the course and a plan to bring it back to profitable operation. In June the joint provisional liquidators announced that they had sold two residential plots, fronting the Great Sound, separate from the closed course. Alison Tomb and Simon Conway of PwC, joint provisional liquidators of Riddell's Bay Golf and Country Club Limited, said last night: "At this point in time, we are not at liberty to disclose discussions that have taken place but we are hopeful that a sale will be completed in the coming weeks. As soon as we are in a position to make a formal announcement we will do so."
2016. April 1. Cash-strapped Riddell's Bay Golf and Country Club is to close after nearly a century, it was revealed yesterday. Professional services firm PwC, who have been appointed as liquidators, said the club had "limited and insufficient cash" to meet operational costs and "that there is no prospect of the necessary funding becoming available in the immediate future". A spokeswoman for PwC said: "In these circumstances, they regretfully have reached the view that there is no alternative but to immediately cease operations of Riddell's Bay Golf and Country Club for the foreseeable future." It is understood the staff at the Warwick club — said by a member to number about 30 — were told the grim news at a meeting yesterday. Members were told to clear out their lockers yesterday, while pre-booked parties and events at the clubhouse have been cancelled. Locks have been changed and a sign put up saying that the course was now closed. PwC added that they would be speaking to employees, creditors and club members. Memberships, due to expire at the end of this month, will not be renewed. Annette Beveridge, the financial controller at the club, did not return calls from The Royal Gazette yesterday. PwC's Alison Tomb and Simon Conway were appointed to liquidate the club after the board of directors lodged a petition with the Bermuda Supreme Court. The PwC spokeswoman said: "In their petition, the board indicated that the company had been struggling financially for some years and that their efforts to seek a buyer or investor had not been successful. Furthermore, given the company's operating losses and its inability to meet its debts as they fell due, the board considered that they had no alternative but to seek the appointment of provisional liquidators. Over the next few weeks, the provisional liquidators will assess the situation and the most appropriate strategy to generate value to enable the company's creditors to be paid." One longstanding member at the club, which had been in operation since 1922, said: "It's like a lot of golf courses — they're suffering and it's just a question of cash flow from operations. The balance sheet is all right because they have valuable property there." The source added that members "won't be delighted" at the closure. But he said: "Hopefully it's not a permanent thing and someone will see the value of the club and open it again." The club is the second course on the island to close in recent times.
26 Riddell's Bay Road, Warwick Parish WK 04. P. O. Box WK 236, Warwick, WK BX. Phone (441) 238-1060. Fax (441) 238-1203. The club opened in 1922. It was the first 18-hole course in Bermuda, originally over 5549 yards and was designed by Deveraux Emmett (who also designed the Congressional Golf Club near Washington, DC). When the Duke of Windsor played there in August 1940 during his stopover in Bermuda on his way to the Bahamas as Governor with his American wife, he pulled off a spectacular shot on the home hole. The course is now par 69 over 5,588 yards. Privately owned, an introduction from a member is required for non-members. With a bar and restaurant. On a peninsula, the first hole is the most difficult in Bermuda.
For visitors who arrive on one of the cruise ships, the closest cruise ship berth used to be (until 2007) the City of Hamilton, about 5 miles away to the east, but is now Dockyard, about 8 miles away. If you bring your own clubs, you won't be able to go by public transportation (bus). Instead, take a taxi. Buses go only to nearest stop about a mile away. Check rates directly with course depending on time of day and time of year. Private but will accept off-the-street golfers by prior appointment. Ask about playability on the day you have in mind.
St. George's Golf Club, Government-owned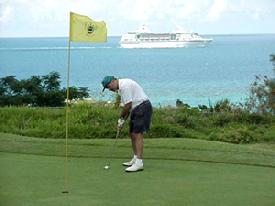 Closed at this time but reopening in 2019.. 1 Park Road, St. George's GE 03. North of and near Town of St. George. Not on bus route. An 80 acres scenic 18 hole par 62 course over 4,043 yards, first opened in 1985. This was one of the last designed by Robert Trent Jones Senior prior to his retirement. Cruise ships pass by. Extensively renovated in most of 2006 to 6,000 yards and redesign by top British golf professional and winner of six Major tournaments Nick Faldo, by his corporation Faldo Design. The 18th hole is named after Bermuda's first Governor, Richard Moore. One of the greens overlooks historic Fort St. Catherine.
For golfing visitors who after 2019 will be arriving at the airport on one of the commercial airlines or cruise ships, the closest cruise ship berth is the Town of St. George, about 2 miles away to the south. Until it closed, many cruise ship visitors played this course. Buses (# 1 or 3 or 10 or 11) go part of the way.
2019. July 16. Developers are hoping to complete a comprehensive makeover of St George's Golf Course before the end of next year. Hotelco Bermuda Holding Ltd, which is building a new hotel and residences near St Catherine's Beach, is also revamping the former government golf course, which was closed down by the club's trustees more than a decade ago. Now the group is asking for the public's support in keeping motorized vehicles and horses off the course as work progresses on the reconstruction of key course features, including green and tee boxes. December 2020 is the target for the completion of the course overhaul. Meanwhile the 120-room hotel, which will be operated by St Regis, is about 30 per cent complete, according to Hotelco Bermuda's general manager Laura Purroy. She added that the residences are about 15 per cent complete and that Hotelco hopes to have a model room and a model residence built before the end of this year. There are 128 workers on site, of whom 68 are Bermudian. Another beneficial economic side-effect of the project is that Hotelco rents 25 homes in the area to house some of its guest workers. It also buys 60 meals a day from Somers Supermart and a further 30 meals from the St George's Club. On February 18 this year, the Hotelco team began clearing vegetation including small trees from the overgrown golf course. Five months later, the clearing work is now 90 per cent done and the team is already working on the next phase: reconstruction of key features, including tees, greens and bunkers. Ms Purroy said: "This work has been a pleasant experience for all the team, especially thanks to the kindness of the people of Bermuda and the beauty of this wonderful island. We are grateful for the support we have received from our neighbours to preserve the work already done at the course. As we advance our efforts to restore this beautiful course to its former glory, we would like to request the support of the public in refraining from driving motor vehicles or riding horses on the golf course. As work progresses, certain golf cart paths will be restricted for the transit of private vehicles. The public's understanding in this regard will help our efforts to create a first-class golf course, which will be enjoyed by the people of Bermuda and our visitors alike for many years to come, a course for the island to be proud of." Salomon Valles, landscape and hardscape supervisor and the chief engineer for the project, said: "It is very important to mention that this is mostly a restoration project with just two new holes and the upgrading of the greens contours done by Steve Weisser of Reeds Jones golf architects. "Our main mission is to make this golf course environmentally friendly, socially responsible and economically sustainable, and with that in mind we are going to use materials that are available in Bermuda, many of them recycled materials." Recycled glass, for example is being used in new drainage trenches, while the sand dug out during work on the hotel is being used in golf course reconstruction work. Alexander Capitillo, the golf course redesign supervisor, said there would be a change in the route of the course, with the old 18th hole becoming the new first hole, and the 18th now being down near the hotel. He said the tenth, which follows a stretch of spectacular coastline, will be the course's signature hole. A 120-space parking lot will also be provided, close to a practice area, ideal for players to practise their short game. The course will total about 3,600 yards and will be par-60, with 12 par-three holes and the rest, par-fours.
2019. May 27. The rebirth of the former St George's golf course has been welcomed by an East End MP. Kim Swan, the Progressive Labour Party MP for St George's West and a former professional golfer, said the work, being carried out for the new St Regis Hotel, had made "good progress". He added: "It's made a huge difference to the aesthetic of the community." Mr Swan said: "I would go so far as to say it's increased people's property values in one fell swoop. It's certainly made the area more appealing. A finished product will add a great economic benefit to the community, when you factor in that a good golf course can play between 20,000 and 40,000 rounds a year depending on the marketing." Mr Swan highlighted deterioration of the course after it closed in 2008. Hotelco Bermuda, the developer of the new hotel, said clearance work at the course started in February and the job was 90 per cent finished. The developers will begin the reconstruction of main features such as greens, tees and bunkers, as well as starting to install a water-efficient irrigation system, over the next three months. Two new holes and a change in the play route will also be created. The course will be a par-60 to allow for a shorter play time.
With the new St. Regis Hotel being built, with completion due by 2019, the Bermuda Government has confirmed the new course will be taken out of state hands and run (although will still be owned by the government) by the hotel development company. When reopened, the course will likely be offered to both St. Regis Hotel guests and the general public.
Re-opened briefly in part in May 2011 after being closed since July 2008, as a joint venture with the Bermuda Chamber of Commerce, the St George's Club and the government's Economic Empowerment Zone (EEZ). The course was then maintained at a similar level to municipal courses in the UK. But because it was losing money for the Bermuda Government which owns the course and the latter wanted to allow for building of a planned adjacent new Park Hyatt hotel it was again closed. The hotel development never began until April 2017, which is why the golf course has remained closed.
Tucker's Point Golf, Beach & Tennis Club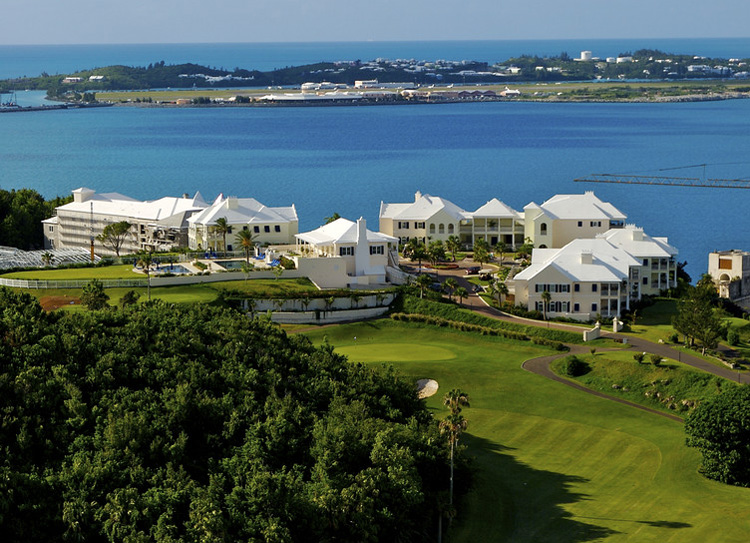 Tucker's Point Golf. Photo: Bermuda Tourism
60 Tucker's Point Drive, Hamilton Parish (East End). Phone (441) 292-6970. Fax:(441) 298-4001. Originally designed by Charles Banks and Robert Trent Jones for what was then the Castle Harbour Hotel, with later amendments by Californian Algie Pulley, it began as an 18-hole course, but was cut back to 9 holes during World War 2. It became a challenging 18 hole, par 71 course over 6,440 yards with sea views, when it was opened by the Governor of Bermuda in December, 1959. It has a scenic opening hole and incredible views. But with closure of the Castle Harbor hotel, it became 9 holes from January 10, 2000. It was completely re-vamped and reopened in April 2002 as 18 holes again. Of a very high standard, it is a private club for members only, similar to the Mid Ocean Golf Club. A par 70 course. The re-vamped Tucker's Point Golf, Beach and Tennis Club was formally opened in December 2004. Numbers 13 and 17 are new signature holes, back to back in east and west directions. # 17 has sweeping views of Tucker's Town and Castle Island. #13 has a panorama of the entire north coast and west end of the island with spectacular vistas and sunsets. The old number 10 is now number 12, reconfigured. Number 9 has been re-laid. Rye grass, Bermuda grass and a hybrid Bermuda grass have been used. The facilities also have clay tennis courts.
For visitors who arrive at the airport on one of the commercial airlines or cruise ships, the closest cruise ship berth is the Town of St. George, about 6 miles away to the east. Take a taxi as buses (#1) go only to nearest stop about half a mile away below the hill. Check rates directly with course depending on time of day and time of year. Private but will accept off-the-street golfers by prior appointment. Ask about playability on the day you have in mind.
Situated between the harbors of St. George's and Castle Harbor, Tucker's Town was so-called because it was intended by a Bermuda Governor by the name of Tucker to be a port to rival St. George's. But it was far more exposed to the weather and failed to attract many early settlers. So it was never built. In 1781, 40 acres of cotton were found growing here, which led directly to the British government encouraging the planting of cotton as a commercial crop in 1788.
The golf driving range was once a neglected, not dug-up, cemetery. Ancestors of present-day black Bermudians (the great majority) are buried there. The tiny gravesite is surrounded by a wall of fairly recent vintage. While it contains the remains of only 12 or so known graves of the last century it is believed many more black men, women and children were much earlier planted without graves or coffins in the golf greens outside the wall. The original Tuckers Town - see http://www.bermuda-online.org/seestgeo.htm then under "Tucker's Town - of which this golf course is a part - represented a Black community initially of free Blacks, and later of emancipated Blacks who struggled and successfully created a safe and isolated environment for their families by building their own school and church, and creating a community made up of land owning farmers, pilots and fishermen. Their lands were acquired by Bermuda Government (then white) compulsory purchase order in the 1920s for commercial tourism development.
Turtle Hill Golf Club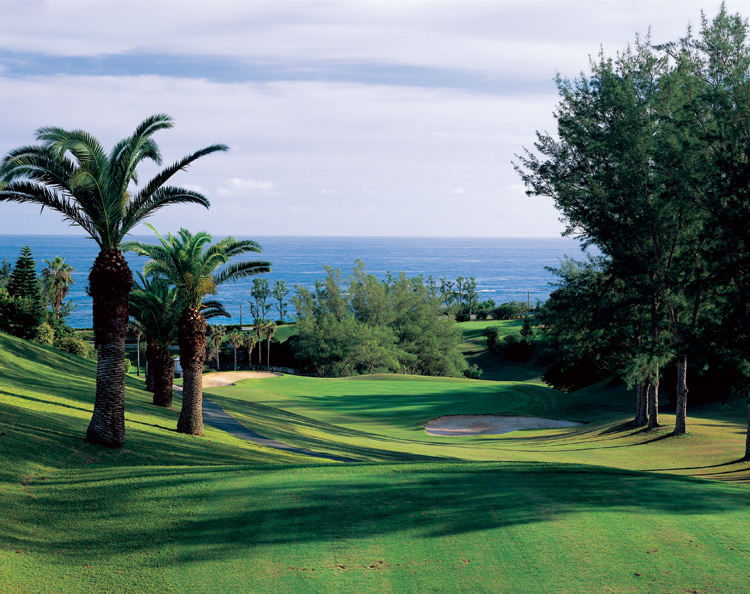 Turtle Hill Golf Club. Photo: Bermuda Tourism

Fairmont Southampton Hotel, 18 South Road, Southampton Parish SN 02. For reservations call (441) 238-8000. Fax (441) 238-8968. The golf course is part of and adjacent to the Southampton Princess Hotel complex. An 18 hole par 54, manageable yet quite challenging course over 2,684 yards. With superb marine and landscape views. Carts are mandatory and included in the green fees. There's a pro shop, tennis courts, bar and restaurant. Single Annual Membership; Double Annual Membership and an Initiation Fee. Members get special benefits. For visitors who arrive on one of the cruise ships, the closest cruise ship berth used to be (until 2007) the City of Hamilton, about 5 miles away to the east, but is now Dockyard, about 8 miles away. If you bring your own clubs, you won't be able to go by public transportation (bus). Instead, take a taxi. Buses (# 7 or 8) go only to nearest stop about half a mile away below the hill. Check rates directly with course depending on time of day and time of year.
Bermuda Junior Golf Association
P.O. Box HM 224, Hamilton, HM AX. A very successful local sports development program, begun in 1975 when the Bermuda Golf Association (BGA) formed the Golf Development Committee which forged the basic development for junior golf in Bermuda.
Bermuda Government's involvement
It invests hugely annually in public golf course expenditure. The Board of Trustees of the Government-owned golf course pays over $3 million a year in salaries at Port Royal alone, including consultants for the course. Mechanics at the government golf courses earn over $63,000 a year while the General Manager earns over $115,500 and Assistant Superintendents earn between $80,000 and $93,000.
Executive Women's Golf Association (EWGA)
Formed in 2012 to cater to female professionals looking to up their game both on and off the golf course. The Bermuda Chapter of Executive Women's Golf Association (EWGA) held informational sessions. Initially funded by the Department of Tourism and supported by golf directors from the Bermuda's golf courses. The international organization consists of more than 14,000 members in over 125 countries and have corporate partners including the PGA, Golf Digest, Golf World and the Golf Channel.
PGA Grand Slam of Golf, in Bermuda 2007-2014
The Professional Golfers Association of America (PGA) organization was formed in the United States in 1916 at the instigation of Rodman Wanamaker, a Philadelphia businessman, with the stated purpose of promoting interest in professional golf, elevating the standards of the game, and advancing the welfare of its members. By the early 21st century, the PGA had a membership of more than 25,000 playing and teaching professionals. The PGA Grand Slam of Golf is for the winners of the four majors in golf — the Masters, the US Open, the British Open and the PGA Championship. It was held yearly in Bermuda from October 2007 through 2014 at considerable cost to Bermuda's taxpayers. The Department of Tourism struck a deal with the PGA of America to play the prestigious 36-hole, $1.25 million event initially at the Mid Ocean Club (see below) from October 16-17, 2007, again in 2008 at the same place, then from 2009 to 2014 at the renovated Port Royal, instead of in Hawaii. It reached a worldwide audience of 88.9 million US homes and international viewers in more than 100 countries.
2014. Won by German professional golfer Martin Kaymer. Had a purse of a $1.35 million with the winner receiving $600,000. Second place was worth $300,000, third place $250,000 and fourth place $200,000. In 2014 it featured PGA and Open Champion Rory McIlroy, Masters winner Bubba Watson, US Open champion Martin Kymer and Jim Furyk,
2013. Won by Masters champion Australian Adam Scott who broke the course record with a 7-under 64 to win by two shots over U.S. Open champion Justin Rose.
2012. Won by Padraig Harrington.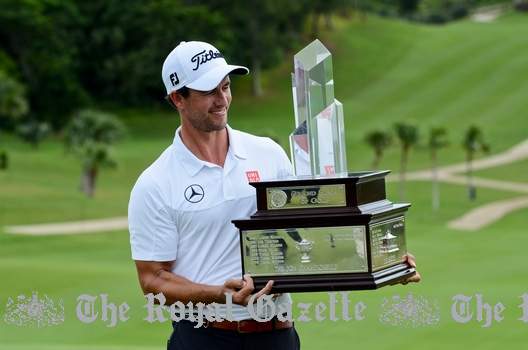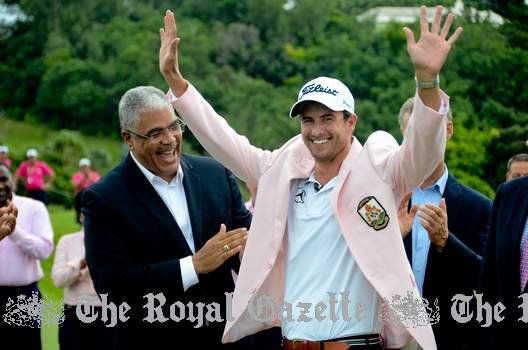 Bermuda 2013 PGA Grand Slam winner Adam Scott and below, with Bermuda's then-Premier Craig Cannonier. Winner is wearing Winner's Pink Jacket with Bermuda Crest, presented by Mr. Cannonier.


Last Updated: July 21 2019
Multi-national © 2019 by Bermuda Online. All Rights Reserved